Bluebird, Bluebird
Available in:
eBook
Paperback
Audiobook
Hardcover
Book info
Sample
Audiobook
Media
Author updates
Lists
Synopsis
Bluebird, Bluebird: Booktrack Edition adds an immersive musical soundtrack to your audiobook listening experience! *
Winner of the 2018 Edgar Award for Best Novel

When it comes to law and order, East Texas plays by its own rules--a fact that Darren Mathews, a black Texas Ranger, knows all too well. Deeply ambivalent about growing up black in the lone star state, he was the first in his family to get as far away from Texas as he could. Until duty called him home.

When his allegiance to his roots puts his job in jeopardy, he travels up Highway 59 to the small town of Lark, where two murders--a black lawyer from Chicago and a local white woman--have stirred up a hornet's nest of resentment. Darren must solve the crimes--and save himself in the process--before Lark's long-simmering racial fault lines erupt. From a writer and producer of the Emmy winning Fox TV show Empire, Bluebird, Bluebird is a rural noir suffused with the unique music, color, and nuance of East Texas.


*Booktrack is an immersive format that pairs traditional audiobook narration to complementary music. The tempo and rhythm of the score are in perfect harmony with the action and characters throughout the audiobook. Gently playing in the background, the music never overpowers or distracts from the narration, so listeners can enjoy every minute. When you purchase this Booktrack edition, you receive the exact narration as the traditional audiobook available, with the addition of music throughout.
Release date: August 28, 2018
Publisher: Little, Brown and Company
Print pages: 320
* BingeBooks earns revenue from qualifying purchases as an Amazon Associate as well as from other retail partners.
Listen to a sample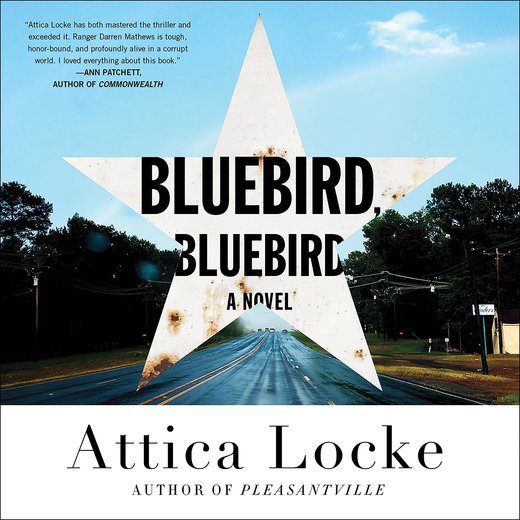 09:24:44
258.65 MB
9781478968245
September 12, 2017
Hachette Audio
Bluebird, Bluebird
Attica Locke
Texas, 2016

GENEVA SWEET ran an orange extension cord past Mayva Greenwood, Beloved Wife and Mother, May She Rest with Her Heavenly Father. Late morning sunlight pinpricked through the trees, dotting a constellation of light on the blanket of pine needles at Geneva's feet as she snaked the cord between Mayva's sister and her husband, Leland, Father and Brother in Christ. She gave the cord a good tug, making her way up the modest hill, careful not to step on the graves themselves, only the well-worn grooves between the headstones, which were spaced at haphazard and odd angles, like the teeth of a pauper.

She was lugging a paper shopping bag from the Brookshire Brothers in Timpson along with a small radio from which a Muddy Waters record, one of Joe's favorites, whistled through the speakers—Have you ever been walking, walking down that ol' lonesome road. When she arrived at the final resting place of Joe "Petey Pie" Sweet, Husband and Father and, Forgive Him, Lord, a Devil on the Guitar, she set the radio carefully on top of the polished chunk of granite, snapping the power cord into its hiding place behind the headstone. The one next to it was identical in shape and size. It belonged to another Joe Sweet, younger by forty years and just as dead. Geneva opened the shopping bag and pulled out a paper plate covered in tinfoil, an offering for her only son. Two fried pies, perfect half-moons of hand-rolled dough filled with brown sugar and fruit and baptized in grease—Geneva's specialty and Lil' Joe's favorite. She could feel their warmth through the bottom of the plate, their buttery scent softening the sharp sting of pine in the air. She balanced the plate on the headstone, then bent down to brush fallen needles from the graves, keeping a hand on a slab of granite at all times, ever mindful of her arthritic knees. Below her, an eighteen-wheeler tore down Highway 59, sending up a gust of hot, gassy air through the trees. It was a warm one for October, but nowadays they all were. Near eighty today, she'd heard, and here she was thinking it was about time to pull the holiday decorations from the trailer out back of her place. Climate change, they call it. This keep up and I'll live long enough to see hell on earth, I guess. She told all this to two men in her life. Told them about the new fabric store in Timpson. The fact that Faith was bugging her for a car. The ugly shade of yellow Wally painted the icehouse. Look like someone coughed up a big mess of phlegm and threw it on the walls.

She didn't mention the killings, though, or the trouble bubbling in town.

She gave them that little bit of peace.

She kissed the tips of her fingers, laying them on the first headstone, then the second. She let her touch linger on her son's grave, giving out a weary sigh. Seemed like death had a mind to follow her around in this lifetime. It was a sly shadow at her back, as single-minded as a dog on a hunt; as faithful, too.

She heard a crunch of pine needles behind her, a rustling in the leaves blown from the nearby cottonwoods, and turned to see Mitty, the colored cemetery's unofficial groundskeeper. "They got batteries for them things," he said, nodding at the small radio while steadying himself by leaning on the concrete stone for Beth Anne Solomon, Daughter and Sister Gone Too Soon.

"You send me the propane bill time you get it," Geneva said.

Mitty was older than Geneva, nearing eighty, probably. He was a dark-skinned man and small, with two legs thin as twigs and ashy as chalk. He spent his afternoons in the small shed on the property, shooing off stray dogs and vermin. Five days a week he was out here with a racing magazine and a cheroot, watching over the gathering of souls, keeping an eye on his future home. He tolerated Geneva's particular way of caring for the dead—the quilts in the wintertime, the lights strung at Christmas, the pies, and the constant hum of the blues. He was eyeing the sweets, reaching a finger to lift the foil for a better look. "They peach," Geneva said, "and they ain't got your name nowhere on 'em."

  

The walk down the hill was always harder on her knees than the way up, and today was no different. She winced as she started toward her car, peeling off her husband's cardigan, one of the last ones in good-enough shape to wear daily. Her '98 Grand Am was parked on a flat of patchy grass and red dirt abutting the four-lane highway. She didn't even get her keys out of her purse before she could see Mitty eating one of the pies. Geneva rolled her eyes. The man couldn't even show her the common courtesy of waiting till she was gone.

She climbed into her Pontiac and eased slowly out of the makeshift parking lot, keeping an eye out for semis and speeding cars before pulling onto 59 and heading north to Lark. She rode the three-quarters of a mile to her place in silence, running through inventory in her head. She was down two twenty-ounce cans of fruit cocktail, eight heads of lettuce, syrup for the soda machine, the Dr Pepper she could never keep in stock, plus a bottle or two of Ezra Brooks whiskey, which she kept under the register for her regulars. She wondered if the sheriff had arrived yet, if the mess that had washed up in her backyard this morning was still there, that girl lying out there all alone. She had a vague worry about what all this might do to her business, but mostly she tried to comprehend what in God's name was happening to the town in which she'd spent all her sixty-nine years.

Two bodies inside a week.

What in the devil was going on?

She eased off the highway, pulling in front of Geneva Sweet's Sweets, a low-slung flat-roofed cafe painted red and white. It had cinched curtains in the windows and a sign out front with a lit-up arrow pointing to the front door. Black-and-red letters advertised BBQ PORK SANDWICH $4.99 and BEST FRIED PIES IN SHELBY COUNTY. She parked in her usual spot, a Pontiac-size groove in the dirt along the side of the cafe, between the building's wooden siding and the weeds in the open lot on the other side. She'd been in this location for decades, back when it was just Geneva's, a one-room shack that had been built by hand. The paved parking spots by the gas pump were for paying customers. And Wendy, of course, Geneva's sometime business associate. Her ancient green Mercury was stationed right in front of the door. The rusting twenty-year-old car looked like a piñata beaten past its breaking point, overflowing with old license plates, iron skillets, two wig stands, old clothes, and a small TV whose antenna was sticking out the left rear window.

The tiny brass bell on the cafe's door rang softly as Geneva let herself in.

Two of her regulars looked up from their seats at the counter: Huxley, a local retiree, and Tim, a long-haul trucker who stayed on a Houston–Chicago route week in and week out. "Sheriff's here," Huxley said as Geneva passed behind him. At the end of the counter, she opened the gate that led to her "main office," the space between the kitchen and her customers. "Rolled in 'bout thirty minutes after you left," he said, both he and Tim craning their necks to gauge her reaction.

"Must have made ninety miles an hour the whole way," Tim said.

Geneva kept her lips pressed together, swallowing a pill of rage.

She lifted an apron from a hook by the door that led to the kitchen. It was an old one, yellow, with two faded roses for pockets.

"It was a whole day with the other one—ain't that what you said?" Tim was halfway through a ham sandwich and talking with his mouth full. He swallowed and washed it down with a swig of Coke. "Van Horn took his sweet time then."

"Sheriff?" Wendy said from her perch at the other end of the counter. She was sitting in front of a collection of mason jars, each filled with the very best of her garden. Plump red peppers, chopped green tomatoes threaded with cabbage and onion, whole stalks of okra soaked in vinegar. Geneva lifted each jar one by one, holding it up to the light and double-checking the seal.

"I got some other stuff outside," Wendy said as Geneva pulled a marker from the pocket of her apron and started writing a price on the lid of each jar.

"You can leave the chow chow and the pickled okra," Geneva said, "but I got to draw the line on all that other junk you trying to sell." She nodded out the front window to Wendy's car. Wendy and Geneva were the same age, though Wendy had a tendency to adjust her age from year to year depending on her audience or mood. She was a short woman, with mannish shoulders and an affected disregard for her appearance. Her hair was gray and pomaded into a tight bun. At least it had been tight last she combed it, which could have been anywhere from three to seven days ago. She was wearing the bottom half of a yellow pantsuit, a faded Houston Rockets T-shirt, and men's brogues on her feet.

"Geneva, people like to buy old shit off the highway. Makes them feel good about how well they living now. They call it antiques."

"I call it rust," Geneva said. "And the answer is no."

Wendy looked around the cafe—from Geneva to Tim and Huxley to the two other customers sitting in one of the vinyl booths—all the way to the other end of the shop, where food service ended and Isaac Snow rented fifty square feet that housed a mirror and a pea-green barber's chair. Isaac was a slender man in his late fifties, light-skinned, with coppery freckles. He spoke as little as he had to to get by, but for a ten-spot he'd cut the hair of anyone who asked. Otherwise Geneva let him sweep up a bit to earn the three meals a day he ate out of her kitchen.

The Lord hadn't made a soul Geneva wouldn't feed.

Her place had been born of an idea that colored folks who couldn't stop anywhere else in this county, well, they could stop here. Get a good meal, a little bite off a bottle of whiskey, if you could keep quiet about it; get your hair cleaned up before you made it to family up north or to the job you hoped would still be there by the time you got on the other side of Arkansas, 'cause there was no point in going if you didn't get way the hell past Arkansas. Forty-some-odd years after the death of Jim Crow, not much had changed; Geneva's was as preserved in time as the yellowing calendars on the cafe's walls. She was a constant along a highway that was forever carrying people past her.

Wendy looked at the black faces in the room, trying to figure some reason for the grim mood, the tension running plain. Behind her, the jukebox flipped to another of the fifty tunes it played around the clock, this one a Charley Pride ballad with a gospel hurt on it, a plaintive plea for grace.

For a moment, no one spoke.

To Geneva, Wendy said, "What in hell's got you so testy this morning?"

"Sheriff Van Horn is out back," Huxley said, nodding toward the cafe's rear wall, papered with curling wall calendars—advertising everything from malt liquor to a local funeral home to Jimmie Clark's failed bid for county commissioner—going back fifteen years. Behind the rear wall was the kitchen, where Dennis was working on a pot of oxtails. Geneva could smell bay leaves soaking in beef fat and garlic, onion and liquid smoke. Beyond the kitchen's screen door lay a wide plot of land, red dirt dotted with buttercup weeds and crabgrass, rolling a hundred yards or so to the banks of a rust-colored bayou that was Shelby County's western border. "Brought three deputies, too."

"What's going on?"

Geneva sighed. "They pulled a body out the bayou this morning."

Wendy looked dumbfounded. "Another one?"

"A white one."

"Aw, shit."

Huxley nodded, pushing his coffee away. "Y'all remember when that white girl got killed down to Corrigan, they hauled in nearly every black man within thirty miles. In and out of every church and juke joint, every black-owned business, hunting for the killer or anybody who fit the bill they had in mind."

Geneva felt something dislodge in her breast, felt the fear she'd been trying to staunch give way, rising till it liked to choke her from the inside out.

"And ain't nobody done a damn thing about that black man got killed up the road just last week," Huxley said.

"They ain't thinking about that man," Tim said, tossing a grease-stained napkin on his plate. "Not when a white girl come up dead."

"Mark my words," Huxley said, looking gravely at each and every black face in the cafe. "Somebody is going down for this."

1.

DARREN MATHEWS set his Stetson on the edge of the witness stand, brim down, the way his uncles had taught him. For court today, the Rangers let him wear the official uniform—a button-down starched within an inch of its life and a pair of pressed dark slacks. The silver badge was pinned above his left breast pocket. He hadn't worn it in weeks, not since the Ronnie Malvo investigation, which had led to his suspension; hadn't worn his wedding ring in as long, either. It, too, was a part of the day's costume. He resisted the urge to fiddle with it, turning the metal around the ring finger of his inexplicably swollen hand.

He again circled the drain of his single memory past eight o'clock last night: a Styrofoam plate of smoked chicken, a TV tray, a bottle of Jim Beam, and blues on his uncles' hi-fi. The clink of ice, that first pour, these were the last things he remembered. And the relief, of course, that comes with surrender. Yes, he was powerless over his marriage, step one. Step two, pour three fingers and repeat. Step three, let Johnnie Taylor's raw vocals take over—his plainspoken masculinity, his claim on the things a man ought to have in this lifetime, including the love of a good woman, her loyalty and willingness to wade through shit creek with him, if that's what it took to get to the other side. The blue guitar, the amber warmth of bourbon, they floated through the edge of his memory. And then there was nothing but the sudden hardness of the wood on the back porch at his family homestead, where Darren had awakened at dawn.

He'd had a splinter in his cheek and no idea what had happened to his hand. There was no blood, just bruising above the knuckles and a gnawing pain that wouldn't let up without four Motrin, but he had clearly made contact with something on the property, something that had hit back hard. The familiar morning-after fog of shame he'd been living in since he and Lisa split had dulled his curiosity, and he'd made no attempt to piece together what had happened. The facts as he knew them: He drank alone and woke up alone. His car keys were still in the freezer, where he'd left them in a moment of spectacular prescience. It appeared he'd hurt no one but himself, and he could live with that. He was damn tired, though, tired of sleeping alone, eating alone, nothing to do but wait: on the results of this grand jury and his wife to tell him he could come home.

"And how do you know the defendant?" Frank Vaughn, the district attorney of San Jacinto County, asked from his stand at the podium.

"Mack has worked with—"

"Pardon?"

"Rutherford McMillan…Mack," Darren said, explaining. "He's worked with my family for over twenty years."

Which is why the night Mack pulled a gun on Ronnie Malvo, Darren made it from Houston to Mack's house in San Jacinto County in less than an hour. Lisa had begged him not to go. He was off duty, she said. But they both knew there was no such thing. He'd just come off a month on the road, and she was furious that he would so easily leave her again. Darren, don't. But he left her anyway, flying to Mack's aid, and now he was a witness in a homicide investigation. He'd been paying for Lisa's I told you so ever since.

Vaughn nodded and glanced at the grand jurors, local men and women pulled off farms and out of post offices and barbershops, for whom a day at the courthouse counted as genuine excitement—entertainment, even—no matter that a man's life was at stake. The DA had a storyteller's instinct for pacing and plot twists, the leisurely parceling out of key information. There was no judge here, only a bailiff, the prosecutor, a court reporter, and the twelve members of the grand jury, who had the solemn task of deciding whether or not to indict Rutherford McMillan for first-degree homicide. Because all grand jury proceedings are private, the honey-colored benches in the gallery were empty. The deck was stacked squarely in the state's favor. Neither the defendant nor his counsel was allowed to weigh in on the state's presentation of evidence. Darren was ostensibly here on behalf of the prosecution. But he planned to do what he could to sow a seed of doubt in the grand jurors' minds. The trick was to do that and keep his job, a risk he was willing to take. He didn't want to believe that Mack had killed someone in cold blood.

"In what capacity does he work for your family?" Vaughn asked.

"He looks after our property in the county, fifteen acres in Camilla. It's the house where I was raised, but no one lives there anymore, not full-time, not for years," he said. "Well, I guess I technically live there now. See, my wife and I are going through a little something, and she asked for space to—"

Objection: nonresponsive.

It's what he would have said if he were Vaughn, if this were a real trial.

But there was no judge here. And Darren, the former law student, knew he could use that to his advantage, too. He wanted the jurors to get to know him, to be more inclined than not to believe he was telling the truth. He didn't trust that the badge would be enough, not looking the way he did now. The pits of his dress shirt were damp, and there was a rank funk seeping from his pores. He felt the first roil of a hangover that had been hiding behind the pain in his hand. His stomach lurched, and he belched up something moist and sour.

He'd broken one of his uncles' cardinal rules: never go to town looking sorry or second-rate or like a man who felt like explaining himself fifteen times a day. Even his uncle Clayton, a onetime defense lawyer and professor of constitutional law, was known to say that for men like us, a pair of baggy pants or a shirttail hanging out was "walking probable cause." His identical twin and ideological foil, William, a lawman and Ranger himself, was quick to agree. Don't give them a reason to stop you, son. The men rarely stood on common ground—belying the trope of twins who think with one mind—but for the fact that they were Mathews men, a tribe going back generations in rural East Texas, black men for whom self-regard was both a natural state of being and a survival technique. His uncles adhered to those ancient rules of southern living, for they understood how easily a colored man's general comportment could turn into a matter of life and death. Darren had always wanted to believe that theirs was the last generation to have to live that way, that change might trickle down from the White House.

When in fact the opposite had proved to be true.

In the wake of Obama, America had told on itself.

Still, they were giants to him, his uncles, men of stature and purpose, who each believed he'd found in his respective profession a way to make the country fundamentally hospitable to black life. For William, the Ranger, the law would save us by protecting us—by prosecuting crimes against us as zealously as it prosecutes crimes against whites. No, Clayton, the defense lawyer, said: the law is a lie black folks need protection from—a set of rules that were written against us from the time ink was first set to parchment. It was a sacred debate that held black life as holy, worthy of continuance, and in need of safekeeping, a debate that Darren had been following since he was toddling between their long legs under the kitchen table, when the brothers still lived together, before they'd had a falling-out over a woman. They'd raised Darren since he was only a few days old, and he'd spent his life straddling the family's ideological divide.

Vaughn cut him off, moving to his next question. "So when Mr. McMillan called you that night, was it as a friend or as a member of the Texas Rangers?"

Objection: calls for speculation, Darren thought.

"Both, I imagine," he said.

"And do you know why Mr. McMillan called you instead of calling nine one one?"

Lisa had asked the same thing. Sitting on their bed, in a faded SMU T-shirt, she asked why Mack hadn't called local authorities, why Darren was getting involved at all. Darren had assured her that Mack had called the local sheriff. He was wrong, which he found out too late. But he wouldn't tell the grand jury that. "I think he felt more comfortable dealing with someone he knew," he said.

Vaughn's sandy eyebrows drew together. He was a white man in his midforties, a few years older than Darren, with chestnut-colored hair that was two shades darker than his eyebrows. Darren guessed he dyed it, and he got a sudden and terrible image of Vaughn wandering the aisles of the Brookshire Brothers grocery in town, hunting for Miss Clairol. Vaughn was a government man through and through, dressed plainly in a blue suit and polished tan ropers. He'd been told that Darren didn't want this indictment, that he thought the Rangers and the state of Texas were making a mistake. And he'd been sniffing out a trick on Darren's part since they'd first met to prepare his testimony.

"Someone he knew, yes," Vaughn said, glancing at the jurors. "An officer of the law. But still a friend, wouldn't you say?"

Darren was careful with this one. "Friendly, yes."

"Well, you drove up from Houston to help him. Don't think you'd do that for just anyone."

"The man had a known criminal on his property."

"A peckerwood, didn't Mack call him?"

"After Malvo called him a nigger," Darren said.

The word, laid plain in court, shot a jolt of alarm through the room. Several of the white jurors visibly tensed, as if they believed that merely saying the word aloud in mixed company might incite violence, or summon Al Sharpton.

But Darren wanted it made clear: Ronnie "Redrum" Malvo was a tatted-up cracker with ties to the Aryan Brotherhood of Texas, a criminal organization that made money off meth production and the sale of illegal guns—a gang whose only initiation rite was to kill a nigger. Ronnie had been harassing Mack's granddaughter, Breanna, a part-time student at Sam Houston State, for weeks—following her in his car as she walked to and from town, calling out words she didn't want to repeat, driving back and forth in front of her house when he knew she was home, cussing her color, her body, the way she wore her "nappy" hair. The girl was understandably terrified. Ronnie was known to shoot a dog for shitting in his yard, to threaten that and more to any black person who came within fifteen feet of the tilting shack he called home. He used to beat up kids in high school, vandalize black-owned farms, yanking up crops and tearing down fencing, and he got arrested once for setting fire to an AME church in nearby Camilla, Da. . .
We hope you are enjoying the book so far. To continue reading...
Bluebird, Bluebird
Attica Locke
Copyright © 2021 All Rights Reserved