Blood on the Siberian Snow
Book info
Sample
Audiobook
Media
Author updates
Lists
Synopsis
'Quirky and colourful' Times Crime Club

'An absolute delight' L C Tyler

'This intriguing but charming murder mystery is packed with psychological depth and wonderfully-drawn characters' Eleanor Ray

'A cast of colourful characters decorate this cosy Siberian crime' The Sun

Winter has come early to the tiny Siberian village of Roslazny, but for Olga Pushkin, aspiring writer and Railway Engineer (Second Class), it only makes leaving the harder. Olga is being forced overseas by her jealous superior, and now faces two years in exile from her beloved rail-side hut, her white-breasted hedgehog Dmitri, and Vassily Marushkin, sergeant-in-charge at the tiny Roslazny police station.

Fate seems to intervene when Olga's train crashes outside Roslazny, shutting the line and killing two on board - local celebrity Danyl Petrovich and his wife, Anoushka. But Vassily Marushkin soon discovers that the Trans-Siberian locomotive was derailed on purpose. As the weather closes in, trapping the villagers - and the suspects - inside, Vassily begins a murder investigation in which Olga and her long-lost friend, Nevena Komarov, soon become closely involved.

But murder and extreme weather isn't all Olga has to deal with. Recalcitrant publishers, haunted police stations, and embarrassing online exposés combine to make this early winter a particularly challenging one - with the threat of a forced departure still looming as soon as the weather lifts. Can Olga find out who killed the Petroviches, secure the release of her book, exorcise the ghost, and save her job, all at the same time?

'The whole atmosphere of the village and the two main characters... are evoked with charm and panache A novel to treasure' A. N. Wilson

Praise for Death on the Trans-Siberian Express

'The book is an absolute delight, evocative equally of the frozen steppes, bad vodka and worse sausage, and full of larger than life characters. Olga Pushkin is an endearing protagonist, who is hopefully set for a series as long as the Trans Siberian Railway.' L C Tyler

'Written with a warmth that would thaw Siberia, this intriguing but charming murder mystery is packed with psychological depth and wonderfully-drawn characters. It also features the best hedgehog I've met in a novel.' Eleanor Ray
Release date: November 29, 2022
Publisher: Little, Brown Book Group
Print pages: 90000
* BingeBooks earns revenue from qualifying purchases as an Amazon Associate as well as from other retail partners.
Listen to a sample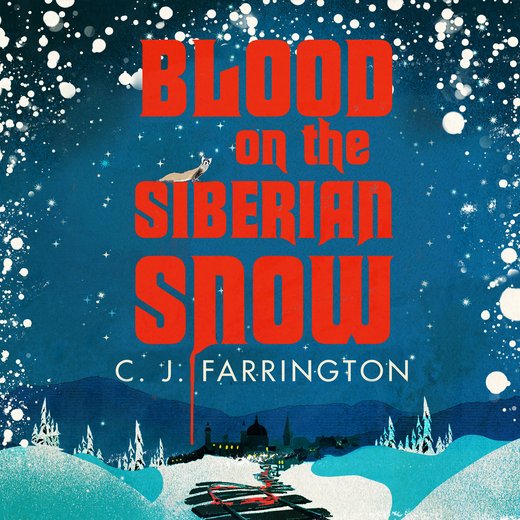 10:59:05
301.71 MB
November 29, 2022
Little, Brown
2022
Blood on the Siberian Snow
C J Farrington
Olga Pushkin struggled to her feet, fighting for breath and raising a hand in front of her, as if she could stem the choking snow-flurries that poured in upon her from every side. Her face was a frozen mask, her lips and nose scoured by the searching wind till they felt raw and scalded, while her scalp throbbed with a sharp, insistent beat, the remnant of a cowardly blow struck from behind.

She turned and looked backwards, gripped by a sudden fear that she'd been tripped on purpose – that her assailant was on her heels again, and might close in at any time to finish the job. Olga had foreseen death, a troubling vision of snapped limbs tumbling to earth . . . What if she had prophesied her own murder? But Olga's eyes, half closed against the dazzling whiteness, saw only a rough-edged rock upon the ground and, beyond, empty fields rolling on to the wooded horizon. Then the weather closed in again, a pale curtain falling to hide the prospect from view. Olga turned and headed into the wind once more, as if by choosing the hardest road she might earn the gift of sanctuary. But her faltering progress, leaning forward against the buffeting gusts, took her nowhere better than where she'd already been.

Olga couldn't shake the thought that she'd been there before – that there'd been another time when she'd walked in snow with pounding head and wheeling skies, and in danger of her life from some horror behind her. After a time – it could have been one minute or twenty in that barren, trackless waste – the memory came back to her, piercing the fog that lay upon her mind. It had been last winter, she realised, not even a year ago, when she'd fled for her life through a disused warehouse on the edge of Roslazny, the village in Western Siberia where she had spent most of her life. Vassily Marushkin had been there, too, but had fallen senseless to the ground with the other policemen, leaving Olga to tackle the monster by herself.

She'd avoided her demise then, but narrowly, as if a train had gone rocketing past and only brushed her shoulder. That was partly due to her own ingenuity, coupled with an obscure piece of local knowledge – but it was also because her brother, Pasha Pushkin, had come to find Olga lying unmoving in the snow afterwards, and had called for help in time to save her from hypothermia and death. But this time her brother was miles away, and Vassily, too; and there were no paramedics at hand, either, in the wilderness beyond Roslazny's sparse and feeble streetlights. Not even Nevena Komarov remained: her reliable, comforting presence had been swept up and lost in the bitter cold of the early snow, torn from Olga like a scarf whipping out of hand in a gale. No: no one good was coming. Olga Pushkin was alone, with only danger by her side.

The day wore on and the snow darkened from white to grey, but still she staggered forward in search of safety, the passing of time measured only by the crunch of ice beneath her sturdy winter boots. She knew now what the Mongolians meant by zud, the pitiless winter she'd read about in guidebooks and tourist magazines – a season so desperate that livestock would perish wholesale, a handful of the hardiest nomadic horses surviving only by eating each other's coats. Zud – zud . . . The word sounded like the swish of her waterproof trousers, long since soaked with sweat and melted snow. Zud – swish – zud – swish . . . The words mingled and overlapped like the snowflakes that tumbled so profusely from the leaden sky.

Olga stumbled and fell again, this time toppling all the way to the ground. She cursed, but was soon grateful for the jolt of agony in her leg and its rousing effect on her mind. She'd almost become delirious, she realised, and that would lead only to a frozen death on the plain. She lay on the snow for a moment to recover, then looked around. Whichever way she gazed, the ground seemed to fall away from her, as if she were on some peak or summit. The low skies cleared again, and she saw she was on a summit: she must have ascended a long, slow incline without knowing. She saw her fast-vanishing footprints behind her, interrupted by a line of small boulders that straggled downwards from a mound to her right. The stones looked familiar, somehow, but Olga couldn't work out why.

But then she gasped: she'd been there before, she acknowledged, and not long ago – earlier that same day, in fact, when she and Nevena Komarov had headed out into the cold and the dancing snow. Of course: Nevena had even remarked upon the mound and its train of toppled rocks, nodding towards it as if in deference, her raven hair darting and dancing around her neck in the ice-laden wind. What had she called it? Oh, yes, thought Olga: a svyatynya – a shrine. Those mounds were ancient temples to gods with forgotten names, Nevena had said, gods of heaven and mountain and nature; in the old forgotten days Russians had honoured them by dancing circles around them. This was the origin, Nevena had said, beautiful eyes glowing, of the Siberian khorovod circle-dances that could still be seen, now and again, in the farther reaches of the taiga.

Circling. Circling – and hadn't this whole time, this whole experience, really been all about circling, about repeating and returning to where they'd started from? Russians, after all, were not averse to revolution . . .

Perhaps they should have turned aside to pay homage to the old gods, thought Olga. Perhaps then they could have stayed together and fended off the dangers that dogged them.

But Olga had had other concerns on her mind earlier that day when Nevena had told her about the circle-dancers. They'd been running from different terrors then, the fear of circumstances and systems beyond their control. But now, immersed in frozen solitude and untethered from any goal save that of survival, an older, circle-prompted memory came to mind – a recollection of her mother, Tatiana, telling her of childhood days spent in the Lodge at Astrazov, when the aged housekeeper, Lubov, would read to Tatiana from ode and tale and fable, books from the Tsarist days and before, and some that came afterwards, too.

Of all the writers whose books lay upon the mellow wooden shelves, Lubov loved Aleksandr Sergeyevich Pushkin best of all, little guessing the pain that would come to Tatiana from that surname in days yet to come; and she stood often on tiptoe in the library to fetch the second volume of his works from its lofty place. Then she would sit Tatiana by her side and read aloud from Ruslan and Ludmila by firelight. The scented wood-smoke surrounded them like perfume as Lubov recited the familiar words:

There's a green oak-tree by the shores

Of the blue bay; on a gold chain,

The cat, learned in the mythic stories,

Walks round the tree in ceaseless strain:

Walks to the right – a song it sings;

Walks to the left – a tale it tells.

Nevena's account of the ancient Siberians wandering circle-wise around their rustic shrines had reminded Olga of the cat, and how, as a girl, she had made her mother walk around the room to the right if she felt like music, and to the left for a story. And if it was a story that Olga demanded, Tatiana would laugh and bow to the ground with arms outstretched and tell Olga that she must sit still, that she must never move a muscle, or yet a hair, but instead sit motionless and listen to the chosen story just as Pushkin told it – just as her great-great-grandfather Pavel, indeed, had once heard it from Pushkin's own lips, in a grand Peterburgtsy house on Nevsky Prospekt! Olga must put herself in Ludmila's shoes, said Tatiana, and listen to the story with patience and imagination, as if she had herself been captured by the evil wizard Chernomor, and was awaiting rescue by the heroic Ruslan.

But if she were to become Ludmila once more, who would be her Ruslan, her courageous, all-conquering knight? wondered Olga. Would it be Vassily, the far-off policeman, as she'd long thought (or at least hoped) it might be? But Vassily was too distant to help her now, in every sense. Then she reflected that she'd already thought this thought, and that she was going in circles in her mind, just as she had meandered across the whitened fields.

She must find shelter, she told herself, or she would lie down, go to sleep and never wake again. She rose to her feet and reeled onwards, heading into the wind and battling her way downhill. As she reached the tussocky foothills, she caught her breath and stood motionless. What was that in the near distance, revealed by a passing lull in the blizzard? Her eyes had picked something out: a long, low shape rising from the snowy earth, overtopped with a thick white layer but underlain with the homely brown of carven oak. Olga gasped: with great good fortune she'd come across a country dwelling, a dacha belonging to some farmer in the desolate land between Roslazny and the outlying villages. Then she gasped again, realising she recognised the place – that she knew the very man who dwelled there: Erik Filippov, who eked out a hardy living from Yakutian cattle and shaggy-haired Mangalica pigs. But the windows were dark, and there was no smoke rising from the chimney: Filippov must be away. Nonetheless the dacha offered shelter from the storm, if she could break a window or a door-lock.

Just then she seemed to hear a noise behind her, bringing all her terror flooding back. She hurried forward, her legs swishing rapidly once more and her feet ploughing through the drifts as she staggered past a row of tied-up cows, head-down and miserable under ever-renewed snow-blankets. And there – was that a glimmer of light she saw, in the corner of the window nearest the door? Yes – yes, she said to herself, with pounding heart – yes, yes, it was! There must be someone there after all! Help, sanctuary, safety!

She almost tripped over a power line that ran from a petrol generator to the nearest outbuilding, but ran onwards until at last she reached the brightly painted door, its red and blue colours vivid and clear even in the growing darkness, and battered upon its surface until it quivered and opened outwards. She fell back, her eyes momentarily dazzled by the bright electric light that flowed out upon her, cast by a single powerful bulb that hung from a naked cord in the low corridor. Then, when her sight adjusted and she saw who was at the door, her face contorted in terror.

'No,' she whispered. And then, more loudly, her voice cracking in horror. 'No – you can't be here. You can't be here! I – I—'

But Olga's strength was wholly spent at last, and her eyes rolled upwards in her head. She fell forward into the open doorway and lay unmoving, with her legs, still outside, gathering snow like the cows under their winter mantles. A strong pair of hands reached down and drew her inside the dacha; then the colourful door slammed, and the fields were dark and silent once more, leaving only a few, rapidly disappearing footprints as evidence of her passing. Olga Pushkin, railway engineer (second class), aspiring writer and amateur investigator, was lost to the world.

'Tomorrow?' said Olga Pushkin. 'Wednesday?'

'Tomorrow – Wednesday,' confirmed a gruff voice on the phone – or so Olga thought: she could hardly hear a word over the TV blaring down the corridor. She pressed the receiver a little harder against her ear, trying not to think about Igor Odrosov's relaxed attitude to hygiene, and spoke once more into the grimy, chipped mouthpiece of the Café Astana payphone.

'Before the ceremony?' blurted Olga, dazedly, hardly knowing what she was saying. 'But – but I can't go before the ceremony! The mayor's coming to give Danyl Petrovich his medal. The whole of Roslazny's coming to watch him get it – Danyl's friends and family, too. They cleared the railway schedule for the whole morning – did you ever hear of them doing that before? And the Trans-Siberian's stopping at my hut, for the first time in history!'

'Oh, don't worry about that,' said the voice, permitting itself the luxury of a gravelly chuckle. 'You'll see the ceremony! Oh, yes, you'll see all that – the Mayor of Tayga, and Danyl's grand arrival, and the award ceremony with press from miles around . . . Well, the Tayga Gazetteer, anyway, and maybe the Kemerovo Herald, too. Only you won't be able to stay for vodka and pirogi afterwards: you'll be joining Danyl instead, back on the Trans-Siberian. He's carrying on with his shift after all the festivities, driving the service through to Ulan Ude – wouldn't take no for an answer. He's a real Russian, that one, a real tovarisch, even though he's got a ponytail . . . Can't imagine him trying to weasel out of anything unpleasant.'

'Well,' said Olga, ignoring the insinuation, and trying to think more rationally – to conjure up some bureaucratic barrier she could use to delay this rather hurried departure. 'Oh, yes – I mean, well, what about the visa?'

'Don't worry about that either,' said her interlocutor. 'It's all arranged. Obviously it's all been arranged, or I wouldn't be calling, would I?'

'Well, n-no,' stammered Olga, her heart sinking. 'No, I suppose not. It's just . . . it's just . . .'

'It's just what?' barked the voice, after a few seconds, making Olga jump. She'd been staring at one of Igor's dog-eared posters of old USSR space missions on the corridor wall, she realised, bewildered at the prospect of finally making her long-awaited trip, and sad, all of a sudden, to think that the hawthorn bush outside her bedroom window would turn to fragrant white blossom in spring, and she would not be there to see it.

'I – I was beginning to wonder if the exchange was ever going to happen, that's all,' she said at last. 'You know Russian Railways.'

'Of course, it's going to happen!' said the voice at the other end of the line, which belonged to Boris Romanovich Andreyev, foreman at the nearby Tayga depot and Olga's immediate superior. 'I told you already – I'm on first-name terms with Sotolmayr, the head of the Railway Academy out there.'

But you can't have known Sotolmayr all that well, given the delay since summer, thought Olga. Or perhaps she knew you all too well and was quite sensibly trying to avoid any further contact. In any case, Olga knew just what to say next.

'Well, my guidebook says Mongolians go by just the one name,' she said. 'They don't bother much with surnames, or patronymics. So, technically, isn't everyone on first-name terms in Ulaanbaatar?'

A brushing sound, like hair grazing against the mouthpiece, came to Olga's ear, which meant she'd succeeded in irritating Boris Andreyev. Like his predecessor Viktor, now languishing in Kemerovo jail, Boris prided himself on his extravagant, Stalinesque moustaches – moustaches whose tendency to dance up and down was a well-known sign, in Siberian circles, to run for cover till the storm had blown over.

This was no longer Olga's concern, however, since Boris's phone-call spelled the end of his influence over her for the foreseeable future. It spelled, indeed, an entirely new chapter in Olga's life. The arrival of her Mongolian visa at the Tayga depot, stamped at last by the consulate in Moscow, was like a railway signal switching from red to green. And now Olga herself, like a Novercherkassk VL85 pressed into service after months spent rusting in a siding, had to overcome her inertia and jerk at once into unexpected motion – unexpected, because the visa had been so long coming that Olga had begun to hope it might never arrive at all. It had been months ago – July, in fact – that she'd first received notice of her mandatory participation in a two-year exchange programme between railway academies in Outer Mongolia and Irkutsk in Russia, whose Taygan satellite college boasted Olga among its graduates.

She well remembered the moment she had received the letter: a bright summer day of gently waving boughs, shimmering heat rising from the desiccated ground around the track, and a certain police sergeant, with untidy black hair, kind eyes and a crumpled cap, walking down the path towards her, envelope in hand. She'd resigned herself to her fate as soon as she'd read the message within – she'd resigned herself, that is, to the fate of all Russian women: to travel onwards, always onwards, to the ever-receding horizon, in the hope that some day they might reach it, and find upon its cusp an Eden of warmth and ease and merriment. To be alive, to live in Olga's skin, was to struggle onwards, onwards, ever unquestioningly onwards, whether or not you thought you'd ever reach anything really worth struggling for. And so, on that day in July, bathed in fierce sunshine and the reflected glare of shining track-metal, and armed, too, with the knowledge that Vassily Marushkin – the policeman with the crumpled cap – would never stop looking for his lost wife Rozalina, Olga had found herself able to accept her imminent departure.

But days and weeks and months had passed since then, dulling her accustomed sense of acceptance and raising that most dangerous of feelings, false hope; and now winter had come early to Roslazny, and it made leaving all the harder. The snow had only gone in March, and already it was back in September, concealing the village's frayed edges like a comforting, much-used throw. How could Olga forsake Roslazny at such short notice – and on the day of the much-anticipated ceremony, too, an unheard-of honour in Russian Railways history? She'd seen the Trans-Siberian service clattering past her hundreds, thousands of times, trundling to Tayga, Tomsk and beyond, to the ends of the earth; but it had never actually stopped at her track maintenance hut before – had never stopped at anyone's rail-side hut, so far as she knew, in the entire history of a network dating back to the days of Alexander the Second.

Admittedly, the great event wasn't taking place because of Olga. It was taking place, in fact, because of Danyl Petrovich, who'd started out at the very site of Olga's beloved hut in Roslazny, working his way up from trackside engineering – still Olga's principal task despite her recent promotion to track engineer, second class – to the increasingly lofty heights of locomotive maintenance, locomotive engineering, and then, at last, engine driving itself, the jewel in the railway crown. And since then he'd racked up more miles at the controls than any other driver in Russian Railways, somehow evading the mandatory retirement age of sixty-five and amassing enough by way of salary to buy outright a modern three-bed in the up-and-coming suburbs of Yashkino.

Some of the gossips at Tayga depot spoke knowingly of personal connections to Human Resources at Russian Railways, while others winked when his name came up, and hinted darkly at a deal with the devil, a Faustian pact giving Danyl all his worldly desires but at a terrible cost. But however Danyl Petrovich had managed to become Russian Railways' leading train driver, he hadn't stopped there. Quite the contrary, in fact: Danyl had also become something of a hero in the Kemerovo region, by virtue of saving a child from a burning house near the railway depot in Tayga earlier that year. The papers had painted quite a picture of the operation, describing how Danyl had plucked the toddler intact from the flames while his terrified father stood panicking outside. Danyl and his wife, Anoushka, had no children of their own, and one paper, the Kemerovo Herald, went so far as to suggest that Danyl should adopt the child he had rescued. This particular driver may technically be past retirement age, said journalist Sasha Tsaritsyn (who happened to be a school friend of Olga's), but the Herald, at least, is glad Russian Railways can still boast a few real men among its ranks!

They printed the story alongside a glossy, full-colour picture of Danyl next to his Trans-Siberian locomotive, standing tall and glaring into the camera with heroic demeanour, grey hair pulled back into a tight ponytail.

'If he wasn't a hero before, he is now,' Vassily Marushkin had said, when the paper came out in March, making Olga think once more of the power of the written word. Any stranger, happening across the Kemerovo Herald or any of the other papers that praised Danyl so highly, would believe everything they read about him – would accord him nothing but the highest accolades in their minds. Whatever Danyl had done before, whatever spectres he had in his past, were now surely banished – just as a single revelation of clay-formed feet, a single instance of wandering hands or casual accounting could eradicate decades of virtue and goodness. Yes, thought Olga, writers were like gods, with the power to elevate and destroy alike. (Or, at least, they were if they were published.)

And now the mayor of Tayga, Abataly Denisovich, would give Danyl Petrovich the Kemerovo Man of the Year Award – the highest civic honour in the whole province – in recognition of his achievements both on and off the track.

(There was, as yet, no Kemerovo Woman of the Year Award, but as her housemate Anna Kabalevsky had once remarked, mounting such an endeavour would be quite impossible. 'It's easy to find one man who's better than the rest,' she said. 'They stand out like sore thumbs. But try to pick out just one good woman . . . You'd be there all year, Olga! You'd be there all year.')

Yes: the unprecedented Trans-Siberian stop at Olga's hut was much more about Danyl Petrovich than it was about Olga Pushkin. Nevertheless, Olga tended to regard the hut as her own property rather than as a network asset, and as such she interpreted any compliment paid to it, however obliquely, as a compliment to herself. It was Olga who maintained the hut, wasn't it, and kept it spick and span all year, despite sun and ice and wind?

Anyway, until Kemerovo oblast did mount a Woman of the Year award alongside the men's shindig, the mooted ceremony was probably the closest Olga would get to regional glory for the foreseeable future. Besides, the unusual stop might also draw attention to Olga's faultless maintenance of the track and its surrounds, thus aiding her progress up the ranks and – in logical sequence – generate more money to put towards her dream of studying literature at Tomsk State University, the Harvard of Northern Eurasia.

But now all that was ruined, taken away by Boris Andreyev at the drop of an Ushanka hat. The trackside event would no longer serve as a red-letter day – a day for toasting by the track with strong alcohol and sharply pickled herrings, and for dancing, later on, to deafening, speaker-distorted Kazakh folksongs between (and perhaps upon) the tables in Café Astana. Now the much-anticipated ceremony would serve only to mark her departure from the little hut she loved so much, and the people she loved even more.

Olga stood in the corridor of Café Astana, Roslazny's finest – and only – restaurant and shop, half listening to the instructions Boris was barking down Igor Odrosov's ancient payphone, and wondering how she would ever bring herself to leave.

'What was that?' she said, shaking her head to clear it.

'Oh, for God's sake,' said Boris, crossly. 'I said, get yourself down to your hut as fast as you can. I spent ages ringing round the village for you, and there's no time to waste. Why didn't you answer your mobile?'

'Reception round here—' began Olga, but then she cut across herself: 'My hut? My shift doesn't start for another hour.'

'So what?' said Boris. 'I've sent Galina out with all the paperwork for your trip. She's hitching a ride on one of the shunters. Give the boys a bit of a treat, eh!'

Galina was Boris's latest PA – he had a new one every two or three months – and since Boris recruited solely from the Tayga nightclubs, they tended to attract a certain degree of attention from the train crews.

'On a shunter?' said Olga, picturing Galina Ektov in her usual outfit of a skin-tight dress and sky-high heels against the backdrop of a deafening, oily locomotive cab occupied by two, or even three, leering railwaymen. 'Why didn't she just drive over – or take a cab?'

'Haven't you seen the forecast, Pushkin?' said Boris. 'The snow'll be coming down hard again in two swipes of a bear's paw, and that's on top of what we've already had . . . Already the taxi drivers are saying they won't risk coming out your way. Can't say I blame them, neither – a one-track ditch like that's no joke in heavy snow. Good thing we've got proper snowploughs on the network! We Siberians know how to deal with a bit of sneg, eh? We'll probably have to get the mayor out in a four-wheel-drive tomorrow, if we don't have a unit available on the track . . . Anyway, you'd better hurry up, like I said, and get yourself down there. And it's not just Galina I want you to meet,' went on Boris. 'Just walk on down – right now. You'll soon see why! Oh, yes, you'll see why.' And he hung up with a crash.

Was Olga imagining it, she wondered, as she replaced her own handset, or had there been a touch of something nasty in Boris's tone – enjoyment, perhaps, or even delight? She hoped she had imagined it. Nothing that pleased an unpleasant person like Boris could itself be pleasant.

'Bad news, Olga?' called Igor Odrosov, as Olga emerged from the corridor into the dingy bar, and tripping, as she did so, over the half-empty paint cans that Odrosov had left lying around after his latest, quarter-hearted attempt at renovations.

'Not sure yet,' said Olga, forcing a reluctant smile, and feeling annoyed that she'd let her emotions show in front of Café Astana's proprietor – not to mention his customers, who now turned to look at her in search of fresh entertainment. Whatever else was happening in Olga's life, she had no desire to take the place of lunchtime soap operas for Odrosov's clapped-out regulars.

It was no wonder that Odrosov couldn't muster the energy to finish his renovations, thought Olga, looking around. After all, you could do up a place, but you could hardly do up the clientele. 'It's probably nothing, Igor,' she said aloud, speaking more briskly, as if speed alone could dispel the mix of anger and sorrow she felt rising within her at the thought of leaving even Café Astana's unpalatable patrons. 'Just – it's just some urgent track maintenance business, that's all.'

With a conscious effort, she made herself walk towards the door as if nothing had happened – as if she hadn't just been given her marching orders for a two-year exile abroad.

'Thanks for lunch, Igor,' she said, as she opened the door, waving a hand vaguely towards the pickled venison she'd started before the payphone had rung.

Igor called something – perhaps a belated request for payment – but the door had already closed behind her, and his words were cut off.

Olga blinked at the sudden blaze of pale sunshine – no sign of Boris Andreyev's fresh snowfall yet – and wrinkled her nostrils at the wall of freezing air, coldly refreshing after the warm fug of the café with its tang of pickle, stale beer spill, and paint fumes from Odrosov's corridor. Olga didn't really mind the paint – it reminded her of her brother Pasha and his enthusiastic, if slapdash, attempt to do up the house they shared with Anna and the children – but Igor Odrosov's three-day sweat was a different matter altogether.

She turned left, somewhat reluctantly, and headed north-east towards the railway and her little hut, taking the narrow road that divided Roslazny's meagre north from its equally meagre south. She trudged along, enveloped in the stillness that always seemed t. . .
We hope you are enjoying the book so far. To continue reading...
Blood on the Siberian Snow
C J Farrington
Copyright © 2023 All Rights Reserved