Book info
Sample
Audiobook
Media
Author updates
Lists
Synopsis
Maxwell Lewis has to make the play of his life in order to breach the woman of his dream's defenses in this new football romance from the author of Fumbled.
Brynn Larson owes a lot to reality television and professional athletes. Her bar hit new heights of success after becoming a local haunt for the Denver Mustangs players and their WAGs. But although she's grateful, that doesn't mean she's crazy. And that's exactly what she would be to ever consider dating a professional athlete. Even if it's Maxwell Lewis, whose shy smile makes her wonder what going on behind those beautiful brown eyes.
Maxwell knew from the moment he met Brynn that she was going to change his life. It was only a matter of time. But when he finally makes a move, fate conspires against him and everything goes wrong. Now he has to show her that their potential is real. Too bad for him, Brynn isn't fooled by his glamorous NFL life, and when ghosts from both their pasts make a sudden reappearance, she must decide who she can trust. But when the person she's most afraid of is herself, navigating life's tackles is harder than anticipated.
Release date: December 3, 2019
Publisher: Berkley
Print pages: 336
* BingeBooks earns revenue from qualifying purchases as an Amazon Associate as well as from other retail partners.
Listen to a sample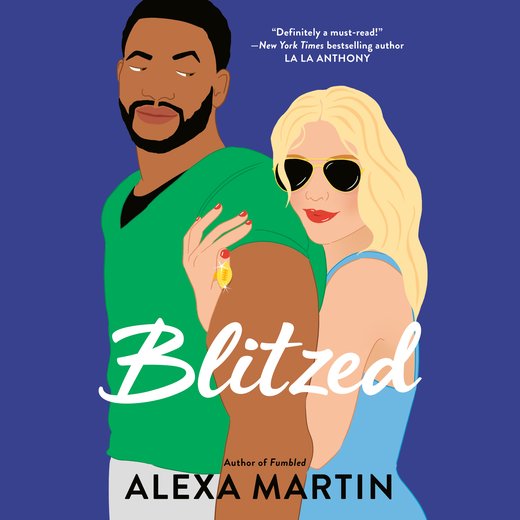 08:49:25
242.36 MB
9780593151594
December 3, 2019
Penguin Random House
2019
Blitzed
Alexa Martin
One

Present day

Brynn

How did I get here?

I look around my little bar. When I found this building, I had hoped HERS would bring in a moderate crowd and not put me in bankruptcy court. Now it's packed to the brim with reality stars and professional athletes. I never imagined that hiring Marlee would get me here, but holy shit am I glad it did.

"Hey, Brynn," Maxwell Lewis-with his brown eyes that I swear can see to my soul, and full lips that always look so soft and sweet-says, sliding into the barstool across from me. "Wild night."

I smile my brightest lipstickless smile at him and try to not let his overall sexiness cause me to forget how to speak. "Yeah, it's a little crowded."

Understatement of the century.

Tonight is the premiere of Love the Player, the newest reality show on TV following the lives of a handful of Denver Mustangs WAGS-wives and girlfriends of sports players, if you've been living under the same rock I was. I assumed the viewing party would be in LA or Miami or someplace super glamorous, but the producers thought since so much of the drama happens at HERS, this was the perfect place to host the party.

Knowing how much publicity I'm going to get from this show sends a thrill up my spine.

Being a "female-centered bar" is a concept not a ton of people understand, but now it won't need to be explained, it will be seen, nationwide.

Fucking amazing.

I never thought I'd love Aviana and her flair for the dramatic so much. I've practically been floating in my Vans all day long. When photographers from a major magazine came to take behind-the-scenes photos and started snapping shots of the bar I spent blood, sweat, tears, and my entire life savings on, I almost wept.

And now, as the cherry on top of the already decadent sundae that's becoming my life, I get to talk to Maxwell Lewis, defensive back extraordinaire, whom I've been crushing on since he walked into HERS all those years ago, despite the fact that getting him to talk in a group setting is like pulling teeth.

If you know me, you know I don't do boyfriends and I most certainly do not do crushes.

I'm too old and jaded to act like a twelve-year-old girl anymore. But there's always an exception to the rule. And Maxwell is my four-years-and-counting exception. Plus, I'm always listening to my friends and their stories with entirely too much information. Now I can't look at Maxwell without thinking he probably really knows how to lay down the D. I'm also totally on board for a friends-with-benefits situation, something I assume a professional athlete is very familiar with.

"How'd you get talked into coming to this tonight?" I ask, doing my best flirty eyes and trying to squeeze together my barely there cleavage. "You don't seem like the typical reality show fan."

Ever since our first encounter, whenever he comes to HERS, I try my hardest to get him to flirt with me. And I think maybe, in his quiet Maxwell style, him sitting at the bar is him flirting.

He watches me through thick, dark lashes that I know women pay for, and his throaty chuckle, which I've come to the conclusion is so raspy because he never does it, washes over me. "I'm not. But I promised Crosby I'd swing by, he wanted this to be perfect for Aviana and thought a big showing of his teammates would help out."

"That's nice of you." I pull out the lowball glasses I bought just for this event. "Being around the Lady Mustangs without all the extras of tonight can be draining. I feel like Crosby might owe you one." I place an old-fashioned he didn't order in front of him. I know it's not exactly playing it coy, memorizing his drink order and all, but I'm not ashamed to let him know I see him and I'm interested.

"Well, if I get to spend the night talking to you, I think I'll owe him," he says, his light brown eyes never leaving mine.

My stomach does backflips like I climbed onto a roller coaster and just went spiraling toward the ground.

In a room filled with women who have literally been cover girls, Maxwell's attention is on me. And even more than that, he's not the kind of guy who says things he doesn't mean. In all the years I've known him, he's never been this forward. I don't know what changed, but I'm not mad at it.

Maybe a friends-with-benefits situation is actually in the cards. My stomach muscles tense in anticipation.

"So I obviously have to see this through tonight, but maybe-" I start, but the shrill sound of his phone cuts me off.

He cringes. "Shit, I meant to put this on silent. Sorry," he apologizes.

He grabs his phone from his pocket, hitting Answer before even looking at the screen.

"Hello?" he greets, a goofy smile aimed my way.

Then it's gone and the happy-go-lucky, painfully shy man I've come to know disappears right along with it. His shoulders square like he's preparing for a fight, and shutters fall across his kind eyes.

"What?" he growls, his grip so tight on his phone that his knuckles go white. "No," he says after a long pause.

His eyes glaze over as he stares right through me. I know I should walk away, let him have this moment without a witness, but my feet are frozen in place as a ripple of unease flows through my veins. Even my eyes are glued to him, focusing on the twitching of his jaw and grinding of his teeth.

"Don't you fucking dare." He whispers it into his phone so quietly that if I wasn't staring at his mouth so intently, I would've never known what he said.

Then, without any warning, he leaps out of his seat, his phone flying through the air so close to my head that it blows the strand of hair in my face out of my eyes. The glass screen explodes in time with the top-shelf tequila it hit. Then, before I can react, his whiskey in my brand-new glass sails past me, hitting my shelves with the power of a bowling ball and-unfortunately for me-getting a strike. Bottles shatter around me, the bar that I prided myself on for so many years crumbling to the floor in a mess of dangerous shards doused in amber and clear liquids.

Blood roars between my ears. Shock prevents me from lashing out the way I always assumed I would if something so unbelievable happened in my beloved HERS.

I turn wide eyes to Max, hoping that at least a look of remorse would be written across his face, but when I see him, there's nothing except the blind rage of a man who only moments prior I was preparing to ask to go home with me.

I open my mouth to say something or maybe just emit the bloodcurdling scream that's trapped in my throat, but before I can get there, TK is yanking Maxwell out of his seat and dragging him out of HERS.

Through the red veil that has fallen over my vision, I see my friends rushing toward me. But I can't. I can't take their calming words or worried glances.

Not right now.

So I move as fast as my long legs will take me until I'm in the quiet comfort of my office, slamming the door shut and locking it behind me.

And then, only then, do I let the tears fall and my hand-muffled scream escape.

Two

Some people call me a workaholic.

And they're right.

But considering I own a bar, it's the best kind of "holic" I could be. Plus, my job consists of listening to other people's dramas and hanging out with my girls damn near every day.

"Oh my god! Brynn!" Vonnie's eyes scrunch and her entire face twists into an abstract painting. "Did you put anything besides vodka in there?"

"Gin." I wink and write the latest failed martini recipe down in my notebook.

"Why are we taste testing again?" Charli asks as she leans across the bar and grabs the martini from Vonnie. Vonnie narrows her eyes, probably ready to scold her for her table manners . . . but when Charli gives it a sniff, takes a deep sip, shrugs, and then finishes it, Vonnie's eyes grow wide and her jaw drops.

"Damn, Charli!" I don't know if I'm impressed or disturbed. "I didn't know you had that in you!"

"Don't worry." Poppy snatches the glass away from Charli and walks it around the bar like she still works here even though she quit months ago to go to school and better herself like a selfish jerk. "Shawn's on standby. Final roster cuts come in tomorrow and he's been bracing Charli for bad news . . ." She leans in closer as she passes behind me. "Something she's clearly not handling well."

Reason 8,634 why I could never date a football player.

Basketball? Maybe. At least their contracts are guaranteed and they're gone so often I'd barely have to see them. Baseball? Possibly. I do love sitting outside and eating pretzels and drinking beer. Hockey? Nope, it's basically football on skates-with more broken noses and less teeth.

Luckily for all these athletes I'd have to let down ever so gently, none of them know who I am.

"Your crazy ass better drink some water," Vonnie, always the mom of the group, tells her. "Besides, I think Aviana is coming, and who knows if she's still filming."

"Oh, fucking fuck me," Charli moans. "That damn show is going to be the death of me and I'm not even on it."

I can see Charli is clearly in a fragile state of mind, but I'd be lying if I said I didn't love everything about Love the Player. I kinda feel like, even though I'm not a cast member, I manifested the shit out of that show. I mean, the concept for HERS came to life as I was sitting on a shitty-ass date, watching a shitty-ass game, sipping shitty beer. All I wanted was to be out with my girls, drinking a fantastic specialty cocktail, and watching the latest Bravo reality show with a roomful of strangers.

And now, not only do we watch reality shows, HERS is a regular fucking setting for one. It just started to air, but the increase in customers is already noticeable. And people tried to tell me my love of trash television was a waste of my time. To that I say, HA!

"Speaking of the show, that's what we're doing here." I push a much lighter and brighter (hot-pink) cocktail down to Jacqueline, who, even though she's always with us, is still the quietest person I know, and I'm pretty sure she thinks we're all in need of serious therapy . . . which might be accurate. How Aviana talked her into starring in Love the Player is still a mystery. "I want to have a few cocktails named after the show ready."

"Great, now the show gives me alcohol poisoning too." Charli lays her head on the bar.

"You're giving yourself alcohol poisoning." Poppy pushes a glass of water to her and starts mixing up a drink of her own. "I know you and Shawn are smart with your money. If he gets cut, it won't be the worst thing in the world. TK loves not playing anymore."

I watch Jacqueline take a small sip of the drink, and almost do a happy dance when her eyes widen. She looks at the drink as if the recipe's written in the cocktail, and takes another sip.

"Success, Jac?" I ask, even though I already know her answer.

"So good, Brynn," she says in her usual, muted voice.

"Yeah it is!" We do an air high five. "I'm naming that one Peter's Angel. Wait . . . no!" I shout like she's not right in front of me. "Fuck Peter. This is your drink. Model Behavior!"

"Oh my god." Poppy jumps up and down, almost spilling her creation all over my potion recipes. "Do you remember that movie? You guys have to come over later and we'll watch a young Justin Timberlake be bamboozled by an artsy high school student!"

"If there were a game show that revolved around random shit, you'd be the fucking queen," Vonnie says to Poppy, tossing a couple of cherries into her Shirley Temple.

"Do you not remember Marlee? She's a trivia freak. The two of them together could rule the world." If world domination were dependent on Disney original movies and pointless trivia.

"Please warn me if they are getting together. I'm not sure I could handle that." Vonnie laughs, but I can see it in her eyes that she means it. "Anyway, the bar looks great. You can't even tell anything happened."

And there it is.

The thing I wanted to avoid for the rest of my life.

"It really does," Poppy pipes in, admiring the handiwork my dad and Mr. Harper spent all night doing.

"Thanks. I'm lucky my dad lives around the corner and that Marlee's will do anything to get an inside scoop."

"What even happened?" Charli sits up, miraculously cured from her earlier bout of drunkenness and gloom. "Max is legit the nicest person I've ever met, and I'm including you bitches and Shawn in that statement. Something had to have happened."

"I don't know and I don't care." I put my nose in the air. Hoity-toity is my go-to attitude for things that make me uncomfortable. "There was a check under the door the next morning and I cashed it before he could change his mind. Plus, because I had free labor, I now have enough to take a trip to the Container Store."

And I don't feel the littlest bit guilty about not giving him the leftover funds. I mean, I had to open late while everything was being finished, so I'm calling it even.

I still don't understand what happened. I thought we were finally getting to the place I'd been fantasizing about for years, and then, bam! A glass whizzed past my head.

Whiplash and rage don't go well together.

"The Container Store? I'm coming!" Poppy invites herself. "Ace and TK have started collecting football and baseball cards, and if I come home to my dining room table covered in them again, I'm going to scream. Plus, I saw some blogger organize her pantry and I want to try."

"Look at you, Holly Homemaker, being all domestic and shit," I tease, and duck to avoid the piece of ice she throws at my face. "What? It's cute."
We hope you are enjoying the book so far. To continue reading...
Blitzed
Alexa Martin
Copyright © 2023 All Rights Reserved