Book info
Sample
Audiobook
Media
Author updates
Lists
Synopsis
From Graham Brown, co-author of the New York Times bestselling thriller Devil's Gate with Clive Cussler, comes Black Sun...
In the heart of the Amazon, NRI operative Danielle Laidlaw makes an incredible discovery: a translucent Mayan stone generating massive waves of energy while counting down toward the infamous apocalyptic date: December 21, 2012. And somewhere, there are three more just like it.
What power will be unleashed if all four stones come together? Who created them — and who has them now? Using a cryptic Mayan map and a prophecy that points to the end of the world, Danielle and her team race toward answers. But one staggering question remains: Were these artifacts meant to save us—or to destroy us once and for all?
Release date: August 31, 2010
Publisher: Bantam
Print pages: 480
* BingeBooks earns revenue from qualifying purchases as an Amazon Associate as well as from other retail partners.
Listen to a sample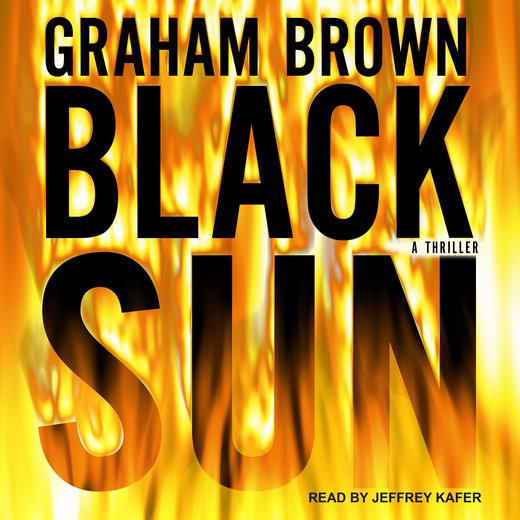 10:21:35
284.56 MB
November 6, 2018
Tantor Audio
2018
Black Sun
Graham Brown
Chapter One


Southern Mexico, December 2012

Danielle Laidlaw scrambled up the side of Mount Puli?mundo, sliding on the loose shale and grabbing for pur?chase with her hands as much as her feet. The frenetic pace of the ascent combined with the thin mountain air had her legs aching and her lungs burning. But she could not afford to slow down.

Thirty-four years old, attractive, and athletic, Danielle was a member of the National Research Institute, a strange hybrid of an organization, often considered a science-based version of the CIA. That they were currently searching for the truth behind an ancient Mayan legend seemed odd, but they had their reasons. The fact that another armed group was trying to stop them told Danielle that those reasons had leaked.

She glanced back to one of the men climbing with her. Thirty feet downslope, Professor Michael McCarter struggled. "Come on, Professor," she urged. "They're getting closer."

Breathing heavily, he looked up at her. Imminent exhaustion seemed to prevent a reply, but he pushed forward with renewed determination.

She turned to their guide, a twenty-year-old Chiapas Indian named Oco. "How much farther?"

"We must get over the top," he told her, in heavily accented English. "It is on the other side."

A few minutes later they crested the summit. McCarter fell to his hands and knees, and Danielle pulled a pair of binoculars from her pack.

They stood on the rim of a volcanic crater. A thousand feet below lay a mountain lake with a small, cone-shaped island bursting upward at its center. The island's steep sides were thickly wooded but unable to disguise its volcanic nature. Yellowish fog clung to it, drifting downwind from vents and cracks.

"Is this it?"

Oco nodded. "Isla Cubierta," he said. Island of the Shroud.

Danielle studied it through the binoculars. If Oco was right, this place would be the key to finding what they were searching for: a Mayan site that legends referred to as the Mirror, a reference to Tohil, the Mayan god of fire, who wore an obsidian mirror on his forehead. It was a symbol of power and might, and if Danielle, McCarter, and the NRI were correct, a symbol of far more than that. But so far the Mirror had remained hidden. To find it they needed help, help that supposedly existed on the Island of the Shroud.

"Are you sure?" she asked.

"The statue is there," he insisted. "I saw it once. When I came with the shaman. He told me that the time was coming, the time when all things would change."

Danielle scanned the terrain. To reach the lake required a hazardous descent, down a steep embankment of loose and crumbling shale on the caldera's inner cone. It would be rough, but much easier physically than the climb they'd just completed.

She tied her hair into a ponytail to let the breeze cool her neck, then settled her eyes on McCarter. He'd managed a sitting position now, though his chest still heaved and fell. His loose linen shirt was open; the T-shirt he wore underneath was drenched in perspiration. Sweat poured down his face, leaving brackish, salty trails on his dark skin.

McCarter was in good shape for a sixty-year-old university professor. And they'd brought only small packs and limited supplies, having discarded all else in the name of speed. But three days of constant hiking and climbing had taken its toll.

"Ready?" she asked.

He looked up, clearly in a state of unreadiness.

"It's all downhill from here," she promised.

"I've been hearing that load of tripe since I turned forty," he said, between breaths. "And so far nothing has gotten any easier." He waved her on. "Go. I'll try to catch up."

McCarter and Danielle were an unlikely team, but they'd formed a bond two years earlier, when Danielle had recruited him for an expedition to the Amazon. Things had started well enough, but in the depths of the jungle everything had gone horribly wrong. By the thinnest of margins, the two of them and a very few others had survived.

In the aftermath of that mission, Danielle had quit the NRI and McCarter had gone back to New York to teach. At the time, he had seemed far more likely to sue the organization than to ever work for it again, but in answering to his own curiosity he'd agreed to do just that. Despite her own reasons not to, Danielle had rejoined as well, in hopes of protecting him. The way she figured it, she owed him that much. He would never have heard of the NRI if she hadn't recruited him. After eight months in the field and several close calls, including a car bomb and two shootings, she wasn't about to leave him now.

Besides, her only chance of returning to Washington, D.C., and the semblance of a normal life she'd been building was to finish this job and deposit McCarter safely back in New York.

"We stick together," she said. "Besides, you're the expert here. You're the one who needs to see this. All we have to do is get down there before them, learn what we need to know, and follow the lake out."

"And what happens when they catch us?"

"They want the statue. They're not going to chase us."

She extended a hand, which McCarter eyed suspiciously before reaching out and grasping.

She helped him to his feet and the three of them went over the side, skidding and sliding and running where they could. As they reached the bottom, she could hear shouting far up above. Their pursuers had come to the crest.

"Hurry," she said, racing across the last ten yards of solid ground and diving into the cold mountain lake.

When they were halfway across, gunfire began cracking from the ridge. Shots clipped the water around them and she dove under the surface and kept kicking until she could no longer hold her breath.

She came up shrouded in the sulfurous mist. McCarter and Oco surfaced beside her.

The gunfire had ceased but another sound caught her attention: a distant rhythmic thumping reaching out across the mountains. It was the staccato clatter of helicopter blades, somewhere to the east. Apparently their enemies had a new trick in store.

"Where is it?" she asked Oco.

He pointed toward the summit. "At the top," he said. "Hidden in the trees."

They climbed the steep angle of the island's slope, using the trees as handholds. They found the statue at the dead center. A great block of stone with the outline of a man carved into it, a Mayan king in full regalia. In his right hand he carried what looked like a net holding four stones. In his left was an orb of some kind. Hieroglyphic writing was scrawled across the bottom and a great snake twisted across the top, with its large open mouth stretching down as if to devour the king with a single bite.

"Ahau Balam," McCarter said, reading the title glyphs. "The Jaguar King. Spirit guide of the Brotherhood."

Oco, who was of Mayan descent, fell silent in awe. McCarter did likewise.

Danielle was more concerned with the danger closing in on them. From the sound she guessed that the helicopter was no more than three minutes away and that the men behind them had to be scrambling down the cliff by now.

"We need to get this information and disappear," she said. "What do you see?"

McCarter studied the writing, eyes darting here and there. He touched one glyph and then another. He seemed confused.

"Professor?"

"I'm not sure," he said.

The sound of the helicopter lumbered closer, growing into a baritone roar.

"We have two minutes," she said. "Maybe less."

He shook his head in disbelief. "There's no story here. No explanation. It's mostly just numbers."

"Dates?"

"No. Just random numbers."

Her mind reeled. She couldn't believe what he was saying.

"Maybe if I—"

She cut him off. "No time."

She pulled out her camera, snapped off a shot, and then checked the screen. The stone was so weathered that the glyphs didn't come out clearly. She took another from a different angle, with a similar result. There just wasn't enough definition.

The helicopter was closing in. She could hear the men on foot shouting as they came down the caldera's embankment.

"It's not clear enough," she said.

McCarter stared at her for a second and then tore off his shirt, dropped to the base of the statue, and pressed it up against the raised hieroglyphs. Holding it there with one hand, he began rubbing fistfuls of the volcanic soil against the surface of the shirt. Oco helped him.
We hope you are enjoying the book so far. To continue reading...
Black Sun
Graham Brown
Copyright © 2023 All Rights Reserved