Black Ice
Available in:
eBook
Paperback
Audiobook
Hardcover
Book info
Sample
Audiobook
Media
Author updates
Lists
Synopsis
Includes a special bonus conversation between Brad Thor and his longtime narrator Armand Schultz!

INSTANT #1 NEW YORK TIMES BESTSELLER

"[A]nother instant classic." —The Real Book Spy
"The undisputed master of blending geopolitics with spycraft…a thriller aficionado's dream." —The Providence Journal

The new Cold War is about to go hot.

#1 New York Times and #1 Wall Street Journal bestselling author Brad Thor is back with his most intense thriller yet.

Scot Harvath is having his best summer ever. With a cottage on the fjord, a boat, and his beautiful girlfriend Sølvi, he's got everything he could possibly want. But out of vacation days and long overdue back home, America's top spy has a decision to make—return, or submit his resignation.

When his deadly past comes calling, though, he'll be left with no choice at all.

Leaving his favorite Oslo café, Harvath watches as a ghost climbs out of a taxi—a man he killed years ago, halfway around the world. How is he still alive? And what is he doing in Norway?

In a race against time that will take him high above the Arctic Circle, Harvath is tested in ways he has never imagined and pushed to a limit few human beings could ever endure.

If he succeeds, he'll walk away with everything. If he fails, the United States and its allies will be at the mercy of one of the world's most dangerous actors.
Release date: July 20, 2021
Publisher: Atria/Emily Bestler Books
Print pages: 320
* BingeBooks earns revenue from qualifying purchases as an Amazon Associate as well as from other retail partners.
Listen to a sample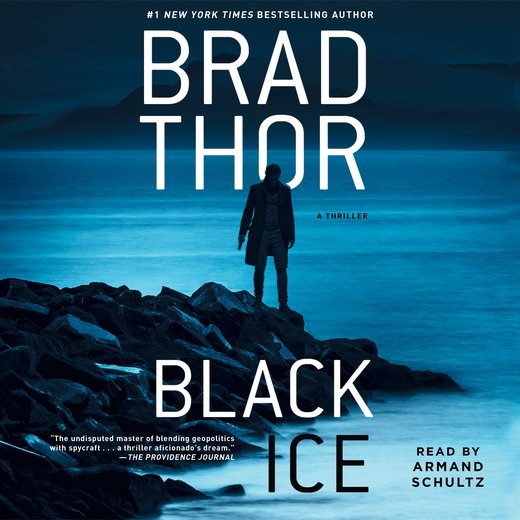 10:29:04
287.99 MB
9781797122205
July 20, 2021
Simon & Schuster
Black Ice
Brad Thor
PROLOGUE
78°55'30"N 11°55'20"E
ARCTIC OCEAN
SVALBARD ARCHIPELAGO
Helicopters, it was said, didn't fly—they merely beat the air into submission. But halfway between continental Norway and the North Pole, it felt as if the air were winning.
As sleet slammed against the exterior, another sixty-plus-mile-per-hour gust rocked the airframe. The rotors groaned in protest. There was only so much the helo could handle. They were pushing it beyond its limits.
Scot Harvath didn't need to see the water to know the slate-gray ocean was roiling with whitecaps. This far above the Arctic Circle, where moisture from the south collided with icy polar winds, massive depressions formed, unleashing nightmare weather.
If anything went wrong, there would be no rescue. No one back at the U.S. Embassy in Oslo, much less anyone at the White House, would acknowledge him, or the mission he was on.
He glanced at the cracked face of his watch, blood crusted atop its bezel. Just a little farther, he thought to himself. We're almost there.
Ignoring the pain in his ribs, he reached for his pack and opened it. Everything was still in place. Take care of your gear and your gear will take care of you. It was a mantra that had saved his life again and again.
Under his mountaineering jacket, he felt the cold press of metal against his skin. No one knew if the odd-shaped key, hanging from a piece of paracord, would even work—not after all this time.
If it didn't, all of the danger, all of the risk, would be for nothing, and the consequences would be deadly. Failure, however, wasn't an option.
That was the world he lived in. He wasn't interested in easy tasks. In fact, he had always chosen the most difficult, the most perilous assign-ments.
It was how he was wired. No matter how bleak the scenario, he would never give up. Success was the only outcome he would entertain.
But as yet another gale-force blast of frigid air convulsed the helicopter, causing it to swing violently from side to side, he began to have his doubts.
Moments later, an alarm began shrieking from the cockpit, and Harvath knew they were in trouble.
The pilots, though, were able to regain control. The bird was still swaying, but nowhere near as badly as before. It looked like everything was going to be okay.
Then there was an earsplitting crack. It sounded as if the helo had been hit by lightning. It was followed by the tail rotor completely shearing off. And as it did, the helicopter began to spiral.
They were going down.
CHAPTER 1
OSLO
TUESDAY
72 HOURS EARLIER
There was only one problem with summer in Norway—it was too short.
Sitting at his favorite outdoor café, Harvath raised his face to the sun. The warmth felt good. He felt good. Better than he had in a long time. The last two months had been exactly what he had needed.
He and Sølvi had bounced between her apartment in the city and the cottage he had rented out on the fjord. It depended on her schedule. As one of the newest Deputy Directors at the Norwegian Intelligence Service, or NIS for short, she had been pretty busy.
Because the commute was easier from the apartment, they usually stayed in Oslo during the week and headed for the fjord on Fridays. That was fine by Harvath. He had enjoyed getting to know the city. There were plenty of museums and cultural sights, not to mention great bars, restaurants, and cafés.
Most mornings, if Sølvi didn't have to leave too early, they would go for a run. The lush Akerselva River Trail was a favorite, as was the Ekeberg Sculpture Park. For safety, they always mixed things up, never frequenting the same location two days in a row.
In addition to running, Harvath had joined a neighborhood gym. When they were at the cottage, he would swim—a lot.
The physical activity had been restorative. After losing his wife, he had stopped taking care of himself. But now, the weight he had shed was back. He had returned to his full level of fitness. And while he still consumed alcohol, it wasn't like before. A half-empty bottle of wine could sit in the fridge for days before they finished it off.
In a word, he was happy. Really happy. Sølvi was an amazing woman. She was not only beautiful, but smart and talented as hell. To be honest, she was probably smarter and more talented than he was. The only realm in which he was confident that he had her beat was experience. But even then, it was only because she was several years younger.
Despite the age difference, however, they shared something very powerful, something that went beyond their physical attraction to each other. Her past was as dark and troubled as his own. They had both been shattered but, in coming together, had found a way to glue their pieces into something better, stronger.
Ultimately, what he loved most about her was her sense of humor. It was a sign of how intelligent she was.
It was also a coping mechanism. The espionage business could be exceptionally brutal—a fact he knew all too well.
Devoid of meaningful relationships, spies often became disillusioned, cynical. Many checked out via booze or other vices—another fact he knew all too well. He had resolved not to allow that to happen to either of them again.
He wanted to make Sølvi happy—as happy as she made him. Second chances were rare in life. He was determined not to screw this up. Which was why mapping out their next step was proving to be difficult.
It was one of the best summers he'd ever had. They had squeezed every drop out of it. The cottage had come with a boat, and they had gotten out on the water as often as they could. A few mornings, he had even used it to drive Sølvi to work, dropping her at the dock adjacent to The Thief hotel, where she'd catch a ride to the office.
There had been barbecues and beach parties. A rotating mix of friends from NIS and the CIA's Oslo Station had drifted in and out of their lives—both in the city and out on the fjord. It was rare to see a weekend where they weren't hosting some sort of get-together, or attending someone else's. It had been wall-to-wall fun, and it was no surprise that no one wanted it to end. But at some point, it had to.
He had burned through all of his sick leave, as well as his vacation days. To say the office was "eager" for him to return was an understatement. In fact, his boss had told him in no uncertain terms that if he wasn't back the following week, he would be "cashiered."
It was a dramatic term to have used. Not fired. Not the more genteel let go. But cashiered—the public humiliation of having one's military insignia ripped away and sword snapped in front of one's comrades.
It was an old-school term. Really old-school. Yet it was perfectly in keeping with the Cold War–era warrior he reported to.
He couldn't blame the man for wanting him back. Had their situations been reversed, he would have felt the same. In fact, he was surprised that he had been allowed to stay away as long as he had. That's where his next step with Sølvi got tricky.
There was no telling where he would be sent, much less for how long. On the whole, his were quick in-and-out jobs. What they weren't was predictable.
In an attempt to give their relationship some structure, something for the two of them to look forward to, he had printed out a calendar.
The idea was to ink specific dates they felt certain they could be together. The additional hope was that, in between his assignments, he could swing through Oslo to see her. With her promotion, she was wedded to headquarters. Any hope of tagging up with him on an assignment in a hotel room in some far-flung, exotic locale was out of the question. Their best chance of seeing each other was in Norway.
It would be tough, but not impossible. He was committed to making it work. And when he set his mind to something, he made it happen.
With the clock ticking down, he wanted their remaining time together to be special. They had been eating a ton of takeout lately, so tonight he decided he'd cook a real American dinner. Something for just the two of them. It would be a night he could freeze in his memory and replay until he returned and they were together again.
He finished the last sip of his kokekaffe—a popular Norwegian afternoon coffee served black and slightly cooled. Standing up, he put on his sunglasses and strolled across the cobbles of Christiania Square, toward his favorite butcher shop.
Though it was a bit of a walk to the food hall in Mathallen, it was worth it. Annis Pølsemakeri had the best meats in town.
Out at the cottage, there was an old smoker that he had made his mission to get up and running again. Once he had, he decided to throw a Texas-style barbecue. When he asked friends where he could get the absolute best brisket, ribs, and pork butt, everyone had said "Annis."
The staff had been so friendly that he had gone back again and again—even just to pick up ground beef for burgers. They were an amusing bunch and tried to upsell him into horsemeat or beef tongue, seeing good-naturedly if they could gross out their American customer. They had no idea that over the course of his career, he had eaten much, much worse.
After buying a couple of T-bones at Annis, he would hit Vulkan Frukt og Grønt AS for fresh vegetables. He figured it was a safe bet that they'd have potatoes and salad fixings. Hopefully, they'd have fresh ears of corn as well.
Once those items were taken care of, all he would need was a nice bottle of wine and dessert.
Not far from the food hall was a Vinmonopolet. He'd probably have to pay through the nose for a good California red, but if they had one, he planned on ignoring the price tag. He wanted their dinner to be as American as possible.
All that was left was to figure out dessert. Apple pie felt a bit too on the nose. What's more, while he could grill or smoke up a storm, he was no baker.
Since Sølvi was a big fan of dark chocolate, he decided that's where he would focus. There was a stall in the food hall called SebastienBruno that sold chocolates, but what she really liked were Belgian chocolates. He made a mental note to keep his eyes peeled for any along the way.
After dinner, if there was time, they could stream a movie. Her passion for classic Hollywood films was bottomless. So far, they had watched Casablanca, Lawrence of Arabia, Psycho, The Godfather, On the Waterfront, North by Northwest, and Citizen Kane together. Tonight, he wanted to introduce her to The Night of the Hunter, from 1955. It was unsettling, but a classic nonetheless.
A few blocks from the food hall, he spotted a small boutique that looked promising for quality chocolate. But when he was fifty yards away, a taxi pulled up and disgorged a ghost.
The sight of the man stopped Harvath dead in his tracks. His eyes had to have been playing tricks on him. The man he was looking at was dead.
Harvath had killed him himself.
CHAPTER 2
Not only had he killed him, but he had hung around just long enough to make absolutely certain the man was dead.
How the hell was he now seeing him alive? And what was the man doing in Norway?
There was only one way to find out. Giving up on his errands, he fell in a safe distance behind and followed.
The man walked at a moderate, confident pace. Had Harvath not been trained, he might not have noticed the moments at which the man checked to see if he had a tail.
Thankfully, Harvath not only noticed but had anticipated them and made sure he wasn't seen.
He tracked him for two blocks until they came to a large, busy boulevard. Taking advantage of a changing traffic light, the man rushed across at the last minute, just as vehicles were beginning to accelerate. Harvath had no choice but to wait. Had he run after him, he would have exposed himself and blown everything.
While he waited, he watched a tram arrive and kept his eyes glued to it. As far as he could tell, the man hadn't boarded.
Once the light changed, Harvath recommenced his chase. But by the time he arrived on the other side of the boulevard, the man was gone.
There were all manner of shops, bars, restaurants, and apartment buildings he could have disappeared into. Something told Harvath that he hadn't opted for any of them. He was still on the move. The question was: Where?
Up ahead, two smaller streets split off from the boulevard, like spokes from a hub. If he was correct, and the man had continued in this direction, he had a fifty-fifty chance of picking the right direction.
The street closest to him was narrower and offered more opportunities for a person to ascertain if they were being followed. It was the one Harvath would have chosen.
Half a block down, he realized he had made a mistake. There was no sign of the man. He must have taken the other street. Turning around, Harvath quickened his pace and headed back for the boulevard.
Once there, he hurried to the next intersection and then, slowing down, casually turned the corner.
This street was a bust as well. Harvath walked all the way down, but no luck. His quarry had vanished.
More than a little ticked off, he prepared to turn around and head back, when something caught his eye.
It wasn't the man he was looking for. It wasn't even someone he knew. But he couldn't turn away.
Oslo was a safe city, but, like anywhere else, it wasn't immune from trouble. And what he was looking at was definitely trouble. He could feel it in the marrow of his bones.
An older, well-dressed woman was being steered toward an ATM by two not-so-well-dressed men in their mid-twenties. The young men each had her by an arm and kept looking over their shoulders.
The look in her eyes told Harvath everything he needed to know. These weren't a couple of Boy Scouts helping an old lady cross the road. She was being mugged and she was terrified.
It looked like an "express kidnapping," something he'd first heard about out of Mexico. Criminal gangs would grab a person, take them to the nearest ATM, and force them to withdraw as much money as possible.
Today wasn't going to be their lucky day.
He stayed far enough back so as not to arouse suspicion and waited until they had reached the ATM before making his move. There, he knew the men would have their attention divided. One would be pressuring the woman to hurry up and withdraw her cash while the other kept an eye open for any sign of trouble.
Harvath was quite skilled at not looking like trouble. It was only when he was right on top of his target—if they even saw him—that they realized how much trouble they were in. And so it was at the ATM.
Pulling out his wallet, he removed his bank card and approached the machine. The young man functioning as the lookout held his hand up and said something in heavily accented Norwegian. Whoever this guy was, he hadn't grown up in Norway.
"Sorry," Harvath replied. "I only speak English."
"Machine broken," said the man. "Find different."
His English sounded like it was just as bad as his Norwegian.
"They get sticky." Harvath smiled, moving toward the ATM. "Sometimes they just need a little tap."
As he moved, so too did the lookout. The young man stepped right in front of him and put his palm into Harvath's chest to stop him.
Contact. Game on.
Since the man had offered Harvath his hand, he figured it would be rude not to accept it.
Grabbing the lookout's wrist in a joint lock, Harvath tucked in his head in case he threw a punch with his opposite hand, and pressed down. Instantly, the man's knees buckled.
As he fell toward the sidewalk, Harvath thrust his right knee up into the man's chin, knocking him out cold. It was then that his partner made a fatal mistake.
Instead of spinning the old woman and using her as a shield, he let her go and pulled a knife. It was obvious why these two were pulling robberies and not running IBM.
To the attacker's credit, he was skilled with a blade. He not only knew how to hold it but also how to come at his opponent. This wasn't his first knife fight.
But Harvath had been in his share of knife fights as well. In fact, he had a recent scar on his chest that he had spent all summer covering with sunscreen. He had no intention of getting cut again.
On the man's first slash, Harvath failed to trap the blade and control it. The tip of the knife had come within a whisper of his abdomen.
When the attacker lunged at him again, he was ready, but the mugger was fast and slippery. Harvath barely got control of the man's wrist.
As he did, the man drew the knife back behind him. Harvath went with it.
When the man tried to drive the knife forward again, Harvath rotated his wrist and helped him cut deep into the back of his own knee.
Dropping the blade, the attacker cried out, but Harvath wasn't finished. Before the knife had even hit the ground, he surged upward with a palm strike into the man's jaw, knocking him backward into the ATM.
The mugger's head must have hit the keypad and completed the interrupted transaction, because moments later the machine spat out a bank card and a stack of cash.
Harvath removed both and handed them to the old woman, who was standing, frozen in fear, only a few feet away.
"Thank you," she whispered. "Thank you for everything."
"You're welcome," he replied.
As he turned to leave, police cars—with klaxons blaring—came racing up from both ends of the street. It was the last thing he needed.
He didn't want to interact with law enforcement. He had spent the whole summer off the grid—not on anyone's radar. All he wanted right now was to simply fade into the background and disappear.
Disappearing, however, wasn't in the cards. A small crowd had gathered and the police had him well in their sights.
Watching the patrol cars approach, he attempted to reassure himself that at least things couldn't get any worse.
But if he had learned nothing else in his life, it was that things could always get worse.
CHAPTER 3
By the time he returned to the apartment, Sølvi was already there. As he had lost interest in grocery shopping, he had opted for takeout from their favorite dim sum spot—a restaurant called The Golden Chimp, not far from Oslo's central train station.
Setting the bag on the kitchen counter, he kissed her hello.
"Let me see you," she said, turning him around. She had been bugging him to get a haircut and he had finally given in.
She had asked if she could pick the spot and he had agreed, as long as it was a proper barbershop and not some fancy hair salon. He wasn't a salon kind of guy. Somehow, she had found a way to split the difference.
Technically it was a "barbershop," but one geared toward hipsters. If the bike rack outside hadn't been enough of a red flag, the cooler full of green juice and mineral water inside should have been.
By the time Harvath figured out he'd been tricked, it was too late to turn around. The receptionist had taken one look at him, figured out who he was, and welcomed him in English.
Sølvi must have given the woman a description of him when she had called and made the appointment. Soon enough, he was beginning to suspect that wasn't all she had given them.
After being escorted back to a chair and introduced to his barber, he sat down and explained to the tattooed man what he wanted. Nothing crazy. Just a little off the top and sides.
Oiling his clippers, the barber replied, "No problem."
Twenty minutes later, when the man held up a mirror so that he could see his haircut from all angles, he was convinced that Sølvi had been behind it.
Not that it was bad. It was just different. A lot of things this summer had been different. But different, he had been learning, could be good.
"I like it," she said, nodding approvingly. "Stylish. Takes ten years off of you. Five more and we could almost pass for the same age."
Normally, that was the kind of joke he'd laugh at. He wasn't in the mood and she noticed. "What's going on?"
When they discussed work, they did everything in their power to steer clear of classified issues. Their countries were allies and fellow NATO members but separate, sovereign nations.
Holding out his hand, he gestured for her phone. Once she had given it to him, he took it, along with his own, and tucked them away in the other room.
"I need a favor," he said, walking back into the kitchen.
"What kind of favor?"
"I saw somebody get out of a taxi today. If it has a passenger-facing dash cam, I need the footage. I also need to know where the passenger was picked up, how they paid, and anything else the driver may have seen or overheard. Do you think you can get that for me?"
She thought for a moment. "I know somebody I can ask. I assume you have a license plate or taxi number?"
"I can give you both."
"Plus the address where the driver dropped the passenger off."
Harvath nodded. "As well as a physical description."
"As long as it isn't for an attractive female, eighteen to twenty-two, I don't see a problem."
He blew by that joke as well. "And I'd like any CCTV footage near the pickup and drop-off locations."
"That's going to be more difficult, but I'll see what I can do. Are you going to tell me what this is all about?"
He was asking her for a lot. The Norwegians had strict data privacy laws. It was time for him to offer something in return.
"Several years ago, I was sent to China on an assignment."
"This isn't when you got caught in a hurricane on Macau, is it?"
"No. This was much more recent."
"What kind of assignment was it?"
"The Chinese were planning a terrorist attack on the United States. We disrupted it. When our President confronted their Premier, the Chinese denied it. Once we had presented them with the evidence, they claimed it was a rogue operation by one of their intelligence chiefs."
"And you were sent to confront the chief."
He shook his head. "No. I was sent to kill him."
She was no stranger to killing, though she was certain her scorecard was nowhere close to his. That said, she was also certain that, like her, he found no pleasure in taking another human life.
It was a sad fact of their business that sometimes there was no other recourse and it simply needed to be done. For some, the only language they understood was violence.
As the old saying went: People sleep peacefully in their beds only because rough men—and women, she was known to add—stand ready to do violence on their behalf. The two skills most necessary for a nation state to survive were its ability to keep secrets and covertly project force. Lose either ability and your country was doomed.
"So, this man you were sent to kill. I assume you were successful?"
"I never stop until I am."
"And that's who you saw get out of the taxi?"
He nodded.
"Any chance you were mistaken? It has, after all, been several years. Maybe he just really looked like him?"
Opening the refrigerator, he pulled out a bottle of beer. "You don't forget those faces. It doesn't matter how many years it has been."
He had a point. Like a branding iron seared into her subconscious, she could recall the face of every person she had ever been tasked with dispatching. The one consolation of having to carry those mental pictures was that they all deserved what she had meted out to them. She felt no pity. No remorse. The people of Norway slept peacefully in their beds at night because she was ready, willing, and able to do violence on their behalf. End of story.
"Whatever information I can dig up for you, if I can dig up any at all, it didn't come from me. Deal?"
"Deal," he replied, popping the cap off of his beer and changing the subject. "There's a bottle of white in the fridge. Do you want a glass with dinner?"
Moving to him, she placed her hand against his chest. "I can't. I have to go back to the office tonight."
He understood. It was a cruel twist. As his time with her was winding down, her work was spinning up. He appreciated that she had snuck out to eat with him—even if it meant she'd have to turn around and go right back.
"How long do we have?"
"Enough time for dinner."
"Dinner and…?" he asked, his voice trailing off as he smiled at her.
She smiled in return and kissed him. "Just dinner, I'm afraid. The good news is that I'll be able to make those calls for you as soon as I get back to my desk."
It was yet another thing they had in common. She was as driven as he was. She cared too much about Norway to give up her career and follow him back to D.C. He cared too much about the United States to give up his career and stay in Oslo. The silver lining was that they were both committed to making it work—no matter how many frequent flyer miles it cost them.
"Plates? Or straight out of the containers?"
"I've got enough time for plates. In fact, we can even sit down at the dining room table like adults," she said before looking down and asking, "What happened to your hand?"
He hadn't even noticed. "What about it?"
"The inside of your right hand. You've got a bruise. Where'd that come from?"
"This?" he asked, turning his palm over. "It's nothing. Don't worry about it."
"Something's up. What are you not telling me?"
"It's nothing," he repeated. "I probably just bumped it at the gym."
"Now you're lying."
She was right. He was. Lying was part of his job and he was quite good at it—when he wanted to be. He didn't want to lie to her, though.
"I got in a little shoving match this afternoon."
"A shoving match?"
"You might call it a scuffle."
She looked at him. "What happened?"
"A couple of street thugs tried to rob a little old lady at an ATM. I helped them realize it was a bad idea."
"That was you?" she asked, her eyes widening.
"What are you talking about?"
"It popped up on my news app. Let me go get my phone."
Harvath watched as she headed to the bedroom. He was allergic to publicity and avoided the spotlight like the plague. Media attention was like kryptonite for spies.
We hope you are enjoying the book so far. To continue reading...
Black Ice
Brad Thor
Copyright © 2022 All Rights Reserved
Also in this series
Also by this author