Being Mary Bennet
Available in:
eBook
Paperback
Audiobook
Hardcover
Book info
Sample
Audiobook
Media
Author updates
Lists
Synopsis
It is a truth universally acknowledged that every bookworm secretly wishes to be Lizzy Bennet from Pride and Prejudice.
A less acknowledged truth is that Mary Bennet might be a better fit.
For Marnie Barnes, realizing she's a Mary Bennet is devastating. But she's determined to reinvent herself, so she enlists the help of her bubbly roommate and opens up to the world. 
And between new friends, a very cute boy, and a rescue pup named Sir Pat, Marnie finds herself on a path to becoming a new person entirely. But she's no Lizzy, or even Mary—instead, she's someone even better: just plain Marnie.
With a hilariously sharp voice, a sweet and fulfilling romance that features a meet-cute in an animal shelter, and a big family that revels in causing big problems, this charming comedy of errors about a girl who resolves to become the main character of her own story (at any and all costs), is perfect for fans of Jenny Han and Becky Albertalli…and Jane Austen, of course.
Release date: March 15, 2022
Publisher: HarperTeen
Print pages: 384
* BingeBooks earns revenue from qualifying purchases as an Amazon Associate as well as from other retail partners.
Listen to a sample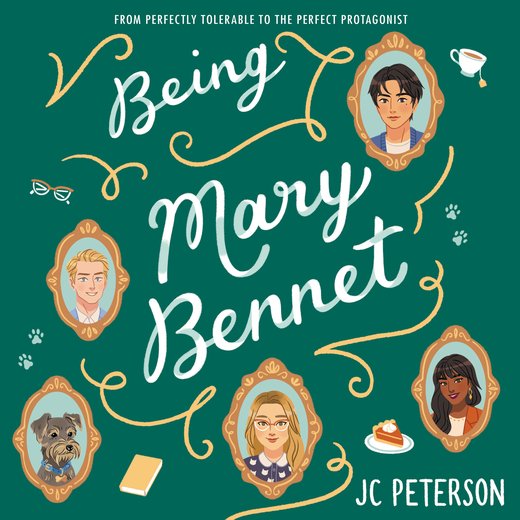 11:03:46
303.86 MB
9780063060166
March 15, 2022
HarperCollins
Being Mary Bennet
J. C. Peterson
IT IS A TRUTH UNIVERSALLY ACKNOWLEDGED that no one should spend her eighteenth birthday at the library.
That's according to Adhira Fitz, accidental roommate and apparent birthday expert. According to me, Marnie Barnes, academic extraordinaire and solitude expert, libraries make for fabulous birthdays. I would say something about being surrounded by your closest confidantes and bosom friends, but even I realize that makes me sound like your great-aunt Maude, the one with three too many cats and opinions on brocade.
The Ambrose Bierce Library on the campus of Pacific Crest Academy is cocooned in the thick hush of hundreds of books and a head librarian who only wears soft-soled shoes. Deep within the stacks, I've commandeered my favorite corner table and spread out my textbooks and notes with precision—books to the right, stacked by size, and highlighters to my left. Everything in its right place. Me in my right place, surrounded by my book BFFs without a soul bothering me. Nothing could make my birthday heart happier.
Bzzz. Bzzz.
Ugh. Nothing save maybe putting my phone on silent. I push aside the book I'm about to crack open and snatch my phone out of my bag, balking at Adhira's name. We don't talk on the phone. We don't chat. We happen to share living quarters until the PCA Housing Board realizes their mistake and puts me in a single room like I've repeatedly requested.
"Yes?" I hiss, tight-lipped.
"You're not hiding alone in a library on your birthday, Marnie. I won't allow it."
Well, that's preposterous. I'm not alone. (See: aforementioned book BFFs.)
I swivel around to check for the librarian, then hunch and cup a hand over my mouth: "I'm not hiding, Adhira. I'm working."
Talking on phones is verboten in the Bierce Library. Just last week, the librarian caught Ophelia Lawson and literally threw her brand-new iPhone—Kate Spade case and all—out the window. Though, by the triumph smeared all over her father's face when I spied him leaving the headmaster's office, PCA staff will likely refrain from any more phone defenestration.
"Unacceptable," Adhira says much too loudly.
That shakes a cough loose. "Excuse me? I have an essay to complete for British History and my presentation to write for my Hunt Prize entry."
A presentation for which I'm woefully unprepared. A twist of sourness heats my stomach. If I don't wow the Hunt Prize committee with a project idea . . . if I'm rejected from entering the program . . .
"Exactly. You deserve a break. I've got to finish my costuming workshop, then I'm coming to rescue you," Adhira says, like I need rescuing.
"Wait, no—"
"See you soon!" She hangs up, and I'm left with the prickling sensation that I lost an argument I didn't know I was having.
A shadow darkens my untouched notebook.
"I believe," a flat, deliberately bored voice begins, "there's a name for someone who gets me in trouble for using a phone, then turns around and uses one herself."
A groan swells in my throat and breaks against my tongue. I drop my phone like it's acid and glance at Ophelia Lawson over my glasses.
"Hello, Lia."
And, okay. Maybe I did tell the librarian she was being loud, which led to the whole "phone chucked out the window" incident. But a library is for studying and reading, not fraternizing with your friends. She was giggling. Giggling!
Lia casts a long look over my assembled books and crosses her arms. "You took every book on Queen Mary. How is anyone else supposed to do that stupid essay you got us assigned?"
First of all, the essay isn't stupid. Queen Mary is fascinating. She was called "Bloody Mary," and no one nicknamed "bloody" anything turns out to be a homebody who got all her daily fiber. Second of all—
"I simply asked if we had any homework, Lia. Rather we get the assignment now than just before the weekend, right?" Some people are just ungrateful. Lia's icy eyes cut to the books again. Oh so casually, I lean on them in case she tries to make off with one.
Lia grumps. "Whatever." She sweeps a sheet of long blond hair over her shoulder, pausing to give me one of her patented Lia Disapproves sneers before she spins on a heel and stalks off. She is not, it should be noted, wearing soft-soled shoes. Her stomps crack against the wood floors all the way across the library. Maybe she'll make Daddy solve this for her too. There'll be a "no homework" rule instituted. My eyes roll so hard, my head is in danger of tipping off.
Pacific Crest Academy is one of the premier boarding schools on the West Coast, an institution where senators, Silicon Valley executives, and stars send their teen daughters. (Fact: three of my fellow PCA students are the progeny of reality show stars.) Homework shouldn't simply be a requirement. It should be lauded for how it's preparing us for college and beyond. Unfortunately, some of my fame-adjacent classmates seem to disagree.
My phone buzzes again, this time with a text: All done. On my way over.
Great. I've taken exactly zero notes for this essay. And I haven't even opened my Hunt Prize notebook. Can't a girl spend her birthday how she wants? Preferably in quiet reflection with a favorite book. Or at least getting ahead on an assignment or two.
A wriggle of trepidation worms down my spine. What if Adhira has planned something? What if she invited people? The wriggle tunnels deep and gets bitey, and I curl a hand against my stomach.
The last time someone planned a party for me without my knowledge, it was my mother. She invited all the ladies from the club and their tanned, statuesque daughters to celebrate my sixteenth. And nobody came. Nobody. Mother was mortified—for herself, of course—and used the Party That Wasn't as a truly delightful opportunity to enumerate all the ways I could improve myself to attract friends. It started with "Stop eating all the leftover cake, Marnie" and ended with "I can't believe you ate all that cake just to spite me. Don't come crying to me when you can't fit into your prom dress."
I didn't go to prom, so joke's on her.
But the memory of that particular humiliation is hot behind my eyes. It spurs me to stand, do something so the sting doesn't turn into something worse like—horror of horrors—tears. I scoop up my notebooks and shove them into my bag next to Costumes of the Elizabethan Stage, which I've already checked out, then hesitate over the rest. I snatch up one, The Madness and Mystery of Queen Mary, and leave the rest behind to go hide. I'll text Adhira later that something came up and—
"Oh, good, you're already packed."
The book drops and hits the table with a thump.
"Adhira. Hey. I was actually about to . . ."
The issue is, I haven't thought up an excuse yet, so the sentence puffs away to nothing. Adhira stares at me for a second, her eyebrows pulled together, then she goes about stacking my books on the nearby cart so I can retrieve them later. We're both new seniors at PCA this year—me from San Jose and her from Toronto. In these past two months, the girl has learned my ways. It's all very disconcerting.
"You and this library," she mutters to herself.
"Are in a mutually beneficial relationship," I finish for her. Then, feeling very smug, I brandish Costumes of the Elizabethan Stage from my bag. "And I grabbed this for you. It's the one you were trying to track down, right?"
Adhira's eyes light up. "Oh, it is! Thank you!"
The head librarian shushes us, and Adhira tilts her head toward mine. "But you're still not celebrating your birthday in a library," she whispers, "impossible-to-check-out book or no."
With that, I'm bundled out the door and stumble down the library steps. Outside, low clouds scuttle across the San Francisco sky, casting the formerly bright October day in flat shadows. I shove my hands deeper into my cardigan pockets and hunch my neck. The wind off the Pacific snaps with a wet sort of cold and sends a frizz of my dirty-blond hair into my eyes. I tuck it behind my ear and push my glasses back up my nose.
PCA takes up a full city block in the hilly heart of San Francisco, but within its tall fences, our little school is a quiet green oasis, windy Pacific air notwithstanding. Across the terraced central courtyard, the PCA cafeteria nestles squat between the stately old arts and humanities building and the new glass-and-steel science building, home of the trendsetting Girls in Tech incubator. The science building isn't named yet, but the rumor is it'll soon be dedicated in honor of the incubator's founder: Thomas J. Barnes Science Hall. As in, my father. Who texted me this morning to cancel our lunch plans because he was too busy incubating, or whatever.
"I was thinking I could buy you dessert," Adhira says, smiling wide. She has a way of smiling that makes her dark eyes sparkle and her brown skin go all glowy. My rare smiles more resemble those charts doctors use so patients can point out their level of physical pain. Or so I was told by my mother when she got the proofs back from my sister's wedding.
"They've got chocolate cake at the caf today," I venture. I should know, because I definitely ate a piece by myself earlier.
Adhira tilts her pointed chin and hooks a thumb in the opposite direction—toward the blue-and-green painted steps leading to Alcott House and the main gates that open to the bustle of San Francisco. "I had something different in mind."
As a rule, I don't go in for things that are different. There's too much variability in "different." I chew on Adhira's proposal as she drags me along the steep gravel path toward the edge of the courtyard.
"I guess we could walk over to Bardo for some tea," I say as we pass the fountain of Athena with an owl on her shoulder.
Adhira blows out a breath, ruffling her dark bangs. "You're going to like this, Marnie. Promise."
"I won't."
"You will. Come on." Adhira plants both hands on my shoulders. This is more physical contact than I strictly allow, but she is a hugger. She hugged me the first time we met—on move-in day—and I nearly recoiled in abject horror. I've gotten her down to one hug a week, but it's taken hard work and dedication. I don't know why she hasn't given up on this "friend" thing and hung out with other girls at PCA, but here we are. Her nose scrunches up. "Please? I promise it'll be fun."
"Fine." But I shift my shoulders to toss Adhira's hands off and lift my chin, like I didn't just give in to the smallest, most determined Canadian girl I know.
We stop at the top of those famous Pacific Crest Academy painted steps. At eye level, the turrets and gables of Alcott House and the soaring arches of the Edison Auditorium at the bottom of the hill stare back.
"I'll call a car!" She grins and yanks her phone out of her pocket. "Dev and Tilda can't wait to meet you!"
Wait. What?
THE HIRED CAR DIVES DOWN Russian Hill and across Market, burrowing into the impossibly hip Mission. I do some burrowing of my own, but try as I might, I'm not able to disappear into the brown leather seat.
The darkening streets buzz with bicyclists on fixies swerving around cars and groups in line for the Korean taco food trucks. Mom once went on an all-fermented diet. I spent three months offended on Korean food's behalf because of the ways Julia Barnes disrespected kimchi.
"I can't stay out late," I say to Adhira. The art of the pre-excuse is one I've honed over the years. "My Hunt Prize presentation is in three days, and unlike you, I still have no idea what I'm going to pitch. Plus, I've got a volunteer shift at the library tomorrow afternoon for story time."
"I thought you settled on Once Upon a Doggie for the project?"
"First, a giant no to that name. Second, why would I want to spend the next six months covered in poodle hair?" Poodles aren't winning the Hunt Prize.
Adhira shrugs, but it's still peppy. I don't know how she does it. Even when deep in concentration at her dress form, her mouth lifts in a natural smile. Last month, my niece told me I look like Viola Swamp when I read. In my defense, I was into an intense passage in A Great and Terrible Beauty. But is there any defense for looking like an actual witch?
"Then pitch that lecture series on Feminism and Shakespeare," Adhira counters. She peers out the window, the streetlights slashing orange over her hair. "You'll figure it out, Marnie."
Except I quite possibly won't figure it out, and either way I have to present to Headmaster Finch and the Hunt Prize committee, which includes Lia's foul-faced father. Who definitely would rather his name be on the science building—among other reasons to hate me (cough Lia's phone cough).
It's easy for Adhira to act unconcerned. Her pitch was accepted nearly a month ago and she's already found mentors at Academy of Art University—the illustrious Dev and Tilda I'm about to meet. It is now the twenty-third of October, and if I don't have my project accepted and the mentorship paperwork filed by the first of November, I'll be a normal senior. I might as well schlep back to San Jose since the Hunt Prize is only for PCA seniors, anyway.
A wave of exhaustion hits me again, making this entire birthday journey a totally irresponsible venture. Even if my pitch is accepted, I still have so many more steps to go. I'll have to secure a mentor—usually some VIP from the community—and then, most daunting of all, I'll have to actually implement the project. Plus, there's the Hunt Prize fair in December, which weeds out the weaker projects, advancing no more than twenty finalists. Then the big final speeches are the culmination of all our projects in the spring. The winner is awarded a medal, some money, but most importantly prestige. The sort of prestige that looks really good on college applications if, for example, you want to attend Stanford and have great grades but not a ton of extracurricular padding (ahem). Two senators, a handful of CEOs, and at least one social media influencer have won in the past. And, oh yeah, my older sister.
She won the prize nearly a decade ago, with a project on saltwater marsh reclamation in San Francisco Bay. Not that I'm trying to live up to Perfect and Amazing Lindy Barnes™, it's just that I need to win the Hunt Prize. And if Mom starts gushing about me ad nauseam and Dad stops canceling lunch plans, that'll be a pleasant side effect.
The car swerves toward the curb and stops, jolting me from my thoughts.
Adhira grins out my side of the car toward a crowded restaurant called Satchel & Pine. "Dev told me this place is amaze."
"—ing," I helpfully finish for her.
Adhira leans across me to push my door open and practically shoves me out onto the sidewalk. "No lecturing tonight," she says, warning in her tone.
"I was correcting, not lecturing," I admonish, pushing my glasses back up my nose.
Adhira cuts a brown-eyed glare my way, so I turn away and peer at this apparently amaze(ing) place. Two garage doors on either side of the entrance are open, and the music wafting out sounds like a singing saw. Inside, it's all man buns and maroon lipstick, and I am hopelessly out of place.
"I promise, you'll like Dev and Tilda. You guys have a ton in common."
Doubtful. My toes curl in my clogs. "Theater people are so . . . dramatic." I get enough of that with four sisters and an excitable mother.
Adhira dramatically rolls her eyes, proving my point quite nicely. "It's only Dev and Tilda, not any of the performers. We're only dramatic about a kick-ass bustle, eh?" She holds up her hand for a triumphant high five that will never come.
"I don't know, Adhira," I hedge, already looking for the exit before we've even walked through the door.
"Marnie Elizabeth Barnes," she says, deploying my full name so I know it's serious. Funny, but I don't know her middle name. "You are to march inside this instant and have a wonderful birthday, do you hear me? Stop judging this place and"—Adhira screws up her face for a moment—"give it a try, okay? There are places other than the library and Bardo you may like. Stop hiding."
"I'm not hiding." Why have I had to say this twice today already? "I'm just very busy."
After a second, Adhira sighs. "I'd be a terrible roommate if I ignored your birthday. Let me be your friend, okay?"
All my indignation puddles at my feet. My friend. She's under the impression that the PCA Housing Board matched us as roommates based on some compatibility in our applications. Except it was all a mistake. I never filled out a roommate application because I'd requested a single room, and I definitely gave a strangled choke instead of telling her the truth when she brought up the application on move-in day. Now, nearly two months later, it feels too late to correct her. Except . . .
Guilt bloops in my stomach at the memory of the letter I hand-delivered to the housing board a couple of weeks ago—the third such letter reminding them of my request for a single room. But truthfully, I'm much better on my own.
If I were alone, there'd be no one currently nudging me toward heavy black velvet curtains and into a restaurant. A restaurant that is, okay, not as annoying as I imagined. Between the man buns and maroon lipstick are deep leather booths and framed vintage maps on the walls. Hanging above, milky-white lamps cast everyone in a moody, glamorous light. A giant age-smoked mirror to my right shows my complexion transformed from consumptive to almost luminous.
"See?" Adhira gushes.
"I see!" I say, like someone on the receiving end of a tent-revival miracle.
Adhira grins and hauls me to a booth at the back and two people with matching swoopy half-shaved haircuts; the guy's hair is black and the woman's white-blond. Adhira introduces me, and instead of saying hello I freeze up, audibly gulp, then go for a stiff stare. Miss Personality Plus, that's me.
Dev Mehta and Tilda Williams return my stare, though I don't miss the way Tilda flicks her heavily winged eyes up and down my outfit. I tug at the edges of my sack dress pockets, then shove my hands into my cardigan pockets—that's right, I'm double-pocketed.
"Your cardigan," Tilda says. "Did you add the embellishments yourself?"
I glance down at my cardigan, and it glances back. It's covered in embroidered orange cats in various attitudes. My favorite is the snoozing tabby curled in a ball above my left pocket. "My sister got it for me last year. From some online place, I think."
Honestly, clothes aren't my forte. Or makeup. Or small talk. Or . . . you get the picture.
"It's so unique," Tilda says, in what is most certainly not a compliment. She's dressed head to toe in black, which, combined with her bright white hair, makes her look like Goth Santa.
Adhira slides into the deep olive-green booth, already talking fast with Dev. I wobble onto the edges of my clogs for a second, dithering. But then Dev frowns at me.
"Are you going to sit, or . . . ?"
Right. Standing awkwardly at the head of the table is not the best option. I bumble my way into the booth, the backs of my thighs squeaking across the leather. This is all going splendidly; is it a surprise yet that I don't seek out social moments?
Adhira's voice bubbles with excitement as she dissects the local production of Ali Baba and the Forty Thieves she helped costume. It was part of her Hunt Prize project to create costumes using all recycled and sustainable products, and Time Out San Francisco called it "a play" that "happened." There's still scavenged turquoise sateen all over our dorm room that's given me flashbacks to the two and a half weeks Mom declared she'd taken up sewing and hauled her grandmother's Singer and a collection of vintage cloth out of storage.
All my attempts to decipher the talk of bodices and darting makes desperation ping in my brain. I have nothing substantive to add. Why can't Adhira be into modern-day retellings of Anne of Green Gables?
Dev idly plays with a sprig of some sort of roughage sticking out of his drink, then leans forward, eyes bright. "Thank god the director didn't get his way with the flying carpet," he hisses with gossip. "It would've been wall-to-wall shag pile to get Morgiana off the ground."
Tilda cackles with laughter, but I've lit up. Finally, something I can work with!
"Actually, there aren't any flying carpets in Ali Baba."
All aforementioned cackles screech to a stop. Ah, yes. Here I am. Your friendly neighborhood mood killer. But honestly, it would be totally incongruous to add a flying carpet to that story. A tiny bit of research would have told anyone that.
Adhira looks at me with big eyes, which I apparently take to mean "do go on," so I say, "You're thinking of one of the other stories from One Thousand and One Arabian Nights. If you didn't know, that's the source material."
Silence. Though Tilda's slow blink speaks volumes.
Maybe Adhira's "do go on" eyes were actually "shut up, now!" eyes.
"Right." Dev glances at Adhira, then back to me. "You're into books, aren't you?"
Adhira nods for me, even though Dev said "into books" like I was "into murder."
"She's read, like, everything." A twinge of desperation stretches the edge of Adhira's voice. I have a sneaking suspicion she's rethinking introducing me to her mentors. "And she interns at the city's central library. That's how she came up with her best Hunt Prize idea."
I side-eye her, but Dev and Tilda are side-eyeing me. It's a side-eye circle. I sit on my hands and kick the back of one clog against the booth. I should have just stayed on campus. These two clearly don't like me. I mean, I don't care, except I sort of do.
"So it's called Once Upon a Doggie," Adhira begins, considering I've gone chatty as a clam.
"I'm not calling it that."
They blink at me, so I sigh and take over since I have no choice now. "Basically, it's using the library's bookmobile to set up at animal shelters so kids can practice their reading with adoptable dogs."
"Fiction for Fido," Dev pipes up.
Uh, no.
"Oh! Ruff Reading," Adhira says.
Also no.
"Puppy Periodicals!"
"Periodicals are magazines, not books," I say.
Tilda, who's been quiet, catches my eye. There are little muscles quivering on either side of her mouth, then she quirks a brief smile. "That's actually a rad idea."
A little squidge of pride pops in my chest to have a cool older person think the idea is good. Maybe it is the best idea of all my options. Maybe this'll be the thing that makes my teachers and parents and generally everybody stop saying "Oh, you're Lindy's little sister! She's so Perfect and Amazing™!" before trailing off and staring at me like they don't know what went wrong in the eight and a half years between her birth and mine.
"Do you have a shelter you're partnering with?" Dev asks.
That squidge of pride deflates with a pfffffft. I rub at the end of my nose, then say, "Not yet."
"My little brother's friend at USF volunteers at a shelter in Outer Richmond," Dev says as he scrolls through his phone. "I'll give you his contact info."
"Oh yeah. Of course." By which I mean: nope. There's no way I'm going to cold-call some dude who's the friend of the brother of a guy I've literally just met. I have to psych myself up to call my own mother.
"What's your number?"
Dev looks up from his phone expectantly, but all I can muster is a weak, "What?"
He puffs his cheeks out in a big sigh, then grabs the coaster from under his drink and scrawls the number for someone named Whit. I nod as I look at it, like I live in a world where I will ever, in ten million years, call this guy.
"Seriously, call him," Dev presses, like he could read my thoughts. "He's really nice—and hot, if you're into guys."
"I'm not— I mean. Yeah, I'm into guys, but not—" Oh god. Dev waggles his eyebrows and my cheeks burn. Panic! I don't talk about boys with friends. And I certainly don't talk about boys with absolute strangers. The edge of the coaster is soggy under the press of my fingernail, and I start blurting words to change the subject. "I mean, I'm not even sure this is the project I'll end up pitching. No offense, but this is a big deal to me. I think I've got a chance to do something actually important, you know? I'm not going to jump at the first thing if I want to win the prize."
Beside me, Adhira stills. "What, like working on plays is unimportant?"
"No! I mean, the spirit of the project is to, you know, help people. If I want to win the Hunt Prize—"
"I'm hungry," Adhira announces quite suddenly. "Are you hungry? Let's eat. Dev, can you recommend—"
"Is that your only goal? To win some prize?" Tilda interrupts, her eyebrows winging low. "Because I hate to break this to you, honey, but that isn't helping anyone but yourself. Maybe don't be shitty about Adhira's project."
It takes a second for the words to burst past my teeth. "I wasn't! I just need something better!"
Tilda's glare could freeze a penguin. "You're being really rude." She scoots out of the booth and stands. "And for the record, the arts are just as important as whatever bullshit you're going to come up with. Adhira, you don't have to listen to this."
Dev scoots out behind Tilda, and Adhira is right behind them, wringing her hands together. She pauses, sucks in a breath like she has something to say to me. But then she clamps her mouth shut and dashes after Dev and Tilda.
I really wasn't trying to be shitty. It's just that she's working on making some pretty dresses—which is great and fine and good for her!—and I have the ability here to make people's lives better. I mean, if I can actually settle on a project.
Guilt prickles my skin, and I squirm to relieve the feeling. Dev and Tilda abandoned their cocktails when they stormed off, so I push them across the table. That's all I need right now, for someone to ID me and kick me out. I peek around the booth to see Adhira at the front of the restaurant talking with Dev and Tilda. She's using her hands a lot. Not a good sign. But then Tilda's eyes snap to mine, and I dart back with a little huff.
Heat crawls up my chest, probably making me blotchy, and my hair sits hot and itchy against the side of my neck. I grab the tail of my long blond braid and throw it over my shoulder. Okay, so I could have gone about that a different way. I peer around, careful not to be caught spying on the others.
That's when I see him.
My heart takes off like a shot, thumping so hard I can scarcely breathe. Hayworth Wellesley rests one elbow against the sleek copper bar, looking for all the world like a posh alcohol advertisement. He's fresh out of a concurrent bachelor's and master's program, the youngest venture capitalist at Bright Star Capital in Palo Alto, a former California all-state lacrosse midfielder, and newly engaged to Sara Nguyen, my sister's best friend.
And he's the love of my life.
Not that he knows that.
We hope you are enjoying the book so far. To continue reading...
Being Mary Bennet
J. C. Peterson
Copyright © 2023 All Rights Reserved