Beasts of Ruin
Available in:
eBook
Paperback
Audiobook
Hardcover
Book info
Sample
Audiobook
Media
Author updates
Lists
Synopsis
In this much anticipated follow up to New York Times bestselling Beasts of Prey, Koffi's powers grow stronger and Ekon's secrets turn darker as they face the god of death.

After having promised to use her new powers to serve Fedu, the cunning god of death, and assist in his plans to remake the world, Koffi finds herself a prisoner in Thornkeep—a luxurious mansion with well-manicured gardens. But Fedu's beautiful realm is a lie. Koffi and many other darajas are trapped there by a deadly, inscrutable mist, making escape impossible. But something within the mist calls to Koffi, igniting her magic. It soon becomes clear that the very thing imprisoning her could be the key to not only her freedom, but finally unlocking the remaining mysteries of her own magic, allowing her to fight the god of death and perhaps even win.

While Koffi attempts to decipher the secrets of the mist and learns to wield her own deadly power, Ekon is determined to make his way to Thornkeep to fight alongside her. But leaving Lkossa is easier said than done. Ekon, once a promising soldier, is now a wanted man on the run from those he once called brother. He's forced to make new, uneasy alliances to flee Lkossa and turn his back on everything he once believed. And each day he draws closer to the realm of death, so too does Ekon draw nearer to a long-hidden truth about himself that could change his loyalties forever.

Koffi and Ekon—separated by both land and gods—risk everything to reunite. But the longer they're apart, the more they will have to reckon with changing destinies and, maybe, changing hearts.
Release date: July 26, 2022
Publisher: G.P. Putnam's Sons Books for Young Readers
Print pages: 496
* BingeBooks earns revenue from qualifying purchases as an Amazon Associate as well as from other retail partners.
Listen to a sample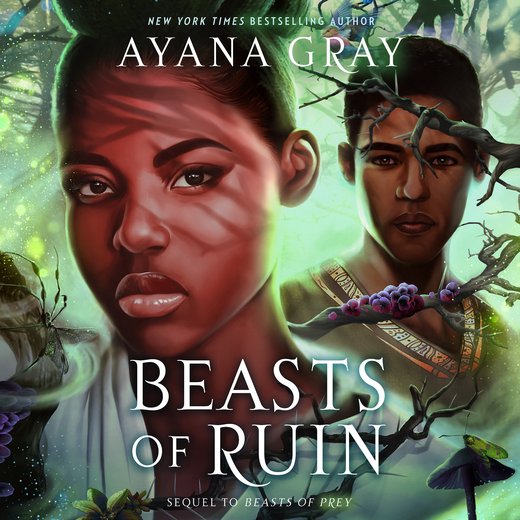 14:49:49
407.34 MB
9780593414774
July 26, 2022
Penguin Random House
Beasts of Ruin
Ayana Gray
UNSPOKEN THINGSBINTI
In the fragile hours before dawn, this city belongs to its monsters.
A faltering rhythm beats in my chest like a goatskin drum as I feel for the dagger sheathed at my side. It is only a modest weapon, small and crudely made, but I take some comfort in its weight, in the shape of its carved wooden hilt. The clouds overhead are bruised black and blue, swollen with rain and violence. Among the thunderous rumblings, I hear their discontent. The clouds know what I'm plotting to do.
Beneath their gaze, I am already condemned.
Mud sucks at my sandals as I traverse Lkossa's roads, tempting me to kick them off and continue barefoot, but I resist that urge. These sandals are the only ones I have, and replacing them isn't a luxury I can afford. Each sodden step is weighed with hesitation, and I wonder if I should turn back now before I'm caught and punished, but time is a gluttonous creature this late in the night; it consumes my thoughts and leaves no room for doubt. My strides lengthen.
I need to keep moving.
The mud-brick buildings press in on me from both sides as I walk, suffocating me in the collective fetor of rotting meat, fermented fruit, and ox dung. They grow more dilapidated the deeper I venture into the bowels of the Chafu District, and I swear their cutout windows follow me like hollow, vacant eyes, watching my progress alongside the clouds. Past them, the soft peaks of evergreen pines rise above the city's tallest buildings, reminding me of my proximity to the notorious Greater Jungle and its legends, but I can't dwell on that either, not now.
I skirt past a flea-ridden cat as I cross one of the district's dimly lit intersections and feel something underfoot: a crumpled piece of parchment covered with words inked in cerulean. That color is distinct, used only for documents that come from the city's temple—a temple
my people are not permitted to worship within. Some instinct warns me not to read what it says, but I pick it up anyway, unfurling its rolled corners with tentative fingers. Mud has stained it in places, but I can still clearly see the image at its center.
The little girl staring back at me could be eight as easily as she could be twelve; it is impossible to know with certainty. In the rough, blue-lined sketch, her eyes are dark and wary; the rest of her face is emaciated. One single emboldened word is legible above her portrait: REWARD. Below it are more words, smudged and hurriedly scrawled.
FEMALE DARAJA

Description: black hair, brown or black eyes

Age: unknown

Height: approx. 4 ft., 1 in.

Weight: approx. 50–60 lbs.

Wanted for: illicit activity

Additional notes: A reward of 500 shabas will be paid for live capture.
My eyes are immediately drawn to the words illicit activity, and a swarm of new emotions begins to collect in the pit of my stomach, buzzing louder as I let the parchment slip from my fingers and flutter back to the ground. I force myself to name each feeling, plucking at them like the flyaway seeds of a dandelion. The anxiety seeps through my pores first, trailed by fear, resentment, and finally guilt. I bite down on the inside of my cheek until I taste the coppery tang of blood.
Guilt is one more luxury I cannot afford.
I reach for my dagger again and run the pad of my thumb along its hilt until I've calmed.
You have to do this, says an imagined voice in my head. It sounds like mine but speaks with more conviction. Do this one last thing, and you'll finally be free. You'll be safe. She'll be safe.
Safe. I sheathe that word like a second weapon as I square my shoulders and trek deeper into the darkness.
---
By the time I reach Lkossa's outskirts, there's a chill in my bones.
On the northern front, the Greater Jungle's trees stand as a natural barrier against the monsoon season's winds. Here on the city's western border, though, there are only waist-high lemongrass fields; they do nothing to stop the frigid breeze lashing at my cheeks. My nostrils burn each time I inhale; with every step, the joints in my fingers stiffen. I tug the hood of my tattered brown cloak closer as thunder rumbles from above, and tell myself that the imminent rain is the real reason I'm covering my head, not because I'm afraid of being recognized.
The path winds until I come upon an abandoned shop set slightly apart from the others in this area. Louvered wood shutters hang askew from the windows, and decades of chiseled graffiti disfigure its humble face, but that matters little to me. This shop serves a single purpose tonight: It is my hiding place.
I pry its front door open, brushing silken spiderwebs from my face as I enter, and promptly crouch below one of the windowsills. From my vantage point, the entire path is visible, but I am hidden from anyone who might come down it now. My gaze casts to the sky again. The clouds still hang low, but past them I discern the faintest hints of Lkossa's black-veined sky changing hue. Dawn is rapidly approaching, and I am running out of time. My tensed muscles ache as the seconds pass in tiny eternities; within the space of one of them, I dare to hope that, just maybe, I've overestimated her. Perhaps, after all this time, she won't come at my summons.
A sudden movement from the opposite end of the border path renders me immobile.
My breath quickens as the clouds part and a single shaft of pale, glimmering starlight knifes through the dark like a blade. It illuminates the hunched silhouette of an old woman ambling forward on bare feet. Her off-white tunic is stained and frayed, loose on her scarecrow frame. Walnut-brown skin stretches tight over her skull, so that her hollowed face bears an unsettling resemblance to a living corpse. The kinky salt-and-pepper hair atop her head is cropped short and badly matted, as though it hasn't been washed or combed in some time. She runs a tongue over her lips as she looks left and right, searching. I can't quite suppress a shudder at the sight of her. I know who this woman is, and I know what some people call her. In the shop's window, my hand slips to the dagger on my hip for a third and final time. The blade's metal hisses low as I withdraw it from its sheath and count the woman's shuffling footsteps, watching, waiting. Then:
"If you're going to try to kill me, be quick about it. I don't have all night."
I still as the old woman's eyes cut to the shop's window where I'm hiding. Too late, I duck down.
"
Come out," she says in a rough voice, "now."
Gods-smite.
An uncomfortable beat passes before, reluctantly, I stand and emerge from the shop. When the old woman sees me, she does a double take.
"Binti?"
I flinch on principle. It's been years since I answered to my old name, but even now, hearing it aloud splits open an old wound. The woman's rheumy eyes widen, and I watch the succession of emotions flit across her face one by one—recognition, confusion, and then joy. It's the joy that makes me angriest. I've learned not to trust the Cobra with things like joy, and I know from experience that what brings her joy rarely bodes well for me. She advances, and I retreat a step. This seems to offend her, but I ignore the pained, impatient look she gives me. The open space between us is a necessary precaution, the designated place for unspoken things to live. The Cobra squints at me.
"I don't understand," she says. "The errand boy's message said to come here. You're the one who sent him?"
"Yes."
The Cobra's eyes drop from my face to the dagger still clutched in my hand. She doesn't look afraid or upset, only disappointed. Somehow, that's worse. "So," she says with some resignation, "this is what you've summoned me for, to kill me? I admit, I'm a little surprised."
"You've left me no choice." My grip on the dagger's hilt tightens, its grooves press into my palm. "I told you to leave us alone."
"And I have."
"You were seen again," I snap, "near the Night Zoo's walls. People are starting to ask questions."
The Cobra pauses a moment, wringing her hands. "I just wanted to make sure . . ." She falters. "I just wanted to make sure you were all right."
I twitch. "We're fine without you."
"Really?" The Cobra's brows rise. "So, Baaz Mtombé pays you and Lesego well?"
"It's not about the pay." I can't hide the defensiveness in my voice. "It's about stability."
"Ah, yes." There's a distinct wryness in the Cobra's tone. "Nothing promises stability like indentured servitude. Tell me, if you and Lesego are working all day, who's looking after—?"
"Don't." My teeth audibly click together. "Keep my daughter's name out of your mouth."
The
Cobra regards me, assessing. "You cannot keep it from her forever, you know," she murmurs. "What she is, what she will become . . . suppressing it will only make things harder for her. It's in her blood, and there's nothing you can do to change that."
I hear a note of satisfaction in her voice, and at once my fear and guilt metamorphose into something else: a vicious, consuming anger that constricts in the hollow of my throat. This wasn't supposed to happen; I wasn't supposed to let her get under my skin. The ghost of a smirk touches the corner of the Cobra's mouth, as though she hears my thoughts.
"It was a brave idea," she says dryly, nodding at the dagger. "But we both know you'd never kill me. You don't have it in you."
I bite down hard on my bottom lip, gnawing until the skin is tender. She's right, and I know it. I hate the Cobra, she frightens me; her presence in my life is like a poisoned thorn pricking at my side and making me sicker all the time, but even that truth isn't enough to give me the courage I need to see this through. I cannot kill her. The Cobra's expression turns haughty as I resheathe the blade, but her show of victory is premature. She doesn't see the last weapon hidden in my arsenal.
"You're right," I murmur. "I can't kill you, but the Sons of the Six can."
Finally, I get the reaction I want. I feel a wicked bite of satisfaction as all amusement slips from the Cobra's face in an instant, as though we're playing a game and now I've shown my hand. She gapes at me. "You . . . you wouldn't."
I stand straighter as, for the first time in a long time, I taste a sweet morsel of power, of leverage.
"I've seen the reward posters," I say quietly, "the prices the Kuhani is willing to pay for a captured daraja. Five hundred shabas for a mere child. Imagine what I could get for turning in the Cobra."
"You wouldn't," she repeats. "Not to me." Around us, the air stills, as though even it is waiting for what will come next.
"I will do whatever it takes to protect my family."
At this, the Cobra begins shifting her weight from foot to foot, nervous. She looks frailer, smaller, and older than I remember. The deep creases bracketing her mouth are deceiving; they don't belong on a woman her age, nor does her gray-and-white hair. I watch the way she moves, slow and stiff where she used to be quick and lithe. She reminds me of a once-beautiful tree gone too soon to rot, decaying from within. Her eyes glisten when they meet mine.
"Binti, I—"
"Stop calling me that."
She recoils as though I've struck her. "I'm sorry. Just tell me what you want. If you need money—"
"Just stay away from my family, for good."
"I will." The Cobra nods quickly. "You have my word."
"No." I shake my head. "I want more than your word. I want a promise." I hesitate. "I want an eternal vow."
The Cobra's jaw drops at the same time thunder claps above us. "Binti, you can't possibly mean—?"
"That's my condition."
She frowns. "Have you any idea what power such a vow holds?" she asks. "An eternal vow is sacred among darajas, life-binding."
"Exactly."
The Cobra looks around, nervous. "I don't have the proper materials to perform the ritual. I'd need time."
I narrow my eyes. "Liar."
A slow, creeping smile spreads across her face. In that instant, I don't know how anyone could ever mistake this woman for who she is, what she is: a snake curled in a basket, cunning, dangerous. To my discomfort, a hint of pride touches her eyes.
"I taught you well," she says with approval. "Let us begin, then." From her tunic's slightly torn pocket, she produces a tiny pouch, one that rattles when she shakes it. She tips it to the side, and small broken fragments of something white pour from within. I know instinctively what they are, and hot nausea roils in the pit of my stomach.
The Cobra clutches the hand holding the bone fragments in a tight fist, then closes the small gap between us with unnatural speed, filling the air with the smells of earth and cheap palm wine. I lurch back, but she snatches my dagger away, and I suck in a sharp breath.
"Give me your hand," she orders.
"Which one?" With her so close, maintaining my composure is harder.
"It matters not."
I don't know what prompts me to offer my right hand. A streak of silver sails through the air, there's a sting, and then a fine line of blood blooms along the meat of my palm between my thumb and index finger. Before I can react, the Cobra slices her left hand in the same quick motion, then grabs my hand and presses our wounds together. The sensation is
revolting—warm, and wet, and sticky—but she holds on as though we're simply shaking hands. When she leans in to speak, her voice is low.
"They're watching now, all of them."
My mouth goes paper dry. She's renowned for her tricks and deceptions, but something tells me that this time the Cobra isn't lying. We are still alone here on the western border path, but it does feel like we are being watched. By one. By many. I fidget in place. I was taught that darajas sometimes call upon their ancestors during rituals. I didn't believe it to be true until now.
"You're sure you want to do this?" I hear the layers within the Cobra's question as her tired eyes meet mine. "Once I begin, there is no going back." I know well the severity of what I'm asking, the consequences of it. But when I look into the Cobra's eyes, hers aren't the ones I see anymore. Instead, I see my daughter's eyes, alight with childlike innocence. I have to protect that innocence, I have to protect her. I will protect her, whatever it costs.
"I'm sure."
The Cobra takes a deep, shuddering breath. "Then, with my foremothers as my witness, I vow not to seek you out again in this life." Tears fill her eyes. "By blood, and bone, and soul, we bind this eternal vow." She nods to me. "Repeat."
The phrase feels strange on my tongue, as though pilfered from a long-dead language. Still, I force myself to say it. "By blood, and bone, and soul, we bind this eternal vow."
A warmth emits from the place our cut hands are adjoined as soon as the words leave me. The hairs on my arms stand on end, but the Cobra doesn't move, nor does she relinquish her grip on me. The bone fragments trapped between us burn hot, their jagged edges and points digging into my skin. With horror and wonder, I watch as a luminescent white vapor seeps from our clasped hands. It slithers up the Cobra's arm, then coils around her neck, weighted by a circular amulet that wasn't there before. My blood runs cold.
"What is that?"
"A mark of the eternal vow," says the Cobra. She drops my hand without ceremony. My palm itches and tingles, yet I don't touch it. There is no trace of the cut that was there only seconds ago, and it takes me a moment to realize that the bone fragments are gone too. My eyes are still drawn to the strange new amulet swinging from the Cobra's neck, but she merely hands my dagger back to me.
"It is done," she whispers. "Goodbye, Binti."
There are a thousand words I want to say in answer—ugly words, beautiful words, desperate words. I settle on just one.
"
Goodbye."
An earth-shattering thunderclap crashes overhead; ribbons of lightning dance white-hot across the sky. A seam in the clouds seems to unstitch; in its wake, a sudden deluge of rain soaks through my cloak. I bow my head, trying to cover myself, and when I look up again, the Cobra is gone.
Something else wets my cheeks now, not rain, but I wipe the salted tears away before turning on my heel and running back toward the city. I don't care anymore about the muddied roads or the filth; I don't even notice when my sandals slip loose from my feet. With certainty, I know that I will never see this place again.
With certainty, I know that I will never see my mother again.
We hope you are enjoying the book so far. To continue reading...
Beasts of Ruin
Ayana Gray
Copyright © 2022 All Rights Reserved