Book info
Sample
Audiobook
Media
Author updates
Synopsis
Affairs of the heart can be lethal in this sensual, thrilling novel from New York Times bestselling author Eric Jerome Dickey.

As a low-level enforcer in Los Angeles, Ken Swift knows danger, but nowhere does he feel it more than in his tangled romances. Divorced from one woman, in love with another, and wrestling with a strong desire to get to know a third, his life is far from perfect, and it becomes all the more complicated when his troubled daughter resurfaces on the same day as a major job.
Margaux is pregnant, bitter, and desperate: she needs $50,000 immediately, and she isn't above blackmailing Ken to get it. Yet even as the tension-filled father/daughter reunion escalates into a clashing of wills and desires that spread far beyond their family, Ken's latest contract spirals quickly out of control, and he finds it is not only his daughter looking to seek revenge.

With the strong characters, heart-pounding action, and intense passion he is known for, New York Times bestseller Eric Jerome Dickey lays bare a tale of lust and angst that will leave readers breathless.
Release date: April 17, 2018
Publisher: Dutton
Print pages: 384
* BingeBooks earns revenue from qualifying purchases as an Amazon Associate as well as from other retail partners.
Listen to a sample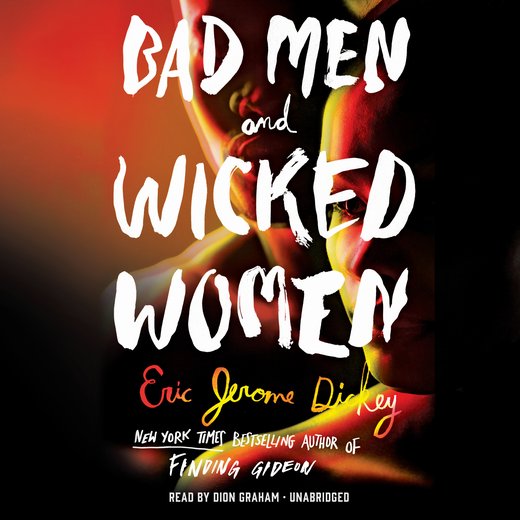 11:06:47
305.24 MB
9780525527503
April 17, 2018
Penguin Random House
Bad Men and Wicked Women
Eric Jerome Dickey
CHAPTER 1

Margaux had changed races.

When I rushed into TGI Fridays and left the summer's oppressive triple-digit heat at my back, I searched for a twenty-something woman with melanin-filled skin, was hunting from booth to booth, when someone eased up behind me, touched my shoulder. When I turned around I saw a pale woman covered in tats and body piercings, a shapely number as Goth as Melrose Boulevard.

"Ken Swift?"

"Yeah? Do I know you?"

"It's me."

"Me who?"

"Margaux."

Last time I saw her she was a beautiful shade of brown and had dark, wavy hair. But she'd scrubbed away her melanin, her skin now that of an untanned white woman.

Broke my fuckin' heart and left me speechless at the same time.

Nervous, she said, "You got here just in time. I think our table is ready."

Her cell phone rang as soon as she said that. She looked at the number, frowned, didn't answer. I imagined my ex-wife had done that a million times to my calls after she left me.

TGI Fridays Ladera was crowded like microwaved chicken wings were the best meal ever created. I had asked Margaux if she wanted to meet me in Inglewood at Zula Ethiopian and Eritrean Restaurant in Hyde Park Plaza, a place I'd eaten at least once a month since they opened, but she had turned down that offer. Now I understood why. This shouldn't have surprised me. But it did.

After we were seated, awkwardness and silence covered us. Other Afrocentric sisters in the room gave me the side-eye, looked at me like I was a traitor, a sellout. Black men grinned, checked out Margaux. She had the skin of a white woman, but her shape remained African.

Margaux sucked the metal in her tongue, then asked, "You okay?"

"I'm fine. You okay?"

"The way you keep looking at me. I don't like people staring at me like that."

I relaxed my gaze. Regrouped. "How much money did you say you needed from me?"

"I think you heard me loud and clear when I said I wanted fifty thousand."

"That's a lot of money."

"How soon can you get it?"

I rat-a-tat-tatted my fingers on the table, exhaled. "Let's break bread and talk about it."

Her knuckles were still dark. I'd bet her elbows and knees and the tops of her toes were still of the Negro hue too. Those areas couldn't be bleached and she'd never be as white as the photos Rachel Dolezal's parents probably keep on a dresser. I felt their pain in my bone marrow.

We read the menus, gave our orders, then were stuck facing each other.

Margaux wore gloomy makeup, dusky lipstick, and many tattoos.

She took in my trendy wardrobe, shook her head like she didn't approve of my wearing straight-leg jeans and a gray suit coat over a T-shirt with Muhammad Ali on the front.

I asked, "How many body piercings do you have?"

"Why, Ken Swift?"

"I see four in each ear. Your lip. One in your nostrils."

"I have one in my clit and one in each nipple. Is that what you want to know?"

"Was just asking."

"Should I tell you what the one in my tongue is all about?"

"Maybe we should talk about the weather."

"No, we can continue chatting about the things you see wrong with me."

"I never said anything was wrong with you."

"The one in my tongue, do you want to know why I have this one?"

"No need to take the talk any further."

After the waiter brought our meals and left, I picked up my spoon and took a mouthful of clam chowder. My taste buds were too refined for fast food. I was particular about what I ate away from home. Very biased. Margaux cleared her throat and I raised my eyes, looked at her. Palms down on the table, she shook her head and stared at me like I was a sacrilegious heathen.

Margaux said, "Did you lose your religion too?"

"I read the Bible. I grew up being forced to read the Bible. I was an usher before anybody knew Usher was Usher. Was in church every Sunday. I know all about the Good Book."

"Really? So what's your favorite part?"

"When Jesus is alone talking to God by himself, and someone who wasn't there is writing about it firsthand. That always amazed me. In court, they'd call that hearsay and throw it out."

She tsked, ran her hand over her blond-and-red Mohawk, bowed her head.

"In the name of Allah, the beneficent, the merciful-"

I said, "You're Muslim now?"

Her hands became fists. "Would that offend you?"

"Not at all. I mean, I know most of your relatives are Christians, and I heard that some of your relatives are-"

"Let me give thanks to our creator for the food so we can get down to business."

"What's your favorite ayah or surah in the Quran?"

"It depends on my mood. Many ayahs send trembles down my spine contingent on the message they convey." She gave her serious answer, held eye contact. "Yours?"

"My favorite is Maryam 19:41-57."

"You know the Quran?"

"I read. Bible. Quran. I read Final Call, Watchtower, and Jewish newspapers. I read what everyone offers. I dated an Afro-Mexican when I was in high school and learned her Spanish, and when I was twenty-one I married an Ethiopian who spoke Amharic and learned her language."

"May I pray now?"

I nodded. "Pray."

When Margaux was done blessing the food, she crossed her arms.

She said, "I'm expecting."

I paused. "You're pregnant?"

"Two months."

"You're not showing."

"I'm pregnant."

Without transition, I blurted out, "Why the bleaching?"

"Only took you five minutes to ask."

"Why are you doing this to yourself?"

"I want to be beautiful."

"Black is beautiful. White is a'ight. You're downgrading."

"Everything is a joke to you."

"Not everything. Definitely not this. Explain this to me."

"Light-skinned girls get picked more on all the dating sites. Look around the room. See how black men respond to light-skinned women. You don't even have to be pretty and light-skinned, just light-skinned, and men think you're gorgeous. But if you're light-skinned and built like BeyoncŽ, you're treated like you're a goddess. They let you across the velvet rope. Light-skinned girls get proposed to quicker and more often. Light-skinned girls get to be wives and dark-skinned girls get to be baby mommas. Colorism is real. Drop beautiful into Google. See who shows up."

"In the movies. That's the only place dark-skinned women don't win."

"Are you blind? All men, regardless of race, prefer exotic women over black women."

"Black women are exotic."

"Well, the rest of the world didn't get the memo. And don't be overweight and dark."

I nodded. "Is bleaching skin haram in Islam?"

"I guess you haven't heard of the Indian skin-lightening cream's billion-dollar industry. The Asians are obsessed with fair skin. Asian husbands want their wives to be more beautiful. They make their wives bleach their skin. And being light-skinned, it's safer. Much safer."

"Black models are sitting in tanning booths darkening their skin to get more work."

"And those same models would be cast as hood rats in a trap video."

I took a breath, nodded. "When did this . . . this new you . . . when did this start?"

"I wanted to when I was a tween. I had to wait until I was an adult."

"How long has this been going on?"

"A year." She tapped her nails as her leg bounced; she was upset. "Maybe two at this point."

"What did your mother say?"

"We don't talk that much."

"But she knows."

"She knows."

I had no words, but spoke what was on my mind. "This is about self-esteem."

"Why not change what we can change?"

"'No one can make you feel inferior without your consent.' Some people say that Eleanor Roosevelt said that."

"A rich and influential white woman, right? If she did say that, then that FLOTUS was telling other white women how to feel, white Christian women, not black women. And definitely not Muslim women."

I let that go. My eyes went to the basketball game on the big screen. So did hers. Until her cell phone rang again. Again she looked at the number and didn't answer.

I asked, "What's wrong?"

Margaux frowned at the television. "The team I need to win isn't winning."

"I meant the phone."

"It's an ex."

"He keeps calling like a bill collector on payday."

She turned her phone off.

I said, "Didn't know you were a sports fan."

"I hate USC. I need them to lose this game."

"They're killing it this season. USC doesn't lose at home."

"I don't really give a shit about them."

"If you don't give a shit, why do you care if they win or lose?"

"None of your business."

There was a man sitting at the bar, mixed in the thick of the crowd. He was my age, five foot eleven, the build of middleweight. Jake Ellis. He held a Corona in his hand as he eye-fucked every woman he rated as being a ten.

My attention went back to the woman seated in front of me. A whiter shade of pale, tall, all curves, the body and shape of her mother, and her mother's mother. She wore black jeans and a black blouse that showed a little too much cleavage. The other men in the room noticed her blessings. A lot of the men were attracted to her Goth style.

I knew men. I was one. Women who looked like her made men think anything goes.

I said, "Your baby daddy-"

"The father of my child. Don't insult me and don't you dare denigrate him."

"As you denigrate me."

"Deservedly so."

I rat-a-tat-tatted the table. She clicked her tongue ring against her teeth.

I asked, "Still with him?"

"Yes. We're engaged. He would be here now, but he had a meeting."

"What does the father of your child do?"

"He's a writer. He's working on this sci-fi horror thing, like the movie Get Out."

"Every third person in Los Angeles has a script. Has he sold anything?"

"Not in a while. Pitched a few ideas. Had an option. Got ripped off on a different deal."

"Hollywood is Hollywood."

"Some people owe him some money, but he's going to have to sue to get his money, and he doesn't have the money to get an attorney so he can sue, so he's getting fucked over."

I echoed, "Fucked over."

She looked at me like she didn't care if cursing like that offended me.

"You live with him?"

She nodded. "In Hollywood. We rent a three-bedroom house."

"How much that set you back a month?"

She hesitated. "Six thousand."

"Damn. That's . . . seventy grand plus two thousand for every trip around the sun."

"It's a nice house. Very progressive area. Hollywood people. He can network."

"But it's not your house. You're keeping your landlord rich while you network."

"I pay a third of that."

"Two grand."

"My fiance pays a third."

"Twenty-four thousand a year."

"Then there is another roommate."

"Man or woman?"

"Depends on the day of the week. One day in Tims, the next in a pink skirt."

"Your man should be taking care of two-thirds of the rent."

"Based on?"

"The baby in your belly and the fact that you're about to get married."

"He's not balling like that."

I sat back, smiled, nodded. "Young lady, what you're telling me doesn't jibe."

"What doesn't jibe?"

I laughed a little. "Your momma was a good liar, and I think you picked up her habits."

She knocked that tongue ring against her teeth, unamused. "I have no reason to lie to you, and don't disrespect my mother."

"You said it's a three-bedroom house. You and your man are in one bedroom, already living like man and wife, and someone else is in the second bedroom. Who is in the third bedroom? You and your man should be paying one-third of the rent at most, not two-thirds."

"We met as roommates. He was there first; then I moved in."

"I know how it goes. Few drinks. Few laughs. Space and opportunity."

"We all paid a third in the beginning. One thing led to another."

"Who makes more money?"

"Why?"

"Just asking. You're out of college now."

"I'm going back to grad school soon. My mother expects that of me. And I made that promise to her. So I have to go back to please her. Eventually. After the baby, I guess."

"Babies change everything."

"It won't for me."

"Babies become the masters and you become the servants."

"Everything will be fine."

I didn't challenge her. "You're working now?"

"Jet Propulsion Laboratory in Pasadena. JPL."

"That's a long way from Hollywood in traffic."

"I catch the train. He keeps the car during the week."

"You're paying for him to be able to sit up and write and not work?"

"We're a team. His scripts are good, especially the one about slaves coming back."

"Coming back from where?"

"All the slaves killed in the Middle Passage come back to life."

"That was over two million Africans."

"Plus the slaves who died and were lynched come back to life all over the world."

"That's over twenty million. Lot of extras."

"CGI."

"Then what?"

"Revenge meets karma. They converge on America, France, Portugal, and London."

"Like The Walking Dead, only with a mission statement?"

"No, they are alive again. Allah brings them back for retribution."

"How do they know who's their enemy?"

"It's based on melanin. They can sense it or smell it. Haven't worked that out."

"They kill white people?"

"Yeah."

"You think anyone in Hollywood is going to allow you to make a film like that? They will write about white people killing white people wholesale, or can imagine aliens coming here from other planets doing the same, but you know they won't ever let a movie about blacks killing whites the way whites have killed blacks and Native Americans make it to the big screen. Hell, in the last Birth of a Nation, they didn't let Nat Turner kill much before he was lynched."

"We're going to get it made."

"Sure. Can't wait to see that at the AMC."

"Don't be condescending."

"So no matter how much cocoa butter she wears, Rachel Dolezal gets killed."

"A lot of people who have been passing are exposed."

"You'd be safe."

"Don't insult me."

"Interesting concept."

"He's trying to get a meeting with Hazel Bijou."

"Have no idea who that is."

"She's black."

"Black people in Hollywood are working for whites and Jews. Just saying that factually."

"So, until this pops off, no, he's not in a good place financially. And he's stressed-out."

"Still, if he's your baby dad—"

"Don't call him my baby daddy."

"I stand corrected."

"Regardless of who pays for what, all of our money goes to the rent. Sometimes we have fifty dollars left over to get us through two weeks, and sometimes we skip paying a bill."

"You work and only have fifty dollars? Where are your investments? Your 401(k)?"

"Car insurance. Gas prices are high. And health insurance is a mon- ster. Renter's insurance. Cell phone. Internet. Food. We eat gluten-free. We don't do canned foods. We don't do McDonald's or Popeyes. Eating healthy costs a lot of money. Taxes, both state and federal. Money goes out faster than it comes in. Feels like we get paid to pay bills. And I'm a girl. It costs a lot more to be a girl than it does to be a boy. We have other needs."

"You're an adult now."

She rubbed her nose, tense, stressed-out. "Being an adult is so damn expensive."

"Welcome to the club."

"I was forced to join."

"We all are."

"Eventually membership to a carefree childhood expires."

"Having a baby will drive disposable income down and the cost of living through the roof."

"I wanted to talk about that."

"Okay."

"We want to get married before I start showing. Same as you and my mother did."

"Times have changed. People don't care about a black woman being pregnant and unmarried. Actually, they laud it now. It's a choice, a sign of empowerment, of getting what you want and making men disposable until the bill comes; then it's on his side of the table."

"Thanks for that helping of misogyny with a dash of bitter mansplaining."

"You're asking for a lot. I didn't ask anyone for anything. Not one dime."

"Well, I want to get married."

"Yeah, being pregnant will make a lot of women suddenly feel that way."

"And I don't want a wedding like you had. I don't want a sad shot- gun wedding."

"There was no shotgun wedding. No one was forced to get married."

She shrugged. "I've never asked you for anything. Never. Not once."

"And now you're asking for it like there is an acceleration clause."

"Fifty thousand isn't that much to ask for."

"That's more than most people make in a year. Some don't make that in two years."

My brown-turned-white daughter said, "You going to be able to do it?"

"This is sudden. Why didn't you talk to me, have a conversation about anything, even the weather, before now? You don't just call somebody up, not even your estranged daddy, asking for that kind of money and expect him to have that kinda wad warming up his pants pockets."

"You owe me."

I sat back, head tilted. "I owe you? How in the hell you figure I owe you anything?"

She took a breath, her nostrils flared, and the fissured dam that held back her issues broke; the animosity she felt for me all came out in four flaming words. "You were never here."

"Talk to your mother about that. Talk to her parents. Ask for the truth."

"She said she didn't know where you were."

"She lied. My address hasn't changed. I haven't moved in . . . over two decades. I still live where I lived when we were married, same place you lived from birth until you were about five."

"She told me you never really sent her much money."

"That's a lie. A big lie. I paid for your private schools and I sent her plenty of money to make sure you had a roof over your head. I handed her twenty grand at a time, and she got used to living the high life. I gave her so much she lived off of money that was meant to take care of you."

"Liar."

"Child, don't you ever call me a liar."

"Then don't lie. And I'm not a child."

"I had hoped she would save some of your money. Yeah, when I had big money I sent big money. I always put you first when it came to that. Then things went south, money dried up, and after I sent her my last dime, I had nothing to send for a while. I almost lost everything."

Again her nostrils flared with resentment. "You never called me."

"I called. She didn't let me talk to you. She took you from me. The East African side of your family kept you from me. Told me to keep away. So, I waited for a call. That was like waiting on Godot. Your mother knew where I was. After we divorced and she ran back to Diamond Bar and got remarried to someone her parents approved of, she came to see me more than a few times. She came once a week, on Wednesday afternoons, until her second husband found out."

"Momma came to see you for what?"

"We were only good at doing one thing."

"Don't lie on my momma."

"You say you don't know me. Well, you don't know your momma either."

"Liar."

"Don't keep pushing that button. Disrespectful child, don't think I won't get ugly in public."

"Then stop lying."

"She doesn't tell you the truth, and I'm the liar? Get your momma on the phone. We can all talk right now. I wasn't hiding. I've never hid from the government, a man, or a woman. I took care of you each month and never missed a payment. Without fail or court order."

"I still had to eat."

"I paid without fail for eighteen years. Until you were an adult."

"College wasn't cheap."

"I know. I had student loans. Had my own debt to pay because of dropping out of UCLA."

"Things a father should do, you didn't do."

"What should a daughter do? Just walk up to her dad with her hands like cups and ask for fifty grand like she thinks I own a chain of five star hotels that have my name on the door?"

"Don't turn this around. Don't be selfish."

I clicked my teeth and said, "K'ebet'i."

"Did you just try to call me a brat in Amharic?"

I snapped, "I called you a spoiled brat, Tsigereda."

"Don't call me that name. Not you. Never you. You get to call me what you named me."

"You remind me of your mother, Tsigereda. Tsigereda is what she called you."

"Don't ever fucking call me by my Ethiopian name. You are not worthy."

"Watch your fucking tone. When I was growing up, my daddy would have slapped me across Greenwood for saying some bullshit like that, Tsigereda. Then my momma would have found me and slapped me back across town to my daddy. And he would have slapped me back to my momma. That slapping match would have gone on until I had some sense in my head."

"Times have changed, Ken Swift."

"I guess they have. I bet you've never had a spanking in your life, never have been given the extension cord, a house shoe, or had to get switches from a tree. Keep it up. Keep calling me by my first name like I'm your first cousin and talking to me like I'm less than a bill collector."

She didn't give a fuck. I had no power when it came to her, no influence.

I said, "You came here to try and tear me down. Is that what this is about?"

"You left. Like a coward."

"I never left. Your mother left and refused to bring you back for me to see you."

"You know my first strong memory of you? I remember crying when you left."

"I remember. But you have it wrong. That was when your mother left me."

"It doesn't matter who left who. You have to be present to have a relationship."

"She took you from me and kept you away from me."

"No, she didn't. You left her and turned your back on us."

"I didn't."

She paused. "What happened with my mother and Auntie Lila?"

"Have you seen your godmother?"

"Not since I went to live in Ethiopia."

"You lived in Ethiopia, or went to visit?"

"I lived there. With my mother and my daddy."

"I'm your daddy."

"You're my father. He's my daddy. I call him Dad."

"You call Yohanes your dad."

"He's the only man I've known as my daddy."

"Wait. Hold on." I shifted, blinked a few times. "When did you move to Africa?"

"I was ten." Again she clacked her tongue ring against her teeth. "Maybe nine."

"After your mom's family and I had the big falling-out."

"We stayed in Ethiopia four years and ten months."

"Now I get it. I had called for about three years before I gave up. You were in Africa."

She nodded. "We moved all of a sudden. My mother and my stepfather were arguing, and the next thing I knew we were packing and on a plane to Addis Ababa. They pulled me out of a private school in Diamond Bar and put me and my American accent in Bingham Academy."

Stunned, realizing that's what had happened after her stepfather had caught Jimi Lee in my bed, knowing that was what had happened after her grandfather and stepfather had attacked me in front of my building and beaten me on a cold, rainy day, I asked, "How was it over there?"

"We were in the heart of Oromia regional state. It was crowded. People were sociable, everywhere chatting. I remember being bored a lot. It took forever to get anything done. Felt like everyone moved in slow motion, especially the government. My stepfather complained about that all the time, that and went on and on about how he hated you as much as he hated Mulugeta Asrate Kassa. Traffic was worse than here. Buses were overpacked. People were hit by cars and no one cared. Shopping, you had to negotiate for everything. Horrible Internet connection. But I enjoyed Asmara, in the Eritrean Highlands. We drove to Massawa, on the Red Sea coast."

"I heard it was pretty over there."

"It is. Modern, clean, and friendly, but not everywhere is sparkling. Places like Lalibela, where I had some relatives, I didn't like it there. A pickpocket stole things from us in Bole. Same thing happened again at Merkato. That market was large and crowded. I had food poisoning at least five times. When we took a taxi, we had to ride with a dozen strangers. My American accent earned me the side-eye. I couldn't relate, and neither could my mother. But I loved the coffeehouses. My mother and I would go to Tomoca, then go shop at Eliana Mall. Sometimes we went to Mokarar and had coffee. She also dragged me to Alem Bunna, Kaldi's Coffee, and Yeshi Buna. That was our thing. All of those places make Starbucks seem like an overpriced joke."

"Was it safe there?"

"Inside the city."

"Outside the city?"

"There were lots of fights, lots of skirmishes."

"So, Ethiopians do more than battle with words over philosophies."

"Violence is everywhere. Some people are paid to make violence for a living."

She said that last sentence as she looked in my eyes, clacking that metal against her teeth. It felt like we'd almost connected, but my heart was beating fast, and I felt the resentment driving the next question. "Who gave them permission to take you out of the country?"

"Why would they need your permission?"

"Because I'm your father and taking you without my permission is a criminal act."

She rolled her eyes, made a face like she could taste something disgusting, and said something nasty in Amharic. Just like that, bonding was over, and the moment of calm that felt like we could connect was gone. I was about to break it down, tell her a long story, was going to tell her about her mother, about her East African relatives, but instead I took a deep breath.

I said, "You don't know me, but I know you."

"What's my favorite color? What's my favorite food? What music do I listen to?"

"Even if I don't know those things, we're family."

"We are not family. You donated sperm and left the scene of the accident."

"You can bleach your ass until you make Casper the Friendly Ghost look darker than Wesley Snipes at midnight, but we're family. Love me or hate me, be Muslim, Christian, or atheist, fascist, or antifa, I'm still your goddamn father. Nothing can change that. Nothing."

She huffed, arms folded, closed off, superior. "Do you still hurt people for a living?"

Our eyes met. She sucked her teeth, then gave me the evil eye. She held her malevolent glare as I gave her the hard look many bad men had been given before I'd broken them in two.

A few people watched us like we were the best reality television show going.

Margaux looked at a girl. "Dafuq you look at, fugly dark-skinned black-ass bish?"

Margaux issued that insult like she was repeating what other fools had said to her.

I said, "Margaux. Unless that's a quote from the Quran, that's not very Muslim of you."

"I don't like people staring at me like I'm an animal in a zoo."

"Lower your voice, Margaux."

"Lower yours, Ken Swift. Lower yours."

The pretty girl muttered something and turned away, but not before I saw pain in her eyes. Black women of all hues have had to endure so much, could never just be seen as human beings. Darker skin staring at lighter
We hope you are enjoying the book so far. To continue reading...
Bad Men and Wicked Women
Eric Jerome Dickey
Copyright © 2021 All Rights Reserved