Book info
Sample
Audiobook
Media
Author updates
Lists
Synopsis
NATIONAL BESTSELLER
A haunting debut novel where dreams, family and spirits collide 
Mackenzie, a Cree millennial, wakes up in her one-bedroom Vancouver apartment clutching a pine bough she had been holding in her dream just moments earlier. When she blinks, it disappears. But she can still smell the sharp pine scent in the air, the nearest pine tree a thousand kilometres away in the far reaches of Treaty 8. 
Mackenzie continues to accidentally bring back items from her dreams, dreams that are eerily similar to real memories of her older sister and Kokum before their untimely deaths. As Mackenzie's life spirals into a living nightmare—crows are following her around and she's getting texts from her dead sister on the other side—it becomes clear that these dreams have terrifying, real-life consequences. Desperate for help, Mackenzie returns to her mother, sister, cousin, and aunties in her small Alberta hometown. Together, they try to uncover what is haunting Mackenzie before something irrevocable happens to anyone else around her. 
Haunting, fierce, an ode to female relations and the strength found in kinship, Bad Cree is a gripping, arresting debut by an unforgettable voice. 
Release date: January 10, 2023
Publisher: Doubleday
Print pages: 272
* BingeBooks earns revenue from qualifying purchases as an Amazon Associate as well as from other retail partners.
Listen to a sample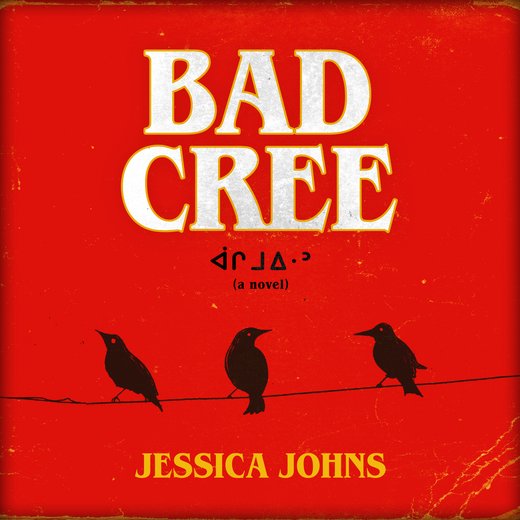 08:14:13
226.25 MB
9781443465519
January 10, 2023
HarperCollins
Bad Cree
Jessica Johns
Before I look down, I know it's there. The crow's head I was clutching in my dream is now in bed with me. I woke up with the weight of it in my hands, held against my chest under the covers. I can still feel its beak and feathers on my palms. The smell of pine and the tang of blood sting my nose. My pillow feels for a second like the cold, frozen ground under my cheek. I yank off my blanket, heavy like I'm pulling it back from the past, and look down to my hands, now empty. A feeling of static pulses inside them like when a dead limb fills with blood again. They are clean and dry and trembling.
Shit. Not again.
I step gingerly out of bed, as though the world in front of me might break, and turn on the light, wait for my eyes to adjust. It illuminates my blanket on the floor, the grey sheet kicked into a clump. Every breath I take is laboured, and when I blink, my dream flashes onto the back of my eyelids. Running through the woods. The snow glistening in the clearing. The crows covering Sabrina's body.
Heart thumping in my chest, I kneel next to the bed, how I imagine I might if I ever were to pray. "Come on," I plead into the covers. "Where are you?"
I feel across the bedsheet for anything: blood, feathers, twig-small bones. My fingers shake and search by touch in between pillows, into every crease and wrinkle of the fitted sheet. I turn on the flashlight on my phone and use it to look into shadows, but I find nothing. My shirt, when I bring it up to my nose, smells like the outside in winter, like pine trees and sharp cold.
"You son of a bitch, come on." I kick the blanket to the side and put my cheek to the floor, scanning underneath the bed and bedside table. Dust and crumbs sit forgotten in dry corners. An old plate, mould forming along the ridges, lies next to holey socks. I close my eyes. My awake mind is trying to fog the dream over, shake it away, but I hold on to it. I know it was there, in my hand. As real as the floor still against my cheek, I was holding a crow's head when I woke up. I can still smell the blood in the bedroom air and feel where its beak pressed into my palm, right above my heart line. Throbbing and hot.
---
I think of the dream while I shower. I lather shampoo into my hair and rinse, watch the brown strands circle the drain. This is the third dream in three weeks. The third time I've brought something back with me.
In the first two dreams, I brought back branches. I broke them off the trees as I was running through the woods in a panic. The first time it happened, the branch disappeared as soon as I woke up and looked down at it. The second time, the moon was big and full outside, and I caught a glimpse of the flimsy stick gripped between my palms. That time, I held on tight, but it still disappeared. I had hoped that if I held on hard enough, I would understand how I could have a pine bough in my hands when the last pine tree I'd seen was a thousand kilometres away in Alberta.
I close my eyes and let the warm water stream against my face, but I'm still shivering against the memory of last night. In my dream, I was in the middle of the winter woods, wearing only what I wore to bed that night: an old T-shirt and sweats. I cursed at myself for not following my idea after the last dream to wear shoes and something warmer to bed. At least it was better than the first dream, when I went to sleep naked.
I was surrounded by bone-thin pine, spruce, and balsam trees, browning at the base up to their torsos, sparse with white snow near the top. I let out a small gasp of surprise to find myself in the same woods again, my breath forming in front of me in an icy puff. There were no footprints in the fresh snow around me, as if I blinked into existence in that exact spot.
The wind whipped hard, carrying an icy whistle past my ears. In the moonlight, the trees cast shadows so tall they swallowed the land whole. My breath caught in my throat and the urge to run itched across my spine.
"Shit," I whispered to myself as I stepped in place, giving each foot a second's break from the freezing ground. The whistle from the wind, quiet at first, grew louder, until it was shrieking. This had happened in the two dreams before, too. A scream, like someone was on fire, came from a trail opening in the brush that snaked between the trees behind me.
I pulled my arms tighter around myself and crouched in place, trying to conserve my body heat. My arms were starting to redden, the frigid slap of the wind already working its way through me. I pressed my chin into my collarbone and squeezed my eyes shut. "One, two, three…" I tried my old trick of closing my eyes and counting to wake myself up from nightmares, but I knew it wouldn't work. It hadn't the last two times, either.
When the screaming started to get closer, I turned toward it and found myself facing the trail. Even though I was terrified, I knew I had to try something different. In the other dreams, I had run in the opposite direction, away from the sound, wading in snow through the woods. But last night, I walked the trail toward the sound, my feet crunching in the snow, the scream getting louder with every step.
The trail ended abruptly, opening into a circular clearing lined by pine trees. Icicles weighed down the branches, shaping them into clawed hands. And finally, I saw the sound's source: a body splayed on the ground in the middle of the clearing. Dark shadows blotted it like a moving Rorschach. The shadows grew and shifted, and I saw flashes of hair and limbs, but then, in a blink, they were covered again. It took me a second to realize I wasn't looking at shadows, it was crows. A whole murder of them moving over the body.
I open my eyes under the streaming showerhead and let the water sting them. My chest pounds with an ache and I sit down, the slightly clogged drain making the tub begin to fill around me.
Okay, wake up now, I had thought to myself in the dream. The crows' caws started to rumble deep, drowning out the body's long, endless scream. As they fluttered, I caught sight of the face and gasped. Horror crawled up and planted itself in my throat. My sister Sabrina lay unmoving, her open mouth unleashing the shriek that had been reaching deep inside my gut.
The shock that gripped me in place suddenly loosened, and I ran to her, my feet slipping on the frozen ground. I yelled as I got closer, startling the birds just enough for me to reach out and touch her face.
Sabrina looked like she'd been long dead. Her once-brown skin was now white, drained of all blood. Her hair was grey and stuck to the snow under her head. Her eyes were slightly open and milky white, looking past me. Her dry lips frozen into a perfect O. Her skin, too, was ice cold. Her clothes, a flannel shirt and jeans, were dishevelled and torn.
The crows were cawing so vehemently around me, it sounded like battle cries. They beat their wings in my face, trying to push me back, but I batted them away. Sabrina's scream never stopped, not even for a breath.
"Get away from her!" I yelled, tearing at the crows with such ferocity that feathers flew into the air and stuck to my sweating skin. Black barbs leaked between my fingers as I swatted and grabbed at the crows, their small bodies thrashing and pecking at my hands. I was losing myself in a swarm of black, but no matter how many I threw off her body, more seemed to materialize in their place.
And then I saw it. A hole as big as my fist just below Sabrina's collarbone. The bone-white of her sternum glistened against blood. A crow, perched on Sabrina's chest, was tearing at the sides of the wound, its beak coming away with skin and veins. I screamed and kept swiping at the crows until some finally started to fly away.
Sabrina's heart, exposed to the world, beat and beat and beat. The crow finally stopped its pecking to look at me. Its dark eyes reflected the moon above us, another hole in the chest of the world. Before more crows came back, I grabbed it around the neck, its feathers short and sharp in my hand, and with rage pulsing through my body, I bent its head backwards in one quick motion, breaking its neck.
The snap of bone splitting in two rang through the air as I pulled the head from the crow's body, blood covering my hands. Sabrina's scream stopped, and the few birds that were left took off like dust being blown back into the air. When I looked back down, Sabrina's face had gone slack. Her eyes and mouth were closed like a zipper.
I dropped the crow's body from one hand and reached toward her, but then I felt a tug against my spine, like an invisible rope pulling. Before I could touch her, the rope tugged again, harder, and I was back in my bed. The crow's head, its beak pressing into my palm and its warm blood on my skin, still in my hand.
At the thought of Sabrina, a cave I've tried to keep hidden somewhere deep in my body opens up. Her unrelenting scream echoes through me, stretching back in time. I sob in the bathtub, wet hair clinging to my cheeks.
After a few minutes, I grab the bar of Ivory soap and lather it between my palms. A stinging in a cut I can't see starts in the bed of my hand and travels through my arm, inches into my armpit, slides into my heart. I reasoned away the first two dreams. I told myself I was still dreaming when I thought I was awake. That it was all in my head. Now fear settles in me like sediment at the bottom of a lake. I can't reason this away anymore. The hurt is still in my palm even if the crow's head isn't.
I get out of the shower and slowly dry off. Take my time putting on clothes, an old band T-shirt and faded jeans, trying to slow my breath. It only kind of works. I hear a caw from outside my apartment window. When I pull back the curtains, I see three crows sitting on the telephone pole, easing into the backdrop of Vancouver spring.
That's something else about the past three weeks. The crows. All of a sudden, they're everywhere I look. They've started showing up on the telephone pole in my alleyway. Every morning, I wake up to their caws. I swear they're watching me. Through the windows, I can see their heads turn to follow me as I move across the apartment. A rush of guilt heats my neck as I remember the feeling of a spine snapping in my hands.
I skip breakfast and rush out. My body vibrates with adrenaline, but all that's around me are flowers and a breeze carrying the smell of the ocean a couple of blocks away. I jog to Whole Foods, passing old heritage houses that have been converted into fourplexes and apartments. It's my day off, but I know Joli is working and I want to see someone familiar, ground myself in reality again. When I walk into the store, I spot them at the far till. Their back is to me, their thick, dark hair straight and loose. They are ringing through an elderly couple wearing matching visors when they look back at me, like they could feel it when I walked in.
"Mackenzie!" they yell across the long rows of tills, startling the couple into a jump. They laugh and it comforts me like a blanket. I exhale a breath I hadn't noticed I'd been holding and walk over to them. "You're not even here this early when you're scheduled to be," they say, arching their eyebrows.
When I first moved to Vancouver, Mom reached out to Joli's mom, Dianne, a friend of a cousin who worked as an instructor at the Native Education College. "So you aren't alone," Mom said, but I knew it was more for her peace of mind than for me. Cree people aren't great at being subtle.
As soon as she met me, Dianne wrapped me in a hug so tight I forgot myself for a minute. She helped me find a small bachelor apartment—not an easy thing to do in Vancouver, where homes are empty and unaffordable and the cost of living is triple what it is in my hometown. But she knew a landlord renting a place for extra cheap since they started the SkyTrain construction next to it. Any maintenance on the building had stopped, since it would be torn down eventually anyways, so I try to live as small and quietly as I can in hopes they forget I'm there.
Dianne also got me to volunteer when she needed help at the college for a while. Best of all, though, was that she introduced me to Joli. Joli was my age, early twenties, and tall with a round face that drew in light like the moon draws in the tide. They and Dianne are Squamish. Joli reminds me of my older twin sisters, Sabrina and Tracey, though they're nothing like either of them. It's funny what our minds will parallel when we want something bad enough.
For the first couple months in Vancouver, I spent almost every night having dinner with Dianne and Joli. Dianne lives halfway between Vancouver and Squamish, and Joli has a place in Vancouver with four other roommates. They moved out of their mom's house when they started doula training at Vancouver College. I ate a lot of meals at Dianne's house, laughing with the two of them. They are both so loud. Could call across the ocean and still be heard, I'm sure of it. But the loud comforts me. I know I'll never worry about losing them anywhere.
I walk up to Joli as they're handing off brown bags of groceries to the couple. They flip their hair and look me up and down. "That band hasn't played a show since the early 2000s."
I shrug. "Guess that makes them a classic."
Joli smirks and looks at me a little closer. "Everything all right?" Their eyes flit around me knowingly.
When I first got my place, Joli and I walked the back streets of Kitsilano together, looking for furniture. Rich people throw out perfectly usable things. As we sifted through chipped lamps and coffee tables next to recycling bins, they told me about their family, filling alleyways with the echo of story. They also showed me all the good pubs, the Vancouver bands to care about and the ones to ignore. They could read the city like my kokum used to read the land. Could tell from the cracks in the sidewalk how far we were from their favourite queer bar. Where to avoid because of cops. When I moved into my place, they gave me sage and an abalone shell. Said even if I didn't smudge, it was always good to have it just in case.
"It happened again, didn't it?" They can read it on my face. My fear must be etched all over. I nod, rub my palms together. After the second dream, I told Joli about what had been happening. They are the only person who knows. "This time it wasn't a branch. It was a head. A crow's head."
"Hello, is this till open?" A customer has walked up to Joli's till, plopping his organic peaches down onto the conveyor belt.
"A head?" Joli whispers, their eyes widening. They ignore the customer behind them.
"The same thing happened as the last two dreams when I woke up," I continue. "As soon as I looked down—"
"Excuse me?" Peaches guy clears his throat. Joli doesn't turn around and instead keeps staring at me, waving a hand over their shoulder as if they were buzzing away a fly.
I look over their shoulder and shake my head. "I'll tell you everything after work. If you're caught ignoring a customer again, you're going to get fired."
Joli rolls their eyes and tsks. "Fine, but I'm calling you as soon as I'm done." They give me a squeeze on my arm before turning back to the till. I feel a wave of comfort at their touch. "Thank you so much for waiting," they say in their customer service voice. "Do you need a bag?"
I turn to head out the doors, looking back once more as I leave the comfort of Joli. I had planned on doing some errands today. Filing my taxes—late for the third year in a row—and getting groceries, but I feel exposed, an open wound walking around. I go back to my apartment instead. Inside, the exposed feeling doesn't go away. I prop my laptop on the counter and put on an old playlist, a mix of emo songs I've been listening to since high school, and start deep cleaning my fridge.
Since I moved in, the apartment has never been silent. I thought, at first, I'd love the quiet. My parents' house was always full of people and noise. Somebody was always in my business. I thought breaking away from that would be a relief. It wasn't, not even for a day. There was something about the absence of sound and the acute feeling that I was really, truly alone that left me on edge. Maybe my body wasn't at home in quiet. Maybe it needed the rumble and movement of voices and people.
Now I have playlists for every task, and I listen to audiobooks when I try to fall asleep at night. The books themselves don't matter, either. What matters is that I'm never alone, not for a second. Not even when I do eventually drift to sleep and could not possibly be aware of how alone I am anymore.
While I fill the sink with soap and hot water, I throw out old vegetables, shrivelled-up ginger at the back of the fridge, cans of half-eaten beans, a mouldy piece of cheese. But Sabrina's face, frozen and unseeing, keeps flashing across my mind. Her hair splayed against the white snow. Her sharp jaw angled to the sky. When the sink is half full, I start cleaning the dirty dishes that have piled up on my counter. The lemon dish soap can't mask the smell of winter and trees still fresh in my mind. I blink and see the crows again, covering Sabrina's body. Suffocate for a moment under the feeling of fluttering wings against my face. The feel of her frozen skin. The perfect O of her mouth while she was being torn open. I shake my head to dislodge the memory. When the dirty dishes are done, I pull out the clean ones from the cupboards and scour them, too. I wash every cup and plate I own until my knuckles are rubbed raw.
By the end of the day, I've cleaned most of my apartment. Everything smells like lemon and the artificial orange of Lysol. The three crows on the back-alley telephone pole are still perched watching me, cawing low to each other. The place looks cleaner than when I moved in. But my body still hasn't scabbed over.
Just after six, Joli calls. I pick up on the second ring.
"What's going on over there? It sounds like you're having the saddest party ever."
I turn down the music and dry my hands on a dirty tea towel. "Just doing some cleaning." I sit on my bed, grabbing my blanket from the floor. From here, I can still keep an eye on the crows outside. There's a beat of silence and I hear the jingle of Joli's keys. They'd be walking to their car after their shift.
They stay silent, waiting for me to continue. I sigh and tell them everything that happened in the dream.
"Oh," they breathe out, and there's no mistaking the sympathy in their voice. "And that's the first time Sabrina has been in the dreams?"
"Yeah," I say.
"Isn't it the anniversary—"
"This isn't some unresolved trauma shit," I cut in. "This is something…else. I woke up with a dead crow head in my hands, Joli."
"Okay," they say. "I have to say it again. You need to call your mom."
I sigh and pull the blanket up over my knees. When I first told Joli about the dreams, this was their suggestion. The thought of it makes my stomach clench.
"Or at least tell your Auntie Doreen or Auntie Verna," they rush on.
"I don't want to worry anyone," I say. I smooth the blanket across my legs. Calling Mom's younger sisters was a better option than calling my mom, though.
"Look, I don't know much about you Crees. But if these visions are—"
"They're not visions," I interrupt.
"You keep saying what they aren't. So what are they?"
"I don't know," I say, gripping the phone tighter.
"All the more reason to call someone. Are the crows still following you?"
I glance outside. "Yeah. Creepy bastards."
"Hey, don't go around cursing crows over there. Besides, you did decapitate one of their friends." They're quiet for a moment, and I hear their car rumble and start. "You call an auntie, or I need to talk to my mom."
"Don't tell Dianne," I say. Whether I tell my aunts or Joli's mom, it'll get back to my mom eventually. I sigh. "I'll call someone."
"Now?"
"Yes, now. Get off the phone and focus on the road."
"Go back to your sad music. Damn sentimental Crees."
I laugh and hang up, let the ease of talking to Joli sit in my chest. I close the living room curtains, even though the sun is only just starting to dip low in the sky, casting the world in a deep orange. I don't want to feel watched anymore. I stare at my phone for a few minutes before finally calling Auntie Doreen.
"What'd I tell you about calling on Thursdays, Mackenzie?" she shouts into the phone when she answers. I can hear the bingo caller's voice echo in the background. I look at the time again. It's an hour ahead in High Prairie. "Shit, sorry, Auntie. Bingo night. I forgot. This is important, though."
"More important than a ten-thousand-dollar dual dab? I don't think so." She hangs up, and I wait for her to call me back, because I know she will. There is concern in her voice. Even though we talk at least once a week, I know never to call on bingo nights.
"I was two numbers away and starting to sweat," she says when I answer her call a half hour later. "What are you calling for, my girl? Text me like a regular person."
"I've been having some weird dreams," I say. "Really, really weird dreams."
She laughs. "That's a bit vague."
I swallow into the phone. "This is going to sound fucked up but stay with me." I sigh and blink, see the flash of pine boughs in front of me, and hear the crunch of snow under my feet. "I had a couple dreams where I was running through the woods, ...
We hope you are enjoying the book so far. To continue reading...
Bad Cree
Jessica Johns
Copyright © 2023 All Rights Reserved