Book info
Sample
Audiobook
Media
Author updates
Lists
Synopsis
NEW YORK TIMES BESTSELLING SERIES • The squad you love is out of time. Prepare for the thrilling finale in the epic, best-selling Aurora Cycle series about a band of unlikely heroes who just might be the galaxy's last hope for survival.

Is this the end?
 
What happens when you ask a bunch of losers, discipline cases, and misfits to save the galaxy from an ancient evil? The ancient evil wins, of course.
 
Wait. . . . Not. So. Fast.
 
When we last saw Squad 312, they working together seamlessly (aka, freaking out) as an intergalactic battle raged and an ancient superweapon threatened to obliterate Earth. Everything went horribly wrong, naturally.
 
But as it turns out, not all endings are endings, and the team has one last chance to rewrite theirs. Maybe two. It's complicated.
 
Cue Zila, Fin, and Scarlett (and MAGELLAN!): making friends, making enemies, and making history? Sure, no problem
 
Cue Tyler, Kal, and Auri: uniting with two of the galaxy's most hated villains? Um, okay. That, too.

Actually saving the galaxy, though? Now that will take a miracle.
Release date: November 9, 2021
Publisher: Knopf Books for Young Readers
Print pages: 512
* BingeBooks earns revenue from qualifying purchases as an Amazon Associate as well as from other retail partners.
Listen to a sample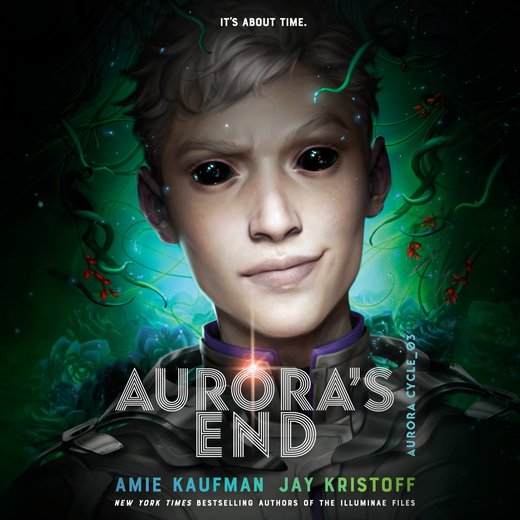 15:05:09
414.36 MB
9781524780852
November 9, 2021
Penguin Random House
Aurora's End
Amie Kaufman
Stuff You Should Know
▶
Series: Aurora Cycle
▼
Cast
Aurora Jie-Lin O'Malley—The girl out of time. Centuries ago, her colony ship, the Hadfield, was bound for Octavia III. We now know it's a good thing she didn't make it there because very bad, very…botanical things happened to the colonists who did. Unfortunately, this includes her dad.
More about him in a moment.
After joining forces with Squad 312 of the Aurora Legion, Auri started having prophetic dreams, exhibiting telekinetic powers, and generally transforming into a small but determined superhero. She learned her powers had been gifted to her by the Eshvaren, a mysterious race who defeated the Ra'haam eons ago.
Knowing their ancient foe was only slumbering, the Eshvaren left behind a Weapon, and a way for the Trigger of that Weapon to undertake training in its use.
Inside the Echo, a psychic training space, Auri mastered her powers—and practiced some other things with her boyfriend, Kal. She emerged, ready to take down the Ra'haam, only to discover that someone else had already stolen the Weapon.
Also trained as a Trigger, the Syldrathi warlord known as the Starslayer had used the Weapon to destroy his own planet's sun, and was now threatening Earth with it. Oh, and turns out he's Kal's dad. That was a conversation that did not end well.
Last seen: Aboard the Weapon, a crystal ship, fighting the Starslayer for control of its planet-shattering, underwear-soiling power.
---
Tyler Jericho Jones—The leader turned fugitive. When Tyler joined the Aurora Legion, he never imagined his squad would be full of the academy's bottom-of-the-barrel choices. Then again, he never imagined he'd end up on the run from half the galaxy, robbing banks and ransacking shipwrecks, let alone teaming up with the meanest Syldrathi warrior he's ever laid eyes on.
Did I mention she's Kal's sister, Saedii? That boy has a lot of skeletons in his closet.
Anyway, Tyler used his tactical brilliance and unparalleled dimples to lead his squad's escape from Octavia to Emerald City, where they heisted a fat stack of cash, a box of mysterious gifts left long before any of these shenanigans began, and the keys to a very, very fancy new ship.
In the middle of stealing the Hadfield's black box, the gang was taken prisoner by the aforementioned Syldrathi warrior, Saedii. One drakkan pit fight later, Ty found himself captured by the Global Intelligence Agency (aka the GIA) alongside his new Syldrathi enemy.
He learned many things, including what she looks like in her underwear, and that he and Scarlett are not human, as they thought, but that their mother was a Syldrathi Waywalker.
Last seen: On the run with his new frenemy, Saedii.
---
Kaliis Idraban Gilwraeth—The misunderstood warrior. From the highs of finding a new family in Squad 312 and finding love with psychic weapon Aurora to the lows of his unmasking as the son of the Starslayer and his expulsion from the squad, Kal has had quite a time recently.
Cast out for omitting the teensy detail that he was the son of their archenemy, he returned to the family fold. But, twist! He remained loyal to Aurora, and fought beside her when she arrived to take on his father.
Last seen: Under psychic assault aboard the Eshvaren Weapon.
---
Scarlett Isobel Jones—The fabulous one, installer of my personality program, light of my life. She also knows where my Off switch is.
The words "if she only applied herself" appeared more on Scar's academy reports than on any other cadet's in history, but her uncanny empathy (or not-so-uncanny, if you know her mother was a Syldrathi Waywalker, which Scar does not) and absolute loyalty to her twin brother, Tyler, saw her careening across the galaxy with Squad 312, never once chipping a nail.
During their time on the run, the squad discovered a collection of gifts at the Dominion Repository, left for them many years before they'd even joined the Aurora Legion. Scar scored the best one—a necklace inset with a cluster of diamonds. They are, as everyone knows, a girl's best friend.
After Tyler was taken prisoner by the GIA, Scarlett and the others pushed on to help Aurora retake the Weapon from the Starslayer, save Earth, and get on with the job of killing the Ra'haam before it wakes up and eats the galaxy. No big.
Last seen: About to make out (!!!) with Finian (!!!), but thwarted at the last moment by his realization that the diamonds on her necklace aren't diamonds at all but Eshvaren crystal (!!!).
Oh yeah, and then everything exploded.
---
Finian de Karran de Seel—The one who really does grow on you, once you get to know him. Resident Betraskan mechanical genius, Finian's proven his loyalty to Squad 312 over and over.
He might have softened his abrasive exterior, but you can pry his smart-assery from his cold, dead hands. Which you might yet get to do, given that the last thing he, Scarlett, and Zila saw at the end of our last volume was a blinding flash of light in the middle of a giant space battle to defend Earth from a very cranky Starslayer.
Last seen: Interrupting his own lifelong dream of kissing (!!!) Scarlett Jones (!!!) with his necklace realization. This boy needs to get out of his own way, seriously.
---
Zila Madran—The one with the earrings. And the brain the size of a planet.
Although Zila's squad thought for quite some time that she was a straight-up sociopath—and in their defense, she did show a very unhealthy affection for her disruptor's Stun setting—we've since learned that as a child she saw her parents killed as they tried to protect her, and that she's been alone in the galaxy ever since.
Pulling off some considerable badassery, including rescuing Squad 312 from imprisonment on Saedii's ship, she's upped her game from theoretical to practical, and slowly but surely, the ice seems to be melting.
Last seen: Getting blown into her component molecules, along with Scarlett and Finian, during the battle to save Earth.
---
Catherine Brannock—The fallen comrade. Best friend to Tyler and Scarlett, and the pilot for Squad 312, Cat "Zero" Brannock was an Ace without equal.
She was consumed by the Ra'haam as the squad fled Octavia, but that wasn't the last we saw of her. Now she's a part of the Ra'haam, and it's been using her knowledge to pursue Aurora, Tyler, and the rest of the squad. It's not above using her familiar face, either. When Tyler was taken prisoner, she interrogated him as part of the GIA.
Last seen: Firing a bunch of missiles at Tyler's favorite face.
---
Caersan, Archon of the Unbroken—Every family's got one, and he's Kal's. It's helpful to know Syldrathi politics here.
So the Syldrathi are split up into cabals, yes? The Warbreed are the warriors (the hint's in the name, really), and when the Syldrathi signed a peace accord with the Terrans and Betraskans, the warriors, well…they'd have preferred to keep fighting.
A pack of them dubbed themselves the Unbroken and started a Syldrathi civil war. They were led by Caersan, Archon of the Unbroken, aka the Starslayer. He earned the name by stealing the Eshvaren Weapon that Auri was training to use, and blowing up his own planet's sun in an epic power move that convinced everybody else to stay right out of his way while he made war on his own people.
His son, Kal, wanted nothing to do with him and split to join the Aurora Legion incognito. We've seen how well that worked out for him.
His daughter, Saedii, remained loyal, and when she and Tyler were taken prisoner by the GIA, he made it quite clear that he was prepared to blow up Earth to get her back.
Last seen: Psychic-wrestling Auri for control of said Weapon.
---
Saedii Gilwraeth—The scary sister. While Kal and his mother left Caersan at a young age, Kal's sister chose to stick with her father. She now serves as one of his Templars, commanding a huge and terrifying battleship, and a significant part of his fleet.
She's beautiful, she's deadly, and she's got a necklace of former suitors' thumbs around her neck, so you should really think twice before you try hitting on her.
After a couple of the Unbroken picked up Kal's name during a bar fight back on Sempiternity, she tracked the gang from Emerald City to the wreck of the Hadfield,where she took them prisoner. After that came that whole thing with the drakkan pit fight, and she and Tyler were taken prisoner by the Global Intelligence Agency. The GIA, corrupted by the Ra'haam, was trying to start an interplanetary incident to deflect attention from its quickly ripening nursery planets. It's all really quite complicated.
She grudgingly admits Tyler turned out to be semi-useful during their escape.
Last seen: Making a break for it with Tyler Jones.
---
The Eshvaren—The mysterious aliens. Eons ago, the Eshvaren fought the Ra'haam to stop it from taking over all life in the galaxy, and they won.
Well, almost.
The Ra'haam was actually driven into hiding, waiting approximately a bazillion years to regain its strength.
Knowing they wouldn't be around by the time Round 2 kicked off, the Eshvaren seeded the galaxy with hundreds of species—all bipedal, carbon-based, and capable of communicating with each other, a previously unexplained event that prompted the formation of the United Faith. Scholars will next turn their minds, no doubt, to the question of who made the makers.
Known for their beautiful crystal artifacts, their flexible relationship with time, and their general mysteriousness, the Eshvaren created the Echo, where Aurora transformed herself from stressed-out time traveler to a brain warrior with a singular purpose.
The Eshvaren told Auri she could only summon the power she needed if she freed herself from all the ties that bound her to her old life. But Aurora realized in the end that those ties were the reason she was willing to fight.
Last seen: Being extinct for eons.
---
The Ra'haam—The relentless and single-minded (literally) enemy.
The Ra'haam has been trying to take over the Milky Way since time immemorial, and after its last great defeat at the hands of the Eshvaren, it retreated to twenty-two obscure nursery planets, where its last surviving seeds could slowly grow back to health beneath the surface. Nobody was counting on those pesky Terrans colonizing the planet Octavia, which woke the Ra'haam from its slumber early. It took over the bodies of the colonists—including, alas, Aurora's father—and used them to infiltrate Terran society.
A couple of centuries after they were originally infected, the Octavia colonists have worked their way into power, now controlling the Global Intelligence Agency, Earth's super-scary black-ops and planetary security outfit.
They are led by Princeps, who in mind is simply another part of the Ra'haam, but in body is Aurora's dad.
These individual agents cannot generate the spores needed to infect others—they are only guarding against further interference with the nursery planets, where the Ra'haam has nearly finished growing back to full strength.
Eventually those planets are set to bloom and then burst, sending spores out through the Fold to every inhabited planet in the galaxy, where they'll infect all intelligent life, making it a part of the great, merged intelligence that is the Ra'haam.
Hunting down Aurora and the rest of Squad 312 to keep its secret safe until the other twenty-one nursery planets were ready to bloom and burst, the Ra'haam took Tyler and Saedii prisoner. This kicked off an interplanetary incident that led to the Starslayer threatening to blow Earth to smithereens unless the GIA gave his daughter back this very minute.
Last seen: In pursuit of Tyler and Saedii as they ran for it. But it's everywhere, really.
---
Magellan—Oh, hi, that's me! I'm not gonna lie. I've felt better than I do lately—I got zapped into broken town when Aurora touched an Eshvaren probe with me in her pocket, so I had to ask around to pick up some of this intel for you. I'm currently, uh, on a farm in the countryside, where there's lots of room for me to run around.
But maybe I'll be back before the end of the story to save the day? Sounds like something I'd do….
---
For now, strap in, my friends, because we're heading back in.
Once upon a time, there were a bunch of crazy kids who refused to listen to their ultra-intelligent uniglass friend….
We hope you are enjoying the book so far. To continue reading...
Aurora's End
Amie Kaufman
Copyright © 2022 All Rights Reserved