Aurora
Available in:
eBook
Paperback
Audiobook
Hardcover
Book info
Sample
Audiobook
Media
Author updates
Lists
Synopsis
Soon to be a film from Netflix and Oscar-winning director of The Hurt Locker Kathryn Bigelow.
'Fantastic story, a real page-turner. Impossible to put down' Stephen King
'Forget a good night's sleep. Aurora is epic' Linwood Barclay
When the lights go out no one is safe…
A planet without power.
When a solar storm hits the earth, the lights go out across the planet. But this time the blackout won't be over soon – it could last for years. Aubrey and her stepson now face the biggest challenge of their lives.
 
A society without rules.
Soon they hear rumours of riots, the struggle for food becomes real, and even within their small communities, the rule of law is collapsing. Aubrey's estranged brother Thom, a self-made billionaire who abandoned her years ago, retreats to a gilded desert bunker where he can ride out the crisis in perfect luxury.
 
A race to build a better world…
But the complicated history between the siblings is far from over, and what feels like the end of the world is just the beginning of a personal reckoning long overdue…
Release date: June 7, 2022
Publisher: HarperCollins
Print pages: 304
* BingeBooks earns revenue from qualifying purchases as an Amazon Associate as well as from other retail partners.
Listen to a sample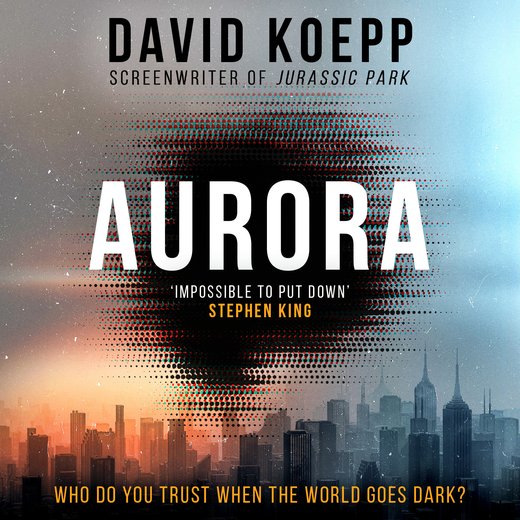 09:06:04
249.98 MB
9780008364151
June 7, 2022
HarperCollins UK
Aurora
David Koepp
Aurora, Illinois
6:32 a.m., Tuesday, April 14
The thing about Norman Levy was that everyone knew Norman Levy. As a college professor at the University of Chicago, he'd been a magnetic force for talented and curious people and could always spot a kindred spirit when he saw one. Students who'd never quite fit in anywhere felt utterly at home in the professor's cramped college office, or over dinners and coffees and drinks at his wood-frame house near the end of Cayuga Lane, in nearby Aurora. Norman, a solar scientist, had dedicated his entire professional life to the study of the sun, but his real and abiding interest was in people. A childless widower, he collected friends the way some people collect butterflies, but not to press them into a book; no, he wanted to prod and question and provoke them, to talk to them. There was, he was certain, absolutely nothing more worth doing than talking to people.
But not at 6:32 a.m. Central Standard Time, which was the exact moment when the phone on the wall in his kitchen rang on Tuesday, April 14. Norman, standing at the sink and staring out the window while the coffee brewed, stirred himself from his pre-caffeine reverie and scowled at the phone. A line from a movie ran uselessly through his head—"None of my friends would call at this hour"—which was a lie. His friends called all the time, it was the curse of knowing people in myriad time zones. Norman shuffled over to the phone, tilted his glasses up so he could read the caller ID, and saw SILVER SPRING, MARYLAND. He picked up the handset.
"We've talked about this," Norman said.
The voice from the other end was tense and excited. "Did you see any imaging from GOES-16 in the past twenty-four hours?"
"It's six-thirty in the morning here, kiddo."
"And I'm calling you anyway, Norman. So, imagine."
Norman could hear the urgency in Perry St. John's voice, and he cleared his throat, pulling himself to attention. He liked Perry and had since the moment the kid walked into his Introduction to Astrophysics class, listened to one lecture, then went right up to the revered professor and announced that he was looking for a mentor and had just settled on Norman. Who could resist that kind of chutzpah? Twenty years of dinners and phone calls and e-mails after that first day in class, Perry was one of the lead researchers at NOAA's main observation station monitoring solar events. He put up with the lily-white astronomic industry giving him second looks and suspicious glances and, boy, did he get tired of saying, "Yes, Neil deGrasse Tyson is a great inspiration to me." But he stayed with it, even when they started pushing him into media interviews just so they could have a Black face out there, because it was the job he was born to do. He liked to tell people he was a weatherman, which was technically true, but the kind of storms he monitored made category 5 earth hurricanes look like spring showers.
He repeated his question to Norman. "Have you seen imaging from the past cycle?"
"Last night," Norman said, "and thank you again for the login. Hours of fun. Hours, Perry."
"Did you see the flare?"
"Yes. Two of 'em, big ones. SUVI picked it up. They saturated the X-ray irradiance sensors, so I haven't checked back. Why?"
Perry paused on the other end, thinking. "Is it possible they masked a secondary burst? Or tertiary?"
Norman furrowed his brow. "I suppose. Did the radiation hit DSCOVR yet?"
DSCOVR, the Deep Space Climate Observatory satellite, had been a crucial tool in the monitoring of space weather in general and solar activity in particular since late 2015, when after its successful launch it took up its orbit at Lagrange point 1, a neutral gravity sweet spot about a million miles from the earth. From there, DSCOVR essentially hovered in place between the earth and sun, the array of sensors in its nose beaming near-to-real-time information back to NOAA.
"Yes," Perry answered, "they'll miss earth by seven degrees in about forty-five minutes. It's what's behind them I'm talking about."
"What's behind them?"
"There was a third flare, zero degrees of inflection, and it's moving through cleared space. New images are posted in the nowcasting. Take a look. I'll wait."
Ignoring the coffee, Norman took the cordless phone into his study and sat at the big oak dining table he used for a desk. He flipped open his laptop, cradled the phone on his shoulder, and went directly to the NOAA site that featured integrated images from GOES-16 and NASA's orbiting Solar Dynamics Observatory. To the untrained eye, the sets of solar images and strings of data on Norman's screen would have been meaningless, but to a mind that had been assimilating data both in visual and quantitative form like this for sixty-five years, the coronal captures and strings of numeric data he saw were the astronomical equivalent of a guy standing on the edge of a cliff, waving a lantern, and screaming, "The bridge is out!"
"Angle of inflection was what now?" Norman asked.
"Zero," Perry repeated, though he was sure Norman had heard him.
Norman blinked. He absorbed the data. Twice.
"This can't be right," he said.
"Let's assume it is," Perry said. "Do you have time to run a few models?"
"I'm eighty-eight fucking years old, Perry. Of course I have time."
"Model out the particle radiation at geostationary orbit," Perry said.
"No kidding." Norman was fully alert and on it now. He opened up a second laptop, logged in to the CME public monitoring dashboard run by the Goddard Space Flight Center, and began to pull data from the hundreds of amateur enthusiasts all over the world who kept an unofficial eye on sunspot activity. Perry wasn't the only one who'd noticed the unusual amounts of proton and X-ray flux that had erupted in the past eighteen hours. The sun-watching community was recording, posting, and interpreting like mad. What Norman saw confirmed what Perry had suggested: there had been not one but a series of three flares, each bigger than the last, and the sheer luminosity of the first two had, in effect, blinded the array of monitoring equipment to the massive third flare, which had released a CME that was now surfing through space in the relatively clear solar wake of the previous disruptions.
The information Norman began loading into his self-designed modeling software was complex and wide-ranging, covering physical and technological risk factors to the earth's power supply based on the potential impact of a plasma field of the size and intensity they'd just recorded. When he hit enter and the final result displayed in a small flashing box on his screen, Norman felt the floor sinking away from him.
"Shit," he said.
"What'd you get?"
"My model's no good. Running another. Hang on." He cleared the field and started over, pulling data from different collection sites around the world, running an alternate scenario, varying the electrical-field amplitudes and direction as widely as he could imagine. He wanted a different outcome.
He wanted to be wrong.
At NOAA, Perry sat at his monitoring station and listened to Norman's frantic typing on the other end of the phone. Norman had been one of the foremost solar researchers of his era for a reason: his models were never wrong. Perry knew whatever Norman's first result had been, it would prove accurate. But he also knew better than to interrupt the old man while he was working. Impatient, Perry pulled data and ran his own models while he waited.
Behind him, his colleagues looked up from their early-morning fogs, wondering what he was up to. Ken Murtagh, an IT IS WHAT IT IS coffee mug in hand, peered over Perry's shoulder while the young maestro banged away at a series of computers. Terry Fitzpatrick, who'd been up with a grandbaby all night and was too tired to get out of his chair, just tiny-stepped it over across the floor, rolling up on Perry's other side and squinting down at his screens.
Murtagh saw the various images and data streams playing past and regarded Perry suspiciously. "What is this? You playing a game?" Because the numbers couldn't be right.
Fitzpatrick looked at the data, then at Perry. He pushed his glasses up on top of his head and asked a question.
"Glancing blow?"
"Doesn't look like it."
Fitz just stared at the screen, absorbing the information as Perry loaded it into the simulations. "How long?"
Perry, who'd been cradling his cell phone to his shoulder, realized his neck was killing him and lifted his head, letting the phone drop to the desktop with a clatter while he inputted. From the other end of the call, the others could hear Norman's agitated voice calling out, "Hey! Hey, you still there?!" But Perry kept typing, running one model after another, and each time one of them pinged with its COMPLETE message, the result was the same, or similar.
"Perry," Fitz said with rising urgency, "how long do we have?"
From the phone, Norman's voice was squawking, distorting the speaker. Murtagh reached down, turned the phone over, and hit the speaker button. Norman's voice burst out, too loud.
"—not wrong! This shit is not wrong!"
Heads turned all over the room. Others started to filter over, and Norman's voice distorted through the speaker. Perry held up a hand, silencing the argument behind him for a moment while he hit enter, telling the computer to run his final simulation. They all shut up, waiting for it. The computer pinged with a conclusion.
Perry looked down at his cell phone, on the desktop. "Norman? You still there?"
"Yeah."
"You ran it?"
"Three times, with Convac's new transformer specs. You?"
"Same." Perry cleared his throat. "It's Carrington-level, isn't it?" The seven men and women who were now assembled behind him stared down at the phone, waiting for a response from someone on the other end whom none of them knew. But for some reason, everything relied on that unknown man's reply.
From the speaker, Norman's voice was raspy. "In the thirtieth year, in the fifth day of the fourth month, as I was among the exiles on the banks of the river Chebar—"
Murtagh interrupted, like a man who suddenly realizes he is the butt of a joke. "Excuse me, who the hell are you and what exactly are we doing here?"
Undeterred, Norman finished the quote. "—heaven opened and I saw visions from God."
Perry looked up at Murtagh. "It's the Bible."
"No shit it's the Bible. Why is that old man quoting the Bible?"
"Ezekiel's vision, 593 B.C.," Perry said. "Some people think it was earth's first recorded auroral event."
Fitz put a hand on Perry's shoulder. "How long 'til it hits, Perry?"
"Between seven and twelve hours. Give or take. Solar winds are highly variable."
Fitz stood up and looked at Murtagh, whose already pale face was several shades whiter than it had been a few minutes ago.
"So we're islanding?" Fitz asked.
"I'm not calling that. Are you calling that?"
"Ken, it's a worldwide black-sky event."
"I'll call a stepdown," Murtagh said.
"A stepdown? Why not just put on a pair of sunglasses?How many plus-1,000 amps on the grid are pre-1972?"
"Top of my head? At least two thousand."
Fitz nodded, thinking. "Start with those. I'll call around and try to get a handle on how many of the other ten thousand have winding hot spots likely to blow with thirty DC amps per phase."
Perry shook his head. "You'd better figure fifty."
"OK, fifty." Fitz was activated now, his fatigue forgotten.
But Murtagh was frozen in place. "I don't even know where to start."
Fitz looked at him. "Start?" he asked. "We gotta silo the whole fucking country."
In Aurora, Norman put the cordless phone down on his desk and let their argument play out over the tinny speaker. He pushed himself up out of his chair, regarding for a moment the complex home radio setup that crowded the far end of his desk. Soon enough, he thought, that's going to be the only way to communicate.
He went to the window, the big one that looked out over the cul-de-sac on which he lived. The sun was just breaking up the pre-dawn sky but hadn't come over the horizon. Nearly all the houses were dark, except for the occasional porch light still on from the night before. As Norman watched, the mercury-vapor streetlights winked out as they did every morning, their sensors picking up that they were no longer needed. He looked up at the sky, where the sun's light still reflected off the surface of Venus. As he watched, the first fuzzy edge of the sun's corona crested the trees on the far side of the street and Norman stared into its wavering hot edge until his eyes watered and he had to turn away.
He closed his eyes and tried to imagine what it all meant for the world, but it was impossible. The planet was too vast, its systems too complex, and his mind couldn't hold it all. Everything, everything was about to become local. All that would matter in his life was what would happen on this block, what would become of these people and the ones they loved, what choices they would make, and the unpredictable skein of consequences that would be spun from them.
Norman closed his eyes and tried to prepare for the coming storm.
Aubrey Wheeler looked down at the chipped paint on her fingernails and wondered when the last time was that she considered a man attractive. It certainly wasn't now, and it definitely wasn't either of these two guys.
The conference had been in Kansas City, but not even the good Kansas City, whichever one that was supposed to be. Whichever-the-hell Kansas City she'd had to go to was five hundred inconvenient miles from Aurora, a distance that translated into either an eight-hour drive for a six-hour conference or an overcrowded flight on a shit airline. She'd chosen the flight, on a no-frills carrier that didn't assign seats, and after a free-for-all at boarding, she'd ended up in a middle spot between two ex-high-school-football types whose concept of personal space was that her space was for their person. Having no intention of staying stressed and angry for the whole ninety-minute flight, Aubrey had popped a Xanax far too early in the day and was now driving home from O'Hare foggy, crabby, and vaguely depressed.
Actually, her depression wasn't as vague as all that; it was quite focused and specific, because she was headed back into the lion's den. She remembered, barely, the days when business travel used to leave her somewhat invigorated and refreshed—days when it had been a chance to get away from Scott and Rusty for a decent stretch, to sleep better and longer and read and eat whatever she wanted, without worrying about whether anybody else would want to eat it too. But those days were long gone. Gone in the dust of COVID, gone along with her peace of mind, the better part of her thirties, and her marriage.
Before the pandemic, the conference business she'd started and run had done fairly well. But overnight, the number of people who were willing to sit in a windowless air-conditioned room with five hundred strangers dropped to nothing, and Aubrey was forced to contemplate bankruptcy within months. She'd furloughed the entire staff. But three nights later she awoke in the night with a Genius Idea, a revelation that was not-so-slowly dawning on the rest of the business community at the same time. Namely, why do I ever have to leave my house again? She'd pivoted the company to an all-Zoom platform in seventy-two hours and hired back half the staff within a week. By the end of the first year in their new configuration, they had nearly as many employees as in their heady pre-plague days. And more clients than ever, who were willing to pay as much or more for the convenience of attending a conference from the comfort of home. Sure, some morons had eventually insisted on holding in-person conferences again, hence her deeply resented trip to Missouri-or-Kansas, but ninety percent of their work was now online, and profitable. She'd even managed to resume pulling a decent salary, which was an enormous relief to Rusty, as he was a shit and a vampire.
Were those words cheap slurs? You bet! But they were also accurate descriptors that summed up the two dominant aspects of her ex-husband's personality. Rusty was a "shit," used in the classical sense of "waste matter expelled from the body," because he had been an enormous misuse of her time, resources, and love. And as of two years ago, she had most definitely expelled him from her body. He could also be accurately described as a "vampire," if one took the word to mean "a person who preys ruthlessly on others." You could even go so far as to call its primary definition—"a monstrous bloodsucker"—appropriate, because Rusty had drained the spirit and energy out of Aubrey 'til she felt hollow, like an empty suit coat splayed open on the floor.
She knew it wasn't all his fault. She remembered vividly what he'd been like when they'd first met. He was strong and he knew it, in all the ways that confidence is attractive and none of the ones in which it's ugly. He radiated strength and authority, not with gross bravado but in a quiet I-am-possessed-of-a-power-that-I-need-not-use kind of way. Rusty was a general contractor, a good and honest and successful one. Aubrey had always used her mind for work, and she liked the idea of somebody who used their hands for theirs. Best of all, her husband had been the polar opposite of her older brother—Rusty was unserious, physical, and grounded. She'd loved him until he became unlovable.
The last few years Rusty's drinking reached blackout level—which had apparently been the issue in his first marriage, and thanks so much for telling me, Cheryl Anne—and in the end that made it easy for Aubrey. Or easier, anyway. The guy she'd loved wasn't there anymore, and this new guy wasn't welcome. Slowly at first, and then seemingly all at once, the guy she thought she knew was into booze, drugs, rages, long hours lost playing poker, and she was fairly certain he was getting involved in some sort of minor crime; odd sorties at all hours to do God-knows-what with some sketchy buddy of his. No, Rusty had to go, so out he went, out of the house they'd bought together and out of the life they'd planned in such careful detail.
But the twist in the story, the kicker, the sting in the tail, as they say, was that Rusty didn't take all his stuff with him when he went. He left Scott behind.
He didn't actually leave Scott; it was more that Scott stayed. Rusty's son from his first marriage was fourteen at the time, old enough to get into trouble, which he did, old enough to know that his mother lived too far away and didn't care enough to take care of him, which she didn't, and young enough to think that if he could just make a few smart choices about his life, he could free himself from the shit cycle of neglect and substance abuse that had consumed both his parents. Outcome pending on that third one.
Because they were both men, and Midwestern ones at that, Scott and Rusty didn't sit down and actually discuss a new living arrangement. It was more that they came to realize it in each other's presence at about the same time one morning. Specifically, that moment was fifteen minutes after Rusty had told Scott, "Get your shit and be downstairs. We're leaving." Scott did not get his shit or go downstairs.
Rusty looked up the ancient, rickety staircase that had been first on his punch list for four years—he was for suregonna get to that one—and shouted. "You coming or what?"
Scott shouted back, through his closed bedroom door. "Fuck off."
Rusty turned and looked at Aubrey, who was slouched sideways in the kitchen door, half in and half out, as if there were no room she wanted to be in right now.
"You put him up to this?"
Aubrey just glared at him. Give me a break.
Rusty turned back to the stairs and yelled up to Scott again. "You stay now, you're staying for good."
At this point, some teenagers would have shouted something incoherent and slammed the door. Others might have cranked up the volume on something by Death Grips, a rap group rivaled in their abrasiveness only by the sound of someone chewing aluminum foil in your ear. But Scott Wheeler just opened his door, walked to the top of the stairs, looked down at his father, and touched his forehead with two fingers of his right hand in an insouciant goodbye salute.
"Adios, asshole."
Rusty picked up his bag and left.
At 10:47 that morning, Aubrey had been thirty-six, childless, newly single, and ready to accept whatever exciting adventure life held in store for her.
At 10:48, she had a fourteen-year-old to raise. Somebody else's fourteen-year-old.
Hey, life, that wasn't what I fucking meant.
It was home to Scott that Aubrey now raced. It was just after one in the afternoon, which meant if she hurried and traffic didn't conspire against her, she'd be at the house by two, plenty of time to toss Scott's room before he got home from school. She'd arranged for him to stay at a friend's for the two nights she was gone, but she'd had no illusions about his true intentions, which had almost certainly been to spend the night with Caprice in the Aubrey-less house on Cayuga Lane. Scott had turned fifteen six months ago, too young to give up one's virginity, in Aubrey's opinion, but that was between him and his consenting partners. It was the substances she was concerned about.
Both of Scott's parents were drunks. Genetics were squarely lined up against the young man, and Aubrey had no intention of letting him fall down that dark hole on her watch. A week before the trip, she'd set up three Zmodo surveillance cameras throughout the house, connected by Wi-Fi to an app on her phone she could access with any decent signal. One camera had gone in the kitchen, hidden in a stack of cookbooks, one in the living room, stashed among a tower of neglected board games, and the third hidden among the dozens of unread books on Scott's bedroom shelves.
Aubrey had quickly shut that one down, after a test run a few days before leaving nearly seared her eyeballs with the image of a perfectly normal adolescent function that she had somehow failed to consider. Look, it hadn't occurred to her, OK? She'd never been a teenage boy. In the end, the video system had proved worthless, unless she was actually in the house and on Wi-Fi. As soon as she was in the car and on her way to the airport, ...
We hope you are enjoying the book so far. To continue reading...
Aurora
David Koepp
Copyright © 2022 All Rights Reserved