Book info
Sample
Audiobook
Media
Author updates
Lists
Synopsis
"You've gotta read Ascension by Nicholas Binge. Old-school creepy. . .five-star horror."—Stephen King

"Smartly paced, deploying twists and turns strategically to keep the reader moving. . . The ideas are big and the journey is a whole lot of fun." —The New York Times

"[An] excellent page-turner. . . a macabre, escapist pleasure for the thoughtful set."—The Wall Street Journal

A mind-bending speculative thriller in which the sudden appearance of a mountain in the middle of the Pacific Ocean leads a group of scientists to a series of revelations that challenge the notion of what it means to be human


The only way out is up. . . 

An enormous snow-covered mountain has appeared in the Pacific Ocean. No one knows when exactly it showed up, precisely how big it might be, or how to explain its existence. When Harold Tunmore is contacted by a shadowy organization to help investigate, he has no idea what he is getting into as he and his team set out for the mountain. 
 
The higher Harold's team ascends, the less things make sense. Time moves differently, turning minutes into hours, and hours into days. Amid the whipping cold of higher elevation, the climbers' limbs numb and memories of their lives before the mountain begin to fade. Paranoia quickly turns to violence among the crew, and slithering, ancient creatures pursue them in the snow. Still, as the dangers increase, the mystery of the mountain compels them to its peak, where they are certain they will find their answers. Have they stumbled upon the greatest scientific discovery known to man or the seeds of their own demise? 
 
Framed by the discovery of Harold Tunmore's unsent letters to his family and the chilling and provocative story they tell, Ascension considers the limitations of science and faith and examines both the beautiful and the unsettling sides of human nature.
Release date: April 25, 2023
Publisher: Riverhead Books
Print pages: 352
* BingeBooks earns revenue from qualifying purchases as an Amazon Associate as well as from other retail partners.
Listen to a sample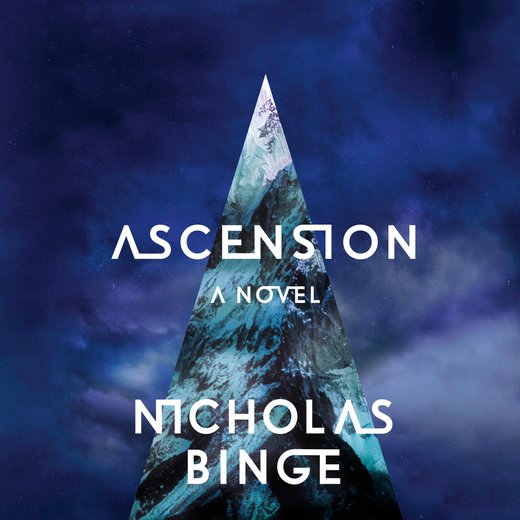 10:31:04
288.89 MB
9780593671900
April 25, 2023
Penguin Random House
Ascension: A Novel
Nicholas Binge
FOREWORD
My brother disappeared twenty-nine years ago. It didn't happen on a specific day, or even during a specific month. The process was a slow drifting—a realization that grew in me like a poison, a splinter at the stem of my brain.
In 1990, he missed Christmas with the family, sending no message or explanation. He just didn't show up.
I wasn't exactly surprised at the time. He simply was who he was: Harold Tunmore, an esteemed scientist and Renaissance man. There was always some far-flung discovery, some hidden spool of thread he had to pull that would take precedence over other people. I never really understood his devotion to the unknown, but I learned to tolerate it over the years. You simply couldn't count on him. He lived way up in the clouds.
It must be said that he had got better over the previous five or six years, becoming more of an uncle to my daughter, Harriet, in that time. He'd actually show up for birthdays and holidays, bringing with him strange and exotic trinkets from his travels. He'd swing by unannounced, much to my wife's consternation, and take Harriet off on wild trips, exploring Scottish forests and camping by lakes. I'm not sure what had caused this change in him, but it was a welcome one. It was nice to see him more, after so many years of absences and excuses.
Perhaps I shouldn't have been shocked, then, when Harriet refused to come out of her room on Christmas Day until he appeared. She was only fourteen, still young enough to hope for the best in people. As for me, I'd been expecting it. It sounds horrible to say, but I'd been wondering how long it would be before he let us down.
I received his first letter in late February, followed by two more in the spring. They were addressed to Harriet, but after reading them, she passed them to me to take a look. At first, I thought they must have been a joke. The content of them was so bizarre, implausible to the point of absurdity. I see now that was wishful thinking.
They did not lead on chronologically, one letter to the next. There were similar threads in each, but they were dispersed in ways I could not make sense of. I later thought they might be in a code of some kind, a hidden meaning among the fantasy that we were meant to somehow decipher. What he expected Harriet to do with them, I had no idea. It doesn't shame me to say I lacked my brother's intellect. Everybody did. When we showed the letters to my sister, Poppy, she merely shrugged and said, "Leave it, Ben. That's a maze with only dead ends. I stopped trying to work him out years ago."
He never came back. He never contacted me, or anyone, again.
I waited, wishing fervently for some kind of sign, imagining that he was simply out in the world, digging up artifacts and making bold new discoveries. Over time, bit by bit, I found myself actively looking for him. First, I phoned old friends. Then I visited universities he had taught at. All the while the worry grew inside me, bubbling underneath
the surface. I told myself that this was just Harold being Harold. This was just the sort of thing that he did.
After two years of searching, I had found nothing. It was an exercise in pure frustration. I spent weeks on the phone with police, with laboratories where he had done research. I spent weekends traveling to see old acquaintances and colleagues, leaning on connections at my legal practice to expedite matters. Urged on by Harriet, I did everything I could to follow the thread of where he might have gone.
But there was no thread.
No hints. Not a single scrap of information. It was as though, in the winter of 1990, he had simply vanished into thin air.
All I had left were those last three letters, now thoroughly dog-eared and coffee-stained. For weeks Harriet and I pored over them, sitting at the kitchen table late at night and right through to morning; they seemed to make less and less sense with each reading.
Years trickled by and my wife watched on as father and daughter lost hope. In the autumn of 1998, Poppy and I had him declared officially dead.
---
It's funny which memories stick with you. Even now, I can still see myself sitting in the gardens outside the chapel, tangled in thought. The cool chill of the morning pricked my skin, and I pulled my jacket tighter. It was November. I was due to make a speech at Harold's memorial in two days and I still hadn't written anything.
I've never been much of an emotional writer—drafting depositions and legal summonses is far more my cup of tea—but I wanted to get something down to honor him and the memories he had left us with. And yet, every time I put my pen down, my mind would go blank at the glare of the paper. The longer I waited, the more the pages stared back at me, accusatory.
The truth is I never really knew my brother.
Apart from the last few years before his disappearance, I barely saw him. He spent his twenties training as a doctor, becoming a surgical consultant by the time he was thirty. As such, he was always busy, always sought after.
When I did try to get in touch, he'd make excuses and promise he'd visit later. Even when he left medicine, for reasons he never shared with me, he was always elsewhere—investigating rock formations in South America or working on mathematical proofs in India. The life he lived was so far removed from mine, it felt like another world—one that I had never been privy to.
He had been an awkward boy, always quiet and contemplative. His early teachers thought that he was mute. His little round face seemed to be perpetually frowning in concentration, as if everything he looked at confused him. My sister and I were convinced there was something broken in his head. We were all wrong. He simply processed the world in a different way to all of us. Where we accepted assumptions, he saw possibilities. Where we felt clarity, he saw uncertainty. And where we were confused, he made strange connections and improbable links.
Breaking my chain of thought, Poppy settled down next to me, in those gardens. She had a bottle of red and a couple of plastic glasses in her hand. For a while, she didn't say a word. She just sat beside me and stared out at the cemetery where his cenotaph had been placed.
"I don't know if I can do this," I whispered to her.
"There's nobody else, Ben," she replied, putting a hand on my shoulder. "Nobody knew him—not really. There's just us. Maybe we should write down the memories of him we do have. The ones we remember clearly. From when he was young and we were growing up."
I shrugged. "He never really talked to me, Pops. Even when he was visiting Harriet, he was always lost in his own little worlds." I swallowed hard. "I think I was too boring for him."
She laughed, putting her arm around me. Despite myself, despite the moment, I felt a smile tugging at my lips.
"My clearest memory of him," she said, "was at the kitchen table in Fra
nce, when we were on holiday. We must have been, what? Eight or nine? He can't have been more than six."
"In Nice?"
"Yes, yes. It's a small memory—a silly thing. Dad had brought back pastries from the bakery for breakfast, and you and I tore into them, shoving these croissants down our throats, and Harold, he just . . . he just stared at his. And then he started pulling it apart."
"Oh God, yes. I remember now. He didn't eat any of it."
"No, he just tore it into about twenty equal-sized pieces, then started arranging them into different geometric shapes on the table. He did that for an hour and a half. I used to think he was such a weirdo."
I laughed. "He was such a weirdo. Mum and I always used to joke that he'd win a Nobel Prize by the time he was thirty. Then when he hit eighteen it stopped being a joke. It felt more like a certainty, you know?" I took a gulp of wine. "The way he looked at you."
"Oh dear, that look." She put her hand to her head dramatically. "You remember that look?"
"How could I forget? Like he was trying to work you out. He looked at the entire world that way."
She nodded. "Like there was some kind of instruction manual written on the skin of the universe that only he could read, if he focused hard enough."
We sat for a while, and a nice warmth came over me—the soft heat of kind memories. After a couple of comforting glasses of wine, Poppy worked with me and
we wrote a eulogy for him together. I delivered it to a small and somber ceremony. Most of the attendants knew my brother only by name.
---
I never forgot my brother, but I learned to put him out of my mind. It took me about ten years to really accept his death, but I did become absolutely sure of it in the end, if only for my own sanity.
Then, nine months ago, my friend Mikey called me from out of the blue. The conversation can't have lasted more than five minutes, but it is emblazoned in my memory.
"Hi, is that Ben Tunmore?"
"Speaking."
"It's Mike Hart. You know, Mikey. From King's."
"Mikey? Christ—is that really you? It's been bloody ages. A lifetime. How are you, man?"
"Fine. Yes, fine. Listen—I'd love to catch up properly sometime, seriously, but I've got something I need to tell you."
"Sure." I could hear how tense his voice sounded.
"I was just at St. Brigid's Hospital."
"Oh, right." I frowned. "Where's that?"
He faltered a bit. "Surrey. I mean, more like Epsom, really. It's a . . . well, look it's a psychiatric hospital. Mental health facility, you know. Long-term care for crazy people. It's just . . . I go quite often to see my gran."
"Mikey—what is this about?"
"I thought I was mistaken at first. But I remember visiting you up in the Lakes over break one time and, well, he was with us for some of that summer. You don't forget a man like that, even after all these years. He had this look, this way of looking at you like he was trying to figure something out. But then I remembered Toby telling me he'd passed away years back."
My hand squeezed the phone. "What the hell are you talking about?"
"Your brother, Ben. He's here. I'm certain of it. I'd recognize that look anywhere."
---
The drive from Windermere to Surrey took me about six hours, though it could just as easily have been a decade. Or an age of history. There were so many questions running through my head; I didn't know where to begin. I couldn't focus on anything except for a single overriding thought: Don't count on anything until you've seen him. If he was alive, he'd be in his seventies, probably unrecognizable. This is probably a mistake. Mikey hasn't seen Harold since we were kids.
I said it over and over to myself, like a mantra.
As I approached, St. Brigid's Victorian architecture loomed into view—arched stone windows and rising turrets. Mikey had told me that much of the hospital had fallen into disrepair, and it now housed only two of the original villas, with a total of just fifty-five full-care patients.
I got out of the car and the front face of the building rose ahead, greeting me with frigid wind and biting cold. I wrapped myself up in a coat and hat, but it did little to get the chill out of my bones.
I had to push open the wrought-iron gates, closed, but not locked. At several meters high, they towered over me. I passed through and the wind picked up, clattering them shut. A metallic shriek rang through the grass courtyard.
I turned to look back at the street behind me. But for my old car, the roads were dead. I put my head down and walked forward, the only sound the crunch of my boots on the gravel path.
When I knocked on the door, a short nurse with an unwelcoming scowl appeared.
"Can I help you?"
"I'm here to see a patient."
She frowned. "I ain't never seen you before. Nobody comes here who ain't come here before. We ain't got no new patients. They've all been here for decades."
I nodded. "I'm aware. I think I may know someone inside, though. Someone I didn't know was here."
"Wha's your name?"
"Benjamin Tunmore."
"And wha's their name?"
"Harold Tunmore."
Her lips tightened into a little circle, and her eyes went down to my feet and back up. "Never heard of him." She began to close the door, but I stepped forward, shoving my foot in the entranceway. The large wooden door clunked against it.
"Listen here now—" the nurse began.
"Please." I put a hand on the door frame. "Please, I've been reliably informed my brother may be in here. I've not seen him for almost thirty years." And, as she seemed to require a final show of emphasis, I added, "Please."
Her lips tightened together and her eyes darted left and right. "Fine. But don't you go mouthing off to any of my patients without my say-so. It's a delicate ecosystem in here. Balanced. All sorts of things can muck with that." She pointed a finger at me. "You look. You don't talk."
I nodded and followed her down a stone hallway. The cold receded quickly, a warmth emanating from the floor beneath. Ornate gold-framed paintings of the home's founders lined the walls, not a single smile among them. There were the crackling sounds of fire and the gentle.
tinkling of a piano. Pulling off my coat, I followed the nurse into a large sitting room with about twenty people spread across it.
For the most part, they sat or stood silently, staring into space or out the high windows at the fog rolling over the cold fields. An older lady played the piano—slowly but delicately—and there was a shuffling of newspaper as men flicked through pages by the fireplace.
"See?" the nurse said in a voice that almost made me jump. "Delicate ecosystem. Now you wait here. I gotta go talk to the boss."
As my eyes glanced across a number of elderly residents, I noticed that they were all alone. Whether staring out at the windblown trees or sitting quietly on one of the plush Victorian settees, none of them spoke to one another, or even seemed to acknowledge each other's presence. A sharp pang of loss echoed through me. This felt to me like a home for lost souls, for ghosts who had nowhere else to go.
Then I saw him.
An elderly gentleman sat in the corner of the room in a large red armchair, behind a tall mahogany table. He was staring at a chessboard, fully set up but unplayed, with a curious intensity. I took a few steps closer, my heart skipping, and his head rose. His eyes rested on mine.
It was then that I realized Mikey was wrong. Not about my brother—no, that was definitely Harold—but about his distinctive look. It was not the same one I knew. The eyes were different, as though something inside him had been taken away, or replaced.
I rushed over, trying to keep my voice low and quiet. Despite my excitement, a strange trepidation ran through me. A sense that something was not right.
"Harry!" His eyes did not leave me. "Harry, it's me. Harry, you're alive!"
He pursed his lips, as if chewing on a word he did not know how to say. I waited expectantly. When he finally opened his mouth, he said:
"Are the ants alive?"
I blinked. "What?"
"It's a matter of definition, isn't it?" His voice was hoarse and brittle. "A matter of semantics. It doesn't change the fact."
"I . . ." I had no idea what he was talking about. "No, I suppose it doesn't
"
"Is the sea alive?" He stared up at me, his brown eyes wet.
"I don't know, Harold."
He sighed—a deep, weary, exhausting thing that seemed to empty the essence right out of him.
"Nor do I, Ben." He shook his head. "Nor do I."
My heart surged at the mention of my name. He knew who I was. All I had to do was get him out of the facility. Get him back home, where we could take care of him. Then I noticed his right hand: he'd lost three fingers; only his thumb and forefinger remained.
"Mr. Tunmore." A voice cracked across the room. I turned to find that first, short nurse standing beside a much taller, lankier woman. She held a clipboard almost as rigid as she was. "Can we talk?"
I turned back to Harold, my head swimming. It was hard to leave him, even briefly, after all these years.
"I'll just be over there, okay? I'll just be in the other room, back in a moment."
He ignored me, turning his head back to the chess pieces. The thin lady beckoned me through the door to her office and invited me to sit. The white-walled room was incongruent to the building around it—if not for the tinkling of the piano carrying through, I would have hardly believed I was in the same place.
"My name is Dr. Stranner." She leaned forward, peering down her nose at me. "What brings you here today?"
"That was my brother." I pointed toward the large room we had just left. "Who I was talking to. That's Harold Tunmore. He's been . . . well, he's been missing for almost thirty years. I thought he was dead."
She raised her eyebrows. "Is he really? He's one of our oldest patients, in terms of how long he's been here. Nobody's ever been able to make any headway on his family."
"Well, I'm his family. His brother. I'm here and I can take him home now."
Dr. Stranner's eyebrows came together in a ridge. "Well, I can certainly see the resemblance, but I'm not sure that will be possible, Mr. Tunmore. He requires a lot of care. More than you are likely to be able to provide without full-time help."
"What's wrong with him?"
"He displays a wide range of paranoid delusional disorders. He often
becomes restless, and at times violent. Sometimes he is completely uncommunicative. Now, if you can return with some kind of documentation to indicate your relationship." Her eyes narrowed in distrust. "Pictures. Old identification, perhaps. Evidence of past association. Then I can go through his file with you. It will take . . . time."
---
My brother was not a well man. For the duration of his stay at St. Brigid's, he had experienced schizophrenic episodes and intense psychotic moments, when he was certain that someone or something was watching or controlling him.
I decided to stay down in Epsom for the forthcoming weeks. At seventy-seven, and long retired, I now had that luxury, and a short-stay home wasn't too expensive. I'd called Poppy, but she was away on holiday in the States. We agreed I'd stay close to Harold until she could get here and we could work out what we were going to do.
I visited him every day, and he recognized me without fail but seemed utterly uninterested in answering any of my questions. His fingers had clearly been amputated, and I later learned he had deep scars across the length of his chest. But it didn't matter how many times I asked him about what happened; if he didn't want to answer, he would remain obstinately silent. The only times I could sustain conversations with him, I didn't understand what he was talking about. He mentioned ants a few more times, and octopuses often.
We would play chess, and he would show a keen and fervent enthusiasm in setting up the board. His hands moved deftly, unbothered by his missing fingers, and his eyes gazed greedily as he carefully put each piece in its rightful place. But when it was set up, he stopped. It was as though a light had been switched off. He simply leaned back and stared.
"Shall we play?" I would ask. To which he would shrug, or mutter fine. He would then proceed to beat me mercilessly every time, seeming completely and utterly bored while doing so.
"It seems you haven't lost your brains," I joked after he thrashed me one day in about six moves.
"Nothing to do with the matter. Nothing at all. It was all set up, you see? All
set up."
During the second week, I was unfortunate enough to see one of his psychotic episodes. He began shaking violently, as if he were incurably cold, and muttering, "They don't see what it does. That's the problem. That's the disconnect. They don't see what it does to the ants."
I tried to calm him, but his muttering turned to shouts and the shouts to screams as he rose to his feet.
"They don't see what it does to the ants!"
I watched the nurses restrain him and help retire him down the hall and to his room, assisted by a syringe with a long, thin needle. I followed, hoping to be of some help.
I had not been in his room before. It was sparse, with a single hospital bed and flowers on the windowsill. Not ugly, but frigid—lacking in anything personal. After they had got him to sleep, I stayed with him, sitting by his bed.
There was a single possession in the room: a small leather briefcase in the corner. The nurses told me it had always been with him, since the beginning, and that he got very upset if anyone tried to take it away. After a few hours of sitting, curiosity got the better of me and I cracked it open. The briefcase contained three things: a carving made from a soap block, a copy of The Tempest, and a large, loosely tied bundle of papers.
The carving appeared to show the figures of a mother and a boy, but was roughly made. Not an impressive artistic piece, but rather something hastily hewn without much eye for technique.
The copy of The Tempest had clearly been read many times, the pages curled and folded, stained with fingerprints and mud. Inside, the text was largely untouched, but for a single page. At the end of Act 1, Scene 2, when Prospero says to Ariel:
Thou shalt be as free

As mountain winds; but then exactly do

All points of my command.
These three lines were highlighted, then underlined, then circled multiple tim
es. Almost everything else on the page was obscured because of this, but those words stood out, undeniably clear.
When I opened the bundle of papers, I could feel my heart race, thudding against my ribs. The very top page began with My dearest Harriet, and I realized, as I flicked through, that they were all letters, all addressed to my daughter. I checked the dates, feeling fortunate that my brother had been a stickler for labeling, and noticed that they were from 1991. They were the follow-up letters to the three my brother had sent all those years ago.
There were hundreds of pages.
---
I wanted to take the letters home, but just after I had packed them away in my bag, Harold stirred. I froze, feeling oddly like a thief, as though I was betraying some unspoken confidence by entering his room and opening his briefcase.
"Ben," he whispered. I approached his bed. His eyes were weak, his face gaunt and white. "I couldn't do it. I tried, but I . . . I didn't have the strength."
I leaned in close to him and he took my hand in his—it was cold and clammy. "It's okay, Harry. I'm here." I'd long since stopped trying to figure out what he was telling me. Too many of our conversations had proven futile. I learned that what he wanted, or perhaps what he needed, was merely comfort and reassurance. "It's okay."
"She wanted me to share them. Years ago, but I couldn't. She wanted me . . ." He grimaced, as if in pain. It was clear that he knew I had the letters. Whatever he had become, my brother was not an idiot.
"Don't worry, Harry," I said. "I'll keep them safe."
His face hardened, his features solidifying into stone. "No one can read them." His voice was low, urgent as his hand squeezed mine, knuckles white. "If we should know what we are . . . if anyone should . . ." His words were drowned in a fit of coughs and splutters. I stayed close to him, my hand in his, but by the time his coughing ended, he had drifted back off into sleep. Even in his state of unconsciousness, it took some force to extricate my hand from his grip. Although he was now asleep, his brow was still tightened in concentration.
Sighing, I left him, determined to return first thing in the morning.
Under a flickering desk lamp in my rented room, I began to read the letters. They were old and brittle, as if dried after being soaked wet. They resembled the other three that I had obsessed over so many years ago. Some came before, some came after, but together they threaded themselves into a narrative that I could not deny. I felt like I had drifted backward in time, into those dark evenings delving into those words, trying to catch a glimpse into something I had missed. Or that I was not supposed to see.
The next morning, I got a call from St. Brigid's.
When I remember it now, it is not as though I am receiving a call. I don't recall hearing the events explained to me. I can only picture the incident as if I witnessed it myself.
My brother broke out of his room in the night. He made his way into the kitchens with a key that he had procured. None of the nurses knew where it had come from, as theirs were all accounted for; one had a vague memory of the kitchen key going missing some ten years before.
As far as the coroners could tell, he pried open a barrel of oil kept for lighting the old kerosene burners. He poured it all over his clothes and, using a long safety match from the kitchen, he lit himself on fire.
I cried that night, but the tears didn't feel real. They were dulled by time and distanced by shock. The truth was that I was grieving a man I had buried long ago.
I cannot help but blame myself for his death. For almost thirty years before I arrived, he had lived his quiet yet turbulent existence. Poppy tries to convince me that perhaps I had also allowed him a kind of release. Perhaps he, too, had buried himself long before his actual death, and with his letters—his confession—passed on, ...
We hope you are enjoying the book so far. To continue reading...
Ascension: A Novel
Nicholas Binge
Copyright © 2023 All Rights Reserved