Antoinette's Sister
Available in:
eBook
Paperback
Audiobook
Hardcover
Book info
Sample
Audiobook
Media
Author updates
Lists
Synopsis
As Marie Antoinette took her last breath as Queen of France in Paris, another formidable monarch—Antoinette's dearly beloved sister, Charlotte—was hundreds of miles away, in Naples, fighting desperately to secure her release from the revolutionaries who would take her life. Little did Charlotte know, however, that her sister's execution would change the course of history—and bring about the end of her own empire.
 
"You are the queen. You are the queen that Antoinette wanted to be."
 
Austria 1767: Maria Carolina Charlotte—tenth daughter and one of sixteen children of Empress Maria Theresa of Austria—knows her position as a Habsburg archduchess will inevitably force her to leave her home, her family, and her cherished sister, Antoinette, whose companionship she values over all else. But not yet. The Habsburg family is celebrating a great triumph: Charlotte's older sister, Josepha, has been promised to King Ferdinand IV of Naples and will soon take her place as queen. Before she can journey to her new home, however, tragedy strikes. After visiting the family crypt, Josepha contracts smallpox and dies. Shocked, Charlotte is forced to face an unthinkable new reality: she must now marry Ferdinand in her sister's stead.
 
Bereft and alone, Charlotte finds that her life in Naples is more complicated than she could ever have imagined. Ferdinand is weak and feckless, and a disastrous wedding night plunges her into despair. Her husband's regent, Tanucci, a controlling and power-hungry man, has pushed the country to the brink of ruin. Overwhelmed, she asks her brother Leopold, now the Holy Roman Emperor, to send help—which he does in the form of John Acton, a handsome military man twenty years Charlotte's senior who is tasked with overseeing the Navy. Now, Charlotte must gather the strength to do what her mother did before her: take control of a country.
 
In a time of political uprisings and royal executions and with the increasingly desperate crisis her favorite sister, Queen Marie Antoinette, is facing in France, how is a young monarch to keep hold of everything—and everyone—she loves? Find out in this sweeping, luxurious tale of family, court intrigue, and power.
Release date: January 11, 2022
Publisher: Grand Central Publishing
Print pages: 384
* BingeBooks earns revenue from qualifying purchases as an Amazon Associate as well as from other retail partners.
Listen to a sample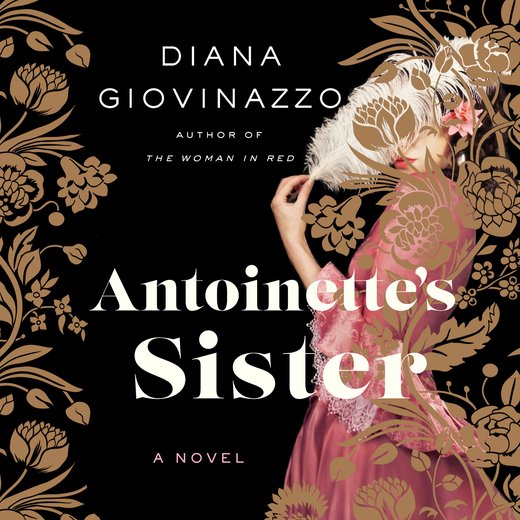 11:43:34
322.08 MB
9781549162138
January 11, 2022
Hachette Audio
Antoinette's Sister
Diana Giovinazzo
There were few things as enjoyable as being able to see the unveiling of a suitor's portrait. The event, attended by four of my six sisters, was an opportunity for us to assess what our mother's intentions were. Our mother, Empress Maria Theresa, was not only the ruler of the Austria-Hungary Empire, but was also the absolute ruler of the Habsburg royal family—all eleven of us. No Habsburg child, male or female, was immune to her strict cultivation. We were all expected to be rulers in whichever court the empress mother deemed appropriate and, as such, were savagely pruned by her sharp tongue.
On this day, my younger sister Antoinette and I skipped down the hallways quickly, passing the ornate tapestries depicting the proud double eagles of the Habsburg crest. Large paintings, commissioned by the greatest artists in all the kingdom, celebrated the greatness of the Habsburg dynasty.
"Did you hear about Josepha's new fiancé?" Antoinette said with an evil grin, her blue eyes sparkling with the news she was burning to tell me. The older we got, the more differences I began to see in our looks. At one point, we were considered to be indistinguishable, even though I was three years older. While her hair had maintained its ash-blond coloring, mine had darkened to the color of chestnuts. In every other way, our features were the same, from our blue eyes to our rosebud lips. Day and night, people would tell us; that's what we were. One the counterpart of the other.
"They say that young Prince Ferdinand is just as mad as his older brothers," Antoinette interjected, breaking up my thoughts.
"Where did you hear that?"
"Why, the maids of course. They know all the palace scandal." Her eyes widened with joy. "Now that King Carlos rules Spain, he has to reposition what titles his sons are going to inherit. They say his older brother died of severe melancholy. That's how he got the Spanish throne."
"What makes you think Ferdinand and his brothers are mad?" It was always a great annoyance when my sister heard the best secrets before I did.
"Well, everyone knows the eldest son, Philip, is an imbecile; they can't even include him in court life. They only trot him out on important occasions, and then he is shuffled back to his rooms. The poor prince had to be excluded from the line. They couldn't even consider him as a ruler. Carlos's second son, Carlos the Fourth, is of course destined for the Spanish throne. But Naples, that belongs to Ferdinand." She shrugged. "It's the lesser kingdom anyway, so it's probably for the best. I can't picture Josepha ruling anything more prestigious."
Of all six of my living sisters, Josepha was the one Antoinette and I liked the least. Well, not quite the least: Elisabeth, because of her great beauty, was Mother's favorite and therefore could do no wrong. It was no secret that Mother intended on her getting the best marriage out of all of us. While I, on the other hand, was always being criticized for my behavior.
The title that Mother sought for Josepha was Queen of Naples, not one of the more prestigious titles. The Kingdom of the Two Sicilies took up the southern half of the Italian peninsula. Keeping to itself, the kingdom was seen more as a puppet of Spain than an independent country.
Once, the Holy Roman Empire had held almost all the territories of the Italian peninsula, but, as Mother liked to lament, our grandfather had squandered them away. The Two Sicilies had been ours, and Mother wanted them back in the Habsburg fold, regardless of the cost. This marriage alliance was so important that Mother had attempted to marry our sister Johanna to the young king, but she died before the negotiations got very far. Now, it was Josepha's turn to fulfill Mother's will.
"How terrible this is for her," I lamented. "She has to marry our sister's intended husband."
"Only you would think that." Antoinette laughed. "You refuse to even share a name with a sister who died well before you were born."
I shrugged. "I don't want to be confined to anyone else's fate."
We turned the corner and skidded to a stop on the royal red carpet, just in time to avoid running into the large gold-and-white porcelain vase perched on the pedestal. The butler that stood nearby raised an eyebrow as I grabbed the wobbling antique vase, steadying it on its roost. "Sorry," I mumbled as we scurried toward the small royal parlor. The hallway, white with gold trim, was lined with paintings of former rulers. Pompous men who didn't come close to the empress mother's fortitude. They each stared down at us in judgment. All except one, Francis I, the Holy Roman emperor. Our father.
It'd been only a few months since his death, but his absence could be felt throughout the whole palace. He was the one who had tempered Mother and brought a smile to her face. When he was young, they had called him the "sweet little cavalier." But for all his charm, Mother had almost not been allowed to marry him. Grandpapa wasn't convinced that the indebted Duke of Lorraine was the best match. Grandpapa had regularly threatened to cancel the whole thing, but Mother had refused to marry anyone unless it was her dear prince. Later our father proved his loyalty to the crown when Prussia betrayed us.
When Grandpapa realized he could find himself with a daughter as an heir to the kingdom, he created the Pragmatic Sanction, a document naming our mother, Maria Theresa, as the next in line for the throne. But the document wasn't official until he had the support of another country. He managed to get the backing he needed from Prussia, but once he died, Prussia invaded, thinking Mother was weak. It was our father who stood by her side, who helped her defend the kingdom. Together, my parents had sought the glory of the Holy Roman Empire, but now that Father was gone, it was up to Mother to keep the legacy alive.
"Charlotte, come along." Antoinette tugged at my arm. "We're going to be late."
"Well, there you are!" Elisabeth said from her perch opposite the door. Like the spoiled child she was, she held out a goblet for the servant girl to refill, never once bothering to acknowledge the lesser creature. "We were beginning to think that you wouldn't make it."
"I was trying to replicate your toilette," I said, "but I found that I just didn't have the number of creams and powders required. How many is it that you use now? Twenty?"
Elisabeth sneered at me in response before taking a long sip and shifting her gaze, with her ice-blue eyes, to Antoinette. Instinctively, I took Antoinette's hand and pulled her into the golden-trimmed armchair with me. She sat partially on my lap as we shared the chair.
The room covered in gold brocade was one of the more familial rooms in the palace. Though too quaint to hold all eleven of the empress mother's children, it was large enough to hold four of her seven daughters. We were spread out on overstuffed blue sofas and matching chairs. Mother had ordered the drapes, in blue as well, to be opened, so that we could better see the portrait of Ferdinand that sat covered in front of the marble fireplace. Near the front of the room, directly in front of the painting, sat Mother with my sister Josepha at her side.
Josepha was only a year older than me, but the difference between us could have been a vast cavern. Josepha tried to model herself after Elisabeth in both attitude and looks. She had little patience, especially for the likes of me, but spent as much time as she could doting on our eldest brother, Joseph, Mother's coruler and heir apparent. Next to Josepha was her governess, the serious Countess Lerchenfeld.
Lerchenfeld was Mother's intermediary in the care and upbringing of all the empress mother's daughters. It was Lerchenfeld's duty to see that we had the best tutors, from music and dance to philosophy, so that the archduchesses would be the envy of the Holy Roman Empire. She also managed the other governesses, like Antoinette's and my own vile warden, Countess von Brandeis.
"Ladies, I believe that now that we are all here, we can begin the viewing," Mother proclaimed with a little wave directing a servant to remove the burgundy cloth draped over the painting. For a moment, we all stared in silence. Shock, really. And then—I couldn't help myself—a burst of laughter erupted from my gut and traveled to Antoinette. Mother snapped her head to us, her hawk eyes fixed on our uncouth behavior. I pressed my face into Antoinette's shoulder, doing all that I could to hide my laughter.
"Well, he's…" The words died on Elisabeth's lips. There was no way to rectify the situation. The young king's beady black eyes stared back at us. They were a little too close together, but they weren't even the worst feature on his face. His nose, that poor bulbous appendage, jutted out from his face like a beak. Only, unlike a bird's beak, it had a rounded bump at its tip that resided just above a pair of exceptionally large lips.
"He is by far the ugliest man I have ever seen!" I exclaimed as my sisters turned to me.
"Charlotte, that is enough. We do not need your commentary," Mother said, not bothering to look at me. "This will be a most fortuitous marriage."
"For him, maybe," Antoinette whispered in my ear. I snorted as everyone's eyes turned back to me.
"According to his tutors, he is of amazing health," Countess Lerchenfeld stated. "He is strong and well loved by his people."
"At least he has that," Antoinette murmured.
"Ladies, I believe we have seen enough. You may leave. I would like to speak with Countess Lerchenfeld alone." My sisters all got up and filed out of the room, but I slipped behind the ornate door. Pressing my ear to the gap between the hinges and the wall, I listened intently to the two women discuss my sister and her future husband.
"Tell me, Countess, how are Josepha's studies progressing?" My mother's commanding voice drifted from the room.
"Quite well. I feel that she is going to make a fine ruler."
"Good. Very good. This gives me comfort. The situation in Naples is far worse than I was led to believe." I could hear my mother set down her goblet. "King Carlos is worried about the mental stability of his sons; it is understandable after the problems he has had with his eldest. But it would appear that he is afraid all three of his sons have the illness."
"Are they indeed ill? More importantly, what of Ferdinand?"
"I don't know." My mother's sigh fell heavy about the room. "According to my ambassador, the regents who have been controlling him have sought to control the country. Their method for doing this has been to keep the young man out of all affairs of state. I am told that the young king spends his days hunting, playing games, and carousing with the common people. He has no sense of duty. No patience for matters of state. And I don't believe he even knows how to read. He may not be ill, but he is certainly a fool. And fools make incompetent rulers."
"What do we do, Your Highness? Is it too late to back out of the agreement?"
"It has always been too late to go back on the agreement. Catherine the Great is waiting for any opportunity to pick at our borders. We can't afford a war with Russia. Spain is the greatest military power on the continent, followed by France. If I can marry my daughters into those Bourbon families, then we stand a chance to secure the stability of the Holy Roman Empire." There was a long silence. "I just wish this didn't feel like I had to sacrifice Josepha."
"What would you have me do?" Lerchenfeld asked.
"Prepare my daughter to rule the country like a proper Habsburg queen. I don't want to do this, but I am a queen before I am a mother."
"Yes, Your Majesty."
I scurried down the hall, burning to tell Antoinette what I heard.
March 1765
Dear Charlotte,
Out of all my children, your behavior worries me the most. Don't you see that every punishment I put in front of you is an opportunity to learn from your mistakes?
But instead of learning, you subvert me. I take away your supper, but you employ a small army of maids to bring you cake. (Yes, I know of your secret cake supply.) You say your prayers with the devotion of a housefly. And, worse yet, you openly call your governess an ogre in public! You are ill-tempered with all your ladies, particularly while they are dressing you. Charlotte, you will never be esteemed, much less loved, by those that you govern if you behave in such a manner.
Furthermore, you have a penchant for idleness, which is dangerous, especially for you. You and your sister play childish tricks. You make improper observations and raise your voice too much.
I am doing my best to raise you properly to be an honorable ruler, but I fear you will be wholly lacking in the virtue necessary to lead a kingdom. If I had shown even an ounce of your irresponsibility, I would never have been able to hold together my realm. If I carried on as you do, I would never have been able to competently lead my empire, let alone protect it from the men who tried to rip it away from me.
I pray that you will see the error of your ways and change before it is too late.
Yours,
Empress Mother
A silent assassin called smallpox was sweeping through Vienna and the rest of Austria. This was not the first time that the virus had paid a visit to the Habsburg family. When it initially reached the doorsteps of Schönbrunn Palace, about five years ago, the royal physicians had implored Mother to try the new form of medicine called inoculation. "The process involves taking the virus from a pustule of an already-infected person and introducing it to an otherwise healthy person. The process is showing great promise in the city of Boston in the American colonies," they told her. Meanwhile, Mother's religious advisors disagreed. "To do this would thwart the will of God. Man was not meant to intercede in such an unholy manner," they said.
It wasn't until our brother Joseph insisted that he get inoculated that Mother relented, deciding to allow the older children to get the inoculation if they wanted it. Those three were my brothers Joseph and Leopold and my elder sister Johanna, soon to be married to the king of the Two Sicilies. And while Joseph and Leopold lived, Johanna did not. She died from the inoculation. After that, Mother took her chances with the virus.
The family was regularly checked for fevers and rashes, but in the end, no one was safe from the devastating virus. Smallpox visited the palace again, finding new hosts among the family that had not yet been touched by its brutal effects. The first of us to come down with the illness this time was Elisabeth. Beautiful, vain Elisabeth, she told the physicians, "Do what you must to save my face, the rest of my body be damned. If I lose my beauty, let me die. I would rather be dead than be deformed." She lived, but her face was horribly disfigured.
After Mother contracted smallpox herself, earlier in the year, she had sequestered Josepha, Amalia, Karl, and Maximilian. None of them had had the virus before, and she wanted to make sure they remained safe. Antoinette and I had had the virus when we were young, but we were placed into quarantine right along with the others. The doctors were concerned that we could get it again if we were exposed.
Life sheltered away from the rest of the family was incredibly dull. Brandeis lectured Antoinette and me from sunrise until supper. The Countess von Ogre thought this a great opportunity to train us as proper archduchesses. Antoinette and I, on the other hand, wanted nothing more than to escape the confines of this sorry excuse for palace life. While Brandeis droned on and on about long-dead relatives that I could not care less about, I kept my eyes fixed on the perfect spring weather that allured me from outside the window. The palace grounds were filled with lush green lawns and flowers of vibrant blues and pinks.
During the long evenings, we sat in the family parlor, which was called the Yellow Room, but in truth, the only yellow thing about the room was the upholstery on the cushioned chairs. Day after day, we stared at the same white walls with the same loops of ivy painted at the very top. There were no balls or concerts. No hunts. Our evenings were spent playing chess, reading, or inventing whatever new form of entertainment would keep us from going mad. That is, all of us but Josepha. While Amalia and Karl created elaborate battles with toy soldiers, Antoinette and I made up new card games. We did what we could to make the best of life in isolation, but Josepha was intent on sulking.
"This is no use!" Josepha exclaimed, slamming her book shut. "I can't read another philosophy book or any more history."
"All this studying will make you a better ruler," Amalia said, looking up from the toy soldiers strewn about before her.
"What's the point? I'm going to die anyway."
All our heads snapped up. "What's that supposed to mean?" I asked.
"I know I am going to die because of the other Maria Josepha," she said with a sigh, as if we were supposed to know this already. "We share the same name, and that means we are going to have the same fate. I know it. She died of the pox, and so will I."
"That is the most ridiculous thing I have ever heard," I said.
"Oh, please!" Josepha's face reddened. "You went to Mother and had us all call you Charlotte because you didn't want to be connected to our dead sister Maria Carolina. And you call me ridiculous?"
"That's different. I didn't want a secondhand name. If I shared the fate of our deceased sister Carolina, I would have died a long time ago." It was a horrid custom, which I despised, that after the death of a child, the next born would be given the same name, as a way to remember the one that had passed. I was the third Maria Carolina. The first had died shortly after her first birthday of severe muscle spasms. The second, born in between Leopold and Johanna, lived barely long enough to be christened.
"You know nothing of these matters. You're just a child," Josepha retorted.
"I know enough not to believe in silly superstitions." Rolling my eyes, I looked at Antoinette. "Come on, let's go to our rooms." She got up and quickly followed me.
The moment we got to our bedroom, Antoinette fell onto her bed. "I swear, if I have to spend one more day with her, I think I will give myself the pox."
"She's like an old lady," I said, coming to join her on the bed. "What if we escaped?"
Antoinette looked at me curiously. "Escape? How?"
"Trust me," I said with a devilish grin.
I learned early that with a well-placed bribe, almost anything can be accomplished. A bit of gold, or even some of the jewelry I no longer had use for, when placed in the right maid's palm, would allow us the freedom my sister and I so craved. It was with this lesson in mind that Antoinette and I managed to have Brandeis occupied while we made our escape.
Our day in the sunshine was more delicious than the ones I was forced to watch from the window under the tutelage of Countess von Ogre. Pleasant winds flowed from the east, pushing out all the clouds and revealing a deep-blue sky. Tufts of wild seedlings floated through the air.
"Josepha thinks she is better than the rest of us because she's marrying a king," I lamented as we made our way to a remote part of the grounds. "Just this morning, she called me an ignorant child! How can I be an ignorant child when she is only a year older than me?"
Antoinette spread a blanket out for us to lie on next to a patch of pink peonies. "Ignore her. Soon she'll be married and living in Naples. Then she'll no longer be our concern."
Antoinette picked a nearby flower and began to twirl it between her fingertips, humming as she did, while a feeling of unease grew in my stomach. Mother was already busy making negotiations for my marriage and my sister's. One of us would be married to the Dauphin of France, and the other to nobility with influence that would benefit Austria. "Antoinette, do you think when we get married that we'll ever see each other again?"
Antoinette let out a little laugh that sounded like bells rising into the air. "That may be the silliest thing I have ever heard. If I am queen, I expect you to be one of the members of my court."
I smiled at the thought. She reached over and took my hand in hers. "Oh, yes, I'll need my older sister next to me. If I become queen, you'll provide counsel and, at the very least, beat the heads of state into submission."
We broke into fits of laughter and spent the rest of the afternoon daydreaming about all the ways we would help our future kingdom and how we would be different from our mother. "I will always tell my children that I am a mother first and a queen second," Antoinette said, suddenly growing serious. "That's the way it should be."
I was about to open my mouth to agree, but a dark cloud drifted toward us. Sitting up on my elbows, I eyed the intruder on our perfect day. "Antoinette, I think it's time to head back." Following my gaze, Antoinette agreed.
Only we weren't quick enough. On our way back to the palace, a downpour let loose. We ran through the pouring rain as thunder rippled through the air. We turned a corner, and I slipped, pulling my sister down with me. Mud splashed up, staining both our dresses. I got up and hoisted Antoinette from the muck. "Quick, through the servants' entrance!"
Normally, that was a safe place to enter without notice, but this time as we rushed through the door, I discovered we were in great danger. The fearsome sight of our mother stood before us. Her large form took up most of the doorframe, blocking our escape to the hallway, and she was furious. Both of our heads snapped down in submission, to look at our mud-covered shoes.
"What were you two thinking?" She scowled at us with her arms crossed in front of her broad bosom. This alone caused Antoinette and me to tremble with fear. She never needed to yell; she needed only to whisper, and men would cower. "Do you know how worried Countess von Brandeis was? How worried I was? Of course you don't, because you are selfish girls who think only of yourselves."
I dared to look into my mother's gray-blue eyes, now as stormy as the world outside, but my gaze withered as she glared at us.
"I probably shouldn't even ask whose idea this was," she growled. "Should I, Charlotte?"
"Mother, I—" At that precise moment, a glob of mud fell from my hair. It bounced off my nose and fell with a splat on the brown stone floor.
Her scowl deepened, and her face became crimson. "You are future queens. One of you will be the queen of France. Charlotte, you are always the source of gossip, and your attitude is appalling. You are the elder sister. You should be setting a pious example for Antoinette. From this day forward, you will be separated from each other."
We began to protest, but she raised her hand.
"Not another word. Antoinette, you will have a private tutor, and Charlotte, you will be placed with Josepha and Amalia. There will be no more secret confidences, no more contact at all whatsoever."
With that, our mother turned on her royal heel and left. Antoinette's grip on my hand tightened. "What are we going to do?"
"We'll pretend to follow her rules, of course," I said. But deep in my heart, I feared that not even my well-placed bribes would get us out of this.
October 15, 1789
Dearest Sister,
Do you remember when we were children and confined to the palace? You were driven mad from the boredom. Even then, you were reluctant to be placed in a cage, and given where I am now, I can understand how you felt.
Those days, though troubling for you, were some of the happiest days of my life. When I close my eyes, I can still see Josepha by the fire, her face bent over her books, and Amalia and Karl, lost to the war games of toy soldiers. Back then, most of the family was too busy for us. What a wonderful childhood. I had you all to myself, from our games with Brandeis to our endless adventures. Though the last one ended in disaster. I still laugh at the memory of mud falling from your head as you attempted to plead your case to Mother. These are the memories I return to over and over during these dark times.
We may not be able to visit again for a long time, but know that I cherish these memories of when you were my Charlotte and we were happy.
Your Loving Sister,
Antoinette
We hope you are enjoying the book so far. To continue reading...
Antoinette's Sister
Diana Giovinazzo
Copyright © 2023 All Rights Reserved