Book info
Sample
Audiobook
Media
Author updates
Lists
Synopsis
A pitch-perfect festive rom com about two reality star country singers who must fake a relationship in order to win the opportunity of a lifetime.

Will they hit the right notes this holiday season?

When Sadie and Max are selected as contestants on the famed reality singing show STARMAKER's special festive season, Sadie thinks she's finally gotten her big break - and Max sees a chance to step out of his megastar father's shadow. But then they're paired up for duet week and stun the world with their onstage chemistry...

With fans going wild for #Saxie, the judges demand they remain a duo - on and offstage - or exit the competition. Faking a relationship shouldn't be too hard, except for one small problem: Sadie and Max can't stand each other.

But with their dreams just within reach, they agree to the ruse. Will their relationship lie be exposed before they can win? Or might their fake connection turn real by the Christmas finale?

*****

Praise for Maggie Knox

'An utterly adorable, pitch-perfect romance with just the right amount of Christmas cheer' Taylor Jenkins Reid

'I devoured this delightful romantic comedy in two nights' Colleen Hoover

'Every bit as warm and cosy as a Hallmark Christmas movie' PopSugar

(P) 2022 Penguin Audio
Release date: October 4, 2022
Publisher: G.P. Putnam's Sons
Print pages: 352
* BingeBooks earns revenue from qualifying purchases as an Amazon Associate as well as from other retail partners.
Listen to a sample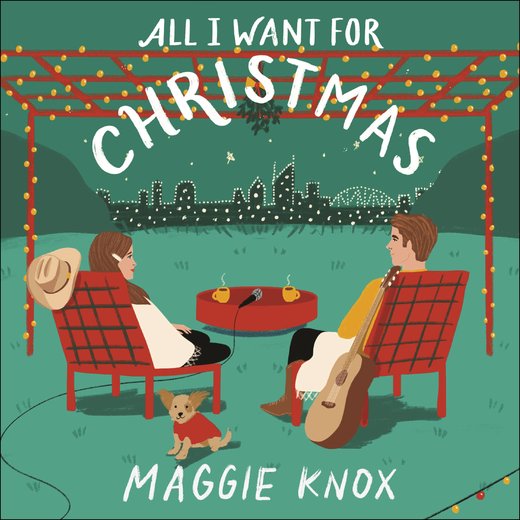 09:01:26
247.86 MB
9781529356410
October 13, 2022
Hachette UK
2022
All I Want for Christmas
Maggie Knox
1

Max

Nashville, Tennessee
December 1
 
What am I doing?
 
The question had been nagging at Max Brody all day. Actually, ever since he'd agreed to join Starmaker's country music reality show, making him one of twenty contestants vying for that coveted first place.
 
Most people would think Max didn't need any of what a Starmaker win could mean-not the money, nor the fame. He had grown up in the Nashville celebrity spotlight, thanks to his father, Holden Brody, who was an iconic country music singer. And yet, here Max was: on a soundstage, trying to decide between a rock-hard blueberry muffin or a days-old custard pastry from the craft-services table. He chose neither and turned back to watch the other contestants warming up on the stage.
 
The room was decked out in preparation for the upcoming holiday-themed shows, and it did look festive. But everything was fake-from the plastic evergreen boughs, to the cotton swaths of "snow"-which left Max feeling less than merry.
 
He didn't want to be here but Starmaker was Max's last kick at the can to make music on his own terms, in his own way-something he had so far been unable to do. Sure, he had released an album (who hadn't, in his music-royalty boots?), but the record hadn't done well. There had been no real splash, low sales... certainly nothing to warrant a second album.
 
Since then, he had been knocking around Nashville, being featured in entertainment magazines ("Who Is Max Brody, Son of the Great Holden Brody, Dating Now?" and "How Does Max Brody Keep That Stunning Six-Pack Looking So Fine?") and waiting for his next great thing so he could prove he had "it," just like his dad. No... to prove he was nothing like his dad. To show everyone he could be a star, too, but not the way his dad had done it-which, in Max's view, had meant trading fame for his soul. Holden Brody was as well-known for his addictions and philandering as he was for his Hall of Fame country music songs.
 
So, Max knew it was nearly time-past time-to leave Nashville, with its suffocating expectations and musical heartbreaks, behind.
 
"We don't need this, that's for sure," he whispered to his dog (and best confidante), tucking her squirming body deeper under his arm.
 
Patsy Canine, Max's rescue pup, was a papillon mix and ten pounds (if that) soaking wet. Her tiny body had a light coverage of hair, but her ears, which were twice the size they should have been based on her body, had waterfalls of blond hair cascading from them. Patsy continued wiggling inside the lavender-hued cable-knit sweater she wore, trying to get closer to the sugary pastries.
 
"Hey there! No dogs near craft services." Max turned at the familiar voice.
 
"Why must you always be breaking some rule, Max Brody?" Tasha Munroe added, before pulling Max into a hug, making Patsy squeal at the sudden crush.
 
"Oh, sorry there, Patsy Canine," Tasha said, giving the dog a chin scratch. Max had known Tasha since they were kids, and she was one of his closest friends. Though she had started out singing in her church choir, Tasha Munroe had fallen in love with country music and the world had fallen in love with her. With multiple platinum albums under her rhinestone belt, and at only thirty-two, she was the artist that most up-and-coming musicians wished to emulate. A superstar now, Tasha was better at deflecting the negative aspects of celebrity than Max was. She never apologized for her ambition and knew precisely who she was.
 
Now she gave Max a once-over. "Damn, how are you always so freaking effortless?"
 
Max not only had the musical pedigree, he had also inherited his father's impossibly good looks: dark hair that settled back into perfect waves when he ran a hand through it; a five-o'clock shadow that worked so well on him you'd wonder why he'd ever shave; cheekbones for days, and long eyelashes that framed deep brown eyes.
 
"You're one to talk," Max replied, to which Tasha waved a hand, dismissing the compliment.
 
"Smoke and mirrors. You know show business."
 
Tasha took a muffin from the craft-services table and then grimaced at its obvious staleness.
 
"That's what you get for agreeing to be a judge on a B-level show," Max said, looking pointedly at the sad muffin.
 
Starmaker had once been the hottest ticket in Nashville, garnering millions of viewers. Tasha Munroe had been discovered in the first season-chosen by the great country music producer Cruz McNeil, who was one of the show's creators-and was now back as a guest judge. But recent seasons were lagging. Perhaps the show's predictable format was tiresome to viewers, especially in a sea of reality show options, but there had been much talk and anticipation that this year was going to get it back on top of the Nielsen ratings. And from the producers' perspective, Max Brody was a big part of the strategy.
 
"Now, come on," Tasha replied. "Didn't you hear we have the Max Brody joining this season?"
 
They both laughed, and Tasha broke off a piece of the stale muffin for Patsy.
 
"Tash!" Max twisted away, but not before Patsy got the treat. "You know she can't have gluten."
 
Tasha rolled her eyes, her fake eyelashes so long they hit above her eyebrows. "Max, you know she can. Look how happy she is. Aren't you, girl? Aren't you?" Tasha cooed, giving her another small bit of muffin despite Max's annoyed glare. "Nice sweater, by the way."
 
"Oh, thanks." Max ran his hand over Patsy's sweater and felt a wave of pride.
 
On the stage in front of them, a dozen or so of the other contestants were warming up. Max had no clue who the contestants were, or what their stories were, because he hadn't met any of them yet-he hadn't bothered to.
 
It was probably time to pay closer attention because these contestants were his competition. But the white noise of the mingling voices made it tough for anyone to rise above the rest.
 
Until one did.
 
The voice that reached him belonged to a woman at the edge of the stage, closest to where Max and Tasha stood. It wasn't just that she was closest to Max. It was that her voice had that rare quality to it you didn't often hear-even in Nashville.
 
Tasha heard it, too, and nodded at the woman-whose long dark hair was in a braid over her shoulder, a baggy sweatshirt worn over plain black tights.
 
"That's Sadie Hunter," Tasha said. "Sort of a Brandi Carlile thing going on, right?"
 
Max frowned, watching Sadie Hunter pace in a slow circle near the edge of the stage. Then she turned toward them, and Max got a complete picture: she wasn't just talented, she was gorgeous, too. A gentle pink hue to her cheeks, and those eyes. Blue as a bluebird.
 
Tasha nudged Max's shoulder with her own. "Pretty as a peach."
 
"In that vanilla popstar sort of way, I guess." Max shrugged. "Bit sweet for me."
 
"Hmm," Tasha replied, giving him a wry smile. "I don't know, she sort of seems just your type."
 
"Hush up." Max raised his eyebrow at his friend.
 
Just then Cruz McNeil sidled up to them, a young guy with movie-star hair and a huge smile following a step behind him.
 
"Tasha, love, I want you to meet someone," Cruz said, completely ignoring Max. His silver hair was immaculately styled, but he still ran a hand over it to ensure there were no strands out of place.
 
Max was more than familiar with Cruz McNeil. Not only was he the producer and top judge on Starmaker, Cruz was the starmaker in town. At only forty-five, he had produced some of the highest-earning albums in the world and now had his own record label. And despite some unpleasant rumors, anyone he chose to work with became a sensation-including Max's own father.
 
"This is Johnny King," Cruz said. Johnny stepped forward with a bold confidence that belied his young age.
 
"Ms. Munroe, I'm your biggest fan. 'Lightning and Cowboys' is my theme song," Johnny said, shaking Tasha's hand enthusiastically.
 
"Is it now?" Tasha said, smiling at him. Max tried not to chuckle. "Lightning and Cowboys" was Tasha's most well-known hit, so Johnny using it to try to impress Tasha had, in Max's opinion, the opposite effect.
 
"Have you met Max Brody, Johnny?" Tasha turned to Max, her expression suggesting he should engage in this social nicety, especially because Cruz was looking on.
 
"Hey, man, good to meet you," Max said, shifting Patsy so he could shake Johnny's hand. "Good luck out there."
 
"Oh, Johnny doesn't need luck, Max," Cruz said, finally acknowledging his presence.
 
"I think we all need a little luck, Cruz," Tasha said pointedly.
 
"We sure do!" Johnny replied, grinning like a kid who had just been given all-out access to a candy store.
 
Cruz gave an almost imperceptible sigh. "Time to go," he said, nudging Johnny back toward the stage with the others. "See you at the table, Tasha?"
 
"I'll be right there," she replied breezily. She waited a beat after Cruz left before saying, "Max, you'd better get out there, too. I know Cruz can be frustrating. But he's the head judge. Don't piss him off before it even begins, okay?"
 
Max took a deep breath. "Yeah, I know." Then he looked around for his assistant. His longtime manager, Bobbi Lovett, had insisted that the Starmaker deal included an on-set assistant, despite his protests that he needed no such thing. Max liked to do things his own way.
 
"Hey... ummm... hey," Max said, pointing to the guy he had met the day before.
 
"That's Landon," Tasha whispered.
 
"How do you always know everything?" Max retorted, keeping his voice low.
 
Tasha smiled and shrugged, before sashaying back to the judges' table.
 
"What can I do for you, Mr. Brody?" Landon said. He kept his eyes on Tasha two seconds too long.
 
Max gave his fingers a couple of snaps. "Hey, Landon? Over here, man."
 
Landon turned back to Max, looking slightly dazed, his reaction slower than a Sunday afternoon.
 
"First of all, please call me Max." He handed Patsy to Landon, who held her at arm's length like she was a wriggling snake.
 
"Don't you worry, Landon, she's all bark and no bite," Max said, clipping her leash onto her collar. "Just don't try to take off her sweater-she hates that. And keep her on leash, at all times."
 
Landon nodded, looking nervous. Patsy gave Max a look that suggested she felt betrayed to be left in the care of such a novice.
 
"See you soon, girl," Max said. "Have fun with Landon."
 
Neither the assistant nor the dog seemed to think this was possible, but Max couldn't worry about that. He had to shift gears; it was time to be the Max Brody people were expecting to show up. As he climbed the few stairs to the main stage, he noticed Sadie Hunter watching him. He offered her the Brody smile, which disarmed even the grumpiest of folks, but she narrowed her eyes, her mouth set in a tight line.
 
"Whatever," Max grumbled under his breath, holding her gaze. He didn't have the time or energy for drama. He wasn't going to let anyone, including Sadie Hunter, distract him.


2

Sadie
 
Nashville, Tennessee
December 1
 
Sadie Hunter closed the equipment locker door behind her and sank down to the dusty floor. She pulled out her phone and opened the meditation app she had recently downloaded, then popped in her earbuds. The soothing sound of a flowing river began. She closed her eyes and breathed in through her nose, as the velvet-voiced narrator instructed, then out through her mouth. But when the voice gently urged her to clear her mind, she ran into trouble. As usual, her mind became a chaotic vortex of worries. What if I don't win? Am I going to have to go back to Wisconsin again? If I stay here, what am I going to do about money? How will I pay my rent?
 
Sadie had quit her job waiting tables at a busy meat and three in the Gulch after earning a spot on Starmaker. Now she had a chance to vie for the five-hundred-thousand-dollar prize-including the opportunity to record an album with star producer Cruz McNeil, which for Sadie was perhaps the most alluring part-but that prize was only a long shot. She had now spent a solid seven years of her life working toward her big break-and on days like this, even though she was in the middle of taking one giant step forward, she could feel the yawning chasm behind her. If she didn't win, she'd have to go back to playing small gigs anywhere she could find them. Touring college venues and trying to convince herself that singing the national anthem to rowdy crowds waiting for a game buzzer was going to get her somewhere.
 
Or she'd have to give up.
 
Sadie increased her phone's volume, but it didn't do any good. The persistent voice in her head just got louder, asking how she was ever going to be happy if she gave up on her dream. Plus, the river was now loud enough to remind her of whitewater rapids. Sadie squeezed her eyes shut against the cacophony. Clear your mind. Clear your mind.
 
Instead, she found her mind filling with thoughts of Max Brody. She had seen him chatting casually with Tasha Munroe earlier. Tasha was one of Sadie's musical idols. That morning, Sadie had noticed Tasha standing nearby, listening to her practice-and now she imagined Tasha had been telling Max that Sadie was no competition for him, that he had nothing to worry about when it came to her.
 
What was Max Brody even doing on Starmaker? He couldn't possibly need money or to win a recording contract. He was Nashville royalty already. He was used to getting whatever he wanted-and treating people however he wanted. When their eyes had met as he passed by the soundstage earlier she hadn't seen a hint of recognition in his expression. But they had met, years earlier, the first time Sadie had tried to make a go of it in Nashville-before she had run out of money and been forced to temporarily move back home. Meeting Max Brody was a memory she tried to suppress, and one Max had clearly forgotten. Sadie wondered if she was the only person who knew that underneath his handsome, charming exterior, and despite the fact that he carried the most adorable dog around with him wherever he went, held doors, and minded his Southern manners, the truth was, Max was a jerk.

She slid her phone out of the pocket of her baggy sweatshirt and turned off the meditation app, then hit the FaceTime icon and held her breath.  Soon, her gran's face would appear on screen and she'd have a few moments of being reminded that she needed to believe in herself and her lifelong dream.

But it wasn't Gran who answered.

"Sadie! What's wrong? You look upset!"

"Mom." Sadie quickly wiped under her eyes, but knew she couldn't magically erase the stress-induced dark circles there. "I'm fine. I'm just …" But she knew if she told her mom how she was feeling Lynn would insist that the solution was simple: come home. Forget about the dream that had done nothing but cause her years of disappointment. Forget, even, about the exciting longshot that was Starmaker. Lynn spent a lot of time worrying about her only child's wellbeing and had decided long ago that the music industry was a dangerous place for Sadie. A place where a person could easily get hurt.

"Is Gran there? I wanted to say a quick hi to her, that's all. See if she's recovered."

"She's here but she's just lying down," Lynn said, and for a moment Sadie thought she saw a flicker of sadness cross her mother's face. But then there was a commotion in the background and Sadie smiled as she heard her gran in the background insisting she was perfectly fine. Seconds later, Gran's face appeared, first sideways, then upside down.

"Hello? Can you hear me? Is this thing on?"

"Loud and clear, Gran."

"This contraption you gave me so we could keep in touch when you moved back to Nashville actually works!"

"It's not a contraption," Sadie said, still smiling. "It's a smart phone."

"Well, it is that. Smart as a cookie." Gran squinted into the screen. "Where on earth are you right now, Sadie Jane? A closet?"

"We-elll—"

"Sadie Jane Hunter! Please tell me you aren't having one of your episodes. What happened with the meditating? It works for Lady Gaga."

"Doesn't work for me," Sadie muttered.

"Well, she probably doesn't do it in an equipment closet. Come on, stand up. Brush yourself off. Get back out there and do what I know you were put on this world to do."
We hope you are enjoying the book so far. To continue reading...
All I Want for Christmas
Maggie Knox
Copyright © 2023 All Rights Reserved