Book info
Sample
Audiobook
Media
Author updates
Lists
Synopsis
The Murderbot Diaries makes first contact in this new, futuristic, standalone novel exploring sentience and artificial intelligence through the lenses of conflicted robot hero Unit Four, from Marina Lostetter, critically acclaimed author of Noumenon, Noumenon Infinity, and Noumenon Ultra. When Unit Four—a biological soft robot built and stored high above the Jovian atmosphere—is activated for the first time, it's in crisis mode. Aliens are attacking the Helium-3 mine it was created to oversee, and now its sole purpose is to defend Earth's largest energy resource from the invaders in ship-to-ship combat. But something's wrong. Unit Four doesn't feel quite right. There are files in its databanks it can't account for, unusual chemical combinations roaring through its pipes, and the primers it possesses on the aliens are suspiciously sparse. The robot is under orders to seek and destroy. That's all it knows. According to its handler, that's all it needs to know. Determined to fulfill its directives, Unit Four launches its ship and goes on the attack, but it has no idea it's about to get caught in a downward spiral of misinformation, reprograming, and interstellar conflict. Most robots are simple tools. Unit Four is well on its way to becoming something more....
Release date: September 28, 2021
Publisher: Harper Voyager
Print pages: 480
* BingeBooks earns revenue from qualifying purchases as an Amazon Associate as well as from other retail partners.
Listen to a sample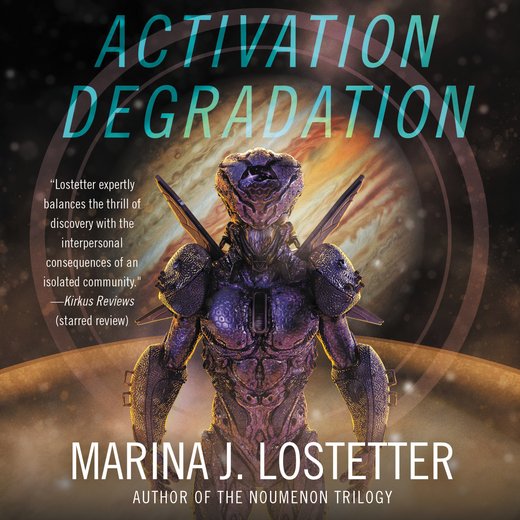 09:58:36
274.03 MB
9780063139343
September 28, 2021
HarperCollins
Activation Degradation
Marina J. Lostetter
>>>Coming Online

>>>Designation: Autonomous Maintenance System, Unit Four

>>>Activation Instance: Emergency

>>>Age of Flexible Biomechanical Materials: Six minutes fourteen seconds

>>>Lifetime Radiation Exposure, Total Ionizing Dose: .0002%

>>>Database upload . . .

97% complete
The first forty seconds following AMS Unit Four's activation were nothing but chaos and pain. Its bio-hardware had been fused to its chassis in a flurry of accelerated growth. The flexible pistons that drove the hinges of its joints were raw with the surge of new lubricants, feeds, and wires. Internal warnings flickered through its central processing unit. Available memory was low; perhaps something hadn't been installed properly. The entire integrated platform system—of which the unit was a small part—was running at thirty yottaflops per second, far below the expected speed. And the unit's parts were stiff. As though they hadn't quite finished cooling and solidifying. Perhaps the test-flex had been skipped.
This was not the usual initialization process.
As it rose half out of the reconstitution pod, it opened its intake vents wide and threw back the shutters from its cameras. The sounds filtering through its microphones were disorienting at first—a blaring siren came from everywhere, the rhythmic yawing ill-timed with the flashing of the emergency lights. The approximal-temperature and pressure gauges in the unit's grasping pads told it cold and hard as it clung to the edges of the pod.
Another unit detected its presence and hurried over to aid its emergence from the reconstitution station.
"The transmission dishes are under attack," came an alert from inside Unit Four's CPU. It immediately identified the voice as that of its handler, stationed on Earth, which could interface with the robots via its buoy-routed, long-distance ansible link. The FTL comms channel allowed for real-time instruction and direction—indispensable in an emergency.
The unit accessed its primer containing the location, structure, and purpose of the mining platform. Flipping through the files, integrating them as quickly as possible, it did its best to orient itself, to find its marker on the map.
And all the while a red and yellow warning, warning, warning flashed across the uneven bulkheads, a flickering projection. Stunning and distracting.
It stumbled to the floor once out of the pod, the other unit—Unit Two—failing to keep it upright, clearly expecting the new robot to be able to maintain its own balance.
The AMS units each had four limbs, which could contort into multiple shapes and positions, letting the soft robots become quadrupedal or bipedal at will. As Unit Four struggled to stand erect—its bipedal option feeling more like a hindrance than a help in the moment—it found itself before a window, gazing out, off the mining platform, into the swirling, banded storms of the solar system's largest and most treacherous planet:
Jupiter.
The mining platform was a small, spinning sanctuary, a mere seven hundred million kilometers away from the gas giant's thermosphere. It currently rested between Io's plasma torus and Europa's neutral torus, utilizing the off-cast ions from the former to power itself.
This was the robot's home.
This was its whole world.
And it was under attack.
"Is it—?" Unit Four tried, but the drivers for its speakers hadn't been fully installed yet.
"The invaders. Again. Yes," said its handler. "I'm sorry we have to welcome you into the world this way, Unit Four, but if you and Two don't get in those maintenance boats right now and incapacitate those bastards, the whole operation might go down."
Acknowledged.
Its core programming initiated: protect and maintain the platform.
The platform . . . the platform . . .
It was still trying to assimilate all of this newness—to decipher just where it was and what it was and why it was.
Let's start with where, it thought.
This was the reconstitution and activation wing. Small. The room was only six meters by six meters, containing three pods for growing biomechanical robots, a manual input station, three doors, and a single window. The left door led to the fuel-input center, the right to the waste depository. Just beyond the center door lay arm-E, a long hallway that connected to a spinning central hub. The spinning of the platform created simulated gravity of approximately point nine gs. Primary equipment and monitoring stations formed bulky rooms at the end of each arm—seven of them in all.
Seven stations.
Four active AMS units.
One invading ship.
Finding its footing, AMS Unit Four took unsure steps away from the window and toward the other pods. One was empty. One was active, but in the early growing stages. The top was hermetically sealed and UV shielded to protect the engineered biotech inside. Most of a unit's internal parts could not be directly exposed to radiation or atmosphere without immediate damage. They were delicate, but pliable. Plastic. And that plasticity was both their greatest weakness and greatest strength.
My greatest weakness and my greatest strength, Unit Four thought.
A small, thin-slit of a window allowed for visual monitoring of the robot's soft-body development within. The new unit's chassis lay bare, a few cells coalescing and clinging, but this robot wouldn't be ready for activation for at least another seven hours.
"To the boats," its handler said again with urgency. "I'm sorry, Unit Four—quickly."
Unit Four felt the urgency, and yet its mind and body were still sluggish, still catching up. The chemicals didn't feel like they were pumping correctly through its tubing. Excessive vibrations tingled through its outer layers.
"We have to go," agreed Unit Two.
"Remote fire is only doing so much," their handler said. "Damn ship keeps using the dishes as a shield. And there's no way I'm letting you move the platform itself any closer."
"Something feels defective," AMS Unit Four said. "I'm concerned my activation process was faulty. My compounds—even my fluid pump—they're . . . they're . . ."
"It's adrenaline," its handler said. "I shot you up. Your biological components need it right now. A lot of it. You're going to crash after, but we'll take care of that, all right? I just need you to do what I activated you to do, okay? I know this feels strange. I know it conflicts with your past memories of activation. I'm sorry. I know."
Apologies weren't needed. AMS Unit Four was the one having a difficult time booting. It was already failing at the job it had been grown for. The panic and disappointment in its handler's voice was distressing. It wanted to be efficient, to do well, to execute its tasks swiftly and competently.
"I will show you the way," said Unit Two, placing one of its grasping pads on one of Unit Four's articulated arms. "I was activated two days ago," it said as it reversed, keeping its focus on Unit Four. "My process was much slower than yours, but I, too, was disoriented."
AMS Unit Four looked into Unit Two's cameras, feeling both familiar with its sister unit and disconnected. The robots were all identical, based on the same schematics and consistently regrown from exactly the same vat of materials. It had memories of "Unit Two" from before, but those were no more this exact same Unit Two as it was the Unit Four of times gone by. Each activation was different, each reconstitution and regrowth different.
Unit Four returned to its files as the heavy airlock doors to the reconstitution room slid aside for the robots. Each arm on the rotating platform was an independent unit, with fire blocks and docking sockets in case of dislodging, replacement, or emergency detachment—an especially useful design element if Unit Four failed in its task.
It was still unsure of itself. Trying to pilot a boat in its state didn't feel efficient. It looked up everything it had on the craft—its steering, weapons system, navigation.
"There are superfluous files in my databanks," it said, wandering through a maze of recall commands.
"I know, I didn't have time to cherry pick for your particular expected functionalities," said its handler. "I just dumped everything in."
"Should I delete the unessential?" It scanned the file categories, which included multiple languages, fuel processing and development, and . . . dance?
"It doesn't matter now. Just get to the damned boat. Please, Unit Four, I'm begging you."
It let the dispensable files remain.
Unit Two led it down the long arm, and the simulated gravity gradually shifted. Through another window, Unit Four saw it—the nearest phased microwave array, little more than a sharp glint of silver to its cameras. Currently, the array lay no more than two hundred and fifty kilometers off the platform, which meant if a dish were to dislodge at the correct angle, it could barrel into them. The debris would arrive in mere minutes—not enough time to safely reposition the station—resulting in various possible levels of damage.
And if one of the helium-3 fusion reactors was hit? The reactors sat well within the haze layer of Jupiter's atmosphere, just above the troposphere. A safe distance from the maintenance platform under ninety-nine point eight percent of malfunction scenarios. However, if there was an explosion . . . the shockwave could easily reach them. Even as movable as the platform was, being tossed out of orbit could cause significant problems—if they fell too far into Jupiter's gravity well, there would be no escape, as their engines couldn't compensate. They could be torn apart by the storms, crushed by the atmospheric pressures, or hit dead-on with a burst of radiation.
A hundred and one possible situations could permanently decommission all of the equipment and the entire operation—including every robot aboard.
It couldn't let that happen.
Wouldn't let it happen.
Unit Four brought up its Earth primer and saw a small, blue-green world. Well-tempered, compared to the planet below.
Earth relied on this mine for a third of its energy, and ninety-eight percent of all Earth energy needs were met by off-world endeavors. That's what kept the planet safe, and beautiful, and well-balanced.
Number of Species: Five point two million
Number of People: One point eight billion
Those life-forms were counting on it to stop the invaders, to save Earth from a crisis—from power outages and shortages that would inevitably lead to chaos and death.
Through the window that ran the length of the platform arm, Unit Four searched the assaulted array for signs of the invading craft. For a distant glint of sunlight off a hull, a flash from an energy weapon. Though it tried, focusing in as sharply as it could, it was unable to make out the alien ship.
The majority of the platform was kept at 22.22 degrees Celsius, which felt stifling on Unit Four's new casing. The climate was supposed to be optimized—22.22 degrees was the prime stimulating temperature for the robots' organic muscles, essential for peak performance. And yet, its casing was dewing, shedding excess heat via water evaporation. Perhaps that was just further proof that Unit Four was operating at less than optimal levels.
But its handler wanted it moving, so it continued forward as quickly as it could.
As the two units reached the center hub, they began to float. Here, the simulated gravity gave way to true microgravity. Unit Four grabbed a helpful bar, and Unit Two swiveled to look back at it. "Systems level?" it asked.
"Not at this time," Unit Four admitted. "Perhaps one of the other units would be better qualified to pilot a boat."
"None of the others have undergone muscle-memory stimulation. They could download the piloting program, but would have dissatisfactory reaction times."
"I believe I will have dissatisfactory reaction times."
"Our functionality is not for us to question," Unit Two said.
True.
"Dish seven has shattered!" their handler yelled. "Debris incoming. Get to the hangar!"
"Two minutes to impact," came a new voice. Another unit, elsewhere on the platform.
They wouldn't make it in time. AMS Unit Four spun a three-dimensional diagram of the platform in its CPU. Even at ideal travel speeds, it would take them six minutes to arrive at the boats.
"Debris trajectory?" Unit Two asked, tone level. Itsfluids weren't raging. Its biology wasn't unbalanced or its files poorly installed. "Can we shift the—?"
Unit Four had only been activated for a precious few minutes, and already it had only known two chemical modes: panic and envy.
The new unit, Unit One, replied, "No time. The majority will hit platform arm-D with a ninety-seven point six-two percent certainty. There are chances"—it paused, performing a quick calculation—"that a percentage of the fragments may hit arm-C. Porting calculations to all other units now."
Arm-C. The arm they were about to enter.
The shutters on Unit Four's cameras blinked, and then the projections were there, in its databanks.
There was a nonzero chance at least some of the debris would impact arm-C.
"Faster," said Unit Two. "Higher gears. We need to stop the invaders."
"Be careful," their handler pleaded. "We can't afford to lose any of you."
Unit Four pulled itself more forcefully along the bars with its grip pads. It tried to steady itself with evenly timed bursts through its intake valves and out its exhaust. It had a job to do. It wanted to do its job. It wanted to pilot the boat, defeat the aliens, earn its handler's praise, and then live out the rest of its activation period in whatever state of being was exactly the opposite of this go go go go.
It had been awake for less than fifteen minutes and already it longed to rest.
The two units rounded the central hub. The inside was an empty space where the entrances to the arms slowly flashed around perpetual openings—aligning, then un-aligning—as the platform's engines drove the spin. But the hub served as more than just a waypoint between arms and a center for revolution. Thick bulkheads on either side protected essential equipment, everything from the vaults to the platform's energy converters to its fuel stores.
The arm rotation was slow, which left plenty of time for them to slip from the hub into arm-C without worrying they would get pinched in the dealignment, and yet Unit Four felt its internal pumps flutter as it passed between the perpetually moving bulkheads.
"We're not going to make it," it noted, finding the array through the next set of windows. The debris was growing closer, barreling toward them, chunks of twisted metal and wiring, each piece larger than a robotic unit.
"We need to keep going!" Unit Two insisted, its volume increasing by ten decibels.
"No—" their handler cut in. "Brace. I need you to brace!"
"We should keep going," Unit Two insisted.
Unit Four paused, gripping a bar, heeding its orders from Earth.
"My calculations—" Unit Two started, continuing onwards.
"Unit Two, impact in twenty seconds, please just—"
"We can travel another six meters in that time, saving—"
"Damn it, Unit Two. Brace!"
But Unit Two continued on, its movements steady, sure. Unit Four wondered if it had received any extra adrenaline, anything to help its biological growths respond with the urgency and awareness and caution that the situation warranted.
Perhaps it was too level.
The chunks of dish swelled in the window, the rays of the far-off sun glinting off them to create straight, harsh shadows over their contours.
If the window broke—if the arm was breached—the robots could be sucked into space, where their biological parts would wither and die.
How much of each unit would be salvageable after that? Reconstitutable?
Unit Two continued to pull itself down the arm, trying to escape the microgravity.
Unit Four ducked away from the window, curling against the bar, counting down silently.
Three . . . two . . . one . . .
It shuttered its cameras, stuck itself fast against the wall.
The unit felt the impact long before it noted the sound of buckling metal. The first strike rattled it down to its core. Everything from its hard chassis to soft muscle shook with one long reverberation. The force jarred its articulated limbs, twisting its CPU housing on its slick rotators.
It clung to the bar, but the corridor bowed inward, striking it in its side, splitting open its taut outer skin, making it ooze.
It hardly had time to register the damage before the platform shook again.
The second impact was only moments behind the first—this time accompanied by a flash of fire outside the window—an orange glow laced with green. The deep reverberation of the strike was met with an off-key squeal as grinding steel snapped, wires split, and pipes broke.
The entirety of arm-C yawed to the side, sweeping through space.
Unit Four was sure its activation period had come to an end. The awakening had been brief, terrifying.
At least it was over.
Its microphones registered a terrible sound—a high-pitched wheezing scream.
At first, it matched the sound to that of an atmosphere leaking into vacuum. But it couldn't be that—there was a rhythm to it. Like a robot's pumps fluttering. Failing.
"Units!" their handler yelled in its CPU. "All units, answer me!"
Unit Four's vocal modulations failed it again. It tried to use its speakers, but found they would not respond properly. There was something affecting it in the hall—a gas. Some kind of gas was leaking.
Toxic.
Potentially lethal to its soft parts.
It had to exit arm-C as soon as possible or be incapacitated.
"Units!"
AMS Unit Four uncurled from the wall, ignoring both the wet slide of fluids out of the tear in its lower body, and the pain signals spiking throughout its system.
Where was Unit Two?
It glanced out the window, noting arm-C's new angle relative to the center hub. The arm had bent in the middle, pinching the hull, making parts of it collapse in on itself.
But it was still attached.
A propellant jet spurted from the center hub, repositioning the platform, trying to compensate for the kinetic energy it had absorbed—trying to keep itself in its proper orbit.
The robot could no longer see arm-D. Had it detached?
Unit Four covered its intake valves with a grasping pad, swimming through the microgravity to the narrowed, collapsed portion of the corridor. Unit Two was not on this side.
Unit Two wasn't on the other side either.
One leg, one foot-pad, dangled from beneath a chunk of wall. Internal lubrication liquids pooled beneath the limb.
The sound. The wheezing scream—
It was coming from Unit Two.
"Unit Two!" it said, finding its voice, "Unit Two . . . has been incapacitated."
"No. No no no no," their handler said, a biting anguish evident in their voice. "How badly? Can it be patched?"
Unit Four braced itself, using its exceptional strength to move aside what wreckage it could—the microgravity aiding in the slide. It uncovered Unit Two's torso—soft bits torn open, its chassis mangled. Swaths of engineered bio-cells leaked out over the decking and into the air, droplets taking flight.
The scream did not cease.
Unit Four reached forward, manipulating the flaps and broken bits of Unit Two's frame, trying to fit them back together. Four's grasping pads quickly grew slick, stained.
A terrible pity settled in its CPU. "Unit Two needs to be reconstituted," it said.
"Fuck!" its handler shouted, voice trembling.
"It's in pain," Unit Four continued. "Its biological portions are feeding it failure signals. How do I stop its pain?"
There was a long pause.
"How do I stop its pain?" it repeated.
"Disconnect its central processing unit from the rest of the chassis," its handler said. "That will engage permanent shutdown."
It leaned farther over the other unit. There was no obvious way to separate the CPU chassis. No latches or buttons or seams.
It would need to cut it away.
There were plenty of sharp edges among the debris, but nothing it could fit easily, like a tool, into its grasping pads. Just large, hulking slabs of steel, twisted piping, and frayed wires.
It took hold of a loose interior panel—one that had been snapped in half, leaving the two portions of metal long and jagged.
Serrated.
It fit the panel in its two grasping pads, setting it firmly like a spanner between its articulated arms. The metal was cold and hard.
Bracing itself between the pinched portions of the corridor, it loomed over Unit Two, holding the panel-half poised over the junction between its main body and its CPU chassis. Unit Four locked its elbows.
Fluids bubbled from Unit Two's vents—the scream began to die as its speakers flooded. But its cameras could still track.
They found Unit Four's.
"Thank you," Unit Four said. "For being with me when I awoke."
It thrust the panel down.
There was a horrid squelch.
"I'm so sorry."
The panel's edge sank firmly through the layers of organics, severing Unit Two's CPU from its body, cutting the connections, the controls.
The robot spluttered once more. Its cameras lost their hold on its sister unit, slipping to the side, half shuttered.
A ragged cry burst from Unit Four's speakers.
The dribbling, severed CPU chassis began to lightly float in the microgravity. Spinning. Casting its cameras away.
"AMS Four?" its handler asked.
"Unit Two has been disconnected."
"I'm sorry you had to do that," they said.
"It hurt. It hurt me."
"I know. Your empathy programming is important. Keeps all of you connected, supportive. Working as a whole. The pain—your pain—it'll subside."
Unit Four looked down at Unit Two's rotating CPU chassis. It fixed its cameras on the spin, unable to move, still leaning heavily on the panel.
"Can you get through?" they continued. "Is the arm still traversable?"
"No."
"Return to the hub. I've already got Unit Three working on an alternate way for you to get to the hangar, but it might take a few minutes to verify it's safe. Looks like it might mean you'll have to go outside. Don't worry, we've got plenty of hard-body shells. I'll have Unit One retrieve Unit Two, and—"
"No," it said quickly, feeling strangely possessive. "I'll do it."
"I need you to focus on the task at hand."
It couldn't stand still. It couldn't simply wait around for a new, secure route to be identified, even if it was only a few minutes. That wouldn't be restful, and its burst of adrenaline would go to waste. "There is a gas leak," Unit Four said. "We need to seal the fire doors as soon as possible. I'm already here. I'll return Unit Two to reconstitution."
"Fine, but the moment we've got a new path, I'll need you back on task."
"Understood."
With a shaky appendage, it scooped up Unit Two's central processing unit and shuffled backward, through the pinch.
It grabbed one of Unit Two's limp legs, pulling.
Severed CPU in one grasping pad, body in the other, it weakly shoved off, floating back toward the hub, the mangled form of its brethren drifting behind.
The final few meters back to the reconstitution pods were the most difficult. Unit One met it in the hall, but Unit Four could not, for some reason, share the burden. It insisted on carrying all of Unit Two itself. Even as the simulated gravity increased and the body fell to the floor—leaving brightly colored slicks of fluid as it was dragged—Unit Four would not hand over so much as the severed CPU chassis.
Unit One primed an empty pod. Not the one Unit Four had come stumbling out of—that one was still resetting. Cleaning. Certain maintenance bacteria would run amok in the system if each pod wasn't flushed after activation. No, Unit One busied about the dormant pod Unit Four had noted before, on the other side of the room.
The top slid aside, ready to accept material for reconstitution.
Only when the pod was fully prepped and there was nothing more to do did Unit Four let Unit One set its grasping pads on the body. Let it help lift the mangled robot parts up and over the lip, into the deep tub perfectly shaped and sized to fit one unit and no more.
Unit Four's casing was now covered in Unit Two's lubrication fluids—in flecks of somatic cells, chemicals, shreds of flexible wiring, chipped bits of its framework. Everything that should have still been snuggly inside Unit Two was now smeared across Unit Four's bodywork.
"You should clean your exterior before snapping into a hard-shell," Unit One said, carefully inputting instructions into the pod.
"There's no time," it said, cameras fixed on the pod's narrow window as the tank flooded. Acidic, milky-yellow liquid ate at Unit Two, breaking it down. The outer casing was stripped away nearly instantly, tinting the acid pink. Fine bubbles formed along the distorted pieces, sizzling, obscuring. The liquid grew darker as it came into contact with new materials, and soon what remained of Unit Two could be seen no more.
An individual unit's time was short, mostly due to the extreme levels of radiation constantly wafting away from Jupiter.
We hope you are enjoying the book so far. To continue reading...
Activation Degradation
Marina J. Lostetter
Copyright © 2021 All Rights Reserved