A World of Curiosities
Available in:
eBook
Paperback
Audiobook
Hardcover
Book info
Sample
Audiobook
Media
Author updates
Lists
Synopsis
As the villagers of Three Pines prepare for a special celebration, Armand Gamache and Jean-Guy Beauvoir find themselves increasingly worried. A young man and woman have reappeared after many years. The two were young children when their mother was murdered. Gamache and Beauvoir's memories of that tragic case come rushing back. As Gamache works to uncover answers, a letter written by a long dead stone mason is discovered. In it the man describes his terror when bricking up an attic room somewhere in the village. As the bricks are removed, Gamache, Beauvoir and the villagers discover a world of curiosities. But the head of homicide soon realises there's more in that room than meets the eye. In unsealing that room, an old enemy is released into their world. Into their lives. And into the very heart of Armand Gamache's home.
Release date: November 29, 2022
Publisher: St. Martin's Publishing Group
Print pages: 400
* BingeBooks earns revenue from qualifying purchases as an Amazon Associate as well as from other retail partners.
Listen to a sample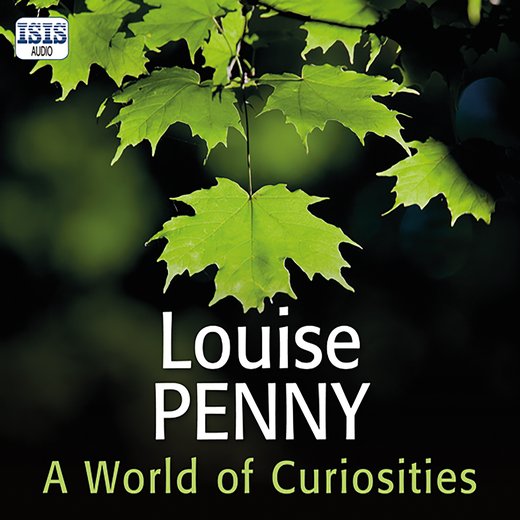 13:47:24
378.77 MB
November 29, 2022
Isis Publishing Ltd
2022
A World of Curiosities
Louise Penny
CHAPTER 1



"Oh, merde."

Harriet looked in the mirror, her toothbrush hanging out of her mouth. It was the first of June and she'd forgotten to say, rabbit, rabbit, rabbit.

She said it now, toothpaste foaming on her lips, but had the sinking feeling it was too late. The magic wouldn't work. And if there was any day when she needed magic, it was today.

"Merde."

"It'll bring you good luck, little one," Auntie Myrna had assured her niece when she'd taught her the incantation. "It'll protect you."

That had been years ago, but the rabbit habit hadn't wholly taken. Most months Harriet remembered, but of course this month, when she needed it most, she'd forgotten. Though she knew it was probably because she had so much else on her mind.

"Shit."

Did she really believe repeating rabbit, rabbit, rabbit made a difference? No. Of course not. How could she? It was a silly superstition. There was nothing actually magical about those words. Where did it even come from anyway? And why "rabbit"?

It was ridiculous.

She was an engineer, she told herself as she prepared for her morning run. A rational human being. But then so was her aunt. Did Auntie Myrna even do it? Or had it been a joke the timid child had taken to heart?

Setting aside the absurdity of magical incantations, Harriet marshaled her rational self and entered the day.

Everything will be okay, she said as she ran through the warm June morning. All will be well.

But Harriet Landers was wrong. She really should have repeated rabbit, rabbit, rabbit.

* * *

It was the beginning of November when the Chief Inspector first saw Clotilde Arsenault. He pulled his field jacket closer around him and knelt beside her, like a penitent at some awful altar.

Do you want to hear my secret?

"Oui," whispered Armand Gamache. "Tell me your secret."

He heard a snort of derision behind him and ignored it, continuing to stare into the worried eyes of the dead woman at his feet.

The head of homicide for the Sûreté du Québec had been called away from Sunday breakfast with his young family. He'd flown hours northeast from his home in Montréal to the shores of this godforsaken lake to kneel beside the body that now bobbed in near-freezing waters. She was shoved half ashore by the gray waves that were growing increasingly insistent by the minute.

Whitecaps had formed out at the center of the lake, and even in this fairly protected cove, they bumped up against the woman, moving her limbs in some mockery of life. As though she'd decided she wasn't dead after all and was about to rise.

It added a macabre element to an already morbid scene.

It was a bleak day. The first of November. A wind blew in from the north, bringing with it the promise of rain. Perhaps sleet. Perhaps freezing rain. Even snow.

It frothed up the already tumultuous lake, creating waves on the waves. Shoving the dead woman ever forward, offering her to Gamache. Insisting he take her.

But he couldn't. Not yet. Though all he wanted to do was haul her further onto the rocky shore. To safety. He wanted to wipe her face dry and close those glassy eyes. And wrap her in the warm Hudson's Bay blanket he'd spotted in the back of the local Sûreté vehicle that had driven him there.

But he, of course, did none of those things. Instead, with immense stillness, he continued to stare. To take in every detail. What could be seen, and what could not.

It was hard to tell her age. Not young. Not old. The water, and death, had slackened her face, washing away age lines. Though she still looked worry-worn.

She obviously had had good reason to worry.

Blond hair, like string, was plastered across her face. A strand touched her open eyes. Gamache could not help but blink for her.

He didn't have to guess her age, he actually knew exactly how old she was. Thirty-six. And he knew her name, though they hadn't yet searched her body for ID, and no formal identification had been made.

She was the woman reported missing by her two children a day earlier.

Children now orphaned.

"Photographs?" he asked, looking across at his second-in-command.

"Taken," said Inspector Linda Chernin. "Scene of Crime has searched the immediate area. Teams are on the lake and moving along the shoreline, looking for where she might've gone in. We're waiting for the coroner before we move her, patron."

Behind him there was a pfffft and a muttered "Patron. Kiss-ass."

Inspector Chernin's lips thinned, her eyes hardened, and she made to get up to confront the agent, but a look from Gamache stopped her.

Just.

* * *

Harriet ran through the bright, cool June morning, keeping to the center of the dirt road out of Three Pines.

She glanced this way and that, always aware of her surroundings. Aware of the thick forest, and what might be hiding in there. Bears. Moose. Rabid foxes. Bloodsucking ticks with Lyme disease.

Bigfoot. The murdered kid who now murders other kids.

She smiled, remembering the silly ghost stories told around the village bonfires. But still, she picked up her pace. Harriet had spent much of her life running. And now, in her early twenties, she was running faster and faster. Further and further. Away.

* * *

"Injuries?" Gamache asked.

From his vantage point he could see none, though the coroner would be able to tell them more. He hoped.

"Here." Inspector Chernin pointed to the side of the victim's head.

Gamache leaned across the body for a closer look. As he did, a shadow blocked out what little sunlight penetrated the pewter clouds.

"Do you mind?" he asked, glancing over his shoulder. When the shadow withdrew, he bent closer.

A crushing blow had caved in that side of the woman's head.

"It could've been postmortem," said Chernin. "From what her kids told the local cops, she'd been drinking and was depressed."

"You're thinking suicide?" asked Gamache, sitting back on his heels, aware that his legs were growing numb from a combination of the kneeling and the cold.

A gust of wind blew spray from the lake onto his face. He turned his back, protecting not himself but the dead woman. It was not necessary. It was instinct.

Behind him he heard another snort, this time of amusement.

"Suicide? Are you kidding? She was a drunk and whored around from what I hear, but she didn't kill herself. That's obvious. Though who'd have blamed her? I'd off myself too, if I were her. Fucking waste of space."

Gamache had a few quiet words with Inspector Chernin, then rose. He slowly, deliberately, turned to face the unfortunate young man.

Had the agent been more astute, had his head not been quite so far up his own derrière, had he not been so intent on self-destruction, he might have noticed the look in Chief Inspector Gamache's eyes.

"Come with me, please."

Gamache reached out, and the agent braced for the inevitable shove. But it didn't happen. Instead, the Chief Inspector simply indicated a rocky outcropping, away from the activity.

Once there, Gamache stopped, turned, and after regarding the young man for a moment, he finally spoke. His voice was deep, calm. Quiet. But it held more force than any screaming the agent had heard his entire life. And he'd heard a lot.

"Agent Beauvoir, don't you ever—"

* * *

"—wonder what would've happened if your father and I had never met?" asked Jean-Guy Beauvoir.

He looked across the tub at his wife, Annie, who was bathing their infant daughter, Idola. Then he went back to trying to put a sweater on a squirming Honoré, who was eager to get out to play on the village green with his friends.

The fact the child's best friend seemed to be the deranged old poet Ruth Zardo both amused and slightly worried his parents.

"You mean had Dad never found you languishing in the locker of that Sûreté detachment in the middle of nowhere?"

"I mean when he recognized my brilliance and begged me to help him solve the most difficult murder ever."

"Anywhere," said Annie, who'd heard this before.

"In the world," agreed Jean-Guy.

He released Honoré, who sprang out of the room, thumping down the stairs and outside, banging the screen door behind him.

"The lady in the lake," said Annie.

"Oui. And by the way, I wasn't actually in the locker."

"Only because you were too big to stuff in there."

"Because I was too tough. And still am." He bent closer to his daughter, smiling. "Daddy's big and strong and won't let anything ever happen to you, right, ma belle Idola, Idola, Idola."

As Idola's father held her flat, saucer-like eyes, she laughed. With abandon.

She was so like her mother that way. A light and easy heart.

"Dad did mention your contribution that day," said Annie, toweling the child dry. "But it sounded more like 'shit-head.'"

Jean-Guy laughed. "Sûreté code for brilliant."

"Ahhh. Then you are definitely luminous." She heard a snort of amusement as he turned and looked out the window at the village of Three Pines.

* * *

Harriet Landers let herself into the New and Used Bookshop and tiptoed up the stairs.

She needn't have bothered. Auntie Myrna, in her signature huge caftan, was already up and in the kitchen of the loft, brewing coffee. Her partner, Billy, beside her, frying eggs and bacon.

Harriet had smelled it when she'd opened the door to the bookshop and thought it might be coming from the bistro next door.

An emerging vegan, her kryptonite was bacon and eggs. And real cream in her coffee. And croissants. She was too afraid to ask Sarah the baker if there was real butter in them.

It seemed her magical thinking, while not extending to incantations, did extend to croissants.

"Ready?" asked Billy, after they'd finished breakfast.

Harriet had showered and dressed, and made up the sofa bed in the living area.

She took a deep breath. "Ready."

Auntie Myrna, unconvinced, folded her into her arms, and whispered, "It'll be all right. We'll be there. You look beautiful."

Harriet smiled, and didn't believe a word of it.

* * *

Jean-Guy had his back to the bedroom and was looking out the window at the peaceful little Québécois village.

Annie could see that he was no longer in the bedroom of her parents' home in Three Pines. He was standing on the frigid shores of a lake that had just thrown up a corpse. The memory was never all that far away. And it was never really a memory.

That day had changed everything.

It was the day a disgruntled little shit of a Sûreté agent had met the distinguished head of the most successful homicide division in the nation. It was the day the man who would become Annie's husband had met her father.

What would have happened had they not met? What would have happened had the lady in the lake not been killed? Had her father not chosen to investigate it himself?

What if he had not gone into the basement of that far-flung Sûreté detachment? A place not flung quite far enough.

Why had he? There'd been no reason. Chief Inspector Gamache hadn't even been to the scene of the murder yet. There was no evidence housed down in the basement of the detachment. Only a surly young agent, discarded and forgotten.

And yet, Armand Gamache had.

Because he had to. Because, Annie Gamache knew, it was fated.

* * *

From the bedroom window, Jean-Guy watched their five-year-old son pause, look both ways, then run across the dirt road and onto the village green, where a bunch of boys and girls were kicking a soccer ball. The skinny boy gave every appearance of being impetuous, even reckless, while in fact being quite cautious. Not fearful, but careful.

He was like his father that way. Filled with piss and vinegar and caution.

An elderly woman and a duck watched the children from a nearby bench. Honoré ran up, gave them both a quick kiss, then turned and tackled another kid.
We hope you are enjoying the book so far. To continue reading...
A World of Curiosities
Louise Penny
Copyright © 2023 All Rights Reserved
Also in this series
Also by this author