Book info
Sample
Audiobook
Media
Author updates
Lists
Synopsis
One woman must learn to love again with the help of her supper club friends and the man next door in this delightful enemies-to-lovers small-town romance.

The best meals. The perfect company. And just enough sparks to make it complicated . . .

Serenity Wheeler's Supper Club is all about getting together with great friends, incredible food, and a whole lot of dishing—not for hooking up. Still, Serenity knows inviting her friend's brother to one of her dinners is just good manners, but the ultra-fine, hazel-eyed Gabriel Cunningham has a gift for saying the wrong thing at the really wrong time. Especially when it comes to her cooking.

Gabriel isn't quite sure how they got off on the wrong foot, but something about Serenity makes him nervous. Maybe it's because he's new to the small-town vibe. Maybe it's because the woman is so gorgeous that he can't think straight. Or maybe it's because there's an attraction between them he can't seem to shake. 

Though refreshments and camaraderie may be the supper club's mantra, Serenity and Gabriel know there's more between them than just sharing delicious meals. But she can't let herself fall for Gabriel. Because while cooking with love is one thing, trusting it is quite another...
Release date: August 16, 2022
Publisher: Grand Central Publishing
Print pages: 352
* BingeBooks earns revenue from qualifying purchases as an Amazon Associate as well as from other retail partners.
Listen to a sample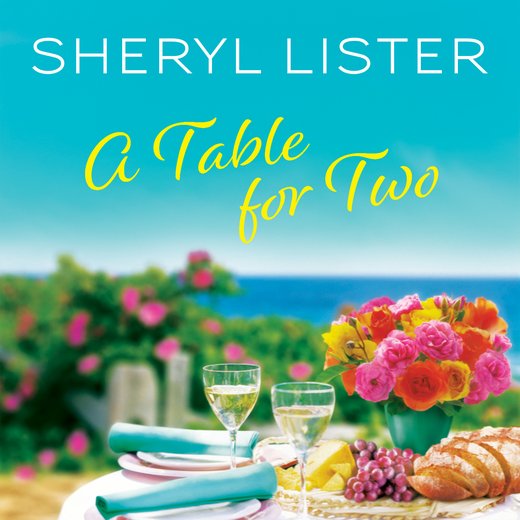 09:08:13
250.97 MB
9781668605769
August 16, 2022
Hachette Audio
A Table for Two
Sheryl Lister
Prologue

Mmm. The taste, the texture. It's rich, decadent, satisfying…almost orgasmic."

Serenity Wheeler chuckled at her neighbor and friend, Andrea Cunningham. "That good, huh? Never heard my truffles compared to an orgasm, but I'll take it." She bit into her own, thinking it would be the only way she'd experience one these days.

Andrea stuffed the remainder of the truffle into her mouth. "Please. This is just like every other thing you make. I'm so going to miss these dinners and desserts."

She frowned. "What are you talking about?"

"I got the promotion!" Andrea said with a huge grin.

Serenity returned her smile. "Oh my goodness, Andrea, I'm so happy for you." She leaned over and hugged her. The two other women seated around the table, Natasha Baldwin and Dana Stephens, expressed excited congratulations as well.

"We need to toast your good news." Natasha lifted her wineglass. "Wishing you the best of everything in your new position as Vineyard Foods' latest regional manager." The four women touched glasses.

Andrea took a sip of her wine. "Thanks. I'm really excited, but there's something else. The promotion means I'll be moving to the Seattle office."

They all froze. Dana slowly lowered her glass. "Moving? You can't leave."

"My sentiments exactly," Serenity said. When Serenity had moved from San Diego to the small town of Firefly Lake, California, six years ago, Andrea had been a godsend. She would be sad to see her go.

"Believe me, I'd rather stay here. I don't know what I'm going to do without our semimonthly supper club nights. Serenity, you know I live for these fabulous meals you always serve."

Serenity chuckled. What had started out as a way for her to share her love of cooking with friends had morphed into so much more over the past few years. Andrea had even nicknamed their get-togethers Serenity's Supper Club because she said they reminded her of the old underground places where people spent hours eating, drinking, listening to music, and generally having a good time.

"I just wish Terri could've been here tonight for the announcement." Terri Rhodes was the fifth member of their group. She worked as an ER nurse at the local hospital and was missing the dinner because she had to sub for another nurse who'd called in sick.

"I'll make sure she's off for your going-away dinner," Serenity assured her. "So does this mean you're going to put the house up for sale?"

"No. I talked my brother into moving here because I don't want to leave Nana alone." Andrea shifted in her seat to face Serenity. "I hope this isn't an imposition, but, Serenity, could you do me a favor and help him get settled in? He's a city boy through and through, and making this transition is going to be a big shock for him," she added with a laugh.

Serenity met Natasha's smiling face and knew exactly what her best friend was thinking. From the moment she'd come to town, Natasha had tried—and failed—to get Serenity to date again. Jumping back on the horse was how she'd phrased it, but Serenity wasn't interested. Andrea had mentioned her brother a time or two, and Serenity seemed to recall her saying something about him not wanting to be in a committed relationship. In Serenity's mind, that spelled trouble. She'd finally found a Zen-like balance in her life and had no intention of letting anyone upset that equilibrium. However, Andrea had been a wonderful friend, so she couldn't deny the request. "Sure. I'll be happy to help out if he needs something. I'll even invite him to a supper club dinner."

"Oh, that would be great." Andrea hugged Serenity. "I know he'll enjoy it."

She smiled. "I hope so." She also hoped he understood the only thing she planned to offer was a neighborly acquaintance.

Chapter 1

Pay up."

Gabriel Cunningham glanced briefly at the door where his three best friends stood, then went back to connecting the ports on his computer. "What?"

Brent Ward sauntered over to the desk. "I bet Darius and Glenn that you'd be in here working."

"I'm not working. I was just setting everything up."

Both Darius Houston and Glenn Turner shook their heads. "Mm-hmm. Five more minutes and you would've been knee-deep in coding. You could've at least waited until we were gone," Darius said. They always gave Gabriel grief for working long hours.

"Sorry. You're right." His three friends had been nice enough to help him move from Atlanta to Firefly Lake. The least he could do in return was see them off before he jumped into things.

Glenn propped a hip on the desk and folded his arms. "It's Saturday, Gabe. Being here is supposed to give you a chance to learn balance and relax more, not continue on the same path to burnout you were on at home. And you agreed to take off two or three weeks. You haven't taken a vacation in years."

"No, I moved here because my sister got a promotion, and I agreed to look out for Nana. And I consented to cut my work hours down for a few weeks, not cut them completely." He hadn't really wanted to leave Atlanta, but he agreed that someone needed to keep an eye on their seventy-eight-year-old grandmother. Andrea had uprooted her life several years ago and stepped in to care for Nana after a stroke had left her with weakness on one side. Although she'd made a complete recovery, neither had wanted her to be alone. His sister had put her dreams on hold, and now, at thirty-two and four years his junior, it was time for her to live them. And as she'd pointed out during their phone conversation two weeks ago, Gabriel could do his software engineering job anywhere, particularly since he owned the company with Brent and Darius. And, yes, he'd been working…a lot…okay, nonstop for the past couple of years, but work helped him forget about things he'd rather not remember.

Brent waved a dismissive hand. "Semantics. The goal is the same. I agree with Glenn, and since he's the doctor here, he knows what he's talking about." Glenn worked as a physician in his father's family practice.

"Thank you," Glenn said. "I didn't go to school all those years for nothing. The slower pace of a small town will do you some good."

"Whatever." Gabriel stood. "I don't know why I keep y'all around," he said, trying to hide his smile. They'd all met at Morehouse, pledged the same fraternity, and were as close as brothers. No matter how much they got on each other's nerves at times, he knew there was nothing they wouldn't do for each other.

Darius shrugged. "Somebody's got to keep you in line." They all laughed. "Speaking of small towns, are there any women here under the age of fifty? We've been here for twenty-four hours, and I don't think I've seen one. The two women I saw down the block were definitely over forty."

Chuckling, Gabriel said, "I have no idea. Why is that always your first question every time we go somewhere?"

"Because I like women. And you ever know when I might luck up on my Mrs. Right. I can't leave Glenn in marriage-land all alone."

Glenn grinned. "Don't hate. But he does have a point. At least Darius and Brent make time to play, but you work all the time. When was the last time you had a date?"

"None of your business," Gabriel grumbled. His love life—or lack of one—had been an ongoing conversation since he'd broken up with his ex a couple of years ago. Sure, he'd been brokenhearted and had buried himself in his job to cover the hurt. Though he wasn't consumed by the pain anymore, he hadn't changed his work habits. He found the long hours kept his mind off his nearly nonexistent social life. He dated sporadically and rarely asked a woman out more than once.

"Now that we agree Gabriel doesn't have a love life," Brent said, "do you know anything about the neighbor Drea mentioned?"

"Nothing other than she's supposed to be a nice lady who does this dinner thing a couple of times a month with a small group of friends. Drea said she can throw down in the kitchen. This morning when I went out to the car, I found a note from her inviting me to a welcome dinner tonight. Nana's invited, too." Gabriel considered himself a foodie of sorts and enjoyed great food. He'd go once to check it out and hoped his sister was right.

Darius made a face. "Nana's going, too? So, basically, that means she's probably old enough to be your mother or grandmother. I don't know any women our age who'd be cooking like that for people on a regular basis."

"I guess I'll find out tonight and let you know."

Glenn glanced at his watch. "We'd better get on the road. I checked the traffic and it's a little slow, and I want to get to the airport in plenty of time. I'm eager to get back home to my beautiful wife." He and his wife had been married for only two years and were still in the honeymoon phase.

"What time does the flight leave?"

"Five. It's going to be a long night because we don't get in until early tomorrow morning."

"I hear you." Firefly Lake was about half an hour from Napa Valley, and the closest major airport was in Oakland. The flight wouldn't leave for another four hours, but depending on the traffic, it could take two or three hours to get there. "I appreciate you guys making the trip to help me out." He'd hired a moving company to transport a few larger items like his bed, his favorite recliner, large flat-screen TV, and his gym equipment. The guys had helped him out by renting an SUV, and between that and his Acura SUV, they'd managed to transport the rest of the things he would need for the duration of his stay. He followed his friends to the living room where they'd left their bags, then out to the car.

Brent clapped Gabriel on the shoulder. "That's what friends do. I hope you enjoy small-town living."

Gabriel scanned the neighborhood. The house was located in one of the newer subdivisions and had a more modern feel, but it still screamed small town. "Yeah." Temporarily. He hadn't told his sister, but he couldn't see himself relegated to this place forever. Gabriel had paid the lease on his condo for the next four months, and the guys would keep an eye on his place until Gabriel returned to Atlanta. He planned to return by fall and figured he'd use these three summer months to convince his grandmother to move back with him. He didn't think it would be too hard.

"We'll talk on Monday about the new account," Darius said. "I'm thinking around noon or one since you'll be behind three hours."

He'd forgotten about the time difference. "Sounds good. I can send the video conference link tomorrow evening."

Brent and Darius nodded. The three men loaded the bags into the trunk, then after a round of handshakes and one-arm hugs, climbed in and drove off.

After taking another look around the area that would be his short-term home, Gabriel went back into the house. As soon as he closed the door, his cell rang. He dug it out of his pocket and sighed.

"Yes, Drea."

Andrea's laughter came through the earpiece. "Hey, big brother. Just checking to see if you've gotten settled in."

"I've talked to you three times in less than twenty-four hours, and the answer is still the same."

"Okay, okay. Have you met Serenity yet?"

"No, but she invited me and Nana to dinner tonight."

"Oh, good. Nana came with me a few times, so she'll be able to introduce you to everyone. You're in for a treat. The woman can cook her butt off, and I know how much you like to eat."

He had to smile at that. "Hmm. Is she a chef?" Gabriel stretched out on the sofa in the living room.

"No. She's a nurse. When she first came to town, she worked in the hospital's ER department. Now she works in Dr. Jacobs's office. Serenity said she was getting too old for those erratic hours."

"Isn't that Nana's doctor?"

"Yep."

Great. Darius was right. The woman is probably pushing fifty. He'd be polite, but he didn't plan to spend hours with a bunch of old ladies. Changing the subject, he asked, "How are you liking the new job?"

"So far, so good. A lot of training for now, though. I just hate that I didn't get a chance to see you and show you around. Things are a lot more updated since the last time you spent more than a day or so there."

"Same here." The siblings had planned to spend a week together before Andrea began her new position, but the company moved up her start date. "And what are you talking about? I was here for Thanksgiving."

"Ha! Is that what you called it? You were here about as long as a flight layover. You got in on Wednesday evening and were gone Friday morning. And please don't try to tell me you had to work because nobody works the day after Thanksgiving unless you're in retail with all the Black Friday sales."

Okay, he'd concede to her that point. Growing up, Gabriel had never taken to the town and whenever his family visited, he'd been ready to leave almost immediately. For a city boy, those week-long visits to a place where everything shut down when the streetlights came on had lasted a week too long in his estimation.

"By the way, Serenity said she'd be available if you needed help with anything."

"That's nice of her, but I should be able to manage. I would like to take a bottle of wine for dinner. Do you know what she likes?"

"That's a great idea. I'll text you the names of a few."

"Thanks, Sis. I need to get going. I want to do some grocery shopping before picking up Nana." Last night he'd stopped at a store in Oakland and bought only enough to get him through the night.

"All right. Let me know how it goes. I promise I won't call you for at least a week," she added with a giggle.

Gabriel smiled. "Liar. You won't be able to hold out until Monday." With their parents gone, he'd become even more protective of her, and they rarely went a week without talking, either by text, phone, or FaceTime.

"Oh, hush. You wouldn't know what to do if you didn't hear my lovely voice on the regular."

He laughed. "Yeah, whatever. You're a pain in the butt sometimes, but I love you anyway."

"You'd better. Love you, big brother. Later."

Gabriel disconnected and thought about how proud he was of his sister. When their parents had died in a car accident eight years ago, Andrea hadn't hesitated in packing up and moving to Firefly Lake. Their parents had purchased this house so their family would have somewhere to stay during their semiannual visits when Nana and Grandpa's small two-bedroom home had become too cramped as he and Andrea had gotten older. His parents had eventually relocated to the town a few years before their deaths, shortly after Grandpa passed away. He took another glance around. Although he had always been in a rush to get back to Atlanta then, he had to admit there had been a lot of laughter between these walls.

His phone chimed, and he read the text from his sister listing the wine choices. Pushing away his memories, he went to grab the grocery list and his keys, then drove the three miles to the town's lone grocery store.

Once there, he was pleasantly surprised by the size of the store and the variety of foods available. He'd been worried he wouldn't be able to find everything he needed but was happy to be proven wrong. Several people called out "hello" as he passed, and he responded in kind. Gotta love small towns. He glanced around, and Darius's comment about there not being any women his age here flashed in his mind. So far his friend had been right. Gabriel added steaks and chicken to his basket and headed for the produce section.

As he rounded the corner, his steps slowed. A smile curved his mouth. Looks like Darius was wrong. Just ahead of him, a petite woman with skin the color of rich cocoa stood picking out corn. His gaze roamed down her curvy body in the short-sleeved dress she wore, which stopped just above her knees and gave way to slim, toned legs. She definitely wasn't pushing fifty. She tossed her long braids over one shoulder, and he got a glimpse of her face. Gorgeous. Intrigued, Gabriel started in that direction. The moment he was next to her, the sweet scent of her perfume floated to his nostrils. "Looks like a good crop of corn," he said, picking up one and testing its weight.

She smiled up at him. "It is, and this is the best time of year to buy it. Sweet, juicy…yummy."

Her smile and sultry voice intrigued him. "Is that right? Any cooking suggestions?"

"Depends on how you want to prepare it—boiled, grilled, sautéed." She added the ear of corn in her hand to a plastic bag holding three others.

"All of the above," Gabriel said with a chuckle. "Does this mean you're offering cooking lessons?"

She gave him a sassy smile. "You never know."

Gabriel lifted a brow. Well, now. She peeled back the husk a little and pierced a kernel. The juice squirted out and hit him directly in his eye, startling him.

"Oh, I'm sorry," she said.

He swiped at the liquid. "No problem. I just hope there will still be a little juice left once you get done." A grin kicked up in the corner of his mouth. "And um…on second thought, maybe I should hold off on those lessons until I can be sure of your cooking skills," he added teasingly. Her slight smile faded as a glare took its place.

"I'm sure one little burst kernel won't ruin the entire ear, and you don't know anything about my cooking skills." She shoved the corn into the bag, dropped it in her basket, and stormed off.

"Wait. I'm—" She didn't turn around or break stride. Gabriel stared after her, stunned. He'd been enjoying their banter, but obviously that was the wrong thing to say. He guessed he had a lot to learn about women living in small towns. He shook his head and finished shopping.

Two hours later, he drove over to pick up his grandmother. She was out the door before he got out of the car.

"Gabriel! Oh, I'm so glad to see you." She grabbed him in a crushing hug.

"Hey, Nana." He kissed her smooth brown cheek. Her familiar floral scent surrounded him. Even in her late seventies, Della Williams was still a striking woman and wore her age well. Had his mother lived, he knew exactly what she would've looked like at that age.

She reached up, palmed his face, and studied him through eyes that mirrored his. "How are you, baby?"

"I'm okay. Still a little tired from the drive, but I got everything put away."

"Good. Come on in. I need to get my handbag, and then we can go."

He followed her inside and watched her walk down the short hallway to her bedroom and smiled, grateful that she had no lingering effects from the stroke she'd had a year after his parents' deaths. He wandered over to the photos hanging on one wall of the living room. His heart clenched, seeing a picture of his parents that was taken at one of the lakes in town. Losing them had devastated him, but he'd kept his grief hidden in an effort to be strong for Andrea.

"I'm ready. I can't wait to see what Serenity has on the menu tonight. Ooh, she can cook!"

"So I heard." He could do this. It was just one dinner.

Chapter 2

Serenity muttered under her breath about rude people as she cut the corn off the cob.

"Girl, you've been fussing since I got here," Natasha said, taking plates from the cabinet. "What are you so upset about?"

She blew out a long breath. "While I was picking out corn at the grocery store, some guy came up to me and made a snippy comment about the corn being dried out because I pricked a kernel. I had accidentally squirted him in the eye and apologized, but after that remark, I wanted to squirt the entire ear in his face. Then he had the nerve to diss my cooking skills."

"Whoa. Who was it?"

"I have no idea. I've never seen him before." Living in a town with a population of just under two thousand, she knew pretty much everyone here. "Probably one of the employees from that new manufacturing company that recently opened right outside town."

Natasha leaned against the counter next to Serenity. "A few of them came into the office looking for houses to rent or buy, and they were rude, acting like because we live in a small town, I wouldn't know how to sell a house." She rolled her eyes.

"I don't know what's wrong with people." She picked up the next ear of corn.

"What did he look like?"

"Who?"

"The guy in the store."

Serenity shrugged. "He was all right. I didn't pay that much attention." Okay, that wasn't exactly the truth. The man's hazel eyes framed by those long eyelashes had grabbed her attention the moment their gazes locked. That had also been part of her irritation. She was far past the age of being worked up over a man. Any man.

Natasha chuckled. "In other words, he looked good."

Serenity threw away the cobs and wiped the counter where some of the liquid had splattered. Dried out, indeed. Ignoring her friend's comment, she said, "I think we'll eat outside, since the weather is nice." The early-June temperatures had climbed into the low eighties, making it perfect for outdoor dining.

"Okay. I'll set the table, and you can let me know which candles you want to use."

"Great. Thanks."

Natasha started toward the sliding glass door, then stopped. "Serenity, don't let him get under your skin. You're a great cook, and it doesn't matter what he thinks."

Serenity nodded. "You're right." She found the candles she wanted and took them outside, where Natasha was setting the table. Serenity had several different sets of china, ranging from casual to elegant, as well as a variety of patterned cloth napkins. Her friend seemed to always know the best combinations. "I think you need to forget real estate and take up table decorating. You always make everything look so beautiful."

"Thanks, but I'll stick with what I know best," Natasha said with a smile. "Then again, maybe I can use this as a step toward finally using my interior design degree."

Laughing, Serenity went back inside to roll out the dough for the French bread. Soft jazz played in the background, and soon she was lost in the one place that soothed her. She'd gotten her love of cooking from both her grandmothers and, as a child, while her sister and cousins were outside playing, preferred spending her time in the kitchen beside them, learning and listening. They'd shared not just recipes but also their hearts. Every ingredient was filled with love and the taste, divine. Serenity applied that same love when she cooked. By the time she finished the sweet, sticky teriyaki glaze that would accompany the grilled salmon, she had forgotten all about her earlier encounter.

The doorbell rang, and Natasha, who was just finishing tossing the . . .
We hope you are enjoying the book so far. To continue reading...
A Table for Two
Sheryl Lister
Copyright © 2023 All Rights Reserved