Book info
Sample
Audiobook
Media
Author updates
Lists
Synopsis
A propulsive political thriller featuring two outsiders caught up in a stunning conspiracy, filled with details and twists that only a true political insider could write.

When one of the nation's most prestigious senators jumps from a cliff in Maine, it is no surprise that the political elite and the media flock to the story, determined to uncover what has happened--and whether foul play was involved. Palmer Knight, a fast-rising TV news correspondent, is sent to cover the mysterious death, and finds himself embroiled in a plot that goes far beyond the Senate and onto the global stage.

Meanwhile, Army veteran and former Supreme Court clerk Amity Jones thought she had left the fast lane behind when she moved to Ohio to care for her cancer-stricken mother. But her dogged pursuit of a local medical mystery places bring her back to the world of politics, and ultimately into Palmer's investigation of the senator's death. The unlikely duo, brought together by seemingly unconnected events, soon find themselves enmeshed in a political conspiracy that reaches the highest levels of power, and places their lives—and many others—in terrible danger.
Release date: August 2, 2022
Publisher: G.P. Putnam's Sons
Print pages: 416
* BingeBooks earns revenue from qualifying purchases as an Amazon Associate as well as from other retail partners.
Listen to a sample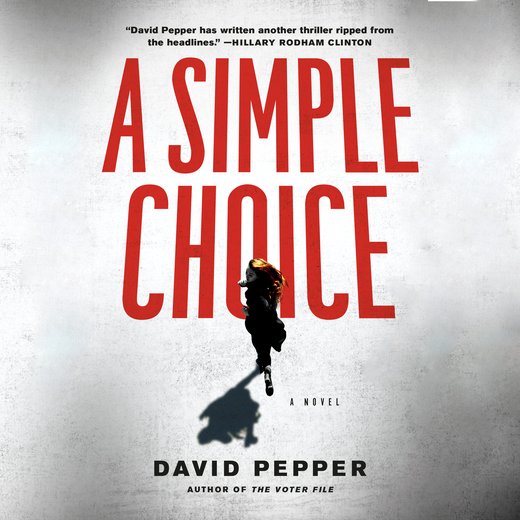 11:42:42
321.71 MB
9780593589922
August 2, 2022
Penguin Random House
A Simple Choice
David Pepper
Chapter 1

Pemaquid Point, Maine

The gray grooved rocks and the old lighthouse atop them had served as center stage for Senator Duke Garber's most pivotal moments. So there was only one place to do what he needed to do now.

He parked the old black Ford pickup in the dirt parking lot at the bottom of the rocky hill. With the sun inching above the horizon, wisps of yellow and orange streaking north and south, he'd counted on being alone.

But a white station wagon sat parked at the far end of the lot. No doubt it was that of the tall woman who walked her two chocolate Labs here most days. She'd often arrive later in the morning, as he was leaving. They'd share polite nods as they crossed paths.

He peered up the hill toward the lighthouse. Nobody there. She must've been on the dirt path that hugged the shoreline, the same trail where he'd walked his golden retriever, Max, for years. Or, in later years, where Max had walked him.

The good news was that she would recognize his car and think nothing of it.

He turned off the engine, left the key in the ignition, and opened the truck door. He grunted as he lifted the heavy work boot off the floorboard and onto the rider along the truck's side. He lugged his right foot over, then lowered both boots to the lot's dusty surface.

Leaning against the truck, he stood upright to his full, wiry six feet two inches—two inches shorter than the peak height that had served him well, apart from his three years as a paratrooper in Vietnam, where his size made him a juicy target. The 3.5-liter engine went silent, and he swiveled his head-his right ear was the better one-to enjoy the full symphony of the Atlantic crashing into the craggy Maine coast. Above the steady breeze came the percussion: first the thundering crash of waves against rock, then the fizz of the water receding.

He opened the truck's rear driver's-side door and pulled out the gray backpack. He'd bought it in nearby Bristol the day before, then filled it with gravel from his driveway in New Harbor. Every bone in his torso must've creaked as he hauled the thirty pounds onto his back and cinched two nylon straps tight around his shoulders. He buckled two more sets of straps at his sternum and waist.

He trudged up the slick striated rocks. Like the rings of an ancient redwood, horizontal streaks of white, rust, black, and gray marked different minerals piling up over passing eras. Droplets of frigid ocean spray kissed his cheeks and forehead. The pungent whiff of salt water and fish wafted into his nostrils, a stench only a lifelong Mainer could love.

With each labored step, memories rushed back in pinpoint detail. As a kid playing with his two sisters under the watchful eye of his mother. As a teenager making out with Maude Fletcher in his souped-up Dodge Charger in the spot where the station wagon was now parked. Exchanging vows with Kay at the very top. His own kids climbing every inch of these rocks, year after year, before they moved west. Walking with Kay, then with Max, then alone.

But notable moments at Pemaquid Point spanned beyond the personal.

Whenever things got tough-close elections, tough decisions, moments calling for thoughtful deliberation-the senator had paced these rocks in silence.

Goose bumps pricked along his forearms as he stepped out of the glow of the rising sun into the long, cool shadow of the lighthouse. Shrouded in a similar shadow, he'd called President Bush to let him know he opposed the Iraq war. He grinned, recalling the machine-gun spray of Texan profanity the commander in chief had fired back his way. His decision, wildly unpopular at the time, had aged far better than he had.

Higher up the rocks, he passed a weather-worn cedar bench. A decade before, sitting on that bench, he'd pulled the plug on a nascent campaign for the White House. He'd second-guessed himself ever since. President Robinson had been a huge disappointment. He could've beaten her that year, and he would've done better by the country. He could've been one of the greats.

Past the bench, up and to the left, an exceptional slab of pearl-gray granite jutted out amid the flat sandstone surrounding it. As long as his truck, it burst upward several feet in the air, folding over at its top like a thick blanket over the back of a couch. Geologists explained that it, too, was once horizontal, but that extreme pressure and heat created the distinct fold of rock millions of years ago.

Whatever the cause, Duke considered it Mother Nature's perfect lectern. It was where he'd launched his first campaign for the House decades earlier, along with his first Senate race ten years later. And it was there, on a spring morning three years past, that Duke had stood proudly next to Colorado governor Janet Moore and endorsed her for the presidency.

It was a decisive moment in the campaign-many said the final nail in the GOP coffin-given that Duke was a Republican and Moore a Democrat. He and the president had been close ever since. She offered him the secretary of defense post months later, but he declined. His chairmanship was the better job, a perch from where he guarded every one of America's most valued secrets-and knew more than any other elected official in the nation short of the president herself. Plus the diagnosis had just come in.

As he climbed farther, the waves thundered loudly enough that they even penetrated his nearly useless left ear. Usually therapeutic, the ocean's roar now churned his stomach. The higher he stepped, the tighter his chest squeezed, allowing only short, quick breaths.

Still, he kept plodding up the hill. Sills of multicolored rock, some with edges as sharp as knives, now towered over him on one side. Crevices and creases at his feet grew wider and more perilous.

After years of back pain and endless steroid shots, his withered legs didn't move the way they used to. He concentrated on each step as if navigating an obstacle course. If he tripped or hesitated in any way, it might tempt him to reconsider. And reconsidering would be a mistake.

He'd made the choice, eyes wide-open. This had always been one of the possible outcomes. And delaying would make things worse for so many.

He passed the lighthouse, absorbing its simple grandeur one last time. The white stone. The antique lens. The flashing red light. The quaint keeper's house behind it, now a museum that preserved the region's story-and would soon tell his own. Pemaquid's lighthouse had become his anchor, a source of serenity in a world buffeted by chaos. Of many major accomplishments with nationwide or worldwide implications, he was just as proud of his quiet work to keep this little gem open all these years, squirreling money into the Coast Guard's budget to sustain it.

As he neared the highest rock, roundish and creamy gray, gulls circled overhead. One landed on the cliff's edge, squawking loudly and flapping its wings, as if warning the town's most famous resident that he was getting too close. Through the breeze, the muffled sound of dogs barking echoed from the far side of the lighthouse. Probably the old lady's Labs on the trail below.

He ignored it all.

Instead, he pulled the backpack's straps even tighter, as he'd do before jumping out of an airplane decades before.

With the edge now only feet away, both legs shuddered as if pleading for him to turn around.

He clenched his jaw. He'd made his choice long ago. There was no stopping now.

He focused all his energy on his right leg, the stronger of the two. He lifted it up, forced it forward for a long stride, then planted it firmly onto the steeply angled rock.

His left took more effort-a dragging motion more than a true step.

Then back to his right. The workhorse. His longest stride yet landed on the mercifully flat top of a rounded boulder.

He drew a breath, then pulled his left leg even.

From the final rock of Pemaquid Point, he could see the surf below, a violent maelstrom of white, black, and blue. A splash of icy water nipped his cheeks.

Staring straight at the horizon, he flung his right leg forward one last time and plunged into the churning ocean.


Chapter 2

Mansfield, Ohio

An hour north of Columbus, Amity Jones pulled her black Jeep off the highway, skidding a few feet into the intersection at the end of the long exit ramp. The snow-caked stoplight overhead turned green seconds later, and she took a left to head into town.

Not a lot had changed since she'd left home for good fifteen years back.

But the short drive west from the highway was more jarring now than it had been back then. Maybe because some blocks of her old stomping grounds looked more like the bombed-out towns she'd patrolled in Afghanistan than the modern buildings of DC and Columbus where she'd lived more recently.

She passed shuttered factories and warehouses on Mansfield's outskirts, then aging brick buildings, more gray than red, as she entered the compact downtown. Empty storefronts and decaying edifices betrayed the deep economic challenges the town faced. Yet the occasional new retail store, coffee shop, or restaurant attested to the grit of a community fighting back.

The same grit Amity had long considered her greatest strength.

Mansfield's was the story of too many Ohio towns-a proud manufacturing hub a generation ago, now struggling to find its place in the fierce twenty-first century economy. While a major state prison provided solid jobs, it was not enough to replace thousands of lost auto jobs, or the others that disappeared when plants and factories closed decades back. And anyway, locking people up was a sad replacement for making things the rest of the country bought.

Amity turned south, then passed some modest houses and the stark remains of an abandoned Dairy Queen. She turned left into the next driveway, pulling into the newly paved parking lot in front of the Mansfield Hospital, the rugged town's nicest and most modern building.

After a quick elevator ride, Amity took a seat in the third-floor waiting room. She pulled out her phone to check her Twitter feed, her usual fix when passing time. But, getting no reception, she instead grabbed a copy of the Mansfield News Journal from the low wooden table in front of her.

Two articles dominated the front page. Across the top, a large headline and sizable article described the disappearance of Senator Duke Garber in Maine two days before. Amity's recent boss had been close to Duke-same generation, both larger-than-life veterans who went on to acclaimed public service careers. The senator had stopped by the chambers once and couldn't have been more of a gentleman. So when the Pemaquid Point story first broke, she'd absorbed every word. The News Journal article offered nothing new.

The paper's second major story was local but also familiar. Nine-year-old Colin Gentry had overcome a bleak cancer prognosis. The disease had started in his liver and spread to his lymph nodes. When it invaded his bones and blood months ago, they'd given him weeks to live. Now he was cancer free, back at school, and even playing basketball again.

Exactly as Mom had described. They even had the same doctor.

But if Morton Stumbo had performed the miracle for Mom's young neighbor, he hadn't been nearly as successful with Mom, which was why Amity was here today.

She scanned the article for details about young Colin's path to recovery. Nothing stuck out that she and Mom hadn't already tried. She'd do just about anything to help Mom, but the problem was, there wasn't much else to be done. Unless she happened to win the medical miracle lottery young Colin Gentry had, Mom's fate was sealed. Plus, Mom was far less inclined to help herself at this point. Just like always, Amity was the family problem solver. In many ways, the parent of the duo.

"Ms. Jones?" a voice called out minutes later as Amity checked out high school basketball scores on the back page.

"Yes," she said, looking up at the young receptionist who'd checked her in.

"She's ready. The nurse is wheeling her out now."

Two doors swung open as Amity stood up, paper in hand. A short man in scrubs walked slowly behind a silver wheelchair.

As she'd trained to do in a courtroom, Amity forced a neutral face to conceal her shock.

It had been only two weeks, but Mom, slumped low in the chair, looked even grayer and thinner than before.

Time was running out.


Chapter 3

Pemaquid Point

Palmer Knight had spent a few summers in Maine in his early teen years, at a camp for the kids of the rich and famous near Kennebunk. While he couldn't stand most of the other campers, he'd loved both the lakes and the coast. He'd always wanted to come back.

But not for work.

And definitely not for an occasion like this.

"Step a few feet to your right, Palmer. The senator's truck is behind you, but the other news vans are still in the shot."


He did as told, his cameraman swiveling his lens in the same direction. He glanced around as three other reporters stood before their own cameras, preparing for the same noon update. All three had crammed themselves into his live shot, and it was clear why. They still didn't take him seriously. Just a rich kid trading on his family connections-not a real journalist. It was a rap he was always trying to beat, even if milking those connections had so far been the key to his success.

He tucked his wire-rimmed Ray-Bans into his pocket, then rubbed his hand through his wavy sandy-blond hair.

The small light flashed green. Go time.

"It's been over fifty hours since Senator Duke Garber parked his pickup truck here on the scenic Maine coast, by this historic lighthouse," Palmer said into the camera, gesturing behind him with his left hand.

His somber expression and tone were part of the show, but the news had truly hit him. In the three interactions they'd had, Senator Garber-a protŽgŽ of Palmer's grandfather-had treated him well. He was one of the good ones.

"And he hasn't been seen since. The fear is that he fell into the ocean while walking on the rocks above."

The anchor's baritone voice chimed in with the question they'd agreed to.

"What do the authorities think happened?"

"They don't want to speculate at this point. They say there's no sign of foul play. The senator knew this place well and took this walk a lot. But he was also getting older, so may have slipped and fallen. At this time of year, it can be slick up there."

A plausible theory. He'd witnessed the senator hobbling into and out of hearings over the past year. And he'd almost fallen himself, ten minutes prior, on the wet, cragged rock.
 
The anchor chimed back in.
 
"The senator held a lot of important posts in Washington, including chairing the Intelligence Committee. People say he knew more secrets than anyone in Washington. How can the authorities be so sure there wasn't foul play?"
 
Palmer nodded. This was the question he'd been asking all day. Garber's committee's agenda was chock full of hot-button topics, and those were just the ones they could reveal.
 
"So far, that's what they've said. But you're right about the senator. He was a vault of top secret information. Which is one reason he was one of the last people left whom all sides in Washington respected."
 
"But they're sure there's no sign of foul play?" the anchor asked.
 
"That's the word so far."  He let his voice rise, signaling to his viewers that he didn't believe it either.
We hope you are enjoying the book so far. To continue reading...
A Simple Choice
David Pepper
Copyright © 2022 All Rights Reserved