Book info
Sample
Audiobook
Media
Author updates
Lists
Synopsis
Miss Fisher meets Downton Abbey in this critically acclaimed mystery series from New York Times bestselling author Shelley Noble.

Roasted chestnuts from vendor's carts, fresh cut spruce trees lining the sidewalks, extravagant gifts, opulent dinners, carols at St Patrick's Cathedral, a warm meal and a few minutes shelter from the cold at one of the charitable food lines . . .

It's Christmas in Gilded Age Manhattan.

And for the first time ever an amazing giant ball will drop along a rod on the roof of the New York Times building to ring in the New Year. Everyone plans to attend the event.

But the murder of a prominent newsman hits a little too close to home. And when a young newspaper woman, a protégé of the great Jacob Riis and old Vassar school chum of Bev's, is the target of a similar attack, it is clear this is not just a single act of violence but a conspiracy of malicious proportions. Really, you'd think murderers would take a holiday.

Something absolutely must be done. And Lady Dunbridge is happy to oblige in A Resolution at Midnight, the third book in this best selling series.

A Macmillan Audio production from Forge Books
Release date: October 13, 2020
Publisher: Tom Doherty Associates
Print pages: 352
* BingeBooks earns revenue from qualifying purchases as an Amazon Associate as well as from other retail partners.
Listen to a sample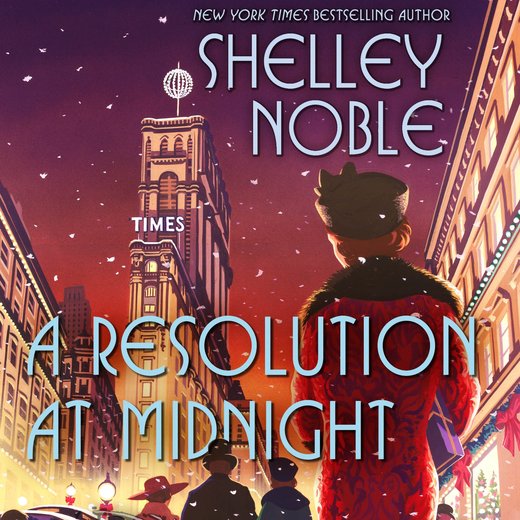 11:13:39
308.38 MB
9781250772695
October 13, 2020
Macmillan Audio
A Resolution at Midnight
Shelley Noble
1


Philomena Amesbury, Phil to her friends, the Countess of Dunbridge to everyone else, handed her armful of packages to the footman of the Plaza Hotel and stepped out of the red Darracq taxicab.

"Lovely day, isn't it, Mr. Fitzroy?"

The doorman, dressed in the full fawn-and-gold braided livery of the Plaza, smiled and looked dubiously at the gray clouds that overcast the sky.

"Indeed, Lady Dunbridge. Did you enjoy your morning of shopping?"

"I did. Everyone is so festive." Of course there had been that unsightly shoving match between two ladies over who went first up the escalator at Bloomingdale's and the disappointing moment when the proprietor at the little bookstore across the street had informed her that he'd sold his last copy of the latest Arthur Conan Doyle novel, which she had been hoping to buy as a present for her butler, Preswick.

A misstep on her part. She shouldn't have waited until ten days before Christmas to reserve a copy. But after six months in Manhattan and three at the Plaza, she was still learning her way in a place where countesses did things for themselves.

"There are more packages in the taxi and even more being delivered, if you'd please have them stored until I call for them."

"Yes, Lady Dunbridge." Mr. Fitzroy nodded to the bellman, who reached into the taxi and took the remaining packages into the hotel.

The taxi drove away, and Phil took the opportunity to look across the street to where a small boy hawked his newspapers at the entrance to Central Park. He had designated himself as her small but vigilant lookout, and who went by the soubriquet of Just a Friend.

Phil waved, though he wasn't looking her way. He was wearing a new scarf and mittens to add to the winter coat Preswick had bought him a few weeks before. Her butler might be a tad old-fashioned in his ways and a bit long in the tooth, but he had a heart warmer than the bag of chestnuts nestled inside her purse.

Oh the freedom of leaving England, with its peerage and restrictions, for America where she could come and go as she wished at any time of the day and be whatever she wanted. If it hadn't been for the earl dying and leaving her a dowager at twenty-six, and her last rather public indiscretions with a certain Frenchman, she would never have known the excitement of life in Manhattan.

Well, to be honest, there had also been that little incident of a murder that she'd inadvertently solved and that had made all the major newspapers—much to her father's chagrin. Her father might look the other way at affaires de coeur and other minor eccentricities by his daughter, but he wouldn't stomach her hobnobbing with the metropolitan police. He'd intended to pack her off to Great-Aunt Sephronia in the wilds of Yorkshire, hence Phil's quickly organized trip to the New World.

And as it had turned out, that one little involvement with the London police had done much to ensure her success in New York. For there was no one people admired more than someone with a title who could solve their most dastardly crimes while keeping their family secrets locked in her breast—and a few others locked in the safe in her apartment upstairs.

Phil headed toward the bank of bronze elevators where Egbert, her favorite operator, nodded and gestured her inside the cage.

"Lovely day, Lady Dunbridge," he said in a melodious voice that always sounded like a song.

"Indeed, Egbert. Do you think we'll have snow for Christmas?"

"Perhaps."

Phil opened her handbag and pulled out a brown paper cone of chestnuts. "I thought you might enjoy these."

"Ah, roasted chestnuts. Thank you." Egbert quickly slipped off one white glove and took them from her.

"Make sure you enjoy them while they're still hot," Phil said.

He slipped them into his pocket and slid his hand back into his glove just as they reached the fifth floor.

He opened the gate and waited for her to reach her door and let herself inside.

All was quiet. She'd given her maid, Lily, and Preswick the day off to do their own shopping and to enjoy the festivities of the city. This would be their first Christmas as a household and they were all looking forward to it.

Preswick, after a rough start, had taken to life in Manhattan, and Lily was thriving.

At least Phil thought she was. Phil actually knew very little about Lily before the day Phil had first encountered her as she fought off several sturdy British customs officials who had discovered her attempting to stow away on the ship to America. Recognizing a kindred spirit, Phil had paid her passage and hired her as a lady's maid, her own maid having refused to board the ship at the last minute. When she refused to give her name, Phil called her Lily because of her porcelain complexion. Preswick had done the rest.

They'd become quite a team, the three of them.

Phil unpinned her hat and tossed it and her handbag onto the occasional chair set next to the hall table. A white envelope lay on the floor by the door.

Strange. Usually when there was a message, the concierge, a kind but inquisitive creature, made sure to stop her on her way upstairs.

She picked up the envelope and read one handwritten word.

Countess.

There was only one man who called her that, a deliberate misuse of proper address. She was certain he knew better. Perhaps he was letting her know his opinion of titles. A form of challenge? Or, dare she hope, a term of affection? Whichever, it sent a thrill of excitement through her.

She ripped open the envelope, let it fall to the ground as she perused the single sheet of paper. Theatre Unique. 1:15. Last Row.

It was written in the bold classic script that she knew well. She glanced at the Ormolu clock on the mantel. Twelve forty-three. She'd never make it. She didn't stop to equivocate, but grabbed her purse and hat from the chair and hurried back down the hall to the elevator.

* * *

It was infuriating, Phil thought, looking out the passenger window of the taxicab inching its way down Fifth Avenue. The streets were congested with holiday traffic. Pedestrians clogged the sidewalks, jostling each other as they hurried from one shop to another.

The subway would have been much faster, though there wasn't a station near the hotel and she'd as yet never taken one of the underground railways, something she should probably remedy as soon as the weather was better.

She checked her lapel watch. Almost one o'clock. He could have given her more notice, or left the note with the concierge and saved her several lost minutes of going upstairs. But that was not Mr. X's way. Mr. X. She still didn't know his name or what he looked like, since he always appeared in disguise, when he bothered to appear at all.

But though she might not know what he looked like, she knew how he felt, every luscious contour of him—until he'd disappeared, always before the light of dawn.

She leaned forward and tapped on the glass window that separated her from the driver.

"It's most urgent that we hurry," she explained.

"You shoulda left earlier. It's Christmastime."

It wasn't like she'd had a choice. Though she enjoyed the excitement of notes slipped under the door or left on pillows, and chance meetings at balls or in dark alleys, it just wasn't efficient. They needed a better system of communication.

She could imagine him sitting in the theater, dressed as who knew what, waiting for how long? He was taking an awfully big chance if it was something urgent.

And things always were with him.

"I'd be ever so grateful, if you could see your way through this traffic."

The driver turned around long enough to scowl at her.

She lifted her eyebrows and clasped her handbag suggestively. "Very grateful."

Almost immediately the taxi swerved out of line and swung around the truck in front of it, nearly coming to blows with another taxi attempting the same thing in the opposite direction.

The taxi lurched and swerved back to its side of the street. Phil adjusted her hat, which she hadn't secured properly in her haste to get into the taxi. A block later he turned in front of a trolley and headed toward Park Avenue, which was not quite as heavily trafficked. It took them straight down past Union Square to Fourteenth Street, where he turned and stopped at the curb.

Phil tipped him generously and the taxi squeezed back into traffic. Across the street the Academy of Music, now no longer the center of the arts, stood shoulder to shoulder with Tammany Hall, headquarters of the most powerful politicians in Manhattan.

The Theatre Unique was located on the south side of the street, sandwiched between a row of small storefront businesses, several theatrical agencies, an oyster bar, and a cigar shop. THEATRE UNIQUE was picked out in the new electric lights across a curved arch that led to a rather byzantine-looking ticket kiosk. Above the arch, nude gods held up garlands of flowers, while above them, cherubs played a fanfare on plaster trumpets.

There was no end to excess in America, even in their theaters, Phil thought as she headed to the kiosk.

She handed over fifteen cents, snatched her ticket, and fairly ran to the entrance.

Only as she stepped into darkness did she realize that she was entering a nickelodeon.

She couldn't begin to guess why Mr. X wanted to meet her here. But he must have had his reasons. He always did and she never questioned him. At least not out loud.

She stood just inside the door, silhouettes of seated people coming in and out of focus as the moving images cast them in flickering exchanges of light and dark.

Still, she didn't venture farther, but swept a look around the perimeter of the room, peered into the dark corners, along the back wall to the square of light through which the images were projected. She perused the rows of seats, picking out as many details as possible, as Dr. Gross in his handbook Criminal Investigation had recommended.

Everyone seemed mesmerized by the screen, which was showing speeding race cars that normally would have interested her. But not today.

She was intrigued by her summons, and just a little wary. Anticipation tickled the hairs on the back of her neck as the cars silently raced across the screen and an unseen pianist plunked away at a tinny rendition of Scott Joplin's popular "The Entertainer."

Really, life had been much easier when gentlemen callers appeared at the door with a card and a bouquet of your favorite flowers. But so much less interesting.

A single gentleman sat alone at the near end of the back row. He appeared to be asleep. There were no other people sitting in the last several rows.

Taking a final quick look around the flickering room, Phil pulled her skirts back, eased into the row, and sat down.

He didn't greet her. Didn't even appear to wake up. Purposely ignoring her? She felt a little niggle of irritation.

Though perhaps they were being watched. She leaned back, gave her outward attention to the screen.

"I'm here," she whispered, keeping her eyes focused on the racing cars.

No response.

She risked a sideways glance. He'd gone all out today. And, she had to admit, she was impressed.

He seemed shorter, more heavyset than usual, almost paunchy. Dressed in corduroy trousers and nondescript jacket. No hat that she could see, just thinning hair that was slicked back except where several strands fell over his forehead. He looked the epitome of a middle-aged working man.

And still he ignored her. He was obviously perturbed that she was late.

Well, really, was she expected to sit quietly at home waiting for instructions?

"You've made your point," she whispered. "It's the holidays. I was out shopping. I came immediately upon returning home, but traffic is particularly heavy this time of the year."

Nothing from her companion.

"Don't you think you're taking this a bit far? I apologize. It won't happen again, though I don't know why you just couldn't have skulked around the hotel dressed as a shoeshine boy and told me what I needed to hear. Why are we here?"

Nothing. They were definitely being watched or he would have acknowledged her by now.

She turned her head slightly, pretending to look in her bag. She was certain no one had been behind her when she sat down.

And she was filled with an unnamed dread.

She touched his shoulder. He slumped forward. She leaned closer but couldn't see his face or smell the faint aroma of the exotic pipe tobacco he favored. But she did smell something sickly metallic, and her stomach heaved.

With a herculean effort, she pulled him upright; his head rolled, then snapped back over the seat back.

The race continued inexorably on the screen.

The gash where his throat had been slit, and the black stain, soaking his collar and spreading down his woolen jumper, appeared and disappeared in the flicking light and dark, light and dark, of the moving picture.

Her mind—and yes, her heart—reeled, as logic fought for purchase.

She had learned much about the science of psychology since beginning her detectival career. The mind could play tricks on you, or show you the way out of a maze. At times it was hard to distinguish which was which.

This was not Mr. X. This man was shorter, stockier, his neck thicker. Even with his talent for absurd disguises, Mr. X couldn't possibly change so much.

Besides, Mr. X would never succumb to the indignity of having his throat slit in an afternoon nickelodeon.

But whoever he was, he was definitely dead. No one could survive that much blood loss. Whoever had killed him had been efficient and ruthless—and might still be in the theater.

She instinctively reached out and touched the man's hand. Still warm. Her stomach revolted, but she felt down the rough wool of his coat and slipped her hand in his pocket. A stub of a pencil, a notebook, what felt like a smashed packet of cigarettes, and a small rectangular box. Matches?

She didn't think twice but pulled the items out and shoved them in her handbag, knowing full well that she was interfering with a crime scene, one that might somehow involve her.

She reached out again, slid her hand beneath the lapel of his jacket … and was nearly swept away on a tide of relief.

This definitely wasn't Mr. X. Her eyes might deceive her, but her touch never would.

But who was he? And why was she sent here to meet him?

She quickly felt inside his jacket, reached over and tried the other pocket, and found nothing more.

A scream pierced through the music that accompanied the racing cars—through the erratic lights and the pictures that flashed and jumped and seemed to suddenly grow very bright—bright enough to see a young woman standing at the end of the aisle.

"No!" the girl cried. "No!" She turned and ran.

There was a sudden stir around the theater, murmurs as heads began to turn, looking for the source of the scream.

Phil, suddenly galvanized into action, ducked her head and sidestepped to the end of the aisle.

Someone yelled, "What's happening?"

A man stood and turned from his seat. "Back there, in the last row! Call the cops!"

The girl had disappeared. Phil turned back to the suddenly silent theater. The music had stopped. The race cars continued to whizz across the silent screen.

Someone slipped up beside her, took her by both elbows. She immediately tried to strike out.

"Don't turn around," he whispered. "I'm the theater manager. You need to get out of here. This way, please."

He gave her a push, then grabbed her by one arm and propelled her down the aisle toward a back door, past two other men attempting to restore order as the patrons fought their way to the entrance in the opposite direction.

"Hurry," he hissed. And just as the house lights came on, he pushed her through a door camouflaged by a mural across the back wall.

Things were happening too fast. But she knew he was right. She couldn't be found here.

The door closed behind them and they sped down a narrow dark corridor. Phil couldn't see where they were going. She stumbled; he dragged her up and didn't let go of her until they'd reached the end. He unlocked a door, opened it a crack, and peered out.

"Turn right and go to the street. Be careful not to be seen." He shoved her out the door.

She whirled around just as the door shut in her face. She rattled the handle but it was locked. Pounded on the door to no avail.

"What's going on? Let me in!"

But there was no answer.

Phil turned around, senses alert. She was in an alley surrounded by trash cans and cast-off furniture. She covered her nose, lifted her skirt, and ran toward the street. She just managed to throw herself against the brick building at the sound of police sticks clacking against the wall, summoning help. Two constables ran across the end of the alley toward Fourteenth Street.

When their sticks could no longer be heard over the pounding of her heart, Phil peeked around the edge of the building. Finding the street empty, she stepped out onto the sidewalk.

Why had the manager been so anxious for her to be out of the theater? Why pick her out of the rest of the audience? Did he know who she was? She hadn't even gotten a good look at his face. Had that been on purpose? He'd stayed mostly behind her, guiding her by the arm. She couldn't have turned to look at him if she'd tried. Which she hadn't.

When she reached Fourteenth Street, instinct told her to walk in the opposite direction toward Union Square, to take a taxi home and wait to be contacted.

But curiosity propelled her back toward the front of the theater.

She kept close to the storefronts, pretending to look at the notices at the booking agencies, the menu of the oyster bar, as she slowly made her way down the sidewalk.

A black motorcar screeched to a stop in front of the theater, and two men got out. Phil ducked her head to peruse the boxes of Tiparillos and Cubans in the cigar-shop window. One of the men she recognized immediately. Sergeant Charles Becker, the scourge of the Tenderloin, known as the most corrupt policeman on the force. She had no reason to doubt that it was true.

He'd tried to railroad Phil's friend Bev into admitting she'd killed her husband, which she hadn't. He was tall, broad, and muscular, with a mean expression even when smiling. He preferred the round crown of a bowler hat, which had inspired Bev to dub him the Fireplug.

A shiver ran up Phil's spine.

What on earth was he doing here, outside his district? And how had he arrived so quickly? The Tenderloin was on the far side of town.

The mere fact that Becker had been summoned could only mean someone was trying to cover up something. And his quick arrival must mean Phil wasn't the first to discover the body.

And with Becker on the case, did that mean Detective Sergeant John Atkins would soon be following?

If she'd only been on time—which she would have been if she'd known about it earlier—she might have been able to prevent the murder.

Becker and his companion went inside, and Phil decided it would make better sense to leave them to it. She had no intention of crossing paths or swords with Becker if she could help it. Once had been enough.

Her knees were suddenly weak. Denial and fear had kept her going. But now, the relief she felt when she realized that whoever the victim was, it wasn't Mr. X, threatened to overcome her. That and the stab of guilt for her own relief, when some poor family would not be seeing their husband, son, or father ever again.

Phil's steps faltered as much from the thought as from the pile of horse manure she had to sidestep in the street. Last year she would never have even considered the possibility that someone might murder a person in a theater. But since coming to America, her eyes had been opened. The Americans were such an ingenuous—somewhat ruthless—lot.

She reached the far side of the street just as a black morgue van drove past and stopped behind the police car. Two men jumped out, opened the back, and pulled out a stretcher before rushing into the theater.

Phil watched in dismay. Neither Becker nor the morgue van could possibly have arrived so quickly.

Not unless they had already been waiting nearby.


Copyright © 2020 by Shelley Freydont
We hope you are enjoying the book so far. To continue reading...
A Resolution at Midnight
Shelley Noble
Copyright © 2022 All Rights Reserved