A Night's Tail
Available in:
eBook
Paperback
Audiobook
Hardcover
Book info
Sample
Audiobook
Media
Author updates
Lists
Synopsis
In the charming town of Mayville Heights, librarian Kathleen Paulson and her two cats pounce on clues to catch a killer, in the 11th installment of this New York Times best-selling series.
Spring is coming to Mayville Heights, and Kathleen's brother, Ethan, has arrived in town with his band, The Flaming Gerbils. But not everything goes as scheduled when one of Ethan's bandmates gets into a fight with a man interested in investing in the town. When the businessman's body is later found, Ethan's friend is implicated in the crime.
Kathleen wants to help her brother by solving the case, but she has no shortage of suspects from which to choose. Prior to his death, the investor was fighting like cats and dogs with lots of people. If this librarian wants more than a whisker's chance of solving the case, she will need to rely on her trusty feline sidekicks, Owen and Hercules.
Release date: September 3, 2019
Publisher: Berkley
Print pages: 288
* BingeBooks earns revenue from qualifying purchases as an Amazon Associate as well as from other retail partners.
Listen to a sample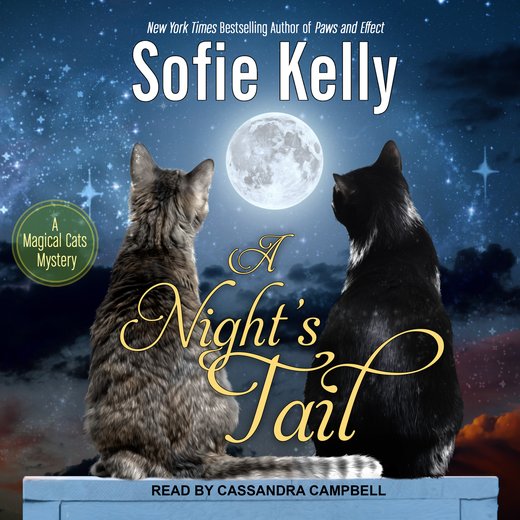 07:03:32
193.88 MB
September 3, 2019
Tantor Audio
2019
A Night's Tail
Sofie Kelly
***This excerpt is from an advance uncorrected copy proof***
Copyright © 2019 Sofie Kelly
Chapter 1
I turned my head when I caught sight of the bodies, but by then it was too late. I wasn't going to be able to forget what I had just seen—even after a brief glimpse. I shielded my face with one hand. "Please tell me that's not . . ."
"Sorry. It is," my best friend, Maggie, said in my ear.
I sighed because the last thing I'd wanted to see that night—or any other night for that matter—was those two bodies: Mary Lowe, who worked with me at the library, and Sandra Godfrey, who was my mail carrier, both dancing on the T-shaped stage of The Brick in black satin and possibly peacock feathers. I wasn't taking a second look to find out for certain.
Mary was tiny and grandmotherly with fluffy gray hair and a collection of cardigans for every season and holiday. That morning she'd been wearing one decorated with an unexpected combination of snowflakes and leprechauns, which was oddly appropriate for early March in Minnesota. The temperature hadn't gotten above freezing all day and there was a good five inches of new snow on the ground from a storm early in the week.
Mary may have looked like the stereotypical cookie-baking grandma—and she was—but she was also the state kickboxing champion in her age group, which was why every teenage boy who came into the library remembered to say "please" and "thank you" and never wore his baseball cap backward in her presence, at least never more than once.
Sandra Godfrey, on the other hand, was quiet and thoughtful, and almost half Mary's age. She was tall with great legs from all the walking she did on her mail route. She and Mary had struck up a friendship when Sandra had helped us with a collection of photos that had been found behind a wall at the post office and had ended up in the library's possession.
"You didn't tell me that they moved amateur night," I said to Maggie.
"I didn't know," she replied, somewhat absently. She was staring in the direction of the stage, a slight frown creasing her forehead, green eyes narrowed. "Do you have any idea where Mary got those peacock feathers?"
"No," I said. "She didn't mention them."
This wasn't the first time I'd accidentally stumbled across Mary dancing. She had fabulous legs for a woman of any age and she didn't lack self-confidence. But it was hard—at least for me—to nonchalantly discuss library usage figures with someone I'd seen the night before doing a bump and grind to Meghan Trainor's "All About that Bass," especially since I knew that someone was likely to offer to loan me a bustier and fishnets so I could try getting up on stage myself. Mary had teasingly offered more than once to teach me some moves. I just couldn't picture myself dancing in front of what seemed like half of Mayville Heights in any kind of feathers—peacock or otherwise.
We were at The Brick, a club that featured exotic dancing, including a once-a-week amateur night, along with some surprisingly good local bands the rest of the time. It was dark and loud and smelled like beer and fries. My stomach growled.
I surveyed the crowded space and caught sight of my brother, Ethan, at a table on the other side of the room, gesturing with his hands as he talked, the way he'd been doing since he'd first learned to talk. Ethan was average height, four or five inches above my five foot six. We had the same dark hair but he wore his messy and spiky these days, while mine brushed my shoulders. He had hazel eyes where mine were brown, a rangy build and our mother's charm. The two of us actually looked more alike than either of us did to our sister, Sara, who was also Ethan's twin, but the two of them shared the same fiery intensity when they felt passionate about something, be it purple crayons, Vans shoes or food waste.
"Over there," I said to Maggie, tugging on the sleeve of her red-plaid jacket and gesturing toward the back wall with my free hand. I had worked late at the library and Maggie had had a meeting at the artists' co-op that she was part of, which was why we were late joining everyone.
"What? Oh, okay," she said, giving her head a shake and turning her attention back to me. I had a feeling she was still thinking about those peacock feathers. As an artist, Maggie could be pretty intense herself sometimes.
We were almost at the table when a man tapped Maggie on the shoulder. She turned around to see who it was.
"Zach, hi," she said, a smile lighting up her face.
"Hey, Mags, what are you doing here?" he asked. He had thick brown hair pulled back in a man bun and dark skin. He was wearing jeans and a snug-fitting black T-shirt from the Rolling Stones' Voodoo Lounge Tour. His most striking feature was his startlingly deep blue eyes.
"Meeting some friends," she said. "Are you working tonight?"
Zach nodded but he'd already turned his attention to me. "Hi, Maggie's friend," he said with a smile. "I'm Zach Redmond."
"Hi, Zach," I said. "I'm Kathleen." He was cute in a naughty-little-boy sort of way.
My stomach growled then. Loudly.
"Aww, didn't anyone feed you today?" he asked.
"I kind of missed supper." It had been a busy Friday night at the library. It had been a busy Friday period.
"Spicy fries," he said, snapping his fingers. "Come up to the bar. I'll take care of you." He winked and gave me his naughty-boy smile again.
I smiled back at him. "I'll keep that in mind."
He lifted a hand in good-bye to Maggie and headed for the bar, weaving through the crowd.
Maggie had been watching our conversation with an amused expression on her face. "Zach is in my yoga class," she said. As well as being an artist Mags taught yoga and tai chi. Her tai chi class was where we'd first met. "He's also a big flirt."
I nodded. "It was hard not to notice that."
"He's like a big untrained puppy. Sometimes you have to smack him on the nose with a rolled-up newspaper."
I laughed at the mental picture of Maggie at the front of her yoga class with a rolled-up copy of the Mayville Heights Chronicle at her side.
Marcus got to his feet as we reached the table, giving me a smile that still made my stomach flutter. Detective Marcus Gordon was tall with wavy dark hair and blue eyes. What mattered was that he was a good man; ethical, hard-working, kind. I smiled, remembering how Mary had once described him: "He is a good man inside, but that candy shell outside looks pretty dang delicious!" I had to admit she was right.
Marcus looked around, spotted an empty chair and gestured to me to take his seat while he went to get the chair.
I sat down next to Brady Chapman as Maggie took the empty seat on the other side of him that he'd somehow managed to save for her. Brady was . . . I wasn't exactly sure what he was when it came to Maggie. They were more than friends but they weren't exactly a couple, either. I noted the way they smiled at each other and how their eyes stayed linked a little longer than just friends' would.
Brady had pale blue eyes and salt-and-pepper hair he wore clipped short. He liked science fiction—novels and movies—pinball and a good argument. He'd practiced law in Chicago but Mayville Heights had eventually called him back home, although he still took cases in Minneapolis, an hour away, from time to time. He was deep in conversation with Ethan at the moment, elbows propped on the table, which was cluttered with glasses and empty plates.
Ethan, along with the members of his band, The Flaming Gerbils, was going to be in Mayville Heights for the next two weeks with a three-night gig in Milwaukee scheduled for the middle of the visit. It would be the most time we'd spent together since I'd moved to Minnesota just over three years ago. The band had just finished a successful string of club dates in the Midwest—Chicago, Springfield, Des Moines, Kansas City, and Minneapolis.
Ethan was spending time with me, his first visit since I'd moved to Minnesota or, as he liked to teasingly call it, the Land of Bigfoot and Lumberjacks. The rest of the band, Milo and Devon—Jake had left the group to go to art school—were taking a break and, in Milo's case, planning a visit to a woman in Red Wing who made guitars and restored vintage instruments. Devon had met a girl in an online chatroom and gone to see her.
"He thinks she might be the one," Ethan had said when I'd asked where their bandmate was.
"Not again," I'd said, rolling my eyes. Devon fell in love more frequently than most people got their teeth cleaned.
Milo had shrugged. "The guy is a romantic. What else would you expect from a dude whose favorite movie is The Princess Bride?
Milo was across the table from me now, leaning back in his chair, one hand tented over the beer in front of him and an amused smile on his face as Ethan continued his conversation with Brady, hands darting through the air. Milo, who was the Gerbils' bass player, looked like a young Timothy B. Schmit from the Eagles, dark hair halfway down his back, dark eyes, long fingers. He was hoping the luthier in Red Wing could restore a battered vintage Martin acoustic bass he'd bought for a few dollars in a yard sale at an old farmhouse in Maine.
Marcus had come back with the chair, which he squeezed in next to me. He sat down and I felt the warmth of his arm against mine. Derek Hanson was on his other side. He was The Flaming Gerbils' opening act and he'd been sitting in with the band on some of their songs, playing lead guitar on several of them since Jake was gone.
Ethan and the guys were in their early twenties while Derek, I was guessing, was in his late thirties. I knew he had one son, Liam, from a relationship he'd had when he was twenty. He'd told me in a voice edged with pride that his son was graduating in a couple of months and was headed for college in the fall. Derek had fair hair streaked with gray that looked like he'd missed a haircut, and a day or so of scruff on his face most of the time. He was a big man, solid, and an inch or two taller than Marcus's six feet.
He touched my arm. "Kathleen, I'm going for a beer," he said. "Can I get you anything?"
My stomach gurgled again. It was hard not to be enticed by the smell of French fries. "A plate of spicy fries and a small ginger ale," I said, fishing in my pocket for my wallet.
Derek shook his head. "Don't worry about it," he said. "You've fed me three times in the last day. I can spring for a few fries."
"Uh, thanks," I said. Ethan was staying with me while the guys were at a bed-and-breakfast downtown. I'd volunteered to feed everyone.
This was the first time Derek had offered to pay for anything since the guys had gotten to town. Ethan had arrived with a box of chocolate mice from L.A. Burdick in Back Bay—one of my favorite treats. Milo had shown up with a couple of gallons of milk at breakfast—"I've seen Ethan eat cereal," he'd said with a grin as he stashed the containers in my refrigerator.
Derek gestured at the glass on the table in front of Marcus. "You want another one?"
"I'm driving," I added.
Marcus nodded. "Yeah, thanks."
Derek waved away his money. "I've got this," he said. "You got the last round." He headed for the crowded bar.
I was finding it a bit of a challenge to warm up to Derek. He shared very little about himself so it was hard to get to know him. Or maybe it was just that I missed Jake, who'd been hanging around my parents' house since he and Ethan had met in sixth grade. Jake, who filled every scrap of paper he got his hands on with sketches of whatever happened to catch his eye, was an open book, quick to smile, quick to step up and help out. Derek was more like a book with uncut pages, a reference I realized only another librarian would understand.
Marcus leaned in close to my ear. "How was your day?" he asked.
"I think the printer is truly ready for last rites this time," I said. "Susan tried to fix it but she didn't have any luck."
"I didn't know Susan knew how to do that," Marcus said. "I would have gotten her to look at my printer instead buying a new one."
I held up a finger. "Number one, your printer was so old the company no longer had any customer service manuals for it, and number two"—I added another finger—"Susan's way of fixing the printer is to give it a couple of whacks on one side and use one of her made-up swear words." Before he could say anything I raised an eyebrow. "Although to be fair that has always worked with the library's coffeemaker."
Marcus laughed. "I'll keep that in mind. You know how often someone breaks a coffeemaker at the station." He shifted in his seat. We had more chairs at the table than it was designed for. "So what exactly is a made-up swear word?"
"Apparently the twins had picked up a couple of not-so-polite words. She told them to be more creative." Susan's identical twin boys were definitely creative. They were also scary smart.
"And they came up with?" Marcus raised an eyebrow.
"Glass bowl," I said. "According to Susan, useful when you're stuck in traffic."
He nodded. "I like it."
"Son of a horse."
Marcus shook his head and smiled. "I think I know how they came up with that one. I helped Eric get his car out of a snow bank last month."
I smiled back at him. "According to Susan he's behind all of the boys' questionable vocabulary." Eric Cullen was the twins' father and Susan's husband. He also owned Eric's Place, my favorite place to eat in town.
Off to the side I suddenly heard the sound of a dog whimpering followed by raised voices. Marcus and I both turned in the direction of the noise. Two tables away, closer to the busy bar, was a man who looked to be in his early thirties with a service dog, a beautiful German shepherd with dark-chocolate-and-black coloring. The man had two prosthetic legs. A veteran, maybe? One arm was wrapped protectively around the dog. He was exchanging words with another man, who loomed over them.
The second man was just under six feet or so I was guessing—with a thick midsection, more fleshy than muscle. His brown hair was cut in a style that had taken a lot more than twenty minutes in a barber's chair. I was pretty sure his sweater was cashmere. His jeans were worn at both knees, but it was the kind of worn that he'd paid a lot of money for, not the result of a lot of hard days' labor. And he was drunk. I could see that his face was flushed and he swayed just a little. He wasn't standing up straight, I was guessing, because he wasn't capable of it.
Keith King was sitting at the same table and he got to his feet. Keith was on the library board and he was dad to Taylor, who had worked on our summer reading program. I couldn't catch all of what he said to the drunk but I could see the tension in his body, in his clenched fists and the rigid way he held his shoulders. The situation was close to getting out of hand. I couldn't get most of the drunken man's words but I could hear his tone and I didn't hear any remorse. He'd done something to the dog—kicked it most likely—that much was clear, and it didn't seem as though he was sorry.
Marcus had already gotten up and was making his way to the table with Brady right behind him. Before they could close the distance the drunk said something to Keith and I saw him pull back his leg, like he was going to kick the dog a second time.
He didn't get the chance. Derek was passing the table on his way up to the bar. His right fist caught the left side of the man's jaw. He swayed backward like an old-style inflatable clown punching bag. Marcus caught the man by the shirt collar just as one of the bouncers reached them. Derek gave his fist a shake like he was shaking off a cramp. I hadn't noticed him detour from his trek to the bar. Now he stood there glaring at the intoxicated man.
Everyone at the table had gotten to their feet with the exception of the man with the prosthetic legs. Keith and Derek were both talking at the same time. The drunk was shouting and rubbing his chin. For a moment I thought I heard him say something about Christmas, which didn't make any sense. Marcus spoke to the bouncer, who nodded and then stood there, arms folded, black T-shirt stretched smooth over his muscles. Still holding on to the drunken man by the scuff of his neck, Marcus leaned down and spoke to the dog's owner. When he straightened up he said a few words to Derek before sending him back in our direction.
"You all right?" Ethan asked as Derek reached the table.
Derek nodded. "Asshole," he muttered darkly. The knuckles on his right hand were already starting to swell. Maggie pushed away from the table and headed to the bar without a word.
"Do you know that man?" I asked. "I thought I heard him say something about Christmas."
Derek flushed. "I think it was just a shot at my clothes." He glanced down at the red quilted vest and red-and-black shirt he was wearing. "Guy's a jerk."
I glanced around, wondering where the band we had come to hear was. People were restless, a lot of them on their feet, and too many voices just a bit too loud seemed to rumble through the room like distant thunder, warning that a storm might be ahead. Marcus may have diffused the immediate situation with Derek and the drunk, but that didn't mean that there still couldn't be trouble. People were looking our way. The drunk had looked familiar for some reason I couldn't place. I was guessing at least some people in the bar knew who he was.
I leaned across the table. "Sing something," I said to Ethan.
"Yeah right," he said, rolling his eyes. "I'll get the whole place doing 'Row, Row, Row Your Boat' as a round. Or would you rather we all held hands and sang "Kumbaya"?"
I pushed my hair behind my ear with an impatient gesture. Ethan hated me telling him what to do. I had a mental image of him as a two-year-old, grabbing the socks I was trying to put on his chubby toddler feet, running down the hall and flinging them into the middle of the kitchen floor, standing there, feet planted wide apart, defiance blazing in his eyes.
I glared at him. "Don't act like a guy. I don't see any sign of the band or any more dancers. And it's getting tense in here."
He looked around. I knew he had to feel the unsettled energy in the room. "We don't have our instruments," he said, swiping a hand over his chin. I knew that gesture. He was thinking about what I'd said. "Anyway, we can't just start singing."
This time I rolled my eyes. "Right. Because you've never done that before."
Ethan made a face.
"'A Hundred Other Worlds,'" I said. You don't need instruments for that song." "A Hundred Other Worlds" was my favorite Gerbils song. Ethan had written it. The love song featured just voices and guitar but it sounded equally beautiful with just the guys' perfect harmonies. "Please," I added.
He exhaled loudly. "I suppose next you'll play the 'I changed your diapers' card." The gleam in his eyes told me I'd already won.
I held up my phone. "No, but I could play the video of you drumming on a box of oatmeal wearing nothing but a smile and a saggy diaper."
"You're mean," he said, but he was already getting up.
"And I'm older and I practice while you're asleep," I finished.
Ethan elbowed Milo and raised an eyebrow at Derek, tipping his head in the direction of the stage. Derek nodded and set the makeshift icepack that Maggie had gotten for him—ice wrapped in a striped cotton bar towel—on the table.
"Thank you," I said.
Ethan shrugged. "Yeah, well if we don't sing the only other option would be you dancing."
I tried to swat him but he darted out of my way.
The three of them made their way over to the small stage the various bands used. Milo and Derek lined up behind Ethan, hands behind their backs. Ethan glanced over his shoulder at them, then turned to face the crowd and started to sing. He didn't have a mic. He didn't need one.
It started with the tables closest to the stage. People stopped what they were doing to listen, dropping back into their seats one after another, focused on the music, focused on Ethan's voice, on all three of their voices.
It gave me goose bumps. On the other side of the table Maggie was mesmerized. I saw her rub her hand over her arm as though maybe she had goose bumps, too.
A hand touched my shoulder. Marcus dropped into the chair beside me as Brady slid in next to Maggie. I linked my fingers with his but I couldn't take my eyes off of my baby brother. Neither could anyone else.
I'd always known Ethan had talent. He was three when, after standing for the national anthem at a Red Sox game, his tiny hand over his heart, he'd turned to Dad and proclaimed emphatically, "Out tune!" about the off-key actress who'd been singing. And he'd been right. It made my big-sister heart swell with pride to look around and see so many other people recognizing Ethan's talent.
They finished the song and for a few seconds silence hung in the air. Then someone began to clap. Someone else let out a long, sharp whistle. The crowd, as they say, went wild.
The scheduled band, the band we'd gone to The Brick to hear, showed up right after that. The Flaming Gerbils ended up sitting in for two songs with them. Someone found a guitar for Derek and once the crowd heard him play everyone seemed to forget about the earlier incident. He was good, I realized. Not Jake, but equally as talented. I leaned back against Marcus's shoulder, enjoying the music and the company, relieved that everything was okay.
Derek came back to the table when they finished and sank onto the chair next to me. Brady and Maggie were up dancing. "Kathleen, I'm sorry," he said, swiping a hand across his chin.
"You don't owe me an apology," I said.
"Yeah, I know," he said. "But these are your friends and people you know and work with and that guy acted like an ass."
I wasn't sure what he was getting at. I glanced over at the table where Keith King, the man and his service dog and their friends were still sitting. "He kicked the dog, didn't he?" I asked. "The drunk, I mean. And he was drunk."
Derek nodded. "Yeah, he kicked the dog—he was going to do it again—and he was drunk. Then he said something about freakin' animals being everywhere because guys have lost their . . ." He gestured with one hand and I was pretty sure I could guess how to finish the sentence. "I lost my cool. The guy's a vet. I saw his cap on the table. How could anyone say that about a man who's a hero and then kick his dog?"
"Your intentions were good," Marcus said, "but maybe next time you could let the dog's owner speak for himself first."
Derek nodded, but I saw a flash of annoyance in his eyes. "Right, I get it," he said. "It's just that my dad's a vet—Vietnam—and I walk dogs at a shelter back in Boston. I don't think that that kind of behavior should be ignored. I think it should be called out." There was a slight self-righteous edge to his voice.
Derek looked at Marcus. "I suppose there's going to be some kind of fine."
"No one was arrested," Marcus said. "No charges. No fines." I saw him glance at Brady. "The gentleman saw the error of his ways."
I wondered what Marcus and Brady had said to the man. I glanced over at the nearby table again. Keith caught my eye, raised one hand and smiled. I smiled back at him then I turned my attention to Derek again. "Do you have any idea who that man was?" I asked.
"He doesn't live around here?" Derek asked.
I shook my head. "No. But there was something familiar about him. It could just be that he's a tourist who came into the library looking for directions." Had the man been in the library? No, I was fairly certain I hadn't seen him there. Maybe I'd noticed him at Eric's Place when I was getting coffee. Or could he have been in the artists' co-op store when I stopped in to talk to Maggie?
"His name is Lewis," Marcus said.
I narrowed my eyes at him. "Wait a minute. The businessman that the development committee has been talking to? The one who might set up his new supplement business in one of the empty warehouses down by the waterfront?"
Marcus nodded.
Now I knew why I'd thought I'd seen Wallace somewhere before. Maggie and I had gone to a meeting about Wallace's pitch to the town. He hadn't been there, but there had been a photo of the man inside the information packet we'd received.
"Way to make a good impression," Derek said with an offhand shrug.
Ethan came back to the table then, dropped into the chair across from me and grinned. "That was cool," he said, his face flushed, eyes gleaming. "Man, those guys are good." He looked at Derek. "That guitar is a Takamine?" It wasn't really a question.
Derek leaned an elbow on the table and smiled. "It is. I did like the way it sounds."
Ethan laughed. "So do I see one in your future?"
Derek shook his head. "Liam starts college in the fall, remember?" He glanced at Marcus and me. "I never went to college. Not gonna happen to my kid. So no new guitars for his old man until he makes it big. My old Gibson is good enough for me."
Derek was a good enough musician that I felt certain he could have gotten music out of half a dozen rubber bands stretched over an empty cereal box. Ethan was watching me, I realized then, sprawled in his chair a grin on his face.
"What?" I asked.
"Just waiting for you to say 'I told you so.' You're getting slow in your old age, big sister."
"I figured the 'I told you so' was self-evident." I leaned back in my own seat, copying his body language.
Ethan laughed. "This calls for a beer," he said.
The words were barely out of his mouth when our waiter appeared at the table with two pitchers of beer and a big basket heaped with spicy crispy fries.
"Thank you," I said to Marcus. He must have stopped at the bar on his way back to the table. My fries and the drinks had been forgotten in the aftermath of Derek's altercation with the drunken man.
"I didn't order anything," he said.
"I'm sorry. We didn't order any of that," I said to the waiter.
"This is from Mr. King," he said as he set the two pitchers in the center of the table. He put the fries in front of me. I glanced over at the bar. Zach, Maggie's bartender friend, lifted a hand in acknowledgement and smiled as though he'd been the one to send the fries and not Keith.
I snagged one French fry. They were crispy, hot and perfectly spiced. I could feel the heat on my tongue. I leaned sideways, caught Keith's attention and mouthed a thank-you. That got me a warm smile in return. Keith wasn't a demonstrative man. I realized the man with the service dog must be someone special to him.
Marcus and I got up to dance after I finished my basket of fries. He caught my hand and pulled
We hope you are enjoying the book so far. To continue reading...
A Night's Tail
Sofie Kelly
Copyright © 2022 All Rights Reserved
Also in this series
Also by this author