A Long Stretch of Bad Days
Book info
Sample
Audiobook
Media
Author updates
Lists
Synopsis
From award-winning author Mindy McGinnis comes a thrilling and gripping YA mystery about a small town's past and the secrets unearthed by way of two teen girls—and a podcast. Perfect for fans of Sadie, The Cheerleaders, and A Good Girl's Guide to Murder.
A lifetime of hard work has put Lydia Chass on track to attend a prestigious journalism program and leave Henley behind—until a school error leaves her a credit short of graduating.
Bristal Jamison has a bad reputation and a foul mouth, but she also needs one more credit to graduate. An unexpected partnership forms as the two remake Lydia's town history podcast to investigate the Long Stretch of Bad Days—a week when Henley was hit by a tornado, a flash flood, as well as its first, only, and unsolved murder.
As their investigation unearths buried secrets, some don't want them to see the light. When the threats escalate, the girls have to uncover the truth before the dark history of Henley catches up with them.
Release date: March 14, 2023
Publisher: HarperCollins
Print pages: 368
* BingeBooks earns revenue from qualifying purchases as an Amazon Associate as well as from other retail partners.
Listen to a sample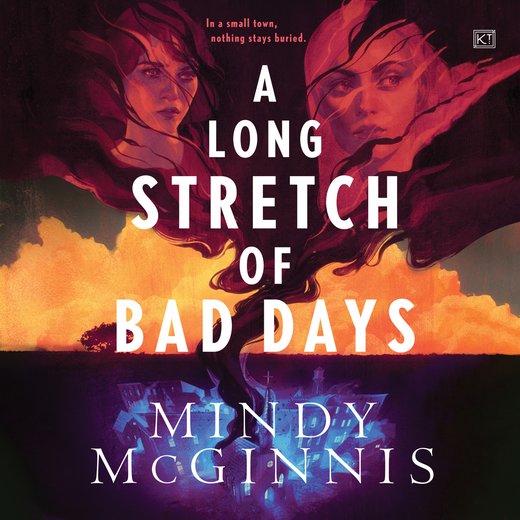 09:08:24
251.05 MB
9780063230408
March 14, 2023
HarperCollins
A Long Stretch of Bad Days
Mindy McGinnis
I don't mind living in a small town; I just don't want to die in one.
I also am not interested in serving time in one, either, but that possibility is growing exponentially, as I seriously consider murdering the guidance counselor's secretary. But, of course, I'm not allowed to do that. For one thing, it's illegal. For another, I'm Lydia Chass, and being a Chass in a small town like Henley means something . . . mainly that you're good and kind, earning the respect of everyone around you.
"I'm sorry, what?"
I say it the right way, the nice way. With a smile. But my eyes must be hard, or maybe my smile is showing too many teeth, because Mrs. Pascale can't quite meet my gaze.
"We don't know how it happened, Lydia, truly," she says, her hands fussily rearranging things on her desk. A coffee mug that reads pencils but holds only pens. A photo frame that proudly announces My Grandchildren! that exhibits only one child. A red Expo marker cap that sits loosely over the tip of a black Sharpie. Nothing makes sense here, and everything is wrong, yet Pascale still somehow manages to seem struck with wonder that a mistake has been made in this office.
A very big one. One that could stop me from graduating.
"Walk me through this again," I say calmly, leaning forward. "I don't have enough history credits to graduate, is that right?"
"Yes," Pascale says, nodding in apparent relief that I have grasped the conversation so far. "And we're very sorry about that."
She adds a quivering smile to this, maybe hoping that that particular silver lining will be relayed to my parents, along with the news that their only child just got screwed—even though I'm still totally a virgin. Which has nothing to do with morality; it's much more a factor of having overloaded myself with courses, college credits, extracurriculars, teams, boards, and advisory committees. I put my sex drive on hold in order to organize blood drives, food drives, dog-adoption drives, and anything else that would look good on a résumé. Because Ivy Leagues aren't impressed when you're the valedictorian of a graduating class of sixty-eight students.
And they're definitely not impressed when you don't even graduate.
"I'm very sorry about that, too, Gladys," I say, glancing at the plaque on her desk for her first name before dropping it.
She winces, and I know that particular bomb hit the target, as it should; Gladys is a terrible name.
"But being sorry doesn't put me any closer to what I need," I say, keeping my voice calm. "So, before I go home and tell my parents that the guidance department at Henley High has ruined any chance I have of getting into a first-class journalism school, why don't you tell me how this is going to be fixed?"
There's a rapping of knuckles on the door behind us, which stands open. I know it's Principal Walton without turning around in my chair. He's exactly the kind of person who doesn't have the confidence to walk through an open door without permission.
"We have an idea about that, Lydia," Walton says, coming around to Pascale's side of the desk.
She visibly relaxes, like having a witness means I will back down. The Chass veneer has always kept me on the safe side of social acceptability, but while I might have my dad's eyes, the volatility that lurks beneath them can't always be hidden.
"Which is?" I ask.
"The board and I came to an agreement that this is a very unfortunate incident," he says, leaning back against the wall, like we're buddies having a chat about baseball. Not discussing my future, or the fact that Henley High just went to town on it with a chain saw.
"And we came to the conclusion that no one is really at fault here," he finishes up, giving me a quick shrug like, Things happen, Lydia. You understand.
Things
happen. They do. They just don't happen to me.
"'No one is really at fault here,'" I repeat, narrowing my eyes. "It's an interesting point of view. I guess, if we want to worry about blame—which, I can see why that would be a topic of conversation—we wouldn't want to put it on a particular person, right?"
Principal Walton is nodding along, like he's sure the words I'm saying are in agreement with his own, but for some reason the tone is making him uneasy. It's called being facetious, and I might explain that later. But right now I have a point to make, and I'm about to drill down.
"Because if we said a particular person was responsible for this mistake, that would probably be Mr. Benson, the former guidance counselor, right?"
Gladys nods quickly, like I'm doing a good job of identifying school staff. I tilt my head toward the closed door to the right, which has the words Guidance Counselor painted in black on the window. Underneath that, the outline of Mr. Benson's name can still be made out; a janitor scraped it away only a few days ago. The room beyond is darkened, the square of the window a black hole that my GPA is about to be sucked into.
"And if Mr. Benson were responsible, that would reflect poorly on the people who hired him, wouldn't it?"
Walton shifts against the wall, recrossing his arms.
"Lydia." Glady's jumps in, eager to deflect. "You know that Mr. Benson has been going through a really tough time."
I do know. Everyone knows. It's Henley. But the fact that his wife left him for another woman doesn't strike any real chords with me. My grandpa died holding my hand, and I still took the SAT the next morning.
And got a 1600, thanks.
"A tough time," I repeat. "And we wouldn't want to make that any worse, right?"
"Oh, no," Gladys says, but Walton is watching me, suddenly aware that there's blood in the water, and it's probably not mine.
"Or tarnish his reputation," I continue. "Maybe we're even worried about his feelings a little bit?"
"Very much," Gladys says, like the self-worth of incompetent guidance counselors are at the top of Maslow's hierarchy of needs. But none of this is a surprise to me. I've lived in Henley my whole life, so I know this game. We're all going to be nice. We're all going to say the right thing and not use words that could hurt. The only salt that gets passed around in this town is at the dinner table in private homes. In public, we might as well be spitting fudge in each other's mouths, we're so damn sweet.
But I'm Lydia Chass, and I'm done with that. Being a Chass means two things—people expect you to be nice and polite, and I expect to get my way. Sometimes those two things are in conflict with each other; this is one of those times.
"So, let's not blame Mr. Benson," I say, getting up from my c
hair and crossing over to the darkened room. The knob turns in my hand, and I breeze into Benson's office, the motion-sensor lights flickering to life above me.
"Lydia! Wait!" Gladys's rolling chair hits the wall behind her, just as Principal Walton says, "You can't just—"
Of course, someone who knocks on open doors would think that I can't just.
But I can, because I choose to, and I will, and because I am Lydia Chass, and they're about to find out that if they're going to screw with me, they're going to need more than muttered apologies and one-shouldered shrugs.
"It's okay!" I tell Gladys as I reach for the bottom left-hand drawer of Benson's desk. "I don't blame him," I reassure her when it slides open. "I blame this."
I set the half-empty bottle of Jim Beam in the center of the former guidance counselor's desk. I rest my hand on the lid, tilting the bottle back and forth as I talk, listening to the slosh of the bourbon inside.
"We can't blame Mr. Benson and hurt his feelings, tarnish his reputation, or get the board and administration in any type of trouble," I say. "So we'll blame this bottle. I'm happy with that for now, as long as your idea about how to fix this is a good one."
"Well, Lydia," Walton says, clearing his throat and eyeing my palm as I roll the bottle under it. "The board and I thought an independent study project could be a substitute for your missing history credit. Assuming, of course, that it's of sufficient scope and depth—"
I tap my ring finger against the neck of the bottle; the circle of metal there—part of a meteorite whose trajectory I calculated in fifth grade—rings against the glass, reminding him that scope and depth are not going to be a problem. NASA representatives have only been pictured in the Henley Hometown Headlines once, and they didn't come here to meet him.
On the other hand, I don't think I can barge into the offices of the state Department of Education and start opening desk drawers and flashing space junk while demanding that they change graduation requirements because my guidance counselor was a drunk. The truth is that verbally sparring with Walton and Gladys might be a great outlet for my rage, but in the end, I'm going to have to take whatever deal they give me.
And I'll scope and depth the crap out of it.
"All right," I say, and they both visibly relax. I toss the bottle of Jim Beam at Walton, and he snatches it out of midair. There might be an ex-athlete under all those desk Twinkies and gas station sandwiches, but he's buried deep, and he doesn't have the recovery time to stop me when I open the second drawer to unearth a baggie of unmarked pills.
"And if Mr. Beam doesn't want to take the blame," I tell them, "we can always pass it off on Mr. Benzo, am I right?"
"So what was that all about?" MacKenzie asks in yearbook class.
On my schedule it's listed as a publishing class, but what that really means is that MacKenzie and I are camped out on bean bag chairs in the corner of Mrs. Wilhelm's earth science room. There aren't enough people interested in being on yearbook—or enough students in the high school—to justify having an entire block dedicated to it. So MacKenzie and I just kind of chill and occasionally upload pictures or format things on our laptops.
I'm working on the cross-country pages right now, flipping through the five different action shots we have and deciding if I want to pretend that I care about the sport by making sure everyone gets some exposure, or if I should just feature the sole senior—Brian Phillabrant. Unfortunately, he's extremely sweaty and seems to be in an incredible amount of pain in all the pics, so I decide to go for the group ensembles instead.
"Why do people even run?" I ask MacKenzie, blowing up a shot of Brian's face until his anguish pixelates, turning my screen around for her to get a look.
"It burns calories and builds character," she says, glancing up. "And are you just going to ignore me or what?"
"Probably ignore you," I say, turning my laptop back around. "Why? Did you say something?"
She makes sure Wilhelm isn't looking and then flicks me off. "Why'd you get called to the office?"
Of course this was coming. Lydia Chass was called to the office, and everyone is probably wondering if there was Xanax in my locker or if Harvard said no thanks, and a team of purebred emotional-support dogs have been summoned in to console me. While I'll be landing on the senior personalities Most Likely to Succeed category in the yearbook, if there were a Thinks She's Better Than Everyone Else page, it would be my picture, full-frame. I've always aimed high and never made a secret of it.
And while it would feel really good to throw Mr. Benson under the bus and tell my bestie about his utter failure at his job, I can't quite bring myself to do it. He hadn't even blinked when I trotted into his office as a freshman and told him I needed the most rigorous academic schedule possible and that he had four years to cultivate contacts at Columbia, Emerson, Princeton, and maybe NYU if I decided to lower my expectations.
Benson never sat me down and reminded me that I'm from Henley. Benson never said that I should keep in mind that the only truly famous person in our Hall of Fame (located directly across from the bathrooms) is the CEO of a plastics factory who is currently in jail for violating roughly thirty-five different EPA regulations. Benson encouraged me, right up until I detected the alcohol on his breath and the tremors in his hands. He'd lost focus by then, either constantly checking his phone while we met or staring off into the space over my left shoulder, depending on whether he'd popped a bennie yet or not.
The truth is that the game that Walton and Gladys wanted me to play with them back in the guidance office is one I know all the rules to: be nice, smile, and nod. The efficacy of that approach has put families like mine at the top of the Henley food chain over generations, proof that you catch more flies with honey than with vinegar. But I've got a lot of vinegar inside of me, and keeping the stopper in has become harder and harder as I get older.
I've been smiling and nodding my whole life, Lydia Chass, benign bobblehead. A couple of cracks have let the poison slip out once or twice, but I've always mopped away the mess and followed up the faux pas with a teeth-whitening session, so that the smile would flash even brighter the next time. I might've flown my dark flag a little high back in Benson's office, but generations of Chasses gone before have built a foundation strong enough
for me to flash my temper now and again and still come out safely on the other side of public opinion. Besides, the mea culpa offering they'd devised hadn't been half-bad.
"I'm missing a history requirement in order to graduate," I confess to Kenzie, whose eyebrows shoot right up to her hairline.
"How?"
I wave off the question as irrelevant, relying on the magic of someone being too polite to push for the truth. It works; Kenzie has also lived here her whole life.
"It's okay," I tell her. "Remember my podcast?"
"The one that you made me follow, like, and review on every single platform?" Kenzie asks. "No, I forget. Tell me again?"
I really didn't need that reminder, since her reviews and follows are among the very few On the Ground in Flyover Country actually has. Many of the top-tier journalism programs ask for a highlight reel along with your application, assuming that every applicant attends a high school that has a serious student news channel. One that has things like anchors, desks, blue screens, microphones, and their own budget. Henley High doesn't even have a newspaper, and I don't think Columbia will look too kindly on me just linking to Heather Chapman's Instagram account, which is where we all get our news anyway.
I'd started On the Ground in Flyover Country as a way to illustrate some slice-of-life reporting, the kind that runs right before the credits, hoping to leave the audience with a little bit of feel-good after letting them know that their favorite sports team lost and it's not going to rain anytime soon, so all the crops are going to die.
So far, my podcast has bought right into the smile-and-nod mentality. I talked to Jennifer Phillabrant, who runs the food pantry, about the number of families they feed each month. I spoke with Mrs. Levering, my fifth-grade history teacher, about the Prepacked Packs Program, where every kid in the elementary got a new backpack, filled with school supplies. Today's episode was with Mrs. Nathans, the senior-class adviser, and featured the upcoming blood drive along with a reminder of why donating is so important. Other college applicants might have exposés on distracted driving and teen drinking, but I'm going to pretend like everything is fine and we're all going to be okay, right up until the red button gets pushed and everyone becomes ash particles in a great big mushroom cloud in the sky.
I kind of hate myself for the angle I'm taking, but I also know that the review board at Princeton will probably be eyeball-deep in pie charts and infographics, along with emotionally controlled, acne-sprinkled teens who really, really care about global warming. When my enthusiastic coverage of the annual dog costume winner from the Halloween parade hits them, they might just be grateful for the levity. Plus, keeping it positive means keeping
Mom and Dad happy, which we need at home right now, even more than the human race needs to chill with the CO2 emissions.
"Walton suggested that I refocus the podcast," I tell MacKenzie. "I'll toss up a couple of episodes about the history of Henley, and we'll call it even. I get my history credit, they get to pretend—"
I'm about to say, They get to pretend that they didn't just drop the biggest ball since circles were discovered when a horrible screech erupts over the PA.
"Give that back!"
Everyone jumps in their chairs, jerked out of the half sleep that Wilhelm's sonorous monologue about igneous rocks had induced.
"You can't— Hey!"
It takes a second for me to place Eva St. John's voice. She's the school secretary, and always does both morning and afternoon announcements in a voice so chipper it can't be faked. She actually really does love saying things like "meat loaf sandwich" and "emergency medical forms." But right now, she doesn't sound happy at all. St. John sounds pissed, but she's eclipsed in about two seconds by a voice that is neither chipper, nor professional.
"Can I have everyone's attention, please?" a coarse female voice asks. "I want the whole school to know that I'm about to get fucked, and I don't mean in that free-YouTube-porn kind of way, either."
"What the hell?" MacKenzie whispers to me, but I can only shake my head.
Mrs. Wilhelm is staring up at the ceiling, her mouth working like a fish out of water. The freshmen in her class are glancing at each other, probably wondering where the motherly, happy, high-fiving staff of the middle school has gone to.
There's a scuffle over the intercom, then the sound of a door slamming, and someone pounding on it, demanding it be unlocked.
"No more commercials, I promise," the voice continues. "Just a straight-up PSA from Bristal Jamison."
"Ohhhhhh . . . ," MacKenzie says. And suddenly everything makes sense. Bristal Jamison.
A fellow senior who has been suspended more times than a piano has keys (eighty-eight—I know these things) is mad about something . . . again. The only thing that makes this time different is that she's taken her usual method of communication—screaming obscenities in the hallway—to a different level by hijacking the PA system.
"It looks like I won't be graduating," Bristal continues. "So all you underclassmen bitches can look forward to another year of getting Jamisoned."
My ears perk up as one of the freshmen puts his head down on his desk. Bristal nailed him with a baseball during gym class, claiming to be confused; she thought they were playing dodgeball. She also said
it had nothing to do with the fact that he had just dumped her little sister, making Mariana cry in the hallway.
"Not graduating, big surprise," MacKenzie sniffs. "Probably doesn't have the attendance."
"No," Bristal immediately contradicts her via the speaker. "I'll be here next year because—news flash—our guidance counselor is a drunken idiot."
"She buried the lede," I say.
"I don't know." MacKenzie shrugs. "The YouTube porn line was pretty good."
There's a crash and a huff as Bristal pulls the mic right up to her mouth. Her words come out low and fuzzy, her voice dropped deep in a mocking tone. "Tune in next week for my next episode titled, 'Sorry, kids! Nobody's going to college, because somebody has to pump the gas.'"
That gets a snort, and Mrs. Wilhelm covers her mouth, faking a sneeze.
"Get your goddamn hands off me, Walton! You nasty-ass son of a—"
There's a crack and the PA goes out, breaking the spell Bristal Jamison had very forcefully cast over the entire school.
"I really hope that didn't go out to the whole district," MacKenzie says, her thumbs flashing over her phone as she texts her brother in the elementary wing. "I don't want to sit through Mom and Dad explaining what porn is over dinner tonight."
"How old is Jude again?" I ask.
"Nine," she answers, and I wave off her concern.
"He already knows."
We hope you are enjoying the book so far. To continue reading...
A Long Stretch of Bad Days
Mindy McGinnis
Copyright © 2023 All Rights Reserved