A Good Dog's Guide to Murder
Book info
Sample
Audiobook
Media
Author updates
Lists
Synopsis
Visitors are arriving in droves to spend Thanksgiving in the mountains of pet-friendly Wagtail, Virginia. Many of them are bringing dog and cat gingerbread houses to enter in the contest that will be held in the new convention center. Wagtail resident Orly Biffle bequeathed the land to the town in his will, provided that they not cut down the grand old oak tree on the property. Orly's children are mighty miffed that they didn't inherit the prime piece of property overlooking the lake.



Holly notices that Trixie and Twinkletoes, her calico kitty, are fixated on the big oak tree. Trixie barks at it as though she thinks it's a corpse! Just as contestants are spicing up their sweet gingerbread creations, the majestic tree drops an enormous limb. The mayor declares that the tree is dangerous and must come down. When a bulldozer churns up some roots, the tree falls over on its own accord revealing a body inside the trunk! Initially, everyone suspects this unsavory trick was Orly's doing. But it soon becomes clear that someone is trying to keep the truth under wraps. Trixie and Twinkletoes now have to help Holly sniff out some suspects and leash a conniving killer.
Release date: September 6, 2022
Publisher: Berkley
Print pages: 288
* BingeBooks earns revenue from qualifying purchases as an Amazon Associate as well as from other retail partners.
Listen to a sample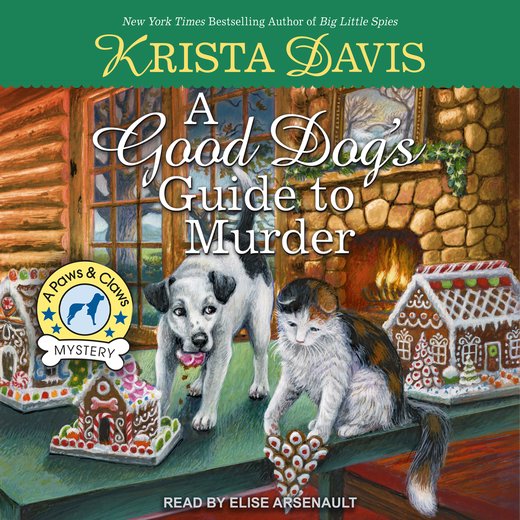 08:00:25
219.93 MB
September 6, 2022
Tantor Audio
2022
A Good Dog's Guide to Murder
Krista Davis
One

"Mom?"

I was busy helping our desk clerk, Zelda York, handle a steady stream of arrivals at the Sugar Maple Inn when I looked up and saw my mother, Nell. It had been a couple of years since we had been together in person, but we Zoomed regularly. My mom lived in California and was the last person I expected to see this Thanksgiving.

I darted around the check-in desk and plowed through the guests as if nothing could stop me. "Mom!" I opened my arms wide for a hug.

"Holly!" She wrapped her arms around me and planted a kiss on my cheek.

She held me so tight, I thought she might not let me go.

Trixie, my Jack Russell terrier, wanted in on the action. She danced around us on her hind legs, whining. When my mom released me, I picked up Trixie. Her fur was all white except for her black ears and a round black spot on her rump that ran one-third of the way down her tail, which had not been docked and now wagged so fast it was only a blur.

"Is this Trixie?"

I was shocked to realize that my mother had never met my sweet little dog. "Of course. What are you doing here? We weren't expecting you."

"Surprise!" said Mom, tilting her head and reaching out to stroke Trixie.

I looked around for her husband and her other children. "Where is everyone?"

"I'll explain over dinner. Is that all right? Can you get away for dinner? It's a zoo in here."

"I wouldn't miss dinner with you. Where are you staying?"

"Holly!" called Zelda, crooking her finger at me.

"I hoped I could stay here at the inn."

Uh-oh. We were booked solid. "Follow me." I picked up her bags and led her behind the registration desk. Trixie followed along.

Zelda shot me a look of surprise. We didn't usually bring anyone behind the desk. "Zelda, this is my mother," I said.

Zelda did a double take, which didn't surprise me. I took after my dad's side of the family. Not to mention that my mom looked younger than her years. My arrival as a baby hadn't exactly been hailed with joy because my mother became pregnant with me while still in high school. Now in her late forties, she wore her hair in a sleek short bob and looked great.

Zelda reached out her hand. "Hi, Mrs.-"

"Nell, just call me Nell, sweetheart. I've heard so much about you. I feel like I know you already!"

The woman in front of Zelda, on the other side of the registration desk, coughed with irritation.

"Is there a problem?" I asked Zelda.

The woman said huffily, "No swimming!"

I smiled at her and glanced at the computer screen. "You don't find Swim suitable?"

"We don't want to swim. For heaven's sake, it's November."

I smiled at her. "All our rooms are named after dog and cat activities. It doesn't mean you have to swim."

"Oh!" The woman pointed at Zelda. "She should have said so. But I do need two beds." She aimed her finger at a little girl who was with her. "Kitty and I can't share a bed. I won the Carolina Gingerbread Contest"-she rustled around in a big bag that hung on her arm, pulled out a Sugar Maple Inn brochure, and thrust it at me-"and they said I would have a double room. I'm entering the Wagtail Dog and Cat Gingerbread House Contest. It has a ten-thousand-dollar prize."

I glanced at the screen again and read, Jean Maybury. Requests two beds. She was already sour on the word Swim, and would never be happy with it, even if we told her Queen Elizabeth herself had stayed there. I switched her around with someone else and put Jean and Kitty in a room as sweet as gingerbread. I had stayed there many times and knew firsthand how charming it was.

"All right, then, we now have you in a different room. Enjoy your stay, Ms. Maybury." I signaled our handyman, Shadow Hobbs, and handed him the key to Pounce.


Located in the mountains of southwestern Virginia, Wagtail had once been a hot tourist spot. In the 1800s, wealthy people built mansions there as summer homes to escape the heat. In addition, Wagtail was blessed with pure, clean springs that lured the sick and ailing. But all of that had fallen out of favor. Desperate to revive the tourist industry, the town had looked to dogs and cats. It had become the premier location for people who wanted to travel with their beloved pets. No one had expected the exponential growth as a result.

Dogs and cats were welcome everywhere, including restaurants, which offered special menus for canine and feline diners. Veterinarians, dog and cat massage therapists, and animal acupuncturists had arrived in droves. Stores offered every conceivable thing a pampered dog, cat, or bird could possibly want. They featured the latest in beds, clothes, leashes, and artisanal treats. Not to mention the T-shirts, matching pajamas, lamps, and animal-themed bric-a-brac their owners bought for themselves.

The Sugar Maple Inn had embraced the spirit by naming all the guest rooms after dog and cat activities, and by loaning GPS collars to our guests who brought pets.

Thanksgiving week was always busy in Wagtail. Some people returned to their vacation homes for the holiday. Others came for the beginning of the season to see the lighting of the trees, shop at the Christkindlmarket, and get into the holiday spirit. Visitors also came to enter the annual Wagtail Dog and Cat Gingerbread House Contest or to visit family in Wagtail. Which made me wonder again exactly what my mother was doing here.

I finally turned my attention back to her. But she had disappeared.

Happily, I found her in the office, catching up with my father's mother, whom I called Oma, German for grandma. Trixie sat beside Mom, gazing up at her face. Twinkletoes, my long-haired calico cat, purred on her lap, and Oma's golden retriever, Gingersnap, struggled to get close enough to be petted.

"I worry about him," Mom was saying. A coffee cup sat before her on a table.

"About whom?" I asked.

"Sam. Your father." In spite of the divorce, Oma appeared to be quite comfortable with her former daughter-in-law. I supposed that wasn't terribly surprising. I had never heard Oma say anything bad or even ill-spirited about my mom. Oma sat comfortably in a cushy chair, sipping coffee. She wore what she liked to call country chic, a white blouse topped by a blue sweater knitted by a local artisan, with a matching blue plaid skirt. Hardly high fashion, but appropriate and attractive.

"Is something wrong?" I asked, holding my breath.

"No." Oma said it a little bit too fast, making me wonder what was up. "Where are you staying, Nell?"

Mom raised her eyebrows. "I stupidly thought you might have room for me here. Holly told me that Wagtail had changed, but I never expected anything like this. Is it just because of the holiday?"

Oma smiled at her. "It is no longer the sleepy town in which you grew up."

A few years ago, when Oma invited me to become her partner at the Sugar Maple Inn, I thought she wanted to relax and travel. But then she went and got herself elected mayor of Wagtail, which meant both of us were roped into the town's troubles. On the plus side, Oma was a respected force behind the town's success.

"I have a guest room," I said. "You can stay with me." It would accommodate Mom and her husband, and we could bring up some rollaway beds for the kids, but it would be tight.

Mom looked relieved. "You're certain I wouldn't cramp your style?"

"Are you kidding? It's been so long! I'm thrilled to have you here." I checked my watch. "I need to go over to the new convention center. Want to come or would you rather relax awhile?"

"Convention center? No one told me about that! How can tiny Wagtail afford it?"

Oma rose and patted Mom's shoulder. In the German accent that annoyed her but that I found charming, she said, "It was about time that you came home for a visit. We have much to catch up on."

Mom seemed happy about staying in my guest room, but I was wondering about her husband and her other children. I didn't want to upset her, though. I tiptoed around that subject by asking brightly, "When is everyone else arriving?"

"It's just me this time, Holly."

"Is everything all right?"

"I'll tell you all about it later on." She gave me a little squeeze.

I arranged for Shadow to bring Mom's luggage up to my quarters when he had the opportunity, and the two of us set off for the convention center, with Trixie and Twinkletoes romping along.

We left through the front door of the inn, which led directly to the center of town. A park that we called "the green" sprawled from north to south. Stores and restaurants lined both sides. Mom literally gaped. "This is charming!"

I'd been surprised, too, when I came back as an adult. We turned and walked along a peaceful street.

"You told me everyone gets around on golf carts, but I never imagined that there wouldn't be any cars. I rented a car at the airport," said Mom, gazing around. "But they wouldn't let me drive into Wagtail."

"Permanent residents used to be permitted to keep their cars in their garages, but after someone was hit by a car, the rule was changed. Everyone has to park outside. Kind of like a theme park! Wagtail is a car-free community. It's safer for pedestrians and animals that way," I explained. "We use golf carts, but mostly we walk."

"I love that! It's so healthy. But a convention center?"

"The town is popular, and a lot of companies would like to bring their employees here for a break. So when Orly Biffle died and left land to the town, it seemed the perfect opportunity. It was a most generous donation, especially considering the location overlooking the lake."

"Orly? I remember him. We used to call him Ornery Orly because he was the grumpiest man on the planet. I'm shocked that he would leave anything to the town. He acted like he hated everyone and everything."

"Did you know him well?"

"Not really. His kids, Wyatt and Josie, were in school with me. They must be very upset with their dad for giving the land to the town instead of to them. Do they still live here?"

"They do. They run the family grocery store, Biffle's."

"No kidding? Seems like I remember them helping their dad at a roadside stand where they sold produce and honey when we were kids."

The convention center came into view. A giant two-story post-and-beam building, it suited the mountain setting of tall pines and the lake beyond. Built of stone and local wood, it had opened this morning to submissions for the annual Wagtail Dog and Cat Gingerbread House Contest. Some contestants brought the pieces and assembled them on-site. Others brought their baking equipment and rented houses to bake their masterpieces. A daring few transported their creations complete, hoping they wouldn't be damaged in transit.

The official opening ceremony and judging of the contest were scheduled to take place on Thanksgiving Day. The following day, the town would kick off its Christmas season.

"It's breathtaking!" murmured Mom.

At that exact moment, a cracking sound reverberated through the air and the ground shook beneath our feet.

Two

"Earthquake!" Mom screamed, seizing my arm.

"You've been living in California too long."

"Then what was that?"

We hurried toward the convention center. Stu and Sue Williams bolted out of the front door, along with some people I didn't know.

Trixie and Twinkletoes ran ahead. Trixie zoomed around the base of a beautiful ancient oak tree, barking. A giant limb lay on the ground. It had to be twenty feet long and as big around as a man's thigh. Twinkletoes had already jumped on top of it.

Sue and Stu ran toward us.

"As I live and breathe! Nell DuPuy? Is that really you?" Sue opened her arms.

In case Mom didn't recognize her, I whispered, "Sue and Stu Williams."

"Sue!" They embraced while I walked over to the tree as calmly as I could to retrieve my rascals.

I looked up at it, afraid another branch might give way.

When the property had been cleared for the building, this tree had been left in the middle of a semicircular golf cart driveway. It was supposed to be the magnificent focal point of the entrance.

"Trixie, come." She pinned her ears back and howled.

I wanted to believe that she was on the trail of a squirrel who had taken refuge in the huge old tree. But I knew better. Trixie had a nose for murder. And when she smelled it, her bark was mournful and anxious as though she were trying to tell me about it. I scanned the pristine lawn. No one lay on the grass. As far as the eye could see, there simply wasn't a corpse. Not even a wounded person.

Now that I thought about it, she had raced around that tree and howled every time we visited the construction site. Thankfully, no one had been killed during the construction. I wondered what on earth she was trying to tell me. That the tree was dying?

Stu groaned. "It couldn't have happened at a worse time."

"We're lucky no one was underneath it when that limb fell," I said, wondering how to convince Trixie to stop howling and come to me.

My phone rang. When I answered, Oma asked, "Is it true that the oak tree fell?"

"Just one limb. But it's enormous."

"Shadow is on the way. He should be there any moment. I am coming with Officer Dave."

In the next few minutes, townspeople arrived in droves. Mom and Sue were still chatting, but I noticed Mom hugging a number of people whom she probably hadn't seen in years. Shadow walked over to me, a chainsaw in his hand.

"Would it be wrong of me to take that limb for furniture?"

Shadow made beautiful handcrafted furniture in his spare time. "I don't think so. It would only be chopped up for firewood. Check with Oma to be sure."

Shadow nodded and began to measure the length of the limb by walking next to it and counting his strides.

I tried to catch Trixie, but she circled the tree and evaded me in her agitated state. "Trixie!" I scolded. "Come!"

She looked at me, panting.

Trixie was almost always by my side. She had hopped into my previous boyfriend's pristine car on a rainy night, a wet, dirty, scraggily mess. I hadn't thought I would be able to keep her, but as things turned out, she became my wonderful, devoted dog and truly did listen to me-mostly. Chills ran down my spine. The only times she acted like this were when someone had been murdered.
We hope you are enjoying the book so far. To continue reading...
A Good Dog's Guide to Murder
Krista Davis
Copyright © 2022 All Rights Reserved
Also in this series
Also by this author