A Word for The Silent Patient
Did you get a chance to download some freebies over the weekend? Have you put in your preorder for Skunk Man Swamp? Reg Rawlins is back in book #10 in the series. A trip to the Everglades leads to some interesting discoveries!
Teaser Tuesdays is a weekly bookish meme. Read the rules and more teasers at The Purple Booker. Anyone can play along.
I recently finished The Silent Patient, a psychological suspense/domestic thriller by Alex Michaelides. I would definitely go on to read more by Michaelides. I noticed that there are several one-star reviews at the top of the Amazon page, which is really too bad. The book has over 76,000 ratings with an over 4.5 star average and only 2% one-star reviews and it spent a year on the NYT bestseller list, so don't get the idea that it isn't a good book! As with most psychological suspense, it is a slow-build to the twist and climax, so don't expect it to be a fast-paced edge-of-your-seat thriller. Michaelides builds interesting characters in a unique situation, and while some of the plot points are a bit of a stretch from reality, it is still believable enough to make entertaining reading.
Alicia remained silent throughout the interview. Her lips were pale, bloodless; they fluttered occasionally but formed no words, made no sounds. She answered no questions. She could not, would not, speak.

—Alex Michaelides, The Silent Patient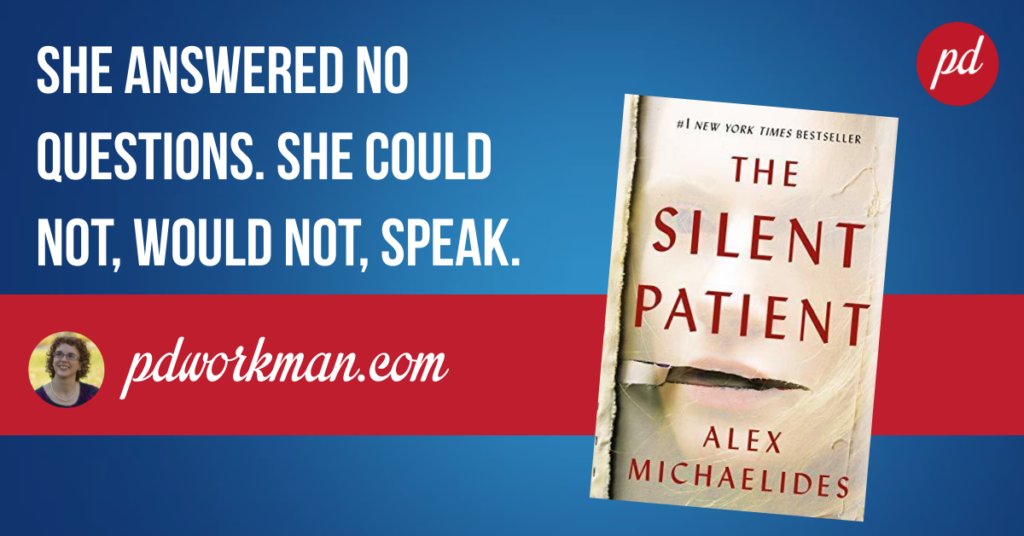 Alicia Berenson's life is seemingly perfect. A famous painter married to an in-demand fashion photographer, she lives in a grand house with big windows overlooking a park in one of London's most desirable areas. One evening her husband Gabriel returns home late from a fashion shoot, and Alicia shoots him five times in the face, and then never speaks another word.
Alicia's refusal to talk, or give any kind of explanation, turns a domestic tragedy into something far grander, a mystery that captures the public imagination and casts Alicia into notoriety. The price of her art skyrockets, and she, the silent patient, is hidden away from the tabloids and spotlight at the Grove, a secure forensic unit in North London.
Theo Faber is a criminal psychotherapist who has waited a long time for the opportunity to work with Alicia. His determination to get her to talk and unravel the mystery of why she shot her husband takes him down a twisting path into his own motivations—a search for the truth that threatens to consume him….
Originally blogged at pdworkman.com