Book info
Sample
Audiobook
Media
Author updates
Lists
Synopsis
UNFINISHED BUSINESS focuses on an ordinary suburban office worker, fundamentally weak but always keeping his eyes fixed on some horizon where a heightened, romantic, better world must surely exist. Faced with the regular stuff of life - work, aspiration, marriage, age, divorce, bereavement - his ordinary plight is sharpened, becoming increasingly urgent. Having lived in a modern condition, confusing pleasure with happiness, wanting the dream to deliver, what do you do when you notice the shadows begin to lengthen on the lawn?
Release date: January 19, 2023
Publisher: Orion
Print pages: 176
* BingeBooks earns revenue from qualifying purchases as an Amazon Associate as well as from other retail partners.
Listen to a sample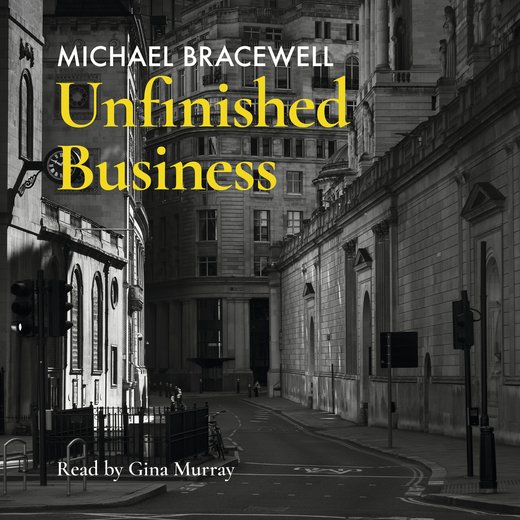 05:06:48
140.45 MB
9781399604420
January 19, 2023
Hachette UK
Unfinished Business
Michael Bracewell
I now introduce a black-and-white photograph, taken in the autumn of 1978.

The subject is my friend Francesca's boyfriend at that time, name of Martin Knight, with whom, as was her custom, she was briefly infatuated to the exclusion of all else. Francesca, then just turned eighteen (I was nearly twenty) and in the first flush of romance, took the photograph herself. Location: the long, overgrown garden of her parents' house in Wimbledon.

I recall the happy delight with which she crouched down to focus the camera, changing position to get different angles and between shots smiling encour­agingly up at her beloved – who was seated, barely daring to breathe, on a precariously flimsy folding garden chair.

But love or luck imbued the portrait with an undeni­able sense of presence. The top button of his white shirt unfastened, this latest beau has loosened what I remember to be an antique silver-grey tie, flecked with pinpoints of pink silk thread. Beneath stylishly cut black hair his young face is still soft-skinned and smooth-jawed; his nose is straight and his lips rather too red. The look in his dark-brown eyes is watchful and uncertain, almost fierce.

In what they hoped to be the style of a matinee idol, there is a lighted cigarette between the middle and index fingers of Martin's left hand – that rests lightly, thumb on high cheekbone, fingertips just touching his left eyebrow, as he inclines his head to one side. Smoke rises in languid coils. It is a successful study of indolent pose, either despite or because of the sitter's self-consciousness, which defined him.

Martin was a little younger than me but seemed much younger. Francesca had told me, protectively I felt, that he wrote poetry. He was eager to please and eager to impress. The way he conducted himself was like a succession of beginnings – hopeful shots at the world that resembled offerings or auditions.

Forty years ago the road ahead seemed to draw us steadily on towards real life. I was glad to get away, and so was Francesca. Not long after that she left for Russia – adventurous, even in those days – and I became a psychiatric nurse.

I have no idea what happened to Martin. I don't suppose I'll ever see him again.

On an overcast January morning in the year 2017 a man was waiting to cross Cambridge Heath Road. White sky over the interminable sprawl of East London. Behind him, in the cold flat light, the shuttered Venus Sports Bar looked as though it had been locked and empty for years.

He was still handsome. His dark hair was silvering at the sides, lending him a mildly distinguished air. He was reasonably but not noticeably tall; his jawline and features had kept their definition. His tired eyes held an expression that was both sorrowful and aloof – wary, perhaps.

His name in full was Martin Graham Crispin Knight. He was fifty-seven years old.

He was wearing a black overcoat, faded black leather gloves – one of which he was holding in his left hand – and a black scarf. His ageing dark suit, black lace-up shoes, white shirt and nondescript tie pronounced him a lifer in the service of office work.

Across the busy junction he could see the dimly lit entrance to Cambridge Heath station. The lights changed; and slowly, as though with effort, he started to cross the road.

The platform was reached by two steep flights of covered stairs. Martin looked up from the dirty bare subway that was open behind him to the street and morning traffic, and then he began to climb.

Such cramping and burning in his legs and feet! Like flame-hot iron shoes that tightened with each step. Vascular disease, claudication …

Only walking might improve the condition while only resting relieved the pain …

Twenty years ago, he and Marilyn – then still his wife – had taken their seats, quiet and scared, in a white office in a private hospital. The consultant sat sideways to his desk, florid beneath an aristocratic mop of silver hair.

'And you must ask yourself,' said the great man, 'do you prefer smoking to staying alive?'

The smartly dressed couple sat very still.

'I do not see an unsullied horizon,' he went on, studying the file. 'You are extremely young.'

Martin's narrowed aorta was reopened.

He gave up smoking, eventually. It had felt like the end of his youth.

With compromised arteries he struggled visibly on his commute. Forced to pause he would watch busy women hurrying to work; and men two decades his junior, lean and focused, striding towards their day.

Now, holding on to the banister, he hauled himself up the stairs to the platform. Finally he reached the top, breathless, his legs hurting. But immediately the air seemed fresher and the daylight brighter. An immense vista surrounded him. He was filled with a sense of calm. This was his favourite part of the day.

He often recalled how not so long ago, this whole area – Dalston, Kingsland Road, Mare Street, Hackney Central – had been desolate, haunted equally by bore-dom, poverty and menace. Melancholy parades of decrepit shops, wire mesh nailed over their windows; broad, apathetically littered streets, eerily empty. Murder Mile. Rotting old picture palaces and deserted parks. Silent estates; a few Victorian churches of extravagant design, mostly shut and shabby.

The elevated stretch of the line ran straight from Liverpool Street, just a few minutes away, through Bethnal Green and Cambridge Heath. Most weekday mornings, watched over by blocks of new apartments with neat balconies and windswept roof terraces, Martin surveyed the changing landscape.

The latest flats with their big windows; a glimpse within of brushed-metal worktops and pale wooden furnishings. To one side a long-abandoned warehouse, open to the sky. The weathered red brick was crumbling, sprouting scrawny shrubs.

It was like a middle-distant future, quiet and grey.

But even – what? Ten, fifteen years ago … in the lobby of the twenty-first century, which did not feel like his century – would you stand up here alone? At any time of day? Or thirty-seven years ago? York Hall Baths, Old Ford Road.

Martin walked to the low bench and sat down more heavily than he had expected. He was alone, he noticed, at seven minutes past nine on that chill midwinter morning, aware of the pain subsiding in his legs, the working day to get through and the vast white sky.

It had been like this for the last few years. His job and rented flat. He had left the rooms rather bare but liked the view from the long kitchen window.

So many summers and sunsets; fleeting epiphanies, a marriage, working weeks, familiar streets, resentments, sudden panics, regrets, nurtured desires. All slipping slowly away, almost as though they had never happened. Just his daughter, Chloe – and she was in her twenties now, dark-haired, pretty, living her own life.

He felt a sudden swell in his sea of tranquillity. For recently, he fancied, he had become aware of an overview – a symptom of age, no doubt; his life presented to him as though by destiny, with an unnerving and unexpected shrug – 'There you go, then' – dismissive, final.

So he reminded himself that there had been births and deaths, loss and love. A life of everything and nothing, during the six decades since he had opened his eyes to asphalt.

Beyond the suburbs of his boyhood, built to follow the railway lines, had arisen: shopping, television, pop, debt, aerobics, irony, computers, phones and coffee shops that looked like Prohibition-era grain stores. Then bigger things – climate change, terrorism – that always seemed far away.

Like the suburbs, Martin had grown in step with the London railway network; his earliest adulthood spent in the old commuting world of overhead wires and grey metal gantries, humming cables and black-oiled tracks; damp waiting rooms that smelt of gas; broken windows and empty subways.

Against such a backdrop he had sought first beauty and then love. To him they were the same thing.

Now, this cold morning, he would take a train to Liverpool Street to go to work.

He sat with his legs stretched out. He had got heavier: the thickening process of late middle age – 'so manly,' an American woman visiting the office had said. Women still found him attractive. 'You've lived!' one had said not so long ago, mockingly, to flirt.

Behind him, in pale silhouette, Canary Wharf – the plain blocks of dust-grey towers; to the right, closer, the glinting curves, cones and rhomboid shapes of the City.

Some clouds had parted, revealing the pale disc of the low winter sun. Standing, Martin could see back streets and a bus depot; further off, the exposed concrete stairwells on the side of some flats; a Somali drop-in centre with crazily punched security glass.

In a broadsheet supplement interview, some months earlier, the subject – an ageing French fashion designer – had been asked: 'Your greatest regret?' And responded: 'Nicotine.'

Martin had noted the answer and felt buoyed for a second. There was a satisfaction in searching through time's files for the start of his addiction to cigarettes. For that, in many ways, had been the start of everything.

It had begun one quiet afternoon when he was fifteen years old, at home in Thornby Avenue, kneeling in front of the sitting room fireplace.

In his mind's eye he saw the smooth black tiles of the hearth, dotted with soot; the brass-claw fire tongs and sabre-handled poker; the elongated decorative brick surround. It was a late spring day, almost summer. The fire was not laid; rain had brought the soot down. His father was still alive. And then he had smoked his first cigarette.

But how could such a significant event have occur-red so quietly?

He had been with a school friend who was hesitant and slightly disgusted. For Martin the love affair with tobacco had been immediate and all-consuming.

Cigarettes, he believed, gave confidence, enlightenment and more; smoking was the enabler of pose and emblem of the aphoristic life, worldly glamour, rebel attitude.

What next in the old files, from memory's cavern-ous registry? To Tiles, a boarding school for boys in Kent.

In those days – 1975, '76 – during the summer holidays, Martin would select a day or wake inspired, dress in his best clothes and wait in warm sunshine for the heavy, acrid-smelling suburban train. Slam doors and luggage racks of knotted string netting. With a carnation in his buttonhole he would travel up to London to do three things.

First, to walk down Piccadilly, past the Ritz, the Burlington Arcade, the Royal Academy, Fortnum & Mason and Simpsons, to 34 Haymarket. Here stood a Georgian double bow-fronted shop, historically for nobility and gentry: Fribourg & Treyer, manufacturers of snuff and purveyors of tobacco products.

Number One Filter de Luxe was Martin's preferred brand, sold in a flat box of dove-grey card, embossed with black and gold.

Came a humid afternoon, around that time, when Martin would watch entranced as lovely Fenella – a teenage brunette Monroe, to him; his first love, painfully unrequited – weighed the pleasingly heavy box in her soft young palm; then held it up, admiring it. They were sitting on the patio at his childhood friend Christine's house; the heat-heavy garden; the neatly mown lawn before them.

Second, tea for one at the Ritz Palm Court. Young Martin, with his broad-lapelled checked sports jacket, oyster-beige Oxford bags, fat-knotted satin-style copper-gold tie. . .
We hope you are enjoying the book so far. To continue reading...
Unfinished Business
Michael Bracewell
Copyright © 2023 All Rights Reserved