Book info
Sample
Audiobook
Media
Author updates
Lists
Synopsis
It may be Vegas, but the odds of being attacked by your boss and outlaw bikers on the same night—slim.
My boss, I should have seen coming. Thanks to the life I left behind. I know an abuser when I see one, and it was just a matter of time until he found out I've been lying.
As for The Knights of Steel MC, the only way to keep them quiet was to go with them, except the club president's obsession with me goes beyond their escort service and BDSM clients. I bet my life on it.
I can't trust anyone—especially not my handler. He's running from his past too, and his infatuation scares me for a different reason.
All I know is that if I want my freedom, I'll need to double down and guard my heart as closely as my body…
Trigger Warning: This is a dark romantic suspense. It contains adult themes and may include triggers for some (non-consensual touching, near-rape, light BDSM activities, confinement, discussions of past sexual abuse experienced by the heroine, and references to the hero's war experiences.) It is not a gender neutral read with much of the plot occurring in an outlaw motorcycle club setting, Intended for 18+
Release date: April 3, 2023
Publisher: Kay Freeman
Print pages: 153
* BingeBooks earns revenue from qualifying purchases as an Amazon Associate as well as from other retail partners.
Listen to a sample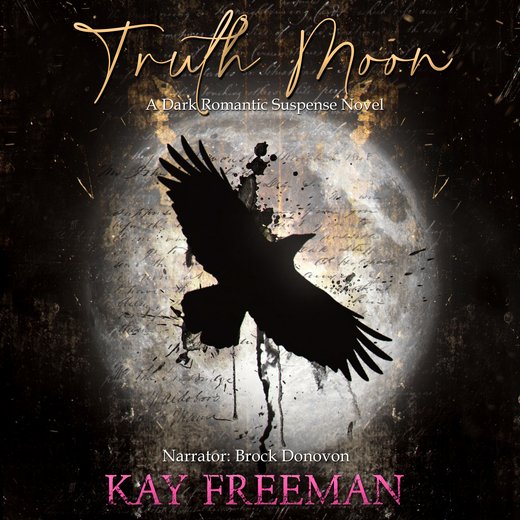 09:35:34
263.49 MB
9798985361896
April 5, 2023
Kay A. Klotzbach
Truth Moon
Kay Freeman
Chapter 1
The Take Down
"Falling stars are Gods and Goddesses throwing kisses at the Moon." ~ Rory Riley
Rory Ducked. The box whizzed by her head, missing by mere inches, landing on the bamboo floor. Bang.
Lloyd barreled towards her, zooming in close, "You'll never get another job in Vegas," he sneered, his spit sticking on her cheek. "I know the owners of every yoga studio in this town." His arms flailed in her face like one of those tube men you see at car washes. He scattered yoga paraphernalia around the studio and shouted obscenities before picking up the gift he'd hurled and finally stalking away. Information on sexual harassment and effective responses had not been part of her 200-hour yoga teacher training curriculum. As Lloyd slammed the door on the way out, the feng shui bells hanging on the frame railed, crashed, and jingled until fading, a quiet uneasiness remaining behind.
"Are you alright?" Sarah, Rory's friend and colleague, asked through the open door linked to Rory's.
"He's totally cray. Would you believe he threw something at me? Luckily, it missed. His behavior is becoming more bizarre every day," Rory said. "All this because I won't date him and accept his chippie bling?" I built one new life. I can create another.
"He's a hit 'em and quit 'em kind of guy," Sarah replied. "I did him once, and he didn't act bonkers like this. What kind of gift?"
"For real? More like graft. A gold choker."
"Me too. I treated it like an initiation. You could have accepted it. I pawned mine."
"We're not Lloyd's harem," Rory said, re-stacking the foam blocks. "He must have gotten a deal and bought them in bulk, wholesale. If I'd kept it, he'd have expected something in return."
"Soul is a great yoga studio. I mean, it was voted best in Nevada last year! And overall, Lloyd treats us well, even gives us control of the schedule."
"Swell, he lets us do our jobs."
"Everything isn't always black and white, Rory. But no matter what, I'll always have your back."
"What Lloyd's doing is wrong," Rory said, organizing the paperwork on the counter. "It's sexual harassment. You need to be woke."
"I've got a number you can call to report him, but let me talk to him first," Sarah said. "It's going to cause a shitstorm. If he doesn't back off, then call the number."
"I'll call the law instead." An idle threat. I can't go to them or anyone else.
"Do what you need to, but get your students' phone numbers or email addresses, in case the school closes or he fires you. But I'll talk to him," Sarah said, patting Rory's shoulder reassuringly and hurrying to the room next door to teach.
Rory's phone beeped. She looked down at a text from her devil.
Lloyd—Uneed 2come 2my house 2night—
—Assist w/schedule—
—If udon't no courses 4u next quarter—
—NVM PTSD class for vets2.—
What a thirsty tool. Rory had designed the post-traumatic stress disorder course. She loved the veterans. She needed the money from the other courses to keep her apartment. Locating a new job in this town, where yoga instructors showed their asanas off on every corner, would be difficult. Funny one, Rory. I'll join them and hold a sign—WILL DO YOGA POSES FOR FOOD. She stuffed the phone in her bag and rushed out the door, ignoring Lloyd's nonsense. He got salty whenever he didn't get his own way.
****
The sun burned hot and high as she headed towards the VFW Hall, but then it magically disappeared behind a cloak of clouds. Her hands itched, bile pushed up from her belly up into her throat, and like a lush she heaved liquid on the pavement as people gawked. If she'd eaten today, the stress wouldn't have affected her as badly. No one wanted to imagine someone else losing it all in some casino. It was Las Vegas, after all. Pathetic. I don't need to take a step into a casino to lose everything.
As Rory reached the front of the VFW, her phone announced an incoming call. She looked at the number. Lloyd again. She remembered the only advice her mother had ever offered her: "Worry about the shit you don't see coming, girl. That's the stuff that will bite you in the ass. Every time."
Rory entered the double doors and followed the red arrow on the posterboard sign. "Yoga for PTSD," it read, with more red arrows taped to the floor. Soothing music played in the low-lit, wood-paneled room, lined with rows of mats. A student stopped Rory and asked a question. She detected the foul bouquet immediately—lemons, nutmeg and musk. The only scent he ever wore. Heart pounding, her breath shortened. There was drumming in her ears, tingling in her fingers, and intense stomach pain creeping in. Her hands shook and she dropped the binder, stumbled out of the room, and raced down the corridor. The walls breathed in and out, then closed in, the floor spinning, her safe place transformed into a horror funhouse.
"He isn't here," she repeated, clutching the wall, then sliding and crashing down on her rump. Mustard and brown linoleum squares twirled. Today someone's aftershave had set her off, and the session hadn't even started yet. The hideous yellow illumination from the fluorescent lights blinded her. Slowly, once, twice, she inhaled and exhaled, continuing with her breathing exercise until the beating of her heart slowed. She filled a paper cup at the water dispenser and used her hair as a screen, bringing the drink to her lips. She squeezed the paper vessel too hard, almost collapsing it and spilling drops of water on the floor. She removed the coins from her pocket. Clang, clang, clang, clang—the sound magnified, hitting the bottom of the change pan, sounding like a bomb exploding. Rory wrestled the package from the vending machine, then almost dropped it. Her hands were weak and damp with sweat, slight bumps forming. Hives again? She gagged on the cashews. A problem swallowing too. I'm a fraud. How can I help them when I can't help myself?
Rory checked her watch. The class was about to start. She darted into the bathroom, splashed water on her face, pulled her hair into a ponytail, and returned to the class. "I'm sorry for cutting our conversation short. We can talk later," she said to the student, picking up the notebook. Her eyes connected and crashed with the vets throughout the session, her stomach twisted, and her face heating up. I'm a weirdo. Other women aren't like me.
At the end of class, music from Chaka Khan flooded from her phone. Sarah's image popped up. Not Lloyd, thank God. "How did it go?" Her friend asked immediately after Rory answered.
"Only one tonight, but Lloyd's still threatening me. He said he'd make me pay."
"It's all talk, don't trip. He won't do anything. At least I don't think he will," Sarah stammered. "I don't know what's wrong with him. He's never acted like this before. Maybe some kind of mid-life-crisis thing. Like we discussed, I'll talk to him."
"He's forcing me into a corner," Rory said, but didn't want to argue. "I've got to bounce. I need to keep my wits about me walking home."
"I wish you'd take a taxi," Sarah said. "A mile at night isn't safe, plus now it's raining. The bus is an option."
"I can't afford a taxi. Lloyd shorted my last three checks. And I don't know about waiting for a bus…better to be a moving target. Anyway, the rain's lessened."
"I'll pay for an Uber. I'll call for you," Sarah volunteered.
"I appreciate the offer. You're a loyal friend, but I can't. No worries. I'll be fine."
"Take your mace out and keys too. Spray your attacker, dropkick them in the balls, and gouge their eyes out."
"And you call yourself a yoga instructor," Rory teased.
"Be safe. Text me when you arrive home," Sarah said.
"Bye, Mom," Rory said, ending the call. I've never had a friend like Sarah. I don't need to go through anything alone. Unfortunately, there are some secrets I can't share, even with her.
Rory stood on the steps outside the VFW and looked across the street. A young girl with her mother stood there, holding hands. "The name Rory means 'Red King,'" her mother had once said. "Imagine my disappointment in not having one." Rory began walking, and when she reached the end of the street, the shadow of an elephant emerged on the side of the brick building. The elephant in the room from her past? Not because Rory wasn't a male. She ran as fast as she could, not turning back to see what was creating the foreboding mystery on the wall. I didn't look back when the fire turned my old life into ashes either.
There was a tingling on the back of her neck and a stabbing pain in her stomach. Listen to your gut—something isn't right. A mud-stained white van idled at the curb, dented on the passenger side with rusted spots on the roof. Its rubber blades squeaked, screeched, and dragged across the windshield until the driver slapped them off. A bumper sticker read Defend the Blue, Support your Local Police. They began pursuing her like a dog on the hunt, stomping the accelerator and speeding ahead, smacking a puddle, spraying torrents of water over her.
Rory screamed, spun, shook her hands and whipped her hair back and forth. The van's windows were partially open, and the laughter of men faded away as the vehicle zoomed down the street. Assholes.
It was sultry for May. Maybe her clothes would dry by the time she reached home. All the stores were closed, leaving the alley dark and spooky. Stop being a baby. She wished she had a ride. Her mother used to say, "If wishes were horses, beggars would ride." She never understood the saying. Did beggars wish for horses, or did other people wish for the beggars to have them? All she knew was that her mother didn't want to hear anything about wishes, telling Rory to shut her mouth.
Under a streetlight on the next block, a figure appeared. Seconds later, the person dropped out of sight. Creepy. She reached a coffee shop wedged between two of her favorite hangouts, a bookstore and an art gallery. Lit in the enormous window was a featured book, The Butterfly Garden. She had started it but hadn't finished. It had triggered her. Maybe after a few years of therapy, I'll be able to read it. New paintings hung in the gallery window, women in all kinds of languishing poses. The hair on her arms stood. Is it the paintings?
A man in camouflage lunged from the shadows of the gallery. She side-stepped out of his reach, causing him to stumble and fall. A knife clattered to the wet blacktop, light bouncing from store windows onto the silver blade. Her attacker clambered up and peeled off a black mask.
"Lloyd? Why?"
"You're coming with me," Lloyd said, scowling. "If you don't, I'm contacting the cops."
"You attacked me and you're calling the police?"
"Call it a citizen's arrest. You got the job under false pretenses. You can explain at my house."
"I'm not telling you anything," Rory said, straightening her sweatshirt. "I'm going home."
Suddenly a super muscular man with long white-blond hair, wearing a black leather jacket, emerged from the shadows of the coffee shop. He reached for her shoulders while another man with glasses pushed Lloyd into them, causing the blond one to loosen his grip. Miraculously, Rory broke free and ran. "Catch her!" the blond man yelled.
Rory ran down the block and cut down an alley she used as a shortcut sometimes, a large chain link fence greeting her. Rory loved to climb trees, and the climbing wall at the gym was her number one activity. No different here, she told herself. Fear surged as Rory propelled her legs up, wedged her feet into the wire, and climbed as fast as she could.
Halfway up, the blond man latched on to her ankle. Rory kicked back wildly, seeking to shake him loose, her bag jostling and spilling things below. Watching her cell phone go, she cried out, "Nooooooo." Then her favorite book fell, The Heart of Yoga,banging Blondie's head. Distracted by the wallop, Blondie looked away, and this time her kick connected—whack, right in his nose.
He dropped to the ground. "Bitch, you're dead!" he bellowed. Blood gushed from his nose as he paced back and forth, words pouring from his mouth, "&#%!@?! You'll pay for this when I—"
The guy with glasses interrupted. "Sshhh. Someone might call the police."
Rory hit the ground and popped them a nasty look, and they glowered back. She thought better about provoking them further and took off, jogging down the alley, debating what to do about the men. She couldn't go to the police. Too many questions. Do they work for Lloyd? She could call Sarah if she hadn't lost her phone.
Rory continued home, walking slowly and softly, glancing over her shoulder and listening. She couldn't believe Lloyd and the other two had attacked her. Are they stalking me? She stopped at the end of each block, waiting and watching until she was sure no one was behind her, then proceeded on to her apartment.
****
I'm home.
A three-story building, wood-clapped with chipped white paint and rotting siding. Rory had restored the front door herself, painting it cranberry red. Lit up by the streetlight, the color and sheen radiated hope, but she didn't feel hopeful now. She listened before turning the key in the lock. Thank goodness she wore her housekey around her neck, instead of in her purse. Her apartment was quiet. All the lights were off like she'd left it. She twisted the key and pushed the door open.
Two silhouettes ran at her. Air skimmed Rory's skin. Her many nights of learning how to maneuver around the space with the lights off was no longer for fun, or a way to save money on the electric bill. This was for real. She darted around them like a star quarterback and kept them from catching her. She sprinted to the bedroom, slammed the door, and engaged the lock, leaving the men still sliding, stumbling and cussing on the other side. Fools.
Whack. Thump. Sounds vibrated across the wood. "She wants us to dance for our supper," someone yelled. It sounded like Blondie again. Bam bam. Wumphf.
At some point, the door would give. I should hide. Rory sprinted to her closet and opened it. Lloyd jumped out of it and sprung at her, his arm held high. He brought a hypodermic needle down and snagged her yoga pants, pushing it deeply into her thigh.
"Ouch, stop it!" she screamed.
"I know all about your lies," Lloyd said. This time he jabbed the needle in her arm.
"AHH!" she cried, pushing him away. "Why are you doing this?"
"You used a fake social security number on your job application, and your driver's license is phony too."
"You're the one breaking and entering." She was grappling with him. "How did you get in here?"
"You shouldn't leave your windows unlocked if you don't want company," Lloyd said, his breathing heavy, continuing to stab at her. "Who are you?" he yelled, the needle landing in her right arm.
"Not a pushover," she said, snatching the nearest thing on her nightstand and spraying him in the eyes with room freshener.
He screamed, "My eyes! My eyes!" He rubbed them furiously, flopping back and forth on the bed. She shut herself in the closet. Through the slats, Rory watched the bedroom door splinter after each blow and kick. The last impact caused the door to crash open, bouncing against the wall and creating a hole, sprinkling white plaster dust on the floor.
Rory observed Blondie from the closet as he stomped in, leaving white footprints on the floor. "Where is she?" he asked as he pulled Lloyd from the bed and repeatedly beat him around the face until Lloyd appeared unconscious. Blondie threw Lloyd back on the mattress, got down on his hands and knees, and searched under her bed. He clambered up, ran to the window, opened it and leaned out, looking down and side to side before coming to the closet door.
"Come out, come out, wherever you are," he said in a sing-song voice, sliding the door open and kneeling over her. Rory shrank back as far as she could, squeezing her eyes shut to avoid looking at him, folding one arm around herself and sliding the other under her armpit. She opened her eyes as she felt his breath on her cheek and brought the aerosol can out to fire. "I don't think so," he said, wrestling it out of her hand and throwing it toward the bed. His bleached hair, dry and smelling of gasoline, dragged across her face. "I heard what the man had to say. Runnin' from somethin', honey?"
Rory bounced up and attempted to maneuver around Blondie's massive form, but he blocked her. She'd been the smallest and most disadvantaged kid in school, making her a target and eventually a master of dirty fighting. She pretended to swing at his head but instead delivered a kick to his kneecap. He held one leg and hopped around the room in pain, hunched over. "You'll pay for that, bitch," he threatened.
She ran to her door. "Out of my way," she yelled, glaring at the third man blocking it. This one was smaller, wearing a do-rag and foggy glasses.
"Cool it, Ripley," he said, gripping her arm.
As panicked as she was, she couldn't help but appreciate the reference to Aliens. "Game over," she quoted back. She opened her mouth wide and brought her top teeth down on his hand, closing her mouth as hard as she could.
"AHH! She bit me!" he yelled, squeezing her arm tighter still. Rory turned to an old favorite, stomping on the top of his foot. He hunched over in pain, and she kicked him in the groin. He bent in half, emitting wheezing noises, his glasses sliding over his nose and landing on the floor before letting her go.
Rory ran from the bedroom and down the hallway, reaching the living room and throwing the door open. Only a few steps from freedom. With half of her body out, she tasted the late spring night air. The streetlights shone on the wet, black road until a powerful force—boa constrictor-like—grabbed her stomach and pulled her back inside. The door whipped around, closing. She landed on a firm brick belly and wrestled to break free. Wriggling and writhing, their positions reversed. Someone straddled her, cerulean blue eyes and a smirk staring down at her, lit by the streetlights, shining through the transept. "I can't even," she huffed, raising her hips and trying to buck him off.
"You can't even what?" Blondie laughed. "That little kick was nothin', girlie. I agree with your boss, you need to lock your windows. Now, we can do this the hard way or the simple way. I don't mind the hard way." He pressed his groin against her pelvis and gave a twisted grin. "The hard way, I help your boss and call the cops. Tell them I witnessed an assault on the poor guy, and Bossman tells his story about you, and you get locked up. Or the easy way—leave here with me and come hide out at my clubhouse for a while." She couldn't think. Blondie's syrupy sing-song way of talking, and his amputation of any word ending in "ing," was disturbing.
The other man, goofy with taped glasses, wasn't much better. "I took care of the interloper," he said to Blondie. "Shot him up with H and put him in her closet."
Rory's throat closed, air disappearing. The pupils of the man with glasses transformed into a spider's body, the lashes into spider legs. She giggled and giggled some more. She couldn't stop laughing. It isn't funny, but then it is. Funny, honey, bunny, money. I'm repeating myself. I can't think. I'm lost. Why is Lloyd in my closet?
"What's wrong with her?" the man with the glasses asked, kneeling.
"Bossman stuck her with somethin'." Blondie nodded in the direction of her bedroom, "a needle on the floor." Then asked her with a grin, "You gonna come with us, sweetheart? Room and board, even profit sharing. All clothing provided, although not much, 'cause you won't need them with what you'll be doing." He chuckled. "I need an answer."
"Mmph," she mouthed, lips stuck together, her head flopping and mind drifting.
"I'm gonna take that as a yes. You saw her give consent, right, Johnny? I can't believe that other guy, tryin' to beat us to the punch. The nerve of some people. But Bossman's right about one thing—she needs to beef up security. Nice of him to leave the window open for us, though."
Rory smiled. The spiders multiplied. She struggled against the scampering, swarming terror. No longer funny. They touched and traveled across her body and face, overwhelming her with fangs and feelers. It prickled and tickled. Jaws trailed and tugged, sitting on her eyelids, weighing them down. Taking her deeper into darkness. They fought their way into her mouth and choked her, filling her throat, making it impossible to breathe, her stomach a home for a never-ending battalion. Finally, she surrendered to their softness and fell asleep, pregnant with peace. She floated away on an opalescent cloud, blending into blackness.
****
"Fetch the van, Johnny. Bring it out front," Cowboy said, throwing him the keys. "She won't need this." He took the house key from the girl's neck. "Comin' to our house now. Monitor the girl's condition. Nothin' better happen, or you'll pay. And keep your mouth shut about this. If WM asks, she agreed to come. Don't tell him the particulars. Now, get going. Gotta send a text."
He got out his phone and shot off:
Cowboy—Got her—
—Call the dogs off my bro—
—1 hap coincidence 4us—
—Her Boss showed, wacko—
—Accused her of using false ID, drugged her
—Handled him2—
A few seconds later, Cowboy received a message back:
MM—TTYL—
We hope you are enjoying the book so far. To continue reading...
Copyright © 2023 All Rights Reserved