Book info
Sample
Audiobook
Media
Author updates
Lists
Synopsis
Public defender Julia Geary moves through life in simmering resentment—at her husband, a soldier killed in Iraq, leaving her a single mother; at her low-paying job; and at her overbearing mother-in-law, whose home she shares. She longs for a breakout case, and it arrives when members of the high-school soccer team report seeing a teammate—Iraqi refugee Sami Mohammed—assaulting a girl in the locker room. In a town where animosity against refugees has already reached a fever pitch, Julia throws all her energy into Sami's defense. She finds an ally in high-school principal Dom Parrish, who believes Sami is innocent, and the case suddenly turns red hot. Then she begins receiving vicious threats against her family, and a senseless act of violence leaves Sami in a coma. And finally, a crop of new evidence emerges that points to the town's most prominent citizens and pits Julia against powerful forces set on burying the truth once and for all. If Sami survives and Julia can prove him innocent, it will be the case of a lifetime. But now it's her life that's on the line.
Release date: August 10, 2021
Publisher: Crooked Lane Books
Print pages: 336
* BingeBooks earns revenue from qualifying purchases as an Amazon Associate as well as from other retail partners.
Listen to a sample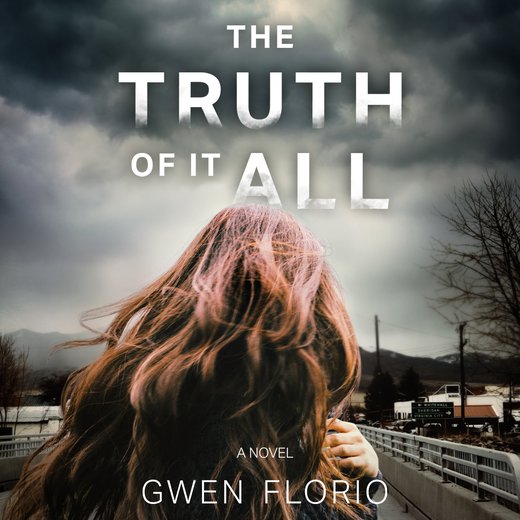 10:51:09
298.09 MB
9781666532821
August 12, 2021
Dreamscape Media
The Truth of it All
Gwen Florio
1
JULIA GEARY—FIVE FOOT nothing, hardly a hundred pounds, freckled head to toe and red hair a fright—neared her thirtieth year mad as a feral cat, all hiss and spit just below the surface. She had reason, God knows, life gone to hell four years earlier and never finding its way back, everything wrong all the time ever since.
On this particular morning as the year hurtled toward its close, wrong started with sleeping late, the whole day off kilter from the start. Julia tried to slide unnoticed into the kitchen, her mother-in-law at the stove, back to her.
Failure.
"I made you eggs. But you took too long. They're ruined." Stink of sulfur rising from the pan.
Julia hated eggs. She smiled. Too soon.
"So I made more."
Looking at Beverly—the careful gray coif, the faded blue eyes behind round glasses, the knee-length skirts and hose, worn even around the house—people might guess librarian. Or store clerk, the helpful sort. A nice lady. They'd be wrong.
Julia thought of her mother-in-law as a human switchblade, all spring-loaded lethality, razoring steel ready to leap forward, draw blood, Jabberwocky's vorpal blade rendered unfunny.
"No time." Julia dodged around the kitchen island toward the breakfast nook, where her son perched on his booster seat.
Beverly stepped in front of her, plate in hand, blocking her escape route. Two eggs aimed a jiggly yellow glare at Julia. Melted fat pooled beneath the bacon, congealing apace with Beverly's tone. "You need a good breakfast. Working as hard as you do."
Repeat those words to anyone—say, to Claudette Greene, Julia's officemate in the Public Defender's Division—and they'd sound innocuous—caring, even. Julia could just hear Claudette's reply: "Wish someone would make me breakfast. Can't remember the last time I ate sitting down." Claudette juggled three kids, a spouse, and a sixty-hour-a-week job dealing with people who made excuses for their misdeeds all day long. Claudette was disinclined to sympathy, even toward Julia, who held the widow card.
Defeated, Julia joined Calvin in the breakfast nook. The murmur of public radio flowed through the silence, the announcer's voice soothing, words barely distinguishable as she ran through a routine story—the latest polling data on the coming mayoral election. Julia poked a fork in her eggs. Yolk ran everywhere. She stood. "I'll just make some toast." Something to sop up that damn mess on her plate. Beverly put a hand to Julia's shoulder, the barest touch. Julia's butt smacked back down onto the bench. "Carbs, dear. Nothing but unnecessary calories."
"And yet." Julia nudged the bacon with her fork.
Beverly affected not to hear, as did Calvin, happily attacking his own bacon, precut into small pieces, an egg—and toast!—at the far end of the table. Just four, too young for the truth, he loved the old bitch. "Gamma." He summoned her, arms up, angling his face for a kiss. Beverly touched her cheek to his, powder flaking from the fine creases laid down by too many decades on a dairy farm in the state's wide southern valleys before she fled the punishing sun and scouring wind, trading the ammoniac reek of cows for the cool shelter of Duck Creek, a pine-scented mining town turned ski resort within shouting distance of the Canadian border.
Julia disentangled herself from Calvin's grasp and turned back to the pressing matter of Julia's faults.
"Is that what you're going to wear?" Seven in the morning and Beverly was decked out in tweed skirt, boiled wool jacket, and for God's sake, pearls. It was bridge club day, competitive in ways that went beyond the game. Julia often wondered at Beverly's enthusiasm for a pastime that, despite the alacrity with which she'd adopted the mufti of a town dowager, required such an unsparing display of her hands. The nails might have been expertly manicured, but the sophistication ended there.
Her fingers were knotted as old rope, betraying their competence, hands that could work their way inside a bellowing cow and hook a calving chain around tiny hooves, and then, after a rough scrubbing with grainy soap, rub lard into flour for a pie crust of surpassing flakiness.
Julia suspected Beverly's resentment of her was twofold. Not only did her mother-in-law blame Julia for her son's death—if she hadn't gotten herself pregnant (as though Michael had nothing to do with it), he'd never have felt obligated to join the army, dangling the signing bonus as a someday down payment on a house of their own. But Julia also remembered the Beverly of old, who'd sold the farm the day after she buried her own husband and moved to Duck Creek, abandoning along the way her muck boots in favor of a collection of slipper-soft pumps from the Little Heel Shop. A pair, dove-gray to match her jacket, waited by the front door, ready for their final few outings before winter swept in and demanded Sorels.
The only holdover from that former life was Lyle, a bobtailed barn cat grown fat in his retirement from rodent patrol. He sauntered across the kitchen and positioned himself beside Julia's chair, lifting a paw and dragging his rough tongue across it, pretending indifference, aware that if Beverly turned her back, some eggs were bound to slide his way.
Julia offered what she knew would be an unacceptable explanation for her attire.
"I've got jail."
It was her turn in the public defenders' rotation to interview the miscreants who'd been booked into the county jail overnight or early that morning, in preparation for their court appearances the next day. She wore a formless, below-the-knee dress, dark tights, and clogs, the defense against the inevitability that her clients would see her as a woman first, their lawyer later. She couldn't keep track of how many times they'd hit on her.
"What have you got in mind?" she'd snapped at one early on. "Candlelight dinner in the interview room?"
A mistake. He'd told her exactly what he had in mind.
The radio's somnolent recitation went shrill with a sound bite from Duck Creek's leading mayoral candidate, volume rising, the campaign at a fever pitch in these final weeks before the election. The Candidate's voice was high and hoarse, with a hint of a lisp, oddly unsuited to his penchant for diatribes. He railed against immigrants, the perfect segue into a local spot about the town's refugee program. "Send 'em back. End this bull—" the Candidate blustered, the word cut off just in time.
Beverly glanced toward Calvin, killed the radio, and moved to distract. "Time, dear. You don't want to be late for your important job." A scalpel slipped deftly between Julia's ribs, twisted with a verbal flick of the wrist. Julia's clients were nobody's idea of important. Nor did her job command the kind of salary that merited the word. Even living with Beverly, it would take her years to pay off her law school loans, a span Julia had calculated to the day, a weekly notation of the time remaining typed into the calendar on her phone. The minute that number hit zero, she'd kiss Duck Creek goodbye.
Julia rose and grabbed Calvin's hand with relief, so happy at her daily escape that she let the gibe slide.
Beverly called her routine farewell. "Kiss Daddy goodbye." She stood in the kitchen doorway as they donned their coats, watching to make sure.
A photo of Michael in his service uniform hung between the front door and the stately front stairwell that no one used, above the glass-enclosed folded American flag presented to Julia at his funeral, the flag that Beverly had tugged from her hands a moment later.
"For better or worse," he'd promised her. But this was the worst, and he was supposed to have been beside her for it, not have caused it. Light through the stained-glass transom splashed purple and gold bars across his face. Julia suspected Beverly had positioned the photo there for that very reason, the shimmering hues underscoring the saintliness she'd ascribed to her son even before his untimely death.
Julia opened the front door, mandating a quick getaway. Cold gusted in, wrapping her ankles, fall barely begun but winter already a promise. The wind lofted the long light hair of a girl walking past, heading coatless for the nearby high school, quick-stepping in the cold, arms wrapped around her thin body, lips moving as though in incantation. The girl glanced her way. Their eyes met, the girl's full of an anguish that mirrored Julia's own. Probably mooning over some boy. Julia directed an unspoken warning her way: It won't end well.
Beverly lingered, immobile, impervious. Julia boosted Calvin up. He kissed the picture of the father he didn't remember, leaving a smear that Beverly would remove with her daily polishing. "Bye, Daddy."
Michael gazed from the photo with all the solemnity mandated for these dress portraits, a corner of his mouth nonetheless quirked toward a grin. Even now, dead nearly as long as they'd been together, that damned grin got her. Someday she'd forgive herself for falling for it, right before she forgave him for going off to Iraq and getting killed. That day hadn't come yet.
She pursed her lips against the cool, cool glass, and whispered below her breath, as she did every morning to the man whose death had bound her life in limitations.
"Goodbye, you son of a bitch."
2
CHIEF PUBLIC DEFENDER Bill Decker thumped his elbows onto his desk and steepled his fingers before his face, which had the unfortunate effect of making his index fingers look as though they were about to disappear up his nose.
"Geary. Sorry about the short notice."
Her phone had shrilled as she walked into her office, heralding an immediate meeting with her boss. It wasn't a request.
Julia looked away. Decker's office was barely larger than her shared one, although at least the polished desk looked like real wood, not the scratched cheap veneer of her own, which gave every appearance of having come from a surplus closet.
And, unlike her desk, its surface obscured by her impossible caseload's ever-higher stacks of files, Decker's was free of everything but a blotter, a phone, and a lone file. Likewise, the shelves held only law books; the walls, the usual framed diplomas. Julia's diplomas also hung on her office walls, but hers displayed the names of the state university and law school.
Decker's boasted Harvard undergrad and Yale law, silently underscoring his status as part of a new class of lawyers who'd followed the ski money to Duck Creek after the resort's transformation from a mom-and-pop operation into one the Chamber of Commerce touted as the Vail of the North. A third framed certificate proclaimed his long-ago—very long-ago—argument before the U.S. Supreme Court, a typically tangled water rights case that, as Julia and everyone else in the office knew because Decker mentioned it on every flimsiest excuse, he'd won.
"How long have you been with us now, Geary?"
Forever. "A few years."
"Minus a break."
A break. He made it sound like a vacation, the extended leave she'd taken after Calvin's birth and not a year later Michael's death, career seemingly irrevocably stalled ever since, even though she hadn't missed a day of work since returning. Which he knew, just as well as she knew this particular tactic: lob softballs first, so that it would feel like a regular chat rather than the interrogation it was. What was Decker working up to?
Whatever it was, she'd be well advised to stick to yes or no answers. As she repeatedly reminded her clients, volunteering information always got people in trouble.
"And your little … boy, is it?"
"Yes."
"How is he? He must be getting big now."
"Yes."
Red alert now. Federal rules about personal questions be damned; Julia was achingly, painfully aware of every professional woman's reality: a child was a liability. Somehow the men in the office were presumed—even though the public defenders' salaries hardly allowed for it—to have wives who stayed at home and took care of all of life's inconveniences. Like children. As for single mothers, forget it. The condescending assumptions layered onto them were enough to flatten even the most modest ambitions.
Except for Susan Parrish, the county's first woman chief prosecutor, the blazing exception to the rule. Julia studied Susan furtively whenever she saw her in the hallway, always perfectly turned out in the sort of severely tailored business suits that Julia assumed involved extended shopping trips to Seattle. Duck Creek had its share of high-end boutiques, but they mostly offered apres-ski togs. Mink-topped snow boots had yet to become standard court attire.
Debra, the office receptionist, was a brazen gossip. The junior attorneys believed her unprofessionalism was tolerated only because she served as an interoffice spy for Decker. As she told it, Susan—with the help of a teacher husband who took on most of the childcare duties—had advanced methodically up the ladder when her daughter was young, ditching the husband as soon as the girl hit a more self-sufficient age. At which point, having reduced her personal obligations by half, Susan's career took off.
Julia wrenched her thoughts back to the matter at hand. She must have done something wrong to receive a summons from Decker as soon as she arrived at work, especially given these desultory questions designed to ease her into complacency. She sieved through her memory.
"You're the one who's been whining about wanting bigger cases," he'd said when he rang her extension. She was sure she'd never said as much directly to him. Debra must have passed along an overheard snippet. Julia made a note to herself: no Christmas cookies for Deb. Except that would only make things worse.
And just like that, with her momentary lapse into resentment, Decker caught her off guard.
"So." He spoke into his hands. "Tell me about your husband."
Julia's throat closed. Sonofabitch. She should have seen something like this coming. She'd sat through too many trials watching Decker's specialty move, turning his back on the poor schmuck on the witness stand as though he were done with his cross-examination, speaking over his shoulder, almost as an afterthought. "So. Tell me …" About the one thing the witness hadn't figured on him knowing.
Julia stalled, a yes or no answer insufficient for this one. "What about him?" And why the hell was he asking?
Decker's smile peeped out from either side of his hands, all benevolence. As if. "Whatever you want me to know."
Julia gave the biographical version of name, rank, and serial number. "Grew up on a dairy farm in the southern part of the state. Landed here after college like every other wannabe ski bum. Joined the military not quite five years ago. Caught an IED after seven months in country. End of story."
Davis lowered his hands and cocked his head. Almost too big for his gym-toned body, that head, made larger still by the shock of snowy hair, looking nearly natural in its sweep and wave over his forehead. "Senatorial hair," Julia had observed when she first met him.
"Senate, hell," Claudette Greene, Julia's office mate, had snorted. "All that campaigning? And the fundraising? That's not our Li'l Pecker's style."
Decker's name lent itself to the unfortunate nickname, made more unfortunate still by the fact that his father had been a judge—not just any judge, but on the federal bench—and thus accorded Big Pecker status.
"No, he's holding out for a judgeship," Claudette said. "He'll still have to campaign, but judicial races are pretty low-key. Looked like things were going his way, too, until Susan Parrish came along. He's just hoping Judge Baker retires so that he can get the spot before she wins a big enough case to knock him out of contention."
Disappointment leaked from Claudette's words. She was Decker's obvious heir apparent, but obviously stacked up against black and woman was nobody's idea of a guarantee. The longer Judge Baker waited to retire, the more chance Susan had to make a name for herself and present a serious challenge to Decker. Judges were elected in their state, and the public generally favored crime-fighting prosecutors over public defenders. If Susan beat Li'l Pecker to a judge's job, Claudette could be stuck as a deputy forever. "She needs to lose a case," Claudette often muttered. "A big one."
Meanwhile, Decker waited, avuncular, beaming, seemingly oblivious to the seething ambition all around him, just as he was now to the warning tone in Julia's voice.
"A ski bum … and a reporter, too, if I remember correctly?"
Of course he remembered correctly. Not long after starting her job at the Public Defender's Office, Julia had had to stand in his office like a misbehaving pupil before a principal and remind him that her new boyfriend didn't cover the courts; swear she never, ever discussed cases with him; and nod her understanding that should Decker ever have cause to as much as suspect otherwise, she'd be out on her ass. Until he died a hero, Michael had been the second-biggest liability to Julia's career—later surpassed, of course, by Calvin—and now she had to live with the fact that the searing thread of resentment running through their marriage had likely factored into his fleeing into the army.
"Iraq, yes?" Decker's voice crept into the lengthening silence, so intimate it was barely audible.
It reminded her of something, that silky, insinuating tone, inviting confidences in return. What was it? She closed her eyes and let it come to her. The mingled scents of oiled wood, incense, and musty upholstery. A sliding sound. A screen. That was it. The confessional. "Bless me, Father, for I have sinned."
Well, she had sinned, plenty, starting with a party where she somehow ended up kissing the hostess's date, which saw the end of that friendship but the beginning of some of the most enthusiastic and unrepentant sinning of her life, not one goddamn bit of it deserving of the eternity of penance that had been inflicted upon her.
Decker waited, every pore oozing empathy.
"Yes, Iraq." She sank her teeth into her lower lip. Whenever someone or other breezily opined that it was time for the United States to bring its troops home, she had to stop herself from adding, "Not before we've bombed the shit out of Iraq," along with an equally silent prayer that said bombing would obliterate the person responsible for ruining her life.
"Not Afghanistan."
"No." What was he up to? Any idiot could look this stuff up on Google. Type in Michael's name, and story after story scrolled past. He'd only lived in Duck Creek a few years, but you'd have thought he'd been the mayor, the way the town had carried on when he died. No, not died. Was killed. Murdered, probably by some teenager who'd paid attention in whatever passed for chemistry class in that godforsaken country. There'd been the black-bordered photo on the front page of The Bulletin. A parade of sorts, people lining the streets to watch the hearse carrying his too-light casket pass. Kids, uncomprehending, waving little American flags as though it really were a parade, some sort of cause for celebration. Julia stared dully at them through the limo's dark-tinted windows, wondering at their smiles, fighting an inexplicable impulse to raise her hand, wave back, every action in these early days after Michael's death rote, automatic.
"I'm so sorry for your loss."
How many times had she heard that? "It's been four years. A little more. I've had time to get used to it." Except that she hadn't, the passing years simultaneously a blink and an eternity.
"Geary."
She knew that tone. Goodbye, wise priest; hello, boss. She was finally going to find out what this was all about.
"You've been asking for more responsibility for quite a while. Par for the course for young attorneys. They want to put all those years of law school to work, strut their newly acquired stuff."
Julia inched forward in her chair. Was it her imagination, or had Decker stocked his office with oversized furniture? She'd heard of attorneys pulling stunts like that, anything for an advantage. In a regular chair, her feet barely touched the floor. In this one, they dangled with a couple of inches of clearance, no way to reach the carpet without perching on the very edge of the seat, dangerously prone to pitching forward. She gripped the arms.
"I've been out of school a few years now."
"Yes, yes. And you've done yeoman work. You've managed to get decent plea agreements for some of our most difficult clients."
Julia held herself rigid, awaiting a lecture on the virtues of patience.
Decker picked up a file from his desk and rifled through it. "Yes, I think it's time. How do you feel about sex offenses?"
We hope you are enjoying the book so far. To continue reading...
The Truth of it All
Gwen Florio
Copyright © 2023 All Rights Reserved