Book info
Sample
Audiobook
Media
Author updates
Lists
Synopsis
'I couldn't put it down and finished it in a day . . . Superb!' - Mara Timon, author of City of Spies

The Firm meets McMafia in Marina Palmer's thrilling and exciting novel, which opens the door on the Russian high life in London and corruption at the heart of British politics, reaching all the way into the Secret Services.

Packed with twists, intrigue, betrayal, romance and suspense, The Russian Doll constantly wrong-foots the reader and delivers a perfect narrative, right to the last page.

How much did she just say the salary was?

When Ruth Miller returns a dropped scarf to Elena Shilkov, she is whisked from a dreary shared flat to a world of unimagined luxury.

The super-rich Russian wants a new personal assistant and won't take no for an answer.

Ruth gets accommodation, a credit card, and a complete wardrobe makeover.

And she's good at the job; distributing gifts, attending galas, dealing with the high-society movers and shakers fighting for Elena's attention.

Then the sinister truth begins to reveal itself, that nothing is quite what it seems in Elena's dangerous, deceptive world.

Ruth should get away.

But it's already too late.

'Best book I've read this year' - Simon Conway, author of The Stranger

'The Russian Doll gripped me with layer upon dangerous layer' - Alison Bruce, author of The Moment Before Impact
Release date: November 25, 2021
Publisher: Hodder & Stoughton
Print pages: 336
* BingeBooks earns revenue from qualifying purchases as an Amazon Associate as well as from other retail partners.
Listen to a sample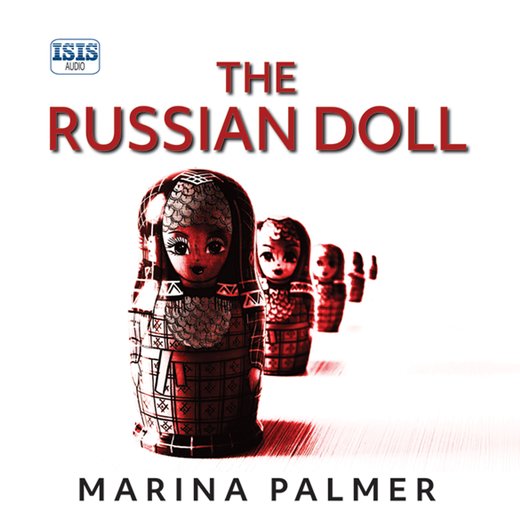 10:00:14
274.78 MB
9781473693791
January 1, 2022
Isis Publishing Ltd
The Russian Doll
Marina Palmer
Acknowledgements

Many thanks to Nick Sayers for his guidance and patience during the writing of this novel and to my agent Broo Doherty for her encouragement and support.

I am lucky to have a group of writer friends to share the triumphs and disasters which are part of every book. I couldn't manage without them – particularly Robyn Young, Alex Von Tunzelmann and Kate Williams who have an uncanny ability to say exactly the right thing at the right time, and heartfelt thanks to Amanda Craig, Antonia Hodgson, Miranda Carter, Hallie Rubenhold, Liz Fremantle and Laura Shepherd-Robinson for fellowship, support, sanity-checking and gnawing over the day to day business of the writing life.

I am also very grateful for the friendship and advice of Rowan McBrien and James McOran-Campbell. Bonds formed travelling in Russia in the early nineties prove to be enduring. Particular thanks goes to our comrade Philip Worman for a sunny lunch which could power a library of thrillers. I continually rely on the faith and love of my husband Ned, not to mention our long evenings of Negronis and plotting. And the food. Ned and I got engaged in Korcˇula while at my brother's wedding, so thanks are humbly offered to Charles, Ivana and her family, Phil, Gregory and Ranko for Serbian hospitality on that stunning Croatian island. Also my love and gratitude goes out to friends, family and neighbours in my home town of Darlington, but particularly Emma Tyers, co-conspirator for life.

Though this is a work of fiction it was inspired in part by fact as recorded by some remarkable journalists and non-fiction writers. I'm particularly indebted to Heidi Blake and the team at Buzzfeed behind the From Russia with Blood series in 2017, Misha Glenny's McMafia and Oliver Bullough's Moneyland. Truth remains stranger and in many ways more terrifying than a fiction writer like myself can keep up with.

Chapter 1

'Miss? Are you all right, miss? Are you injured?'

Ruth heard the words but they were echoing and distant, like when you duck your head under the water at the swimming pool. The light too. Everything bright and blurred and fractured. She felt a hand on her shoulder, shaking her, and the voice got more insistent.

'Miss? Can you hear me? Are you injured?'

Then she saw him, a smear of a yellow hi-vis jacket, short brown hair in a buzz cut, pink skin, a tiny smudge of dry shaving cream behind his ear. She shrugged him off. She felt sick and her head was screaming. As if the worst hangovers of her life had all got together and flash-mobbed her frontal lobes.

'What's your name, love?' he said, leaning so close she could smell the coffee on his breath. 'Can you tell me your name?'

'Ruth,' she said.

He seemed reassured.

'Great, Ruth. Well done. Now, are you injured?'

He kept his eyes on her, waiting for her to reply, but murmuring into the radio on his lapel at the same time. 'Female, early twenties. Conscious and talking.'

'No, I'm OK,' Ruth said, guessing. Someone shouted a little way off, and hi-vis's head flicked up.

'Just stay here. Don't try and move. I'll be back.'

He got up and headed towards the other voice out of her blurred field of vision. That's fine, she thought. Take your time. I don't think I'm going anywhere just yet.

I'm not drunk. I'm not in a hospital. Think, Ruth.

It was like trying to see your reflection in a tiny mirror; you could catch a glimpse of little bits, each fractured image neat and pin-sharp, but they didn't add up to a whole picture. Not yet. One thing at a time.

She was sitting on a black-and-white tiled floor, her legs half under her, leaning against a purple velvet banquette – the sort stuffed very tight with the buttons driven down deep into the plush. Not at home in Brockley then. Not that Brockley was really home yet; she'd only been there three months, a baby Londoner still getting used to the commute into Green Park. The weekends she spent walking, trying to learn the city through her feet. She'd done Spitalfields and the West End from Piccadilly to Tottenham Court Road a couple of times; been to the National Gallery, the Tate Modern twice and the British Museum; and round her own patch, in south-east London, she'd covered Peckham and Dulwich. The rest of the lonely city was still vast and uncharted. There be dragons. A memory, a flash, a hot roar and then the sound of shattering glass falling in a thin rain.

She blinked again. She had something in her eyes and her skin felt gritty. Where hi-vis man had been blocking her view, she could now see a chair on its side, one of those bistro ones with a curved back and a wicker seat, and an overturned table with a veined marble top. She tried moving her head; the world lurched and a sudden wave of nausea made her close her eyes again.

Bits of her body seemed to be clamouring for her brain's attention, overloading her. The cold of the tiled floor through her jeans, a slow boom of a headache radiating out like shock waves from the centre of her skull, a metallic taste in her mouth, a pressure in her side. And a sharp concentration of pain in her left hand. She opened her eyes, looked at it lying in her lap, and turned it upwards. Her palm was smeared with cream, and she could see a narrow fissure of blood, a long knife-like swipe from her index finger to her wrist. It looked deep, starting to blossom with blood, so it must have just happened – whatever 'it' was. She fluttered her fingertips and registered they were still working through the resulting lurch of hurt. The flurry of pain flowed up her arm and got lost in the booming ripples in her skull.

Don't throw up.

She needed something to bind up her palm, and found, magically, a scarf, held ready in her right hand, pale blue and patterned with skulls. Such soft, fine material. She tied it closely around the wound and held her arm up across her chest. Keep the wound elevated. She recognised the scarf, but it wasn't hers. Two Ruths in her head now: one who knew what to do with an injury and a silk scarf, then this other dullard still trying to work out where she was. The dullard needed more information. What could she see? Shattered crockery everywhere, spread across the tiles between the upturned chairs, flashes of knives and teaspoons, the glitter of broken glass and food.

The dam broke and her memories came in a rush, a stuttering flood of jump-cut images. A café, that's right. A fancy one on Piccadilly in the West End. She had a flash of coming in here off pavements clogged with weekend crowds and tourists, the road a tight parade of black cabs and double-decker buses, the smell of diesel. It was a Saturday afternoon and London had looked good, pretty, its postcard self. Not hunched and rain spattered. For the first time she'd felt, walking along the street, staring in at the windows, like she might be able to make a home here. Survive the first isolated lonely weeks, find a foothold, a handhold, a bolt-hole, a safe space.

But why had Ruth come in here? This grand European-style café with huge plate glass windows, all lined with extravagant fancy cakes, creamy monstrosities in teeth-aching pastels. The waiters wearing white shirts and black aprons. Tea served in silver pots. Not Ruth's sort of place. She was on a bottle-of-water-on-a-park-bench budget.

The scarf. Yes. Ruth had seen the blonde woman looking through a jeweller's window, opposite the Ritz. The blonde was with two dark-haired girls and they had all been pointing out rings and bracelets on the black velvet cushions and laughing, the blonde woman leaning forwards so her face was level with the girls'. Ruth had come to a halt next to them, studied their reflections, and her heart had stopped dead in her chest at the sudden, miraculous sight of them. The scarf was trailing out of the woman's handbag, twitched at by the spring breeze and the passing crowds. Careless.

Ruth shifted her position against the banquette and wondered if she could stand. No. She absolutely definitely could not. Best wait for hi-vis man after all then.

The woman and the girls had moved on. Another image. The loose folds of the scarf in her own hand. She had almost kept it, almost shoved it in the pocket of her jacket, turned round and walked away – it felt so delicious against her fingers. Then she'd turned away from the window to catch up with the woman and the girls, just in time to see them come in here. Here.

A new pain, slow and sudden at the same time, was growing out of the pressure in her side. It pulled her back into the now. Ruth pressed her uninjured hand onto her flank and bit back a groan, lifting her head. A woman, not the blonde, as over-packaged as the cakes, was now standing right in front of her among the spilt food and the overturned chairs. Ruth looked up at her. She seemed a bit vacant, as if she was searching for a friend, scanning the crowd, her left hand raised; her Birkin handbag in the crook of her arm.

Not less than seven grand, that bag, Ruth knew that. Her boss had one. Whenever she carried it she had this look of being both faux-casual and eagle-eyed at the same time, like someone at a party who knows their date is way too hot for them and is secretly scared their status symbol will be spirited away by someone who could really carry it off. Someone like this woman. The bag looked right on her arm. She turned slightly and Ruth saw her right side was ruined. The cloth of her top burnt off, the skin showing black and pink. The side of her face was sooty and the bottom part of her right arm was missing. She shook, began to fall. Ruth tried to force herself up; her sneakers scrabbled for purchase on the slippery tile and she tipped over onto her elbow. A fresh barrage of pain came as the woman began to fall. Ruth put out her bandaged hand, but the woman was too far away.

Another hi-vis jacket person, a woman this time, swept in and grabbed hold of the falling woman round the waist, supporting her on her good side, then half led, half carried her out towards the street, shouting for help.

'Table for one, miss?'

That's it, Ruth had reached the Please wait to be seated sign, scanning the interior for the blonde, still blind after coming in from the sun. Something in the waiter's tone suggested Ruth had no right to their overpriced cakes. Sod him. She wouldn't spend a tenner on a scone, but she could. She had a job, a bank card. She'd ignored him for a second, then spotted her. The miraculous mysterious blonde. She was sitting at one of the tables against the wall, on a velvet banquette, staring at her phone with the two girls opposite in high-backed chairs, their dark heads bent together over the menu.

'I'm not stopping, thanks. That woman dropped her scarf,' Ruth said. 'I'm returning it.'

'I can take it for you, miss.' He put his hand out.

She stared him down. 'I can manage. Don't fret, mate. I'm not here to steal your cream jug.'

He had backed off, half shrug, half smile.

The walls were lined with mirrors, so everything – the light, the chatter, the chink of silverware against the teacups and china plates – bounced back and forth in the space. The woman with the two girls looked up. She was beautiful, early forties maybe, but with high cheekbones, lips glossy and eyes dark, her hair salon styled, but not overdone, not like some of the women here and the cakes they were eating. Poised.

She had caught Ruth's gaze and raised her eyebrow in enquiry. Her gold-coloured iPhone went face down on the table. One of the girls got up, menu in hand and stood next to her, pointing out something on the stiff card. The woman put her arm round the girl's waist, but she was ignoring her, still waiting for Ruth to approach.

Pain getting worse. Where was that the blonde now? Had Ruth lost her chance? She rubbed her eyes and felt that strange grittiness on her skin again, then a sweetness on her lips. Christ, sugar. She had sugar in her eyes, no wonder she couldn't see anything. She blinked. Cleared it off with her sleeve. Then she saw the gold iPhone under the table, screen shattered, its light pulsing. And behind that, in the shadows behind the overturned tables, a heavy- looking coat . . . That's too warm for spring. No, it's something else.

Ruth had been holding out the scarf, the line about seeing the woman drop it all ready and formed in her head, and then something had made her turn round. A squeal of breaks outside, shouts, the door opening and three men striding in.

They hadn't looked like fancy-cake eaters. Combat trousers, dark hoodies. Their faces were wrong somehow. Masks. Halloween masks. Were those semi-automatics? Were they police? Why would the police be wearing Donald Trump masks? Ruth remembered, re-felt her slow, curious confusion, her bafflement. One man had lifted his gun and fired it into the ceiling; yelps of alarm had turned to screams. They looked at each other and the other two threw tight black globes, passion fruits, grenades. They looked exactly like the ones you see in the movies.

The men had chucked them underarm as if they were throwing tennis balls to a kid with his first racket, one into the back of the room, one – Ruth looked straight at the masked face – towards her. More screaming, chairs tipping over, people scrambling away, plates and glasses crashing to the ground.

Ruth had looked down and seen the ugly ovoid spin to a halt at the feet of the other dark-haired girl. She had stared at it, frozen in fear, and Ruth had . . . Her mouth turned bitter as terror finally turned up late and loud. Ruth had dropped to her knees, and grabbed the damn thing, and chucked it away towards an empty table at the end of the counter. God, she hoped it had been empty. She had just needed to get it away from the girl.

Then the explosions while she was still in a half-crouch. The dragons roaring light and heat. She had lifted her hand to cover her eyes even while the shockwave threw her backwards. She felt the neat slice of spinning glass on her palm, then the suddenly solid air cast her down hard among the wreckage. Everything upside down and inside out and her brain shutting down and blanking out.

Hi-vis came back.

'OK now, where does it hurt, Ruth? Can you move? I'm John.'

Bless, John remembered her name – and they say London is unfriendly. Speaking was harder now. Funny, and right when things were beginning to get sorted in her brain.

Ruth looked down at her side and he helped her peel her fingers back from the pressure-pain in her side. A great black stain was soaking her good weekend top now and she saw the red slick around her fingers, the bright edge of a chunk of glass the size of her hand disappearing into her side. She felt her gorge rise.

Nice to meet you, John.

She wrapped her fingers round it.

'No, Ruth, don't pull it . . .'

He made a grab for her wrist. Too late. She yanked it free and let it fall on the tiles beside her. Her vision went swimmy again. Maybe that hadn't been a good idea. The urge to throw up was back.

'Jesus, woman.'

John drew in his breath. He rummaged in his bag while Ruth turned away, stared at the shattered, buzzing phone. And . . . And in its pale-blue light . . . Thinking was hard again. John pulled something out of his bag of tricks, ripped off a plastic wrapping with his teeth. She flinched as he lifted up her shirt and pressed some sort of dressing to the wound. It felt firm and giving at the same time.

'Let's get you out of here,' he said.

No.

'Come on. Can you stand? The ambulances are waiting.'

'Wait, John.'

'Ruth, we need to get you to hospital.'

Some people just won't listen. She punched his shoulder, weak as a cat. Found her voice.

'John, fucking hang on, man . . .'

He paused, primly surprised at the swearing, the sudden Teesside twang in Ruth's accent, the closed-fist punch in all this velvet and crystal.

'Under the table, up against the wall!'

And at last he looked, saw, gasped, reached out with his hand and touched the bare, still leg of one of those two dark-haired girls.

'Keep pressure on that wound,' he shouted at her as he stood up and started dragging the table out of the way. I'll do my best, mate, Ruth thought. But I'm not making any promises. 'Mike, Vera, there's a kid back here!'

Well done, John. The voices slipped away again and a cold peace came down between Ruth and the world like a wall of snow, a wall of sugar and cream.

Chapter 10

Going to the passport office felt like a grand excursion. Ruth was discovering that with enough money you can move through a city, even a city like London, without friction. Someone was always opening the next door, the car was just pulling up, the food was prepared, the table waiting. It even worked when you brushed up against the government.

Ruth had spent many hours in stale-smelling offices, sitting on chairs in corridors when her legs weren't long enough to touch the floor, waiting for a social worker to emerge from a conference room, then as a teenager slowly filling in forms to apply for maintenance payments, victim support funds. Now, with the papers Michael had given her and Elena's credit card, she was waved past the shuffling queues, greeted with a handshake and smiles and ushered into a private office with a pot plant in the corner. Once her photograph was taken, and the final form signed, her brand-new passport was pressed into her hand still smelling of warm ink.

'Before you go,' the man, a striped shirt, spectacles and a pink face, said, 'my colleague would like a word.'

Ruth agreed graciously, unthinkingly, getting used to this lady of London act, but instead of just another office, another pot plant, another fee or another signature, striped shirt led her to the end of the corridor and out into the stairwell. The carpets disappeared and it was concrete and linoleum. This was more like she remembered.

They climbed. Right to the top, then rather than leading her down another corridor, the man pressed the bar on the fire escape door and opened it, standing aside to let Ruth out into the grey air of the London morning. The roof. She looked at him, confused, and he gave her an encouraging nod. She stepped through, her boots scrunching on a thin layer of gravel and the door shut behind her. Was this a joke? She span round and struck it with her fist.

'Hey!'

'Calm down, Ruth.'

Ruth looked behind her. A tall slim figure was leaning against the parapet and looking out over the city, blowing clouds of smoke from her cigarette. The woman from outside the Restart party.

'Jane?'

'Hi.' She turned round so she was facing Ruth, her back to the skyline. 'I'm disappointed you didn't call me. And it's difficult to get you alone, so I thought I'd take this chance for another chat.'

Ruth walked towards her across the gravel. She didn't like heights. She didn't have the impulse to throw herself off high buildings or anything like that, they just made her stomach lurch and she felt suddenly clumsy and vulnerable.

'Do you work in the passport office? Was that man your colleague?'

'Sort of.'

Ruth felt the wheels of her brain turn slowly.

'Are you government, then? A spy?'

Jane laughed, a throaty, smoker's laugh. 'I think I'll go with "sort of" ' again. I mostly work in an office.'

Jane was wearing a long Burberry mac, the belt undone, over a dark trouser suit and a silk blouse the same colour as the London sky. She was wearing opals again, this time as earrings under her thickly layered short hair. Her make-up was different too. Executive rather than forties vamp today.

'What do you want with me?'

She smiled. 'I trade in information. Want to swap? Tell me what Elena and Yuri are up to, and I'll tell you who you are working for.'

'Did you send me that shit about Russians and people working for them getting killed?'

'Interesting reading, don't you think?'

Ruth stuck her hands into her pockets. 'No,' she lied. 'All stuff I could have got off Google. I don't know what they are up to and I don't care. I just arrange sponsorships, dish out charity cash.'

Ruth saw a flicker of disgust on the older woman's face, just there for a moment, then gone. 'Oh I don't know. You had an animated chat with Greg Townsend the night we met.'

'He was animated, I wasn't.'

Jane dropped her cigarette and ground it out. 'And it's not just charity, is it? I mean an MP earns almost eighty thousand a year, plus all those generous expenses, and Cabinet ministers get almost double that, but you are sending some of them very nice care parcels.' She thrust her hands into her coat pockets. 'I'm sure you know more than you think, my dear. You are in the house after all. I'm certain you could learn a lot just by keeping your eyes and ears open. Have a chat to Andrei for example. Ask about who he met in Korcˇula last summer. I know Milos was there. But I don't know who else they had for drinks on that monstrous yacht.'

Ruth had been interested in only one person from that holiday and she already had her answers. She was moving on.

'Why would I tell you, even if I knew?'

Jane smiled. 'It's your duty as a British citizen. Your government is asking you for help. I also want to know why Elena, after hiding in her house for three months, suddenly hired a girl like you and started running about in the world again. What is she up to? What is she cooking up with Milos and Suzanne?'

A girl like you. Thanks. Ruth shook her head. She turned round and walked back towards the door to the stairs. There was a keypad on the right. Jane didn't move.

'I want to go now. Open the door.'

Jane followed her across the gravel, but she didn't punch in a code.

'It's important, Ruth. The Shilkovs are dangerous people. They've nearly got you killed once already. I'm just trying to help you understand what's going on.'

Ruth stared at the door. 'Let. Me. Go. Home.'

Jane brushed a speck from her lapel. 'Home already, is it? What do you think the Shilkovs will do when they realise you've been lying to them? That you tricked your way into that house?' How did she know about that? Ruth felt her blood chill and thicken in her veins. 'Sly little thing, aren't you?' Jane sighed theatrically.

Ruth moved fast, grabbing for the lapels of Jane's coat, but Jane was quick too, blocking the move, catching Ruth's right wrist and twisting it up behind her back. Ruth was bent over towards the gravel. She cried out and Jane shoved her away.

'You do have a temper, don't you?'

Ruth staggered, straightened up, felt her eyes getting hot. Her wrist ached and this woman made her feel like a kid again. A lonely angry kid.

'Just leave me alone!' Like saying that ever worked.

Jane lit another cigarette. 'Such a shame I can't appeal to your better nature. But you are interesting. I wonder what else I could find out about you if I tried? Worth thinking about. I'll be in touch.'

She punched in the number. The lock buzzed. Ruth pulled the door open and flew down the stairs, the rubber soles of her limited edition Converse squeaking on the turns. Stupid. Stupid. Stupid.

 

She was rattled as hell on the way back to the house. No banter with the driver and fighting the impulse to chew her nails off. Why did this woman need to know about Korcˇula? What could she find out about Ruth? Nothing. Nothing important. Impossible. And what good would it do Jane Lucas to rat her out to the Shilkovs? Should she report this Jane Lucas thing to Michael? No. That thing Lucas had said about Ruth lying, tricking her way into the house . . . If in doubt, do nowt. Fuck.

As they pulled up, the front door opened and a woman in a sage green suit walked down the steps. She cast a vague glance in Ruth's direction as she went and Ruth felt a twinge of recognition. Suzanne D'Arcy.

'Ruth?' The driver had opened her door and was waiting for her to get out.

'Sorry, Jay,' she said and clambered out. 'See you later.'

He nodded and she went up the steps and into the house. One out, one in. Could Suzanne D'Arcy be from Yuri's office? They handled a lot of stuff for Elena, from office supplies to bills, but the people who worked there usually had bulging briefcases with them and a harried look.

Ruth headed for her office, took her brand-new passport out of the bag and stared at it. When the door was flung open, she jumped.

'Got it?' Elena was glowing. Ruth showed her the passport and Elena swung her hips and twirled. It made Ruth laugh.

'Why are you so excited about my passport?'

Elena stopped dancing, her hands still held out, flexing her wrists. 'Because I am very happy. Because something fucked is finally going to be un-fucked and I need you to go on an errand for me. To Paris. You get a night in Paris. You go Monday morning.'

Chapter 11

She'd never flown before, and it wasn't that she was scared, it was just she was aware that she would be having a new experience. She studied the plane from the walkway. It was very clean. That was good. Or did it mean it was new? Mike Cunningham had always said it was new cars that went wrong the most.

'Miss?'

Ruth handed over her boarding pass and the steward's smile lurched upwards in wattage when she saw 'first class'. Ruth was ushered into the second row of seats. First class on a hop to Paris might cost more than a month's rent, but on the small workhorse planes that went back and forth a dozen times a day across the channel, all that translated into was a bit more legroom and the hostile glances of all the economy class passengers who staggered past you, harried and resentful, into the narrower seats behind the curtain.

Ruth settled into her window seat, put her attaché case and Chanel bag under the seat in front of her and stared out at the runway. Isme had visited again in preparation for this trip with a couple of executive suits, and so Ruth was in a houndstooth jacket and pencil skirt, both Elie Tahari, and high heels, Manolo Blahnik. Ruth had decided not to look up what they cost this time. Last time she'd felt sick at herself and excited at the same time and hadn't liked it. Elena said the Parisians were too snobbish for jeans, even designer ones. She needed to project a bit more authority for this errand. An errand. To Paris. She would be staying overnight at the Ritz on the Place Vendôme. This was apparently important for her authority too.

The last time she got sent on an errand at her old job it was to get copier paper from Ryman's. The thought made her snort to herself.

'Something funny?'

Ruth turned away from the window and was treated to the sight of Michael Fitzsimmons reaching up to put his briefcase in the overhead locker. His shirt pulled up as he stretched, exposing a square of tanned skin above his belt. She refocused.

'Michael?'

He sat down in the seat next to her, straightened his tie.

'Yes, I'm coming to guard you personally.'

Ruth tried not to feel pleased. When she'd learnt what the errand was, her mouth had gone dry and her hands sweaty, which is a weird way for your body to react, but there you go.

'But your job is to guard the family, not me.' He gave her a sideways look. 'Oh. You're guarding the money.'

'I am. Guarding you is an optional extra.'

Ruth grinned. Michael sounded almost relaxed. Was it not being in the house? Even the way he sat in the seat seemed easier. . . .
We hope you are enjoying the book so far. To continue reading...
The Russian Doll
Marina Palmer
Copyright © 2022 All Rights Reserved