The Killing Choice
'Leave your daughter with me, or I will kill you both'
Book info
Sample
Audiobook
Media
Author updates
Synopsis
THE SECOND NOVEL FROM THE AUTHOR OF THE BURNING MEN, FEATURING DI ALEX FIN AND DCI MATTIE PAULSEN

'Leave your daughter with me, or I will kill you both.'

It felt like any other evening before Karl and his daughter were ambushed by a figure in a blank mask. A knife is put to her throat, and Karl is forced to make an impossible decision. Stay and die, or walk away and take this thug's word that they will both will live.

Should he trust a villain and leave his daughter with a knife at her throat? Could he ever live with himself if he did?
It's not long before more seemingly unconnected and innocent people across London are offered a deal in exchange for their life. More blood is spilled, more families shattered, and more people are left to suffer with the consequences of their decisions.

DI Alex Finn and DC Mattie Paulsen must hunt for a killer that appears to have no face, no motive and no conscience before more victims are forced to take their pick.

This is second in Will Shindler's Finn and Paulsen series - a British detective series that ranks with Mark Billingham, M.J. Arlidge and Stuart MacBride.


PRAISE FOR THE BURNING MEN

'Arresting...an unusual novel with a rising sense of menace' The Sunday Times
'A gripping debut with well-rounded characters and an intriguing plot. You won't want it to end' Heat
'An unmissable debut' Sunday Express S Magazine
'The pace is good and Finn is a great character. There is also an excellently portrayed organised crime boss' Literary Review
'Well-constructed and cleverly penned, this is one that starts strongly, continues powerfully and ends with a very satisfying bang. It's about consequences, consciences and morals intertwined with some gruesome scenes and a thumping good ride' NetGalley Reader
'If, like me, you are the kind of reader who likes to be in on the ground floor of a brand-new series, then get The Burning Men on your pre-order to be read lists because this is one of those times. . .' NetGalley Reader
'This is a great read about greed and treachery. An engaging, exciting read which I read in one sitting. Lots of red herrings, twists and turns' NetGalley Reader

(P) 2021 Hodder & Stoughton Ltd
Release date: February 11, 2021
Publisher: Hodder & Stoughton
Print pages: 404
* BingeBooks earns revenue from qualifying purchases as an Amazon Associate as well as from other retail partners.
Listen to a sample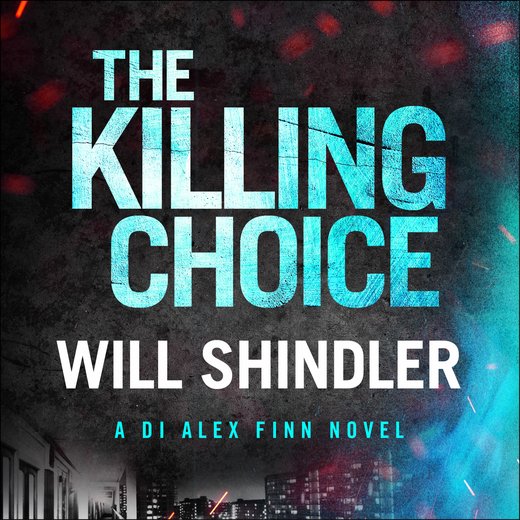 10:51:07
298.08 MB
February 4, 2021
Hachette UK
The Killing Choice
Will Shindler
Chapter 1

Alex Finn looked around the wine bar gloomily and wondered if it wasn't too late to turn back. He was hoping this would be quick and painless. If he could keep it to under an hour, it'd be a result. Caroline Hunter, universally known as Cally, was an old friend of his late wife. It was around a year now since Karin had died from a brain tumour. There were some reminders of their life together that helped with his grief and others that didn't. Cally was definitely the latter.

She reminded him a little of the Lucy character from the old Charlie Brown comic strips: bossy, opinionated and something of a conversational bully. He'd always felt a certain empathy for her rather drippy husband Eric who used to escort her, barely saying boo to a goose. They'd sent him a card with condolences after Karin's death, and he'd assumed they'd quietly fade away after that. He'd thus been rather mystified when Cally texted out of the blue, asking to meet.

The bar in Clapham was the sort of place Finn went out of his way to avoid, and it struck him how odd it felt to be meeting Cally without Karin beside him. Usually, as Cally was oh-so-wittily dissecting his personality, his wife would catch his eye; a knowing look between them which dissolved his irritation, forced him to stifle a smile instead.

He couldn't pretend he was even close to being over Karin's death. The experts say there are five stages to bereavement: denial, anger, bargaining, depression and acceptance. By his estimation he'd moved through the first three and was now stuck rather depressingly in depression – something he tried not to think too hard about. In short, there was awareness – a realisation she was gone – but no acceptance yet. Not by a long chalk.

His job, as a detective inspector with a major investigations team at the Metropolitan Police, gave him ample distraction. Whether that was positive or not was debatable. Diversion was good; not giving yourself enough space to move on wasn't. He knew that, but preferred not to dwell on it. Instead, the multiple investigations he'd taken on helped him make sense of the post-Karin world.

The one certainty in his life was that, unlike certain professions, his work wouldn't ever dry up. The official statistics claimed violent crime was on the wane. The amount of overtime he and his team were doing suggested otherwise, and Finn wasn't complaining. Work gave him routine, routine gave him structure, structure provided distraction. And distraction numbed the pain.

He looked around the wine bar with little enthusiasm. Soft jazz played in the background, mingling with the low hubbub of courting couples. It was a world he felt no connection to. He longed to be at home, with a cup of coffee and his paperwork spread out in front of him.

'I hope you haven't been waiting long?'

He recognised the cultured voice immediately, and turned to see a tall woman in her early forties with dark blonde hair smiling at him.

Cally Hunter certainly cut a distinctive figure, her fashion style very much rooted in French New Wave. She wore a simple buttoned-down blouse with a black jacket, black denim trousers and black shoes. The Gallic look wasn't accidental – she ran a small French restaurant in Islington which somehow managed to survive and thrive despite the harsh economic climate. She was looking at him with a curiosity he'd come to recognise in recent months. He'd seen that expression on a lot of faces and was well versed in it. People, it seemed, never lost their interest in where you were at with your bereavement.

'No, not at all. I only got here about ten minutes ago,' he replied. She took a seat opposite him and he pushed one of the two glasses of Burgundy on the table over towards her.

'I hope it's okay . . .' He'd been assured by the waiter it would impress even the most knowledgeable pallet, and was pleased to see an appreciative look as she took a sip.

'More than okay. Very nice indeed. I'm assuming you must have taken the waiter's recommendation?' There was just enough of a sarcastic undertone to get his hackles up. The fact she was absolutely right was completely irrelevant.

'Of course.'

She smiled at him again, warmer this time.

'So, how are you doing, Alex?'

'Getting along. I miss Karin, of course. Every day – goes without saying.'

The gruffness of his response gave him away, as did his instinctive glance down. She was scrutinising him carefully, he noticed, but there followed another kind smile.

'Me too. You get plenty of fair-weather friends in life. Karin wasn't one.' He nodded and there was an awkward silence. He wasn't quite sure if she'd called him out of a sincere desire to see him, or whether there was something else to it. He couldn't think what it might be, but there was a mild flickering of curiosity.

'How are you, anyway?' he asked.

'Busy. But in my line of work you learn to be grateful for that.' She took another sip of her wine and ran her tongue over her top lip for a moment. 'Look, I won't waste your time; you're probably wondering why I suggested this.'

'We haven't seen each other since Karin's wake. I assumed—'

'Oh come on, Alex . . .' she said, immediately interrupting. 'We've never really hit it off, have we? I wind you up.'

Finn didn't know what to say. No argument there. 'I'll tell you a secret though,' she added. 'I've always rather enjoyed getting under your skin.'

'I'll tell you a secret – I know.'

They both chuckled and it helped break the ice.

'I do respect you though. Karin was so proud of you. I just found you . . .'

'. . . a humourless stick-in-the-mud?' he said, allowing just the slightest hint of a wry smile.

'Well, since you put it that way, yes. Anyway, I received a letter yesterday. This is going to sound crazy, but it was from Karin.' Finn tensed, his steel-grey eyes suddenly lasering into her. 'It turns out it was in her will. There was an instruction for her solicitor to send it exactly eleven months after her cremation.'

His gaze seemed to intensify until he broke it off and looked away sharply. There was a long silence as he took in what she was saying. The room suddenly seemed short of air.

'Alex?'

He looked back at her slowly, smiling as pleasantly as he could manage.

'I'm okay. She never did like round numbers. Six months or a year would have been too obvious. I should have guessed she'd pull something like this,' he said. The words were affectionate but inside he felt like a fist was holding his heart and slowly squeezing it.

'Don't you want to know what it said?' For an instant it was almost as if he didn't.

'Oh, go on then,' he said, trying and failing to make his words sound light.

There was a tilt of her head, an appreciation of how big a moment this was for him.

'She was worried about you. That you'd retreat into yourself after her death. She said she'd talked with you about that, but was convinced you'd ignore her.'

Finn tried to mask his reaction. He didn't quite know what he was feeling yet, whether this was a welcome or unwelcome development. But he felt overwhelmed. At work he thought he did a decent job of keeping his emotions disguised from his colleagues. But right now he was aware Cally was reading him like a children's book written in particularly large capitals.

'I'm guessing she sent you to check up on me?' he said finally.

'Sort of . . .'

She let it hang, inviting the follow-up.

'Can I see this letter?' he said with a sudden burst of irritation. If Karin wanted to communicate with him, then he wanted to hear the words directly from her, not her surrogate.

Cally laughed unexpectedly. Loud and throaty.

'Actually, no. She said you'd ask and instructed me to refuse – said you'd know exactly what it was about, and to remember Berlin.'

Berlin was the place Karin had chosen in the months before her death to have a conversation with him. It was where she'd shared her concerns about what would happen once she was gone. There was no danger of him forgetting – that conversation was burnt on his brain.

'So, is she right?' asked Cally.

'I suppose. I'm very busy with work though. It's hard to know whether I'm "retreating into myself", as Karin puts it, or whether I've just got a lot on my plate. Did she give instructions on what you're supposed to do about this?'

'No. She did not. Which is rather unhelpful,' said Cally with some degree of deadpan. 'Look, I know we've never been close. Maybe that's why she chose me. She knew I wouldn't give you an easy ride.'

Finn exhaled, and ran a hand over his scalp. This felt huge. He knew it wasn't, not in the grand scheme of things. But it was still a shock, and as a rule he wasn't a man who liked surprises. Even ones like this.

Cally was studying him again. She meant well, but he hated the scrutiny. Only one person got to look at him like that. Or at least, used to.

'So what do you want to do?' he said, throwing the ball back to her.

'I think we have to listen to Karin, don't you?'

Finn shrugged impotently. 'And what does that mean?'

'That I think we're going to have to do this again. Meet up – you and I. Because that's what she wants . . . wanted. For you to have someone to talk to – someone she trusted. Whether you like it or not. I think that's what she was after.'

Despite the words there was a kindness in her eyes.

'That . . . is very Karin,' he said.

Finn's phone buzzed on the table. He held up a hand in apology and took the call.

'Sorry to bother you, boss.' He recognised the slight Scandinavian lilt of DC Mathilde Paulsen. 'A woman's been murdered in Crystal Palace Park. I'm just on my way over. Do you need a lift or do you want to meet me there?'

Finn looked over at Cally, whose eyes hadn't left him.

'I'll take a lift if you're offering.'

He smiled politely at Cally.

'Coward,' said Karin.



Mattie Paulsen watched from her car as Finn said his goodbyes to the rather striking blonde he'd just escorted out of the wine bar. His body language was stiff and awkward – no surprise there. She supposed it could have been a date, but instinct told her otherwise. Whatever it was, it was an interesting development, though it went without saying that interviewing a serial killer would be easier than extracting information from Finn.

The state of the DI's personal life was the subject of much conjecture at Cedar House. The strong suspicion was that he didn't have one. Most days he seemed to be in before anyone else, and no one knew when he left, because no one was there to see.

Paulsen, no stranger herself to brusque introversion, had noticed a change in recent weeks. Finn's usual cool detachment had crossed a line into overt snappiness, and most uncharacteristically – for him, anyway – some small slips. Misremembering the odd name, repeating the same instructions, getting the times of routine meetings mixed up. Others were noticing too, but things hadn't quite reached the stage where it was being discussed openly. Perhaps because they collectively knew what was at the heart of it.

Paulsen saw him glance over nervously at her as he awkwardly embraced the blonde. The tall woman left, heading off towards the tube station, and Finn began to stride over. In his mid-forties, he was an imposing figure from a distance, but up close the high cheekbones and horn-rimmed glasses suggested a more scholarly personality. He'd quickly re-adopted his best poker face but Paulsen knew him well enough to see he was unsettled. What was harder to read was whether that was because of the blonde woman, or because he'd been observed.

They'd been working together for almost a year. She'd joined Cedar House the day after Karin Finn's cremation. The two of them had got over a difficult start to build a strong working relationship. They weren't friends as such, and certainly didn't socialise away from the job. She was in her mid-twenties and their worlds were completely different – if you asked him about Drake, he'd probably assume you were talking about Sir Francis. Nevertheless, there was an undeniable connection between them. She often struggled to define it. It just was what it was. Aside from her partner Nancy, she considered him one of the few people she genuinely trusted. Though that didn't stop him from being as moody and irritable with her as he was with everyone else.

He got in the car, strapped himself in and glowered at her, well aware of what she was thinking.

'She looked nice,' said Paulsen lightly.

'An old friend of Karin's. We were just having a catch-up.'

The second sentence carried something slightly defensive and she knew better than to push it. She started the engine and moved off.

'So bring me up to speed – what's happened in Crystal Palace?'

'Sounds like a mugging gone wrong. A young woman out with her father – Leah and Karl Suleman. They got jumped by some bloke in a mask. Multiple stab wounds apparently – she was dead before the paramedics got there.'

'And the father?'

'Wasn't hurt – or at least there aren't any physical injuries.'

'So what happened? Did the daughter try and take this guy on?'

Paulsen shrugged. 'The only witness was the father and he's not making much sense according to DS Ojo – he's still in shock.'

Finn digested the information and Paulsen saw him glance across curiously at her. In a jacket and jeans, she'd changed since he'd last seen her in the incident room earlier that day. Tall, mixed race, with a distinctive jet-black bob of hair, her work attire was usually impeccably formal.

'So has this interrupted your evening too?'

She nodded.

'My brother was coming round for dinner. Nancy's furious – she spent half the afternoon cooking.'

'I'm sorry.'

'Don't be. It's a bit of a relief, if I'm honest. Don't ask.'

He didn't. He frowned instead and stared with some intensity out of the window. Whether that was because of the woman he'd just been with or because he was refocusing on the task in hand, Paulsen couldn't tell, but they drove the rest of the way in silence.

Chapter 10

Karl was listening to the radio when the next message arrived. The comforting voices on 5 Live, which he was used to hearing talk about football or films, were inviting phone calls instead about him. 'Would you leave your child,' they were asking, 'if you thought it was the only way to save them?' Wanda from Moseley thought Karl was a monster. Jim from Stirling had a lot of sympathy for him and believed he'd done the right thing. Lorna from Plymouth thought Leah's mother would probably have been braver in that situation. He turned the radio off and glanced at his phone. He recognised the picture on the screen straight away – the knife used to murder his daughter, still stained with her blood. An emoji of a little waving hand followed, then the words.



Pissed your pants yet, Karl?



He swallowed. He should take this to the police, he knew that. Instinctively he still didn't want to tell them, and felt ashamed now after listening to those radio calls. He glanced back at the image, a small rivulet of blood on one of the blade's teeth catching his eye. He felt hot and his heart began to pound. He was a man used to being in control and in the last twenty-four hours he'd lost his grip on just about everything. Normally he hated people who looked back, crying over the spilt milk of their mistakes. But he knew now the rest of his life would be spent doing just that, forever caught in the moment of that choice.

Claire was in the kitchen, finding distraction by making some dinner. He was actively scared of going to bed later, happy to delay that for as long as possible. Neither of them had a hope in hell of sleeping and there was the dreadful prospect of six, seven hours lying on a mattress marinating in their own torment. She came through the door holding a couple of plates. Nothing elaborate, just scrambled eggs on toast. Functional food to fill a gap.

She put the plates on the table, sat down and began eating without waiting for him. He rose from the sofa and joined her, trying to disguise his feelings. The silence was filled by the click-clack of their cutlery. He watched his wife eating, her eyes carefully pointing anywhere except at him, contempt screaming from every pore.

'What is it?' he said finally. She carried on shovelling the food in, clearly keen to get the whole process over with as fast as possible. 'Since that policewoman left you've hardly said a word. Please . . .'

She looked up at him as if he was being a bit slow.

'How long have you been taking drugs, Karl?'

'Oh come on – like that's the most important thing right now.'

'So it's true?'

'Does it matter?'

'Coke, I'm guessing – it certainly explains a few things about your temper.'

'Occasionally. Very occasionally.'

She stared at him in disbelief.

'Here? In this house? There's cocaine in my home, right now?'

'No, of course not. It's at work – a few lines to keep me sharp, that's all.'

She forked some more food in her mouth and looked away again. He surrendered on his own plate and tossed his fork into the centre of it with a clatter.

'Can't we at least have an adult conversation about this?'

'You want to talk about being an adult? When you're sticking coke up your nose like a twenty-something City boy trying to look clever?'

'You don't get it. It helps me work. Helps pay for all this.'

'No, I don't get it. But you're full of secrets, aren't you? I've even kept some of them for you over the years. And now we're paying the price, aren't we?'

'You're being ridiculous.'

'I'm being ridiculous? You left our daughter—'

'And there it is. Finally. Go on, say it. You know you want to . . .'

And so she did.

'It's your fault she's dead.'

The words reverberated around the room. The impact stunned them both. Claire recovered the quickest.

'What kind of man leaves his child? She must have been terrified, and you ran away while she lay dying in the mud. I'll never forgive you for it.'

She put her hand to her mouth, in too much pain to even cry. He tried to respond, but this time couldn't find the words.



As she made her way home from Cedar House that night, Mattie Paulsen couldn't shake the Sulemans from her mind. Karl in particular was nagging at her. She now regretted her initial snap judgement of the choice he'd made, having seen the toll it was taking on him. It wasn't so much cowardice, she thought, as a misjudgement; a gamble he'd taken and appallingly lost. It was hard not to think of him running back through the half-light, listening to his daughter's dying scream. Helpless and alone.

'There's no fucking way I would have left you,' said Nancy later.

She was laying the table in their small kitchen diner for three people. They'd managed to reschedule the meal with Mattie's brother Jonas. Nancy was cooking while Mattie attempted to get the flat into a state that at least partly resembled tidiness.

'But if you thought that was the only way we'd both walk away . . .' said Mattie, fiddling with the head of the hoover. 'Wouldn't you?'

'No, I sodding wouldn't. Whatever shit was going down, we'd do it together.'

'Do you know what a zombie knife does?'

'Makes little boys with small penises feel very well endowed?'

'It guts you from the inside. It's designed to cause the maximum pain possible.'

Nancy said nothing, fetched some vegetables from the fridge and went over to the kitchen counter to chop them. Mattie watched her pick up a large kitchen knife and lift an eyebrow.

'Well, I still wouldn't have done it,' said Nancy. 'I wouldn't have taken the risk – why did he think some low-life piece of shit holding a thing like that was going to keep their word?' Nancy was waving the knife illustratively as she spoke.

Mattie put the hoover head down and reached for her glass of wine.

'Because you haven't got time to think in those situations. You make a decision in the heat of the moment and you hope it's the right one.'

'And how's that sitting with your guy now? From what you're telling me, it's not, is it? Sounds like he's no angel anyway. I worked with men like that when I was temping. Coke-fuelled tantrums because you forgot to post a letter or something. They always think they know better. Even now, with you. And you're just there to help him, aren't you?'

'I can forgive him that. It's hard to take it personally in the circumstances. You can see it in his eyes – there's something broken in there. I'm not sure it'll ever get fixed either.'

Mattie shivered. Think about Karl too much, and it kind of crept into your head – the aching pain, the pervading guilt. She'd felt it in his house and could still feel it now, even see Nancy was getting a sense of it too. She drained her glass and turned the hoover on, looking for a distraction.

Her thoughts turned to her brother Jonas, glad they were finally having a chance to catch up. He was older than her by two years, but often felt more like a little brother. Like Mattie, he possessed a quiet seriousness about him, but none of the suppressed anger she often carried. He was a teacher at an inner-city school in east London, and despite their proximity they tended to lead separate lives. It wasn't deliberate, but the annual New Year's resolution to see more of one another never seemed to happen. In recent months there'd been a slight undercurrent to their relationship. For a while he'd been raising some concerns about their father, concerns she'd swept under the carpet. The way you do when you really know you shouldn't.

Christer Paulsen lived with his wife Evelyn, Mattie and Jonas's mother, in Norfolk. Christer came over to England from his home city of Gothenburg in search of work in the mid-seventies, while Evelyn was the daughter of a nurse who'd come to Britain in the mid-fifties after growing up in Trinidad. The pair had met through their work, scientists working on a research project at a laboratory in Croydon. They'd settled in the area, raising Mattie and Jonas in south London, before choosing to retire in the English countryside.

Over the last year that precise mind her father possessed seemed to be failing him. At first Mattie hadn't taken Jonas's warnings as seriously as she should have done. Christer, like many brilliant people, had always been a little scatter-brained. Taking her brother's advice, she'd spent more time visiting them recently. She still wasn't sure there was anything more to it though. Neither Christer nor Evelyn seemed keen on investigating the issue further, and her brother's view was that they were burying their heads in the sand.

When he arrived he seemed determined to make the atmosphere bright and breezy. Jonas Paulsen shared some of his sister's physical attributes: the jet-black hair, the Roman nose and the Scandinavian inflection in his voice. He was as direct as her too, and it didn't take long for the conversation to turn to their parents.

'I don't see how you can have gone up there and not seen it,' he said.

'He's just getting old, they both are.'

'How much time have you actually spent with them?'

'A few weekends – enough.'

'A few weekends – how many? Two or three in six months? Fuck's sake, Mat . . .'

'Jonas—'

'There's a reason I wanted to see you tonight.'

'No shit.'

He gave her a withering look.

'I've finally persuaded them he needs to see a doctor, to get himself properly tested. We'll know definitively if something's wrong then. I thought you should know – have some warning so it doesn't come as a bolt from the blue.'

'You're that certain?' said Mattie.

He nodded, his chestnut brown eyes locked on hers, genuine concern now on her face.

'Maybe we should go up and visit them next weekend,' said Nancy carefully.

'I think that's a brilliant idea,' said Jonas.

Mattie held her hands up. 'Okay, I surrender. Now will you get off my case?'

It was after they'd eaten and were on the coffees that Nancy brought the conversation back round to Karl Suleman. She seemed fascinated by the choice he'd been ask to make, and was clearly still thinking about it.

'I'd have gone – no question about it. Christ, if it was me or you, Mat, there'd have been a dust cloud after me,' said Jonas. He grinned at his sister, who responded with a slow, methodical raising of her middle finger.

'Seriously,' said Nancy.

'I am being serious. No point both of you dying. He did the right thing. I mean . . . I'd have probably told the other person to leave, then tried to talk my way out of it.'

'Yeah, because that would really have worked,' said Mattie. Jonas made a face at her.

'Surely the question'. . .
We hope you are enjoying the book so far. To continue reading...
The Killing Choice
Will Shindler
Copyright © 2021 All Rights Reserved