The House of Broken Angels
Available in:
eBook
Paperback
Audiobook
Hardcover
Book info
Sample
Audiobook
Media
Author updates
Lists
Synopsis
From a Pulitzer Prize finalist comes a powerful and unforgettable portrait of one Mexican American family and the American dream
"All we do, mija, is love. Love is the answer. Nothing stops it. Not borders. Not death."
In his final days, beloved and ailing patriarch Miguel Angel de La Cruz, affectionately called Big Angel, has summoned his entire clan for one last legendary birthday party. But as the party approaches, his mother, nearly one hundred, dies herself, leading to a farewell doubleheader in a single weekend. Among the guests is Big Angel's half brother, known as Little Angel, who must reckon with the truth that although he shares a father with his siblings, he has not, as a half gringo, shared a life.
Across two bittersweet days in their San Diego neighborhood, the revelers mingle among the palm trees and cacti, celebrating the lives of Big Angel and his mother, and recounting the many inspiring tales that have passed into family lore, the acts both ordinary and heroic that brought these citizens to a fraught and sublime country and allowed them to flourish in the land they have come to call home.
The story of the de La Cruzes is the quintessential American story. This indelible portrait of a complex family reminds us of what it means to be the first generation and to live two lives across one border. It takes us into a world we have not known, while reflecting back the hopes and dreams of our own families. Teeming with brilliance and humor, authentic at every turn, The House of Broken Angels is Luis Alberto Urrea at his best, and cements his reputation as a storyteller of the first rank.
Release date: March 6, 2018
Publisher: Little, Brown and Company
Print pages: 368
* BingeBooks earns revenue from qualifying purchases as an Amazon Associate as well as from other retail partners.
Listen to a sample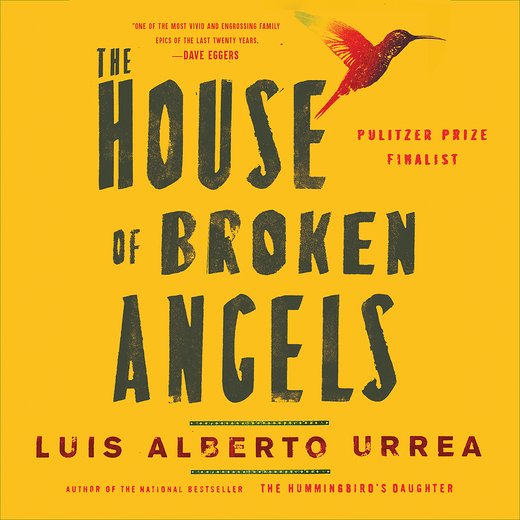 09:46:20
268.41 MB
9781478915812
March 6, 2018
Hachette Audio
The House of Broken Angels
Luis Alberto Urrea
Big Angel's Last Saturday

Big Angel was late to his own mother's funeral.

He tossed in his bed, the sheets catching his feet in a tangle. Sweat tickled his sides as he realized what was happening. The sun was up—it was bright through his eyelids. The burning pink world. Everybody else would be there before him. No. Not this. Not today. He struggled to rise.

Mexicans don't make these kinds of mistakes, he told himself.

Every morning since his diagnosis, he had the same thoughts. They were his alarm clock. How could a man out of time repair all that was broken? And on this morning, as he was awakening to these worries, cursed by the light, cursed in every way by time, betrayed by his exhausted body while his mind raged, he was startled to find his father's ghost sitting beside him on the bed.

The old man was smoking one of his Pall Malls. "That's a lot of weight to carry around," his father said. "Time to wake up and let it go."

He was speaking English. His accent had gotten smoother, though he still pronounced "weight" as gweitt.

"Es mierda."

The old man became smoke and rose in curls to vanish against the ceiling. "Watch your language," Big Angel said.

He blinked his eyes. He was the family's human clock. If he was still asleep, they were all still asleep. They could sleep till noon. His son could sleep till three. Big Angel was too weak to leap up and start shouting. He poked his wife in the back until she started, looked over her shoulder at him, and sat up.

"We're late, Flaca," he said.

"No!" she cried. "Ay Dios."

"Sí," he said, deeply satisfied somehow to be the one to lay down a rebuke.

She sprang from the bed and raised the alarm. Their daughter, Minnie, was asleep on the living room couch, visiting for the night so she'd be on time. His wife shouted, and his daughter crashed into the coffee table. "Ma," she complained. "Ma!"

He put his fists to his eyes.

The women came into the room without a word and levitated him out of bed, then helped him to the bathroom to brush his teeth. His wife took a comb to his bristly, stand-up hair. He had to sit to pee. They looked away. They wrestled him into slacks and a white shirt and planted him on the edge of the bed.

I am going to miss Mamá's funeral, he told the universe. "I never cry," he announced, his eyes bright with hard light.

They ignored him.

"Daddy's always watching everything," his daughter said.

"Es tremendo," her mother replied.

No measure of psychic strain could budge the world or his body into faster motion. His family? Why should today be any different? Chaos. In his house, they were suddenly all awake and moving around like crashing doves in a cage. Raucous flutter and no progress. Time, time, time. Like bars across the door.

He was never late. Until now. He, who endlessly combated his family's reliance on "Mexican time." They drove him crazy. If a dinner gathering was announced for six o'clock, he could be sure it wouldn't start until nine. They'd walk in as if they were early. Or worse, they'd say "What?" as if he were the one with a problem. You know you're Mexican when lunch doesn't show up till ten at night.

Qué cabrón. The morning had crept downhill like brown sludge. Muffled. Yet sounds were violently silver in his ears, all reverberations. Noise shocked him. His bones wailed deep in the midnight of his flesh, as white and hot as lightning.

"Please," he prayed.

"Daddy," his daughter said, "tuck your shirt in."

It was loose in the back—it kept coming out of his trousers. But his arms couldn't reach it. He sat on the bed glaring.

"My arms don't work," he said. "They used to work. Now they don't work. You do it."

She was trying to get into the bathroom to spray her hair. Her mother had laid waste in there, scattering brushes and girdles and makeup everywhere. Combs lay across the counter like fallen leaves from a plastic tree. Minnie was already sick of this whole funeral thing. She was almost forty, and her parents made her feel sixteen.

"Yes, Father," she said.

Was that a tone? Did she have a tone just then? Big Angel glanced at the clock. His enemy.

Mother, you were not supposed to die. Not now. It's hard enough already, you know. But she wasn't answering. Just like her, he thought. The silent treatment. She had never forgiven him for her suspicions about his past, about his part in the fire. And the death. He wasn't telling anyone, ever.

Yes, I did it, he thought. I heard his skull crack. He turned his face, lest anyone discover his guilt. I knew exactly what I was doing. I was happy to do it.

His mind kept playing a cartoon of a traffic jam made entirely of coffins. Really? Not funny, God. He'd show them all—he'd be early for his own pinche funeral.

"Vámonos," he shouted.

There was a time he could make the walls crack with his voice.

Across the bedroom, above his mirror, hung a crooked gallery of pictures of his ancestors. Grandfather Don Segundo, in a vast Mexican revolutionary sombrero: I feared you. Behind him in the picture, Grandmother, faded brown. To Segundo's right, Big Angel's mom and dad. Father Antonio: I mourn you. Mamá América: I bury you.

His daughter stopped trying to get past her mom and bent to Big Angel's shirttail to take care of him.

"Don't touch my nalgas," he said.

"I know, right?" she said. "Grabbing my daddy's stringy butt. Too exciting."

They faked a laugh, and she shoved back into the bathroom.

His wife burst out with her hands clamped to her hair, the strap of her full slip falling off her shoulder. He loved her collarbone and the wide straps of her bra. He was fascinated by the dark brown skin on either side of her straps, her shoulders scored by the weight of all the milk that had made her breasts so heavy and long. Dark grooves in her shoulders that always looked painful but that he could not stop kissing and licking in the days when they had still made love. He was soft inside his trousers, but his eyes were focused. The slip shimmered as she hurried, and he watched her bottom wiggle with each step.

She insisted on calling the slip "mi petticoat." He had always meant to look that up, because he was sure a petticoat was something else entirely, but then he realized he didn't want to correct her. When he was resting in the dirt, he was going to miss her little phrases. And her sounds: her stockings made frantic shish-shish-shish noises as she rushed to the closet to destroy it the same way she had wrecked the bathroom. Even her little grunts of panic pleased him. She sucked in a sip of air and made a sound: Sst-uh. Sst-uh. She stepped out of the closet and waved her hands.

"Look at the time, Flaco," she said. "Look at the time."

"What," he wanted to know, "have I been telling everybody?"

"You're right, Flaco. You're always right. Ay Dios."

"They're all waiting for me!"

She made a tiny grunt and shished back into the closet.

He sat on his side of the bed, his feet barely brushing the floor. Somebody was going to have to put his shoes on him. Infuriating.

*  *  *

Children outside raised hell with a legion of dogs; they were all absolved of the sin of noise—even of the sin of time.

Big Angel de La Cruz was so famous for punctuality that the Americans at work used to call him "the German." Very funny, he thought. As if a Mexican couldn't be punctual. As if Vicente Fox was late to things, cabrones. It was his calling to educate them.

Before he got sick, he had arrived early at the office every morning. At every meeting, he was seated at the table before the others came in. Old Spice in a cloud all around him. He had often set out Styrofoam cups of coffee for each of them. Not to show them respect. To tell them all to go to hell.

Like Nature Boy Ric Flair said on the TV wrestling shows, "To be the Man, you gotta beat the Man!" "Be a Mexi-Can," he told his kids. "We're not Mexi-Can'ts." They snickered. They had seen that in, like, an El Mariachi movie—Cheech Marin, right?

He didn't care about the job—he cared that he had the job. He brought his own colorful Talavera coffee mug to work. It had two words painted on it: EL JEFE. Yeah, the employees all got the message. The beaner was calling himself their boss. But what they didn't know, of course, was that "jefe" was slang for "father," and if he was anything, Big Angel was the father and patriarch of the entire clan. The All-Father, Mexican Odin.

And, by the way (bi de guey), the de La Cruz family has been around here since before your grandparents were even born.

His bosses could never have known that he was one of many fathers who had walked these territories. His grandfather Don Segundo had come to California after the Mexican Revolution, crossing the border in Sonora on a famous bay stallion called El Tuerto because he had lost one eye to a sniper. He carried his wounded wife into Yuma for help from gringo surgeons. Stayed in a burning-hot adobe close enough to the territorial prison so a person could smell it and hear the shouts from its cells. Segundo then stole a wagon and brought his wife all the way to California to try to enlist in World War I as a U.S. soldier. He had learned to kill while fighting General Huerta, and he was good at his job. And he had come to hate Germans because of the military advisors from Bavaria he'd seen with their ugly spiked helmets, teaching Porfirio Díaz's troops to use air-cooled machine guns on Yaqui villagers.

Dad had told him the story a hundred times.

When the United States denied Granddad's request to serve, he stayed in Los Angeles. Big Angel's father, Antonio, was five.

He wasn't allowed to swim in the public pool in East L.A. because his skin was too brown. But he learned English and learned to love baseball. The de La Cruz family became Mexican again when they went back south in the great wave of deportations of 1932, joining two million mestizos rounded up and sent across the line in boxcars. The United States had apparently grown weary of hunting down and deporting Chinese people for the moment.

What. Time. Is it? When are we leaving? Is Perla dressed yet?

He held his hands to his head. The entire history of his family, the world itself, the solar system and galaxy, swirled around him now in weird silence, and he felt blood dribble down inside his body and the clock, the clock, chipped away at his existence.

"Can we leave now?" he asked. But he could not hear his own voice. "Are we ready yet? Anybody?"

But nobody was listening.

Here We Go, Pops

Do I look good?" he asked Perla.

"Very good," she said.

"I used to look better."

"You were always handsome."

"Tie my tie."

"Stop wiggling."

He knew his siblings gossiped behind his back, of course. Big Angel wants to be a gringo, they said in their richly rewarding family sessions of tijereando, the ancient Mexican art of scissoring people. He knew this without anyone telling him. He thinks he's better than all of us.

"I am better than you."

"Excuse me?" Perla said.

He waved his hand.

Big Angel simply aimed to show the Americans something. His family was welcome to observe and learn if they wanted to.

A 43mm Invicta Dragon Lupah watch perched massively on his wrist with its magnifying glass crystal, as if he were some bomber pilot. It reminded the bosses that he was perpetually on time—American time. Minnie had bought it for him off a cable TV watch-shopping show. It was one of her 2:00 a.m. insomnia gifts. They were all prone to sleepless nights.

Now his watch circled his wrist freely like a collar too big for its dog. He watched Minnie spray her explosion of dark hair. She smiled at him in the mirror.

My beautiful daughter. We have good, strong blood. But I don't like the men she sees.

He winked at her. Only Big Angel could wink and denote wisdom. He tapped his Lupah.

He wasn't legendary only for his punctuality; he also had been the head of the computing division for the gas and electric company. He was proud that the company was so famous there had been a rock band in the '60s with the same name: Pacific Gas and Electric. He was pretty sure he could sing better than they could. Just not rock music, which everybody knew wasn't music at all. Hairy fairies in tight velvet pants and girls' shirts. Except Tom Jones. Ese sí era todo un hombre.

At his office desktop, he could access the records of every San Diegan, as well as organize and maintain the activities of all employees and executives in the network. Big Angel could see how often, for example, people in every neighborhood turned on their stoves to cook. The rich bastards in La Jolla and Del Mar used less gas than the rabble in the southside or Barrio Logan. Or his neighborhood, close to the border—Lomas Doradas. Judging from his gas and electric records, his Perla cooked about twelve hours out of every day. She had just discovered Kentucky Fried Chicken, though, and was starting to slack off a bit.

Computers weren't the point for Big Angel. He didn't even like computers. A Mexican doing what these rich Americanos couldn't do was the point. Like his father before him, with a piano, playing Ray Conniff into the night and stealing their wives right out from under their noses.

"I saw everybody's secrets," he called.

"Muy bien!" his wife shouted.

Real people cooked. He could see the use-rate digits every day. Street by street if he had the time. That was the theory he concocted: rich people must be ordering deliveries or eating cold food or going to fancy restaurants that cost as much as a sofa. Mexicans liked food hot, home cooked, and lots of it. Though for some reason his family had recently developed an addiction to pancakes. It must have come from their father, who called them "hotcakes" in Spanish: los jo-kekis, los pan-kekis. Legend had it that pancakes were the first American food he ever ate. Those and chop suey.

Many of Big Angel's executive colleagues thought Mexicans pushed brooms or scrubbed the restrooms, maybe wore hard hats in the field. He had done all these things. But a Mexican computer center director and cyber-systems manager was some sort of anathema that defied explanation and demanded whispered quorums deducing the impact of such upheavals.

Big Angel was aware of it all. He wasn't interested in affirmative action. He hadn't asked for help. His family had never accepted government checks or cheese or those big silver cans of federal peanut butter. He had never seen a food stamp. He wasn't some peasant holding his straw hat in worried hands, bowing to some master. He was Emiliano Zapata. He wasn't living on his knees. In his mind, he was showing his long-dead father his own worth as a son. His name tag said HOLA! instead of HELLO!

He shook his head, hard. Rubbed his face. Had he been napping? Chingado!

"Move," he said. "All of you!"

"Yes, Daddy."

"Now!"

*  *  *

Out in his room in the garage, Lance Corporal Hungry Man got his beret neatly positioned on his head. He had moved back in with them when Pops got so sick.

Favorite son, he told himself. He glanced at the plastic trophy Pops had given him. It said: LALO #1 SON! He looked at it all the time. He cocked the beret a little, down over his eye. Bruce Lee glowered from a poster behind him. And a bumper sticker from one of his attempts at a recovery program was above his bed: ONE DAY AT A TIME.

His former sponsor had made him a little placard with this motto wood-burned into it: SHORT FORM OF THE SERENITY PRAYER—FUCK IT.

He had done stuff. Bad stuff. He was working on it. Pops was always saying this was not West Side Story. Whatever that was. He got it—wasn't about no gangbangers. It wasn't about fights and creepy shit. Lalo knew this much: he was doing his best.

His high-and-tight haircut made him look like he was still in the service. It had been a good while. He tugged down the hem of his tunic. Squared away. Head of De La Cruz Security.

Days like today called for a uniform. Moms made sure it was always pressed and sharp. He maintained his dress tunic and trousers, his dress blouse and hats—all clean, crisp. Black shoes shined like dark mirrors. His little rows of fruit salad ribbons and medals neat, a gap where he had removed his Purple Heart and pinned it on his father. He still limped a little, but the leg wasn't too bad. He had some magic pills. He didn't think about it, if he could help it. Got a Chinese dragon tattooed all along the scar. Tail wrapped around his ankle, which still crunched like cereal when he walked. Didn't talk about it. Ain't no thing. Every homie had his secrets. Too bad those old-timers didn't have no secrets. Or maybe they did. He had kids himself—Gio and Mayra. He wasn't planning to tell them shit.

Lalo knew he had tragic eyes. Dark, like his father's. He looked like someone who had lost a lover. Or one who had tried to stop what sick sadness he was doing and could not, and was exhausted by acting like life was a sunny Fourth of July picnic.

His great-grandpa had been a soldier. And Gramps Antonio had been some kind of a badass cop. Grandma América—she had been a trip. She had managed to be sweet as she kicked everybody's ass. She had been badder than Abuelo Antonio. Sorry to be burying her today, for reals. He wasn't about to even begin considering burying Pops.

Pops. Hungry Man didn't know what his dad had done in the real world aside from raising the fam with Moms. Life, man—did Pops have a life? That was its own little war, being a dad. Lalo knew that. He laughed once, making a skitch sound with the side of his mouth. It was war for sure with him and his brothers and sister. And Moms.

Freakin' Moms, laying down the law and order with her slipper. La chancla. Every vato feared the chancla. A million bug-eyed, pissed-off Mexican mamas whacking the bejesus out of their kids, holding one arm and flailing ass with the free hand, the whole time dancing in a circle as the homie tried to run away but couldn't get out of her grip. And Moms getting all formal as she lectured, every word coming down with the whacks on the ass: Usted-va-a-aprender-quién-es-la-jefa-aquí! It was all "thee" and "thou" when the Old Ladies started smacking you. And once the poor criminal escaped, Moms launched that chancla like a guided missile and beaned him in the back of the head.

"Worse than a drill instructor," he told his reflection.

Outside, all the shorties and peewees were laying siege to the yard and the house. Squabbling and screaming and passing a half-flat soccer ball from foot to foot as they ran. The girlies were as loud as the fat boys. It was a freakin' chicken coop out there, but Pops liked all his grandkids and grandnieces and neighbor kids and waifs eating all the food and breaking stuff. Above their incessant caterwaul, he heard his dad shouting: "Lalo!"

"Coming, Pops!" he called.

"Hurry, mijo!"

"On my way!"

It seemed to Lalo that some days everyone shouted at everybody else, like they were all deaf or didn't understand English. Well, Moms—that was arguable. But she probably understood more than she let on.

"Lalo!"

"Coming!" Hungry Man snapped a salute in Big Angel's general direction. He looked in the mirror again, tugged the hem of his jacket down one last time, trying to hide that civilian gut. He had a little silver .22 automatic strapped to his ankle like some narco. You do what you got to do, no lie. "Good to go," he said to himself and stepped out to find his sister smoking in the backyard. "Minnie," he said. "Check it." He posed. "I got my hair did."

"You look sharp," she said. "Bubble butt."

"You're too funny, Orange Is the New Black. Look who's talking."

"Hey," she said, tossing her smoke into the geraniums, "I never got arrested or nothing."

"Yeah? You're the only one."

She lit up a fresh one, smoked, studied the end of her cigarette, elegantly tipped off some ash with her ring finger, looked sideways at him. "You know what? Most people don't get arrested."

"What planet you from?"

She blew smoke at him.

"You smoke too much," he said.

"Said the junkie."

"Say what?" he said. "Keep flapping your big ol' duck lips, girl. See what happens."

She sneered.

"I hate it when you look at me like that, Mouse," he said.

"Really."

"I'm okay, okay?"

"Right." She blew smoke rings.

"Look," he said. "I'm clean. No lie."

"You sure about that?"

"I don't got a problem. Just takin' the edge off. I got reasons." He tapped his thigh, but sympathy moves no longer worked on his sister.

She held the cigarette away from herself and nodded. "Yeah, who doesn't?" Then, "And you stole my car last week."

"At least I ain't Braulio," he said.

"We don't talk about Braulio."

"I know, I know." But Lalo also knew, if he wanted a conversation to change, all he had to do was mention his dead brother.

They stood there, out of insults and accusations. Out of anything else to say. They looked at their feet.

"We have to get going," Lalo said.

"Pops," she replied.

"Yeah. Good ol' Pops. Got needs."

"It's what we do."

"Fuck it."

They went inside the house.

*  *  *

"I was never sick. I was never late. I banked my vacation time."

"How nice, Flaco," his wife said, patting his shoulder.

"And for what."

"I don't know."

"I wasn't asking, Flaca. I was saying."

"Right."

"Maybe asking myself."

"Eres muy filosófico," she said.

Minnie was back in their bathroom, ratting and spraying. Why did she drink so much last night? Her head was pounding. Big Angel knew. He could see it in her eyes.

"I don't care about my job," he said. "It was foolish, Flaca. I wish we'd gone to the Grand Canyon."

"How nice."

Perla was trying to hook her girdle snaps to the tops of her stockings. He watched her. Did anyone wear girdles anymore? Snap them to nylons? It had been his erotic fantasy to see the skirt rise and the fingers pull the sheer stockings up those dimpled thighs.

In his youth, he'd knelt at the feet of older women sitting in chairs as they pulled the nylon high. Opening their legs. "Don't touch! Look." Their gift to him. Their warm scents of baby powder and secrets. Him glancing at the shadowed white latex mounds between their thighs. And their dexterous fingers hooking the girdles to the nylon. "Just watch," those women ordered, knowing from his blush the power they were unleashing.

Nobody did that anymore except for his Flaca.

"I like your legs," he said.

She stared at him. "We do not have time for that," she scolded.

"Says who?"

"You do," she said.

As if he could anyway. "All righ. . .
We hope you are enjoying the book so far. To continue reading...
The House of Broken Angels
Luis Alberto Urrea
Copyright © 2022 All Rights Reserved