Book info
Sample
Audiobook
Media
Author updates
Lists
Synopsis
Part To All the Boys I've Loved Before, part Everything Leads to You, this queer rom-com puts a smart spin on all the YA tropes we can't get enough of.
Film club nerd Cleo Ferrara's senior year was like a storyboard waiting to be filmed. She knew the scenes, the players, and the eventual happy ending. Attend film school with her boyfriend, Daniel Sheridan. Become a film-making power couple. Take Hollywood by storm. Cut. Print. Fade to black.?
But in a plot twist Cleo never saw coming, Daniel dumps her for Kiki Pearson, the head cheerleader. This would be the point in the movie where the Sad Girl Music plays while the protagonist looks longingly out her window, but when Cleo looks out hers, she sees Marianne Lacerda, her former best friend…and a new storyboard unfolds.
Marianne is also nursing a heartache. When Daniel was dumping Cleo for Kiki, Kiki was dumping Marianne for Daniel. So instead of watching their exes parade around school, Cleo and Marianne start fake dating each other to ignite a little chaos in this bizarre love square. But any movie buff knows that when you introduce fake dating in Act I, it's going to get real by Act III. With friendship, the future, and love on the line, can Cleo script a happy ending for herself—or will she get her heart broken again?
Release date: May 30, 2023
Publisher: HarperCollins
Print pages: 368
* BingeBooks earns revenue from qualifying purchases as an Amazon Associate as well as from other retail partners.
Listen to a sample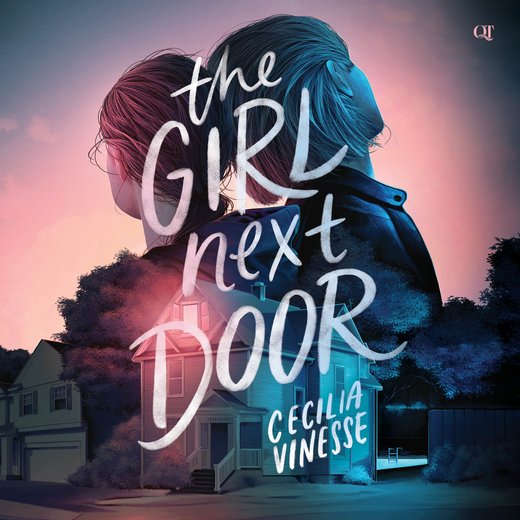 08:44:03
239.9 MB
9780063285903
May 30, 2023
HarperCollins
The Girl Next Door
Cecilia Vinesse
I have a rule. I never close my eyes during horror movies.
It doesn't matter if blood is splattered across the screen, or if the music has just gone spiky and intense, or if Chris is sitting right next to me, a blanket pressed to his face while he loudly hums "A Whole New World." Closing my eyes feels like cheating, and anyway, I'll never understand how to make one of these movies myself if I don't watch them carefully. I need to learn how to build tension and then cut it, how to play with light and shadow, how to frame a shot so that when the Big Scare arrives, no one will see it coming.
You might assume that, after years of training, I would be an expert at anticipating curveballs in real life as well as on-screen, but nope. You would be wrong.
For example, I was completely unprepared when, on the balmy June morning I showed up at Daniel's place so we could start preproduction on the screenplay I was writing for my NYU application, he informed me that although (a) he still thought of us as filmmaking partners and collaborators, (b) he no longer thought of us as boyfriend-and-girlfriend because (c) he and Kiki Pearson had "forged an undeniable romantic connection" while working together on our school's summer production of Pippin.
Daniel. My Daniel.
With Kiki Pearson!
At PIPPIN!
Despite her lack of qualifications as a "theater kid," Kiki is a local influencer whose daily outfit pics inspire legions of Murrow Creek High students to dress up as her creepy clones, and so she was wrangled into helping the actors with their costumes and makeup while Daniel stepped up to the plate as king of the sound equipment. According to the few other crew members I managed to interrogate, the two of them struck up a conversation in some moodily lit backstage corner, and things escalated from there, although even now, I struggle to imagine it. Last May, Kiki was voted incoming student council president and captain of the cheerleading squad, plus she's our class's equivalent of 1950s Audrey Hepburn while Daniel and I are a combined Nosferatu, lurking around our windowless film lab and slinking through the hallways hidden behind cameras. I can't even picture him saying hi to Kiki Pearson let alone doing other things with her that involve his mouth.
But honestly, the hardest thing to accept is that Daniel isn't an essential part of my life anymore. He's been so many things to me over the past few years: my friend from the moment we sat next to each other during our first film lab meeting and bonded over our mutual belief that Alien is a far superior movie to Aliens; my long-term crush (all of freshman year) and my longer-term boyfriend (sophomore and junior year). We even had plans to apply to NYU together and then, eventually, move to LA, where we would share a run-down studio apartment and drink iced coffee on sunny boulevards and devour overpriced but celebratory shrimp cocktail at the Musso & Frank Grill when we signed our first contracts with major studios.
Still, even as he crushed my heart—making me feel like there was a baby Xenomorph inside my chest, snarling and scratching and ripping me open—I refused to give him the satisfaction of showing just how much it hurt. I told him, politely, to go fuck himself and walked away from the opportunity to actually shoot my screenplay. Then I drove over to Chris's place, where, in true best-friend fashion, he insisted on playing me sad Tegan and Sara songs and scooping me an endless supply of mint chocolate chip ice cream, telling me it was okay if I needed to weep and curse the sky like a middle-aged divorcée in a Nancy Meyers movie. But even then, I didn't give in. Heartbreak might have caught me off guard, but this was where my education in horror came in handy. I would not let the shock plummet me into a state of ever-increasing despair. I would not let Daniel rejecting me and humiliating me sink into my bloodstream and take over.
Besides, I've got bigger and more important things to think about.
Like the fact that today is the first day of senior year, and I'm still shuffling around my kitchen in purple cat pajamas, eating a vanilla-and-raspberry cupcake that Dad made the night before, and scrolling through the flurry of texts Chris sent earlier this morning, debating whether the bow tie he wanted to wear to school was cute ironic or bad ironic. I grab a wonky mug painted with tulips that Mom made in her ninth-grade ceramics class and start filling it with coffee when a new message from Dad flashes across my screen.
He's sent me a few so far, but I haven't gotten around to reading them yet. Since he leaves for work every day before sunrise, I assume they will all be of the inspirational good-luck-on-your-first-day-you're-growing-up-so-fast variety. Maybe paired with a Gilmore Girls GIF or two.
But sadly, that's not the case. All this time, Dad has been trying to tell me that his car stalled out first thing this morning, and he had to take Frankie instead so he could get his plum-and-ginger Danishes into the oven in time for the opening Jasmine's rush. A part of me is secretly proud that Frankie—my secondhand Honda Accord so named because he groans like Boris Karloff in Frankenstein—could come to the rescue so valiantly, but another part knows I am all kinds of screwed. Dad clearly expected me to read this in a timely and efficient manner, but of course I didn't, and now the only way I can get to school on time is via the bus I used to take in my pre-Frankie days, the one with blistered plastic seats and the perpetual scent of Cool Ranch Doritos perfuming the air. The bus that left from the stop near my house approximately ten minutes ago.
I tear upstairs, frantically calling Chris and putting him on speaker so he can talk me through this crisis. Unlike me, he is the living embodiment of timely and efficient and has been on campus for an hour already, prepping for the morning assembly with other members of student council.
"It's the curse," he says flatly.
"It's totally the curse!" I say, tripping out of my pajama pants. Every year, without fail, something goes horribly wrong on my first day of school. Like when I was a freshman and attempted to flat-iron my bangs into submission but ended up singeing off a hunk of them instead. Or on the first day of middle school when I accidentally tucked my skirt into my Captain America underwear and a group of eighth-grade boys stood in formation and saluted me every time I passed them in the hallway. (Side note: They stopped on Halloween when I got off the bus in full Captain America regalia with a pair of boxer briefs yanked defiantly over the ensemble. Those boys had no choice but to concede my comedic dominance.)
"I could come and
get you," Chris suggests, which isn't a terrible idea, but I can't ask him to miss this morning of all mornings. It's too important.
"No way, Mr. Vice President," I say. "We didn't campaign our butts off last spring to let anything mess up your first day in office."
"But what if you miss the assembly?" he asks as I peel off one of my overnight zit stickers and flick it into the trash can beneath my desk. Normally, even the concept of a school assembly would bore me beyond tears, but this one is different, because at this one, the film lab adviser is going to announce which senior will be taking over as director of Dazed at Murrow Creek, a soap opera that students at our high school have been writing, producing, and airing in our hallowed hallways and homerooms since 1992. It's no exaggeration to say that this is the moment I've been working toward for the past three years. It's the reason I spent a whole weekend organizing the equipment closet when nobody else wanted to, the reason I drove all the way to Charlotte after I got my license to source the right fake snow for our holiday special, the reason I always volunteered to write last-minute scripts even when it meant failing an algebra quiz (or five). Becoming the director of Dazed is supposed to be the sweet, sweet justice I've been craving all summer: to beat Daniel—who's also gunning for the position—fair and square. But more importantly, it's supposed to be the cherry on top of my NYU film school application, the title of DIRECTOR crowning my résumé and proving, along with the screenplay (which I don't technically need to film for my creative portfolio), that I deserve my place in New York and the movie world at large. Because getting into NYU? That's nonnegotiable.
"I really don't want to miss that announcement," I concede, eying the faded I ️ NY sticker in the corner of my mirror, the one that my mom put there years and years ago, back when this was still her room.
"Lucky for you, I'm a Scorpio," Chris says. "I'm astrologically incapable of leaving you hanging."
This much is true. When I was eight and recovering from an ego-bruising performance of "Firework" in the school talent show, he came over right away to bring me a box of Pocky and a stuffed cat shaped like a sushi roll he got from his grandparents in Tokyo. But I like to think I pull my weight, too. When he broke his arm on the jungle gym, I wrote an entire fake TV show about a superhero raccoon and did a solo rendition of each episode while he convalesced on the couch.
Still, there's something about his tone of voice that doesn't sit right with me.
"That means you already have an idea," I say, "and I'm going to hate it."
"I already have an idea," he confirms, "and you're going to hate it."
I brace myself, waiting for him to suggest I text Daniel, who, eons and eons ago, would have been my first port of call anyway. "What if you asked . . ." He pauses. I hold my breath. ". . . Marianne?"
"Ha!" I crack up. "Good one, bud. You almost had me there."
"Come on," he huffs. "She's my cousin. She's not that bad. Besides, you two used to be friends."
"Yeah, when we were nine," I say. "I was a different person then. I thought the Minions movie was the height of cinematic sophistication."
"When you were nine, your favorite movie was Carrie," he points out, and he's not wrong.
Chris, Marianne, and I even tried to film our own version once, but her parents put a stop to it when they found the three of us in Marianne's backyard, diluting a bucketful of ketchup with the garden hose. Still, as I wrangle my favorite black dress, patterned with glow-in-the-dark skeletons, over my head, I reiterate to Chris that his plan sucks. I do, however, also peek out of the window behind my bed, my gaze tracking across the yard toward the fence that runs along the back of it, to the house that lies beyond and the swimming pool that shimmers like frosted glass. Images flicker through my mind as if I'm sitting in front of my laptop, editing them together: me and Marianne as little kids, dancing in her backyard in long, sequined dresses; the two of us swimming around each other like dolphins in her swimming pool; stealing her stepdad's iPad so we could make our own movies, some about catching sea monsters or being ol'-timey bank robbers, while others were embarrassingly romantic, the two of us reenacting scenes from old musicals and swooning into each other's arms while Billie Holiday songs played.
Marianne and I grew up together, but as soon as we hit puberty, our friendship fizzled out. Chris and I started auditioning for school plays—the first artistic rite of passage for any true film geek—while Marianne was adopted as Kiki's BFF in chief, a role that allowed Marianne to not only drift away from me but up into the ranks of the beautiful and the popular. She's also a swimmer, one of the best our small town has to offer, and soon her local-jock-hero energy became impossible to deny, she and her friends floating around in a hypnotizing mermaid pack, taking flawless selfies and charming (and intimidating) both students and faculty alike.
I flop back onto my bed, twisting my bangs in my fingers. After all, it's not just the fact that Marianne and I barely speak to each other anymore that makes the idea of asking her for a favor feel daunting. My heart splits in half and leaps into my armpits when I think about the fact that Kiki is not only Marianne's best friend but her girlfriend—excuse me, her ex-girlfriend—which means that at the same time Daniel was cheating on me with Kiki, Kiki was cheating on Marianne with Daniel. Which means that Marianne and I are the women scorned, the Thelma and Louise, the First Wives Club.
Talk about the worst opportunity for small talk ever.
"Any other ideas?" I ask Chris, but my voice sounds like limp lettuce now. I know this is the best one he's got.
"Concede director to Daniel?" he says, and I hang up the phone, snap a picture of my middle finger, and text it to him. He sends back a kissy face followed by two messages.
You know I'm right.
As per usual.
I sit up and fuss with my blinds, opening and closing them as I confirm that Marianne's red truck is, indeed, still in her driveway. I could always miss the announcements. Heck, I could skip the first day of school altogether if I wanted to. I could eat leftover raspberry buttercream for lunch and watch Night of the Living Dead with a notebook, breaking it down scene by scene. Marianne could drive to school single and triumphant, much to the delight of girls across Murrow Creek County who, at this very moment, are probably taking extra care with their morning makeup routines, ready and willing to take her back off the market. Marianne and Kiki may have been best friends since middle school, but they weren't a couple till the middle of junior year, and considering Marianne's long and storied dating history, I doubt she's nursing a broken heart anymore.
As for me? Broken heart or not, I have to keep my eyes on the prize. I have to think about how this assembly leads to Dazed leads to my NYU application leads to my life after Murrow Creek. The life I've been waiting for these past seventeen years. The life that feels like the promise of sitting in a movie theater just before the lights start to dim, just before you are picked up and transported to a more spectacular place.
I hop off the bed and fling open my closet, shoving aside hangers so I can grab what I need.
After all, if I'm going to do this? I'm doing it in my Edgar Wright jacket.
Technically, it's about twenty degrees too hot for a denim jacket, but just having it around my shoulders makes me feel like I'm wearing a necessary suit of armor. I am protected from every angle, impossible to destroy. I can even pause to appreciate this gauzy Murrow Creek morning, the pale blue sky and late-summer humidity occasionally broken by a soft mountain breeze. According to Dad, Mom used to love it out in our garden on mornings like this. After they moved here from New York, she'd get up at sunrise to drag her favorite wicker chair beneath our oak tree, admiring the flower beds and listening to Stephen Sondheim cast recordings on headphones. This jacket was once hers, too, a relic from her early '90s grunge phase that Dad gave to me before an eighth-grade field trip to Washington, DC, when he was worried I'd get homesick. Since then, I've slowly made it my own, covering it in enamel pins of mini meat cleavers and bi pride flags, teaching myself how to cross-stitch so I could embroider little black cats on each side of the collar. But the pièce de résistance came freshman year when Chris and I went to Atlanta for a Lizzo concert and ran into Edgar Wright, one of my favorite directors of all time, in line at a Starbucks. He signed the back in hot-pink Sharpie, and this jacket became magic for me. It became my safety blanket and good-luck charm all rolled into one.
And lord knows I'll need all the luck I can get now that I've reached the gate in the fence that divides my yard from Marianne's. Her stepdad built the gate not long after Marianne and her mom moved out here from their old apartment in San Francisco, back when Marianne and I were both six years old and we first set up camp in each other's lives, treating her house as an extension of mine and mine as an extension of hers. I have to wonder if the handle will even still work, or if it will be rusted shut on the other side, overgrown with ivy like something out of a Guillermo del Toro film. But it swings open easily enough, the pool filter gurgling a welcome as I step across the threshold. I pad over to the driveway and lean against Marianne's truck, balancing a fresh cupcake in my hands and reminding myself that I am calm, cool, and collected. I am untouchable and unbreakable. I am the Final Girl in a horror movie, the one who makes it out of the woods and away from the clutches of danger even when the entire audience is convinced she's doomed.
I can handle anything.
But thinking those things doesn't stop the sweat from beading around my forehead as I wait and wonder what's keeping Marianne or what she'll say once she finally catches sight of me. At last, I hear a door opening inside the garage followed by the sound of José—Marianne's little brother, who everyone calls Zé—crying about how much he hates raisins in his cereal, and Marianne and her mom having what sounds like a tense conversation in Brazilian Portuguese. Eventually, the garage itself grinds open, and Marianne steps out into the sunshine.
Only, she doesn't look anything like the Marianne Lacerda I've seen parting crowds in the cafeteria with zero effort or sitting at the best picnic table in the quad, looking like Kristen Stewart with her hair slicked back and a slouchy button-down open at the neck. For years, she's been the girl who exudes an undeniable magnetic force, the girl any camera would love to follow, but now her shoulders are slumped and her eyes exhausted. Her golden skin—bronzed deeper by the summer sun—is tinged with gray, and she's wearing a crumpled Duke swim camp T-shirt and a pair of cutoff denim shorts, which makes me think that someone had to physically prod her out of bed this morning.
It also makes me think that I've inadvertently photobombed some private moment here, a moment when her shields are lowered and the most fragile parts of herself have been left exposed, spilling to her feet. My instinct tells me not to stay. It tells me to run, so I dash around her truck and crouch down on the other side of it.
"Cleo?" Marianne s
ays.
Shit. I don't make a peep.
She sighs. "I can see your combat boots."
Shit, shit, shit.
I decide to do what I do best: act like I belong, put on a good show, fake it till I make it. "Happy senior year!" I cry, popping out from behind the car like a showgirl and brandishing my grotesquely melted cupcake in her direction.
Marianne grimaces.
Great. She's at a loss for words. Time to keep going, I guess?
"I baked you a cupcake." I waggle it in front of her, and some raspberry topping slops off the side, smacking onto the cement.
Marianne looks down at the red stain, then back up at me. "You didn't bake that," she says.
"Technically, no," I admit. "But! I did come here because I need a ride to school."
"Let me guess." She drops her aviator sunglasses from her head to her eyes, and it is frustrating beyond all belief that, even dressed as a human laundry basket, she is still undeniably gorgeous. I'm not exactly short, but she's always been a little taller than I am, with lean swimmer's muscles and perfect cheekbones and a tiny Marilyn Monroe mole at the corner of her mouth. Her complexion is clear and smooth, her lips naturally pouty, and I could do YouTube makeup tutorials all day every day for the rest of my life and never end up with brows as well-defined as hers. "You realized at the last second that Daniel was supposed to pick you up," she says, "but that's not happening, am I right?"
"Something like that." I give her my biggest, most dimply smile, the one I usually keep on lockdown because it makes me look too young and innocent. The one I normally break out only when I want to weasel cake offcuts from Diego and Annie at Jasmine's or convince my dad that burning my allowance on a replica of the Book of the Dead from The Evil Dead is, in fact, a wise financial investment. But, despite my smile's proven track record, Marianne's mouth remains a long, thin line. The kind you see on heart monitors at hospitals. The kind that tells you to abandon all hope. She unlocks her truck and climbs inside, an angsty Phoebe Bridgers song blaring from the speakers. On the rare occasions that Marianne and I have ended up stuck together on a school project or in a slow kiosk line, we've never had all that much to say to each other, but we would always at least say something. Usually "Hey," or "How's the family?" or "Wow, that math test was killer, hahaha, okay, goodbye forever." But this is so much more painful than every single one of those moments combined.
However, let it never be said that Cleo Ferrara is easily deterred—well, fine, minus that one time she hid behind Marianne's truck—so I walk over to the open passenger-side window and raise my voice over the music. "It would only be for today, and there are more cupcakes where this came from, and I promise, I w
on't say a word the entire way there." I mime zipping my lips shut to prove I mean it. After all, talking is one of my hobbies. Swearing it off is not a sacrifice I make lightly.
Marianne buckles her seat belt and adjusts her rearview mirror while I wait for her to reach her verdict, silently cursing this hippie, North Carolina town for its overabundance of folksy art galleries but abysmal lack of rideshares. "Would you relax and get in already?" she says at last, reaching over to grab the cupcake and taking a bite of pure frosting. "And you don't have to beg me for a ride. We're neighbors."
Neighbors or not, the ride itself is about as excruciating as watching the tenth installment of the Friday the 13th franchise. The one where Jason goes to outer space.
Marianne says nothing to me, and I say nothing to her. She rolls down all the windows and turns up her music, presumably to drown out any and all conversation potential, while I flick through some old pictures of Daniel on my phone, the ones I've been meaning to delete for months now: Daniel dressed as Obi-Wan Kenobi last Halloween; Daniel taking a nap beneath a desk in the film lab; Daniel laughing through a mouthful of cake, wearing the Minnie Mouse party hat I brought to his seventeenth birthday dinner.
"You up for coffee?" Marianne asks, and I drop the phone into my lap, hoping she didn't notice what I was doing.
"Always," I say, which is true. I may be worried about getting to school on time, but there's no way I'm turning down an opportunity for caffeine. Marianne pulls into the line at a drive-through coffee shack and props her elbow on the window's edge, rubbing the silver chain of her necklace while we wait. It's the necklace she's worn every day for as long as I've known her. A figa da sorte—a tiny charm shaped like an upside-down hand—that belonged to her grandmother and then her mother and now her.
It's funny, because even though we're essentially strangers now, I guess I do still know a lot about her. Like the fact that she goes camping with her dad every summer in Virginia, or the way she gets up at six a.m. even on weekends to do laps in her pool, or how she'll skateboard around our neighborhood whenever she wants time to think, large headphones clamped over her ears and an absorbed expression on her face like she's floating somewhere beyond the web of our tidy, quiet streets. Maybe into the surrounding peaks of the Blue Ridge Mountains or back to the West Coast, where she was born. Maybe she's standing on some distant pier, watching the ocean waves as they rush toward the shore.
Still, I can't get over how drained and despondent she looks, like someone released the valve on her typical sparkle. My guess is she was playing beer pong at a football dude's party last night while a cute incoming sophomore stood by her side, kissing her cheek for good luck. She probably snuck home at two a.m. through the crack at the bottom of her garage door—a move I've seen her pull before, by the way—and is now paying the price with a good old-fashioned hangover. We glide up to the coffee window, and I attempt to pass her a few wrinkled dollars for my drink, but she waves me off, ordering a shot of espresso for herself and the iced lavender latte I ask for because it sounds intriguing. It's not. It's gross. I spit my mouthful back into the cup.
"Is something wrong with it?" Marianne asks, scrunching up her nose as we drive away. She's already downed her espresso like it was a shot of whiskey.
"Blech." I wipe my tongue with a compostable napkin. "That tastes like fancy soap."
"Then why did you order it?"
"Oh, you know me. I can never resist the lure of the unknown."
I wait for a laugh that doesn't come, and Marianne shifts in her seat, probably calculating the exact number of miles left until she can screech into a parking spot, roll out of this truck, and pretend she doesn't know me.
The engine hums, and I pat my hands against my thighs. We pass some trees and an old house with rocking chairs on the front porch. More trees. A general store advertising hiking supplies. Trees, trees, trees.
"So," Marianne says after a couple of torturous minutes have crawled by, "did you—have a good summer?"
Well. Even a stilted conversation has to be better than this silent, oppressive fog.
"It was fine," I say. "I mean, I didn't go anywhere special since Dad had to work the whole time, but I did get a lot done on this screenplay I'
ve been writing. So, yeah. It was productive."
"A screenplay?" Marianne asks, and a rare attack of shyness sneaks up on me. But I'm determined to push past it. I need to be able to talk about my work. I need to be brazen about it.
"It's for my NYU application. An homage to slasher flicks set at a slumber party." I tug one of the metal buttons on my jacket.
"So, you're still into that horror stuff?" Marianne asks, and I bristle. That horror stuff.
I guess I shouldn't be shocked that she doesn't get it. Most people don't. They think that horror is sexist or gratuitous or just plain repulsive, but I think it's a way for us to explore and better understand what scares us the most. It's a way to sink into our fears and make them our own, to transform them, pull them apart, even overcome them. Daniel and I have argued endlessly about my preference for horror over all other genres, but although I'm a lover of movies of every kind, I'll always be most drawn to the ones that dive into the shadows. I'll always choose to reckon with darkness over the false promise of a happy ending.
"I am," I say without elaborating further.
"Did you film it?" she asks, switching on her turn signal.
Jeez. Talk about cutting to the chase.
"I'm submitting the screenplay for my portfolio, so it doesn't really matter," I say. "But yeah, filming it was the original plan. I was assistant director on Daniel's NYU project, and he was supposed to AD on mine because he's got better equipment and a lot more tech expertise than I do. Except on the day we met to start planning, he told me—" I pause. I wince.
"Right." Marianne laughs, but it sounds hollow. "So, he screwed you and your movie. What a class act."
"He didn't mess with my movie on purpose," I snap, which I immediately regret. Why the hell am I defending Daniel to her? Why would I want to defend that cheating ratface, period?!
We fall into an awkward gray funk that steams up the windows of her truck, blotting out the town outside.
Still, thanks to her confrontational attitude and my big mouth, I think I understand why she's such a lo-res version of herself this morning. She's upset about her breakup with Kiki, although if anything, it should be the other way around—I should be the one who's devastated here. Case in point: Daniel and I were together over a year longer than she and Kiki were, and also, Marianne has dated—and dumped—her fair share of girls in the past. To the point where it almost seemed like an extracurricular activity.
Or maybe I'm not being entirely fair. After all, Marianne and Kiki were best friends long before they became a couple, and together, they we
re the stuff of Murrow Creek legend. Back when we were kids, Marianne was diagnosed with a double whammy of anxiety and OCD, but around Kiki, her nerves seemed to burn away like morning mist, the two of them finding their place in the spotlight. Together, they were Marianne, swimmer extraordinaire, and Kiki, queen of the cheerleading squad; they were Marianne in her aviators and Kiki in her heart-shaped sunglasses; and then, after Kiki came out as bi our sophomore year, they were Marianne-and-Kiki, our quintessential will-they-or-won't-they duo. Rumors circulated at warp speed whenever they sat wrapped around each other at some lake house party or exited Kiki's VW bug in a burst of sunlight and glamour.
The whole school was practically shouting NOW KISS! in their general direction until they finally did, and their status as icons was cemented. They were even planning to go to UNC together, because Kiki's a legacy there and Marianne's going to get recruited onto their swim team, and in the meantime, they were supposed to make it through this year the way they've made it through every year—side by side, all eyes on them.
I guess that, when Marianne lost Kiki, she lost all that, too.
"How was your summer?" I ask now, trying to smooth out the rough edges between us.
"How do you think it was?" she asks, and I cringe. I'm not exactly sure how to respond, so my mouth grabs the controls and presses a big red button labeled CLICHÉ.
"Hang in there, champ." I slug her on the arm. "You'll get over her soon enough."
Marianne should be watching the road, but she looks at me instead, her expression incredulous, hair whipping against her cheek. "You mean the way you got over Daniel?"
"I did get over Daniel," I say even though I can still feel that baby Xenomorph inside me, gnawing on my ribs. Even though, beneath my righteous anger, there's a bruised part of my soul that can painstakingly recall every adorable midnight text Daniel ever sent me or every Jack Skellington figurine he used to sneak into my locker or every moment I bossed around older boys on the Dazed set and he looked at me in adoration, calling me the pint-sized Ellen Ripley of his dreams. But I force myself to cram all those memories into a dumpster. Daniel might have done a thorough job of obliterating me, but no one—not him and definitely not Marianne—needs to know that. Besides, soon enough, vengeance shall be mine as I sit in the auditorium when my name is announced as the director of Dazed. My fellow film labbers will rise from their seats, enveloping me in thunderous applause while Kiki rejects Daniel for his blatant failure, and he cowers to the side. Weeping, miserable, alone.
Marianne snorts. "I think you're deluding yourself."
"Says the expert," I shoot back. "Tell me. Did you suppress all memories of your
pre-Kiki years, or did you simply wipe them out, Eternal Sunshine style?"
Marianne flushes because, clearly, she can't stand to be confronted with the fact that she used to be a big ol' nerd. That the two of us used to watch Singin' in the Rain together and try to replicate all the moves. That we'd dress up like pirates and spend our sleepovers telling each other stories, using her stuffed animals to act out the parts.
We reach the signboard outside the entrance of Murrow Creek High—Welcome back, Muskrats!—and I pick up my latte to take a long sip. Anything to prevent me and Marianne from making the mistake of talking again. A plan that might have gone off without a hitch if Marianne didn't lean on the brakes while searching for a space, causing the drink to take a detour away from my throat and up my nose instead. My grip loosens on the cup aaaaaand—I toss the whole thing into Marianne's lap, soaking her T-shirt and shorts with milky purple liquid. It drips down the end of her nose. It plop, plop, plops from the base of her steering wheel.
"Shit!" I look down at myself, but I'm clean as a whistle. "That was all my fault. I'm so, so sor—"
"Duck," Marianne hisses, and grabs my sleeve, pulling us both down so low, our seat belts come over our heads. This is bizarre for a couple of reasons: (1) we're still smack-dab in the middle of the parking lot, a line of cars undoubtedly growing behind us, and (2) she's currently marinating in latte, which should probably be the biggest of her concerns.
"Did they see you?" she whispers.
"Did who see wha'?" I ask, my baffled expression staring back at me twice from her glasses.
Daniel and Kiki. She mouths their names even though she doesn't need to. They could be tapping on the window right now, and they'd never be able to hear us.
"I can check." I touch her wrist. "But you might have to release your death grip."
Sheepishly, she lets go of her fistful of denim, allowing me to sit back up and peer outside. I catch a glimpse of myself in the side mirror and—yikes. I'm as grizzly as a scene from Julia Ducournau's Raw. (Great body-horror flick, by the way. Five out of five stars.) The humidity has curled my bangs into mini devil horns, and my mascara has left stark black scratches beneath my eyes that accentuate my already-ghostly complexion. I start rubbing at the mascara, trying to make it look smoky on purpose when I notice a pistachio VW bug parked directly to my right.
Standing behind it are Kiki and Daniel, our mutual exes, giving off a glow like summer personified.
Kiki's arms are around Daniel's waist, and he's reaching down to brush his fingers through her sleek flapper bob, and just like that, my entire body goes ice cold. Up until this moment, Kiki and Daniel as a couple had been a purely theoretical concept, a script point written down but not yet filmed, something real but not entirely tangible. But now here they are, live and in the flesh, and it's even worse than I imagined. Even worse than I ever could have prepared myself for.
Of course, Kiki looks incredible in a lacy sundress, petal-pink lipstick, and wedge sandals that make her the ideal height for snuggling into Daniel's chest. But it's Daniel himself whose appearance I find truly mind-boggling. Gone are his beloved first-day-of-school Yoda T-shirt and faded cargo shorts. Gone is the rash of acne on
his neck and his stooping video-game-connoisseur posture. He's wearing a classy white button-down and dark jeans, and he looks confident and swaggery now. He looks—dare I say it—hot.
My stomach, in defiance of a direct order from my brain, swoops.
A car behind us honks, startling me out of these unwelcome feelings and catching Kiki's attention, too. Her eyes meet mine, mouth opening in shock. Still, politeness takes over, and she lifts her hand to give me a mystified wave. I return the gesture, although, admittedly, I might overdo it a tad. I lean forward and nearly smack the windshield.
"Don't wave like that." Marianne pulls me down again. "Why would you wave like that?"
"Kiki did it first!" I say.
"Sure, she did," Marianne says flatly. "Was she also waving her handkerchief before setting sail across the Atlantic? Because seriously, Cleo, that was your whole vibe."
The car honks again, and this time we both jump. A muffled voice behind us shouts, "Come on!" But when I sit up again, both Kiki and Daniel are gone—thank god. I give Marianne the all clear, and we pull into a space before climbing out into the bright August heat, into the buzzing throng of our classmates hugging and squealing and showing off their beachy tans. A car slows as it goes past us, tapping on its horn, and I assume they're pissed about the minor traffic jam we just caused until a guy with a cleft chin and a polo shirt the color of toothpaste leans out of the window. "Lacerda!" he calls out in greeting, and Marianne tips her chin up in response. It makes me wonder if this is what life is like for her all the time, if being gorgeous and awe-inspiring comes naturally to her even when she's soaking in potpourri-scented latte.
Still, that doesn't change the fact that I ruined her outfit on a day when she really doesn't need the extra obstacle. I shimmy out of my denim jacket, holding it out to her. "Here," I say. "It'll hide the stains."
Marianne eyes the jacket warily, I assume because she's reluctant to be seen in anything that people might associate with me, Gollum of the Film Lab. "I can't wear your lucky jacket." She crosses her arms. "You'll need it for the assembly."
I am—to put it mildly—flabbergasted.
My jacket might have cult status among the Dazed crew, but I never thought someone like Marianne would know anything about it. And I certainly never expected her to give any thought to the assembly or how important the director announcement might be to me, ...
We hope you are enjoying the book so far. To continue reading...
The Girl Next Door
Cecilia Vinesse
Copyright © 2023 All Rights Reserved