Book info
Sample
Audiobook
Media
Author updates
Lists
Synopsis
From the author of Tell Us No Secrets comes a twisty new novel. A young American woman is thrust into the closed social circle of English aristocrats, but beneath their charm and glamor lay secrets and dark betrayals that follow them—and her—around every corner. Perfect for fans of Lucy Foley, Sherry Lapena, Ruth Ware, and Gilly MacMillan. 
To everyone else it was "just" a weekend house party—complete with a pheasant shoot, inside jokes, and after-dinner games. But for American Nicola Harris, swept off her feet by aristocratic Englishman James Shuttleworth, the weekend is her first chance to penetrate his close-knit circle of posh friends—people with names like Badger and Trez, people who will soon have the titles of Earl and Countess. Nicola is eager to fit in, but she can't seem to navigate this insular world, where everyone speaks a private language and secrets are hinted at behind the jolly jokes and witty barbs.
Just as Nicola begins to feel welcome, Juliet arrives. Mysterious, stunning, charismatic Juliet is also James' first love—the one who left him heartbroken ten years before. Juliet holds the men in thrall and the women under her spell. And although it seems she can do no wrong, outsider Nicola senses something poisonous in her presence, something that sparks insecurity, jealousy, betrayal, and violence. Because Juliet is a champion game-player, able to lure you into her circle by finding your most vulnerable spot....and when the game she plays turns deadly, everyone is a suspect. 
Release date: June 6, 2023
Publisher: HarperCollins
Print pages: 384
* BingeBooks earns revenue from qualifying purchases as an Amazon Associate as well as from other retail partners.
Listen to a sample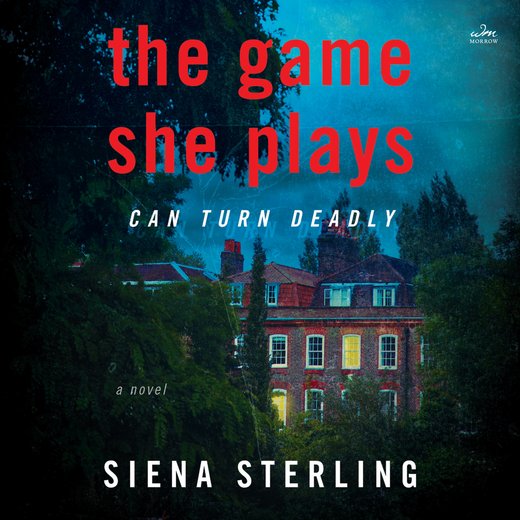 08:53:37
244.29 MB
9780063161863
June 6, 2023
HarperCollins
The Game She Plays
Siena Sterling
It fell from the sky in a straight line, hurtling to the ground like a skydiver without a chute. Was there that moment midflight when it felt the bullet hit, a consciousness of doom as its wings stopped flapping?
It would land in a heap without splattering: a limp body that would then find itself in the careful jaws of a dog. Later it would be plucked, every feather torn off it until it was bald, ready to be shoved into an oven and roasted.
Then eaten. By people drinking wine and talking and laughing and very occasionally finding their teeth crunching down on the remnant of a lead bullet hidden in the flesh. A little reminder of death.
They should be reminded of death.
Because accidents can happen on a shooting weekend.
And accidents can be arranged.
"When I meet Hugo and Trez, am I supposed to curtsey?"
"No." James laughed. "You bow and curtsey only to royalty—like the Queen or Prince Philip and their children. Hugo and Trez are going to be an earl and a countess, but they're not royal. They're just normal people who will have a title someday. Hugo's a good bloke. He can be a little gruff sometimes, but that's just his way. And you'll love Trez. Like I said on the plane, she's the salt of the earth."
"I don't know any normal people who are going to have a title."
"Well, you'll meet Nigel and Badger too. They'll never have titles, so they qualify as normal. And Nigel has a new girlfriend, apparently. Her name is Bella." James took one hand off the steering wheel and put it on her knee. "I know it's a lot, meeting my friends all together like this, but I can't keep you to myself forever."
I wish you could. Our relationship has gone so quickly in such a short time I feel winded. One day I meet you when I'm sitting beside you on a plane to Paris, eight hours later I'm traveling with you to your parents' house in the South of France, a week later I'm living with you in London, and two weeks after that here I am in your car on the way to an earl-to-be's house for a shooting weekend in the English countryside. This is nuts. Completely crazy. Until I met you on the plane, I didn't even know people shot pheasants.
And I had no idea I could fall in love so fast and so hard.
"You're not nervous about the weekend, are you?"
"A little."
"Don't be. Really. I promise. This is going to be fun. There'll only be the seven of us—you and me, Hugo and Trez, Nigel and Bella, and Badger. You'll get to know everyone quickly. It will be a blast. And I promise we won't spend all the time telling stories about our Cambridge days."
Cambridge—the Harvard or Yale of England. James and his friends had all been there together, sharing their college days. How could they not reminisce? She'd sit and listen and try to laugh with them, but she'd have no idea of what they were talking about.
Oh, let me tell you about the time my best friend Sue and I went to this amazing party in our Elmira College days. You've never heard of Elmira? I can't believe it! That would be a great way to fit in.
Calm down, Nic. Relax.
I'm trying, Daniel.
Try harder.
They were speeding along in James's dark green Jaguar. She thought of her old gray Toyota back in Buffalo, a heap of a car. Once she'd let it get so dirty with leftover snow slush, someone had written PLEASE CLEAN ME on the filthy windscreen.
The Toyota would still be sitting on the street outside her apartment, the apartment she'd shared with her boyfriend Greg until he'd ditched her for another woman, an older divorcée, and walked out. The apartment where she'd get ready every morning for work until she ended up punching Tony Kellow, her sleazy boss, after yet another one of his endless sexual innuendoes, thereby losing her job.
The day after she'd
thrown that punch, she'd called TWA and made a reservation on a plane to Paris, desperate to escape from the wreck of her life and lose herself for a few weeks in a foreign country. Instead, she'd lost herself in the kind of love she'd never imagined possible, the terrifying kind of love where her whole life felt at stake.
Of course she was nervous about the weekend. His friends would be sizing her up. An American woman. An American woman who knew nothing about shooting, nothing about weekend parties in the country, next to nothing about England.
She'd never been to a dinner party before, much less a weekend at a "country house." Yes, friends had come over for lunch or dinner when she was living with Greg. But they'd order some pizza and sit and eat slices out of the box and drink beer. This was a whole different ball game, with a man who was going to have a title someday and his wife who would have one too and Nigel plus his girlfriend and a man who sounded like he belonged in The Wind in the Willows—Badger.
"I'm sure the weekend will be great. But why do you have to kill the birds?" They had come to a sudden halt in standstill traffic on the highway. A part of her hoped they would stay so stuck they wouldn't be able to get there, that they'd have to turn and go back to London, and she could have some more time before she faced all these new people.
"A little hard to eat them if they're not dead." He laughed again. "We eat the pheasants we shoot. It's like fishing, really. Come on. You're not a vegetarian. I've seen you tucking into a big steak. The cow dies, you know. Someone kills that cow."
"But not me personally. I don't witness it."
"Exactly. You're removed from it, so you don't have to think about it. Think about this, though. The cow doesn't have a chance. A pheasant does. Not every pheasant dies in a shoot, you know. A lot of them fly away to live peaceful, happy pheasant lives. Maybe they have pheasant tea parties."
That made her laugh. And he was right: she was a meat eater, so she couldn't complain about any animal being killed for food. But she still wasn't sure she wanted to watch birds being slaughtered.
"It's beautiful countryside, lots of fresh air, delicious dinners. A good lunch too during the shoot. Honestly—you'll love it. Plus, you'll get to tell your American friends how eccentric and mad the English are."
"That's true."
I'll get to tell them. When? When I go back? Is that a hint? A clue telling me I'll be going back—soon? That this relationship is a fling for you, not one that has any chance of lasting?
"Listen—you can stay in the house while we go out if you want to. Coming with
me on the shoot isn't mandatory. But I'd like you to be with me." He turned his eyes to her, then back to the road.
"I'll come with you. It will be exciting. In a ghoulish way."
"Don't say that to Hugo. He takes his shooting very seriously. He runs the shoot, in fact. It's a business for him."
"People pay to go?"
"Absolutely. Hugo said there is a German man coming tomorrow morning. He's more or less testing it out, to see if he wants to hire it for his own shooting party. It's not cheap, I can tell you. And your compatriots like it too—more and more Americans are paying a lot of money to come on a shoot."
Not any Americans she'd ever met. But then she'd never met anyone who was going to inherit a title, or anyone who owned a huge house in the country. This was a whole different world, and she was entirely on his turf. Calls to the United States were expensive. She would have liked to call Sue, but she'd have to have a long conversation to explain what had happened, which would cost a bomb. Besides, what could Sue say to help her feel less foreign?
James was funny. James was smart. James was sexy. James was generous. James was kind. James was attractive.
Yeah, right, Nic. AND he has an English accent. What the hell do you want? Have you called to hear how jealous I am? To gloat?
Why don't you tell me about going to an earl's house? How tough that's going to be? Or are you upset because Prince Charles might not be there?
It would be hard to explain that she wasn't looking for sympathy. More like she needed to touch base with her life back home to make sure it still existed, that there were people who cared about her, that she'd have something to go back to if all this collapsed.
And, okay, maybe some sympathy.
I have no idea how long this is going to last. He hasn't told me he loves me yet.
Wow, Nic, that's horrible. It's been what? Three whole weeks? Christ, he should have proposed by now. You should be out buying a wedding dress.
The traffic began to move again. She saw what had held them up: it wasn't a normal jam; there had been a crash on the other side of the highway. She could see a motorcycle on its side, an ambulance, two police cars.
"Rubberneckers," James stated. "I'm afraid we'll be late for dinner because of them."
"I've always wondered how it's possible not to rubberneck when you see something like that. Are you supposed to drive on as if nothing has happened? I don't think it's ghoulish. I think it's a normal human instinct."
"Ah, we're back to 'ghoulish,' are we? I think it's ghoulish, frankly. Our first disagreement." He put his hand on her thigh and squeezed it.
She'd never seen him in a bad mood. He could be quiet; there were times when she sensed he wanted to be left alone, but he hadn't even come close to losing his temper.
It was hard to imagine
having a real argument with him, ever. Would he shout, go red in the face? Greg hadn't shouted; he'd used the patronizing tone of voice of a teacher with a recalcitrant child whenever they fought. Which was guaranteed to drive her even crazier.
"What would make you really angry?"
"I don't know. Maybe if someone hurt someone I care about."
"That's fair." She nodded.
"I might also be a little bit angry if we're late for dinner, but that's only because I'm a punctuality freak. You should know that about me. I can't stand being late for anything."
"I'm the same."
"Then again, I might be enraged if I thought I had a free seat beside me on the plane and some random Englishman came late and took it."
"Justifiably enraged."
"Absolutely."
They were past the accident. He stepped on the gas, sped down the highway.
Off the highway, they drove down smaller roads, then even smaller, narrower ones, with hedges hemming them in on either side.
Obviously, he'd done this trip many times before, because he was still speeding along, negotiating the twists and turns with ease.
Then they made a sharp right-hand turn through big gates and were on a driveway, heading toward what looked in the dark like the looming hulk of a monstrous ship. As they approached it and she could make out just how massive it was, she could tell that in the daylight it would be even more frightening in its majesty.
James's house in London was a small mews house in South Kensington with a tiny kitchen and two bedrooms. He'd explained that mews houses were where the stables used to be; then, when cars took over from horses, they'd been converted into houses. The area was lovely, especially the cobbled street of the mews, and nothing about it made her nervous. Not like this frighteningly huge house. She'd wished before that the traffic jam would have made them turn back, and now, when they pulled up and came to a stop, she wished she could stay in the car.
God, Daniel, I'm out of my depth. Help.
Calm down, Nic. They're people. Just people. Incredibly rich people, granted. But still . . . you can always do that old trick of picturing them naked.
"Hi, hi, hello!" A tiny woman with short dark hair that framed a round, friendly, bespectacled face was at the door, her arms outstretched. "James! Just in time!"
"There was an
accident on the M3. A lot of rubberneckers, who are either normal people or ghoulish people, depending on your point of view. That's a long way of saying we got stuck in traffic." He gave the woman a brief hug, kissed her on both cheeks. "Trez—this is Nicola Harris. Nicola, this is Trez Langley."
"Nicola, what a pleasure." The woman then stepped forward, kissed her on both cheeks. She was wearing a black wool maxi skirt that flared out and was embroidered with white buttons in the shape of a poodle, topped by a blue mohair sweater that could have been a thrift-shop reject.
"James, grab her suitcase like a good boy. Now come in. I'll show you to your room; you can get your bags settled and come down to dinner. Everyone's here except Badger."
"Badger's always late."
"That's because Badger has no sense of time. You know that. Come on in."
When they went through the door into a large hall, what first struck her was how dark it was inside despite lights being on. The walls were all paneled in dark wood, and there were oil paintings with dark backgrounds, and dark red velvet tapestries.
As Trez led the way up a wide flight of stairs, they passed what looked like deer heads with pointy antlers and beady eyes. Nicola felt glowered at, as if the walls and gloomy paintings and the dead deer were angry with this intrusion. When they reached the first landing, they turned right. They must have passed three bedrooms on each side of the hallway before Trez turned into one on the left.
"Here you are. I hope you like it."
"It's beautiful."
The room could have fit three double beds. It had a sink, two big armchairs, and a dainty dressing table with little glass bottles, a brush, a comb, and a mirror on top. Heavy pale blue velvet curtains covered the windows at the back.
Each bedside table had a lamp and a small jug of water with a glass beside it on a tray. And there were two hot water bottles lying side by side on top of the bed.
"Get yourselves settled and then come down. Maybe Badger will have arrived by then."
"I bet you he won't."
"I'm not about to take that bet, James," Trez smiled. "It really is nice to meet you, Nicola."
"You too."
"Oh, damn. I forgot. James, can you move your car around to the front of the garage, please?"
"Your wish is my command." He saluted her and left the room.
Nicola stood with Trez, not sure what to say.
"Do you—?" she started, but Trez was already talking.
"I'm so happy James has finally found someone. He deserves to be happy, and I'm sure you'll make him very happy."
"I hope so." The way Trez had said it made Nicola ask: "Was he unhappy before?"
"He had his heart broken a little. A long time ago."
"Oh."
What did that mean? His heart was broken a little? Trez was clearly being protective. She must have been around when whoever it was had broken his heart. A little. A long time ago.
"Anyway." She clapped her hands. "Our friend Nigel has a new girlfriend too—her name is Bella. It's a pretty name—so is 'Nicola.' I was unfortunate enough to be christened Jane. Not so pretty. Oh God, enough about names. Sometimes I do bang on. What I'm trying to say is that you won't be the only one who hasn't met anyone here. Bella's in the same boat. I should go down now. Hugo is probably banging on about shooting and boring Bella rigid. See you in a few minutes."
Her big black poodle skirt swished and off she went. James had said she was the salt of the earth, and she did seem straightforward and friendly, but also a bizarre combination of very much younger than she was and very much older. She could have been fifteen or fifty. Nicola knew she'd have to get used to the way people spoke and the words they used. She'd never heard the phrase "bang on" or anyone boring anyone else "rigid."
"She's really nice," she said when James came back.
"I told you. Hugo can be a little bullish sometimes, but he's nice too. Deep down. You'll like my friends, Nic."
"I know I will."
But will they like me?
The living room was enormous. Nicola's entire apartment in Buffalo could have fit in it with room to spare. There were three large couches, two armchairs, a grand piano, a bookcase that stretched all the way across one wall, a glass table, and three standing lamps, all sitting on what was clearly a Persian rug of immense proportions. Paintings of hunting scenes were on the non-bookcase walls, and there was a massive stone fireplace, with logs blazing. The room, despite being so big, was warm.
The fact that there was dog hair all over one of the couches made her feel a little less anxious, but still—the house had looked like a ship in the dark, and now it felt as if she were actually on that ship and it was an ocean liner. Definitely not someone's house.
Trez approached them, guided them to where two men and a woman were standing on the left of the fire.
"Nicola, this is my husband, Hugo." She reached out, put her hand on his arm. He was tall, but slightly stooped, and he was wearing pink trousers and a bright blue shirt.
In the car she'd imagined Trez wearing a ball gown and tiara, Hugo a tuxedo.
"Pleased to meet you." He put out his hand. "You're from the United States of America, I gather."
"Yes, I'm from Maine, but I live in New York."
"New York. Great city, I've been told." He shook her hand with a seriously firm grip.
"I don't live in Manhattan, I live in Buffalo, which is Upstate New York."
"Buffalo. Lots of Red Indians there?"
Red Indians? Who is this man?
"You met James on a plane, I gather. You've landed on your feet, haven't you?"
She was too stunned to reply.
"Hugo . . ." Trez turned to her. "I'm sorry, Nicola. My husband does not have a way with words. To put it mildly. He thinks anyone who doesn't live here in England is disadvantaged, so what he meant was that anyone who is here now is fortunate."
Really? Is that what he meant? He obviously thinks I'm some scheming gold digger. Is that what they all think?
"Hugo, for Christ's sake, you can be such a prat sometimes." James shook his head. "You should apologize to Nic."
"I'm fine, honestly. No apology necessary."
Picture him naked, Nic.
Do I have to?
"And this is Nigel and Bella." Trez was introducing her to the two others. "Bella, you haven't met James either."
They all shook hands. Bella was thin, with long blonde hair and a very pretty, petite face. She was wearing a see-through blouse, black trousers, and stiletto heels. Nigel was almost as thin and good-looking as she was; his hair was albino blond, so blond it made Bella look like a brunette.
An older man appeared, carrying a silver tray with glasses of champagne on it. At the same time, a black Labrador ran into the room, straight up to Hugo, who reached down, patted its head, then pointed to the door, saying, "Leave, Buster. Now."
No one introduced the older man to anyone else. He passed around the tray and left the room.
A waiter, she couldn't help but think, though she realized he was a servant. They were in their early thirties, and they had waiters.
Hugo and Trez were both one-offs, people she'd expect to see in an old Sherlock Holmes movie, but they seemed entirely comfortable in this wealth-laden setting. They'd obviously grown up
in this world; they'd probably never had to worry about money or anything mundane. She couldn't imagine either of them ever going to a shrink or having neuroses.
Go for a walk with the dog, she could imagine them saying to themselves if they ever felt depressed. That's the answer. Probably to everything.
After a few seconds, the men gravitated to one another on the other side of the fireplace and started talking about some soccer match while she and Trez and Bella stood in their own little group.
"Badger's always late," Trez said once again. "It would be annoying if it weren't so predictable."
Nicola could see Bella crossing her arms, trying to hide her clearly visible white lacy bra.
"How did Badger get his nickname?" she asked.
"No clue." Trez shrugged. "He looks more like a mole than a badger, but one of our group of friends in Cambridge already had the mole nickname."
"Badger was at Cambridge too?" Bella asked.
"Yes. In a manner of speaking. He spent most of his time drinking and the rest of his time reading, but never the books he was supposed to be reading."
"Well, I understand not doing what you're supposed to do at school." Bella smiled. "Anyway, I'm a pavement person. The countryside gives me the creeps. Moles, badgers, rats. They're so ugly. And bats. You know I heard about a woman and this bat flew into her hair and got stuck. It nested there and laid little bat eggs."
"Wait a minute!" Trez exclaimed. "Wouldn't you know a bat was in your hair? Wouldn't you get rid of it? And bats don't lay eggs."
"How much hair would you have to have to make a bat nest? It's hard to picture," Nicola added.
"Yeah, I guess that might not be a true story." Bella laughed. Trez laughed with her, and Nicola thought: This might turn out to be a fun night. Bella seems unpretentious and friendly, Trez is making an effort with us both. I can start to relax.
"There's another story I heard, it's even more disgusting, it's about—"
Bella was interrupted by the arrival of a man in the room. He had reddish hair and a face that did indeed resemble a mole's.
"Badger. About bloody time. We're all starving," Hugo said, striding toward him.
"I barged in without knocking, sorry. Because I've brought an extra guest as a surprise. I hope you don't mind."
"Another supposed extra man?" Trez asked him, then turned back to Nicola and Bella. "The last time Badger came, he said he'd brought an extra man with him, and he had brought a male, but it was a male puppy."
"No, this time it's an extra woman." Looking behind him, he said: "Come in.
Surprise, everyone! She's back!"
A woman walked into the room. ...
We hope you are enjoying the book so far. To continue reading...
The Game She Plays
Siena Sterling
Copyright © 2023 All Rights Reserved