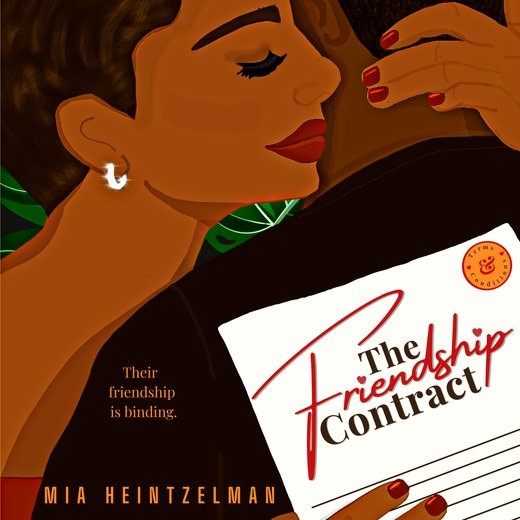 Book info
Media
Author updates
Lists
Synopsis
From bestselling author, Mia Heintzelman comes a heart-warming story of heart, humor, and heat in this friends-to-lovers romance about finding love in unexpected places.
​
This contract is entered into by and between Allegra Malone and Damon Dawson. The term of this agreement shall begin immediately and continue through its termination date of never.
The terms are as follows:
1. Find the bright side when your best friend (the woman you've secretly been in love with for 10+ years) finds an engagement ring in her live-in boyfriend's gym bag.
2. When she discovers the ring isn't for her, and you volunteer to mop up her tears, don't freak out if you accidentally share a world-shattering kiss.
3. Remember she's your best friend and law firm partner…and a hopeless romantic. Being her rebound isn't worth risking the only family you have. 
4. Immediately—rationally—draw up a no-strings agreement, stipulating equal opportunity orgasms. Under no circumstances is PDA or catching (further) feelings allowed.
5. If while adding a wedding plus-one clause, the doorbell rings and it's a moving company with all her belongings, and now you're going to be roommates, shower. The colder, the better.
In consideration of the mutual promises set forth herein, both parties agree that if at anytime while forced to live and work together they find themselves falling in love, they will re-read the fine print.
Fine Print: Do not fall in love.
This contract shall be binding and may not be modified in any manner unless in writing and signed by both parties.
* BingeBooks earns revenue from qualifying purchases as an Amazon Associate as well as from other retail partners.