Book info
Sample
Audiobook
Media
Author updates
Lists
Synopsis
Todd Fremde is an author, a writer of police procedurals and criminal mysteries. Invited to the remote island of Dearth, far across the Dream Archipelago, to talk at a conference, he finds himself caught up in a series of mysteries. How can Dearth claim to be completely crime-free, yet still have an armed police force? Why are they so keen for him to appear, but so dismissive when he arrives? Is his sense of time confused, or is something confusing happening to time itself?
And how does this all connect with a murder committed on his home island, ten years before, and seemingly forgotten?

Fremde's investigation and research will lead him to some dangerous conclusions...



Christopher Priest is a genre-leading author of SFF fiction. His novel, THE PRESTIGE, won a number of awards and was adapted into a critically acclaimed, Oscar-nominated film directed by Christopher Nolan (TENET, INCEPTION) starring Hugh Jackman (THE GREATEST SHOWMAN, X-MEN), Christian Bale (THE BIG SHORT, BATMAN BEGINS), Michael Caine (THE ITALIAN JOB) and Scarlett Johansson (MARRIAGE STORY, THE AVENGERS).
Release date: October 15, 2020
Publisher: Orion Publishing Group
Print pages: 320
* BingeBooks earns revenue from qualifying purchases as an Amazon Associate as well as from other retail partners.
Listen to a sample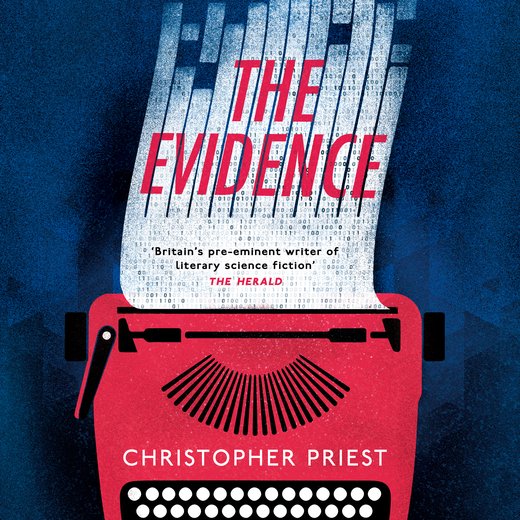 08:28:05
232.59 MB
9781473231405
October 15, 2020
Hachette UK
The Evidence
Christopher Priest
1

Snow Upon the Rails

What am I doing here? Why did I agree to it? Two whole days of this?

Such thoughts. I was leaning my head disconsolately against the window, feeling the cold from outside as it seeped through the toughened glass, watching as the train passed through an endless frozen landscape of heavy industrial works, derelict buildings and spoilage. At intervals, white and orange floodlights glared down on concrete emplacements. I felt I did not belong, because no one could belong in such a place. The sky was the darkest grey, like an old cinder, daylight was only grudgingly admitted. The hills were streaked with thin snow, the train went slowly. Sometimes it stopped. Sometimes it went even more slowly.

I dreaded what would happen if the train broke down, or I was told to leave the carriage, or there was an unannounced change of trains at some remote junction. This train and this compartment were my only protection, and a degree of familiarity. They insulated me from the frozen landscape beyond the glass.

I was on an all-expenses visit to a distant university, where I was scheduled to deliver the keynote speech at an academic conference. It was on a subject in which I was believed to be an expert, but in fact there was a twist to it I knew nothing about. The title of my lecture was the same as the title of the conference itself: The Role of the Modern Crime Novel in a Crime-Free Society.

Crime free? That was a new one on me. The paradox interested me, and it was one of the reasons I had accepted the invitation, but only after much indecision. I lived and worked in a place which was most certainly not free of crime. We experienced the usual range of thefts, assaults, drug and alcohol abuse – less often there were cases of fraud, arson and murder. Not everywhere and not all the time, but at a level where it remained necessary to maintain a full police force. Anyway, I had a vested interest in crime: I earned my living indirectly from it. I wrote thrillers, and there were readers everywhere who loved to read a mystery, a noir detective story, a police procedural.

The assumption being proposed in the title made me wonder if the place I was going to was in some way different from everywhere else. Was there really, in this modern world, anywhere without criminals? Had the fear of crime been factored out of people's lives? Did everyone live a peaceable, law-abiding life? Maybe not – the conference would almost certainly be speculative, idealistic, proposing social reforms which would lead eventually to a state in which crime became unknown. That seemed more likely.

However, I had been to academic conferences before: they are built around big ideas, but many of the individual papers produce much dry theorizing about side issues. I had already pleaded a busy schedule: I was not planning to stay for the whole three days.

But still, somewhat against my better judgement, and in spite of similar past experiences, I had accepted the invitation. This one included extras that I found attractive, if not compelling. A flight instead of a long sea voyage, a train journey that promised a first-class private sleeper compartment, meals prepared by a chef of international repute, free drinks and personal attendance by stewards. The president of the society which had invited me, Professor Soradauy Wendow, of the University of Dearth Historical and Literary Society, would meet me in person on arrival. There was going to be a suite at the best hotel in town. Although I was warned that I would be visiting during the winter months, I was assured that every creature comfort would be anticipated and catered for. I would, for instance, be driven everywhere in a university car. And not least there was an honorarium. Not a huge one, but sufficient.

So why did I sit unhappily in my first-class compartment, still close to the beginning of the venture, regretting the fact that I had said yes?

Trips like this one always used up more time than I allowed for, and more than anyone else might expect. As well as the four days of actual travel (two there, two home again) there were the days spent preparing for the trip, writing and rewriting the text of my lecture, worrying about it, worrying about the journey, feeling distracted by having to go away. Work on my latest novel had been hopelessly disrupted and I knew that when I finally returned home, more days would be lost as I tried to pick up the thread from where I had left off. My publisher had also just sent me proofs of my last one, which needed to be checked. I find it impossible to concentrate on work when travelling, so I had left them at home.

There was also the weather. I had been warned of sub-arctic temperatures even during the days, requiring heavily insulated outer wear. I had had to order this specially, and although the agreed expenses refund included a contribution to the cost, it was a contribution only. The padded coat, hood, trousers, were so bulky they required an extra case, which I had had to pay for as hold baggage on both aircraft, making a total of four baggage charges in all.

My first flight had been early. The plane had taken off at about four a.m., but that was a short internal flight only, followed by a long wait. The second plane, to Tristcontenta Hub, had suffered a delayed take-off because of an adverse wind forecast, which meant there was a chance I might miss my connection. In practice I was still able to catch the train with time to spare, but I knew there was only one sleeper train per day and I had no idea what I would have done if I had missed it. Apart from a snack at the airport, and another snack during the flight, I had eaten hardly anything all day.

All of this was stress I could have done without. My first-class compartment was modern, clean and compact, but I felt strangely isolated. Once or twice I had ventured out into the corridor, hoping to see a steward or some of the other passengers, but there was no one about. It was almost as if I were the only one on board.

The invitation to the University of Dearth, in Dearth City, the administrative centre of Dearth Island, had arrived more than eighteen months earlier. The name was not appealing. I knew little about Dearth, and had no ambitions to visit the place – I knew it only by its reputation for long, storm-riven winters and an economy based on heavy engineering and mining.

I had spoken at two or three academic conferences in the past and so would not feel out of my depth, but I had said I would not stay the whole course. The general subject was within my sphere: I had published more than a dozen novels, as well as essays and criticism. I was known in the world of crime writers, had even won a few prizes, but I was no academic. The prospect of prolonged and detailed academic discourse from theoreticians who knew little of the art and craft of writing filled me with dread.

The months slipped by. Suddenly it was a year and a half later and here I was, inching my way south across the island of Dearth, feeling hungry, wondering where the stewards were, staring gloomily at the bleak view outside. There was free wifi on the train, so as soon as the train left the railway station at Tristcontenta Hub I had sent an email to my partner Jo, just to let her know that I was on my way. I knew she was busy, preparing for a business trip of her own, one that sounded much more interesting and lucrative than my descent into the south polar regions.

Jo Delson and I had lived together for many years on an island called Salay Raba, which translated from the island patois as 'fourth island in the Salay Group'. Unlike chilly Dearth, Salay was in the subtropics and consisted of five main islands: Salay Ewwel, Sekonda, Tielet, Raba and Hames: first, second, third, fourth and fifth. They were all of more or less equal size, and because of the latitude, the trade winds and the oceanic currents, they had similarly warm climates. All five islands had developed in different directions. Salay Sekonda, for instance, was a popular holiday resort, attracting visitors not only from the rest of Salay but from all over the world. Salay Raba, where we lived, had emerged as a centre of financial services, and most of the largest banks, insurance companies and pension funds had their HQs in Raba City. Jo and I lived in a tithable house on the edge of the sea, close by the unspoiled forest that covered much of that part of the island. We were by no means well off but on the money I earned from my books, plus Jo's freelance income as a theatrical designer, we were able to get by.

Dearth could hardly be more different from Salay. Setting aside the climate, what I had glimpsed from the train so far was a grim industrial landscape, with huge factories and furnaces, cooling towers, pipelines, broad access roads, advertising signs everywhere, much open-cast mining in the hills, towns built of small houses crammed together. The air was clouded with fog, or smoke – even inside the air-conditioned train I developed a tight feeling in my chest, and could smell oil or coal smoke, or industrial fumes of an uncertain and probably dubious source.

Although they were both large island countries, few people travelled from Salay to Dearth other than for business. There was the regular air route linking them, as well as a long sea crossing, notoriously prone to stormy weather. Not many islands lay between us: the Dream Archipelago in the southern hemisphere had many clusters of inhabited islands, but only a handful were in the deep, rough seas a long way to the south of Salay. There was a sense of emptiness and oceanic vastness between the two countries.

When Jo or I travelled we normally headed east or west, or sometimes northwards into the marvellous, sun-baked islands in the horse latitudes of the Midway Sea. Dearth had never attracted us. Apart from business executives and office workers, those who did travel to Dearth were mostly backpackers, bird watchers, rock climbers, loners, extreme sports enthusiasts, modern questors or adventurers, drawn by the wild, rugged and so far unspoiled terrain along the east coast of the island.

I remembered the plane I arrived on had flown low for several minutes above this sort of landscape. The pilot came on the PA and said that because of the weather over the sea we had lost more than an hour of flying time, but that Dearth was known for its gravitational anomalies and that we could take advantage of one of them. He advised us that we need not reset our wristwatches.

I hadn't the least idea what he was talking about: he delivered the message in the bland, supposedly reassuring voice that flight crew often use when speaking to passengers. Whatever he meant, it turned out that when the plane finally landed in Tristcontenta Hub, we were in fact about ten minutes ahead of the scheduled arrival time. I had no idea how that could have happened, but once I was inside the terminal I noticed that my wristwatch showed the same time as the clocks.

What did a gravitational anomaly look like, and how had the pilot found it? I had no background in science, certainly not physics. I fancifully imagined there must be a metal grid or a dome out there, or a series of masts with lights on. But there was nothing in the darkness. It could be anywhere. I was bored.

For a while I read one of the ebooks I had saved to my laptop, then I glanced through my speech again. I made a couple of small changes, improvements. I listened to music on my headphones, then because they isolated the sound I took them off. The train was moving faster now but there was still no sense of urgency. Marooned in my pod compartment, the only sounds I heard were the noises from the wheels and the track and it still seemed to me that I was alone on the train.

Dinner arrived without warning. Two young men I assumed were stewards brought a trolley and placed the food unceremoniously before me. Chafing lids concealed the dishes. There was a small bottle of red wine included. There appeared to be no choice offered by the chef of international repute, but by then I was glad of anything. One of the stewards released the catch on the sleeping bench, brought the whole thing down with a muted crash, then smoothed and straightened the sheet and pillow. Soon after this the train slowed suddenly, and came to a halt somewhere in unlit countryside. Total silence fell. The dinner had left me unsatisfied. It was served dry, it was salty, the sauce had congealed and the portion was small.

The following morning I was awakened by the sound of voices in the corridor. I dressed quickly and opened my door. I recognised one of the stewards from the evening before. I asked him why the train had stopped.

'The track is the wrong gauge,' he said, walking on. 'Too narrow. We can't use it. Happens a lot. They'll fix it. We can make up the time later.'

I thought about that, trying to make sense of it. How could railway track used by trains every day, the permanent way, suddenly be the wrong gauge? And how could they 'fix' it?

I looked through the window of my compartment – a blizzard was blowing outside, and snow was already building up against the side of the train. It looked like we might be stuck there for hours. But then suddenly the train lurched into motion, slowly at first then with increasing speed. I returned to the pod. I read through the text of my speech again on my computer screen, then made sure all my tiny changes (emphasis, clarity, etc.) had been transferred by hand to the hard copy. The hours passed. I was fatigued by being on the train: the endless movement, the noise from the track, the dry heated atmosphere, the sheer tedium of being contained inside a bleakly modern capsule for nearly two days. Outside, we were passing through snow-clad scenery, much of it high and rugged, looming over the track. From the satellite map on my cellphone I knew this was the final stage of the journey. Dearth City was fringed by these peaks, but the mountains went on and on. The train was going slowly again, snaking between the peaks, labouring on the ascents.

I started preparing myself for disembarkation, glad of something active to do. I sent a message to Jo, telling her I would shortly be arriving in Dearth City. I hoped the reception party from the university would be at the terminus to meet me, as promised. I wanted to be driven to my hotel as soon as possible, take a shower, shave, put on some clean clothes, prepare myself for my speech.

I pulled on the arctic outfit, feeling as if I were wearing a spacesuit, and having a similar lack of dexterity. I put my smaller case, the one I would normally travel with, inside the now vacant larger one and slung my computer tote diagonally across my shoulders. According to my cellphone satellite map, we were now only a short distance from the terminus, so I parked my padded backside on the edge of the desk I had been using. Because of the sudden appearance of condensation I could see little or nothing through the window. I watched the map rolling slowly along.

The train made three or four more braking lurches. The last one felt definitive. Glad to be out of the sleeping cabin at last, I squeezed and manoeuvred my way through the narrow door and into the corridor. Here at last I saw several of my fellow passengers emerging from their own compartments. Everyone was bundled up in thick layers of padded clothing, and carrying or porting their luggage. One by one we waddled towards the outer door. It was then I felt the touch of the first tendrils of the sub-zero air of Dearth City. It was a profound shock. I had literally never felt anything as cold as that before.

2

The Mystery of the Two Keys

I clamped my gloved hand across my nose and mouth, trying to filter or slow the icy air. I could barely see. I managed to step down to the platform without falling, but other passengers, presumably more accustomed to the cold than me, pushed past. A wheeled suitcase ran over my foot, although because of my thick boots I barely felt it. The owner of the case looked back at me as if I had deliberately put my foot in his way. The platform had been freed of ice and snow in a narrow cleared passage alongside the train, but most of the platform was covered in old, compacted snow, uneven and dirty.

I followed the other passengers along the platform, tramping unsteadily. People in a hurry weaved past me, stepping off the cleared passage on to the hard-frozen snow because I was going too slowly. Several of them glared at me as they slithered past. The freezing cold air was now having a weird effect on my tongue and throat. I kept my lips pressed together as much as possible. My eyelids were starting to feel stiff.

I reached the station concourse. This was high roofed and ill lit, with the winds blustering in through the open sides. Loud music played constantly, echoing and distorted, even through constant station announcements. There was no sign of anyone waiting to meet me. I put down my bags and waited as the other passengers dispersed.

Then a quiet voice beside me said: 'Dr Fremde?'

I barely heard the voice because of my inner confusion, and all the noise. Someone had stepped up beside me.

'Yes, I am Todd Fremde,' I said.

So wrapped up against the cold was the figure that at first I had no idea if it was a woman or man. A long scarf and a tightly closed hood contained all but a small circle of face, itself mostly hidden behind protective glasses.

'Welcome to Dearth.' The voice, closer now, revealed its owner as a man. 'I am Soradauy Wendow, from the Historical Society.'

'Yes! We exchanged letters – you invited me.'

'I'm pleased to meet you at last, Dr Fremde. I hope you had a good journey.'

We made an effort to shake hands, but our thick gloves made it almost impossible. My teeth were suddenly aching from the cold, and breath was a drifting cloud of vapour around us.

'I'd like to go to the hotel before anything else,' I said.

'We might be able to take a taxi. But it's better we should walk. We can go straight to the venue.'

'I'd prefer to drop my luggage at the hotel first.'

'Not much time for that. You can leave your bags in the office.'

'You said you were going to meet me with a car.'

'That's generally in use by department staff at this time of the week. It's not too far to walk.'

'I'd prefer to hire a taxi,' I said. 'I will only be a few minutes at the hotel.'

'As you wish, Dr Fremde. But I think you'll find there's a long queue for the taxis outside.'

We made our way with difficulty across the concourse, having to step several times around groups of other heavily weather-insulated people.

Once we were outside the main part of the station there was indeed a queue, but I was determined not to yield. I did not want to walk an unknown distance in this freezing place, in these bulky clothes. After about five minutes a small group of taxicabs turned into the station yard, and we were able to hire the fourth one. We piled into the small passenger compartment, dragging my luggage in with us.

He gave the driver directions to the Plaza Hotel.

I said to Wendow: 'If you don't mind waiting I really will be only a few minutes. I just want to freshen up after the journey, and collect my thoughts before I deliver my speech.'

'Of course.' Wendow was peering ahead through the grimy front screen of the vehicle. 'As a matter of interest, Dr Fremde, we were wondering about your university career. Which is your alma mater, and where exactly did you gain your doctorate?'

'I'm an author, a writer. I'm not an academic. I write thrillers and mysteries.'

'Yes. We did rather gain that impression. Even so, you must have studied somewhere.'

'I have an honorary doctorate,' I said. 'It was given to me by the Citizens' University of Salay, awarded a few years ago. They like my books. But I never use it as an honorific, and in fact I'm surprised you even know about it.'

'We have ways and means of checking out our speakers,' Wendow said. 'A citizens' university, you say? How very fascinating. That would be a college for serfs, I take it? We don't have a system of honorary degrees on this island, so we're unused to the concept. Salay – you've had to come a long way.'

'Yes,' I said. 'It's a lot warmer than this place.'

'Of course, I was thinking about the university.'

'Culturally, Salay is renowned—'

But Wendow had abruptly lost interest. He began typing on his cellphone, having slipped two detachable finger covers from one of his gloves. He was holding the phone in his other massively gloved hand so I couldn't see what he was doing. He completed his message, then quickly slipped the finger covers back into place.

Soon afterwards the taxi arrived outside a large, concrete-built edifice, a rectangular block with small windows rising up in an orderly grid. The sign carrying the hotel name was partially obscured by grime, not snow. I noticed that Wendow was not readying himself to leave the taxi with me, and that the cab's meter was still running.

'I just need a few moments to dump my stuff. Will you wait for me here, with the cab?'

'No, I can't do that,' he said, and I sensed his impatience with me. 'I have to go straight to the conference hall. You should be with me. There are a couple of important guests I want to welcome, whom you should meet. However, we are now running a little late and I need to make certain our practical arrangements are in place. Because I've been on leave my assistants have been preparing the conference.'

'Then how will I get across to the hall – and where exactly is it?'

'I've sent texts to two of our History Society members asking them to collect you here, at the hotel,' he said. 'They will meet you in the lobby in a few minutes' time. They know what to do and where to take you.'

'All right,' I said. He was staring at me, waiting for me to leave. I opened the taxi door to a massive inflow of freezing air. I struggled past him, having to pull my bag past his legs. 'Should we exchange cellphone numbers, in case we need to make contact?'

My main bag fell on to the frozen pavement, and my computer tote was swinging down from under my arm and across my chest as I stepped, crouching and awkward, from the cab on to the slippery surface. I staggered to regain balance. Wendow reached across to the inner handle of the cab door, and slammed it closed with a forceful movement. The vehicle drove away moments later, while I was still straightening. I could barely glimpse even Wendow's dark shape through the condensation on the taxi's windows.

The moment I passed through the hotel's triple door complex I felt I was back in an understandable world. The doors closed swiftly behind me and streams of warmed air came down from ceiling grilles. The reception area was large and light-filled, soft classical music played unobtrusively. The atmosphere was fresh but overall maintained at a pleasant temperature. Lights were recessed, the carpet was thick piled. Close to a piano on a podium, not being played at that moment, there was a loose, informal arrangement of dozens of armchairs and long settees, clustered beside or around tables. Many groups of people were sitting about in the relaxed atmosphere, talking and drinking. Every table had a small, independent electric fan heater beside it. I could smell the appetizing aroma of well prepared food and saw direction signs to two separate restaurants. The reception desk was a long gentle curve following the back wall of the lobby, and was staffed by two young men and two young women.

I felt huge and disruptive in my heavy outside clothes, but I assumed the staff would be used to people moving in and out through the doors. I began unzipping my bulky padded jacket before I reached the desk and removed my hood. I pushed my protective glasses up my forehead. I felt the strap briefly adhering to the skin of my cheek.

I presented the confirmation booking I had been sent by the Historical Society several weeks earlier. The young man who was attending to me glanced quickly at it, typed something at his keyboard, then looked up at me.

'Dr Fremde?'

'Yes.'

'Welcome to the Dearth Plaza Hotel, Dr Fremde. I hope you will enjoy your stay with us, citizen sir. It is just for one night, I believe? And you are alone?'

'That's correct.'

'Is this the first time you have visited Dearth City?'

'Yes.'

He typed some more, then produced a room card and an electronic key. He wrote the room number on the card, made sure it was the same number he had seen on his monitor, and turned the card around for me to see.

'You are in Room 627, Dr Fremde. That's on the sixth floor. The elevators are in the corridor around the corner,' he added, pointing to the side. 'Are you familiar with the use of elevators in this city?'

'I assume so. Presumably—'

'You won't have any problems, Dr Fremde. All the elevators have printed notices reminding you what to do in an emergency. This is a period of vertical stability, so none of that will apply to you tonight. On the other hand, as this is your first time I have to inform you about mutability arrangements. I notice you are a citizen serf of the seigniory of Salay?'

'Yes,' I said, wondering how much longer this would take. I was anxious to go up to my room, take a shower, and so on.

A second electronic card had appeared in his hand and he was sliding it across to me. It was the same size and shape as the other one, looked slightly thicker, and was white all over with a bright red border. A computer chip was embedded close to one edge. Apart from a hotel logo, nothing was printed on the card itself.

'Again, you are unlikely to need this card tonight but the hotel rules insist you carry it at all times. Mutability is a problem many people who visit Dearth have never experienced before, but while you are staying at the Plaza . . .
We hope you are enjoying the book so far. To continue reading...
The Evidence
Christopher Priest
Copyright © 2023 All Rights Reserved