Book info
Sample
Audiobook
Media
Author updates
Lists
Synopsis
When Cecile Tremblay lost everyone and everything in the French Revolution, she never imagined that she'd earn her living as a markswoman in a London circus. But Farnham's Fantastical Female Fayre has become her home, her family, and her future. Another thing Cecile never imagined was becoming entangled with the man gossip columns call The Darling of the Ton. But mere weeks after her rejection of his insulting carte blanche—and his infuriating engagement to an heiress—Darlington is back, this time to beg Cecile for help. And help him she will, by teaching him about honest work—and the right way to treat a woman.



Gaius Darlington has always led a charmed life. Until now. Suddenly, a long-lost heir has appeared to claim his title, possessions, and property, Not only that, but Guy's fiancée has jilted him to marry the usurper! Yet there is a silver lining: it's no longer Guy's duty to marry an heiress to save the dukedom. He's free to wed the woman he loves—if only he can earn her forgiveness.



They say hell hath no fury like a woman scorned. But fury is just a step away from passion, and Guy knows just how to arouse Cecile's . .



Contains mature themes.
Release date: May 23, 2023
Publisher: Kensington Books
Print pages: 384
* BingeBooks earns revenue from qualifying purchases as an Amazon Associate as well as from other retail partners.
Listen to a sample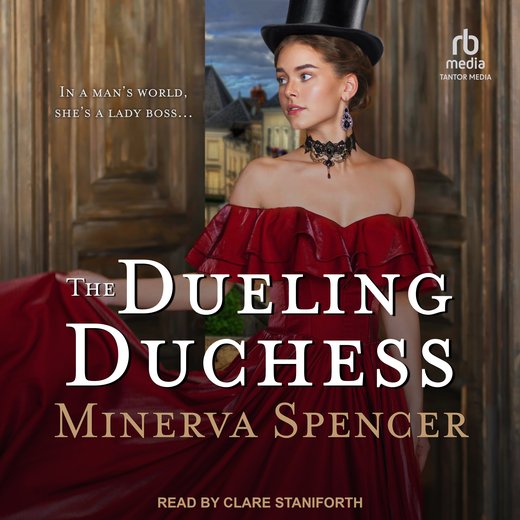 11:53:25
326.59 MB
June 27, 2023
Tantor Audio
2023
The Dueling Duchess
Minerva Spencer
Cecile shot the playing card out of the handsome young man's hand, and he screamed and jumped.

She let out a stream of curse words, both English and French strung together.

"I'm sorry! I'm sorry!" Gerry Wheeler said, squirming beneath her wrath.

Gerry was twenty-three years old and—by far—the most beautiful man Cecile had ever seen. He was also the most cowardly.

Cecile slid her pistol into its custom-tooled holster, took a deep breath, and forced herself to speak slowly and kindly—neither of which were her forte.

"Gerry, I think it is time we part ways."

"Oh, please, please, please, Miss Tremblay! I'll get better—I swear I will."

"It has been two months, Gerry. You scream more now than you did your first day."

He caught his plush lower lip with perfect white teeth. "I don't mean to—I don't know what's wrong with me."

Cecile had to laugh at that. "Nothing is wrong with you, Gerry; most people—at least normal ones—do not care to be shot at."

"But I love working at the Fayre, Miss Tremblay. It's become a home to me."

He wasn't the only one—Farnham's Fantastical Female Fayre was like a home for Cecile, as well.

She sighed and patted him on his broad shoulder—having to reach up quite a way to do so. "I'm sure we have something here you can do. I shall talk with Beryl and Wilfred tomorrow and see what there is."

Beryl and Wilfred were Cecile's managers and they kept the Fayre, with all its different theatrical acts, running smoothly.

"Oh, thank you. Miss Tremblay, you won't be sorry, I promise."

She probably would be, but she would deal with that when it happened.

It was Sunday, the only night of the week there was no show at the theater, so there was not much activity backstage.

Cecile liked to practice her routine and work on her ledgers on Sundays because she enjoyed the feeling of having the entire building to herself.

Her building and her business.

Well, that wasn't quite accurate. Although she operated Farnham's Fantastical Female Fayre—the very first all-female circus in England, although now there were several imitators—she didn't actually own it outright.

Instead, she was part of a four-person syndicate that included three wealthy investors whom she'd convinced to purchase the Fayre from Marianne Simpson.

Marianne—who was also Cecile's closest friend—had inherited the Fayre from her uncle Barnabas, who'd died last year.

At first, Marianne had tried to just give Cecile the business.

"I can no longer operate it, Cecile, and it's not as if I need the money I'd get from selling it."

That was because Marianne had married the extremely wealthy Duke of Staunton.

As much as Cecile had appreciated Marianne's generous gesture, the theater on Newcastle Street and the large house attached to it were worth a great deal of money, and it did not sit right with her to accept such an extravagant gift.

As things stood, she would be paying her three partners until she was old and gray. But then what else did she have to do with her life?

Cecile strode uninterrupted through the quiet theater, heading to the tiny room she'd set up as her business office.

She had added a dressing table and screen to the room so she didn't have to share the already cramped dressing room that all the other female performers used.

Today, since she'd just been practicing, the only thing she had to remove was the holster that held two of her pistols.

If it had been an actual performance, she would have worn heavy face paint and her provocative costume—a gown that had been designed by Barnabas Farnham.

When she'd first started working at the Fayre four years ago, Cecile had loathed the revealing dress, but now that she operated the circus, she could not deny that the way she looked—exotic, sensual, and dangerous—was important when it came to attracting wealthy, privileged men to purchase the expensive tickets to her show.

The first thing she did was clean her pistols—a lesson she'd learned from her father.

While Cecile worked, she considered a subject that had been on her mind a great deal of late: her appearance and how critical it was to her income.

Although she was still beautiful at thirty-six—why deny an obvious truth?—she was well past her prime years. Who knew how much longer she would be able to draw men to watch her?

She needed to hire an apprentice; somebody reasonably handsome to take her place when she was no longer an attraction. Finding a woman or girl who could shoot was only part of her worries. What she needed was somebody with presence and a certain . . . verve.

Shooting was something she could train almost anyone to do, with enough practice.

Cecile had grown up around guns—first those her father produced, and later the ones she herself made—but it had never been her plan to earn her living as a markswoman in a circus.

Unfortunately, the cousin who'd vowed to help establish Cecile as a gunsmith had, instead, stolen her father's designs—designs that Cecile had painstakingly re-created from memory after losing his precious packet of papers in the storm that long-ago night—and then kicked her out of his home.

The guns her cousin Curtis Blanchard—the anglicized version of the Blanchet name—produced were substandard and it infuriated her that they bore the Blanchard name, even if few people connected Blanchard with its more famous French cousin Blanchet.

But there was little Cecile could do to stop him, although she took some enjoyment from the fact that his company had gone out of business five years ago.

Cecile frowned at her unproductive thoughts as she finished oiling the second pistol and placed it back in the lacquered box. Thinking about Curtis only made her angry and discontent. She had a different life now; while it wasn't the one that she'd planned for herself, it was still better than she'd hoped for.

She had a successful business and a job that she did well, though she didn't love it.

She even had a friend—something she'd not been able to claim before coming to work for the Fayre—and although Marianne no longer worked with or shared a house with Cecile, they were still as close as sisters.

Now that Marianne was gone from the Fayre, Cecile kept hoping that Josephine Brown—Cecile's mysterious and reserved blade expert, whom everyone called Blade—might also become a good friend. But even after the dangerous months they'd spent traveling together in France last year—which just happened to coincide with Napoleon Bonaparte's escape from Elba—Blade was as closed as an oyster when it came to who she was and where she came from.

Blade was one of the most self-sufficient and resilient people she'd ever met, but all Cecile really knew about her was that she worked as a mercenary of sorts, her skills so impressive that at least one European monarch had seen fit to hire her.

As much as she hated to admit it, she might never know Blade very well because it was virtually impossible to engage the woman in a conversation. Lord knows Cecile had plenty of secrets in her past, but she had never met a woman as reserved, mysterious, and private as Josephine Brown.

You are putting off your work, her conscience scolded as she continued to stare blankly at her desk.

Cecile sighed and turned to the ever-present stack of correspondence that was part of owning and operating a business. She worked her way methodically through the bills and letters from prospective theatrical acts.

Not until she'd almost reached the bottom of the pile did she find a copy of yesterday's London Examiner, a thrice weekly newspaper.

Cecile had canceled her own subscription to the paper months ago. Indeed, she'd stopped reading newspapers entirely at the beginning of the New Year. One of her employees must have left this for her, thinking to do her a favor.

She glared at it, a familiar craving swirling in her belly.

Once upon a time the London Examiner had been her favorite paper for the shameful reason that it had the very best society section of all the newspapers that circulated the country.

For years and years—especially when she had lived in near exile in far-flung Massachusetts—gossip columns had been her guilty pleasure. They were a way to escape a mundane life and read about the wealthy, beautiful, and powerful men and women of the ton.

But the pleasure she'd taken in reading about the antics of the rich and glamorous had palled when she'd become acquainted with several of those glittering creatures herself last year during her weeks in France.

Even now, almost a year later and with Marianne married to one of the aristocrats they had journeyed with, Cecile could hardly believe all that excitement—dodging the armies of Europe, evading ragged militias, and foiling the opportunistic criminals who prospered during times of war—had been real.

And it was especially difficult to believe that she'd been the lover of Gaius Darlington, the man the scandal sheets called the Darling of the Ton.

The very same man that Cecile had read about and fantasized about—along with at least half the female population of England—for years.

As affairs went, it had begun perfectly.

They had both agreed from the start that they'd only look to each other for carnal pleasure.

There would be no confidences, no expectations, and no attachments.

Most importantly, they'd agreed that everything would end the moment they returned to England.

It had been easy, if not painless, to accept those limitations.

After all, Cecile was first and foremost a realist. And the reality of the situation was that Cecile was a circus employee, while Guy was a peer of the realm who had responsibilities to both his family and his dukedom. He would never be free to marry Cecile.

That, too, had been perfect because the last thing Cecile wanted was a man who would try to control and direct her actions or treat her like his possession—she'd already had her cousin Curtis show her just how well that sort of arrangement ended for a woman.

Right up to boarding the packet back to Dover, Guy had abided by their agreement.

Then—at the last minute—he had shown his true colors.

Cecile realized her jaw was clenched tight and forced herself to relax.

But even a year later, just thinking of their last morning together was enough to make her blood boil. Like powerful men all over the world, Guy had decided that he wanted to have his piece of pie—and then keep the rest of the pie, too. He'd offered her a carte blanche, wanting to set her up in an establishment somewhere convenient for him and keep her at his beck and call. In short, he'd wanted to make her into his own personal whore.

Meanwhile, Guy would go off and marry a young, nubile, respectable heiress who could rescue his family from penury and fill his nursery with babies.

Cecile was neither young nor respectable. She was a circus sharpshooter rapidly hurtling toward her fortieth year.

As for nubile?

Well, to be honest, she wasn't exactly sure what that word meant, but she suspected it was something sexual. Although she'd spoken English almost exclusively since she was fourteen, she still thought in French whenever the English language—or English people—frustrated her.

Speaking of frustration . . . Why are you thinking of him again? Throw that newspaper away immediately and get back to work! the tyrant in her head ordered.

She growled and was about to obey when she paused.

Cecile had stopped reading the scandal sheets for months, not wanting to discover something painful about Guy. It was bad enough that the ton was atwitter about him finally seeking a wife and settling down.

But now, quite suddenly, she was angry at herself for giving up such a pleasure because of him.

"You are a coward who has allowed him to change you," she accused.

Hearing the words out loud made her brave.

Without closing her ledger or lowering her quill, she opened the newspaper with a flick of her wrist, leafing through the sections until she reached the one she wanted.

Less than ten seconds later she was finding it difficult to breathe.

The words seemed to dance and caper in front of her, mocking her.

It had finally happened—what she'd feared and dreaded, the reason she'd stopped reading the damnable papers: the Darling of the Ton was betrothed.

Cecile heard a snap and looked down to see she'd broken her favorite quill. "Merde!"

That's what came of thinking about Gaius Darlington; precious things got broken.

Why are you surprised? You knew this was going to happen. Why are you behaving like a schoolroom chit with her first infatuation?

Cecile knew all that was true, and she tried to push him from her thoughts—to shove away the pain as well—but she couldn't stop thinking of him or seeing him.

Strangely, the image in her mind's eye wasn't the way he'd looked that last day on the packet from France back to England—desperate, hurt, and angry, as if she had been the one who'd betrayed him.

No, what Cecile saw, as clearly as the most vivid oil painting, was Guy as he'd looked more than a year ago, the day she met him . . .

It was Sunday, Cecile's favorite day of the week. Not only could she have the dressing room to herself and rehearse her routine in peace and quiet—well, except for the sound of her pistols firing—she could also relax afterward and enjoy her guilty pleasure without nosey employees or the Fayre's owner—Barnabas Farnham, who was prone to nagging—bothering her.

After pouring herself a hot cup of black tea and replacing the pot on the tiny stove in the corner of the room, she shoved the mountain of garments, costumes, and other detritus off the settee and onto the floor, making a comfortable space for herself.

She sat, put her feet up on a rickety Windsor chair, and then opened the first of the newspapers she had collected during the week.

It wasn't accurate to say they were complete newspapers, rather, they were select sections : the society sections. Or gossip columns, as those who despised such entertainment often referred to them.

Every week she saved the columns to read and enjoy on her Sunday morning.

She'd begun reading the gossip columns years ago when she'd first moved to Boston. She'd been so homesick that she had spent a sizeable portion of her measly quarterly allowance purchasing London newspapers.

It didn't matter how dated the newspapers were, the delicious parts—those which dealt with opulent ballrooms, lavish women's gowns, and dashing, daring aristocrats—never grew stale.

As time passed, she became a connoisseur, learning that the various papers offered different tidbits. She'd begun to ask people—her neighbors, coworkers at the millinery shop where she had worked for years, and even her lovers—to save their newspapers for her.

None of them knew that she only wanted a few precious pages.

A secret vice was only pleasurable if it was secret, after all.

Now that she was back in London and earning far more money than she had before, she could indulge her vice without having to beg for castoffs.

But she saved the papers up and read them only one day every week.

She sighed with contentment and opened the first newspaper, The World Examiner. She kept them stacked in order of least to most favorite, keeping the best for last, as it were.

What made one paper better than another? Well, some of them specialized in following certain members of the ton.

While Cecile adored reading about all the social luminaries who comprised the haut ton, she did have her favorites.

The World Examiner was of little interest—only a story about a L_ L_ G_ who'd fallen into the champagne fountain—which were all the rage this year and which Cecile would love to see—at the D_ of M_'s betrothal ball for her daughter.

Although the articles were written using this clever sort of code, the players' identities were crystal clear to the readers who avidly followed the stories week after week.

L. L. was actually Lady Louisa Garber, a scandalous marquess's daughter in her third Season. Lady Louisa was frequently observed losing part of her apparel or falling off things or into things.

The D of M was the Duchess of Merriton. Everyone knew that her daughter, Lady Ophelia, had just become betrothed to the Earl of Singleton's heir.

That was all stale, uninteresting news.

Cecile had to read through three more papers until she got to a juicy story—one that required a second cup of tea—in the London Observer.

This was an exclusive—as the newspaper men called them—and was about one of the wickedest and most outrageous men in England, Gaius Darlington, the Marquess of Carlisle, the Darling of the Ton.

Cecile gobbled up the story as if it were a sticky mass of Turkish delight.

"It will be no surprise to readers to learn that the M___ of C___ has been up to his tricks again! This time with none other than the lovely and elusive wife of the D___ of L___ , who has, up until now, been as heavily fortified against invaders as Edinburgh Castle. Not only did C___ breech those defenses, but he was captured in the middle of his . . . assault by none other than the D___ of L___ himself!"

Cecile lowered the newspaper, her jaw sagging at what she'd just read and then reread.

The Darling had been caught in flagrante delicto with the breathtakingly lovely Duchess of Leicester? Cecile knew the duchess was lovely because she'd seen more than one illustration of the brand-new peeress in various print shop windows. Not only was she surpassingly beautiful, but she was also twenty-five years younger than her reputedly doting husband.

Oh, the Darling was so wicked and shameless!

Was there nothing the outrageous Lord Carlisle would not do?

Not that cuckolding other men was anything new for the Darling. No, hardly a month passed in which he wasn't caught escaping from some woman's boudoir—on one infamous occasion he was seen scaling down a three-story trellis—or engaging in some other scandalous imbroglio that usually involved beautiful women and a less than proper complement of clothing.

But for a husband to actually catch the marquess in the act? No, that was something entirely new.

And deliciously, despicably debauched.

There was no denying that a scandal of this magnitude was likely to be immortalized in Mr. Humphrey's print shop window.

Although there were dozens of print shops in the city that posted satirical cartoons in their windows for the enjoyment of passing pedestrians, Mr. Humphrey's always had the latest and the most risqué. The poor man had been hauled off to jail on more than one occasion for the lewd content of some of his illustrations.

Cecile smiled and shuffled the papers back into a neat stack. If this story was already in the paper, there was a good chance the illustration might be in Humphrey's window this very afternoon.

She would read the rest of her papers later. Right now, she would have to change into her new navy walking costume and make her way—

The door to the dressing room swung open, and Marianne—who was scowling rather ferociously—entered the room with two men on her heels.

When Marianne saw Cecile, her scowl turned to surprise. "Oh, I didn't know anyone was in here. We can go—"

Cecile stood. "No, no, I was just leaving." Her gaze flickered over the two men, both tall and dressed like laborers, standing just behind Marianne, and then back to Marianne, whose pale cheeks were flushed, her hazel eyes flashing.

"Is something wrong?" Cecile asked.

"No. Nothing wrong," Marianne said, her cheeks getting even darker.

Did her friend look . . . guilty?

Cecile glanced from Marianne back to the men.

There was something familiar about one of the men, whom she saw—upon closer examination—was actually quite startlingly handsome.

Now where had she seen him before? He wasn't dressed like one of the punters who normally came to see the shows, but neither did his worn clothing look quite . . . right.

She shrugged off the thought and turned to look at his companion.

Interesting. He was also attractive.

Exceptionally attractive, actually.

Cecile turned back to the first man again.

He frowned at her.

She blinked and his image seemed to shift slightly.

Cecile's jaw dropped. No wonder he looked familiar! She had seen him before, but he'd looked utterly different. The man was none other than the Duke of Staunton—whom society columnists called Lord Flawless and His Grace of Flawless, among other things.

She recognized him because she had seen him in the audience several times over the past few weeks, both at her performances and Marianne's boxing matches.

The Duke of Flawless was known as something of a social reformer, so his presence at the Fayre had made Barnabas nervous. He'd worried Staunton was looking for moral violations that would give the authorities reason to close down the circus.

Cecile thought Barnabas's worries were all bosh. It was her opinion that the duke came to stare at Marianne.

And here he was actually with Marianne and looking far, far different.

His distinctive pale blond hair was now a flat brown and he was wearing spectacles, although they did nothing to disguise his striking pale green eyes.

He'd been in expensive evening blacks before, and now he was garbed in the humble attire of a working man.

Not that he really looked like a working man when one examined him closely.

Aside from his reform work, Cecile didn't know much about the Duke of Staunton because his behavior was so flawless that he made poor fodder for the society sections.

Indeed, it was ironic that Staunton—a man who was never mentioned in gossip columns—was bosom beaus with a man who was rarely not in one.

The very same man that Cecile had just been reading about in fact.

Cecile turned slowly to the second man, who was looking right back at her and smiling.

She knew she was gaping like an unlettered hayseed, but her brain refused to believe her eyes.

No.

It can't be.

It is impossible.

Cecile knew she looked like a fool with her mouth hanging open, but she seemed to have lost any power to shut it. Besides, it was the only way she could draw enough air into her lungs, because it was as if his very presence sucked all the oxygen from the room.

Good God! It is he!

Yes, it was. The god standing before her was none other than the Darling of the Ton.

He was gorgeous.

And perfect.

Cecile would have known him even if he'd worn a wig and ballgown. The only reason his paltry disguise had fooled her for so much as five seconds was because of the sheer improbability of the Darling himself walking into the Fayre's cluttered dressing room.

She'd seen dozens and dozens of illustrations of the Darling but had never seen him in the flesh.

And oh, what flesh.

To say he was six feet of masculine perfection was to criminally understate the case.

He was perhaps an inch taller than the duke but slightly leaner than his friend, and everything about him shrieked patrician elegance.

His thick hair was a dark, glossy mop of loose curls. His eyes were the warm golden brown one saw in stained-glass windows in churches.

But there was nothing religious in the look shining out of his exquisite orbs.

Indeed, the Darling was taking Cecile's measure every bit as intimately as she took his, those bedroom eyes lingering on the bodice of her gown with a speculative look that made her heart clatter wildly in her chest.

She'd actually dreamed about him looking at her that way—the sort of dreams one couldn't admit having even to one's best friend. The sorts of dreams that made one's thighs clench just recalling them.

Cecile knew from the stories in the newspapers that he was thirty-two—a few years younger than she—and the faint lines fanning out from the corners of his eyes only made him more gorgeous, as did the grooves in his lean cheeks, which appeared to have been formed by smiling.

Naturally the thrice-blasted man had dimples in both cheeks.

Lord, but he was beautiful and perfect.

He might actually be too perfect. Indeed, he was that rare sort of man who rendered her breathless and giggly—two things she never was—and her body responded to him in a way that was distinctly distracting, heat pooling low in her belly and making her aware of parts of her body that she didn't normally think about.

Cecile wrenched her gaze from the marquess's smirking face and turned back to her friend. Although she felt as if she'd been standing there goggling for a lifetime, it couldn't have been more than a few seconds.

Marianne wore a pleading look and the message in her eyes was clear: Please don't ask any questions.

Cecile raised her eyebrows. Really? She really expected Cecile to say nothing?

Marianne mouthed the word please.

Cecile inhaled until it felt as if her chest would explode and then jerked a nod while giving Marianne a look that told her how much her friend would now owe her for going along with this charade.

And so instead of grabbing Marianne and shaking some answers from her, she forced a smile and asked in a voice that sounded shockingly normal, "Ah, two new employees?"

Marianne's shoulders sagged slightly and she gestured to the duke. "Yes, this is John Sinclair." She paused, and then added, "He, er, goes by the nickname Sin."

Sin? Cecile had to bite her lip to keep from laughing. What delicious irony that one of the most virtuous men in England was calling himself Sin.

"Miss Tremblay," the duke said, inclining his head.

Cecile nodded at him and turned to the marquess, who was wearing a smile that was surely one of God's masterpieces. And the devilish lights dancing in his melting brown eyes said that he knew it, too.

"And this is Guy Darling," Marianne said.

Cecile snorted. Guy Darling? Was that really the best they could come up with?

The marquess bowed. "Enchanté, Mademoiselle Tremblay."

She winced at his atrocious French accent.

Well, so much for his perfection. Thank God the man was flawed in some way.

Knowing that he wasn't perfect made her feel a bit less like a yokel and more like herself.

"These must be the new carpenters Barnabas was talking about hiring?" Cecile asked, flashing Marianne a mocking look.

"Er, no. Mr. Sinclair will take Jack's place on our upcoming tour," Marianne said.

Cecile had no words for that announcement; surely she must be dreaming.

"Mr. Sinclair is taking Jack Nelson's place as your trainer when we go on our tour of the Continent," Cecile repeated carefully, not wanting to speak too loudly and wake herself up from this fascinating dream just yet.

"Yes, that is correct," Marianne said.

Cecile nodded as if there was nothing at all out of the ordinary about a duke joining a circus and training a female boxer.

Cecile turned to the other man—the man whose face was too often in her fantasies. "And Mr. . . . Darling?"

"He will drive our caravan, care for the horses, and do other odd jobs."

Cecile looked from man to man, expecting one of them to chuckle and confess that it was all a jest. A strange one, granted, but a jest, nonetheless. After all, aristocratic men often engaged in foolish wagers to alleviate the boredom of their privileged lives.

But nobody laughed.

Instead, Marianne turned to the Duke of Staunton, who scowled back at her.

For the first time since entering the room, Marianne smiled—and not a pleasant one, either.

"You will be delighted to hear that both of them will be, er, volunteering in your and Blade's routines."

Cecile's eyebrows shot up.

She would get to shoot at the Darling?

No. Impossible. It couldn't be true.

And yet judging by the murderous look the Duke of Staunton was giving Marianne, it must be.

How utterly glorious!

Cecile smiled so wide, it hurt her face. "That is fortuitous. I was going to tell Barnabas that I needed to find a new volunteer."

Marianne smirked. "Oh dear, is Donald still having trouble?"

"Yes, he needs to find some other job. One of these days he'll jump before I shoot and it will be a pro. . .
We hope you are enjoying the book so far. To continue reading...
The Dueling Duchess
Minerva Spencer
Copyright © 2023 All Rights Reserved