Book info
Sample
Audiobook
Media
Author updates
Lists
Synopsis
Brought to you by Penguin.

There are 22 candidates. There are 12 seats.

The last interstellar colony ship is down to its final batch of humans after the robots in charge unhelpfully deleted the rest. But rebooting a species and training them for the arduous task of colonisation isn't easy - especially when the planet below is filled with monsters, the humans are more interested in asking questions than learning, and the robots are all programmed to kill each other. But the fate of humanity rests on creating a new civilization on the planet below, and there are twelve seats on the lander. Will manipulation or loyalty save the day?

© James Breakwell (P) Penguin Audio and Rebellion Publishing 2022
Release date: January 18, 2022
Publisher: Rebellion Publishing Ltd
Print pages: 348
* BingeBooks earns revenue from qualifying purchases as an Amazon Associate as well as from other retail partners.
Listen to a sample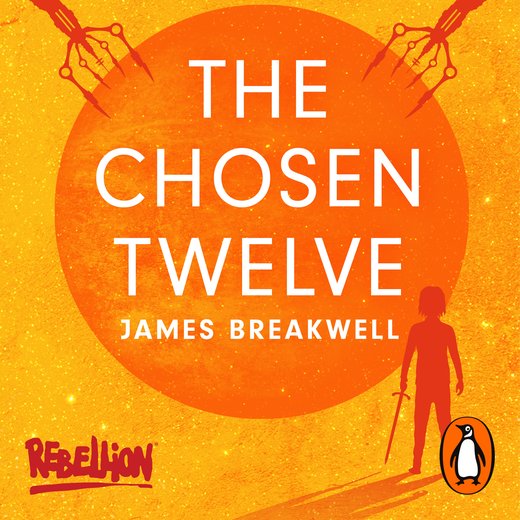 10:57:00
300.77 MB
9781786185181
January 18, 2022
Random House UK
The Chosen Twelve
James Breakwell
Chapter 1
God lived in the coffee maker on deck four. Only Gamma knew. But Gamma didn't make it out that way very often because it was a long journey through the outer halls and he always had schoolwork and also the door wanted to kill him.
Gamma eyed the doorway carefully. Sure, it looked wide open. The door was recessed in the frame with all its indicator lights off. A less wary organic might march right through and ask God a question, but Gamma knew better. He remembered.
How long had it been? Four thousand days. No. He had been counting for four thousand days. But there had been many more days before that, indistinct and unchanging, between the day Mu went out the airlock and the day Gamma started keeping track, secretly scratching a metal line below his bunk every night when he went to bed. And it had been even longer since a dishwasher killed Chi, even though Edubot denied it and tried to pretend Chi had never existed at all. Gamma didn't start counting after Chi died, but he didn't know he would need to. Gamma was a young and naive eleven-year-old back then. How much time passed between Chi's death and the day Gamma turned twelve, God only knew.
Four thousand days ago, Gamma was twelve. Today, Gamma was twelve. That's what Edubot said. But Gamma had taken Calculus IX enough times to know the math didn't add up. Somebody was lying.
Gamma stuck out his arm and waved it in the doorway. The recessed door didn't react. The threshold was covered in a layer of dust undisturbed by machine tracks or organic feet. It was possible the door hadn't closed at all in the last four thousand days. If anything, that just made it more dangerous. The door was patient.
Spenser whirred his brushes apprehensively. Gamma had told him to stay behind, but the small vacuum bot came anyway. It was futile to try to get him to leave Gamma's side.
"Shhh," Gamma said.
Spenser repeated his apprehensive whir, but quieter. It didn't matter. The door knew they were both there, even if it was pretending to be dead. It had a ghost.
Gamma looked back down the abandoned hall. It wasn't too late to return to the colony ship. If he ran at full speed, he might still make it to class in a few hours, assuming he didn't cross paths with any other hostile digital life. That was a big "if." But by some miracle, he had made it this far safely enough. There was no sense in pressing his luck. Better to return to the colony ship and live to take Calculus IX a sixth time.
Gamma took one last look at the door and the coffee machine, then turned and walked away. He dragged his feet a little and did his best to whistle, even though he had never learned how. Spenser pivoted to watch him go. He remained beside the door.
Twenty meters down the hall, Gamma changed direction and sprinted toward the door. He jumped and planted both feet right before the threshold. His balance wavered, his torso leaning forward, both arms windmilling. He regained his balance and fell backward, away from the door. He landed hard on his tailbone.
The door remained inert. It was a cunning foe.
Spenser rolled forward and bumped gently into Gamma.
"I'm fine," Gamma said. He stood and brushed off his dusty hands against his jumpsuit. Other than his own foot (and now hand and butt) prints, and Spenser's narrow tracks beside them, there was no sign of life in the hall. Nothing had been down this way for a very long time. God chose this place for a reason. He liked to be alone.
"Can you hear me?!" Gamma shouted through the open doorway. The coffee maker remained as inactive as the door. God might be all-knowing, but his ears could use some work.
Spenser rolled through the doorway.
"Spenser, no!" Gamma said, but it was too late. Spenser was already on the other side. The door didn't react.
Spenser rolled back and forth through the doorway. He wanted Gamma to follow.
Gamma shook his head. That didn't prove anything. There were many doors with ghosts that let digitals pass freely but that snapped at organics they didn't like. Even this doorway had let Gamma go through for weeks (or had it been months or years?) before it attacked. It almost got Gamma that first time. That hadn't deterred him. Back then, Gamma had been a young and invincible twelve-year-old. But that was four thousand days ago, back before Mu was blasted out an airlock and everything changed. Now Gamma was an old and cautious twelve-year-old. He knew life didn't last forever, even if he never grew up.
He turned away from the door and looked back the way he came. He wanted to cry. Crying never solved any problems, but it also didn't cause any new ones. Sometimes it was the only thing that didn't make his life actively worse. He knew he shouldn't be out here. That's why he had waited so long. His plan had been simple enough at first. After he put 365 scratch marks below his bunk, he would ask Edubot how old he was. And if Gamma were still twelve, he would ask God what was really going on. But 365 scratch marks came and went, and Gamma was still twelve. He decided there was no reason to be hasty. He could wait a little longer. So he put a thousand marks below his bunk, and he was still twelve. Now it was certainly time. Except that he had worked his way back to Calculus VII or VIII for the third time, and that one always gave Gamma trouble. So he decided to wait a little longer. At two thousand days, he would definitely talk to God.
Two thousand days came and went, and Gamma was still twelve and he still didn't venture out of the central colony ship. If God were there at two thousand days, he would be there at twenty-five hundred. And he was. Or so Gamma assumed because he didn't actually leave the colony ship to check. But Gamma was still twelve, and something had to be done, so Gamma boldly waited another thousand days. At three thousand days, it was absolutely, positively time to act. Gamma felt guilty that whole day, but in an active self-loathing kind of way that made it seem like he did something, even if that something was just hating himself. Gamma rode that feeling. He would go to see God at thirty-one hundred days. Then thirty-two and thirty-three and thirty-four and thirty-five and thirty-six and thirty-seven and thirty-eight and thirty-nine hundred days. And now, here he stood before the door. He was, after all, a man of action, even if it sometimes took him four thousand days.
Still facing away from the door, Gamma jumped backward across the threshold.
The door slammed closed, barely missing Gamma's face. The door hit the opposite jam and bounced back, then slammed closed again and again in frustration. Gamma rubbed his nose. The tip had a friction burn.
When the echoes of the door slams finally faded down the empty hall, the door sulkily retreated into its recess in the wall, leaving the doorway open again. Spenser rolled back through to join Gamma.
"I told you," Gamma said.
Spenser whirred erratically. Gamma wasn't sure what that one meant, but he let it go. He wasn't here to argue with a vacuum. He was here to talk to God.
Gamma had long wondered why God lived in a coffee maker. This didn't seem like a good place to meet a deity. Or a good place to get coffee. And it wasn't. There was no coffee, of course. None of the dispensers on the base gave out what they were supposed to. No matter what you ordered from the ration stations in the colony ship's various cafeterias, they always released ration blocks that on good days tasted vaguely like cherry and on bad days tasted vaguely like nothing. Although none of the students had ever had a real cherry, so they just had to trust the machines that this was vaguely what cherries tasted like. Not that a digital would know one way or another since they didn't have taste buds. It was best to just eat your block of rations and not think too much about what it tasted vaguely like.
"Hello," Gamma said.
God heard him loud and clear. His small display screen flickered to life.
"I AM G_OD," the display said.
Gamma didn't know why there was an extra space between the G and the O, but it seemed like a bad idea to correct God's kerning, even if God wasn't really God at all. He could just be another ghost inhabiting a random piece of equipment on the base, but Gamma didn't think so. The God of the coffeemaker was different than any ghost Gamma had ever met. For one thing, the coffee maker had never tried to kill him. For another, it had never lied to him. Those were good traits in a coffee maker and a god.
In fact, the only thing God couldn't do was make coffee. God had many, many coffee options, but all of them just spit out water. Usually, it was room temperature, but if Gamma hit the right combination of choices, it was sometimes lukewarm. That alone made risking death at the door worthwhile. Almost.
But that wasn't why Gamma was here. Not this time.
"How old am I?" Gamma asked.
At first, the display didn't respond. Then it began blinking on and off, the words "I AM G_OD," appearing and disappearing in long and short bursts. Gamma counted them, deciphering the Morse code in his head.
Finally, the display stopped flashing.
"It can't be," Gamma said. He put his hands over his mouth. He wasn't sure about God's policy on blasphemy, but he didn't want to find out.
The display began flashing again, alternating long and slow blinks. It was the same pattern. God's answer had not changed, which made sense since God was omniscient and unlikely to make a mistake the first time around.
Gamma stepped back from the coffee machine, his head spinning like Spenser's brushes. Spenser tried to get Gamma's attention, but Gamma didn't hear him. In a daze, Gamma stepped through the doorway. The door slammed shut on his arm, crushing it utterly.
Chapter 2
Delta removed her helmet and wiped the sweat from her forehead. The thin metallic suit might stop flames, but it did little to dampen the heat from the blast furnace. She pulled off her gloves and drank deeply from a water bottle.
Then she heard the scream again. She wasn't crazy after all. This deep in the outer halls, it could be coming from kilometers away. But who was screaming? Bots with ghosts didn't usually cry out when they died unless they really wanted to put on a show. They were more likely to taunt or swear or bargain. Screaming was optional because they didn't feel pain. Just another perk of the superior race, Edubot would say.
As for the zots—short for zombie bots, or bots with utilitarian digital intelligences in various states of decay—they didn't vocalize at all. They either ignored you or tried to kill you, no conversation needed. There was nothing in between.
Whoever this was screamed again. The voice was weak. And human.
Delta sat down and rubbed her sore muscles. She knew only she was strong enough to survive out here. Even the bots with ghosts kept their distance from her factory. They learned the hard way. As for the zots, she had dealt with any of them dumb enough to wander into her territory. There were no second chances. Not even for her.
Delta stood bolt upright. What if it was Epsilon? Delta reached for her latest masterpiece, then thought better of it. She had kept her secret for so long. Now wasn't the time. She grabbed her tool belt and ran out into the outer halls.
Whoever it was screamed again. Their voice was getting weaker. Martha bumped against Delta's leg as she ran. After a few more minutes of running, Delta came to a section of hallway where the ceiling had caved in, revealing the unlit deck above, and leaving a pile of debris and sheared off pipes in Delta's way. There was still oxygen. If it had been exposed to vacuum, the entire hall would have been depressurized, and Delta knew she would already be dead. She carefully worked her way through the pipes to the other side. Then she stopped cold.
A science bot stood directly in her path. Its eight metal legs and extended diagnostic apertures made it look like a giant scorpion in the dark.
"Are you active?" Delta asked.
As if any digital would ever answer that question truthfully. It was like meeting a new human and asking them, "Are you a serial killer?" Whether they were or not, their answer would be the same.
Delta heard the scream again. It was the weakest yet. There wasn't time to backtrack. She gripped Martha with her right hand and slid against the wall, pressing her body as far from the metal science scorpion as possible. The scorpion didn't move. Delta sprinted past.
"Are you still there?" Delta called out down the hall.
"Iota?" the voice called back.
"No, it's Delta."
"Help."
It definitely wasn't Epsilon.
After one more turn, Delta could finally see Gamma. He was leaning against a closed door, all color drained from his face. His right arm was pinned in the door and appeared hopelessly mangled. Delta was shocked the limb was still connected at all. Gamma's blue jumpsuit was soaked dark red around the wound.
"What did you do to that door?" Delta asked.
"Went through it," Gamma said. He coughed up blood.
Delta inspected the door. It shifted a little and seemed to push harder. Something thumped against it on the other side. Delta gently tapped Martha against the door. The crowbar made a dull thud.
"Open up," Delta said. "This is your only warning."
The door remained firmly closed. Delta sighed. Digitals never made this easy.
She twirled Martha in her hand, then shoved the pointy end between the door and jam. She pushed. Every muscle in her strong, wiry arms strained under her jumpsuit. The door opened a crack.
Gamma's arm slipped free. He fell forward and hit the ground like a sack of moist vaguely cherry-flavored rations. He didn't make any effort to break his fall.
Delta stopped pushing on the crowbar. The door snapped closed, sending Martha spiraling across the room. The door slammed open and closed in frustration. Then it casually slid back into the recess in the wall as if it hadn't just tried to kill someone.
Spenser shot out of the room and rushed up to Gamma. The vacuum bot oscillated in place as its brushes revved out of control. He was panicking.
Delta picked up Martha and slipped her back into a belt loop. Then she knelt beside Gamma.
"You need a med bot," Delta said. "Get back to the colony ship."
Gamma said nothing. Delta wasn't sure if he was conscious, but she had done her part. The rest was up to him.
She walked away.
Spenser raced ahead and cut her off. When she took another step, he bumped her foot.
"What do you want from me?" Delta asked. "I saved his life."
She picked up her other foot, but the vacuum bot moved under it, nearly tripping her.
"Just get him back to the colony ship," Delta said. "Leave me out of it."
"Can't," Gamma said. He coughed up more blood. "The med bots want to kill me."
Delta swore under her breath. You and me both, she thought.
She couldn't just leave Gamma out here to die. Well, she could. In fact, that was exactly her plan until seconds ago. But that was before she knew Gamma couldn't get help at the colony ship. The med bots held just as many random grudges as any other bot with ghosts. Once they hated you, it was suicide to get within their reach. Gamma might get treatment from a med bot that had never seen him before in the outer halls, but he would never make it to one on his own. Not in his condition.
"Fine, I'll take you," Delta said in a voice that showed it wasn't fine at all.
She didn't have anything against Gamma. In fact, she barely had any opinion about him at all. He was timid and indecisive and blended into the background, except in the simulation, where he was aggressively incompetent. But then again, so were all the other students. It was one more area where he was remarkably unremarkable.
"Get up," Delta said.
Gamma moaned. Delta nudged him lightly in the side with her foot. Gamma moaned louder.
"Get up," Delta repeated. "I can't carry you the whole way."
Gamma didn't budge.
Delta kicked him in the ribs.
"I'm awake," Gamma said hoarsely. He coughed up more blood. "Your bedside manner could use some work."
He still didn't move.
"Walk or die," Delta said. "Those are your choices. Make up your mind."
Gamma stirred. After a moment, he struggled to his feet. His injured arm looked like it had been snapped clean through the bone, and the bottom half dangled limply in his jumpsuit as though held on by a string. But Gamma was showing some will to live. Delta could work with that.
Delta put Gamma's good arm over her shoulder to help him support his weight. They moved down the hall together. Spenser followed behind, whirring with concerned agitation. Delta led the trio through kilometers of winding halls and rooms connected with no apparent central plan.
The deeper into the outer halls she went, the more uneven the floor became. Delta took another step and her foot came down on thin air. She tumbled forward—and took Gamma with her. She twisted just enough to catch the lip of the hole and hold up Gamma on top of her. A wrench fell out of her tool belt and plummeted into the dark hole below. Delta knew better than to look down. It was one of the abandoned tunnels made by the mining bots beneath the base. For all she knew, it might stretch all the way through the center of Comus.
With great effort, Delta rolled Gamma off of her and over to the side of the hole. He came to rest on top of his shattered arm but didn't react. Not a good sign. Delta pushed herself up after him. She was exhausted.
"What's your max lift load?" Delta asked Spenser.
The little bot whirred worriedly. Or possibly disconcertedly. Delta wasn't sure. She wasn't fluent in vacuum.
Delta put her arms around Gamma's midsection and lifted his butt off the ground.
"Scoot under," Delta said.
Spenser didn't budge.
"Don't make this weird," Delta said.
Reluctantly, Spenser rolled forward under Gamma's butt. Delta set Gamma on top of the bot. Spenser whirred his brushes mournfully.
"I know, I know," Delta said. "It's one of those days."
Delta put her arms under Gamma's armpits and lifted his upper torso while Spenser carried the weight of Gamma's lower half. They started to move. Gamma's legs dragged on the ground behind Spenser. After a few strides, the bot extended six metal spider legs to push himself farther above the ground. He was struggling just as much as Delta.
"Almost there," Delta lied.
She hated it when the machines lied to her, but she never felt the slightest guilt when she lied to them. It was just survival. Especially now.
The robot vacuum stopped abruptly. Delta fell, dropping Gamma. Gamma didn't react.
Delta unleashed every swear word she knew. Spenser remained perfectly still. She got the uneasy impression he was listening for something. Delta shut up, and she heard it, too: wheels. And they were getting closer.
"Do you think it has a ghost?" Delta whispered.
Spenser remained silent. Delta's blood went cold.
Scrambling, she found a door with all the indicator lights off. She was sure Gamma would object to risking another door crossing, but if he wanted a vote, he should have stayed conscious. She pried off the control panel and touched two wires together. Nothing. The door really was unpowered. The sound of the wheels was practically on top of her.
The bot turned a corner and came into view. In the dark, Delta could just barely make out that it was an ancient laundry cart. Its linen baskets had long ago decayed into dust, waiting in vain for dirty clothes that would never come. Judging by its jerky motions, Delta guessed it was a feral zot. That didn't make it any less dangerous. A digital didn't have to be smart to kill you.
The laundry cart charged.
Delta planted her feet wide and raised Martha over her head to make herself the most tempting target possible. The cart rushed straight for her. At the last second, Delta spun to the side and dove past it. She darted for the T-intersection at the end of the hall, glancing back over her shoulder.
"Come and get me," Delta said.
The laundry cart skidded to a stop and executed a halting three-point turn, sounding its warning reverse beep as it went. The cart didn't spot Gamma just meters away in the shadows. Delta's gamble had paid off. She figured laundry carts weren't built with great sensors for seek and destroy missions.
She kept running. The laundry cart zoomed after her. She could hear its gears shift as it gained ground. Her lungs burned as she lengthened her stride and headed straight for the wall of the T-intersection. Three meters before the wall, she leapt in the air and flew at it, feet-first. She slammed into the wall and kicked off, reversing direction. The laundry cart continued forward underneath her at full speed and smashed into the wall.
Delta landed on top of the laundry cart. The cart spun in furious circles. Delta held on. She stabbed Martha into the laundry cart's junction box. The cart jerked violently. Martha flew from Delta's hand. She would have to do this the hard way.
She locked both of her legs under a metal ring that once held a laundry sack and extended her entire torso over the side of the machine. She reached for the junction box. The zot kicked into reverse and shot toward a wall. Delta pried open the box with her fingers and jerked a wire loose. An instant before impact, she did a sit-up and pulled her torso out of the way. The machine hit the wall and bounced off, rolling back a few centimeters. Then it stopped moving.
"What's the matter?" Delta asked. "Stuck?"
The cart beeped angrily. She had disconnected its command module from its drive train. It couldn't move.
Delta hopped off the machine and picked up Martha.
"That wasn't so hard," Delta said. Then she fell on all fours and threw up.
Delta walked unsteadily down the dark hall to Gamma. He was still unconscious. She touched his forehead. He was burning up. Time was not on his side.
Delta knelt next to Spenser.
"I need you to do something brave," Delta said.
The vacuum bot just looked at her. At least Delta assumed he looked at her. Vacuum bots didn't really have eyes, per se.
"I need you to interface with the laundry cart," Delta said.
Spenser recoiled like he had been hit by a laundry cart.
"You don't have to move in," Delta said. "Just get control long enough so that we can use it to carry Gamma."
Spenser's whirring noise quieted a little, but he still didn't come closer.
"A vacuum bot can beat a laundry cart any day," Delta lied. Really, she had no idea which service bot had a more powerful ghost. But win or lose, she just hoped the battle didn't take long. Some digital-on-digital fights could take months or even years. She didn't have time for that right now. But surely two machines on the lowest rung of the intelligence scale could fight their way to a resolution in a minute or two. Gamma's life depended on it.
Spenser stopped his brushes. He stood perfectly still for a moment, then rolled straight to the laundry cart. Delta followed.
"You got this, Sparky," Delta said.
The vacuum bot opened his top panel and extended a long, thin metal tendril toward the cart's command module. The tendril slipped into a port. Instantly, every light on the vacuum bot and the laundry cart lit up. They were like two tropical birds competing for a mate. Both machines vibrated angrily. ...
We hope you are enjoying the book so far. To continue reading...
The Chosen Twelve
James Breakwell
Copyright © 2022 All Rights Reserved