The Cartographer's Secret
Book info
Sample
Audiobook
Media
Author updates
Lists
Synopsis
A map into the past. A long-lost young woman. And a thirty-year family mystery.
The Hunter Valley, 1880. Evie Ludgrove loves to chart the landscape around her home—hardly surprising since she grew up in the shadow of her father's obsession with the great Australian explorer Dr. Ludwig Leichhardt. So when an advertisement appears in The Bulletin magazine offering a thousand-pound reward for proof of where Leichhardt met his fate, Evie is determined to use her father's papers to unravel the secret. But when Evie sets out to prove her theory, she vanishes without a trace, leaving behind a mystery that haunts her family for thirty years.
Letitia Rawlings arrives at the family estate in her Ford Model T to inform her great-aunt Olivia of a loss in their family. But Letitia is also escaping her own problems—her brother's sudden death, her mother's scheming, and her dissatisfaction with the life planned out for her. So when Letitia discovers a beautifully illustrated map that might hold a clue to the fate of her missing aunt, Evie Ludgrove, she sets out to discover the truth. But all is not as it seems, and Letitia begins to realize that solving the mystery of her family's past could offer as much peril as redemption.
A gripping historical mystery for fans of Kate Morton and Natasha Lester's The Paris Seamstress, The Cartographer's Secret follows a young woman's quest to heal a family rift as she becomes entangled in one of Australia's greatest historical puzzles.
"A galvanizing, immersive adventure . . . forcing the characters to reckon with the choice found at the crux of passion and loyalty and the power of shared blood that can either destroy or heal." —Joy Callaway, international bestselling author of The Fifth Avenue Artists Society
Daphne du Maurier Award Winner, 2021
Historical story with both romance and mystery
Full-length, stand-alone novel (c. 104,000 words)
Also by Tea Cooper: The Woman in the Green Dress and The Girl in the Painting
Release date: November 16, 2021
Publisher: Thomas Nelson
Print pages: 400
* BingeBooks earns revenue from qualifying purchases as an Amazon Associate as well as from other retail partners.
Listen to a sample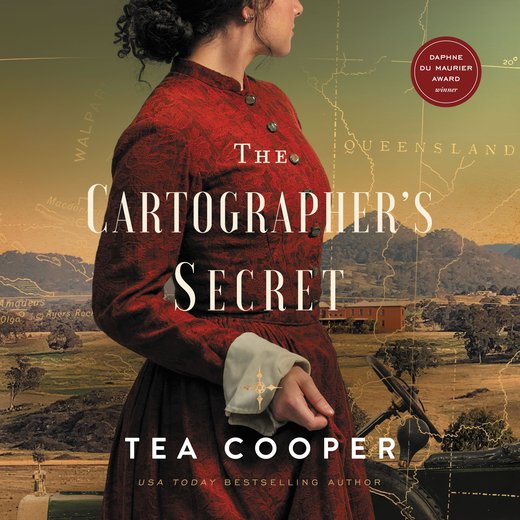 10:01:41
275.44 MB
9780785267591
November 16, 2021
Harper Muse
The Cartographer's Secret
Tea Cooper
"Ladies, ladies. Your attention, please. It is imperative that we take advantage of this opportunity." An air of despair laced Mrs. Booth's voice. "Miss Fletcher is a very busy woman; her studio portraits are in high demand. We are very lucky to have her here today."
The hands on the wall clock ticked their agonizing way to two. By the time the women were herded into place, it would be well past the hour Letitia Rawlings promised to be standing on the corner of George Street. The boat race started at three, and she had to be aboard before the starter's gun.
Precious minutes lapsed while Miss Fletcher arranged every single member of the Women's Club, seating Mrs. Booth in the center, adjusting drapes, worrying about height, the set of elbows, and the women's ability to remain silent and still. When she'd accomplished those major feats, she spent more valuable moments measuring the intensity of the light while an argument ensued about who should sit next to whom.
Patience worn to a frazzle, Lettie turned to Mrs. Booth and hissed, "I really must leave. I have a prior commitment."
"You cannot." Mrs. Booth clamped her hand firmly on Lettie's arm and held her steady, fixed her eyes on the camera, and nodded. "Continue, Miss Fletcher. We are ready."
A further eternity passed until finally Lettie managed to offer her farewells and escape. She scanned the busy street searching for Thorne's pride and joy—his motor—but the shiny green custom-built Model T Ford with its distinctive khaki roof was nowhere to be seen.
There was no sign of her brother in Pitt Street either, which was hardly unexpected. If he'd waited he'd have missed the pre-start checks. Thorne always won the sprint, and she usually made a fine showing in the ladies' steering race, but she'd promised to attend the luncheon at the Women's Club. There had been several of her cohort from the Ladies Debating Society present, and she hadn't caught up with them since university days. Now she wished she'd refused the invitation.
Clamping her hat over her unruly curls and dodging the crowds, she bolted down the hill toward the Quay. The start line was just beyond Fort Macquarie Tram Depot. It couldn't take more than fifteen minutes. If she hurried she might have time to slip into her well-worn seat at the back of Thorne's boat before the race began.
The first glimmer of the harbor appeared between the buildings surrounding the Quay. Seven minutes until the gun. Even if she wasn't aboard, she'd be there to cheer Thorne to the finish. Tucking her bag under her arm, she lifted her skirts and ran.
The ground shuddered.
A deafening explosion ricocheted from the buildings, thundered through her body, and shook her to her core.
And the sky lit up—an obscene ball of flame and smoke shot into the windless air. Jagged timber shards knifed toward the sky. Flames crackled and her ears rang, filling her chest with a strange, heavy thump.
A limp body arced through the billowing clouds.
All-encompassing silence. No sound, no words, just a horrendous, earth-stopping dread as the dancing blaze and floating debris mesmerized the crowd of onlookers.
And there in the benign waves lapping the small stretch of sand, a straw boater. Not a mark on it, the blue hair ribbon he'd pinched from her dresser that morning still pristine.
The gaping hollow in her stomach sliced its way to her heart, and Lettie knew her beloved brother, Thorne Ludgrove Rawlings, was no more.
Lettie lay on her bed, eyes focused on the ceiling rose, waiting for her breathing to settle and the sweat to dry on her skin. She knew, down to the last second, how long it would take to rid herself of the flickering images.
No matter what the papers described, no matter what the eyewitness reports and the scientific evidence suggested, the result was conclusive. A careless cigarette and her brother was no more.
She reached for her sketchbook and flicked through the pages to the last drawing she'd made: Thorne at the stern of the boat, his boater at a rakish angle and his smile blazing in competition with the noonday sun. If only she'd done as she'd promised and hadn't agreed to the ridiculous photograph to commemorate the insignificant achievements of the Women's Club.
Perhaps if she'd made it to the wharf in time, Thorne wouldn't have lit the cigarette. She could imagine his impatience. She'd berated him hundreds of times for smoking in the boat—they both knew the dangers of a naked flame with the engine primed.
They'd dreamed of shared adventures and exploration, made so many plans. The biggest reminder of them sat mocking her in the old stables behind the row of terraces on Macquarie Street. Their future, their way out. And now she couldn't bring herself to lift the dust sheets covering the Model T Ford. She might as well lie buried beneath them; better still, buried with Thorne beneath the open-armed angel in Waverley Cemetery.
"Letitia! I wish to speak to you."
She wiped away her tears and rolled off the bed, squinting into the early morning sun rising over the Botanic Gardens. Donning yesterday's black skirt and blouse, she hurried along the landing in answer to her mother's call.
The creaking door echoed her silent groan as she swung it open, her mouth clamped against the stale air as she waited for her eyes to adjust to the gloom.
Pillows plumped, bed jacket neatly arranged, and breakfast tray balanced across her lap, Mrs. Miriam Rawlings lifted her lorgnette to her eyes and surveyed her daughter from head to toe. "I imagined you'd be up and breakfasted. The time for excuses is over; a routine must be established."
Something Lettie simply hadn't managed to do. Only Thorne made their privileged existence bearable, and since his accident she'd done very little other than mope around the house. Even Pater's cherished grandfather clock no longer ticked away the meaningless hours of her existence, its pendulum tied in place marking the time of her brother's demise.
The half-light softened Miriam's features but failed to mask the perpetual shrewdness in her gaze. "I have made a decision." She patted the side of the bed, inviting her to sit.
Unnerved by the unusual gesture, Lettie parked herself on the corner of the bed, hands in lap, feet tucked to one side, seeking to present the picture expected rather than suffer yet another diatribe about her shortcomings.
"Letitia," Miriam murmured in a soft tone, the one she used when she despaired her standards would ever be met. "You must come to terms with the situation. We can no longer leave matters to chance."
Not this again. Not the endless discussion about Thorne's inheritance. "Have you not written again?"
"I wrote before and after the funeral and, as expected, she hasn't deigned to respond. Why would I write again?"
A very good question, really. To the best of her knowledge, the ridiculous silence between the Ludgroves and the Maynards had been maintained for nigh on thirty years. Lettie examined the cuff of her blouse. "To ensure Great-Aunt Olivia received your letters and knows of Thorne's passing." Great-Aunt Olivia Maynard, the sole orchestrator of the estrangement between the Ludgrove and the Maynard families.
"I've procrastinated for too long." Miriam tapped her lorgnette against her teeth. "There's nothing for it . . . I shall have to make the journey."
Lettie squirmed under her gaze. "Shall I come with you?"
"I'll take Connors, drive down, and spend the night in Wollombi. I believe there is a tolerable hotel there." She picked up her journal and leafed through the pages, letting out a series of sighs and tuts and indulging in a great deal of head shaking. "You have so many engagements."
Lettie's spine gave an involuntary twitch. An ever-increasing pile of invitations lay unanswered, and now, after a six-month reprieve, Miriam had decided the time had come to crank up the Hunt-for-a-Husband rigmarole and expected her to flutter and fawn and make sheep's eyes at every one of the distinguished gentlemen Miriam paraded in front of her. She had some ridiculous notion that Lettie was the best catch in Sydney, which, with her being twenty-five, was so far from the truth as to be laughable, never mind the fact she wasn't the slightest bit interested in matrimony. She enjoyed male companionship, liked nothing better than to tinker with the engine of the motor car or discuss the benefits of gasoline over electric, but she hated the societal demands Miriam forced upon her, missed her brother like an amputated limb, and was seriously suspicious of the state of matrimony. Most men were looking for a servant and a bedfellow. She craved the type of companionship she and Thorne had shared, but there were few among the upper classes of Sydney who understood the workings of a Model T Ford or the delights of motorboat racing. She refused to marry, to pander to some man's quirks and whims. There had to be more to life.
The string of gentlemen callers, conjured like rabbits from a magician's hat, had reappeared in the last few weeks, and Lettie wanted none of it. She intended to manage her own affairs. She leaped to her feet and pulled back the heavy brocade curtains with more force than intended.
"Lettie, don't, please don't."
The use of her pet name brought her to a standstill. Pater was the only one who called her Lettie. Pater . . . and Thorne.
"We must put this behind us and move on, no matter how painful it might be. Too much time has passed." Moisture leaked from Miriam's eyes, tracking down the fine lines she tried so hard to mask. Lettie had never seen Miriam truly cry. Not when Grandfather died, not when the Depression had stripped the family of many of their assets, not even when Lettie had broken the dreadful news of Thorne's accident. It was something Miriam simply didn't tolerate.
An unexpected rush of compassion took Lettie by surprise. Miriam never offered her any show of warmth or tenderness, never had. Thorne was the sun around which every member of the family revolved; she couldn't remember a time when it had been otherwise.
"You must attend to these invitations." Miriam tightened the matrimonial net.
And in that moment Lettie saw her escape. "Why don't I go and break the news to Great-Aunt Olivia?"
"You?"
"Whyever not? It would save you the trip."
"Alone? You can't go alone." Miriam picked up the hand mirror from her bedside table and peered into it, stretching the skin of her cheeks. "However, I am not at my best. The last months have taken their toll—"
"The very reason I should go," Lettie interrupted. Hopefully alone. "I believe the road once out of Sydney is quite rough. It may aggravate your rheumatic fever . . ."
"And what about these?" Miriam indicated the list of engagements in her journal.
"Surely they can wait, be postponed. A week at most. What difference would it make?"
"You'll have to be careful. Olivia is a difficult character. She's got a tongue like acid and a mind to match. Very fixed ideas. Take Connors."
Lettie had no intention of taking Connors, Mother's lugubrious part-time chauffeur and factotum, but leaving Sydney was an enticing option and one Thorne would thoroughly approve. He'd taught her to drive. "One day you'll thank me for this," he'd said as she'd crunched the gears and stalled for the umpteenth time on the steep hills around Sydney. "A lady should never rely on a man to see her out of trouble"—spoken with a wry grin after another of his spectacular failures to arrive at the appointed hour. On that occasion, she'd ended up walking home alone. A journey she'd thoroughly enjoyed, though never admitted. "I'll take Thorne's motor, drive myself. You can't manage without Connors, not while Pater's so busy."
"Oh no. I don't believe—"
"It's the obvious solution, and I have long since attained my majority so there is nothing inappropriate in traveling alone." And very little Miriam could do to prevent her. Her own bank account contained a very tidy sum from her commissions. After Thorne approached the editor of The Bulletin, they'd published several of her drawings, albeit under a pseudonym. Fortunately, neither Miriam nor Pater had discovered Raw Edge was, in fact, Miss Letitia Rawlings. "Tell me all I need to know about Great-Aunt Olivia."
"Perhaps it is a solution. Your commitments could be rescheduled." Miriam pulled herself a little higher up the pillows. "There's very little you don't know. Olivia is my mother's sister, your great-aunt on the Maynard side, the last of the line. She's always had an unladylike passion for breeding horses, and she has very fixed ideas." Her lips pursed. "Although I suspect her passion will have waned. She must be close to seventy." An air of evasiveness hung for a moment. "She can be very loose with the truth. Are you sure you're up to it? The meeting will be fraught with difficulties."
Lettie could barely remember the woman. She and Thorne had visited only once, as children, after Grandfather died. A dark old house, the atmosphere thick with unvoiced grievances, Miriam stony faced, Pater cowed as he hustled them back to the carriage he'd hired, long before the days of motor cars. Thorne had wrangled himself free and clambered into the branches of a majestic angophora . . . She swallowed the lump in her throat.
Maybe a trip would help her wretched lethargy abate, provide material for some new drawings and articles, clear her mind. The editor of The Bulletin had sent a card only a few days ago requesting an appointment. She hadn't answered, had nothing to offer.
"Letitia." Miriam patted the counterpane, inviting her to sit again. "I'll be honest with you, there's more to the visit than good manners. Thorne was heir to both properties. You must accept your responsibilities, for the family's sake."
Miriam's words brought Lettie's head up sharply. "With Thorne gone . . ." Miriam raised her hands almost in supplication, and with a crashing realization Lettie understood the plan she'd fallen victim to.
"You want me to ingratiate myself with Great-Aunt Olivia and ensure that Thorne's inheritance . . ." She couldn't finish the sentence. The horror of the prospect sank slowly into her atrophied brain.
"Darling, it's for the best."
Darling! Since when had she ever been anyone's darling? That spot was reserved for Thorne and Thorne alone. No matter what plan Miriam might be hatching, Lettie had no intention of moving into the role Thorne had vacated.
"It is Olivia who, by her callous disregard for your grandfather's wishes, has foiled everyone's intentions. You must go and speak to her. Make her see that now Thorne has gone . . ." Miriam dabbed her dry eyes with the soggy scrap of lace. "Letitia, you must be the one to inherit. Not just for the family but for yourself. You're no longer a young girl. A large endowment will significantly increase your odds on the marriage market."
Good God! Was she nothing but a prize racehorse?
"Thorne planned to drive out and see Aunt Olivia." The words, the secret trip Thorne had promised, tripped off Lettie's tongue.
Miriam's head tilted at an alarming angle and her mouth followed suit while she fished for words. "Why would he have wanted to do that?"
"He thought it would be the right thing. Introduce himself to the woman whose estate he may one day inherit."
"But we don't . . . we haven't . . ."
"Spoken for years. Yes, indeed, and that's why Thorne thought it was the right thing to do. He didn't want to appear grasping or rude." And neither did she.
Miriam lifted her teacup, handkerchief held to the base to catch the drips, and sipped. Over the rim her eyes glittered. Unshed tears from grief? More likely due to the prospect of achieving her aim. A hard, tight smile pulled at the lines around her mouth. "We must never appear rude."
After the claustrophobic months of mourning, the hope of an escape beckoned like a welcoming wave, outweighing the horror of Miriam's contrivance.
Lettie brushed off her skirt. She wouldn't do this for Miriam; she'd do it for Thorne, do as he'd intended, uncover the secrets of the past and bring an end to the ridiculous family feud. "I'll go and get the motor out from the stables and check it over. It'll need an oil change and grease, spare tires, and extra gasoline."
Fired with a long-forgotten enthusiasm, and wanting to get away before she had to listen to any more of Miriam's blathering, Lettie fled downstairs and into the stables. Ignoring the sudden wrench as she opened the car door and inhaled the familiar scent of Thorne's cologne, she reached beneath the seat and pulled out his matches and packet of cigarettes and lit one.
The exhaled cloud of smoke conjured his grinning face, then faded as the specter of Great-Aunt Olivia rose, tinging the air with the stirrings of the long-forgotten past.
We hope you are enjoying the book so far. To continue reading...
The Cartographer's Secret
Tea Cooper
Copyright © 2022 All Rights Reserved