Book info
Sample
Audiobook
Media
Author updates
Lists
Synopsis
Award-winning author and playwright Frank Anthony Polito continues his debut cozy mystery series featuring a gay couple who solve crimes while renovating houses as part of their hit reality show Domestic Partners. Set in suburban Detroit, it's Hart to Hart via HGTV! The perfect combination for fans of home repair and cozy mysteries.



Peter's first play is having its world premiere at Pleasant Woods's community theater. His handsome one and only, JP, has the lead. Rehearsals have begun. And New York City's award-winning, hotshot helmer, Xander Sherwood Deva, is directing. Unfortunately the controlling, arrogant, poison-barbed, egomaniacal diva has everyone on edge. No wonder he finally pushes someone over it . . .



Xander is found strangled to death in the same extra-long, imported cashmere scarf he's been brandishing like a boa ever since he arrived. In the name of making art he's burned a lot of bridges and made a lot of enemies but which one wanted to bring down the curtain on him?



As they say in the theater: the show must go on. But not before amateur sleuths Peter and JP become Domestic Partners in Crime and try to solve this deadly real-life drama ahead of opening night.
Release date: May 23, 2023
Publisher: Kensington Books
Print pages: 288
* BingeBooks earns revenue from qualifying purchases as an Amazon Associate as well as from other retail partners.
Listen to a sample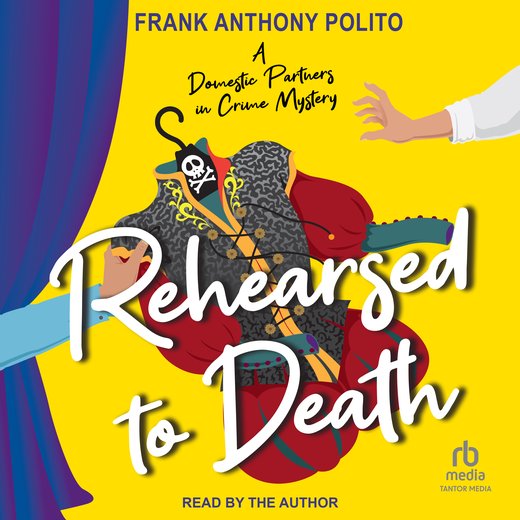 08:02:06
220.7 MB
May 23, 2023
Tantor Audio
2023
Rehearsed to Death
Frank Anthony Polito
As cohost of a popular home renovation show, I had a few principles to which I prescribed:

If you're going to do something, do it right.

Don't pay someone to do a project you can do yourself.

Every project ultimately takes longer than you estimate it will.

Anyone who watched Domestic Partners—the Home Design TV series my real-life domestic partner JP Broadway and I appeared on (and co-produced)—would be more than familiar with this trio of my personal mantras.

There were others, of course, like: Always put down plastic because you will make a mess, along with the most recent addition rounding out the Top 5 list: Never paint over natural wood.

There was nothing worse than walking into an historic home and discovering all the rich red oak or dark brown walnut trim hidden beneath a layer of latex.

Well, there was one thing more awful: walking into an historic home and discovering the original wood trim on the lower level untouched, remaining as it looked when the house was first constructed. But upon ascending the steps of the slatted rail staircase, the most horrific sight is revealed: the once-stained moldings in every room of the second floor are now white, gray, or, God forbid, some other horrendous color.

This was the unfortunate fate of many early-twentieth-century residences. After a few decades, it became popular to lighten up the sleeping quarters by ridding the upper level of any trace of darkness.

Such was the case with the 1924 Craftsman Colonial JP and I purchased in Pleasant Woods, Michigan, and spent season one of our show renovating, focusing on projects that included (among others) refinishing the woodwork. For practically a century, the dark-stained trim around the doors, windows, baseboards, and picture rails throughout the entire home had survived intact, except for those in what we considered the guest bedroom.

The ten-by-ten-foot chamber was a bit of an anomaly compared to others in the not quite sixteen-hundred-square-foot house. For some bizarre reason, someone had made the decision to paint all the wood in this one particular room the blandest shade of beige.

Why would anyone in their right mind ever paint over wood?

Better yet: Why would anyone paint over wood in only one room?

Once we moved into 1 Fairway Lane, and we became better acquainted with our next-door neighbor Bob Kravitz, we discovered our answer: The man who lived in the home before us was in the process of renovating when he suffered a heart attack and passed away at the not-so-old age of sixty-four.

While this incident was indeed unfortunate, I couldn't help thinking how our historic property was spared from poor judgment on the part of its previous owner. The dead man, however, created far more work for us.

For almost eighteen months, I was bound and determined to strip the painted wood clean and restore the trim to its original splendor. I realized the procedure would be both tedious and painstaking. But once we decided in our early thirties to purchase our Forever Home, JP and I made a vow: If we were going to do it . . . we'd do it right.

"Pete!"

Before I had the chance to get started, I heard my partner call out my name from downstairs.

"Up here, hon!" I shouted back from the top of the stepladder.

JP stuck his head in the guest bedroom doorway. He stared at me strangely, like he'd never seen me in the midst of renovating, despite all the projects we tackled together on national television. "What's up?"

"What's it look like?"

As if the container of citrus-based paint stripper on the floor by my side wasn't evidence enough.

"Well, how long're you gonna be?"

"Um . . ."

First I needed to use a heat gun to melt the layer of latex, causing it to bubble up and easily be scraped away using a one-inch putty knife.

Next, after applying a generous coat of baby aspirin-orange-colored gel, I'd give the product a good half hour to work its magic.

Once the timer on my cell phone went off, I'd vigorously rub a small wire brush over the molding (back and forth) to loosen up any bits of remaining pigment.

After waiting another twenty minutes or so, I'd take a heavy-duty green scrub pad, lightly soaked in mineral spirits, and wipe clean any trace of the putrid mess created by my efforts.

With the wood now a dull gray-brown, the final steps of this process involved applying two fresh coats of oil-based stain followed by an equal amount of polyurethane.

In total, the project could consume the better part of a week (if not longer), depending on other daily commitments. But, for the sake of simplicity, I shrugged and told JP: "Not sure. Is it time to walk Clyde?"

Because we still hadn't gotten around to building a backyard fence, our fifteen-month-old beagle-bull required a series of daily strolls in order to sufficiently do his business: once around Fairway Lane before breakfast, a trip to the local dog park in the early afternoon, and a midday jaunt over to the west side of town. An after-dinner trot took the happy puppy and his proud dog daddies around the block yet again, while a slightly longer pre-bed promenade would traverse the neighborhood's east side.

"I can take him if you're busy," JP offered. "You should probably stop and shower soon."

Groaning, I asked: "When are we supposed to be there?"

"Five o'clock. We've got like forty minutes till we need to head up to Royal Heights."

A part of me was looking forward to this evening for the past several weeks; another part wanted to stay home and continue working on this guest-bedroom project. Not that we expected any guests anytime soon. In the almost year and a half we lived in our house, my sister was the only person to ever stay over—and only because she got into an argument with her husband on that particular night.

Descending the ladder, I set my heat gun aside on the antique barrister bookcase. Beforehand, I made sure to drape it with a drop cloth, thanks to a valuable lesson I learned during my brief stint as a home renovation TV show cohost: When painting or staining woodwork, cover any object you don't want to see ruined (including the carpet and/or floor) because you will drip paint onto your baseboards or fling paint stripper onto your new Pottery Barn end table, leaving a permanent blemish you will never remove.

"Guess the guest room can wait," I sighed. "Maybe I'll finish it in time for our house's centennial celebration?"

Already, I planned to throw a big party on our future back patio and invite all our family, friends, and neighbors who still hadn't seen the place (other than on TV) since we first moved in, going on two years ago.

JP shook his head at me, soberly. "I thought you'd be more excited. You're finally meeting the director of your play."

"Our play," I said, not wanting to take full credit just because I penned the script. After all, JP was playing one of the lead roles. "Okay, you take Clydie for a walk. I'll go get ready."

As an unproduced playwright, I should have been thrilled that a theatre had finally offered to present the world premiere of my magnum opus. Yet something inside me dreaded the upcoming experience.

I couldn't explain it, but . . . I had a bad feeling. Before rehearsals even began, I sensed terrible trouble, as if the entire production had fallen under some sort of . . . I don't know.

Curse?

Even before I met Xander Deva, I wanted to murder him.

For almost an entire hour (fifty-six minutes, to be exact), JP and I awaited the arrival of the stage director—a meeting that would forever alter our very existence.

Thankfully, the Top Dog brewery in downtown Royal Heights had an awesome after-work drink special: Michigan craft beers, only three bucks. Technically, we both weren't working at the moment. Domestic Partners went on hiatus back in January, once we finished taping the second season, on which we fully restored a 1929 Tudor Revival located at 4 Fairway Lane, across the street from where we lived.

The press our home renovation show received when one of the twin brother owners unexpectedly died on the premises helped to further promote the program, making us somewhat famous among HDTV addicts.

"I can't believe this!" I cried out. "It's the night of auditions and we still haven't had a single conversation about the script."

The Royal Heights Players, a local community theatre troupe known for its oft-elaborate and critically acclaimed stagings of popular Broadway shows, had committed to presenting my original play, Blue Tuesday. The man we waited to meet with, Xander Deva, was hired by the board to helm the production.

Though he wasn't the original choice.

How Xander came to assume the role of director was a bone of contention I'd not yet buried.

Downing the last drops of my Bell's Two Hearted Ale, I bitterly told JP: "I'm beginning to think we're better off with Vicky Marshall."

Our neighbor, the former drama teacher at Fernridge High School for over thirty years, Vicky approached me in search of a brand-new piece she could potentially direct. Specifically, she asked if I'd written anything that had yet-to-be produced. Since my playwriting career pretty much stalled once I started publishing books for profit, none of the plays in my portfolio had ever seen the light of the stage.

Promptly, I thought of one in particular I was rather proud of: a four-hander focusing on two couples (one gay, one straight) living in New York City at the dawn of the new millennium. I longed to see the play up on its feet at last, to hear the characters come to life, with my talented partner portraying the male lead.

Once Vicky got the opportunity to give the script a read, she immediately fell in love with the material. Through some skillful pitching, she helped convince the powers that be at the Royal Heights Playhouse to take a chance on an unknown playwright.

Fortunately, as the bestselling author of the popular young adult mystery series Murder High, I wasn't totally off the radar. Plus, the premiere of HDTV's Domestic Partners had aired the previous June to even higher ratings than anticipated.

Much to my chagrin, I later received word from Mrs. Marshall stating she would no longer be directing my play. It seemed the role was reassigned to Xander Deva, the man in charge of Michigan's largest professional theatre, Meadow Lark in Orion Oaks. Evidently, Xander got wind a world premiere was slated for production at the Playhouse and expressed an intense desire to direct.

On the surface, this looked like good news. Too bad, up to this point, Xander proved himself to be a total flake.

"We scheduled a meeting a month ago," I reminded JP, more just talking out loud since he was already well aware of the fact. "He canceled. We rescheduled. He canceled again. Maybe I should just direct the play myself?"

JP gave me a look, clearly saying he couldn't have disagreed more. "No, but you should definitely stop stressing. Xander Dee-va is a pro." He pronounced the director's last name diva, like a famous opera singer . . . or a temperamental and difficult-to-please person, which I prayed our director didn't turn out to be.

Taking notice, I said: "He's from Indonesia. Isn't it Day-va?" To me, this version sounded more exotic.

JP pushed aside his pint of Winter Warmer, the perfect beer for the first day of March. "Thought he's British."

"Well, I read somewhere he grew up in England. But he wasn't born there."

When I learned Xander was directing my play (and not Vicky Marshall), I checked him out online: his bio, his resumé, his social media profiles. I scrolled through all his pics and posts, preparing myself for our eventual meetup. In a video interview with Off-Broadway. com, he distinctly spelled out his background raised in the UK: boarding school in London followed by a stint at the Royal Academy of Dramatic Art. But his relatives originally hailed from Sumatra. Their family name meant deity. Xander gave a toss of his dark head when he made the declaration, as if to show off how fitting he found the epithet to be.

Thinking back, I couldn't recall him (or the interviewer) mentioning his full name out loud. I just took a stab and went with my gut: Day-va. Which is what I told my partner.

"What's it matter?" said JP. "He's an Obie Award-winning director, for Pete's sake, Pete!"

The name on my birth certificate (Peter James Penwell) I abandoned, professionally, once my book publisher determined PJ Penwell would serve as a better pseudonym. Apparently, placing an author's initials on the cover of a mystery novel could sell more copies. Not one to allow metrics and data to dictate his actions, JP kept calling me by the moniker he used since day one: Pete.

I gave him a look clearly saying I didn't find his laissez-faire attitude the least bit humorous, given the circumstances. He had just as much to lose as I did. If this play came off as a flop, we'd both be risking our reputations. But perhaps he was correct in his irritating optimism?

Before moving to Metro Detroit to take over as artistic director of Meadow Lark, Xander Day-va (or Dee-va?) was an admired member of the downtown New York theatre scene. His production of Romeo and Juliet—featuring age-appropriate actors as the star-crossed lovers—garnered rave reviews from all the critics. The New York Times called it, quote, daring and dangerous, unquote. There was even talk of a Broadway transfer. But the deal fell apart during the eleventh hour after the thirteen-year-old playing Miss Capulet got offered a TV series in LA. To top it off, her fifteen-year-old leading man decided to give up acting altogether and front a K-pop band in his native Korea.

Thrilled by the news of Vicky Marshall's ousting by the Playhouse board in favor of Xander Dee-va (or Day-va?), JP assured me of the smile bestowed upon us by Fate itself. While Vicky was a good friend, Xander was a seasoned pro . . . with connections. If we played our cards right, we could find ourselves back in New York City, taking up residence on the Great White Way.

"Xander has your number, no?"

JP looked particularly handsome, sporting a baby-blue sweater that hugged his baseball biceps and made his bright eyes pop. Beside him, I paled in comparison.

I did make an effort to clean myself up for the occasion, leaving the navy hoodie and matching down vest I wore on a regular basis at home, along with my Tigers baseball cap.

To think I actually spent time fixing my hair. Rarely did I concern myself with my appearance, being a writer and all. But I wanted to make an impression on my future director. So, I opted for a navy blazer worn with a light gray button-up shirt, dark blue jeans, and brown ankle boots.

"Xander has my number, yes. Vicky gave it to him when she sent him the script. Weeks ago."

To quench my burning rage, I took a gulp from my water glass and furiously chomped on the ice. "I texted him the other day to set up this appointment. He said five o'clock, sharp. It's now almost six. Where the hell is Xander Dee-va?"

Betraying my own better judgment, I said the director's name the same way my partner had, even after we discussed the differences. One of my worst faults wasn't trusting my own instincts.

A true disciple of the Theatre, hearing his cue, he made his grand entrance. "Xander Sherwood Day-va," he said in a posh British accent.

Not only did he insert his middle name into the mix, he also corrected my mispronunciation of his last.

"As in night and . . ."

Dressed in black from head to foot, the man of Southeast Asian descent appeared larger than life.

Literally.

The guy had to be at least six-foot-four with a good eighty-plus pounds on me.

At five-seven, one hundred-fifty-two, I looked like a shrimp when I hopped off my barstool to formally greet him. The turtleneck and wool trousers he wore gave the thirtysomething the look of a 1960s Beat poet. All he needed was a felt beret and some bongos.

Xander enveloped me in a massive bear hug, the sleeves of his wool overcoat completely swallowing my tiny body. "You must be Peter!"

He was a black widow spider, and I was his supper, all wrapped up and ready to devour, once the timing was ripe.

He smelled of patchouli and frankincense.

As in "We Three Kings of Orient Are."

I detested the scent almost as much as the song.

After releasing me back into the world, where I could breathe more easily, Xander Sherwood Day-va (I wouldn't make that mistake twice) fixed his deep-set, dark-brown eyes on my man. "And this handsome face, I'd recognize anywhere. John Paul Broadway, star of stage and screen! I've seen everything you've ever done . . ." His almond-shaped eyes crinkled at the corners behind a pair of dark-framed glasses resting on the end of his round nose.

I stood in the middle of the brewery beneath the Edison bulbs, like a third wheel on a blind date as Xander continued singing my partner's praises.

"Brooklyn Beat was by far the best police procedural on television. I cannot believe the bloody network canceled it after only two seasons."

Xander slowly slipped off a pair of black sheepskin leather gloves, one thick finger at a time, and tucked them away into an equally expensive-looking black leather messenger bag. He struggled to disrobe, a whirling dervish. "My apologies for being en retard," begged Xander before letting out a loud groan. "Is it just me, or is it bloody hot in here?" His long arms flailed about as he unraveled the fine wool accessory draped around his rather thick neck. "I cannot stand being warm. Saps all my creative juices."

Personally, I hadn't felt the least bit uncomfortable regarding the temperature inside Top Dog. But I couldn't help contemplating the second-level nature of Xander's comment, regarding his contempt for feeling overheated. Although he may have been talking about his physical body, I would soon come to learn just how cold a human being the guy could truly be.

"So, do we call you Xander," asked JP, playing nicely at the game of being cordial. "Or is it Xander Sherwood?"

"Xander, please. Unless you're stating my full name, then Xander Sherwood Day-va is preferred . . . and while we're discussing, my pronouns are he/him/his."

JP shifted awkwardly on his stool. "Okay. Well, Xander . . . I like your scarf."

The director's pudgy face lit up with pride. "Why, thank you. It's one of a kind. Ninety inches. In case you haven't noticed, I'm a rather tall man." He tossed the cashmere cloth over a shoulder to demonstrate its impressive length. "An old beau back in Brooklyn had it specially made in my honor. Imported from Scotland, of course."

JP took Xander's mention of our former home as a signal to dive into our personal backstory: how we also lived in Brooklyn; how we'd officially been a couple for five years this past December twenty-third; how we got engaged a little less than two years ago.

"You boys aren't married?" asked Xander, raising a bushy eyebrow.

"Not yet," said JP, sounding somewhat apologetic.

It was a recurring conflict between us, our not being legally wed. But I learned to remain patient and keep my mouth shut. Especially with other queer guys we only just met. They all had a personal opinion on the topic—and I personally didn't care to hear it. My mother made me feel bad enough for failing to nail JP down on a nuptial date.

"Well, how old are you fellows? If you don't mind my inquiring."

TBH, I did mind. Still, I politely answered Xander's query. "I'm thirty-four. JP's turning thirty-six in June."

Inside, I felt like a man in his early late twenties. Outside, my behavior and personal style often reflected as much. I had a preference for pullovers, wore size small everything—purchased online, of course, because who wanted to go shopping in public? Like a lot of gay millennial men, I suffered from self-inflicted Peter Pan Syndrome; my first name being Peter, it made perfect sense.

Xander clucked his tongue. "You're no spring chickens by queer standards. Better get yourselves to the altar, bloody quick."

Rather than taking offense at the frank remark, I chose to return the insult. "Are you married?"

"God no!" Xander recoiled, shielding himself with his massively large hands. "What's good for the goose isn't always good for the gander."

This analogy, I considered another affront. How dare he refer to me as the femme fowl while he played the masc?

"I shacked up with my old beau for a bit," Xander confided. "The one who gifted me this fabulous scarf." Placing a large paw to his chubby cheek, as if performing an aside in some Victorian melodrama, he told us: "Cost close to five hundred pounds." Without skipping a beat, he promptly quipped: "Does it serve as a cruel reminder of a bad breakup? Yes, but owning a genuine Burberry has more than made up for any hurt feelings caused by the split. In fact, I got over the separation rather quickly. Moved out and moved on to a sublet in Manhattan Plaza."

Familiar with the rent-controlled, subsidized apartment complex on West Forty-Third Street and Eighth Avenue, home to many a professional performing artist, I said: "We know Manhattan Plaza. . . .
We hope you are enjoying the book so far. To continue reading...
Rehearsed to Death
Frank Anthony Polito
Copyright © 2023 All Rights Reserved