Book info
Sample
Audiobook
Media
Author updates
Lists
Synopsis
"A riotous adventure through the ages of Greek mythology, populated by a cast of vivid, glittering characters. Luna McNamara strikes the perfect note of irreverent humor and furious emotion in this fabulous novel. An absolute joy!" — JENNIFER SAINT, bestselling author of Ariadne and Elektra
The god of desire is cursed to fall for a spirited young mortal woman, but if she looks upon his face they will be parted forever in this utterly transporting reimagining of Greek mythology—an epic adventure and love story for the ages, sure to satisfy fans of Madeline Miller and V.E. Schwab
Who said true love is a myth?
A prophecy claims that Psyche, princess of Mycenae, will defeat a monster feared even by the gods. Rebelling against her society's expectations for women, Psyche spends her youth mastering blade and bow, preparing to meet her destiny.
When Psyche angers the love goddess Aphrodite, she sends Eros, god of desire, to deliver a cruel curse. After eons watching humanity twist his gifts, the last thing Eros wants is to become involved in the chaos of the mortal world. But when he pricks himself with the arrow intended for Psyche, Eros finds himself doomed to yearn for a woman who will be torn from him the moment their eyes meet.
Thrown together by fate, headstrong Psyche and world-weary Eros will face challenges greater than they could have ever imagined. And as the Trojan War begins and divine powers try to keep them apart, the pair must determine if the curse could become something more . . . before it's too late.
A joyous and subversive tale of gods, monsters, and the human heart and soul, Psyche and Eros dazzles the senses while exploring notions of trust, sacrifice, and what it truly means to be a hero. With unforgettably vivid characters, spellbinding prose, and delicious tension, Luna McNamara has crafted a shimmering and propulsive debut novel about a love so strong it defies the will of Olympus.
"An enthralling tale of adventure, romance, and star-crossed lovers." — SUE LYNN TAN, bestselling author of Daughter of the Moon Goddess
"Startlingly lovely. This is Greek mythology as it's meant to be told—witty, indulgent, deeply felt." — GRACE D. LI, New York Times bestselling author of Portrait of a Thief
"Every page is a breathless, swoonworthy adventure." — ROSHANI CHOKSHI, New York Times bestselling author of The Last Tale of the Flower Bride
Release date: May 30, 2023
Publisher: HarperCollins
Print pages: 352
* BingeBooks earns revenue from qualifying purchases as an Amazon Associate as well as from other retail partners.
Listen to a sample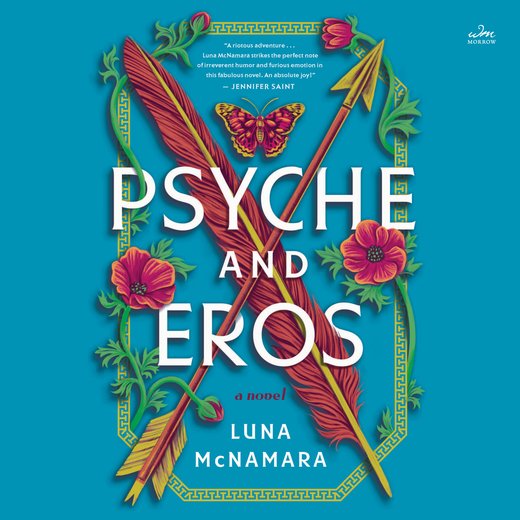 11:03:35
303.78 MB
9780063295100
June 13, 2023
HarperCollins
Psyche and Eros
Luna McNamara
Eros
The Greeks have three words for love. The first is philia, the kind of love that involves liking and grows up between two people who enjoy each other's company very much. The second is agape, the selfless love of parents for children or between those who are like family to one another. The third is eros, which explains itself—connection, spark, the desire of the body to seek fulfillment in another.
Most people experience at least one of these loves in a lifetime. But it is rare to have all three at once, intertwined like a golden braid. This was what the playwright Aristophanes spoke of when he wove his tale many years after the events of this one, seeking to illuminate the origin of love in its trifold complexity. He claimed that the first human beings were born back-to-back, with two faces and four hands and four legs, each mouth chattering incessantly to its companion as they rolled like wheels over the earth. Zeus grew wary of the power of these people and split them apart with his thunderbolts. They turned into humans as we know them today, who walk around on two legs and speak with only one mouth. And so it is that love came to exist, the playwright claimed, each of us seeking our other half.
I laughed when I heard this. I had been present at the beginning of the world, and it wasn't anything like that. It is a pretty story, though nothing could be further from the truth for Psyche and I. There is no pretending that we were two parts of some cosmic whole—she was a mortal woman and I a god when we first met, each fierce in our independence. We were not severed halves; we were complete unto ourselves. It is possible that our paths would never have crossed at all had it not been for a chance mistake.
There is something powerful in this, I think. We were not in thrall to destiny or fate, but merely the weight of our own choices. When we turned toward each other like flowers facing the sun, we were not fulfilling some prophecy or old story. We were writing our own.
Psyche
Despite my unusual destiny, I began life as an ordinary infant, born like any other to a rush of blood and cries of joy. Though in my case, these were followed by more than a bit of confusion.
My mother and father were the king and queen of a kingdom in rocky Greece called Mycenae. When my mother, Astydamia, learned that she was with child, my father, Alkaios, left the Mycenaean capital of Tiryns and set off across the mountains. He passed through desolate valleys and rode beneath craggy cliffsides populated by nesting griffins, until at last he came to gates that bore the words KNOW THYSELF. It wasn't his own fate he sought to learn at the Oracle of Delphi, but his unborn child's. Mine. Would I be born healthy and strong? What would I grow up to become?
When my father entered the Oracle's shadowy earthen chamber, two things struck him. The first was the smell of the place, redolent of sulfur and other scents less recognizable. The second was the sight of the woman who sat on a bronze tripod suspended over an abyss. She wore a peplos robe that swathed her body in folds of yellow fabric, and her hair was bound up in a neat braid around her head. This was the Oracle, and she stared at Alkaios with eyes out of time.
My father shivered. He was a king and used to people trying to wheedle favors from him, but this woman wanted nothing from anyone.
A priest from the order that had sprung up around the Oracle whispered the king's question in her ear. She sat back and drank in the vapors rising up from the cracks in the earth; these were said to be sent from Apollo himself, god of prophecy, and brought true visions of the future.
A tremor ran through the Oracle. She began to speak in an unearthly voice, one that did not belong to the body of such a delicate woman. My father could not recognize the language she spoke, but the priests were already scribbling on their clay tablets, performing the complex calculations needed to interpret the messages of the Oracle. Gods do not always speak in ways that are easy for mortals to understand, but fortunately the white-bearded priests knew how to translate.
At last, they bestowed the Oracle's prophecy upon my father. "Your child will conquer a monster feared by the gods themselves."
My father was ecstatic. His son would be a hero! Alkaios had long mourned that he did not share the heroic gifts of his father, Perseus, but sometimes these things skip a generation. His son would be a monster killer, a hero, and people would come from all across Greece to pay homage to him.
What a pity that I
was no son.
When the midwife handed me to my father on the day of my birth, he wouldn't have been more shocked if he had been given a bear cub. A girl! A girl could not grow up to slay monsters or win renown as a hero. She would spin wool in the women's quarters with her mother and aunts until she moved into her husband's house to spin wool there. She would bear children and run the household, and if she was a good woman, she would die in obscurity.
My father weighed his options. He could always abandon my infant self in some remote place and try again. Such things were more common among peasant families who struggled to feed every mouth born to them, but not unknown among royal houses. Perhaps next time the gods would see fit to grant him a son.
Then a peculiar thing happened. He looked into my eyes and fell in love.
There is no other word for it. In that moment, my father knew he loved me enough to tear down the sky itself. He loved me not for who I was, but simply that I was, his very own child with tiny perfect fingers and tiny perfect toes. I wish I could say that this was the natural reaction of a father meeting his daughter, but experience has shown me otherwise.
Alkaios decided that I would have the education of a prince. He knew that there would be those who questioned this decision, even his own brothers and oath men, but he held firm and called it an act of piety. Zeus's daughter Artemis, goddess of the moon and wild creatures, was given a sturdy bow for her inheritance and received worship throughout the cities of the Greeks. The Oracle said that the scion of Alkaios would conquer a monster feared by the gods themselves, and so she would.
As my father looked into my tiny, wrinkled face, he realized that he loved me more than the gods or his wife or oath men, or even his own soul. That is why he named me Psyche, which in our language means soul.
* * *
My mother, as far as I know, never questioned her love for me since the moment I kicked in her womb. I was her first and only child, a late-life baby. Conception had taken long enough that my father's advisors had urged him to take a second wife or even a concubine, but he respected my mother far too much for that.
She was an unusual woman, my mother, Astydamia. She grew up in the distant reaches of Arcadia where the wolf-kings still ruled their forest domains, and she might have received an education not unlike mine had she not been struck by a terrible illness in her youth. My birth taxed her further, and she spent much of her time in the dimly lit women's quarters, propped up on cushions and spinning wool surrounded by her ladies-in-waiting. My mother was as slender as a lily despite the iron in her soul, and as soon as I was old enough to think anything at all, I remember thinking that I needed
to be strong enough for both of us.
Most of my care was given over to my wet nurse, a Thessalian slave named Maia. She was as broad and soft as a bed, with a booming laugh that she unleashed at the slightest provocation. She taught me simple songs and sayings and watched over my first toddling steps. In the evenings, Maia would bring me to my mother, who laid her cool hand upon my forehead and kissed me. So passed my first few years of life in the women's quarters, a place that smelled like tallow candles and milk.
When I was five years old, all of this changed.
"Your father is waiting for you, little Psyche," Maia told me one day, her wide face solemn.
My father was waiting in the hall outside the women's chambers. Alkaios was as tall as one of the statues of the gods, and today he wore the armor of a warrior king along with a serious expression. He had inherited the copper skin of his half-Ethiopian mother, Andromeda, which he had passed in turn to me. Anyone would know we were father and daughter, two of a kind, and I wanted to reach up and rub his whiskers as I often did. Instead, I took a cue from his solemnity and followed quietly alongside him, my small legs working to keep up with his long strides.
My father took me to the hero's room, which is what the servants called the small chamber in the interior of the palace. It was mostly bare, save for a sword and a shield mounted on the wall, along with an altar to send up incense to the hero's spirit. The shield was bronze and painted shades of emerald and red, though paint had been scraped in several places from what I imagined to be the claws of monsters or the swords of barbarians. At the center was the most terrifying visage I had ever seen—a snarling woman's face ringed with open-mouthed snakes. She seemed ready to leap from the wall and wrap clawed hands around my throat. I wanted to flee, but I planted my feet and stood firm.
"These belonged to your grandfather Perseus," my father told me. He lifted the bronze shield reverently and handed it to me; it clanged to the floor and took my arm with it, making me wince. The shield was so heavy that it took all my strength to prop it up against my small body.
My father told me
how Zeus the Thunderer, king of the gods, had fathered Perseus, the hero who slayed the hideous monster Medusa. It was her face pictured on this shield.
"Eventually Perseus married Andromeda of the royal family of Mycenae, then became the father of Alkaios." He paused, smiling as though he held a treasure within himself. "Alkaios, who became the father of Psyche."
As he spoke my name, an upswell of pride filled me, and suddenly the shield felt lighter. I was the child of heroes and gods. I hefted the shield to a more comfortable position and basked in the glow of my father's indulgent smile.
"But you will be an even greater hero than your grandfather Perseus," my father told me. "The Oracle of Delphi spoke no prophecies about Perseus, but she had one for you. You will be the greatest hero of all."
* * *
My training began the next day. My father commissioned a child-sized bow and taught me how to draw it, painstaking in his patience. He took me on hunts, sitting me on the saddle in front of him so that I could watch as we ran down our quarry. His oath men observed this with puzzlement, unsure of what to make of a girl trained like a boy, but eventually they came to regard me as a familiar oddity. My father showed me how to heft a spear and wield a sword, and my skills blossomed.
I only went to the women's quarters in the evenings now, where Maia would cluck her tongue at the dirt caked into my clothing and my mother would ask me what I had learned that day. I told her eagerly, my words falling over one another in the way of young children, until Maia hauled me away for a bath and a change of clothes.
I spent the warmer seasons at my father's side on the practice field or the hunt, but in the winter, I went with the rest of the palace children to sit at the feet of the old blind poet as he told us stories of the gods and heroes. The poet had lost his sight early in life, and as a result he had taken up the lyre instead of the sword and shield. He was a man of no city, wandering where he willed and trading his songs for shelter and food. He brought the stories of the heroes and gods to life in the fire-lit feasting hall of Tiryns as the winter rains fell outside.
How do I explain the relationship between my people and the gods? The gods were real to us, as factual as a cup or table, but there was no love between us except for the basest kind. Gods might father children with mortal women or offer blessings to their favorites, but they might also entrap us in riddles or kill us to satisfy an immortal grudge. You could not trust the gods, though you needed to respect them.
The poet launched into the tale of the world's creation, the egg of Chaos and the immortal gods who tumbled out, beginning with Gaia the earth goddess and Ouranos the sky. I picked at a scab on my knuckle, sighing with boredom. I didn't care much fo
r the gods, with the sole exception of Artemis, daughter of Zeus and goddess of the hunt and the moon. Sister of the sun, who ran fleet-footed along the mountains just as I did.
I liked the stories of heroes far better. The gods were immortal and had nothing to lose through their endeavors, but heroes risked everything for the chance at immortal fame. Heroes persevered against the limitations of their own mortality and became lights for other human beings to follow. Humans might even become gods by proving themselves worthy through their deeds.
I perked up when the blind poet told the story of Bellerophon, who once dwelled in this very city of Tiryns. Bellerophon was tasked with defeating the fearsome Chimera, a monster that was equal parts lion, goat, and serpent, and breathed fire in the bargain. Bellerophon was clever: He shot the Chimera with a lead-tipped arrow, which melted in its fiery breath and suffocated it. I made note of this strategy in case it came in handy when I became a hero myself. I yearned for the glory of it, my story told around campfires for generations.
How small my ideas of heroism were back then. I had not seen very much of the world, and I was certain that a few slain monsters were all that was necessary to make a hero. I knew nothing of war or death or love.
"Someday the poets will tell stories about me too," I told the other children later. They stared at me owlishly. "I'm going to be the greatest hero of them all," I added. "There was a prophecy about it and everything."
Freckle-faced Dexios, the son of the stable master, sneered. He had never taken me seriously after seeing me fall off a horse at the age of six. "You can't be a hero," he told me. "You're a girl."
I kicked him in the shins and sent him crying to his mother.
* * *
Eventually there came a limit to what my father could teach me. Alkaios was a king and not a hero, however much he might have wished otherwise. It was time to send for a teacher, but whom? Chiron was the obvious choice, but my father wasn't about to apprentice his nine-year-old daughter to a centaur. A rogue Amazon from the steppes might have done nicely, but they often died in captivity, and hiring one was out of the question since those wild women did not recognize any civilized currency.
In the end it was my mother who suggested the most promising candidate. The next day, my parents sent a letter.
A few months later, Atalanta arrived at the gates of the city.
She came alone, without an entourage or any fanfare, though word of her arrival spread like wildfire. She rode through the famous Lion's Gate of Mycenae but did not spare a glance for the stone beasts; she had killed real lions, and these did not im
press her. She wore the dusty tunic and trousers of a hunter and sat atop an ill-tempered bay mare that snapped at anyone who came too close. She looked like a creature fashioned from driftwood and sinew, or perhaps a nymph from the deep forest, though the lines on her weather-beaten face and the strands of gray in her hair marked her plainly as a mortal woman. Atalanta, the hero.
Of all the tales the blind poet told, my favorites were the ones about Atalanta.
Atalanta had fought at Jason's side during his quest to retrieve the Golden Fleece, and she had been the first to draw blood from the monstrous Calydonian boar. When it came time for her to marry, she refused to be sold like a cow or sheep and vowed instead to wed only the man who could beat her in a footrace. A very long time passed before anyone could be found who was capable of this feat.
My father did not take me to the fields or forests the day that Atalanta arrived in Mycenae. Instead, I spent the morning being scrubbed and brushed like a sacrificial lamb by Maia and the servant girls. I tolerated this treatment so that I could listen to their gossip.
"Do you think it's really her?" asked the girl who had brought the hot water, leaning on a doorframe.
"It has to be her. There's no mistaking it," Maia said as she scrubbed my back and underarms. "There's only one woman among the cities of the Greeks who rides like that."
Dexios told me later that he was the one who took the reins of Atalanta's horse, having beaten out his two older brothers for this honor. Awestruck by her presence, he squeaked, "Is it true that you were raised by a bear?"
Atalanta gave him a vicious smile, eyes glinting. "Why don't you go ask the bear?"
The boy had hurried away holding the reins of her horse, which tried to crop a tuft of his hair with her yellowed teeth.
I went to meet Atalanta in the largest of the palace courtyards, together with my mother and father. Maia had forced me into a pure white chiton so that I looked like a temple maiden, though I didn't see the point; a hero wouldn't be impressed by fancy clothes.
Atalanta sauntered into the courtyard with the easy grace of a mountain cat. "Hail, and welcome to Mycenae," my father said, according her a deep bow. She did not return it. I felt a flicker of irritation at her impertinence; even if she was a legend, she didn't need to be rude to my father.
"There aren't man
y reasons I'd leave my forests and take up residence in a city," Atalanta said stiffly. "But I've read your letter, and I respect the word of the Oracle. I've never taken on a student before, though perhaps it's time. Is this the girl?"
"My name's Psyche," I cut in, resentful of being discussed like a dog or a horse.
"So it is. You're young, I see," Atalanta said, crouching down on her haunches so that we were eye-to-eye. "It's good to start young. I started training my son when he wasn't much older than you are now. Do you know how to ride?"
"Yes," I replied.
"Do you know how to draw a bow?"
"Yes."
"Do you accept me as your teacher?"
There was a longer pause now. Young as I was, I knew what this meant. I knew that the woman before me would shape my destiny as surely as my mother or father. Maybe even more, because where they had given me life, she would help me make sense of it.
I could have shrunk away from Atalanta, gone back to the women's quarters to live a quiet life. But I wanted to be what Atalanta was: a hero who commanded respect. Here was the woman who could lead me to the bright star of my destiny.
So I met her storm-gray eyes and said, "Yes."
"Then we begin tomorrow," Atalanta replied. And for the first time since she had set foot in the city, the hero smiled.
* * *
The next morning Atalanta took me deep into the forest, a prospect that inspired a great deal of excitement as well as a hint of trepidation. I had only ever traveled into these woods with my father and his men in boisterous procession. Now I was alone except for this near stranger. The forest was a peculiar place where anything was possible; one might encounter a herd of centaurs or a group of nymphs bathing, or even one of the gods walking alone. But no centaurs or nymphs showed themselves today—much to my disappointment—and I quickly became bored.
I began asking Atalanta questions. "Did you really sail with Jason?"
"Yes," my teacher replied, not turning to look at me. Her pace did not slow.
"Did you see the Golden Fleece? What did it look like?"
"Gold. And fleece-like."
I had been holding the last question in reserve. "Is it true that you killed the Calydonian boar?"
Atalanta's pace slowed momentarily, though she recovered quickly. "
Yes. Meleager and I share the credit. Now stop asking stupid questions."
Abruptly, Atalanta sat on a fallen log and patted the space next to her. "Come. It's time for your first lesson. Tell me what you hear."
I was taken aback. I was sure that we'd come here to track wild beasts or decipher the ways of the wilderness, not to sit on a mossy log and listen. You could do that anywhere. But I wanted to learn, so I squeezed my eyes shut. I heard nothing, and I told Atalanta as much.
"Wrong!" my teacher snapped, so loudly that a few nearby birds took to flight. "If you are to slay monsters, you must be aware of your surroundings at all times. If you truly listened, you would realize that the wind is coming from the northeast, meaning that anything located to the south and west can catch your scent. You'd hear the songbirds chirping, which means they think they're safe and all is well. Be aware of the moment when birds fall silent—it means something has frightened them, and that 'something' might be coming for you."
I considered this. "I don't hear any nymphs or centaurs or lions," I offered.
Atalanta snorted. "That's something. Perhaps you'll make it as a hero after all."
* * *
The training my father had given me, I soon realized, had merely been play; what I did now with Atalanta was work. I didn't like it at first. For all my natural skill, I was still a pampered royal child and unaccustomed to work. Despite the pleasure I took in seeing my arrow hit its mark, I disliked being told where to aim.
From morning to night, I drilled with the bow, spear, and sword. Atalanta was a merciless teacher, and I earned more than a few bruises when I failed to deflect her swings. I hated her in those early days, and I think she began to hate me too for my stubbornness. Things might have gone badly between us had matters not come to a head one day when the chill winter rains drenched the plains of Mycenae. There was no point in ruining good bronze in the rain, so instead Atalanta sent me running laps around the city walls of Tiryns to build up my endurance.
I was miserable. My bare feet sunk into the mud with each step, and cold rain drenched me down to my undergarments. I shivered uncontrollably despite my exertion, warmed only by my incandescent rage toward the figure watching me: Atalanta, arms crossed, judgmental as a statue of one of the immortal gods.
I made it once ar
ound the walls. When I circled back to where that solitary figure stood, I halted and met her gaze. "I'm not doing this anymore," I said, stamping one foot. It sunk into the mud, and I was forced to pull it free with a sucking sound, which somewhat lessened the defiant air I had been aiming for. "I want to go inside."
Atalanta's expression darkened. For a moment, there was no sound but my ragged breath and the pelting rain. This woman who had killed monsters and enemy combatants began to stalk toward me, as slender and swift as a knife through the veils of rain.
I steeled myself. Atalanta was giving me the sort of stare that a wolf gives a rabbit, but I refused to be the rabbit. What was she going to do, hit me? I wasn't scared of that. She had already hit me dozens of times around the arms and torso with wooden swords when we sparred. I kept my spine straight and waited.
Atalanta loomed directly in front of me now. "The monsters you hunt won't go easy on you, and neither will I," she said slowly, as the downfall slicked back her dark hair. "Do you think wild creatures take a rest when it's raining? Folly. This is the best time to hunt certain quarry, especially large cats or bears, since they cannot catch your scent. I killed my first lion on a day like this."
My determination wavered, intrigue taking its place. "You did?"
The faintest trace of a smile crossed her face. "Yes. And if you run one more lap around the city walls, I will tell you about it over a cup of warm milk in the feasting hall. I'm not standing here in this awful weather because I like it, you know."
I brightened. Atalanta held her tales close to her chest, but I had managed to coax a few of them from her, and I was always hungry for more. Though her delivery was less polished than the blind poet's, I liked Atalanta's stories best because they were true.
I ran the rest of the course without a word of complaint.
Eros
My story begins before there were any stories to be told, when there was nothing but earth and sky stretching on into infinity. The sea hadn't been invented yet.
There were fewer than a dozen of us back then, the first elemental gods who emerged from the fathomless abyss of Chaos—which is, I suppose, another way to say nothingness. The grass of the newborn world tickled my feet as I took my first steps. I looked down. In my right hand was an elegant bow, and tied at my waist was a quiver of gold-fletched arrows. Their existence was inextricably linked to mine, as much a part of me as my fingers and toes. I thrummed my fingers along the bow's string and felt the steady hum of the power contained within.
I stretched my arms, feeling my muscles ripple beneath my skin, and took my first breaths of air. Wide-feathered wings arched over my shoulders, brushing against the belly of the sky god Ouranos. I sunk my toes into the loam, marveling at it.
The world was drawn in simple lines, unembellished, empty, and waiting. No dryads existed yet to raise forests over the earth, and the soft wind carried no scent of flowers. There was little else around—a few rocks, a bit of grass.
"What is this place?" I said aloud.
"I believe it is called earth," a voice around me said. "Welcome. I am Gaia."
The broad ground beneath my feet quivered. I felt the attention of some vast entity focus upon me, something wider than the plains that rose to a distant line of mountains, but I was not afraid. Laughter drifted to my ears, sweet and playful.
"Gaia," I echoed, rolling the shape of the name on my tongue.
I became aware of eyes watching me, crinkling with amusement. I saw the barest outlines of a form—a proud nose, a generous mouth, hair like the rivers that were beginning to trickle through the crags in the ground.
"A nice place, though rather lonely," Gaia said. Her attention drifted. "Although not for you, it seems. Someone is coming."
The vast awareness faded, and I nearly staggered with its absence. When I lifted my head, sure enough, I saw a figure approaching. Unlike earth-formed Gaia, this one looked like me. She had five-fingered hands and two legs that carried her swiftly over the ground. She was my perfect mirror in female form—golden hair, bronze skin, and green eyes, though hers glinted with the cunning of a serpent.
She was Eris, the goddess of discord, disagreement, and shattered things. My cosmic twin, though I liked her no more than your right hand likes your left.
"There you are," Eris said when she approached. "I have been searching for you everywhere. We have much work to do, my dear brother. Let's go."
I looked out at the landscape that was just beginning to take shape. Jagged mountains along the horizon, and the first thin stripes of clouds in the sky. The world was empty, but it wouldn't be for long. I thought of what Gaia had said. A nice place, though rather lonely.
Already I could feel the straining weight of it, ...
We hope you are enjoying the book so far. To continue reading...
Psyche and Eros
Luna McNamara
Copyright © 2023 All Rights Reserved