Book info
Sample
Audiobook
Media
Author updates
Lists
Synopsis
A standalone novel of magic, mayhem, love, and betrayal set in the Wrath of Ambar universe, this is the story of a bandit and a prince who change each other in unexpected ways. For readers of Sabaa Tahir and Marie Lu.

When they don't give us our birthright, we steal it.

Roshan Chaya is out for justice. Abandoned by her parents at birth and adopted by the kingdom of Jwala's most notorious bandit before his brutal murder, she is now leader of the Shadow Clan, a gang of farmers-turned-bandits impoverished by the provincial governor's atrocities and corruption. Roshan's goal: to avenge her adoptive father and earn back rights and dignity for her people.

Prince Navin has always felt like an outcast. Second in line for the throne, he has never been close to his grandmother, Queen Bhairavi of Jwala. When a night out drinking with friends leads to his capture by the infamous Shadow Clan, Navin schemes to befriend Roshan and use her as a means to escape. His ploy, however, brings Navin closer to the corruption and poverty at the heart of Roshan's province, raising questions about its governor and Navin's own family.

To further complicate things, the closer Roshan and Navin get, the harder it becomes to fight their growing attraction. But how can they trust each other when the world as they know it starts to fall apart?

Set in a magical world inspired by the badlands of 17th century India, this standalone epic fantasy novel by Tanaz Bhathena is packed with political tensions, dangerous schemes, and swoon-worthy romance that asks the age old question: can love conquer all?
Release date: May 23, 2023
Publisher: Farrar, Straus and Giroux
Print pages: 448
* BingeBooks earns revenue from qualifying purchases as an Amazon Associate as well as from other retail partners.
Listen to a sample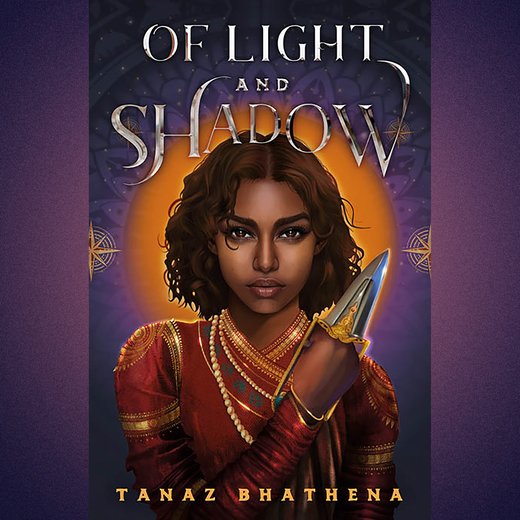 13:56:48
383.07 MB
9781770499522
May 23, 2023
Penguin Random House
Of Light and Shadow
Tanaz Bhathena
Chapter 1
THE MORNING OF THE RAID SUNHERI HUNG FULL AND BRASSY in the sky, dappling the black water with a trail of gold. The blue moon, Neel, was invisible and would remain so until the night of the moon festival next year—a small blessing as far as Roshan Chaya was concerned. The light of one moon was bad enough; two moons together would have likely given away her position by the riverbank, along with every other member of the Shadow Clan.
Her breath fogged the air before her; nights were chilly here in Jwala's westernmost province, no matter the time of year. But tonight, Roshan barely felt the cold. She watched the vessel emerge from the darkness, a large cargo dhow slowly making its way across the gleaming river, its sails rolled up. The carved figurehead of the fire goddess gleamed eerily on the bow, protective enchantments lending it a dull blue sheen.
Roshan whistled: a passable imitation of a bulbul in a tree. An owl hooted back perfectly: confirmation that Governor Yazad Aspa's weekly shipment of grain was on its way to the capital city of Prabha. Smack-dab in the middle of the river.
Completely out of reach.
Another hoot followed and Chotu rose into the air, small and wingless, his slender form slowly blending in with the sky. He would soon be invisible to everyone, except for Roshan, who knew exactly where to look. If she didn't love the little boy with her whole heart, Roshan would have been envious of Chotu's gifts. Levitation was hard enough magic without adding a reflector spell to the mix. Now she watched him float toward the dhow, his body but a blur against a scene that would have appeared tranquil—if not for the bloated corpse of a ruddy shelduck floating in the water nearby, its sour, peaty odor lingering in the air.
Without thinking, Roshan reached up to touch the amulet between her collarbones. Made of firebloom wood, it was a perfect, flat square embossed with a tree, the remnant of parents she had never known. That is…if it had been her parents who'd gifted her the one object that best amplified her magic—before abandoning her as a newborn eighteen years ago.
Do not dwell on the past, bitiya, Baba had told her whenever she'd asked him questions about them. It is best left behind.
It had been difficult for Roshan to drink in her bitterness. To leave thoughts of her parents behind. But for Baba, she'd done her best. Baba, who'd called her his bitiya, even though he wasn't her father. Baba, who took her in, taught her to pick locks without magic, to fight. To kill, if necessary—and only if necessary.
After Baba's death a year ago, Roshan had had no choice but to kill. As Bandit Bhim Chaya's adoptee and favored successor, she had known that
someday she would have to prove herself, even fight for the clan's leadership. She had not expected a battle to the death mere hours after Baba was killed. Roshan still remembered the way her hands had locked around her rival's throat. How she'd blocked his arteries with a magic normally used to fix broken bones, smooth bruised skin, and knit torn flesh. The world classified life magic and death magic as two separate things—the first wielded by healers and the second by warriors. But healers like Roshan knew that those who breathed life into a body or extended it with magic could also take it away.
Last year was the only time Roshan had used her life magic against a member of the Shadow Clan—an act that had earned her its leadership and also cleaved it in two.
She could hear some of the bandits behind her now: viperous susurrations followed by loud giggles, an intentional violation of her order for silence on this raid. Roshan hadn't taken the bait before. And she wouldn't tonight.
"When they don't give us our birthright, we steal it," she whispered the Shadow Clan's motto to steady herself.
Baba had bellowed the same words when he was last alive, his coat as bright as flame, his atashban glowing with death magic. He'd been shot in the back by four Brights—gold-armored brutes from Governor Yazad's private army. Ultimately, though, it had been the leader of the Brights—the governor's son, Shera Aspa—who had killed Baba, severing his head from his body and then levitating it onto a pike for all throughout Ashvamaidan valley to see.
"Bhim Chaya is dead!" Shera had cried out. "And we'll kill his witch of a daughter next!"
A jagged streak of light interrupted her reverie: Chotu had shot the first atashgola at the blue shield. A gong sounded all the way to the coast, the small grenade ricocheting off the enchantments, shooting fragments of clay and fireworks into the sky. But that was not the end of it.
Not even close.
Chotu launched more atashgolas at the dhow's barrier, gongs erupting like a frenzied devotee ringing the bell at a temple, invoking the fire goddess herself.
"Wake uuuuuup, you
gold-plated bastards!" a voice sang out next to Roshan. Lalit winked from over the top of the black cloth masking his face, strands of coppery hair sticking to his pale forehead from under a tightly wrapped black turban. He was Roshan's right hand and one of the few people in the world she would trust with her life.
Roshan smiled under her own mask. "If they aren't awake already, they certainly will be now," she said.
She hoped they would try to shoot Chotu—a feat that could be accomplished only if the dhow's protective barrier was raised. It was risky, certainly. Chotu could die. Or the Brights could ignore them entirely, causing their mission to fail. Yet Roshan and the clan were used to risks like these. Used to teetering on the edge between life and death, their laughs masking their fear.
Also, the Brights had been turning complacent recently. Falling asleep on watches at the governor's warehouses. Using shortcuts like simple blue deflector shields that, when hit correctly, completely disappeared on impact. Chotu shot yet another atashgola, and this time, instead of a gong, Roshan heard a resounding boom and watched an enormous blue star explode in the dark sky. She waited until the shield surrounding the dhow vanished, allowing the enemy to shoot a couple of red spells into the air.
"Now," she commanded.
Lalit's hands glowed red on the grip of his Lohar-era atashban, an old but powerful magical crossbow, and he shot a spell that split into a dozen flaming arrows from its tip, piercing holes in the ship's hull, right at the waterline.
That would get them moving in a hurry.
"Arms at the ready," she called out.
"Haan, Sardar!" a few voices chorused in acknowledgment.
It felt odd at times to wear Baba's former title the way she did his old red jama, the silk coat magically shrunk and cleverly altered to fit her smaller form. But not now. Right now, Roshan's skin thrummed with excitement, and her face warmed the way it did whenever a raid went exactly how she planned.
To avoid sinking, the dhow rapidly changed course, curving toward the beach, its trajectory leading right to where Roshan stood, in a space between two large rocks. A web of yellow light cast out like a fishing net; a few yards away, the clan's best conjurer, Vijali Fui, was drawing the dhow to shore with wrinkled hands, faster than the lightning she was named for, her braid like old gold in the dim light.
There would likely be enough grain inside that dhow to feed the clan and at least four of the five villages in the valley they'd allied with. Most of the villages had barely survived the governor's blood tithes l
ast year. The tithes—tax collection sprees—usually ended in farmers' deaths or left families on the brink of starvation. No amount of earth magic could regrow three months' worth of bajra and sorghum in a week's time. And magically conjured food, Roshan knew from experience, had little nutrition, often tasting like dirt in the mouth.
The sky lightened from midnight to slate blue. Sunheri was now the color of a fading orange ember and would soon disappear completely. They had little time to spare. In an hour or so, constables from a neighboring village would likely begin patrolling the coast and raise an alarm.
But, again, Vijali Fui was quicker. Within moments she'd raised the rocks by the coast, summoning a pathway that led right to the dhow's deck, anchoring it to the shore.
"Let's go!" Roshan said.
As one, the forty-four clan members stormed the dhow, their spells and ancient sabers clashing with gleaming new-era atashbans and the Brights' gold armor. Roshan got nicked in the arm by a stray dagger, rolled out of the way of another fiery red spell. A hard arm began curling around her throat, seconds before it trembled and let go. She ignored the squelch that always came when she withdrew her katar from human flesh, the grunt of the Bright who fell dead, his blood now trailing down its short, triangular blade.
Her father had gifted Roshan the punch-dagger once he'd learned death magic wasn't her strong suit, and she'd spent years drilling hard in the intricacies of nonmagical combat. Getting caught in a simple choke hold would have only made Baba say: "Fight like that and you deserve to die."
As she plunged the katar into another unprotected Bright nape, the cut on Roshan's arm burned. She ignored it. It would soon heal. Already the magic in her blood was cooling the injured skin, knitting it back in place.
The battle, too, turned in their favor, Lalit and two others making quick work of the remaining Brights with their atashbans. Corpses lay strewn across the blood-soaked upper deck. Roshan averted her eyes, ignoring the twist in her belly that always accompanied these killings, and headed down a set of wooden stairs to the storage area below, a glowing lightorb illuminating her way.
She found the bounty they'd anticipated—to be divided among their allied villages, the smallest portion going to the clan—gunnysacks of bajra, sorghum, and various lentils, stamped in ink with the symbol of Ashvamaidan's flying mare. This dhow carried spices as well, probably meant for a wealthy city merchant, grown magically in glass domes surrounding the governor's haveli in Surag. There was cumin, pepper, and—Roshan grinned under her mask—cloves that would last her a year. Maybe more. She
reached for a sack, about to toss it over her shoulder, when she heard the sound.
An unmistakably human snore.
A boy of around eighteen or nineteen blue moons lay partially hidden behind the sacks of sorghum, fast asleep, a thin trail of drool seeping from his mouth. A length of cloth curled nearby like snakeskin, the sort of finely woven, block-printed, green-and-gold turban wrap available only in big towns or in cities like Surag.
A rich Jwaliyan brat, Roshan assessed. A boy who stank of alcohol, sweat, and—her nose wrinkled—vomit. She frowned at the familiarity of his features: high cheekbones, a beaked nose, hair a mess of red-brown curls.
Why did it feel like she'd seen him before?
The boy's deep emerald jama fell to his ankles in city fashion and was untied at the front, exposing a slender torso and deep brown skin like Roshan's own. She froze in place when she saw the tattoo on his chest: a small golden bird with uncanny black eyes, its feathered white crown in full bloom, wings and tail feathers spreading out like flames.
Oh. That was why.
"Wait!" She caught hold of Lalit before he shot the boy dead. "Don't. See that?" She pointed at the tattoo.
"It can't be," he murmured, staring at it.
"Fire and ashes! It has to be," someone else said. "Who else outside the royal family would get a homāi inked on their chest?"
In Ashvamaidan, some saw the homāi as a cursed bird, saying she brought more bad luck than good. But Baba had called the homāi a harbinger of fate, saying that she was the fire goddess's own companion.
When you see the homāi, know that the fire goddess has played a part in it, bitiya. Know that your future is going to change.
Queen Bhairavi had claimed to have seen the homāi before her three siblings were killed in a carriage accident, bringing her to the throne far sooner than she'd anticipated. There had been rumors, of course, the way there always are. But Bhairavi had been cleared by every investigation and had later adopted the bird as the royal family's official symbol.
Roshan wondered if the queen had seen the bird again when her only daughter had indulged in a love affair so scandalous that it had reached every corner of the kingdom. Crown Princess Athiya, from what Roshan remembered, had been bound to a prince from the northern kingdom of Prithvi, then had taken various lovers, including a handsome peri.
The lovers in themselves had not caused the scandal. Affairs were common among royals, even more so when two people were bound for political
reasons. But no royal in Jwaliyan history had insisted on bearing a lover's child and—worse—endangering an existing political alliance by naming the child second in line to the throne. Neither her consort's fury nor his subsequent return to Prithvi changed Crown Princess Athiya's mind. Five years after birthing her heir, she delivered an inconvenient spare, and then died shortly afterward in the arms of her peri lover. Or so the story went. Eventually, the peri had abandoned his son, leaving him and the heir to be raised alone by their grandmother, the queen.
Roshan examined the homāi inked on the boy's chest. She had seen the heir a few years ago—the then twenty-year-old Crown Prince Farhad—leaving the palace in a horseless carriage. It had been on a rare trip with Baba and a few others to the capital to buy saltpeter for firebombs from the black market. They'd stared at the crown prince's serious, handsome face, watched as he'd politely smiled and waved at the crowds flanking the carriage's sides, desperate for a glimpse of Jwala's future king. "Corrupt to the core," Baba had whispered to Roshan. "All of them."
The spare—Roshan could tell by now that the boy on the dhow wasn't the crown prince—was taller and broader than his brother. Was he also as powerful or influential? Roshan couldn't be sure. Inconvenient though he may have been called, Queen Bhairavi had raised the spare as her grandson. He could be of some use. And right now, he was the only link the clan had to the queen and the throne.
When they don't give us our birthright, we steal it.
She sheathed her katar and slowly walked over to him, lightly touching his collarbones, shoulders, and arms with glowing fingers. She followed the movement downward—over torso, hips, knees, and finally, feet encased in dusty jootis lined with shadowlynx fur.
There. Immobilized from the neck down for a few hours.
When he woke, she would have to confirm his identity, of course. No villager in Ashvamaidan would flirt with fate in this manner, but you never knew with these arrogant city boys. The tattoo could very well be a fake.
She reached up to touch his face. Roshan's whole body glowed, her every nerve attuned to his, the sound of his blood pulsing in her ears. Sweat beaded her forehead the way it always did when performing life magic, especially when she needed to transfer some of her own energy to someone else.
The boy's breathing quickened and he coughed sharply, black lashes flickering open to reveal eyes the color of molten gold, their pupils not round but elliptical like a cat's.
Peri eyes, Roshan realized as they slowly focused on her, taking in the turban that covered her hair and the mask that shielded her face.
She had not seen a peri before except maybe in old scrolls or paintings. Peri were supposed to have wings; they were among a race of part-human and part-animal beings called the Pashu, who lived in the kingdom of Aman, northwest of Jwala.
The spare prince had no wings. Nothing to indicate his heritage except for those eerie gold eyes that made her want to pull away from him and simultaneously draw closer.
"Speak," she commanded.
"Are you sure about that, Roshni?"
Roshan started. Surely…surely, he couldn't know her name.
But he was still watching her, examining her from covered face to glowing arms…and that's when she understood. He had called her Light in the Common Tongue, referring to her illuminated form, completely unaware that he'd referred to her by a variant of her real name.
"Or would you prefer I do something else for you with this very gifted mouth of mine," he went on, his voice like honey, sinuous and smooth. "I hear the bandits of Ashvamaidan are rather…lonely…most of the time."
In the background, someone snorted. Roshan suppressed the urge to roll her eyes. Normally she would have told the boy to bite his tongue—or better yet, magically forced him to bite it himself. Yet, if this boy was who she thought he was…
"Your name," she ordered.
He raised a thin, perfectly arched eyebrow. "You don't know who I am?"
"I can guess. But I'd rather you tell me yourself," she replied, perfectly mimicking his arrogant tone.
"Well, then," he murmured. "Let it be known that I am Rajkumar Navin of Clan Behram, the first of his name and second in line to Jwala's throne." As the prince spoke, his voice seemed to magnify in v
olume, sending shivers up her skin. "I command you to unhand me now and take me back to Prabha." The words vibrated in her ears, hammered painfully under her skull. A soul magus, she realized, as tendrils of his magic began curling around her brain like a vise.
"I then command you to surrender to the authori—" The prince's voice cut off abruptly as Roshan's hands locked around his throat.
Her grip wasn't too tight—she did not want to choke him by any means—but it was firm enough to silence. Sweat slid between her breasts and heated her back, magic and anger burning her body with a red light, until she turned it chilly and blue, her fingers numbing painfully at the prince's throat, freezing his voice until nothing emerged from his mouth except for gasps.
"Sometimes, the best thing for a mouth to do is to remain shut, Rajkumar."
Chapter 2
AS A PRINCE OF JWALA, NAVIN WAS USED TO BEING GREETED with flower garlands. With servile bows, honorifics, and false compliments about his "blindingly gold" eyes, wherever he went.
The Shadow Bandit of Ashvamaidan didn't care for such formalities. She had wielded her magic with cold brutality, her spell painfully icing his vocal cords in a way that reminded him of the palace hakim, who'd been asked to examine Navin's throat when he'd abruptly stopped singing as a child.
Navin knew who the Shadow Bandit was, of course. Everyone in Jwala did. When she'd first appeared on the scene last year, looting a branch of the Ministry of Treasure in Surag and then disappearing without a trace, every news scroll in the kingdom, including the widely circulated Jwala Khabri, had tried to uncover her identity. This mysterious, masked daughter of the bandit Bhim Chaya—a young woman notoriously good at killing people, usually with magic meant for healing. Hakims in Jwala called the Shadow Bandit an abomination—someone who clearly did not care about the sanctity of life magic, someone whose soul had rotted through and through.
She watched him now with dark brown eyes that could skewer, a look that burned like a hand stuck in a tandoor. Even the colors of her aura, which should have been distinctly visible to him, had faded, but that was probably the effect of binge drinking with Shera earlier that night. Alcohol always dimmed Navin's soul magic to a degree—not that he'd ever listened to anyone who'd warned him against consuming it. The roof of his mouth was blistered over with tiny bumps—a side effect of using soul magic—blood now added to the rotting mix of flavors in his mouth.
Yet, as painful as the blisters could be when he overexerted his powers, Navin preferred them to the dizzy spells or incapacitating stomachaches his brother, Farhad, got. While all kinds of magic drained energy, the magic that drew the most power from a person—soul magic, in Navin and Farhad's case—always had the worst effect. His blisters were a reminder of this, one of the rare times he envied Jwala's small non-magus population.
Tonight, Navin hadn't even expected to use magic. His morning had been spent racing horses with Shera across the Aspa haveli grounds in Ashvamaidan and the evening at a tavern in the nearby port city of Surag, where they both downed glass after glass of strong tharra.
Later, while Shera had slipped off somewhere with a giggling maid, Navin had spent an hour conversing with a beautiful young Suragi man and woman. Their hands had brushed Navin's fingers, his arm, and his cheeks in an unmistakable suggestion. Unfortunately, by then, all the alcohol he'd drunk began churning in Navin's belly, threatening to expel itself from his mouth.
He'd declined the couple's invitation to get a room and, for reasons he could no longer recall, bypassed the Aspa haveli altogether to head for the docks. There he clambered onto the first dhow headed to the capital. It didn't matter that it was a cargo boat, ...
We hope you are enjoying the book so far. To continue reading...
Of Light and Shadow
Tanaz Bhathena
Copyright © 2023 All Rights Reserved