Book info
Sample
Audiobook
Media
Author updates
Lists
Synopsis
'COMPELLING AND COMPULSIVE' Victoria Selman

'GRIPPING' Claire McGowan

'EXHILARATING AND DARKLY THRILLING' J A Corrigan

'KEPT ME GLUED TO THE PAGES' Zoe Lea
________

Laura has a husband, children, a home in a city she loves. She thinks she can be happy, despite her past.

If they only knew my secret.

Until someone walks back into her life who she knows will shatter everything. Alexis was her first love. A love so exhilarating, it is impossible to resist.

I know I should end it. But I can't.

Then Alexis is found dead, and the police are knocking at Laura's door. They're asking her questions and she's telling them lies.

I didn't kill him. I promise.

Someone wants Laura to pay for what she's been running from. Someone with an obsession that they can't let go.

________

A dark, addictive psychological thriller that will have you hooked until the final, shocking twist. The perfect page-turner for fans of Gillian McAllister, Rachel Abbott and Harriet Tyce.


Read what everyone's saying about Obsessed:
'Absolute page turner!'
Reader review, ⭐ ⭐ ⭐ ⭐ ⭐
'I became a little obsessed with this novel and flew through it in a couple of days'
Reader review, ⭐ ⭐ ⭐ ⭐ ⭐
'Will keep you hooked! Perfect holiday reading'
Reader review, ⭐ ⭐ ⭐ ⭐ ⭐
'An addictive, gripping page-turner'
Reader review, ⭐ ⭐ ⭐ ⭐ ⭐
'Dark, tense and absorbing'
Reader review, ⭐ ⭐ ⭐ ⭐ ⭐
'I would defy anyone to predict the final outcome'
Reader review, ⭐ ⭐ ⭐ ⭐ ⭐
'I read it over 2 evenings, gripping and has you reading just one more chapter'
Reader review, ⭐ ⭐ ⭐ ⭐ ⭐
'A real page turner - beautifully written'
Reader review, ⭐ ⭐ ⭐ ⭐ ⭐
Release date: May 25, 2023
Publisher: Little, Brown Book Group
Print pages: 80000
* BingeBooks earns revenue from qualifying purchases as an Amazon Associate as well as from other retail partners.
Listen to a sample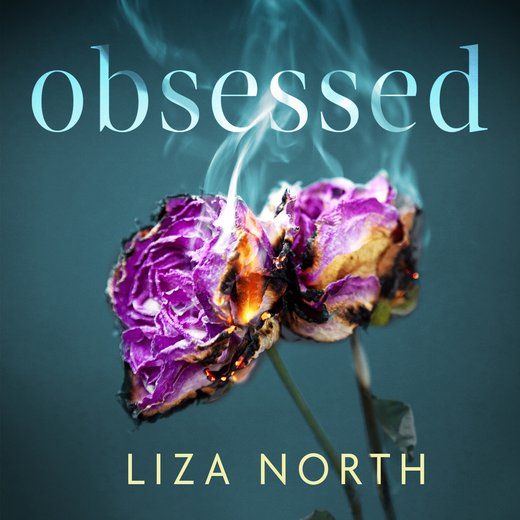 08:37:50
237.07 MB
May 25, 2023
Little, Brown
2023
Obsessed
Liza North
4 March 2019

When your world ends, sometimes you carry on spinning. When Heather told me, I did not scream. Perhaps I did not even speak. I know only that I got away from her. I went into the nursery and I picked up Benjy and Evie and heard about their lunches and their paintings and said the right things about the boy who had bitten Evie and how it could easily have been the other way round. I got Evie into the buggy and she cried because she wanted to sit back to front, and then Benjy cried because it was dark and he had to walk.

I negotiated this, all of it, as though I was the same woman I had been ten minutes before.

At home, I couldn't find my keys. I knelt on the doorstep hanging on to Evie with one hand, upturning my bag with the other. She jerked away and ran for the road, and I screeched at her like the kind of parent I want not to be. At last I found the keys in my coat pocket, where they should always have been. I got the kids inside. Evie was raging. Benjy was whingeing. I shoved them in front of the TV, coats and shoes and all. Then I shut myself in the kitchen and looked up the local news on my phone.

It was true. He was dead. Alexis was dead. Stabbed minutes, surely, after we had lain naked together. I was sticky with his sweat and he was nothing. Flesh and bone, bleeding only because it takes time for our bodies to know that we are gone.

Benjy came to me, still whining, demanding a snack. I howled at him and he went out white-faced and accusatory. I didn't care. I picked up a fork and dug it into my thumb until I was no longer shaking. I filled the sink with cold water and put my face in it. I went into the sitting room, apologised to my son. I pulled my daughter, warm and protesting, onto my lap and sat with my chin on her hair and her hot weight fixing me to what had been normality. Over her head I watched the cartoon and hated everyone in it.

I started to laugh. Then I started to cry. Benjy put out a hand, puzzled and afraid, and rubbed me on the shoulder, as though he were clearing up spilled juice.

1 November 2018

The past caught me tonight. One moment I was examining a lump of clay Benjy had fashioned into half a rabbit, the next I was gaping at the man I had failed for nearly twenty years to forget.

I was at the nursery parents' evening, too hot in my winter coat, being talked at by Liam's mum, Heather. Which was Benjy's sculpture? Oh. Very … surreal. Was he going on the trip next week? Oh great, so was Liam. Was I volunteering? (No. I would rather eat scorpions.) Most important, had I met the new hot single dad?

I hadn't and I wasn't much interested. Any single dad would be hot. That was the rule, just as any single mum would be desperate. I took a mouthful of wine, examined a montage of skeletons, thought about what I'd watch later on Netflix.

Heather jabbed at my arm. 'By the pumpkins. Yazzie can't take her eyes off him.'

That was unexpected. Yazzie is the new toddler room manager. Purple highlights and a marble face. Loves kids but takes absolutely no shit. All the parents are terrified of her.

I drained my glass, abandoned the skeletons.

Yazzie was staring, so I took a long look too. I saw a man in profile. Broad shoulders in a grey sweater, straight nose, hair like maple leaves. My chest contorted. For an instant I considered running away, faking a call from Ryan. Then the man turned as though he had no alternative, and looked directly at me.

'Jesus,' I said.

It only lasted a moment. Then someone handed him a drink and he had his back to me again. I touched my fingers to the wall, hauled in a steadying breath.

'I told you,' Heather said.

'It's not that. I know him.'

Immediately I wished it unsaid. I started to drink and remembered my glass was empty. 'Not well,' I said, 'but we were at school together. Decades ago, actually.' I laughed, fake as a hyena. 'He's aged well.'

'So have you, apparently.' Heather looked me up and down. My body gave me away, fingers shaking. 'Well,' she said, 'aren't you going to say hello?'

I forced myself together. 'Later maybe. There's no rush.'

That was true. I knew we would find each other.

He came to me in the corridor, fluorescent-lit. I was gazing at the wall between two picture displays, empty glass in my hand.

'Hello, Laura.'

I twisted like a marionette. The same eyes, between amber and green. The same cheekbones. Oh God, the same mouth.

'Alexis,' I said. And, to say something, 'How've you been?'

He smiled, dismissed two decades with half a shrug. 'You know. All right.'

'I didn't know you lived in Edinburgh,' I said.

Of course I didn't. I'd known nothing about him since he walked away from me when we were seventeen years old. When I lay on my face in the grass, in the English springtime, and wept until I thought I would die from it.

He said, 'Nor I you. You've got kids here?'

Here, at least, was reality. 'A boy and a girl,' I said.

Heather was approaching. She stopped a few metres from us, picked books off a display shelf. I knew she was trying for an introduction, and immediately I panicked, as though even so basic an exchange would be beyond me. Then one of the nursery teachers came out of a side room and started talking about Liam. Reprieve.

Alexis looked at my left hand. 'You're married?'

'Yes.' I wanted to add something – express some loyalty to Ryan – but I couldn't do it. Not because I didn't feel it, but because this meeting tore away everything else. I said instead, 'I have a stepson too. Simon. He's fourteen.'

Alexis nodded.

'What about you?' I asked.

'I'm not married.'

'But you have a child here.' Well obviously.

'Gracie. She's three. I'm separated from her mum.'

Two dads walked past us carrying glasses. Alexis propped his shoulder against the wall, curved towards me. My stomach crashed through half a lifetime. I looked at his mouth – a fast, guilty glance. I wanted to touch him. I wanted to hit him, too. He moved a hand, then stilled it. I had a sudden vision of kissing him against a peeling wall, our bodies so hard together that we could have imprinted them in the plaster.

I looked past him to the photo display beside us and realised that one of them was my daughter, mud-splashed and innocent, in a flash of Scottish sun. Her grin was absolute: toddler joy.

Alexis said, 'Is that your girl?'

I nodded. He glanced from the picture to me, then along at the array of photos, the Early Years charts, the picture books with their innocuous covers. I saw that he was holding a piece of crayoned paper in one hand. To Daddy, love from Gracie.

'Christ,' he said. 'I can't talk to you, Laura. Not here. Not like this.'

I tried to keep my eyes on Evie's photo, but they pulled back to his jawline, his neck, his lips held resolutely still. I heard voices close to us. Yazzie, Heather again, and someone I didn't know.

I whispered, 'When?'

'I don't know,' he said. He turned away. He held his fingers up to his chest, his daughter's drawing, a talisman, tight between them.

4 January 1999

There is the common room for the cool girls and there is the locker room for the uncool ones. Laura is in the latter with me and Claire and Jem. It is a momentous occasion, although none of us knows that yet, because it is the day she will meet Alexis.

We sit on thin wooden benches with stickered lockers above our heads and winter mould on the ceiling. I am telling them about Alexis, who is joining the school that day and whom I know and they do not. Jem and Laura are teasing me, pretending to think there's something going on. They're only being kind. Hope Mitchell is no object of desire. But it's a game they feel obliged to play: their way of being friends.

Laura and Jem resent their status as locker-room pariahs. They don't say this, but we read it in their short skirts and sheer tights, in Jem's made-up face and Laura's deep-conditioned hair. They pout at the peeling edges of Robbie Williams and Leonardo DiCaprio, no substitute for actual boyfriends, however inadequate. They squirm on the stiff pine and sigh at the smeary windows.

Claire doesn't care. She has her own plans: three As, a leading university, fancy career. She studies, she hangs out with us, she works some more. She thinks she can afford to wait.

I don't care either, or I may as well not.

I tell them that Alexis is just a friend.

The bell rings. Five-minute warning. Jem gets out her mirror, pursing her mouth and rubbing the tip of her nose. She smacks it with a powder puff, pastes gloss on lips already glimmering pink. Laura fiddles with her necklace, looking for a compliment. It's new. A silver bird on a silver chain. I ask about it and she says it's a good-luck present for the start of term. She doesn't say that it's from her parents, but I can see that she regrets telling me even that much. She swings away from me, tucking the bird into her top, and pretends to examine a poster on the wall. They're holding auditions for the school show this week, but she already knows the details by heart. We both do.

I go to the bathroom. I check that I am alone, then examine my face. It is as I thought: better than it might be. The acne has my chin today, my forehead, and either side of my nose. The spots are mostly early stage, smooth red mounds. Sometimes my whole face is covered ear to ear in bursting creamy pustules. Laura is my best friend, but on those days she cannot look at me. Usually when it is like that I have an orgy of self-hate and squeezing, and the next day they are scabbed or bleeding, stinging with antiseptic.

If I see Alexis today, I will look no worse than last time, perhaps a little better. I have a plan to make that a lot better. If I dare.

We see him after English. I am with Laura and Jem. He is walking with Mark Myres, who is in the second rank of cool boys. Mark grimaces at Jem and Laura, who have both, at various times, snogged him. He pretends not to see me, which is better than what sometimes happens. I see Alexis noticing this and wonder if he will do the same. It's like I am waiting to be punched. But Alexis is better than that. He stops and Mark goes on. I introduce him, trying not to sound proprietorial.

Jem wriggles like a maggot on a stick when she sees him close up, and snaps on her best smile. She'll be glad she did her make-up. Laura just looks at him. When I tell him her name, he looks back at her. Then he runs after Mark, who's showing him to his next lesson.

When he's out of earshot, Jem says, 'Well, he's gorgeous. I thought you said you met him through church?' Then she giggles. 'Sorry, Hope. I didn't mean …'

Only she did, so she can't finish the sentence.

'His grandparents go to our church,' I say. 'I don't think he's religious.'

Jem asks, 'Does he live with them?'

'For the moment.' I smile, enjoying the fact that I am in his confidence. I know – because Alexis has told me – that he has been sent out of the way of his parents' anguished divorce. I know he misses them, but is almost relieved to be out of the shouting line.

Laura is repositioning her bag strap. While she's doing this, she looks back along the corridor. Alexis has gone now, vanished into the crowd. Jem and I are watching her, waiting for the verdict.

At last, she's done fiddling.

'He seems nice,' she says.

She and Jem hurry off, late for economics. I stand where we were, less smug at the introduction than I thought I would be. Two fifth-form girls pass by, pretending not to look at my face. I gaze down at the blue vinyl, already striped with mud, and see something small and gleaming, settling in the dirt.

It's the bird from Laura's necklace.

Later, we eat our lunches in the locker room. Jem tells Claire about Alexis. 'Honestly, he's well fit. Beautiful smile, beautiful arse.' She swallows a mouthful of fat-free yogurt, waving the plastic spoon at me. A smear gleams white on her lip.

'Why didn't you tell us that before?'

'I didn't really notice,' I say.

I'm unfolding the strip of thin paper from on top of my sandwich. Handwriting so careful it is like a printed font.

The soul of the sluggard desireth, and hath nothing: but the soul of the diligent shall be made fat. (Proverbs 13:4)

I want to tear it into pieces but I know better. I try, as I must, to commit it to memory. Claire watches me, but she doesn't say anything. At first, they used to make out that these notes were a form of kindness. 'At least she cares,' they'd say. After a while, they stopped saying that.

Jem is still chuntering. 'You could have warned us. I'd have undone more buttons if I'd known.' She sighs, takes another mouthful. 'You got quite a look, Laura. You'll be making Hope jealous.'

Laura says nothing. I pretend not to notice.

I refold the note and put it into my pocket. I can learn it later. As I do, my fingers touch something small and solid. Laura's bird. I waver, then leave it there.

She doesn't realise it's missing until we're leaving school, drawing on coats and gloves and emerging into the jagged cold. Laura is arranging a grey scarf around her throat and she starts scrabbling around her neckline, uncoiling the scarf, unzipping her coat.

'What is it?' Jem asks, and Laura says it's her new necklace: the pendant has come off.

We help her to check her sweater, her bag, the scarf, the floor. Claire goes back to search the locker room. Alexis appears beside us in a ski jacket and a woolly hat.

'What's happened?' he asks.

When Laura tells him, he joins in too. He walks in a circle around her, lifting the collar of her coat to examine it. His hand touches her hair. I look at her face. She's still upset, but she's smirking too.

On the way home, she's quiet. It might be because of her silver bird. After I've left her – when she is well out of sight – I stoop and drop it through a grate in the road.

14 November 2018

I have thought of Alexis every hour since I saw him. That's not an exaggeration. I have lived my work days like a somnambulist, occasionally surfacing to register that I have a job, communications to supervise, colleagues to appease. I have jogged miles on remorseless pavements and chancy paths. I have had sex once with Ryan and refused him twice, and it was the first I felt guiltier about, for I was not thinking of him. I have done almost all the nursery runs and felt bad about that too, because the children have been delighted and Ryan – always overworked – has been grateful.

I have seen Gracie. I made Evie point her out to me, a thin child with a sharp nose and her father's smile. I have not, I think, seen her mother, although I have watched for her almost as keenly as for Alexis.

Today I saw him when I delivered Evie to the toddler room. There was less shock, more pain this time. We left at the same time, the girls standing side by side behind the stair gate to bid us farewell. Gracie was crying. Evie and I went through our usual routine. She put out her hands with fingers wide apart and I held out mine to touch them, finger­tips to fingertips, thumb to thumb. Gracie stopped crying when she saw us and reached out for Alexis to do the same.

We stood quietly, joined to our daughters. Then we moved away down the stairs, through the double doors, onto the leaf-thick street.

The day was claggy, promising nothing. I told myself to go straight to the bus stop, then to the office.

I said, 'When do you have to be at work?'

He looked at me, really looked, as though he had been afraid to do it before. 'I can be late,' he said.

I couldn't. Not really. Not with two weeks of wasted ground to make up, a pivotal meeting, my new assistant to train.

But I would be.

We paced the wide, beautiful streets without speaking. Rose-gold walls, bay windows, regulated shrubs. At the gates to Blackford Pond, I scanned the path widening and parting ahead. Dog walkers, runners, a mother with a buggy and a toddler and a face like chalked stone. No one I knew. Sometimes nursery takes the kids here. But not this early.

Alexis said, 'We're not doing anything wrong.'

I walked through the gates, beside him. No, I thought. Not yet.

I watched him as we followed the curve of the path. It wasn't so much that he had aged well as that he had hardly aged at all.

'What is it?' he said.

'I was thinking of Dorian Gray.'

He smiled, glanced at me. 'I could say the same of you,' he said.

'Two kids,' I said, 'and nineteen years. I've changed enough.'

It was true in its way, but not in the only way that mattered.

We turned, without conferring, and went through another gate. The pond lay big and placid and tree-lined before us, familiar as my kitchen floor. I watched a duck dipping and shaking, then tugged my scarf tighter. It wasn't a day to be out.

'How long have you lived here?' I asked.

'Nearly four years.'

Dear God. And they say Edinburgh is a village.

We evaded the squabbling waterfowl, swarming a toddler with a loaf of sliced bread. Her grandmother hovered behind her, hands out. The swans were as big as the child.

I have been there with my two, time without count. Benjy is afraid of the swans.

I said, 'I thought you were in France. I thought you'd stay there.'

'I was,' he said. 'Mostly. I moved here when Diana, my ex, was pregnant with Gracie.'

I didn't want to think about Diana. Or Gracie. I said, 'You liked Paris, then?' My voice contorted. 'You were glad you went.'

He gave me a look. 'Hardly,' he said. 'For a long time, I hated it.'

I missed a step, caught myself. 'Tell me,' I whispered. 'Tell me what it was like.'

'Like what it was,' he said. 'Being in exile. My mother's boyfriend was kind. My mother tried to be. The school was … fine, I suppose. Afterwards, I went travelling. Asia. Australia. I worked in hostels, bars.'

I stared out across the flat, dark water to the trees, trying to stabilise myself. The leaves hung defiantly bright, waiting to fall.

'And after that?' I said.

'I came back to Europe. I went to university in Graz, got a job in Vienna, then in Paris. I was there until I moved here.'

With Diana, I thought. I longed to ask whether he had forgotten me then. With her or with her predecessors. There must have been predecessors.

A pair of greyhounds dashed along the path towards us. We moved aside, arms touching, then went on again.

'What was it like for you?' he said. 'It must have been hard, being still there.'

Being there, I thought, and without you.

'It was lonely,' I said. 'People knew there was something to set me apart. After a while, when I wouldn't talk, even my friends left me alone. I worked. I had nothing else to do. I stayed in and read.' And cried. Mostly cried. I smiled, so he wouldn't read the thought. 'My marks improved,' I said. 'I applied to the universities my parents suggested. I got into UCL.'

I could not lie to him. Not even by omission. I said, 'I thought I would lose myself in a big city. I was wrong, of course, but I tried my best.'

I had tried my best with drink and drugs and man after man. Emotionless sex, desperate each time to delete his face, his voice. The taste of his skin and the way loving him was like flying. To delete what we had done together.

It had never worked.

'Perhaps I was closer to losing myself than I knew,' I said. 'Only because I wasn't enjoying it, I didn't understand.'

'And then?'

'I started running again. After a few years, I moved up here. I loved Edinburgh on sight. I love it now. I met Ryan.'

I thought of my husband, of the parody of love we had made the weekend before, and felt ashamed.

Alexis said, 'Are you happy?'

I stopped.

We had gone beyond the pond now and were alone on the shaded path that twists round the side of the hill. 'Until two weeks ago,' I said, 'I thought I was.'

'Oh God. Laura …' He stepped sideways, off the path. He grimaced into the mass of vegetation, then back at me. 'If I'd known,' he said, 'I would have sent Gracie to a different nursery, moved across town.'

I should have said that was what I would have done too. I should have walked away and hoped to hell w. . .
We hope you are enjoying the book so far. To continue reading...
Obsessed
Liza North
Copyright © 2023 All Rights Reserved