Murder at the Royal Botanic Gardens
Available in:
eBook
Paperback
Audiobook
Hardcover
Book info
Sample
Audiobook
Media
Author updates
Lists
Synopsis
The upcoming marriage of the Earl of Wrexford and Lady Charlotte Sloane promises to be a highlight of the season, if they can first untangle—and survive—a web of intrigue and murder involving the most brilliant scientific minds in Regency London . . .



One advantage of being caught up in a whirl of dress fittings and decisions about flower arrangements is that Charlotte Sloane has little time for any pre-wedding qualms. Her love for Wrexford isn't in question. But will being a wife—and a Countess—make it difficult for her to maintain her independence—not to mention, her secret identity as famed satirical artist A. J. Quill?



Despite those concerns, there are soon even more urgent matters to attend to during Charlotte and Wrexford's first public outing as an engaged couple. At a symposium at the Royal Botanic Gardens, a visiting botanist suffers a fatal collapse. The traces of white powder near his mouth reveal the dark truth—he was murdered. Drawn into the investigation, Charlotte and the Earl learn of the victim's involvement in a momentous medical discovery. With fame and immense fortune at stake, there's no shortage of suspects, including some whose ruthlessness is already known. But neither Charlotte nor her husband-to-be can realize how close the danger is about to get—or to what lengths this villain is prepared to go . . .
Release date: September 28, 2021
Publisher: Kensington Books
Print pages: 304
* BingeBooks earns revenue from qualifying purchases as an Amazon Associate as well as from other retail partners.
Listen to a sample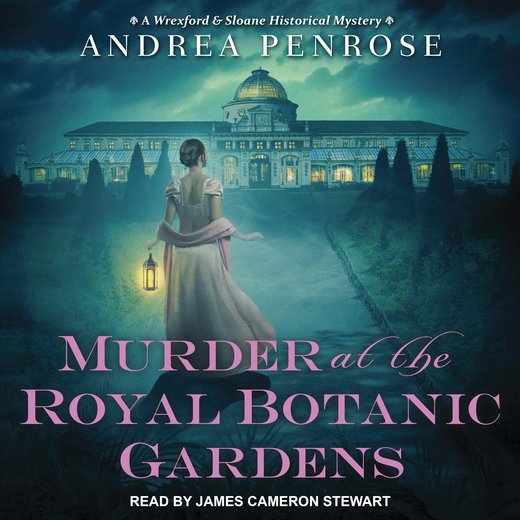 12:00:11
329.68 MB
September 28, 2021
Tantor Audio
2021
Murder at the Royal Botanic Gardens
Andrea Penrose
Lady Charlotte Sloane passed through the arched entryway of the grand drawing room and then paused. Wishing to compose her emotions for a moment before joining the crowd, she moved over to one of the massive urns flanking the double doors and pretended to be admiring the artfully arranged flowers. All of them were spectacularly rare blooms chosen, no doubt, to remind the international gathering of botanists that no other repository of specimen plantings could hold a candle to the treasures of the Royal Botanic Gardens at Kew.

Hip-hip-hurrah for the British Empire, Charlotte thought, though a small smile softened any edge of sarcasm. The Gardens were known for sharing their knowledge, as well as seeds and cuttings, with scholars from all over the globe, so while botany wasn't one of her passions, she appreciated the importance of what they did.

Her gaze lingered on the floral arrangement, memorizing the profusion of colors and textures—

"That look in your eye worries me." Her great-aunt Alison, the dowager Countess of Peake, finished making her way through the receiving line and came over to join her grandniece. "I do hope you're not planning on lampooning this gala gathering because they've cut a king's ransom worth of exotic blooms from their hothouses."

Working under the pseudonym A. J. Quill, Charlotte was one of London's most famous—some might say infamous—satirical artists. She had earned quite a reputation for exposing the misdeeds and scandals of the high and mighty who moved within the highest circles of Society.

And yet, now I've become one of them.

Her conscience still wrestled with the decision, though she had vowed that it wouldn't dull the point of her pen.

Repressing a sigh, Charlotte murmured, "I do, on occasion, give credit where credit is due. I admire the good work that is done here for science and medicine, and the public appreciates an uplifting story as a change of pace from the revelations of peccadilloes and corruption that are their daily bread and butter."

"Wrexford will be pleased to hear it," answered Alison dryly. "I imagine he would feel a little guilty for inviting the fox into the henhouse, so to speak, if you were to savage his scientific friends and their grand symposium."

The mention of the Earl of Wrexford sent a shiver of awareness down Charlotte's spine. That she was, in fact, the notorious A. J. Quill was a well-guarded secret known only to her closest friends.

Of which Wrexford was one.

Actually, he was far more than a close friend, she reminded herself. He was now her fiancé.

Both of them were still getting used to that fact.

"Are you perchance nervous about being here tonight?" demanded the dowager, after lifting her quizzing glass and subjecting Charlotte to a thorough scrutiny. "You look a little green around the gills."

Charlotte dismissed the suggestion with a low snort. Granted, it was her first appearance at a gala party since the announcement of the impending nuptials, and she could already feel the prickle of surreptitious stares . . .

"I merely dislike being ogled."

"You can't blame them for being curious." Alison's sapphire eyes took on a glint of amusement. "Wrexford has a reputation for possessing a hair-trigger temper and a rapier tongue. They are likely trying to decide how much steel you have in your spine, and whether to place a wager in the famous betting book at White's that you'll cry off before the wedding."

A pause. "The odds are apparently seven to five in favor of his being jilted."

"Ye gods, people should have better things to do with their mathematical skills," muttered Charlotte.

"Raven and Lady Cordelia will no doubt be interested in working out some sort of incomprehensible equation to calculate how to beat the odds and make money on placing a bet," mused the dowager.

Raven, the older of the two street urchin brothers Charlotte had taken under her wing, was showing a remarkable aptitude for mathematics—and it was flourishing under the tutelage of her brilliant friend, Lady Cordelia Mansfield.

"Please don't encourage such an idea, even in jest," she replied. "I would rather not have to pen a satirical drawing on the scandal of an adolescent running a gambling consortium for the gentlemen of the beau monde."

Alison snickered. "I daresay, the little jackanapes would soon be richer than King Midas. He's exceedingly clever—"

"Too clever at times." Charlotte repressed a wince. Thanks to Wrexford's sleight of hand—she hadn't inquired too closely on just how he had managed to create a family tree that was merely smoke and lies—she was now the legal guardian of the two boys, whom she loved as if they were her own flesh and blood.

But motherhood, however unconventional, was a constant challenge.

"He is," she added, "reaching an age when I fear we will likely begin butting heads over rules—"

The approach of a portly gentleman, whose curling silver hair was beginning to recede from his craggy brow, caused her to fall silent.

"My dear ladies, though I know we doddering old scholars aren't nearly as alluring as these exotic blossoms, I do hope I can tempt you to come join us by the refreshment table."

"Ha!" Alison exclaimed, waggling her cane. "You can't claim to be doddering until, like me, you're forced to use a stick for support, Sir Robert . . ." She flashed a wink and lowered her voice to add, "So you don't run the risk of falling on your arse."

The baronet, an old friend of the dowager, and a noted expert on orchids, chuckled as he offered Alison his arm. "Allow me to ensure no bodily harm comes to you." Another laugh. "Though I daresay, a gathering of botanists is the least likely place for any violence to occur. We tend to be very gentle souls."

Charlotte held back a smile. No wonder Wrexford prefers chemistry over the study of plant life. His temperament tended to be a tad more volatile.

Some unkind individuals might even call it explosive.

"And may I offer my congratulations on your upcoming marriage, Lady Charlotte. Lord Wrexford is much admired by all of us as a brilliant man of science." His lips twitched. "Though I think he considers botany to be a rather boring field. But, of course, he's too polite to say so."

"Wrexford? Polite?" Alison let out a snort. "Ha! Over my dead body."

"Dead bodies?" Another scholar, his face already flushed from several glasses of champagne, came over to join them. "My dear Lady Peake, let us not talk of such unpleasant subjects at such a festive occasion." He gestured for a footman to come over and offer his tray of sparkling wine to the ladies and Sir Robert.

"Rather, let us toast to knowledge and discovery," he said, lifting his glass.

"And to the coming nuptials of Lady Charlotte and Lord Wrexford," added the baronet.

"I daresay, one discovers a great deal about human nature when one dons a leg shackle," came a voice from out of nowhere.

For a big man, the Earl of Wrexford moved with surprising stealth.

"Oh, fie, sir." Alison rapped her cane against the earl's shin as he came to stand by Charlotte. "Not everyone is used to your sarcasm, and might misinterpret your words as less than complimentary to your bride-to-be."

"If I've said something disagreeable to Lady Charlotte, I expect she'll let me know herself." Wrexford looked at her through his sin-dark lashes. "With more than a mere tap-tap."

The glitter of his green eyes sent a shiver of awareness down her spine. On their first encounter, her initial reaction had been loathing. And fear. He could have ruined her life as London's most important satirical artist with one flick of his aristocratic finger. Instead, he had proposed an unconventional partnership in order to solve a dastardly murder—one in which he was the prime suspect. To their surprise, a grudging friendship had developed.

Strange how she now couldn't imagine her life without all the subtle textures and colors his presence wove into the very fiber of her being.

"An exchange of frank opinions between husband and wife seems an excellent way to ensure matrimonial harmony, Wrexford," replied Charlotte. "Even if those opinions don't align."

"Just so, my dear." He shifted his stance, the soft wool of his coat now touching her bare shoulder. The drafty room suddenly felt a little warmer.

"Matrimony!" The flush-faced scholar waggled his bushy brows. "As a noted chemist, you have a great deal of experience in working with dangerous substances, so I imagine you will be able to prevent that experiment from blowing up in your face, ha, ha, ha."

"Indeed, I'm quite confident that I know what I'm doing," said Wrexford in a silky tone that immediately sobered the scholar's expression.

"Of course, of course! I did not mean to question your . . . er, judgment, sir . . ." Hemming and hawing, the scholar backed away to join the crowd around the punch bowl.

Charlotte didn't blame him. Wrexford didn't suffer fools gladly.

"Mr. Throckmorton has clearly imbibed too much of the Royal Society's fine champagne." A distinguished-looking gentleman dressed in an azure-blue swallow-tailed coat grimaced in apology as he came over to join them. "Allow me to express my felicitations in a more traditional manner, milord. And might I request an introduction to your fiancée?"

The ritual of polite pleasantries began, and was quickly expanded as several other gentlemen scholars and their wives drifted over to express their good wishes.

Wrexford, noted Charlotte, was behaving with admirable restraint. Such trivial socializing bored him to perdition, and he usually ended his part in it by saying something egregiously rude.

However, the talk quickly shifted to safer ground as one of the scholars brought up a recent lecture given at the Royal Society on minerals—a subject that greatly interested the earl. "Now, it seems that Sir Humphry Davy tested the hypothesis by performing a chemical analysis . . ."

Charlotte allowed her attention to wander as Wrexford shifted away to join the gentlemen discussing the technical details. The drawing room was growing more crowded as the guests made their way into the palace from the conservatory. The lilt of foreign languages—French, German, Spanish, Italian—twined with all the different accents of English, creating a lively buzz. The swirl of the Continental fashions, with the colorful sashes and fancy medals highlighting the various styles of cravats and waistcoats, couldn't help but catch her eye.

Already she was composing a drawing in her head—

"Charlotta?"

She spun around, her eyes widening in surprise. "Marco!"

"Why, it is you!" A tall, slender gentleman, with curling black hair and the fine-boned features of a Renaissance sculpture, flashed a winsome smile. "And looking lovelier than ever." His gaze quickly took in her elegant gown and the lustrous pearl necklace—an engagement gift from Wrexford—nestled at her throat. "How is Anthony? I'm sure his career is flourishing here in London. He's an immensely talented—"

"Anthony passed away several years ago," she interrupted. "As you might remember, his constitution was delicate, and the return to a cold, damp climate proved injurious to his health."

"I'm so sorry." Sympathy pooled in his hazel eyes. "Please accept my condolences."

"Thank you—but let us speak of happier things," said Charlotte. "I see your star has continued to rise in the firmament of Italian science."

She and her late husband had met Marco Moretti while living in Rome. The Florentine scholar, who, like all their acquaintances, was dancing on the razor's edge of poverty, had been finishing his advanced scientific studies at the university. But his interest in art and literature, as well as politics, had led him to join their bohemian circle of painters and poets . . .

All of us barely scraping by, surviving on lofty dreams, macaroni, and cheap wine, reflected Charlotte.

Moretti gave a self-deprecating shrug. "I've been lucky enough to write several papers, which have attracted a bit of attention, and I'm quite excited to have been invited here to present a lecture. It may even lead to an opportunity for advancement and recognition in my field of study—as well as a secure financial future." Another shrug. "As you know, teaching pays but pittance."

"That sounds very promising," she said.

"I hope it will be so," replied Moretti, his voice holding a hint of longing. "There is a new scientific society about to be formed, one dedicated to discovery. Its patron is a worldly, wealthy man of science who is very generous in funding research, and he's expressed some interest in my work."

A flicker of curiosity lit beneath his lashes. "And what brings you here, Charlotta? You were very skilled in botanical drawing. I still have several sketches you made of wildflowers growing around the ruins of the Coliseum. Are you helping with making a visual catalogue of collections here at the Royal Botanic Gardens?"

"No, I've not kept up my drawing of plant life," she answered. "I'm here because my fiancé is a noted man of science here in Britain, and is a member of the Royal Society."

"Ah." Moretti smiled politely. "Felicitations on your upcoming remarriage. Your fiancé sounds like a very admirable and interesting fellow."

"He is." Charlotte looked around and spotted Wrexford some paces away. "Come, allow me to introduce you."

She started to squeeze through the press of guests, but just as she managed to circle around a trio of chattering Germans and approach him, a gentleman slipped free from the crowd and touched the earl's arm.

"Lord Wrexford." It was said in a discreet murmur, but Charlotte heard the note of tension in the speaker's voice.

The earl did as well, for she saw him stiffen as he looked around. She recognized the man as Lord Bethany, the secretary of the Royal Society, and one of the organizers of the symposium.

"Forgive the interruption, sir." The look of alarm in his eyes belied his smile as he drew Wrexford aside. "But might I ask you to come with me to the conservatory? There's been an . . . unfortunate mishap."

Mist swirled through the evening gloom as they hurried down the walkway, the vapor giving a ghostly sheen to the angled silhouettes of glowing glass and brass.

"Why fetch me?" demanded Wrexford, once Bethany had finished his account of the gardener's discovery of Mr. Becton's corpse among the exotic specimens.

"I confess, I'm not entirely sure, sir. But Dr. Hosack was insistent that I bring you to him, and as he is head of the American delegation, I felt it my duty to accede to his wishes, given the circumstances." The secretary grimaced. "Political relations are strained enough between our two countries without any bad feelings arising over any imagined snub by us in dealing with this incident."

The sharp crunch of their steps on the gravel seemed amplified by the peaceful quiet of the surrounding gardens.

"But I only know Hosack by reputation," mused the earl.

"Apparently, he knows of your reputation, too, milord."

Keeping his temper in check, Wrexford held back a sarcastic retort, even though the allusion to his previous murder investigations made no sense. From what Bethany had told him, the man who had dropped dead had a history of ill health, and there was no reason to suspect foul play.

They walked the rest of the way in silence, Bethany quickening his pace, clearly anxious to complete his good deed for Hosack.

The American doctor was waiting in the main foyer of the conservatory, the lantern clasped in his hand illuminating the grim set of his face. Several other men were standing together in the far corner, conversing in muted tones. At the earl's entrance, they looked up and stopped talking.

"Thank you for coming, Lord Wrexford." Hosack gave a gruff nod of greeting.

"Might I ask that you conduct your meeting with the earl as quickly as possible so that the mortuary men may be permitted to remove Mr. Becton's mortal remains to a more appropriate resting place?" Despite the chill air, Bethany's brow was beaded with sweat. He took a moment to blot them away with his handkerchief.

"As I hope you can appreciate, sir, the Royal Society would prefer that the untimely demise of your colleague doesn't overshadow the mission of the symposium," he continued. "We have brought together all these international scholars—no easy feat in these uncertain times of war and strife—in order for them to share their knowledge and discoveries with each other for the good of all mankind."

"I couldn't agree more with your goals, milord, and I applaud the Society's impressive work to make the world a better place for all," replied Hosack. "I simply wish to solicit Lord Wrexford's opinion on something before my friend's remains are disturbed."

"I still question why—" began the earl, but a quick mute appeal from Hosack caused him to leave off with a shrug. "However, I'm happy to comply with the doctor's request."

"Then, of course, I have no objection," conceded Bethany, though his expression remained troubled.

"I'm very grateful to you, Lord Wrexford." Hosack gestured toward the corridor leading to the rear section of the building. "Please come with me, sir."

The lush greenery and flowering specimens soon enveloped them in a heady perfume of sweet and spicy scents. Moonlight scudded over the skylights, adding a pearly glow to the bright flicker of the hanging lanterns that dotted the walkway. Leaves whispered softly as they brushed past the delicate fronds of a Ravenea rivularis.

Hosack led the way through one of the display rooms before slowing and coming to a halt behind an arrangement of potted Theobroma cacao trees. "I know how irregular my request must have appeared to you."

"It did, indeed," agreed Wrexford. "Seeing as I don't know you from Adam."

"But I have heard a great deal about you, sir . . ." For just an instant, a glimmer of amusement softened the look of distress in the American's eyes. "From Gideon Tyler, a friend from my time spent studying in Scotland."

Tyler was a man of many talents, two of which were serving as both the earl's valet and his laboratory assistant.

Alas. An oath hovered on the tip of Wrexford's tongue. Another was a penchant for grossly exaggerating the ghoulish exploits of their previous murder investigations.

"Tyler's tales ought to be taken with a grain of salt," he responded, now having an inkling of why his presence had been requested. "I imagine the sudden death of your colleague has come as a shock, sir. But most such incidents, however unfortunate, have nothing to do with foul play."

"Under most circumstances, I couldn't agree more, milord. I'm a physician, and thus am no stranger to death," answered Hosack. "I simply hope you'll bear with me and agree to have a look at the scene. Tyler speaks of you as a man who sees things with a sharp-eyed clarity, unclouded by emotion. So I would greatly value your objective observations."

A reluctant sigh stirred the air. "I've come this far. I might as well have a look."

They resumed walking. Wrexford liked that the doctor didn't feel compelled to fill the silence with meaningless chatter. Hosack moved purposefully, his footsteps tapping a brisk tattoo on the stone flagging as he led the way through several more turns.

Up ahead, through a low archway, Wrexford saw that extra lanterns had been positioned near one of the display pedestals.

"This way, milord," murmured the American, cutting around a potted arrangement of brightly blooming Bougainvillea glabra. The cheery fuchsia hue, noted Wrexford, seemed oddly out of place with the somber tableau behind the plants.

A body—Mr. Becton, he presumed—lay sprawled on the stone tiles, the black of the scholar's evening clothes melding with the crisscrossing shadows cast by the surrounding displays.

Hosack stopped and touched the earl's sleeve. "Before you go any closer, sir, please take a moment to look carefully at the scene."

Wrexford replied with a brusque nod and then focused his attention on the small swath of space.

One of the pedestals looked askew, and a few small terra-cotta specimen pots had fallen, scattering crumbs of earth and burnt-orange shards across the slate . . . all confirming the scenario of a man seized with a sudden spasm and toppling over to the floor.

What am I missing?

Puzzled, Wrexford edged around for a different perspective. Hosack struck him as a steady, sensible fellow, unlikely to see specters where there were none. Still, nothing unusual caught his eye. Narrowing his gaze, he probed the nooks and crannies near the corpse before lifting his shoulders in a silent signal that he was ready to move on.

The doctor didn't ask any questions, but merely gestured for the earl to join him in crouching down beside the body. Becton was lying on his belly, with his face twisted to one side, one sightless eye staring up at the flickering lantern flame overhead. It was, noted Wrexford, a shade of blue that reminded him of a smoke-tinged sky.

Charlotte would know the exact name for it.

Flattening his palms on the tiles, Hosack angled his head and dropped his cheek to within inches of the dead man's visage. A moment slid by, then another. Wool rustled as he shifted back and made room for the earl.

"And now, I have one last request, milord," said the doctor, rising and adjusting the beam of the lantern. "Please take a close look at Mr. Becton's mouth."

Wrexford leaned low—low enough to feel the coolness of the flagging rise up to prickle against his chin. At first, he saw nothing other than the usual signs of death—a slightly protruding tongue, the lips surrendering their color to a waxy pallor . . .

Then he spotted the white crystalline grains dotting the corners of the corpse's half-open mouth.

"Any idea what that substance might be?" he asked.

"I was hoping you might tell me," came the dry reply.

"It could be any number of things, depending on what medicines your friend was taking—"

"That's just it. He wasn't taking any medicine. His symptoms had greatly improved, and we had both agreed several months ago that he could stop taking the distillation I had created for him." A pause. "And there was nothing in it that would have formed such crystals."

"It's odd, I grant you," said the earl. "In the course of his storytelling, I'm assuming Tyler mentioned to you that I've a friend who's very skilled at coaxing secrets from the dead."

"He did, milord."

"And so I take it, you wish to have the mortuary wagon take Mr. Becton to my friend's surgery, rather than the local morgue."

"I would be exceedingly grateful," answered Hosack.

"Very well." Wrexford rose and dusted his palms on the front of his coat. "Though I counsel you not to let your imagination run away with you. There are any number of innocent explanations for the grains. Perhaps he ate a pastry beforehand, and they are merely bits of sugar."

"I realize that," answered the doctor. "But I suspect that he drank rather than ate something. There was a puddle of liquid on the stones when I found him. It looked to be champagne."

"That's hardly surprising," replied the earl. "In fact—"

"Yes, but if he was drinking champagne when he died, what happened to the glass?"

The question gave the earl pause for thought. "Actually, I can come up with several very logical answers to that." He took another look around the alcove and saw nothing further to explain the American's suspicion of foul play. "I confess, I'm puzzled by why you're so ready to assume that your friend's death wasn't from natural causes."

Hosack drew in a troubled breath. The wagging leaves overhead deepened the lines of worry etched around his mouth.

"That's because I haven't yet told you about the revelation Becton was planning to make at this symposium."

Charlotte found herself glancing yet again at the entrance to the drawing room, and wondering why Lord Bethany had sought out Wrexford's assistance.

The reason couldn't be a pleasant one. Bethany looked as if he had just seen a ghost.

". . . And what is your opinion of the artist's latest exhibit, Lady Charlotte?" asked one of the scholars' wives.

Drawn back to the moment, Charlotte quickly improvised a reply—never mind that she hadn't a clue as to which artist was being discussed. Certain platitudes were never questioned. "Quite interesting," she murmured. "His technique shows some new developments, but I'm not quite sure I like his use of color."

The others all nodded sagely.

Alison, who had brought Sir Robert over to join the circle, gave her a quizzical look and waggled her brow in warning to pay attention. After all, the whole point of the evening was to begin playing the role of a countess, one that required poise and politeness, no matter how excruciatingly superficial the situation. . .

The thought made her innards clench.

"It seems we are all being asked to move on to the dining salon." Sir Robert offered his arm to the dowager.

"I'll follow along shortly," said Charlotte, making an abrupt decision. She touched a gloved finger to her topknot and made an apologetic grimace. "I fear I have a hairpin coming loose, and wish to visit the ladies' retiring room to have it fixed."

Polite murmurs sounded from her companions as she turned in a rustle of silk and exited into the center corridor. But rather than turn right and head to the rooms housing the amenities for the guests, Charlotte hurried in the opposite direction. She was familiar with Kew Palace and the grounds of the Royal Botanic Gardens from several earlier visits. Just ahead, a side portico led out a walkway that wound down to the west side of the conservatory.

Ignoring a startled footman, she let herself out into the night. The air was chilly, but it was the sense of foreboding that raised a pebbling of gooseflesh on her bare arms.

Has Hawk somehow strayed into trouble?

Raven's younger brother had become fascinated by the natural world. Rocks, plants, insects . . . An involuntary smile touched her lips. Mice and snakes were also part of the little menagerie he had created in their back garden, much to the disgust of his sibling. Wrexford had encouraged the boy's scientific interest. As had the earl's valet.

Indeed, it had been Tyler's idea to invite Hawk to accompany him here to the gardens earlier in the day. The valet had offered to help the symposium committee arrange some of the special exhibits within one of the smaller buildings surrounding the main conservatory, and had suggested that Hawk, a budding botanical artist, might enjoy the opportunity to sketch some of the specimen plantings in the outer hothouses.

Given the importance of the event, she had expressed reservations about the idea. But Tyler had convinced her that Hawk's presence would create no controversy.

But boys being boys . . .

Quickening her steps, Charlotte took a shortcut across the grass, ignoring the damage the moisture and mud were doing to her elegant shoes and gown. Silks and satins be damned. In truth, she was far more at home in the breeches and boots of a street urchin, prowling the city for the hidden secrets that helped her expose the wrongdoings of the rich and powerful.

A wolf in sheep's clothing, she thought. A soon-to-be very wealthy faux sheep.

The west door of the conservatory was unlocked, allowing entrance into the section housing conifer specimens from the northeastern states of America. The pleasant fragrances of pine and balsam, ho. . .
We hope you are enjoying the book so far. To continue reading...
Murder at the Royal Botanic Gardens
Andrea Penrose
Copyright © 2023 All Rights Reserved
Also in this series
Also by this author