Lucie Yi Is Not A Romantic
Book info
Sample
Audiobook
Media
Author updates
Lists
Synopsis
An ambitious career woman signs up for a co-parenting website only to find a match she never expected, in this unflinchingly funny and honest novel from the author of Last Tang Standing.

Management consultant Lucie Yi is done waiting for Mr. Right. After a harrowing breakup foiled her plans for children—and drove her to a meltdown in a Tribeca baby store—she's ready to take matters into her own hands. She signs up for an elective co-parenting website to find a suitable partner with whom to procreate—as platonic as family planning can be.
 
Collin Read checks all of Lucie's boxes; he shares a similar cultural background, he's honest, and most important, he's ready to become a father. When they match, it doesn't take long for Lucie to take a leap of faith for her future. So what if her conservative family might not approve? When Lucie becomes pregnant, the pair return to Singapore and, sure enough, her parents refuse to look on the bright side. Even more complicated, Lucie's ex-fiancé reappears, sparking unresolved feelings and compounding work pressures and the baffling ways her body is changing. Suddenly her straightforward arrangement is falling apart before her very eyes, and Lucie will have to decide how to juggle the demands of the people she loves while pursuing the life she really wants.
Release date: June 21, 2022
Publisher: G.P. Putnam's Sons
Print pages: 416
* BingeBooks earns revenue from qualifying purchases as an Amazon Associate as well as from other retail partners.
Listen to a sample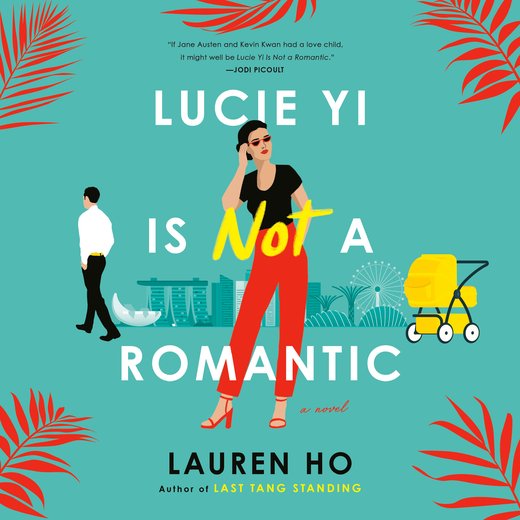 10:58:49
301.6 MB
9780593589984
June 21, 2022
Penguin Random House
Lucie Yi Is Not A Romantic
Lauren Ho
Chapter 1

That Saturday, Lucie Yi headed to the pastel world of So Bébé, fully intending to purchase just a pair of lightweight summer booties and maybe a matching bobble hat for each of her best friend Weina Ling's newly minted triplets. She didn't think she was extravagant.

Fall had arrived, bringing bone-stinging rain. Although it was still early, in this cobblestoned stretch of Tribeca, the doors were already open, the shops warm with money. Lucie, wearing worn running sneakers, her hair in her usual low ponytail, swept past the cafés touting seasonal lattes and hot buttery things. She had a mission-So Bébé, which didn't do anything as tacky as sales, ever, was having a special Fall-in-Love Fair. Fifteen percent off everything, no fine print. Hence the excitable queue even before the store had opened, and by the time Lucie hurried inside, So Bébé heaved with bargain hunters in designer dresses scything through packed aisles, elbows out like knives. The air stank of credit cards and cold ambition.

Lucie hugged the sides of her puffer jacket close. Truth be told, she had considered buying everything online, but the pull of a leisurely walk with a spiced latte after shopping proved too difficult to resist. So here she was in this foreign land, and here was the saleswoman, Erin, a ponytailed strawberry blonde, who had somehow steered her from a rack of baby wear to a display of high-tech fabric body cocoons that would "totally displace traditional swaddling blankets one day" and "would you believe how soft the de-stressed organic cotton fibers feel," having never seen the inside of an office?

Lucie shook her head to clear her thoughts and regarded the MamaOneWrap, basically a Velcro-fastened straitjacket for babies. Had the saleswoman really said "de-stressed" or "distressed"? And where could you get an adult size? She could use a swaddle. Her last stretch of unbroken sleep was two nights ago. "I'm just here for booties," she mumbled.

Erin leaned close, conspiratorial advice forthcoming. "But if you sign up as a So Bébé member today, everything is twenty percent off," she said. "That means the MamaOneWrap, which never goes on sale, would be a steal."

Lucie didn't have the heart to tell Erin that she could probably buy something similar on Zhaobao at a quarter of the price. "But what does it do?"

"What does it do!" Erin exclaimed. "What doesn't it do? Hold on." Erin groped the arms of the cocoon, and alarmingly, the wrap started to vibrate, and a melancholic tune that Lucie would never have picked for a lullaby played. Erin smiled. "That's Tchaikovsky."

Lucie's brow started to sweat. It didn't happen often, but sometimes she got triggered by piano music and words that sounded like "Kumon." "That's . . . nice."

"It's revolutionary. Babies can't resist dreamland. And-voilà!" Erin, sensing weakness, was now detailing the removable padding, the windproof, Oeko-Tex-certified stain-resistant outer fabric with sparkly eyed enthusiasm. Lucie rubbed her temples. She had a call in-she checked her watch-ninety-five minutes. "The contraption looks really uncomfortable. Too restrictive."

Consternation at Lucie's use of the word "contraption," a hard, unlovely word for such a cuddly store. Erin blinked, recovered. "Oh, babies love it. It's like being back inside the womb," Erin said, with the privilege of one who had been loved without conditions.

Lucie-claustrophobic and seasonably matricidal-shuddered. "That sounds terrible." They'd just escaped, after all.

Erin would not be dissuaded. "The MamaOneWrap is like a mother's embrace, only better, because it will always be there, no matter what."

Lucie peered at the price tag and was glad for her poker face. The RoboCop swaddle was close to $120 a pop. Didn't cloth swaddles cost a tenth of that? But this one simulated a mother's hug! And-Erin's sales pitch was subtext heavy-if it would prevent the kids from needing therapy in the future . . . She sighed. Now that she'd seen the MamaOneWrap, heard the spiel, the booties and hats seemed so basic-even the oatmeal cashmere pixie hats by the window, which were from a "proudly child-labor-free co-op." (As opposed to what?) "I'll take six," she said.

"Six!" Erin said, joyous. Her smile could have warmed the sun. "Oh, then you'll have to get them in different colors. They have such a pretty selection. There're even limited-edition prints! I'll bring the swatches so you can see it on a doll." She took out a large, startled doll with a headful of wheatish hair and blue eyes. "This is Ri, one of our gender-neutral, life-sized dolls approximating a three-month-old." Gender-neutral, sure, but still very white. "We also have Avi, which is more, ah, pigmented." Erin's face was flushed.

"Ri is fine," Lucie said, distracted by the bland smoothness between the doll's legs and the weird, flickering eyelids.

Erin exhaled. "OK, let me get the sample swaddles!" Then she was gone. The lone MamaOneWrap lay, a puffy shell, on the counter.

A passing shopper in her seventies stopped to check out the MamaOneWrap. "I've heard of these." She wrinkled her nose. "Bit of overkill, isn't it?"

"It vibrates," Lucie said tiredly.

"There's just so much overengineered nonsense out there," the shopper said. "In my day we just stuck the kid in a diaper, and if it made it through the day, it was a keeper."

She pointedly picked up a swaddle pack from a nearby rack. Lucie dropped her gaze. She wasn't going to argue with someone who thought Panic! at the Disco was a breaking news story.

Erin was back. She fanned all the designs out on the counter. The baby straitjackets came in the usual white, pink, blue, pastels, gray, with a selection of cute animal and fruit prints. Lucie picked out two prints (hippo and pineapples) and a plain, dove-gray one. "Two of each please." Lucie handed her credit card over to Erin.

Erin nodded. "Brilliant choice. Let me get Frieda"-signaling to a lurking staffer with close-cropped bronze curls, also smiling- "to ring these up for you while I put one on. You're going to see how cute the baby will look when it's swaddled." You knew the place was fancy when customer service reassured you on the validity of your choices, even after you'd paid.

Lucie let Erin put the doll into the pineapple-printed one and press the swaddled doll into Lucie's arms. "Hold it. It's about the right weight, too."

Lucie held Ri close to her chest. Its almost cobalt-blue eyes were fixed on her, the blinking stilled. She closed her eyes and breathed. The swaddle or the doll had been scented with something milky and soothing, chamomile and talc and bergamot.

"This isn't too bad," she said, wondering how Weina was coping, breast-feeding three of these at a go. She was always saying that she was too old for her surprise triplets and she had only that one pair of boobs and the babies were sweet but so, so needy; they were always hungry and she was so, so bone tired; she sometimes confused the babies and had to write their names on their fists, their soft, dimpled baby-fatted fists. . . .

Lucie started to shake.

"Are you all right?" Erin said from far away, because Lucie was laughing-and weeping. Loud sobs rattled from her chest without hope of concealment.

"Yes," Lucie replied when she finally could. Snuffling hard, wiping stray tears away with the back of her hand, she struggled to speak in her normal voice. "I-I just had Lasik done and my eyes are s-so . . . so dry."

Erin whisked Ri out of Lucie's arms, ducked behind the counter, and started pulling tissues out of a box so fast she could have been a magician's assistant. If she didn't buy the Lasik excuse, she did not show it. "Here," she said, pressing them into Lucie's hand. "Take them."

Lucie blew her nose in a series of honks. "Thanks. I'm sorry."

"Don't be," Erin said, as though (a grown woman) sobbing in a high-end store for children was a quotidian occurrence. "It happens more often than you think." Maybe it did. She reached out to give Lucie a hug, which the latter folded into with an uncharacteristic lack of resistance. "And considering everything that's happened in the last two years-perfectly normal behavior."

Normal. What is normal these days? Lucie thought, as Erin rubbed her back and made shushing noises. She was thirty-seven, and she had no idea.


Chapter 2

Lucie wound her way toward her apartment in a daze, her haul from So Bébé in two cotton tote bags, spiced latte forgotten. She was mortified. What had prompted that meltdown? That was so unlike her. She was always in control, or appeared to be, anyway. Hey, she was RoboCop.

She stopped by the park to watch her favorite dance collective practice in the Bosque Fountain area of Battery Park. The instructor, Sangwany, always waved her over to join them, and she always declined. It was almost a tradition now. Lucie sat by the sidelines as the dancers spun and warped their bodies into shapes that were both familiar and not. Watching them always soothed her; today, it did nothing. She got up after a few minutes and headed home.

She made it back with thirteen minutes to spare before her Zoom call, one of only two on that Saturday. The client, CEO of a buzzy polymer company, was interested in optimizing their European structure's tax compliance in light of new legislation. Her firm had secured the client because Lucie had deep experience in international tax restructuring. It was all her. Repeating this fact to herself as she set up for the call, she tried to psych herself up. You're number one. You're number one. She even did a few jumping jacks to get energized. But they didn't help; she felt dull, uninspired. She pressed her knuckles into her temples and massaged them, wincing. At least the case was straightforward and the structure familiar, requiring little more than her face time for today's call. She could go on autopilot. Still, she was being paid a lot per hour to project a certain kind of impression. She pulled off the hoodie and put on a pearl-white Chloé ruffled silk shirt and a sharp blazer, and gathered her hair into a neat knot secured by a silver chopstick. A quick dab of tinted lip balm and some mascara, and she was ready.

Clearing her throat, she dialed in absently a couple of minutes before the call, trying to center herself. He was late, and despite her irritation, she schooled her features into a pleasant mask when he finally joined the call.

"Thomas. Perfect timing, as usual. How are you?"

"Brilliant, love, and you?" Thomas Katz, originally from Yorkshire, had invented a type of biodegradable plastic polymer and was now-like so many "tax optimizers"-a resident in the principality of Monaco.

"Tip-top," she said, smiling. Her teeth had just been whitened a week ago, her nails perfectly manicured. You wouldn't have guessed she was the crying kind.

She spoke with Thomas Katz for an hour and thirty-two minutes, though she would bill his company for the full two hours, since he had kept her waiting for twelve minutes. When she was done it was almost two; she was almost tempted to skip lunch but had another call-a much more complicated, triparty one-and needed the sustenance. She opened the fridge, grimacing at the contents or lack thereof. It was a tough decision between a giant tub of Greek yogurt (which had recently expired), a bag of browning apples, condiments, crisps, and something that could have been a burrito but smelled like fish. She threw the mutant burrito out, grabbed the bag of crisps and an apple, and began feeding herself mechanically, chewing while practicing her smile.

When her second call was done, she poured herself a large glass of wine, threw herself onto the couch, turned on the TV-a Friends marathon-and tried not think about how she had lost it in a baby store. It had to be an aberration. She was Lucie Yi. Rising star of her management consultancy firm. She had her health. She had friends, family, parents who raised her with all the privileges she needed to succeed. Lucie knew she had a life that most people coveted. Smooth as churned butter. Yet ten minutes into her third episode of Friends, she was crying over Phoebe's triplets (she'd always been partial to Phoebe, who was as antithetical to her as it was possible to be). She cried through three glasses of 2015 Châteauneuf-du-Pape, which, quite frankly, was a bad way to treat good wine.

It was eight o'clock at night in New York when she called Weina Ling and Sushila ("Suzie") Mahmood, her best friends since university and primary school, respectively, for their biweekly intercontinental catch-up, a sacrosanct pillar of their friendship.

The Fab Trio, as the women called themselves, were formed, like many good things, under the full moon of a particularly louche freshers' party at their university in Manchester. One-pound shots were involved. Suzie had been abstaining on the grounds of her faith, though she never did need alcohol to have fun, whereas Lucie-who wasn't shy, just humming with self-consciousness-did. Suzie and Lucie, who had been sticking together by virtue of their long history, were drawn to Weina's very bad and very loud rendition of Alanis Morissette's "Ironic" in the middle of the dance floor, where she spun, grinning, before throwing up on Suzie's favorite burgundy Doc Martens. Weina had, it would later turn out, had a few sips of cider. A friendship soon formed, albeit only after Weina offered Suzie triple what the Doc Martens had cost. She had not, to date, paid Suzie.

"Nice to see you," Suzie shouted, on-the-dot punctual. Lucie winced and drew back from the laptop. "Oh, sorry. I've had a couple of these." She held up a takeaway coffee cup with a scowl. "This place calls its lattes 'handcrafted' lattes. Er, as opposed to what?"

"There are vending machine lattes," Lucie said reasonably.

"Yes, but I was at a café. Of course the coffees are handcrafted!" Suzie sneered. It was Suzie's new crusade: anti-hipster language-ism. "Why stick the superfluous adjective in front of everything? If I see one more sign that says 'handcrafted,' I tell you . . ." She made a stabbing movement. "Honestly!" Having ranted, she settled down and drank her seven-dollar latte in quiet contentment.

Lucie had to laugh. "Thanks, I needed that. Lemme guess, office again?"

"Where else?" Suzie said. Suzie was a shipbroker-she called it "the wheeling and dealing of ship stuff"-and a partner at her firm. It was Sunday morning in Singapore, and she was wearing a white T-shirt, barefaced, skin shining, her thick wavy hair scraped back into a messy bun, making her look much younger than thirty-eight. "Isn't it ten past nine? Is Weina actually on the call?" Weina was muted, and her camera feed was off. "Honestly, if I can make it on time, she should make it on time, too. It doesn't matter that she has four kids; it's about respecting-"

"I'm here," Weina said in a whisper. Her camera turned on to show a dark room with the blackout blinds drawn, whereupon a hazy grey image—her face—floated into view, jolting the others. "Sorry, I just had to put Aster down, and do it in a way that doesn't set off Annabel and Aaron, you understand."

"Of course, sayang, you take all the time you need," said the hypocrite.

"So how are you guys?" Weina whispered. Even in the dark, you could see that her eyes were ringed with circles. One eye was puffed shut. Bucking the trend in many affluent Singaporean households, Weina was handling the triplets on her own without help, while her husband, Simon Hahn, made money in dark, dexterous ways (officially, he ran a cryptocurrency exchange). Arwin, their eldest at 5, lived in a parallel universe filled with full-day kindergarten and extra-curriculum classes.

"I brokered an extremely important deal on Friday," Suzie said, beaming. "It's going to be in all the papers next week, so you'll see all the details. I'm celebrating by taking my parents out to that new Michelin-starred Peranakan place Beelan's Kitchen tonight."

"Congrats, love," Weina said, sounding envious. Weina used to be an investment banker until she stopped working after Arwin came along; now she discussed her friends' work with the intensity of a pining ex.

"What about you, Weina?"

"Well, since the triplets are going through colic, which is where they scream and scream and scream for no reason for hours, and I want to scream and run away but I can't because I love them SO MUCH—" Weina was no longer whispering.

"Colic! Loud! Sleep!" Suzie whispered urgently, at which Weina got a hold of herself and mouthed, thank you.
We hope you are enjoying the book so far. To continue reading...
Lucie Yi Is Not A Romantic
Lauren Ho
Copyright © 2022 All Rights Reserved