Book info
Sample
Audiobook
Media
Author updates
Synopsis
'Gothic, claustrophobic, and wonderfully dark'
GUARDIAN on Sam Hurcom's Thomas Bexley novels...

The next stifling, atmospheric gothic crime novel following one of the world's first forensic photographers - for fans of The Woman in Black, The Silent Companions and Little Strangers.

* * * * * * * *

1905. A year after 'the affair' in Dinas Powys, Thomas Bexley has become a drunkard and recluse, haunted by terrible visions of the dead. But when news of a spate of extraordinary kidnappings reaches him, Thomas is shocked to learn that his dear friend and former mentor, Professor Elijah Hawthorn, is the lead suspect.

Discovering a plea for help from Hawthorn claiming to have unearthed a gruesome conspiracy at the heart of the Metropolitan Police, Thomas embarks on a journey to prove Hawthorn's innocence.

But wherever Thomas goes, he is followed by the dead, and as the mystery of Hawthorn's disappearance deepens, so too does Thomas's apparent insanity...

How can Thomas be certain of the truth when he can't trust anybody around him, not even himself...?

* * * * * * * *

Praise for Sam Hurcom:

'An intriguing debut' THE TIMES

'A promising debut - gothic, claustrophobic and wonderfully dark' GUARDIAN

'A sparkling debut from a name to watch...You might as well be in another world. This is top notch historical crime fiction, with a dash of the supernatural. A gorgeous book and a riveting tale' David Young
Release date: November 26, 2020
Publisher: Orion Publishing Group
Print pages: 384
* BingeBooks earns revenue from qualifying purchases as an Amazon Associate as well as from other retail partners.
Listen to a sample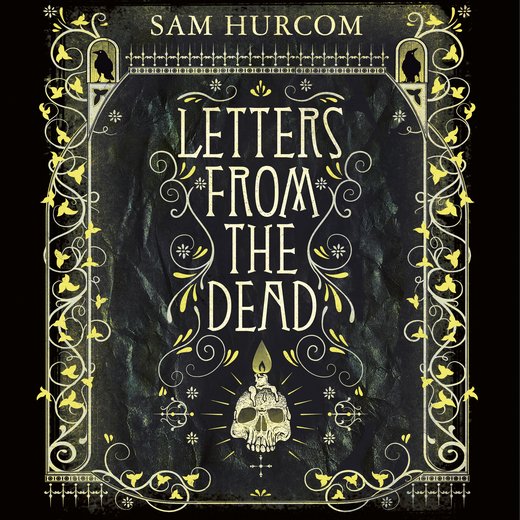 12:38:48
347.36 MB
9781409189947
April 15, 2021
Hachette UK
Letters from the Dead
Sam Hurcom
A Note to Reader

July 19th, 1914

A veil of darkness spreads. I fear its ever-growing reach. For months I have been troubled by a sense of foreboding, greater than any mere anxieties of the superstitious kind. What lingers at the forefront of my thoughts is a swirling, vulgar cloud of ideas that disturb my every waking hour. Horrors on a grand scale, where scenes born of hell and its inferno play out, with bloodied men trudging through pestilent fields, fighting in derelict streets. The world of the near future burns, and to what end I cannot say or begin to understand. Death is coming, on a scale as never before seen.

This growing distress spurred me to write of my time in a small Welsh village; it is now what compels me back to the page.

Many still think 'The Wraith of London' lives. For much of the year nineteen hundred and five, the capital was paralysed in fear, locked in the grip of an unknown foe who seemingly killed without prejudice, taking men and women of every class and creed in the dead of night. There are those who believed then (and still do to this day), that the Wraith was not truly human, rather a phantom of sorts, an ungodly being with the power to move through walls unhindered, to pass through doors locked thrice. Holders of such beliefs congregated at the scenes of the Wraith's crimes, hoping to glimpse this devilish being for themselves. They were lambasted for such actions, moved along by officers of the Metropolitan Constabulary, harangued and heckled in the streets by many who mocked them for their foolishness.

'They are mad,' rang out the raucous fury of the bystanders. 'Surely those people are mad!'

Surely.

My account of that year of dread is written in the following pages; the truth of the Wraith is a story deeply intertwined with my own.

Most of nineteen hundred and five is but a blur to me, a haze of dreary consciousness, where I drank away days, and hid from the world, fearful I may somehow infect it.

Seeing the ghosts of murder victims – first in photographs and then the everyday world – knowing such phantoms move about us, having the evidence to hand, does strange, unhealthy things to the mind. And where there was one there came many; in that year alone so many of the dead came to me in my fragile state.

Nevertheless, I shall write this account as best I can. Let me assure those of you who fear the Wraith still lives that the demise of such a wretch was witnessed by my own eyes. Yet, take little comfort from that knowledge, for the miserable villain still moves about this world, though you, and almost all others, will fail to notice.

The clock has struck eleven. As with many nights previous, the Wraith has stepped through the door of my chamber and stands beside me as I write.

On occasion we have spoken, though nothing of any worth is said.

Madness.

Surely madness.

A Suspect

September 4th, 1905

There was no ashtray. They never gave ashtrays to suspects.

I pulled out a cigarette and struck a match, flicked it to the corner of the room. Was I a suspect in some way? Was I guilty of some crime?

My nerves were rattled but I couldn't show it. I had to maintain my composure, had to fight the urge to snatch the hip flask from inside my coat pocket and down the contents in one quick swig.

His eyes – his contemptible eyes – watched me from the corner of the room. Ice-blue and vivid, their unflinching gaze worsened my discomfort, made me fidget. How they made me fidget; the damned twitching, tapping, scratching of petty thieves and killers alike, the type of fidgeting I had seen over so many years, the fidgeting of men forced to wait in interrogation rooms for hours on end, with no bloody ashtrays or explanations to speak of.

They suspected me of something, and I had no idea what. That, in truth, was what made me nervous, for so much of the past year was unclear even to me.

As the minutes dragged by, my mind wandered to dark places, memories I longed to forget, nightmares unleashed from blackest nights whence surely they should be banished, were they not so devastatingly real. I tried to push such thoughts aside, though the more I struggled the more I was overwhelmed. My heart fluttered; my pulse quickened …

The tip of the cigarette burnt the skin of my fingers and I stubbed it out on the table, irate.

'Are you going to tell me what this is all about, Jack, or shall I book myself in with the desk sergeant downstairs?'

Detective Inspector Jack Lavernock said nothing. He folded his arms and looked down his slender nose at me. We'd worked together for years and in many ways, he was the closest thing I had to a friend, though it didn't feel like it in that moment.

I grunted, lit another cigarette and took a deep drag. I rubbed at my dry eyes. I'd been asleep when Lavernock had come knocking at my door and had struggled to rouse myself despite it being late morning. I needed a drink, was growing desperate for even a small sip from my hip flask.

Ten minutes later, the urge had only intensified.

'You woke me up, made me dress, marched me down to the Yard and even now won't have the decency to tell me what it's all about.' I growled suddenly, looking from Jack to the closed door of the interrogation room. 'Did the superintendent put you up to this? Wants to know what the hell I've been doing all this time; wants me working a case I imagine?'

Jack clenched his jaw as though he were trying to refrain from speaking.

'I told him I was on a leave of absence,' I continued quickly. 'An indefinite leave of absence, and he has no right dragging me into something, regardless of the circumstances.'

Jack finally spoke, with something of a sigh. 'You sleep in till midday often, Tommy?'

Tommy. He'd called me that since the day we'd met, and I hated it now as much I did then.

'It's my life,' I snarled. 'I'll do what I damn please.'

'We've been coming around, knocking on your door the last few days.' His North London accent was thick, unashamed. 'You been sleeping in every day, or just ignoring us?'

I stood to leave.

'I wouldn't try it.'

'Am I under arrest?' I snapped.

'No—'

'Then unless you have something to tell me, I'll be on my way. You have no right, Jack, none whatsoever, to bring me here, and ask me about my business, without telling me what it's all in aid of.'

'Sit down, Tommy. There are important people who want to speak with you.'

'I'm sure,' I huffed. 'Tell the superintendent if he wants to talk, he can do me the courtesy of coming in pers—'

The door swung open; Assistant Commissioner, Peter Critcher, stepped in, followed by the Commissioner of the Metropolitan Police, Robert Henley, and the Superintendent of the CID, Daniel Blair. The men gathered around the table quietly, barely even glancing at me.

I was stunned. I'd never met the commissioner in person, had only spoken briefly with the assistant commissioner when he was chief constable of the CID. The full severity of the situation hit me like a bullet, be it a case I needed to work or some suspicion hanging over my head. Without a word I sat back down, meek and nervous once more.

Henley pulled up the chair opposite me, his chin raised slightly, as though the stiff white collars he wore were holding his head in a fixed position. His thick moustache was perfectly combed; not a strand of slicked grey hair out of place. He sat rigid, his forearms lent against the table, fingers interlocked.

Critcher sat at the head of the table, though his presence was somewhat less imposing. He fiddled with a small pocket watch before pulling a pipe from his long black jacket and lighting it carefully. His features were kinder than Henley's, his eyes softer around the edges. But I had every respect for the man, a great admiration for him in fact. He'd joined the CID in eighteen eighty-nine; had investigated the Whitechapel murders; had his theory on the Ripper. There was something of a mythos around him, rumours that he knew the Ripper by name, even held information on the villain. He and Henley were investigators, real police, through and through.

Blair, a dour-faced man with ruddy cheeks, stood just behind Henley. He leant down, dropping papers from a stack he carried under his arm, and asked if they should get started. A moment later the door opened once more and a figure I didn't recognise entered the small room with no word of greeting or apology. He was at least six foot five and built like a Grecian statue. His face was severe, his jaw thick and chiselled. He was completely bald, though wore a thin moustache speckled with grey hair. His ruby scalp shone dully in the yellow light cast in the room. His brown three-piece suit was smart if poorly fit; his black boots unblemished by any dirt. He too carried paperwork, which he slapped on the desk, before sitting down on my left.

Henley cleared his throat as my hands tremored in my lap.

'Nothing said here leaves this room, Bexley. None of it.' His words were rough as bark, his voice low and quiet. 'You know most of the men here?'

I nodded in silence.

'I believe Superintendent Blair is your direct superior?'

I nodded again. 'Yes, sir. Due to the nature of my role, I work outside the conventional hierarchy. My rank of special investigator was given to me by the superintendent's predecessor, Elliot Johnston, who I reported to directly until his retirement.'

'Your rank,' Henley muttered dismissively. 'You never trained as an officer, don't even meet the basic requirements.'

'There are plenty of men an inch or two taller than me who couldn't determine the hind end of a mule from its head, let alone enact a decent police enquiry, sir.'

Jack smirked in the corner of the room. Blair's neck and cheeks turned crimson.

Henley smiled thinly. 'I suppose that's true.' He raised a hand to Blair and took the stack of papers from him. 'I've known about you since, well, before I even took this post, Bexley. Your work speaks for itself. Until last year you were a welcome talking point in police circles, and the general public. It seems things have changed quite dramatically since then.'

Last year, the year nineteen hundred and four, the year I had gone to that contemptible village in Wales. The year my life had changed irrevocably, the year I had first lain eyes on a ghost. I began to panic; sweat clung to the base of my neck and shoulders. Moving with no thought, I put another cigarette to my lips (whilst I had smoked for much of my adult life, the habit had greatly increased in the past six months – now I was rarely without one alight) and tried to find a match. As I rummaged through my deep pockets, I heard a snap and Critcher held a light out across the table for me. I thanked him quietly before turning back to Henley.

'I'd greatly appreciate, sir, knowing what this is all about.'

He nodded slowly.

'We've asked you here today, Bexley, to gather some information pertinent to an ongoing enquiry – our top enquiry. I must stress that you are not being formally charged with anything – we merely wish to ask you some questions.'

His words and flat, unwavering tone, were little comfort to me. This felt nothing short of an inquisition.

'I'm sure you're aware,' Henley continued, 'of the recent spate of kidnappings that have been perpetrated across the city by an unknown criminal known colloquially as the Wraith of London?'

I frowned, looked from Henley to Critcher and then to the man sitting on my left. I was completely baffled.

'The … the what?'

Henley glanced at Critcher from the corner of his eye. 'You haven't been reading the papers lately.' He opened a thin dossier and slid a stack of tattered newspaper clippings towards me. I glanced over the pages; they reported a string of kidnappings, seemingly random, involving men and women from all corners of the capital. North and south of the river, the wealthy West End and the slums of the East. Specific details of the victims were sparse and even less was known of the perpetrator. It seemed the Daily Mail had provided the rather distasteful nickname.

I skimmed each clipping, growing ever more confused with every byline and front-page spread I looked at. 'How … how have I not known about this?'

'You tell us,' Henley replied. 'We have on our hands what many fear is the most dangerous criminal in all the country, an individual who strikes such fear, many think he is the phantom of the Ripper, able to walk through walls and locked doors. Everyone is talking about it, staying late in public houses for fear of going home, sleeping as little as they can, afraid they may never wake. Eleven known kidnappings so far, and we believe every victim to date is dead, though we can't find any of the bodies.'

'Our investigations have been ongoing for months,' Critcher muttered. 'Every paper has been running stories every day, trying to learn more about the victims, making wild accusations about the guilty party.'

Henley leant forwards, his eyes narrowing.

'You must surely be the only man in London who doesn't know about it. You've certainly buried your head deep in the sand since taking up your leave of absence.' He picked out a letter from his stack of papers, glanced at it briefly. 'Your overdue need for recuperation was requested December of last year, some nine months ago. Not read any papers in that time?'

I stammered and mumbled, struggling to find words. What was I to say of the endless days shut away, hiding from the world? How could I possibly explain the countless hours I'd spent holding the barrel of a gun to my head, willing myself to pull the trigger?

Henley was unflinching.

'We can return to that. There's a more pressing matter we must address, and our time today is limited. I need to ask you a simple question, Bexley, one which is nevertheless of the utmost importance and one that requires a straight and honest answer.'

He met my gaze, and the blood stopped pumping through my veins. This was it: the moment I was to be found out, the moment the world would learn the truth, and surely come to think me mad.

Do you see the dead, Bexley? Do you see ghosts, as real as any man or woman you may pass in the street? Do they torment your every waking hour? Have you gone completely insane, Thomas?

Henley cleared his throat.

'When was the last time you spoke with Professor Elijah Hawthorn?'

My chest heaved. I looked from Henley, to Blair, to Lavernock, in total confusion. Everything was happening so fast – too fast. I needed a drink, a mere sip to calm my nerve.

'Elijah? Elijah Hawthorn?'

Henley nodded.

'Y-years,' I said quite truthfully. 'Yes, surely, it's been years. We were close once – very close indeed when we worked together in the Forensic Crime Directorate. But when that all ended, when the Directorate was disbanded, we … had a disagreement – he took things badly, thought I'd wronged him. I thought it well known around the Yard; we haven't spoken since then …'

I looked down at the newspaper clippings, plucked one from the table absently.

'Why are you telling me about this, these kidnappings, this Wraith, and then asking about Elijah Hawthorn?'

Even as the words left my mouth, my heart sank with such remorse and regret that I could hold back the urge no longer and took the hip flask from my pocket.

'He's dead, isn't he?' I muttered, struggling with the flask's small silver cap. 'He's one of the victims?'

Henley remained silent.

'Well? You must surely think something of that nature. There's nothing in these reports to say otherwise; you've dragged me here today, want to know when last I spoke to him.' I was rambling without any real thought.

Henley still said nothing. I looked from one man to the next, their blank expressions filling me with dread.

'You think I had something to do with this? You think I've done something to Hawthorn?'

Critcher began to speak but I cut him off, dropping the hip flask to the table with a clatter.

'What reason would I have to kill the man – you think I had some part in all these kidnappings as well?'

Henley raised a hand and hushed me, though it took me a moment to settle down. He tapped a finger on the table twice, thrice, as he mulled over his next words. He nodded, at last, before meeting my gaze once more.

'We don't think Elijah Hawthorn is a victim, Bexley. Far from it. We think he is the man carrying out these kidnappings. We think he is a killer.'

Questions from Superiors

September 4th, 1905

Grey-blue smoke swirled about my face. In the basement several floors below, where the Forensic Crime Directorate had been stationed and where I had worked for some seven years, smoking tobacco had been strictly prohibited.

I opened my flask, smelt the heady scent of cheap rum. Superintendent Blair began to protest but Henley waved a hand at him as I swallowed the contents in one long swig.

'For the purpose of clarity,' Henley said before I had finished, 'it would be best if you explained your relationship with Elijah Hawthorn for the record.'

I gasped, my throat searing. 'You must have evidence to suspect the man.'

Henley nodded. 'In good time. Tell us about your relationship first. I believe Hawthorn hired you to work for the Metropolitan Police owing to your training as a photographer.'

I rubbed my brow, composed myself as best I could.

'Professor Hawthorn hired me in the late autumn of eighteen ninety-one. He was forming a new department, the Forensic Crime Directorate, in the wake of the Whitechapel murders. As you rightly say, they needed a photographer. I was fully trained though had no knowledge or experience of forensic photography. Nevertheless, I was interested in the proposal and willing to learn.'

'And how did you meet?' Henley was leaning forwards once again, his fingers clasped tightly together.

'I was making a living, where I could. On occasion I would go to the docks, photograph the sailors when they came back from overseas, immigrants fortunate enough to have some money for a family portrait. In the summer I would often spend my days in Hyde Park, where the money was easier to come by. That's where I first met Hawthorn.'

Henley raised an eyebrow. 'By chance?'

'No. He'd been in touch with an old friend of my father's, a Herbert Timberwell, who worked in the trade. Hawthorn had been asking around for men who wouldn't be perturbed by photographing serious crime scenes; it seems this old friend sent him my way. At the time, Mr Timberwell was kindly letting me reside in the storeroom of his photographic boutique for a mere four shillings per week.' I smiled fondly. 'If not for his kindness, I'm not sure how I would have survived back then.'

Henley nodded. 'This Timberwell, is he still alive today?'

I shook my head with some shame. 'I don't know. His boutique was on Leman Street in the East End; I haven't kept up with him.'

'So, you met Hawthorn, and he offered you the role in his new Forensic Crime Directorate?'

I flicked the end of my cigarette. 'Not straight away. We spoke for several weeks before he explained his real purpose. By then I was in desperate need of work so leapt at the chance.'

The alcohol was quickly having an effect on me; I realised then I hadn't eaten properly in several days.

'I know for a fact that when you began in Hawthorn's Forensic Directorate, you were working closely with Detective Inspector Lavernock, amongst quite a few others. Your role to begin with was strictly photographing crime scenes?'

I nodded. 'Hawthorn wanted experts from outside the force to take on specialist roles. His grand vision was to understand the deviant criminal, learn why the most perverse crimes are committed. He believed the role of policing wasn't simply to maintain order but stop crimes from happening entirely. I always thought the notion was somewhat absurd; there will always be crime and those who wish to commit it. Nevertheless, I admired his conviction.'

Henley continued. 'And as I understand it, you began taking on a greater investigative role some two and a half years later, in the spring of eighteen ninety-four? The documents we have on file suggest Hawthorn wanted you to work as an inspector.'

The unmoving eyes of those watching was becoming insufferable.

'Yes, yes he did. We were a close group in the Directorate, and all worked together well. I'm sure Ja— DI Lavernock would agree. We took on only a select number of serious cases and everyone offered their own views and opinions as the enquiries unfolded. You learnt quickly, working in such proximity to police constables, doctors, ballistics experts and the like. I demonstrated an ability to piece together evidence, formulate my own theories; Hawthorn saw some promise in me and often looked for my opinion.'

'He made two formal requests to the then commissioner to have you join the force and fast-tracked to the rank of inspector. Both requests were denied outright as you did not meet the basic requirements of a constable. That must have been frustrating for you.'

I shrugged. 'Men need to earn their rank; I'd never worked a beat, never worn the uniform, dealt with drunkards in the night or chased down a thief. What right had I to wear the rank of inspector, when men struggle for years to do so?'

'This is true,' Henley said. 'But if the commissioner had bent the rules, let you be a constable, you could have worked your way up.'

'Maybe.' We were opening old wounds that had long since healed. 'It makes no difference when one considers my current role.'

'Indeed. Hawthorn was persistent. He persuaded the commissioner to let you investigate informally, under close supervision. Though you didn't carry the title of "special investigator" back then.'

My head was feeling light, my vision beginning to blur. I rubbed at my eyes, trying to think straight. 'My remit was widened, and I began heading up investigations under Hawthorn's direct supervision.' I slurred the last few words, though Henley didn't seem to notice. 'Now please, sir. What evidence could you possibly have to suspect him of murder?'

Henley hesitated, before gesturing to Critcher. He began talking quickly.

'If you're not aware of the Wraith kidnappings, you likely have no knowledge of the Farrow murders and the convictions of the Stratton brothers?'

I shook my head.

'The Stratton brothers were convicted of murder when they robbed an oil and colour shop in Deptford. They beat the owners to death and all we had to identify them was one fingerprint on a cash box.' He raised a bony finger to emphasise the point. 'One.'

'A few short years ago, those men would likely have walked free,' Henley said coolly. 'Had it not been for the diligence of officers understanding the latest in investigative forensics, they would never have hung from the gallows. That's thanks in great part to Hawthorn's Directorate; the work pioneered there is now standard investigative practice. The fingerprint bureau holds over eighty thousand men and women's prints on file, and such records are growing every day.'

He pulled a small photograph from one of the files before him and slid it across the table to me. It took a moment to interpret; the image depicted the bottom of an ornate vase. A dirty mark was clear on a smooth area of cream porcelain. The mark was a dark thumbprint, no doubt made in blood.

'That evidence was collected from the house of James Mortimer, aged sixty-eight.' Henley said. 'He's the eleventh known victim we are connecting to the recent spate of kidnappings and presumed murders. That print was taken from his home just under two weeks ago; it's the first solid piece of evidence we've had.'

'Mortimer lived in Marylebone,' Critcher continued. 'Since the Farrow murders, it's standard practice to compare a print of this kind to all those on file, including those of our own officers, to rule out any human error.'

'Hawthorn's prints were on file from his days in the Forensic Crime Directorate.' Henley slid another piece of paper across the table to me, a fingerprint record with both the left- and right-hand digits documented in black ink. 'When we compared his prints to the thumbmark on that vase it was a clear match – even with blood smearing, you can no doubt see the clear distinction of the concentric whorl.'

I could. I was dumbfounded, aghast. 'What – what could possibly be his motive?'

Henley didn't answer. 'This is the first piece of solid evidence in the eleven kidnappings that links us to a suspect. Had it not been for a strange marking left at the scene of each crime, we'd have had nothing to connect any of them.'

He reached across the table with a report marked 'Confidential'. A symbol was drawn in the middle of the page – a symbol I'd never seen before.

'Do you recognise that?'

'No.'

I studied the image carefully. It appeared to be a rudimentary arrow, drawn diagonally across the page, with the arrowhead facing downwards. Seemingly random curves and lines spun and interwove around the arrow itself, with a wide V drawn beneath it.

'We've had academics study this symbol, though in itself it is not identifiable. Their working theory is that it is a possible derivative of alchemy symbols, denoting purification of some kind. We've therefore concluded that it is a reference to the occult, a means of adorning the homes of those taken, of honouring them.' Henley glanced at Critcher, who nodded solemnly.

'It's been found scratched somewhere in the domiciles of every victim,' Critcher explained. 'Door frames, mantels, headboards. It's the only thing that connects each crime. There are no shared relationships between the victims that we know of, no family connections, no geographical significance to the scene of each kidnapping. Nothing – the rich, the poor, everyone and anyone seems to be a target. That symbol was the only lead for months. We've done our utmost to keep it out of the press. The last thing we need is for someone devious enough to muddy the waters by copying that mark and trying to connect their own misdeeds to this case.'

'Then this thumbprint appears,' Henley sighed. 'A single error on the part of the guilty man. At least the first real error we can positively attribute to him.'

I asked what Henley meant.

'On the thirteenth of August, some nine days prior to the kidnapping of James Mortimer and the discovery of this print, we received a report of a break-in south of the river. A man named Daniel Pinkney claimed he discovered a lone individual, dressed in black with his face concealed. He managed to scare the perpetrator out of his home but lost sight of him in the streets. It may simply have been a burglary.'

'But you suspect otherwise?' I said.

Henley nodded. 'A failed kidnap attempt most likely. This thumbprint appeared at the very next crime scene. It suggests our man is getting weary, lazy even.'

'Making mistakes,' Critcher cut in. 'Mistakes are good for us. Every criminal starts making them eventually.'

'It's fair to presume the individual in question has a broad knowledge of forensics, or at least police practice. Enough to ensure he left no trace of himself that we could uncover for the first ten kidnappings.' Henley paused. 'But the assistant commissioner is right; every criminal eventually makes mistakes. We've had some other partial sightings that are still being chased up, but with this thumbmark, and his expertise in the field, Hawthorn's our top suspect.'

The hulk of a man beside me spoke for the first time. He was loud, and Irish. He made no effort to subdue his words.

'Are you sure Hawthorn hasn't contacted you recently?'

I turned to him, moving my chair away as I did.

'I'm sure he has no interest in ever speaking to me again.' I glanced to Critcher. 'Who is this?'

'Jeremy Flynn,' Critcher replied. 'He's assisting with enquiries.'

I went to take a drink, standing up in frustration when I recalled the flask was empty. 'This is absurd.' I paced a little, from my chair to the door, thoughts unhinged, wild. Henley didn't wait for me to settle.

'You say Hawthorn has no interest in speaking with you. Why?'

I rubbed my brow. 'The way it ended, how the Directorate was shut down. We all know the rumours and stories so what point is there getting into it?'

'Enlighten me of your opinion,' Henley said crisply.

I struggled to grasp the words.

'Hawthorn had friends in high places, we all knew that. He schooled with the Home Secretary and they were still close – it's how he convinced him to set up the Directorate in the first place.' I recalled anecdotes Hawthorn had told me of he and his dear friends' youthful conquests. I moved back to the chair and sat down.

'Despite changing politics, Hawthorn had influence inside the Home Office, and the commissioner, Christopher Bolton, didn't appreciate it. You can see for yourself from the requests Hawthorn made about my role, he could be arrogant and demanding. He had sway over the entire CID and was beginning to talk in ever more radical terms about criminal prosecutions. He didn't view the world in terms of good and evil but more in circumstance, in the physical and mental defections of the deviant and the cr
We hope you are enjoying the book so far. To continue reading...
Letters from the Dead
Sam Hurcom
Copyright © 2021 All Rights Reserved