Book info
Sample
Audiobook
Media
Author updates
Lists
Synopsis
Two sisters, a lifetime of secrets
Lilian and Rosie were once the closest of sisters, but the untimely death of their parents pulled them apart. Now, three years on, Rosie has reached out to her big sister, asking to meet. Driving on an icy road in the middle of a snowstorm, Rosie admits that she has something important to tell Lilian—a secret she describes as a matter of life and death. But before she has a chance to tell Lilian, a car careens into theirs, with devastating consequences.
Lilian survives unscathed, but Rosie is left with a traumatic brain injury, unable to communicate. Lilian is convinced that someone deliberately rammed Rosie's car. But why? As Lilian begins to explore her sister's past, she uncovers disturbing secrets that make her question if she ever really knew Rosie.
The closer Lilian comes to the truth, the more danger she and Rosie find themselves in. But Lilian is certain of one thing: she abandoned her little sister once before and will never do so again. Even if it means sacrificing everything.
Release date: September 13, 2022
Publisher: Blackstone Publishing
Print pages: 344
* BingeBooks earns revenue from qualifying purchases as an Amazon Associate as well as from other retail partners.
Listen to a sample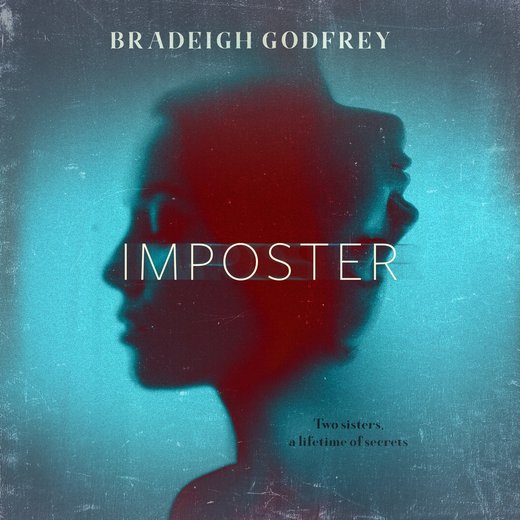 09:52:40
271.32 MB
9781665025782
September 13, 2022
Blackstone Audio
Imposter
Bradeigh Godfrey
CHAPTER
ONE
one month earlier
In her years as a pediatrician, Lilian Donaldson had held thousands of babies. She'd counted their tiny fingers and toes, examined their soft fontanelles and delicate skulls. She knew how to soothe them, how to swaddle a newborn, and how to make a six-month-old giggle. After four years of medical school, three years of pediatric residency, and eight years in her own busy practice, she should have been an expert.
And yet she still felt utterly incompetent when it came to her own baby.
Four-month-old Abigail lay on the blanket in the middle of her beautiful nursery, Lilian kneeling next to her. She rechecked Abigail's hips, grasping her baby's knees and pressing down, then out, the Barlow and Ortolani maneuvers she must have performed ten thousand times.
Was that a clunk? If Abigail's left hip was slipping out of her socket, it could signify congenital hip dysplasia and cause pain and dysfunction if untreated. And firstborn female babies were more likely to have hip dysplasia, a fact Lilian had often used to quiz her medical students.
Sighing, Lilian rocked back on her heels, gazing at her daughter. Abigail was beautiful, with apple-round cheeks, deep blue eyes rimmed with thick lashes, and a perfect rosebud mouth. If a baby like this had been brought into Lilian's office, she would have told the parents that their little one looked absolutely perfect.
But as Lilian studied her baby—her own, delicious baby—she couldn't shake a vague sense of unease. A whisper from the past, warning her to be on guard, to be watchful. Just because the baby looked fine didn't mean she was fine.
Abigail started fussing, finding her fist and pressing it into her mouth.
"Are you hungry again?" Lilian murmured, picking Abigail up and settling into the rocking chair. The silent house felt suffocating, like a plastic bag over her face, preventing her from taking a full breath.
Unfastening her nursing bra, Lilian glanced out the window through the partially open curtains. A few snowflakes drifted in the dusky sky, and Lilian shivered. The last thing she wanted to do on a night with negative thirty– degree windchill was head outside, but she had promised Caleb she would do this, after some discussion.
"I can't deal with my sister on top of everything else," she had told him, to which he gently suggested it might help—as if all of Lilian's issues would magically disappear if she just reconciled with her sister.
"You could use a night out," he'd said, to which she responded that she didn't need a night out, she needed a night in. She needed a night of uninterrupted sleep—impossible with a nursing baby—not an uncomfortable dinner with the sister she hadn't spoken to in two years.
"She's in a good place right now," he'd said next.
Lilian had told him that he couldn't possibly know that from a fifteen-minute conversation after a chance encounter at Starbucks.
"If you won't do it for her, do it for me," he'd said at last, and that's when Lilian had finally agreed. Because she owed him this.
In Lilian's arms, Abigail was doing the thing where she was hungry but refusing to nurse. The hungrier she got, the harder she cried, which made it even more impossible to latch. The baby's wails, her frustrated mouth and red little face, made Lilian's entire body stiffen with anxiety. If Abigail didn't nurse well, then she wouldn't sleep well. The whole schedule would be thrown off and she'd be even crankier the next morning.
Just as panic began rising inside Lilian's head—I can't do this anymore!—Abigail took a deep breath and latched. Then came the rhythmic tug and release on her breast, and Lilian exhaled.
Soon after, she heard the door from the garage open into the kitchen.
"I'm home!" Caleb called, his voice echoing from downstairs.
Thank God. She'd made it through another day alone. And though she wasn't looking forward to this evening, she knew Caleb was right: it would be good to get out of the house.
Caleb bounded up the stairs and burst into the nursery, still wearing his scrubs, his hospital badge swinging, his blond hair messy. Sometimes he looked more like a boy playing at being a surgeon than a thirty-nine-year-old associate professor of Orthopedic Surgery in one of the top hospitals in the country. Lilian smiled in spite of herself.
"Sorry I'm late!" he said. "Rob needed help with the grant he's submitting, Nina needed to talk about a patient. You know how it goes."
Lilian did know, though her life as a busy academic physician had taken on a hazy, dreamlike quality. Her maternity leave, which had already been extended an entire month, was set to end in two weeks. She grimaced. Returning to work meant facing the mess she'd left behind.
Abigail popped off Lilian's breast, turning her head to give her father a milky grin.
"There's my baby girl!" Caleb said, kneeling to place his hand on Abigail's head. "Did you hear your daddy's voice? I missed you all day, peanut."
"Go ahead and take her," Lilian said, rolling her tense shoulders. "I should change my clothes, anyway."
Caleb lifted Abigail onto his shoulder and patted her back in a practiced rhythm. He was an excellent dad, loving and gentle, and as involved as he could be, given his long hours at work. But watching them, Caleb cradling Abigail as he spoke in his sweet daddy voice, brought back that niggling sense of unease.
"I'm worried about her left hip," Lilian said. "Will you check it?"
Caleb glanced at her. "Didn't you just take her to see Asha? Did she notice anything?"
Dr. Asha Ramachandran was their pediatrician and Lilian's former residency classmate. Yes, Lilian had taken Abigail for her four-monthwellness check last week. And no, Asha had not noticed anything unusual. But had she checked closely enough? Really checked?
"Just try it for me," Lilian said. Maybe his orthopedic surgeon hands would pick up something Asha hadn't.
Caleb sent her a worried look but nodded. He laid their daughter down and took each of her squishy little knees in his big palms. Pressing downward at the hips, his forehead furrowed in concentration as he listened and palpated.
"Seems fine," he said.
Exasperated, Lilian got out of the rocking chair. She put her hands over his and guided him through the maneuver again. "Don't you feel that little click on the left? Just . . . there?"
"No, I don't." He sounded completely sure, but something still whispered at the back of her mind.
"But—"
"Lily," he said slowly. "What's going on?"
Lilian stiffened. Of all people, Caleb should understand why she would be worried about missing a diagnosis, about ignoring signs of something potentially devastating. He should understand why she couldn't trust herself.
But he didn't have to live with her mistake. Not the way she did. Lilian kept the memory tight against her chest like armor, feeling the weight, the girth, those sharp edges each time she took a breath. It kept her honest. It kept her on her toes.
"I'm not being paranoid, if that's what you mean," she said in a tight voice. "I know I'm just a lowly pediatrician, but please don't patronizeme."
The worry on his face blossomed into hurt. "If you're worried, let's get an X-ray. Then we'll know for sure."
"And expose her to unnecessary radiation?" Lilian imagined the invisible rays penetrating Abigail's tiny body, snipping and splicing her DNA, making changes that, decades later, could cause cancer. Not likely with one X-ray, but why take the risk? "I'll keep monitoring it."
Caleb picked Abigail up again, kissing each of her cheeks. "We are going to have the best time tonight, aren't we, Abby girl? Mommy's going out with Aunt Rosie, and we'll watch the game together."
Aunt Rosie. A confusing title, given that Rosie had never even met Abigail. But it vibrated deep in Lilian's chest—a longing she hadn't realized existed.
"There's a bottle of breast milk in the fridge," Lilian said. "I don't think I'll be gone that long, though."
"Take as long as you need," Caleb said, glancing over at her. His smile couldn't hide the concern in his eyes. "I'm proud of you for doing this. I know Rosie doesn't deserve it—"
"It's fine." Lilian didn't want to rehash what had happened between her and her sister. She had agreed to one dinner with Rosie. That was it. It didn't mean they would become close again, but Lilian wanted, at the very least, to know that her baby sister was all right. That was her job, as the older sister. Her parents' words drifted through her mind: Take care of Rosie, Lilian. Make sure she doesn't get hurt. You're responsible for her, do you understand?
A flash of color outside distracted her, and Lilian turned toward the window. A canary yellow Volkswagen Beetle had pulled into their driveway.
"I can't believe she still has that car," Caleb said.
"She's always loved it," Lilian said as memories flooded her mind. The morning of Rosie's sixteenth birthday. Lilian, a fourth-year med student, had come home for the weekend. Their mom made Rosie's favorite breakfast, Belgian waffles with Nutella and sliced strawberries. The three of them had been sitting at the scuffed kitchen table when a series of honks from the drive sent them scurrying to the front door. And there it was: the vintage yellow Bug Rosie had been talking about for months, their dad standing next to it with the biggest smile on his face, holding up the keys.
"Why don't you take the Land Rover?" Caleb said. "It's icy tonight."
"It'll be fine."
It seemed incredible that Rosie had managed to keep her car when she'd thrown away almost everything else related to their childhood, including Lilian, and at a time when Lilian had needed her sister the most. The old Bug their dad had salvaged and rebuilt couldn't be worth much—but if Rosie had cared enough to keep it all these years, maybe she hadn't lost sight of what really mattered: family. Imperfect, but still worth preserving.
For the first time since Rosie's phone call two weeks ago, Lilian felt a modicum of hope. They could never regain what they had lost, but maybe tonight could be a new beginning. Lilian hadn't been blameless in everything that had happened, either.
Yes, maybe Caleb was right: if Lilian fixed things with her sister, she might begin to heal in other ways, too. She could get back to her regular life, to a version of herself that she recognized.
"Have a nice time with your sister," Caleb said, leaning in to kiss Lilian's cheek. "Be safe."
CHAPTER
TWO
Rosie had made reservations at a restaurant in Greektown, which Lilian thought was too far to drive on such an icy night. But Rosie had insisted. The restaurant was a spot they used to frequent as a family, for celebrating birthdays, graduations, and anniversaries. At nine and a half years old, Lilian had sat on the cracked faux-leather seat of the corner booth, sipping her Sprite as her big, burly dad squeezed her mom's delicate hand and made the announcement that would change the course of Lilian's life. She wondered, now, if her parents had been scared; they were already struggling to make ends meet. They must have known that adding another child would strain an already-tenuous marriage. But all she remembered from that night were the smiles on her parents' faces and the excitement bubbling in her stomach. I'm going to be a big sister.
As Rosie drove through Lilian's neighborhood, she chattered in a high-pitched, nervous voice. "So fancy here in Wilmette! Can you imagine what Dad would think? Seeing that one of his daughters ended up as a north-sider? He would've died of shock."
And just like that, the glowing memory of her parents' smiles on that long-ago night was replaced by the image of her parents in their matching caskets, their graying skin, and waxy lips. Lilian flinched; Rosie flushed and went quiet. As they drove in silence, Lilian kept sneaking glances at her sister, catching shadowy glimpses when they passed a streetlight. The last time she'd seen her sister, two years ago, Rosie had been so thin she looked skeletal, her hair short and greasy, her movements twitchy. Lilian had wondered if she was on something.
Now she looked fresh-faced and glowing in her red pea coat and mustard yellow scarf. A younger version of Lilian: long, strawberry blonde hair, wide-set green eyes. Had they looked so much alike, growing up? With their age difference, it hadn't been as apparent. Now, looking at Rosie was like looking in a mirror with a ten-year time delay.
"Abigail sure is adorable," Rosie said, breaking the silence.
"Thanks," Lilian said.
She had briefly introduced Rosie to her daughter but hadn't let Rosie hold her, citing risk of infection in the winter months. Caleb had given Lilian a raised-eyebrow, worried-husband look, but hadn't said anything.
Rosie shifted the car into a higher gear and the vehicle shook. Lilian involuntarily reached for the door handle. Snow had started to fall in earnest, streaking across the windshield. Traffic slowed to a crawl, and Rosie sighed as she downshifted. Lilian shivered; the Beetle's tiny heater barely kept up with the freezing temperatures.
"Caleb looked good," Rosie said, glancing over. "How's he doing?"
"Really great."
"Still busy with work?"
"Yep." Lilian braced herself for the question she knew would comenext.
"And how's work for you?"
Lilian hesitated, considering her answer. "I've been on maternity leave since Abigail was born."
"For four months?" Rosie said, her lips parting in surprise. "Luckyyou."
"I wanted to soak up every moment with her," Lilian said, which was only partially true. But she wasn't ready to discuss the real reason for her extended leave with Rosie; even thinking about it was painful.
Earlier today, she'd broken one of her cardinal rules and checked an online review site, where patients could anonymously review physicians. Three new reviews had been posted—all negative. One in particular had blindsided Lilian.
This is the doctor who missed someone's cancer diagnosis so you can bet I am not going back there again.
A swift pang of guilt brought the memories back to the surface. A tiny, black-haired girl with a raspy cough, a desperate mother, an angry father. My daughter is dying because of this piece-of-shit doctor.
Lilian blinked away a sudden rush of tears and tried to squelch the memory. "How are you?" she said, changing the subject. "You look great."
"Things are good." Rosie flashed a quick smile as she accelerated, the car shuddering again. "I love my job—it's seriously my dream, Lil. The agency is amazing. Everyone's at the top of their game. I'm learning so much."
"That sounds like a great fit for you," Lilian said, recalling what Rosie had told her about her position as a graphic designer for some big-name ad agency downtown. "You've always been creative."
And Lilian had encouraged that creativity, hoping that if she kept Rosie occupied with painting and sketching and crafts, her little sister would stay oblivious to the tension in their home, the constant worry about money, the arguments between their parents. Creativity, she'd told herself, was a sign of a happy kid. A sign that Lilian, even as a teenager, was taking good care of her sister.
"I'm seeing someone new, too," Rosie said, her eyes fixed forward as she navigated the snow-covered road. "Actually . . . I moved in with him recently."
Lilian's response popped out before she could stop herself: "That seems fast."
"We've been together nine months. Since April."
Lilian nodded, keeping her expression carefully blank. Rosie didn't have the best track record when it came to relationships. "Tell me abouthim."
Rosie smiled, a flash of sunshine in the darkened car. "He's great. Smart and funny and kind. His name's Daniel. Daniel Connors. He's a professor at the University of Chicago. Actually, he's on sabbatical this year writing up his research. He's amazing."
Lilian's protective big-sister senses were tingling. Rosie always seemed to fall for significantly older men; in college she'd had a tumultuous affair with one of her professors. Yes, she was twenty-eight now, but it still made Lilian uneasy. "A professor, huh?" she said.
Rosie shot her a glance, eyes narrowed. "Don't make that face."
"I'm not making a face," Lilian said, but she smoothed her features into a neutral expression anyway.
"Yes, you are, you're making that disapproving face you always make—anyway, it's not like I'm his student."
"I'm just concerned, that's all," Lilian said. Never mind the professor thing, this Daniel Connors could be in his forties or even fifties. God, she hoped he wasn't in his sixties.
"Well, don't be. He's not that much older than me—stop being weird about it." Rosie's lips tightened. "Besides, I've been doing fine without you, Lilian. I don't need you to mother me."
Don't you? Lilian wanted to ask. That had always been the tension between them, growing up: Lilian had practically raised her little sister, for the first twelve years of Rosie's life until Lilian finally moved away for med school. And even then, Rosie had called her every day for months, begging her to come back home. She'd call Lilian whenever anything went wrong, laying the problem at her feet, expecting her to step in and fix things. But when Lilian tried to give advice or help, Rosie would ignore it and do whatever she'd wanted to do in the first place.
Lilian took a deep breath. It had taken less than an hour for them to slip right back into their old roles, like dollhouse figurines. Big sister, little sister. She wondered if they could ever just be sisters. Or even friends.
"Girls, knock it off," Lilian said in a deep voice, mimicking words their dad must have said hundreds of times during their growing-upyears. She glanced over and saw Rosie grinning fondly.
" 'You sound like two cats scratching at each other in the back alley,' " Rosie said in a singsong voice, mimicking their mom. Her smile faded, and Lilian caught a glimmer of tears in her eyes. "I miss them so much."
"Yeah," Lilian said quietly, wishing she could say, I've missed you, too.
They lapsed back into silence, listening to the hum of the engine, watching the windshield wipers clear away the snow. What do you say to a sister you don't know anymore? You hurt me. I need you. I'm scared.
Later, Lilian promised herself. A conversation would be a good start. Apologies—on both sides—would be even better.
"Want to see a picture of Daniel?" Rosie asked. With one hand on the steering wheel, she dug in her pocket—almost drifting into the other lane, which made Lilian gasp—then handed her phone to Lilian. Lilian caught a brief glimpse on the screen of Rosie and a man with dark hair.
"Shit!" Rosie said, slamming on the brakes. Lilian lurched forward, the seatbelt tensing across her shoulder. The phone clattered to the floor as the Beetle swerved, losing traction. Lilian's right foot jammed down, searching for a nonexistent brake pedal.
An instant later, Rosie righted the car. The brake lights of the car ahead drifted forward until they were almost invisible in the thick falling snow.
Lilian let out a shaky breath. "Maybe we should find somewhere closer to eat," she said, her heart still pounding. "We don't need to go all the way to Greektown."
"No, I've been craving saganaki," Rosie said. "Besides, this conversation is too important to have in a car." Her mouth tightened. Something dark flitted across her expression. "It's a matter of life and death,sis."
Goosebumps lifted on Lilian's skin at her sister's tone—grim and almost menacing—but a spark of irritation followed. Life and death? She tried not to roll her eyes. Rosie had a habit of hyperbolizing for dramatic effect, but this wasn't funny.
Before she could speak, Rosie coughed out an awkward laugh. "God, your face! Quit freaking out," she said, patting Lilian's thigh in a gesture that felt mildly condescending. "I'll explain everything at the restaurant. Look—traffic's letting up."
The cars around them increased speed, everyone accelerating in a collective need to reach their destinations despite the ice and snow. They were Chicagoans; they scoffed at southern cities that shut down for a skiff of white on the roads. Of course, most of them weren't in a vehicle with well over two hundred thousand miles and no antilock brakes.
Lilian twisted her gloved hands in her lap; they felt empty without her baby, and her chest fluttered with worry. Caleb had once propped Abigail up on the sofa when watching football, and Lilian had a sudden image of her daughter, facedown, struggling for air. She sent him a quick text: How's it going?
Less than a minute later, a selfie of him holding Abigail arrived, her fat little cheek smooshed against his shoulder. We're good, Mommy! Have fun!
Lilian exhaled.
"Everything okay?" Rosie asked.
"Yep," Lilian said. They were really moving now, passing the lights of the city on their right, the vague blackness of the lake to the left. Perhaps too quickly. She glanced over at the speedometer. Sixty-five miles per hour. "I think you can slow down, Rosie."
"I'm okay." Rosie tightened her hands on the wheel, then glanced behind her, to her left.
"But it's icy tonight. We don't need to rush."
Rosie glanced behind her again, and Lilian thought she caught a flash of panic on her sister's face. Rosie moved into the right lane, then looked over her left shoulder a third time. Nervous, Lilian twisted to see what Rosie was looking at, but she saw nothing but other cars, zipping down the road with them.
Then she caught a glimpse of the driver behind them in the left lane: a man, his face shadowed. An uneasy feeling spread in her stomach.
"Can we slow down?" Lilian said. "You're driving too fast."
Rosie smiled, but it didn't hide the fear in her eyes. "Relax, sis, I'm just trying to get us to dinner."
She glanced over her left shoulder one more time, and her smile faded into pure terror.
"Rosalie Jane," Lilian said, worry sharpening her voice. "What in God's name is—"
A jolt.
Everything happened at once: metal crunching, tires screeching, the world spinning. Lilian's seatbelt strained against her shoulder as her head snapped forward, ...
We hope you are enjoying the book so far. To continue reading...
Imposter
Bradeigh Godfrey
Copyright © 2022 All Rights Reserved