I Need a Bad Boy in My Life
Book info
Sample
Audiobook
Media
Author updates
Lists
Synopsis
Keyon has been through more than enough drama in her young life. She tries to
put as much distance between her and the past in Louisiana, taking the
opportunity to move to Memphis with her longtime boyfriend, Casimere.
Adjusting to their new home, Keyon thinks she's finally getting the life that she
deserves. But is she? Has she truly left behind all the things that caused her pain?
Casimere has finally broken out, but it might not last long. Promising to leave his
past behind, he soon finds out that old habits are hard to break. What he doesn't
know is that his well-buried secret is about to reveal itself in a shocking manner.
Keyon and Casimere must both come to terms with the consequences of his
actions. Will she forgive him, or will this be the final straw? Follow Keyon and
Casimere on this bumpy ride and find out what it's really like with a bad boy in
your life.
Release date: November 29, 2022
Publisher: Urban Books
Print pages: 288
* BingeBooks earns revenue from qualifying purchases as an Amazon Associate as well as from other retail partners.
Listen to a sample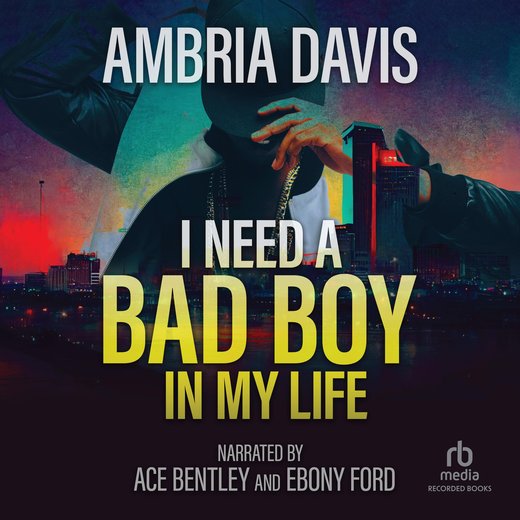 09:33:55
262.73 MB
November 29, 2022
Recorded Books
2022
I Need a Bad Boy in My Life
Ambria Davis
"Please, don't do this to me," I heard Joey cry out in pain.

"Nigga, fuck you. I told you to leave my girl alone, but ya didn't. You just had to test me. Now I'm going to show yo' bitch ass how I get down," young Cash screamed back at him.

"Oh, my God, Cash, what is you doing? I told you that I was going to handle it," I said, walking into the room.

"Fuck that shit. That nigga played one too many games, and now he's got to pay," Cash said as he continued beating him.

"Cash, don't do this. I don't need you going to jail over this bullshit. Let the law handle him," I begged as my hands clutched my growing belly. I understood why he was doing what he was doing, but I still didn't want him to do it.

"Ma, I'm sorry, but this is something that I have to do," he replied.

I stood back as I watched him do what he did. He was doing this for me, but I didn't need him to, and I didn't want him to. I wanted him to handle things the legal way, but sometimes the law wasn't on your side. In this case, I knew for sure that the law wasn't going to be on our side.

As I stood there watching him take matters into his own hands, something came to me. I didn't know what it was, but I felt that since this had something to do with me, I might as well help him. Walking over to the wooden table that sat in the basement of the abandoned house, I grabbed the gun on it.

"Move, Cash," I hollered from behind him. He looked at me standing there with the gun in my hand before he did what I asked him to do. I walked over to Joey and pumped three hot slugs into his chest. His eyes widened as he looked at me with sadness written all over his face. I stood there watching as his body began to shake. Then his eyes began rolling into the back of his head. I didn't show one sign of regret. If I did, Cash would've known that something was up. Instead, I stood there looking as tough as nails even though I was dying on the inside. When I saw the enormous amount of blood coming from his body, I knew that his time was almost up. That meant that our secret was going to die with him.

"Give me the gun, ma," Cash said, walking over to me. He took the gun from my grasp before kissing my forehead. He then grabbed my hand, leading me to the exit. "Come on, let's get out of here."

I awoke from my dream in a cold sweat. Even though I didn't get to see the end of my dream, I already knew what would happen. I hadn't dreamed about Joey in years. I thought that I had left that part of my life in Louisiana when I left there and moved here, but somehow, this shit was still haunting me.

"Lord, not now," I said to myself. I clicked on the light in the bedroom to find that Cash was nowhere in sight. If this nigga ain't home, I'm going to fuck his ass up, I thought as I threw the cover back and got out of bed. It was almost five o'clock in the morning, and I had to be to work at six. I hoped his ass was here, because I needed him to get Moni, and he knew that I couldn't be late. Since I had to get up anyway, I decided to get ready for work. Shit, I already knew I wasn't going to be going back to bed.

Grabbing my robe from the chair that sat in the corner of my room, I headed downstairs. Before I actually went downstairs, I peeped in to check on a sleeping Emoni. I noticed that she had kicked the cover off her, so I went to fix it. I stood there staring at her for a minute. I thanked God every night for blessing me with her. She, among other things, was the reason why I had changed and become the woman I was today. Only the Lord knows how fucked up my life was as a teenager. I was a troubled child. It took almost going to the chair and being raped by my man's best friend for me to slow down, and I was happy that I did.

"I love you, little lady," I said softly to her as if she could hear me. I placed a kiss on her forehead before I left the room. I made sure not to slam the door, because if I did and she woke up, it would be hard for me to go to work. I was happy that today was Friday and I was off for the weekend, because I desperately needed to spend some time with my chuchi.

I'd made my way down the hall and was about to walk down the stairs when I began to hear a female shouting. I thought I was tripping or that maybe I had left the television on in the living room. However, when I made it to the living room, I saw that the television was off. I knew for sure that the one in the bedroom wasn't on. So, where is all this noise coming from? No sooner had I asked myself that than I walked over to the door and found the answer.

"Cash, don't fucking play with me. I don't care who's asleep!" I heard her say. I took a good look at her before realizing that I'd seen her somewhere before.

"Look, Brandy, I'm not about to play all these games with you. So get the fuck from in front of my house before you wake my girl up!" he said, pushing her toward her car.

Once I heard her name, I realized that I did know her. Well, I really didn't know her. I only saw her a few times. She stayed in the projects out in Shelby County. I'd always see her when Tay and I went to visit our new friend Dominique.

"Yo' girl? Yo' girl, huh?" she asked, scooting up to him. "Was you thinking about that bitch when you was laid up in my bed two days ago for two days straight?"

"Honestly? Yeah, I was," he replied.

"Nigga, fuck you. You ain't nothing but a low-down mutt. I wished like hell that I never met yo' dog ass!" she screamed.

By then, I had heard enough. I opened the door to see her punching on him. I quietly shut the door behind me and began walking over to them. They were so busy scuffling that they hadn't noticed me standing there.

"I don't know how many times I've told you about controlling your hoes. It wasn't bad enough I had to fight hoes in the streets and they're calling my phone and keying my fucking car. Now I gotta deal with this bullshit here. Really, Cash? Really?" I asked, shocking the hell out of both of them. They stopped fighting to look at me. "Fuck, man. You stay cheating on me. The least you could do is get a bitch who looks better than me!"

"Keys, baby, I can explain," he said, walking over to me.

"First of all, don't come near me," I said, throwing my hands up to stop him. "I done tolerated just about everything from you, but for you to let one of your hoes come in front of the house where my child and I lay our heads is where I draw the final line. I can't keep doing this with you. Bad thing is, out of all the bitches you fuck me over with, none of them hoes look good. They don't have nothing, and they ain't nothing, and yet you cheating on me with bitches like that. Them hoes be looking like they belong in the gutta. Fucking gutta rats are what they are, and here yo' dumb ass steady fucking with them. Fuck me if I think being with you is a downfall, but I've been through nothing but rough times since we've been fucking around, and I'm through with this shit. I now realize that nothing good will come out of me fucking with you."

"First of all, ho, who are you calling a bitch?" his ho had the nerve to ask.

"I'm talking to your no-class-having ass. You know, y'all bitches really do kill me. It's bad enough that y'all muthafuckas be cheating with the next bitch's man, but then y'all hoes be wanting to cause scenes and shit, like creeping with the next bitch's man is what's up!" I said, walking closer to her ass. Cash walked between us, but he made sure not to touch me. I rolled my eyes at his bitch ass before I spoke over his shoulder to his ho. "Ain't nothing cute or good about sleeping around with the next bitch's man. Sad thing is, I'm black and you black. Bitch, respect me or something. You shouldn't have come in front of my house."

"Bitch, you can save that speech, because just like him, I don't give a fuck. I don't know you. Therefore, I have no loyalty to you. Yo' nigga didn't care, because if he did, he wouldn't have fucked with me in the first place. That's who you should be giving a speech to, not me," she replied.

I clapped my hands to applaud her no-class-having ass. That was probably the only sense she knew how to make, and even though I hated to admit it, her ass was right.

"Yeah, you're right, and I know you don't know, because if ya did, you wouldn't have fucked with my nigga. Now while you fucking that nigga, I hope you made him strap up, because he's around here burning bitches. Ain't nobody safe out here," I said before I shook my head at both of them and headed inside. She was right. She didn't know me, nor did she have any loyalty to me. It was Cash, and since he was fucking her and all the rest of them bitches, obviously he didn't care about my ass either.

Once I made it inside, I went upstairs to take a shower. I had to work, and since Cash always did some shit like that, I wasn't about to let it spoil my day. I was already used to the shit. I just hoped that he didn't expect me to stay with his ass after all this shit. Really, the nigga was real sad for that shit. People always said never to shit where ya stay, and that was exactly what he was doing.

Fuck his ass though, I thought as I went to turn the shower on. I waited until the water was warm enough before I stripped out of my clothes and got in. Knowing that I didn't have enough time on my hands, I went right to work, grabbing the washcloth and Dove soap. I lathered the cloth up before I washed every inch of my body. When I had gotten everything, I rinsed off and repeated the process. I was about to turn the water off and get out when I felt Cash get in. I tried to bypass him, but he stopped me.

"Move, Cash," I said to him, but he ignored me. He began sucking on my neck. That nigga wasn't slick. He knew how to get me in the mood even when I was mad. Spreading my legs with his, he grabbed my arms and went down below. Good boy, I thought the minute his tongue connected with my pussy lips. He dove in hungrily, eating my pussy and licking as if it were his last meal. Even though the water was still on, I could hear the smacking sounds he made as he lapped up my juices. The nigga was trying to make up desperately.

I couldn't lie. That nigga was trying to suck my soul through my pussy. I clawed at the shower walls as he devoured my pussy from the back. My head started spinning when he began nibbling gently on my pearl tongue. Cash had never eaten my pussy like this before, and it was beginning to scare me.

"Ohhhh, fuuuuuuuck," I yelled, arching my back more so that he could get everything. Moving along, he used his tongue to part my lips before he began tongue fucking me, nearly driving me insane. I began moving my hips in a circular motion, riding the shit out of his face.

"Ummm," he moaned. I had to humble myself, because if I didn't, I was going to bust early, and I didn't want that to happen.

Raising my right leg, I placed it on the wall as I brought both my hands down and touched the floor. I didn't care that my hair was getting wet. Right now, Cash's tongue was working miracles. My pussy was so wet that when I opened my eyes I spotted my juices running down the side of his mouth. Again, I began rotating my hips as I felt my nut building. Before long, I busted all in his mouth, and just like the dog he was, he made sure to get every drop. I moved to get up when he plunged his nine-inch tool deep inside of me, making me gasp.

"Shit!" I yelled, as he began giving me slow, deep thrusts. I bit down on my lip hard as my pussy cried out for more. She received all nine inches of daddy's dick. "Oh, Goooood, fuck me please," I said as I started winding my hips on his dick. Round and around my hips moved as I felt my nut building up.

"Fuck me!" I begged him, and that he did. He grabbed ahold of my hips and began fucking me as if I had owed him something and never paid him. Not wanting to be outdone, I began throwing that ass back in a circle. I wanted to fuck him instead of him fucking me. The faster he pumped, the harder I thrust. I was trying my hardest to leave that nigga wishing that he never fucked me over. "I'm cumming!"

"Me too," he said, pushing his dick so deep that I could've sworn I felt it in my stomach. A few seconds later, we were cumming together. I stood there bent over, trying to catch my breath. I almost fell over trying to stand up. It was a good thing that Cash was there to catch me, or else I would've been tasting that floor.

"I love you, ma," he said, trying to kiss me, but I moved my head out of the way. Those words weren't going to get me this time. Cash didn't know love. I didn't think he ever did. As I looked into his eyes, I couldn't help but imagine him and Brandy together. I wanted to ask him what it was about other females he found appealing that he didn't find in me, but I didn't. I kept my mouth closed. I wasn't ready to ask a question I didn't want to hear the answer to.

Coming back to my senses, I realized that I was going to be late if I spent any more time playing with his ass. Even though I barely had any energy, I grabbed the wash towel, grabbed my Summer's Eve body wash, and cleaned my body. Grabbing a douche from the counter, I douched before I passed the soapy cloth on my body again. I was pissed that my hair had gotten soaking wet, but I'd have to think about that later. Turning the water off, I grabbed the towel that was hanging on the shower door and got out. Grabbing my things, I headed into the bedroom. No sooner did I make it in there than Cash came in, following me. I knew his ass hadn't taken a shower that fast because I hadn't heard him cut the water on.

"Keyon, let me talk to you for a minute?" he asked.

I looked at him before I walked around him and headed into the clothes closet. I grabbed my scrubs and went back into the bedroom, and he was standing there in the same spot. Again I walked around him to the bed, where I laid my clothes out and started getting dressed.

"Come on, ma! Are you really going to do this?"

"Look, Cash, I'm not in the mood for your bullshit. I have to go to work. Ain't nothing you can say to me that can fix any of this. Just because I let you give me some dick doesn't mean that changed anything. I caught you red-handed this time. So don't try to lie your way out of it," I said as I began putting on my bra and panties. I grabbed the lotion off the dresser and began to put it on my body. I was ass backward right now. I tried hard to show Cash that he and his bitch hadn't affected me, but they did. "Just know that when I get off work today, I'll be packing my and my daughter's things and we're moving. I don't have time to deal with this shit anymore."

"Ma, chill. You don't have to leave," he said, grabbing my arm.

"Really? What do you take me for? Who do you take me for? You really think I'm going to continue to allow you to disrespect me like this?" I asked in a rage. "I'm not a stupid bitch. Cash, I only put up with your shit because of everything that we've been through and the love that I have for you. Make no mistake though. I'm far from being a dumb bitch."

"Ma, I didn't say you were a dumb bitch, and why did you let me fuck if you knew you were going to leave?" he asked, trying to explain himself.

"You didn't have to say those exact words. You said it when you said I didn't have to leave you after all the things you put me through, and I only let you fuck because I needed a nut," I told him as I began putting on my clothes for work. I was tired of Cash and his shit. I knew life wasn't supposed to always be peaches and cream, but damn, it was as if I barely got any good times. I was always in the storm and rain. I didn't see an inch of sunshine.

"Keyon, look—" he began, but I really didn't want to hear anything he had to say.

"I'm through being your doormat that you think you can just walk all over whenever you feel like it. I'm a human being. I have feelings, feelings that you don't consider. So since you're always saying fuck me, it's time for me to say fuck you." With that being said, I took one last look at him before I grabbed my bag and headed to work. I wasn't even in the mood to eat breakfast. My appetite was completely gone.

Before I left the house, I went back into Emoni's room. I never left in the morning without kissing my daughter and telling her that I loved her, even if she was asleep. It was something I did on a regular, and just because I was mad with Cash didn't mean that I wasn't going to do it. After doing that, I left the room and headed downstairs. I immediately rolled my eyes at the sight of Cash standing by the front door.

"What?" I asked with an attitude. "What do you want, Casimere?"

"Ma, just talk to me."

"Look, I don't have time to do this shit right now," I said, trying to move past him, but he jumped in my way. "Get the fuck out of my way, Cash!"

"Okay, you got that," he said before he moved out of my way. On my way out the door, I made sure that I bumped his shoulder. I damn near broke my collarbone, but I didn't care. He was lucky that I wasn't a big bitch, or else we would've been up in this house rolling.

A man only does what you allow him to do, a little voice in the back of my head said. I knew what that voice was saying was true. I needed to grow a backbone when it came to Cash and put my foot down. Soon, I thought as I hopped in the car and headed to work.

Once I made it to work, I was not in the best mood at all. Normally I'd be all jolly and happy to be at work, but Cash had completely ruined my morning for me. The only thing that kept me good was the sight of my patient, Mrs. Earline Davis. She was one of the few people who kept me sane. This old lady was really like a grandmother to me. She knew when I was in a bad mood. She also knew the right words to say to get me out of my funk. That was why I looked forward to seeing her every day I came to work.

"Hey, mama," I said, greeting her with a smile. I walked over to her, placed a kiss on her cheek, and sat down in a chair beside the bed.

"Good morning, my baby," she replied. "How are you?"

"I'm good," I lied. She was already old and sick. I didn't want her to worry about my problems and what I was going through. All she needed to worry about was getting healthy so that she could get out of here.

"Child, you know me better than that. Tell me what's going on," she said, motioning for me to raise her bed. I did as she asked me to and then sat on the bed next to her. I began telling her all about Cash and me. I told her everything. I started with the day I met him and went up until this morning. I made sure that I didn't leave out anything. I wanted her to hear everything that I'd been going through so that she could give me her take on things. When I was done, I just sat there in the bed looking at her, waiting for her to tell me whatever it was she had to tell me.

"Chile," she said before she became completely silent. Her eyes traveled from me to the window, then back at me. I was somewhat scared to hear what she had to say with the way she was stalling. "I'm going to tell you a thing or two, and I want you to hear me. Okay?" she said, grabbing my hand. I nodded my head, then placed my clipboard down on the bed and scooted a bit closer to her. I knew that whatever she was about to tell me was something wise and that for sure I needed to hear this.

For about an hour, she sat there telling me all about her and her late husband, John. She didn't hold anything back either. She told me about the many things they'd been through and how they had overcome them. She said that if a man and woman really loved each other, they were going to find a way to work out whatever problems they had. She said to never give up on the person you loved, because living miserably with someone else was not a good feeling.

I was somewhat confused, because she heard everything that Cash and I had been through, and yet she was basically telling me to fight for him. She must have noticed the look on my face. She made me face her, looked deep into my eyes, and said, "Oh, but make no mistake, Keyon. I didn't say that you had to be dumb in love. If you are the only one trying to protect what you and this young man have, and he's not trying to put in any effort, then the best thing you can do for yourself is leave him. No woman should ever be unhappy and in love by herself."

"I love you," I said sincerely. This woman was like the grandmother I never had. I really hoped and prayed that the good Lord would heal her and keep her on this earth a little while longer.

"And I love you, dear," she replied. I placed a kiss on her cheek before I grabbed my clipboard and told her that I would see her later. The wisdom she'd just spoken to me had my ears ringing. I knew what I had to do.

For the rest of the morning, I thought about everything that she had told me. I wanted to live my life. Hell, I needed to live my life for Emoni and me and no one else. I just didn't know how to. I'd been wrapped up in Cash for ten long years. He was all I knew.

It wasn't until I was on my lunch break that I finally decided to live my life to please me and me only. I took the rest of the day off, and I decided to treat myself. I went shopping for the perfect outfit first. I then went to get my nails and toes done. When I was done, I went to the beauty shop and got my hair slayed by one of Tennessee's best stylists. While I was at the shop, I called Tay to let her know of my plans. She agreed, and just like that, my day was about to get started, or should I say my night. We were about to go club hopping, and I was in dire need of a few drinks. I just hoped that my day wouldn't be as eventful as it was this morning.

Later That Night

I really thought my night was going to be great, but just like the rest of my life, Cash had to come and ruin it. I sat in the back of the VIP section of Club Rae's, nursing a drink as I watched the people around me. I was chilling as the DJ spun Boosie's "No Juice" throughout the club speakers. Any other time, I'd be rapping along with the lyrics, seeing as he was my favorite rapper and this happened to be my favorite song, but that night I wasn't. I really wasn't in the mood to do anything but chill and sip some much-needed drinks. I really thought that going out was going to cheer me up, but I was still in a sour-ass mood about the shit with Cash. To make matters worse, he had the nerve to be all up in some bitch's face as if I weren't anywhere around. This was the first time that Cash had ever disrespected me in my face, and I was heated. I had a mind to go over there, snatch him, and fuck the both of them up, but I wasn't even about to let this nigga see me sweat. Besides, I wasn't one to make a scene, especially not behind a nigga. I wasn't the type of bitch to run behind one nigga knowing there was a whole sea of niggas out there and I probably had access to a bunch of them. Cash had me fucked up if he thought I was the type of bitch to run behind him, because I wasn't. I may have been stupid a time or two and took him back after he mistreated me, and I may have fought a few of his hoes, but chasing him wasn't anywhere in my blood. I'd leave that to his other females to do.

Oh, excuse me. I'm . . .
We hope you are enjoying the book so far. To continue reading...
I Need a Bad Boy in My Life
Ambria Davis
Copyright © 2023 All Rights Reserved