Book info
Sample
Audiobook
Media
Author updates
Lists
Synopsis
NOW A NO.1 NEW YORK TIMES BESTSELLER
Michael Mann, Oscar-nominated filmmaker and writer-director of Heat and Miami Vice, teams up with Meg Gardiner to deliver Mann's first crime novel, an explosive return to the world and characters of his classic film Heat – an all-new story that illuminates what happened before and after the film.
'Michael Mann's HEAT is one of my all-time favourite movies. HEAT 2 is now one of my favourite suspense novels' JAMES PATTERSON
Described by Michael Mann as both a prequel and sequel to the renowned, critically acclaimed film of the same name, HEAT 2 covers the formative years of homicide detective Vincent Hanna (Oscar winner Al Pacino) and elite criminals Neil McCauley (Oscar winner Robert De Niro), Chris Shiherlis (Val Kilmer), and Nate (Oscar winner Jon Voight), and features the same extraordinary ambition, scope, rich characterizations, and attention to detail as the epic film.
This new story leads up to the events of the film and then moves beyond it, featuring new characters on both sides of the law, new high-line heists, and breathtakingly cinematic action sequences. Ranging from the streets of L.A. to the inner sancta of rival Taiwanese crime syndicates in Paraguay to a massive drug cartel money-laundering operation just over the border in Mexico, HEAT 2 illuminates the dangerous workings of international crime organizations and the agents who pursue them as it provides a full-blooded portrait of the men and women who inhabit both worlds.
Operatic in scope, HEAT 2 is engrossing, moving, and tragic – a masterpiece of crime fiction from one of the most innovative and influential filmmakers in American cinema.
PRAISE FOR HEAT 2:
'A brilliant and riveting novel with rich and real characters and powerhouse storytelling…'
Don Winslow
'An exciting, emotionally rich thriller, with just as much style and panache as Michael Mann's original classic heist movie'
Adrian McKinty, #1 International bestselling author
'Easily one of the finest novels of the year!'
Steve Cavanagh, #1 International bestselling author
'This audacious, powerhouse of a novel brings to the page everything the classic crime film HEAT brought to the screen'
Eric Rickstad, New York Times bestselling author
Release date: August 9, 2022
Publisher: HarperCollins
Print pages: 400
* BingeBooks earns revenue from qualifying purchases as an Amazon Associate as well as from other retail partners.
Listen to a sample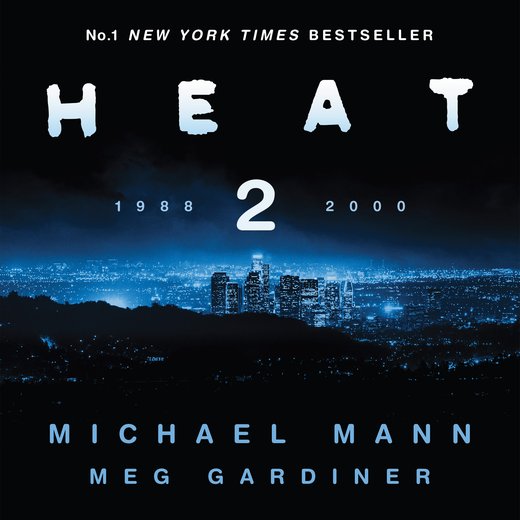 18:38:20
511.97 MB
9780008222789
August 18, 2022
HarperCollins UK
Heat 2
Michael Mann
Night strobes between slats of blinds, intermittent pink and blue neon from the Korean corner mall outside. Headlights from turning cars cast shadows on the ceiling. Music pounds up through the floor from a music store below. It drums like a pulse through Chris Shiherlis's shoulder and neck.
Get up.
He can't get there.
Get the fuck up. Now.
Shiherlis opens his eyes.
He isn't dead. The dead don't throb from K-pop coming up through the floor. The dead don't bleed.
He isn't home. Home is a ranch house homogenized into the anonymity of the San Fernando Valley. This is a mattress on a frame in a corner. It isn't a jail cell. Upstairs apartment. Koreatown.
His eyes sink shut, riding the oxycodone tide once more. Then he crests awake.
How am I here?
K-pop washes like staccato gunfire. A memory, the swinging weight of the duffel of money slung across his back on its strap. Breedan hit, dead meat at the wheel. Ambushed. More LAPD incoming. Cops. Superior firepower, used to overwhelming civilians. Civilians?Overwhelm this, motherfucker! Black-and-white sheet metal turning into sieves, the sound drives your pulse into your head, exploding out the top of your skull.
Music thuds, bright and foreign. Use it.
"Focus, eyes," he mutters.
Shadows and pink light from the street stripe the grimy walls. Bed, cheap sheets, him in his boxers. His clothes folded on a plastic lawn chair. A darkened TV on a card table. Old cigarette butts stubbed out on a chipped saucer; beer cans crushed in a wastebasket. Voices outside.
The wound track screams. Bone fragments didn't lacerate his subclavian artery. If they did, he'd be dead.
Chris kicks for the surface.
Get the fuck up!
He tries to roll over and sit up. He's slammed back by his shoulder and neck muscles screaming.
How'd he get here? Horns honked at him, startling him out of his stupor at a red light turned green. He remembers slow-driving across lanes northbound over the dark Sepulveda Pass back to Nate's in Encino after he left Venice. He didn't trust himself on the 405.
Venice. Her hand glided through the air in a blackjack dealer gesture. Drawing cards is over. She'd called and left word. Nate argued; he left anyway, drove to Venice. He'd winched himself out of the car, spotted her waiting on the balcony.
Her eyes, a smile—inviting, like when they first met. Then the rising of that look, overtaking her, warning him.
The Koreatown door opens. Nate walks in.
He's tall in a two-button cream sports coat and bolo tie. Stringy blond hair greased back, '70s mustache drooping down his blotchy face. His eyes, quick and small, look Shiherlis up and down, quietly evaluating.
Time is it?
Nate closes the blinds. "What?"
How long I been here?
Words. He hears them in his head. They make sense. Are they coming out?
Nate leans over him. "Hold still."
He drags the lawn chair beside the bed, sits down, and cautiously peels back the medical tape on the gauze dressing that covers the gunshot wound.
The small 5.56 mm round at high velocity had punched into him like a Sidewinder missile, fulfilling its design: large cavitation through body mass, bone turned to shrapnel. Chris remembers being on his back on the asphalt in adrenalized clarity, askew side views of police cars they'd shot to pieces. Can't move. Neil hauled him up.
Nate pulls off the dressing. The sutures are black, the skin red and hot.
The overhead light silhouettes. Nate grunts, nods, and presses the tape back against Chris's skin. He leans on his elbows. He searches Chris's eyes.
"You here with me or in Disneyland?" His voice is low and hoarse.
Chris nods.
"Gotta get you outta here. Fast."
Nate moves shit. Merch. Him. Scores. Anything.
"Charlene," Chris rasps.
"You got a couple hours. Then that's it."
His son, his wife. Charlene isn't here . . .
"Neil?" Chris asks.
Nate's eyes go cold, expressionless. A controlled response from a veteran of bad outcomes.
"You stay here? You are dead meat," Nate says simply. "That's all you gotta think about."
"Neil . . ."
"Get your shit together. I'll be right back." Nate hesitates, shakes his head a millimeter, then heads for the door.
Chris sees him, striped pink and blue from the neon across the street. He tries to send his voice across the room to Nate before he goes, over the boom-box beat of K-pop up through the floor. Don't shake your head, man, and walk away.
The door shuts.
2
Vincent Hanna paces beside the plate glass, scanning the room. Surf outside beats a drumroll against the sand. The ocean is dark cobalt. The tops of low cumuli catch threaded gold, like braid on a dress uniform. Sunrise. Six a.m. The house is empty. Neil McCauley lived here. He is not coming back.
Hanna's here because he wants this place to tell him things. He wants McCauley to speak to him again. It hasn't been six hours since he fired the three rounds that took McCauley down. He took McCauley's hand through the paroxysms that carried him into death. They understood each other, as if they were the only two people on the planet. Alone, isolated within who they were, but only they knew how it all really works.
Tactile memory is still in his left palm.
He crosses Neil's living space, looking. The time he has left is evaporating. He wants something—info, data points. The hardwood floors produce only echoes as he crosses. The crash of breakers resounds off the windows. The glass railing on the balcony is stained with seagull shit.
McCauley didn't live here, in this white space. He slept here, ate here, drank the single malt from the one bottle on the counter. McCauley never inhabited the place.
It had been a way station.
No attachments. Walk away in thirty seconds flat from anything and anybody if you spot the heat around the corner. He'd told Hanna that.
So, who was that girl in the Camaro?
Outside, the rising sun opens the sky above the dark ocean. Hanna turns from the windows.
Everything's gone. McCauley's cut of an eight-figure bank score. Cerrito. Trejo. Breedan.
Except the last man, Chris Shiherlis. He is out there. Where?
Sergeant Jamal Drucker sweeps into the living room from the back of the house. He moves like a carbon blade, quiet, sharp, his brown face grave in the dim light. "Nothing back here, Vincent."
"Scraps? Specks? Scintillas?"
His thoughts stream into tangents . . . Someone from Michael Bosko's family will be at the morgue by now. This, he dreads. There or the funeral home. That indifferent look on Shiherlis's face as he fired. No hesitation. The three-round burst killing Bosko. Where's Shiherlis? Hanna's chances of closing in on him are running out in evenly metered units like a tachometer in reverse. With time's usual indifference, it's ripping away his possibilities.
Drucker looks tired, but his deep voice is channeled, focused. "Three identical white shirts in the closet. Books—Mechanical Metallurgy, Camus, Marcus Aurelius. Don't ask me why."
Why doesn't that surprise him? "No women's things? Lipstick, mascara, lingerie, Tampax, rubber gloves in pink or turquoise on the drainpipe under the sink? What's in the fridge? Yogurt? Raspberries? Frozen Twinkies? Something besides TV dinners?"
"One bottle of vodka."
But McCauley had a woman. She had a stricken look on her face beneath a tumble of brown hair, standing at the side of the Camaro. She's in the low-res hotel security footage, shoulders crumpling as McCauley turns away from her and runs, Hanna in pursuit. The tags on the Camaro didn't match. No question it was McCauley's ride. Who is she?
Hanna looks at Drucker. "She was taking off with him."
"Who?"
"The girl at the Camaro."
"Maybe she's gone."
"From her looks she's not a player. So where would she go without him? Maybe she knows who was laying on Neil's transpo. Whoever that is is who Shiherlis is using. He's not doing curbside check-in at LAX. Shiherlis no-showed because he clocked we were on Charlene. He knows Charlene's not goin' anywhere. That means he's on the run. Alone. Whoever set up McCauley's transpo is the guy he will go to."
He turns, scanning.
"Anything in this bullshit, sterile, white-with-seagull-shit-on-the-windows place tell us who the fuck that might be?"
He studies the living room, now lit blue in the growing dawn. His pulse feels heavy. He tries to soak up information. But this house holds nothing but reflections.
What can this tell me?
Nothing. Why am I still here?
He's trying to feel Neil's presence, standing where Neil stood, seeing what he saw. A certain melancholy holds him to the hardwood floor. A life gone, irreversible, a man he knew.
They knew how the other thought about personal things in that moment as they sat across from each other at Kate Mantilini . . . at the same time Hanna learned nothing he could put to logistical use about the man.
Drucker moves into the kitchen. Antiseptic, gleaming appliances. A spotless counter. A pen beside yesterday's LA Times. He unfolds the newspaper, to look for scribbled notes, phone numbers, names, initials, flight information. Beneath it is a glossy book.
"Vincent," Drucker says. "Stress Fractures in Titanium."
Hanna approaches.
Drucker hands him the book. "Great reading list . . . cold, clinical shit."
A price tag is stuck to the back. "Hennessey and Ingalls. You know this place?"
"Santa Monica, yeah. It's an art and architecture bookstore."
Hanna flips through the heavy stock pages. A receipt is stuck inside. "Bought the book last month. Paid cash."
The roll of the surf seeps through the windows. Hanna holds up the receipt. Drucker's already dialing.
"Haul the manager's ass in right now. Neil was in that store three weeks ago buying this. Who was with him? Who waited on him? Who cashed him out?"
Drucker heads out the door. Hanna stands there in front of the ocean.
The night before, airliners roared overhead. He felt Neil McCauley's rushing pulse in his left hand. Now Hanna hears only the surf. His right hand touches the glass.
Neil, maybe Chris, too, stood here, right here, like this. Where I am, looking through this glass. He tries to channel Neil's thinking. Alone in the vastness—except for this body, this organism . . . perceiving, until it isn't. That's what Neil would think . . .
Hanna held Neil's hand as paroxysms racked his body, shock from hemorrhagic arteries. If he had to, he'd do exactly the same again, and that changes nothing about this moment. Both are true.
He turns from the sea.
He raps his knuckles against the glass as he walks away. The sound drums in the twilight like a prayer wheel.
3
Nate leans against the hood of the pay phone, receiver to his ear, watching early-morning traffic, watching pedestrians. "Debe ir hoy. Absolutamente," he says in Angeleno white-boy Spanish.
Today, Shiherlis has to go. Waiting longer isn't an option.
He's outside a funky Koreatown drugstore holding a bulging plastic bag full of medical supplies, Gatorade, a disposable razor, and more.
"Half up front—la mitad antes. Mitad después. The rest when he gets there." He listens. He watches. People eye him as they pass on the sidewalk, a tall, busted-out rockabilly white guy with a bolo tie from the '50s.
"El carro—the car is at my place. In the garage. Blue Room. Yeah. Azul." He nods. "A qué hora?" He checks his watch. "He'll be ready."
He hangs up, checks the street, steps back so the cholo approaching from his left can't cross behind him. Prison habits from on the yard die hard. He zigzags across the street and slips through the narrow doorway up the stairs to the studio above the music store and dry cleaner, where he stashed Shiherlis.
Inside, Chris hears the footsteps. He sits up on the edge of the bed, woozy and light-headed.
He has to get up. The meat machine. That ain't me. I'm me, inside of it. Get up, body. Do it.
Nate enters. Chris pushes himself to rise.
Something torques within his gut, vagus nerve, nausea, the room spins.
Stand up, motherfucker!
Daylight is a sheet of heated steel outside the window. The oxy is ebbing. Pain is sharpening its teeth. He needs his clarity, even though that means the stabbing with every breath returns.
Nate drops a rustling plastic bag on the bed. "You leave today, brother. You gotta be able to move soon."
Chris is parched, headache throbbing. Dehydration and blood loss. He opens a twenty-eight-ounce bottle of Gatorade and drinks half of it. Nate dumps out packs of fresh gauze, antibiotic ointment, and a bottle of prescription pills.
"Broad-spectrum antibiotic. Don't be allergic." Nate gets a bottle of hydrogen peroxide and cotton balls. "Take your shirt off. I'm changing your dressing."
Chris pulls the shirt off and sits heavily on the edge of the bed. The sound of traffic outside and the light in the room seem to swell and fade, a pulsing, flickering sensation. Chris's tongue feels slow.
"Charlene," he says.
Nate pulls the rusting lawn chair beside the bed, sits, and strips the tape and old dressing from his shoulder. The air on Chris's skin feels weirdly alive. He leans forward.
"Charlene?"
"I heard you the first time."
"Gotta get to her . . ."
"Really . . . ? How'd you know where she was?"
"She called and told me."
Nate eyes him coldly. "What's that tell you?"
No answer.
"That's not happening. That cop you shot?" Nate says. "Dead. One of Vincent Hanna's team. Plus three others. Every eyeball in a uniform is looking for you."
Chris's voice strengthens. "I gotta get them out."
Nate straightens, stops patching the wound. "Then I am cutting loose of you right now, man. You try for that? The only 'out' you got is into a hole in the ground."
Chris lurches up. Great idea. Pain crashes through him like a gong.
Nate waits for him to calm down. "The only way for you to get them out is you get out first. Then set it up."
Chris breathes. "How'd they get to Charlene?"
"How do I know?" Nate gives him a flat look, shut up in his glare. "I warned Neil. He didn't listen. Now, you fucking listen to me when I talk to you!"
How? How did it go so wrong?
Chris's mind won't focus. All he sees is Charlene's blackjack dealer's wave.
Cops everywhere. She risked herself to send up a flare. How'd they find out where she holed up?
"What's with the shoulder?" Nate says.
"I'm gonna take up tennis." Chris crushes his teeth against the pain. Tries to think.
Then it lands, what he didn't want to know but knows.
Nate sees that. "That's right," he says.
Neil's gone. His crew is gone. And Charlene gave him up.
There's no way around it. Whose place was that in Venice? And the cops were waiting . . .
Even with Hanna and the Robbery-Homicide Division, they took down the score anyway. It was all good. Cool. Until it went wrong.
Did they bust her? Did she set him up but change her mind? His stomach abruptly cramps. He hunches.
"What happened?" he says, mostly to himself.
He's speaking more clearly now. Nate is deliberately ignoring him. Cleaning the stitches on his chest with the peroxide. Getting out a pair of medical scissors, cutting lengths of tape, and prepping the new dressing.
Nate doesn't react. "I don't know all of it."
Chris tries to slow his breathing. Nate applies antibiotic gel, places sterile gauze pads over the vet's handiwork, and tapes him up.
Chris doesn't want to look at Nate. Wants to punch him. Wants to kick a hole through the wall, right after he rips his own shoulder off.
"You ain't moving so fast, so you gotta start now. Somebody is comin' for you. Okay? You lag 'cause you got goofy ideas, they will split—and get paid anyway, so they don't give a shit. By and by, I'll try to set a call."
Nate turns. Chris clamps a hand on his arm. "What happened?"
That coldness in Nate's eyes. It's how he deals with loss.
"I warned him. He was clear. On his way to LAX he detoured to whack that fucking Waingro and walked himself into a trap. The cop, Hanna, shot him somewhere at the airport."
"Did he get Waingro?"
"He did."
4
Hennessey and Ingalls is empty. The manager's shaken. It's eight a.m., Wilshire, down from the Third Street Promenade, the area just waking up, the pedestrian walkway hosed down, shining. The store's pale hardwood floor and bookshelves gleam. The manager cues up surveillance video from the sales date. Hanna has McCauley's book and the sales receipt. The manager rolls through the footage, fast-forwarding. Hanna stands behind her, close, arms crossed, chewing gum, rocking side to side, eyes on the screen. She fumbles the switch. She's not used to dealing with police. Drucker paces behind him.
When the clock on the screen approaches the time stamp on the receipt, Hanna stills.
There's McCauley.
Gray suit, white shirt, Mr. Anonymous, moving with precision as he browses the engineering section and selects the book Hanna now holds in his hand. Self-contained, focused, alert. Neil flips pages back and forth. The camera angle shows electronic microphotography of various kinds of steel.
A woman passes along the aisle behind McCauley. She casts a glance at him and the book, slowing as she walks by. Neil doesn't give any attention to her.
"Stop," Hanna says. "Rewind."
The manager backs up the tape and replays it.
Hanna points at the screen. "Who's that?"
She frowns up at him. "That's Eady. She works here. Did."
"Where is she?"
"She quit two days ago."
Hanna feels electric. He says one word. "Bingo."
High cheekbones and wide eyes. Her waves of brown hair could have sprung from a pre-Raphaelite painting. Her stride is athletic, her clothing soft. Something about her manner reminds him of a doe approaching a busy road.
The woman standing beside the Camaro.
Drucker is getting Eady's full name, address, Social Security and driver's license numbers, thanking the manager on the move as he speed-dials RHD to pull her jacket while heading for the door. Hanna's already run outside.
5
The house is nestled on a hillside above Sunset Plaza, a tiny place with an enormous view across the sprawling grid of the basin. Blue skies, bright sun. The place has the clean lines of a blank canvas. A beat-to-shit Honda Civic is parked in the driveway. No other vehicles. Nothing moving on the street, all the shades down. Hanna leads three detectives and four uniformed cops up the drive. He and Drucker aim for the front door with two uniforms. Casals and the others slip around the back. Hanna's fingers tingle. Uncertainty fills him, possibility, urgency. He knocks on the door, but they stand to the sides, Hanna with his Combat Commander .45 and Drucker with a twelve-gauge.
No answer. He knocks again.
"Force it?" The uniform behind him holds a compact battering ram.
Then the lock turns and the door opens. In the shadowed entryway stands the woman Hanna ran past outside the Airport Marquee Hotel.
Hanna grabs her wrist and yanks her outside and stands her up against the wall. A uniformed policewoman does a quick weapons search.
From inside they hear, from Casals, "Clear."
Hanna displays his badge. "We have a warrant to search the premises."
She stares at him, then Drucker. "Am I under arrest?"
"Yes, but what happens next depends on what you do in the next five minutes," Hanna says.
She blinks. Her face is chalky, her eyes red, her hair disheveled. She's wearing old track bottoms and an indie band T-shirt. Hanna takes her by the arm and leads her inside, into the modern kitchen and the living room, where a graphic design studio has been cobbled together. Outside plate glass windows a balcony overlooks the city. Other uniforms stand there staring through the glass, like vultures in black. Drucker unlocks the balcony door and lets them in.
"Clear outside," one reports.
Shiherlis isn't there. No surprise. Hanna hears the tick, tick of seconds running down. He points Eady at a stool by the television.
Drucker responds to his radio, pushes the earpiece deeper into his ear canal. Listens. He signs off, gestures Hanna aside.
Hanna turns so Eady can't hear. Drucker whispers to him, "Totally clean. No priors. She doesn't even get traffic tickets." Hanna turns back to her.
Eady stands with her hands clenched by her sides, as if half of her is somewhere else and she doesn't know where to put her body until Hanna waves her to the stool. He gestures away the policewoman with her open handcuffs.
"Do you know what I want?"
She shakes her head.
"Everything you know about Neil McCauley and his crew. Don't lie, don't hold back. If you want to stay out of a cell facing accessory charges, talk to me."
She flinches. "I didn't know who he was. I don't know about a crew."
Hanna slaps the TV. "This works, right? KNBC comes in crystal clear. You saw the footage from the bank robbery downtown."
"He told me he was a salesman."
"And you believed him? What did he tell you he sold?"
"He said he traveled a lot and sold metal."
That matches what McCauley told him, but Hanna doesn't give it away. He presses closer into her space. "C'mon, c'mon, c'mon! You saw his photo on the news. And you hopped into his car anyway and took a ride to the Airport Marquee Hotel, where mayhem and murder rained down all around you, replete with fire trucks, cops, crazy people running around, helicopters, the whole Mardi Gras. And you thought he was selling metal kitchen cabinets or something?"
She seems, for a moment, like someone trapped in a burning building as the walls collapse around her.
"I didn't know until last night. And I had to do what he said." She's trying to find words to explain. She can't. "Then, near the end, he told me. And then, yes, I went with him anyway."
This is who McCauley wanted at his side as he made a run to freedom. She had upended her world to go with him.
She'd been standing in the open door of the Camaro, watching McCauley back away and take off. The way she kept staring after him. Frozen. Confused. Hanna now understands. Bereft. Hanna can read her mourning. Her brief glimpse of a different life—a wilder, more urgent passion with this intense man—was over.
He knows she was innocently involved. Technically a DA might try to label her an accomplice. She is not.
"Look, Eady. I can protect you," he says. "But you have to give me everything. Right now. Who else did Neil have contact with?"
She gathers herself. "Michael. He mentioned a friend named Michael. One of the men shot downtown."
"Cerrito," Drucker says.
She nods. "He said . . ." Her voice cracks. "He said, 'When it rains, you get wet. Michael knew the risks.'"
She swallows. To Hanna, it's clear she's thinking, So did I.
Around her the detectives loom large, filling the room with an unsettling energy. Punitive, she thinks. Nothing she's ever encountered. They search through things invasively, as if it's their inalienable right to induce disorder. It's like everything they touch becomes . . . not hers anymore. She might return them to where they lay, but it won't be the same. Her personal possessions are no longer possessory. They're being stripped of meaning. Not mementos anymore. Inanimate objects. The careful array of pastels. Rolled Japanese paper, precious in the excellence and care of its manufacture, now merely a thing as the thick fingers of a detective search through the sheets.
Hanna brings her back to right now. "Look at me. Hey, Eady. Stay right here."
Mildly dazed, she looks back to Hanna, really taking him in for the first time.
He sees it. Every news report is leading with the story that McCauley was killed in a gunfight at LAX. By a cop.
She's fighting it, not taking that last step, though Hanna is standing in front of her. Then she shudders, like she's taken an electric shock.
"Who else did McCauley talk about?" Hanna says. "Shiherlis? Chris?"
"No." Her gaze has sharpened. "I saw you. Outside the hotel."
"Trejo? Breedan? Their wives, girlfriends, kids?"
"No. He was always alone." She shakes her head. "You shot him, didn't you?"
"And you went with him, knowing who he was."
He holds poised, right in front of her face. She sways, and her eyes turn dark and shiny. Almost inaudibly, she repeats, "It rains, you get wet."
Hanna doesn't move, but lowers his voice. "Who else did he have contact with?"
She scrapes her fingers through her hair. She shrugs. "He made a stop on the way to the airport. He met a man at the back door of a bar."
The arc of Hanna's attention focuses to a pinpoint. "What bar? What man?"
"North Hollywood, off Burbank Boulevard. I don't know the address. Brick and corrugated sheet metal, ivy on the walls. The Blue something."
Casals gets on his radio.
"Describe this man," Hanna says.
"Fifties, stringy blond hair, mustache. Wearing polyester. All seventies."
Hanna's pulse guns. He nods at his men.
Casals has already identified the bar and assigned two units to stake it out from two blocks away.
Hanna writes something on the back of his card and hands it to Eady. "The policewoman over there is going to handcuff you and take you downtown. We have to book you. Do you have an attorney?"
She doesn't. Her ability to process what's happening is floating off into a black pool. Hanna sees that.
"Call this number. He's a lawyer. He'll get you a bail bondsman. Anybody else tries to interview you, you're entitled to have your attorney present. Understand?"
She nods and looks into his eyes directly. He sees why Neil wanted to take her along to freedom.
"If you remember anything else that helps me, you call. Don't think, don't blink, you call." Before he starts out, he adds, "And, yes, I had to shoot him."
Their eyes connect again and hold for that moment.
Then her look changes. Now it says, Anything else?There's nothing else. Everything is over.
6
The sun is beating down when Hanna and SWAT crash into the Blue Room. The bar is a dark neighborhood throwback bar on a faded commercial street.
The search warrant came through at one p.m. Hanna, his team, uniforms, and SWAT approached from the streets behind. They blocked both ends of an alley with black-and-whites. They eliminated a surveillance camera.
If Shiherlis is here, he'll be armed to his fingertips. Who else may be inside?
Hanna, in a ballistic vest with a Benelli semiauto twelve-gauge at port arms, is in the precise scrum, stacked up within the SWAT unit in the tactical ballet, bodies to bodies, precisely aligned feet. He nods to the SWAT team leader, who holds an automatic rifle across his chest, barrel high. The man raises a hand and counts down on his fingers. Silent entry. He reaches zero, aims his hand at the door like a hatchet, and goes.
The door is unlocked. They're in. In an instant they cover and command the space. A long bar runs along the wall on the left, mirror behind it, bottles glowing in the dim light. A few early drinkers stand at the rail or sit at wobbly tables. "Gangsta's Paradise" thumps from the jukebox. The bartender turns.
Hanna shouts with the others, "Freeze. Show me your hands."
A SWAT officer bellows at customers. "Up against the wall, hands behind your heads."
A second team moves tactically up a staircase.
The bartender steps back and raises his hands overhead. A customer dodges for the front door. When he slams it open, Drucker clotheslines him. He and Casals, with a Remington 870, enter.
Hanna arrows toward the tall guy standing at the bar, hands in plain view, one holding a coffee cup. He's who Eady had described. Older SoCal hard case, stringy gray-blond hair, chill eyes watching Hanna in the mirror.
"Hands on the bar," Hanna says.
The guy complies. He smells like Brut and dry-cleaned polyester. He eyes Hanna in the mirror with a subzero gaze. He's frisked. A SWAT team member tosses his keys and wallet on the bar.
Hanna flips open the wallet. The same ice-blue eyes stare from the driver's license.
Hanna reads the name. "Nathan. We're going to talk about a mutual friend."
Nate turns, his face neutral. "I know you?"
"How the fuck do I know if you know me? I know you. And I know one guy you know. Neil McCauley."
Nate's expression is a total blank. "Who?"
"Your pal."
"Does not ring a bell."
"What kinda bell? Like ding-dong, Avon calling? That bell? Security camera out back? Does it put you and McCauley together at the rear entrance? What are the odds?"
Upstairs, one of the SWAT officers calls, "Clear."
The SWAT team leader comes down the hall. "All clear."
Chris Shiherlis isn't here.
"So happens, the odds are zero," Nate says.
Hanna feels the black scorch of anger. Outside, he smiles like a reaper's scythe. "Good. 'Cause rewinding and erasing evinces what we call 'consciousness of guilt.'" He looks around, all-seeing. "Since others have laid eyes on you and your meeting him."
Drucker says, "Why lie? You wanna lie, lie about something maybe we can't prove. Lie about Neil? That lie is a loser. Why lie about that?"
Nate looks around, surveys his LAPD-occupied bar with disdain. "So far, up to now you are eluding me."
"Eluding?" Hanna shrugs. "Shiherlis, Christopher. I figure you're the middleman-slash-fixer. Right now, at a minimum, you're looking at accessory after the fact on the armored van robbery with three associated homicides and a bank robbery, including the murder of an LAPD sergeant during its commission, one of my partners, and three uniformed officers. The killing of Roger Van Zant and, in addition to that aforementioned . . . car-nage . . . the killing of an asshole named Waingro"—he leans close—"by Neil, your pal, who told me in person that he was never going back. And he is not."
Nate's cold blue eyes, set within the pink blotching of burst capillaries, drift across Hanna, barely registering him. "Robbery-Homicide Division. RHD. Try your showboat act somewhere else."
Hanna's cool, like still water. "Shiherlis on the run may or may not elude me. You will not. For you, I've got a lotta time."
Nate glances away skeptically, then looks back at Hanna squarely. "If you got cause, arrest me. If not, your presence is discouraging my midday business. ...
We hope you are enjoying the book so far. To continue reading...
Heat 2
Michael Mann
Copyright © 2022 All Rights Reserved