Book info
Sample
Audiobook
Media
Author updates
Lists
Synopsis
THE FIRST DAUGHTER IS FOR THE THRONE
THE SECOND DAUGHTER IS FOR THE WOLF

Hannah Whitten's debut For the Wolf was an instant New York Times bestseller and word-of-mouth phenomenon. Now, the eagerly awaited sequel, For the Throne, concludes her brilliant dark tale of love, magic and the secrets written in the stars.

Red and the Wolf have finally contained the threat of the Five Kings, but at a steep cost. Red's beloved sister - Neve, the First Daughter - is lost in the Shadowlands. But Neve has an ally, even if it's one she'd rather never speak to again - the rogue king Solmir. Together they must journey across a dangerous landscape to find the mysterious Heart Tree - and finally claim the gods' dark, twisted powers for themselves.

Praise for the Wilderwood Duology:

'I loved it! I was completely swept away by the world-building, the characters, and the delicate gorgeousness of the writing! A brilliant dark fantasy debut' Jodi Picoult

'Dazzling . . . This is sure to enchant' Publishers Weekly

'An unputdownable fairy tale that traces the boundaries of duty, love, and loss. A masterful debut from a must-read new voice in fantasy' Kirkus

'A glorious journey through woods deep and so very dark. A stunning debut' Erin Craig, author of House of Salt and Sorrow
Release date: June 7, 2022
Publisher: Orbit
Print pages: 497
* BingeBooks earns revenue from qualifying purchases as an Amazon Associate as well as from other retail partners.
Listen to a sample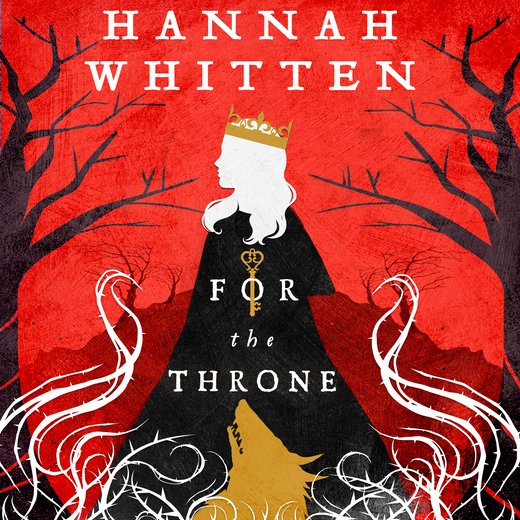 16:03:58
441.28 MB
9781668607961
June 7, 2022
Little, Brown
For the Throne
Hannah Whitten
Chapter One
Neve
In the trees, something was moving.
Neve stopped running, slamming against a trunk hard enough to knock the breath from her lungs. She felt half mad and looked it, too—fleeing from a tower into a nightmare landscape, where trees grew upside down and everything was shades of black and white and gray.
Shadowlands. The prison of monsters, the prison of gods. An underworld, a half world, darkness anchored beneath the Wilderwood.
It made a twisting sort of sense. One had consumed Red, so the other consumed Neve.
Minutes ago, she'd woken in a glass coffin, woken with her veins inked black and her mind muddied. And he'd been there. And Neve hadn't thought, hadn't spared a second for niceties or explanations. She'd pushed up out of that coffin, and she'd run.
Now, of course, she was slightly regretting it.
She tried to calm her breathing, soften its rattle, panic closing in as she eyed the thing in the forest—can you still call it a forest if the trees are upside down?—ahead of her. It was too large to see in its entirety, shifts of gray against the white trunks, just enough to give the impression of slow, ponderous movement.
Her heartbeat was almost calming to a regular pace when a hand closed around her arm, heralding a harsh whisper in her ear.
"And where," Solmir murmured, "do you think you're going, Neverah?"
Instinct had her elbow shooting back, aiming for some soft part of him—assuming he had any; the body pressed against her was all slender hard angles and sharp planes, a man built like a knife. Still, her elbow elicited a quick grunt, though it was more of surprise than pain, and that was bolstering enough for her to kick out with her foot, trying to stomp on his heel.
"On every soulless Old One, you're barefoot." He sounded more exasperated than anything, still speaking in that close whisper right at the shell of her ear. "Do you really think you're going to—"
He cut himself off with another grunt as Neve's fist drove into his hip bone.
It hurt her as much as it sounded like it hurt him, and Neve's lips peeled back from her teeth with a hoarse, angry cry. It wasn't loud, but in the strange silence of this place, it echoed.
Solmir froze, eyes darting from her to the creature in the forest, still moving slow and sinuous through the trees. Then his hand clapped over her mouth.
Neve writhed against his hold—she'd rather take her chances with the thing in the inverted trees than be so close to him. He solved the issue of her clawing hands by wrapping another arm around her waist, trapping her elbows against her ribs and the small of her back flush to his hips. "Listen," he murmured in her ear, and damn him, it sounded like he was trying to be soothing. "I know you hate me. That's fine. But I promise you will hate what that thing does to you more."
Her lips moved vainly against his palm, and Neve had half a thought to bite him, to tell him that there was nothing in this world or the one she'd just left that she hated more than him at that moment. But then the thing in the trees turned, enough for her to see its face.
Face might not be the most accurate thing to call it. Really, it was just a mouth. A mouth with rings on rings of teeth, razor-sharp and as long as she was tall.
Neve made a small sound behind Solmir's hand. She stopped struggling.
The toothed thing in the trees breathed, and the stink of it washed over Neve like a wave, carrion-thick and fever-hot, heightened by the cold of the air. Solmir pulled her tighter against him, arm a vise around her middle. They stood still, and waited.
After what seemed like an age, the thing turned, that awful mouth facing away from them again. It resumed its slow meander through the inverted trees.
A heartbeat, then Solmir let her go.
Neve rounded on him, a snarl on her mouth and fingers curled into fists. She raised one of them, but he was faster. Solmir's hand closed around hers in midair, stopping it before it reached his jaw.
"Come now, Neverah," he said, the ghost of a hateful smile on his lips. "All those lessons in diplomacy, and you won't even hear me out?"
"Diplomacy is for honorable men." Their linked hands shook in the air, oppositional forces. "It doesn't apply here."
"Fair enough." A quick twist of his hand, and her arm was pinned behind her, between her body and the hard plane of his. "Then we'll do this the undiplomatic way. I think you secretly like that better, anyway. You seem to jump at any excuse for violence."
She jerked against him. He laughed, dark and humorless. "Tell you what, little queen. I say my piece, and then you're welcome to hit me. As hard as you want. Anywhere you want." There was an edge to his voice, something she couldn't quite identify. Rueful and angry, a low burn of ferocity like a banked fire. "Do we have a deal?"
It wasn't like she had many other options. "Fine," Neve said. "Talk."
He relaxed behind her, slightly, though his hold on her arm remained unyielding. He wore silver rings on almost all of his fingers, and they bit into her skin, spots of deeper cold in a cold world. "You're in the Shadowlands."
"I gathered," she replied, trying to let fierceness carve out any fear in her tone.
"Smart woman." He adjusted his hold, silver chilling the fragile length of her forearm. "You're in the Shadowlands," he continued, "because I need your help."
"What if I don't want to help you? Why would I ever want to help you?"
"Because you don't really have a choice." He turned her around to face him then, apparently satisfied that she wouldn't take a swing until he gave her the word.
Solmir was handsome, a fact she hated twofold—hated that it was true and hated that she noticed. Long, straight hair spilled over his shoulders, almost to his elbows. She didn't know its color, since the monotone of the Shadowlands washed it out, but it looked a middling gray, like it'd be somewhere between gold and brown in a place with color. Dark brows slashed like dagger strikes on a high forehead; his nose was straight and prominent over a thin mouth with a wicked curve. Considerably tall, so that when he peered down at her, he looked almost like a bird of prey eyeing something caught in a trap.
And his eyes. They were blue. Blue in all this gray and black and white.
"I'm not going to attempt to justify myself to you." But the look in those blue eyes said he might want to. "I will simply tell you, with complete honesty, that everything I did on the surface was for a purpose."
"And that purpose was?"
A bladed smile without any warmth bent his mouth. "To kill the Kings."
Neve was very good at keeping her emotions off her face and out of her limbs, playacting impassivity, so she stood statue-still as confusion and the stomach swoop of blasphemy churned in her mind, attempting to take this piece and fit it somewhere that made sense.
"You," she said finally, "are going to have to explain more than that."
"Come on, Neverah." He shook his head, all that hair swinging to brush her chest. "You didn't think they were something good, did you? I know you didn't. I saw how you never wanted to touch that branch shard. All of this was for your sister, never because of some misguided piety."
"Do not talk about my sister."
Queenly, an order, and his eyes briefly widened. "Understood, Your Majesty."
Inexplicably, the title brought heat to her face. Neve wrenched her arm from his hold, though she didn't try to hit him. Yet. "So you want to kill the Kings. Is that why you tried to bring them through?"
Solmir nodded, a solemnity that sat strangely against the mocking way he'd spoken to her.
A terrible, twisted grove, blood on white branches, darkness dripping. Her memories of what happened before she woke here were scattered, hard to gather, hard to meld into a whole picture. But she knew, deep in her bones where cold magic twined, that before she'd been pulled into the Shadowlands, Kiri and Solmir and the other priestesses had been making a doorway between the worlds. Using her to make a doorway. Anchoring her to the inverse of the forest that anchored Red, making them dark mirrors of each other.
Red. Shadows damn her, she couldn't think about Red right now.
Neve swallowed, banishing the itch of grief that hung in the back of her throat. "You're just going to try to kill the Kings here instead, then?"
"I'd love to. But I can't." That cold smile again, all angles. "Nothing can truly die in the Shadowlands, I'm afraid."
The fact itself might've been comforting were it not for the way he delivered it. As both a challenge and the winning card in a hand, eyes glittering and mouth a harsh line.
But Neve didn't have much of a chance to ponder it.
The inverted trees whipped from side to side, the spindly roots stretching into the cold sky and waving like skeletal fingers. A sound like tearing metal echoed through the gray, and with a crash, the long-bodied monster shot out from the forest, toothed mouth gnashing at the air and coming straight toward them.
"Dammit," Solmir muttered, and thrust Neve aside.
She stumbled over dry ground and tangling branches, landing on her knees and away from the careening teeth. She still wore a white nightgown, flimsy against the cold and the press of rough bark. Had she known she'd be journeying to the underworld, she would've chosen her attire with more care.
The ridiculous thought, something that belonged to her life as a First Daughter rather than a queen and a heretic, was enough to loose a horrible, barking laugh.
Before her, Solmir stood in the path of that huge mouth, his own teeth bared in the rictus of a smile. He'd been wearing a coat before, dark and almost military-like, but now he'd thrown it to the side, pushed up the sleeves of the thin white shirt beneath. Black lines ran down his arms, like ink cascading from his heart instead of blood. Darkness pooled in his hands, blackening his fingers, his wrists. A thin line of ice shone across his knuckles.
The gnashing mouth of the wormlike monster was so close Neve could feel its breath.
Then Solmir opened his outstretched fists.
The darkness in his hands shot into the air, growing jagged and thorny, like he'd woven a net of brambles in his bloodstream and now cast it out. It fell on the monster, cutting into its gore-caked flesh, contracting around its body, and making it bellow.
But still the thing kept coming.
Fear was an unnatural emotion to see on Solmir; the angles of his face couldn't carry it well. His blue eyes widened, and his cruel mouth opened, but he allowed himself only a heartbeat of shock before he thrust his hands out again, trying to call up more shadows. The ink that crawled slowly down his skin wasn't quite as dark as before, more gray than black.
Magic, growing thin, running out. Neve still wasn't exactly sure of its mechanics, the cold thing that her blood on a sentinel shard had called into her bones—only that it was tied to this place, the inverse of Red's green and growing power. But she knew it still lived in her, chilled and thorned, made even more potent by the doorway they'd tried to open, the way they'd anchored her to that awful grove.
And she knew she didn't want to be eaten by a monster with that many teeth.
Unthinking, Neve followed the same pattern Solmir had. Her hands thrust out, and without her trying, darkness flowed down her veins, her fingers bending into fists as it gathered in her palms. It felt like winter, like biting wind, making her center so cold it was almost burning.
The burning cold went down her arms, settled in her hands, and when it was too much to bear, her fists opened.
Her own net of spiny magic snared the worm-thing right as its jaws came close enough to touch.
The effect was immediate. Where Solmir's thorns had seemed only to slow the thing down, Neve's stopped it cold. It writhed, shrieking into the gray sky, growing smaller as it withered away from the places where Neve's magic touched it. Curls of shadow spilled off its body, clouding the air, making a sort of chittering noise that was a strange, smaller echo of the worm-monster's bellows. A crack, another burst of gibbering shadow, and the thing was gone.
The shadows that were left raced into the forest, and Solmir grimaced after them, raising a hand and then letting it fall. "Shit," he muttered. "Well. We can get them next time. The power of a few shadow-creatures won't make much of a difference."
Neve stared wide-eyed at the space where the monster had been, her chest heaving beneath her nightgown as the darkness slowly faded from her veins. She was cold, so cold all over, water dripping from one palm where a thin scrim of ice had covered it. "I thought you said nothing could die here?"
"Did you see all those shadows?" He arched a brow, cool and collected, as if they hadn't just thrown magic at a giant worm that apparently wanted to eat them. "Those were scraps of the lesser beast. Its energy transmuted. Anything that appears to die here isn't gone, it just changes form."
Her mouth opened to question him further, to make a snide remark about how maybe if she threw magic at him, he'd change into a form that would be less irritating. But the white-hot flash of pain in her head cleared her mouth of anything but a moan.
Knees in the dirt, hands at her temples. Neve felt simultaneously as if she were being compacted down and flying apart, her body both crushed and expanded. Pain flared in her head, her stomach, along her nerve endings, cold like she'd never felt before settling into her middle with a throbbing ache.
Distantly, she heard Solmir curse again, felt hands press into the sides of her face, not gently. Her vision was blurry, but she saw the flash of black in her veins, something sharp pressing against her skin with every pulse.
"Dammit, woman," Solmir snarled. "You can't fade on me yet."
He settled into a crouch before her. "Down here, magic has a price, Neverah." He said it so calmly, but his fingers were tight on her temples, like he was trying to anchor her, keep her from dissolving. "On the surface, the Shadowlands' hold was weak because its magic was weak. But when you use its power here, this place hooks in you. Becomes part of you. And you can't handle that. This was a prison made for gods and monsters, and you are neither."
Gods and monsters. Which one was he, then?
"I can fix it." There was no softness in his pronouncement. It was all claw and tooth. "I can give you another anchor, something to pull power from that isn't the Shadowlands themselves."
She looked up at him, lips peeling back, speaking through the muddle of pain. "You killed Arick. You almost killed my sister. You used me." A shudder, a rip of thorns in her veins. "I don't want anything you're offering."
His hand closed around her arm, fingers long and elegant, the silver rings on them burning as he pulled her up. His face was all sharpness, knife-slash brows over those infernally blue eyes and a snarl on his mouth to match hers.
"I'm not offering," Solmir said.
He sealed his lips to hers in a bruising kiss.
Shock made her still, but Neve was aware enough to realize that this wasn't an embrace like any she'd been in before. It was more battle than kiss—she could feel his teeth behind his lips, the press of his mouth as good as a sword.
And as he kissed her, cruelly, something within Neve… shifted.
The pain of thorns tearing through her veins receded, shrank to a prick, then merely a sting. The pounding in her head lessened by slow degrees, leaching away the longer her lips stayed on Solmir's, the contact pulling magic out of her like tugging on the end of a coiled string. The emptying was both welcome and devastating, pain and power receding in equal measure. Her body felt more grounded as it went, more her.
Fragile and human, controlling nothing.
Solmir broke their not-kiss, but his arms still encircled her, holding her up in case she collapsed. He smelled like pine needles and snow, far reaches and open sky.
The look in his eyes reminded her too much of those months when he'd pretended to be Arick. When he'd played at kindness, at—
She shoved away from him, the heel of her hand striking against his chest. "What did you do to me?"
"I gave you a new anchor. Tied your power to me instead of to the Shadowlands. From now on, you want magic, you get it from me first. I'm your vessel." He caught her flailing hands, his face impassive, holding her still. "Our deal was one hit, Neverah, and you've already landed two."
They froze like that, his hands shackled around her wrists, her face anger-warped and tear-streaked.
His expression could've been mistaken for impassive from far away. But there were scant inches between her and the fallen King, and Neve could see the burn of regret and fury and something like sorrow in his blue eyes. Slowly, he let go of her, bent to pick up his discarded coat and tug it over his well-muscled shoulders. "I did what I had to do."
We do what we have to do.
Neve wrapped her arms around her middle, thinking again of how he'd been back on the surface. He'd acted like he cared for her, and she'd been stupid enough to believe it. It had been a ploy—she knew that now. A way to gain her trust. She wanted to ask him about it, ask him why he hadn't just been content to wear Arick's face, why he'd had to make it something so wounding. The only people who'd cared for her then had been Raffe and Arick, and to know that Arick's caring hadn't been real—hadn't been Arick—bored a hole through her.
"You killed Arick," she growled. "You don't get to use his words."
"They were never his." Solmir's eyes glittered. "They were mine."
It was an opening. Almost an invitation to ask, to find out what he'd meant by his kindness, his care. Neve didn't take it. She didn't want to know.
She swallowed against a barbed throat. "Is my sister alive?" She had a vague memory of seeing Red through smoky glass, but it wasn't enough to trust, and she needed to hear it from his mouth. "If she's not, I will kill you—truly kill you, not make you fly apart into magic smoke. And if I have to drag your ass to the surface to do it, I will."
"She's alive." He gave her a tiny nod. "We'll need her, I think, if this is going to work."
Neve's brow furrowed. "If what is going to work?"
"Killing the Kings, of course." A jagged grin curved Solmir's mouth. He turned, ambling back through the trees in the direction she'd run from, as if confident she would follow. "Funnily enough, dragging asses to the surface is exactly what we're going to do."
All in all, she hadn't run very far. The tower loomed just beyond a thin lacing of inverted trees, visible through their leafless branches.
Though branch wasn't exactly the right term. The trees grew upside down, the thick boughs cutting through gray, dry dirt, making ridges tall enough to knock shins. Above her head, roots spread in the colorless air, spindly and still, stretching up as far as she could see before disappearing into mist.
A forest in a mirror, the grove they'd grown in the Shrine expanded, magnified.
Beyond the trees, however, was a barren gray waste that stretched for miles, unbroken by any tree, upside down or otherwise. The tower she'd woken up in pointed skyward in the desolate expanse, weathered brick wreathed in climbing black thorns. Solmir headed toward the doorway, nonchalant, as if they'd taken a morning constitutional and were headed in for a leisurely breakfast.
"How exactly do you plan to drag asses to the surface, then?" Neve crossed her arms against a shiver, the cold of this place sinking into her skin. "You failed to bring the Kings through once, so now you're just going to try again? Are you dull-witted as well as evil?"
Not one of her better insults, granted, but she'd just awoken in the underwold and escaped a monster; one couldn't really expect cleverness right now.
Solmir gave her an arch look as he pushed the door open, standing to the side and gesturing grandly for her to enter. Her fingers worked into fists at her sides as she did, pressing close to the other end of the threshold. Her skin remembered his, and it made her want to claw it off.
"Extremely dull-witted," he said as she passed. "And extremely evil."
Neve held her spine as straight as she possibly could.
In the distance, something rumbled. The earth shook, the stone floor of the tower trembling beneath her feet. Neve's hand shot out to steady herself against the wall, miraculously avoiding the thorns that lined the stairs.
Solmir's hand closed around her arm again, hauling her backward before positioning her across from him in the doorway. Her nose almost notched into the gap of his collarbone.
"Safest place in an earthquake," he said through clenched teeth, blue eyes scanning the horizon instead of looking at her. "Doorways. Remember that—it might come in handy."
The ground rumbled once more, then settled, grew still. Neve clutched the doorframe behind her with white-knuckled hands. "Does that happen often?"
"More often now." He turned from her, started up the stairs. "The Shadowlands are shaking apart. Growing more unstable." He snorted. "At least there's not much to hold back, not anymore. There's barely any lesser beasts left, and only four Old Ones." A pause. "Maybe three, actually. I need to ask the Seamstress."
"You realize I don't understand anything you just said."
He gave her a razor grin that didn't reach his eyes. "Who's dull-witted now?"
A shiver kept her from giving a biting answer, the cold of the Shadowlands cutting through her nightgown. Neve tried her best to hide it, but Solmir noticed, mouth softening to be almost pensive. He shrugged out of his coat.
Her head was shaking before he had his arms completely free of it. "I don't want—"
"Yes, I know, you don't want anything I'm offering. Too bad. Take the damn coat."
After a moment's hesitation, she did. It was warm from where he'd worn it. Neve tried not to cringe away from the fabric.
A pause, then Solmir sighed. "I'm not exactly thrilled that you're here, either, Neverah. This wasn't what I wanted."
"No, what you wanted was the Kings on the surface and my sister dead."
"Not quite." It came through clenched teeth, as if he was trying very hard not to give her the fight she was trying to push him into. "I told you want I wanted. The Kings destroyed."
To show emotion was to show her hand, and Neve had given him too much vulnerability already. He didn't deserve it, and she didn't have much to spare. So she drew herself up, fought the way her face wanted to twist to anger. Donned the mask again, and if he could see through it, at least she was trying. "You expect me to believe that?"
"Again, you don't have much of a choice. I might be a liar, and a murderer, and a whole host of other unsavory things, but I am also the only thing in this whole underworld that gives a fraction of a care about you." His bared teeth gleamed. "We want the same things, you and I. I know you hate that."
He stood too close. She wanted to back away from him, but it would be a capitulation, and Neve refused to let him think he'd won anything. She narrowed her eyes. "Presumptuous of you."
"You want an end. And there were only ever two ways for this to end. Either the Kings are destroyed, soul and what's left of body, or they escape the Shadowlands when it finally dissolves." There were scars scored across his forehead, the most painful-looking on both his temples, lessening in severity in the center. He lifted his hand, rubbed them absently. "Believe it or not, I didtry to take the easiest route for all of us, when I went to the surface."
"When you manipulated Arick." Nothing in his frame seemed penitent, and she probably couldn't change that, but Neve wouldn't let him hide behind half confessions. "When you manipulated me."
"You didn't have to be manipulated all that much, Your Majesty." His blue eyes burned in the dim gray light. "You barely needed a nudge."
She swallowed the taste of her pulse. Refused to duck her chin, refused to avert her gaze.
Solmir was the first to break eye contact, though the casual way he did made it feel less like a victory than Neve wanted. Another rub at his forehead, then his hand dropped, resting on the hilt of a dagger at his side. "I could've accomplished what I needed, what we all needed—really, Neverah, you should thank me—but your sister had to go and complicate things." A pause. "I should've expected that, I suppose. Fate is a bitch."
Her mouth opened to once again tell him to keep mentions of Red out of his mouth, but another quake came before she could.
Neve pitched sideways, slamming her knees onto the stairs, though this quake was minor compared to the first. Solmir didn't make for the doorway, instead bracing in a crouch with practiced fluidity. How long had this world been shaking apart, for him to look nearly used to it?
When the earth was still again, Solmir straightened, turning to walk up the stairs toward the circular room where she'd awoken. "You've probably put together that time is short," he called over his shoulder. "So I'd suggest you keep up."
Red
The forest gave her dreams sometimes.
It made sense. To house magic as fully as she did, one had to expect that it would leave marks inside as well as out, carve golden grooves into her thoughts as surely as it haloed her eyes green and threaded ivy through her hair. No less unsettling, but a fairly mild side effect, all things considered.
It'd started right after she became the Wilderwood. Right after Neve was dragged down into the earth. Dreams that left golden afterimages, dreams that felt more real than the firings of her weary thoughts before finally trailing into sleep. The dreams were fairly simple, didn't last long. A mirror with no reflection. Stars wheeling in the sky, coming together to almost make the shapes of words, then spangling apart before she could read them.
But this was the most solid dream the Wilderwood had given Red yet: a tree. A white-trunked sentinel in a sea of mist, mist that obscured whatever the rest of the landscape might be. It started as a sapling, then grew—slowly, in the way of dreams, then immediately. Shooting up, spreading branches above her head, veined in swirling lines of gold and black.
Then, an apple in her hand. Warm and golden, heavier than an apple should be. She raised it to her lips, bit down. The taste of blood, and a horrible pain in her chest, as if she'd somehow torn out and eaten a vital part of herself.
Red's eyes opened, her middle twisting, copper flooding her mouth. Her heart beat fast against the base of her throat, spiderwebbing her veins in verdant green, then ebbed to a slower rhythm as she remembered where she was.
The Black Keep. With the Wolf.
A slight breeze blew through the open windows of their bedroom, carrying with it the scent of leaves and dirt and cinnamon, wafting eternal autumn. Dim morning light filtered over the bed, burnishing Eammon's dark hair in gold, highlighting the scars on his bare shoulders, bare abdomen.
She smiled to see them, banishing vestiges of bloody dreams as she burrowed into his side and traced one of the three white lines on his stomach with her finger. They'd rattled the forest back into linear time and out of endless twilight, and never was she so thankful for it as in the mornings. The Wolf looked very good in gray, early light.
Her trailing hand brushed the scars, his hipbone. Lower. He shifted, chin tilting up with a low, contented sigh when her fingers closed around him, but didn't wake.
Red grinned wickedly, replaced her hand with her mouth.
That was enough to wake him up. Eammon's eyes opened, amber ringed with a corona of deep green, immediately molten. One scarred hand slid into her hair. "Good morning."
"Very good morning," Red murmured against him before rising up to straddle his hips.
After, when her thoughts were no longer hazed and blazing and she was dressing for the day, Red thought back to her dream. This one felt different. Weighty, somehow.
Everything felt weighty recently, though. A week since the shadow grove, since the earth opened, since they thwarted Solmir's plan to bring the rest of the Kings to the other side and she and Eammon had become the Wilderwood entire, held in two bodies, two souls.
A week with no idea where to even start looking. The mirror in the tower showed her nothing, hadn't since she looked in it that last time and seen the Shadowlands, before they went to the edge of the forest and found it shattered. The forest buried in her bones gave her no clues, quiet now that it had its anchors, no longer speaking through dearly bought words but settled alongside her mind like moss on a stone. The forest outside of her, empty now of sentinels and sentience but still magic-touched, was nothing but autumn and gold.
Red was the most powerful she'd ever been. And she felt helpless.
The rough familiarity of Eammon's hands on the nape of her neck brought her mind back to the present. Lost in thought, she'd paused in the braiding of her hair, and he gathered it in his palms, picking up where she left off. "Something new troubling you?" His voice was low and morning-graveled. "Or the same?"
"The same," she murmured.
A soft noise of affirmation. The braid he made was lumpy, but he tied it off tight, gave it a slight tug so her neck craned up to see him behind her. He dropped a kiss on her forehead. "Maybe Raffe will have something new to tell Fife."
She sighed, leaning farther so the back of her head rested against the plane of Eammon's stomach. "Maybe." This would be the second time Fife had gone to the Valleydan capital, no longer constrained by the boundaries of the Wilderwood, though still bound in different ways—by the bargain he'd made for Lyra's life, in those few minutes when Eammon wasn't really Eammon but eclipsed by magic and forest. He met with Raffe in a tavern, the latter wearing the most nondescript clothes he could find, and they tried to figure out ways they might use the things at Raffe's disposal to find Neve.
Well. At his disposal for now. Before anyone figured out that the Queen was not actually recuperating from illness in a Florish holding, that her betrothed was not visiting Alpera, and that the High Priestess was not attending him.
If and when those things came to light, Raffe's use of the palace library and close watch over the Shrine might not be so easy.
Thus far, Valleyda's isolation had worked in their favor. The very things that made them notable made them undesirable as a territory to conquer—the Wilderwood on the northern border, the Second Daughter tithe, the poor soil and climate that never let warmth last long. And though two of those things were no longer deterrents, news traveled slowly, especially as the weather turned colder and courtiers holed up at home or abroad in preparation for the coming winter.
If they moved quietly, quickly, there'd never be any reason for the nobles to know Neve was gone. Red was too busy trying to bring her sister back from the underworld to fight over her throne, too.
She had half a mind to let it go, if it came to that. What good had a throne done either of them? Red certainly didn't want it.
Her eyes fluttered closed as she leaned back against Eammon, breathing in his library smell. Still the same, though the scent of leaves was more prominent now. "I had a dream. One from the Wilderwood." She opened one eye to peer up at him. "Did you?"
His hand strayed to her hair, tucking flyaway pieces behind her ears as his brows drew down and he thought back over the sleep she'd interrupted. "Not that I can recall, ...
We hope you are enjoying the book so far. To continue reading...
For the Throne
Hannah Whitten
Copyright © 2022 All Rights Reserved