Book info
Sample
Audiobook
Media
Author updates
Lists
Synopsis
Combining the wonder of The Midnight Library , the inventiveness of Ready Player One, and the artistry of Cloud Atlas, this novel by the bestselling author of The Oracle Year and Anyone explores the way we're all connected—and what can happen when we lose our capacity for joy.   
A few years from now, in a world similar to ours, there exists a sort of "depression plague" that people refer to simply as "The Grey." No one can predict whom it will afflict, or how, but once infected, there's no coming back.  
A young Hong Kong based scientist, Lily Barnes, is trying to maintain her inner light in an increasingly dark world. The human race is dwindling, and people fighting to push forward are increasingly rare. One day, Lily comes across something that seems to be addressing her directly, calling to her, asking her to follow a path to whatever lies at its end. Is this the Endless Vessel to happiness? She leaves her life behind and sets out through time and space to find out. 
From its opening heart-stopping scene in the present day at the Louvre in Paris, through the earthly meetings between Lily and her loved ones past and present, to a shocking and satisfying conclusion in a truly enchanted forest, Charles Soule has channeled history, science and drama to create a story for the ages—a story of hope and love and possibility. This is a novel you will not soon forget.
Release date: June 6, 2023
Publisher: HarperCollins
Print pages: 368
* BingeBooks earns revenue from qualifying purchases as an Amazon Associate as well as from other retail partners.
Listen to a sample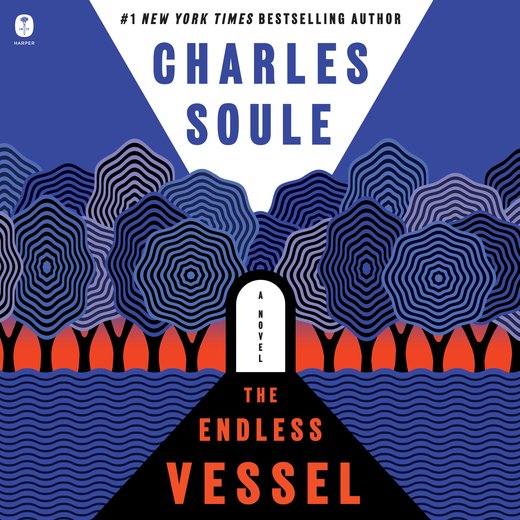 13:14:50
363.86 MB
9780063043077
June 6, 2023
HarperCollins
The Endless Vessel
Charles Soule
48°51'36.9"N, 2°20'07.2"E
FRANÇOIS LEDUC WAS SO HAPPY.
He was an old man, and soaking wet. His joints ached as he ran, especially his bad hip. His wingtips squelched with every step. His drenched suitcoat slapped at his sides, heavy like raw meat. But as he sprinted through the Louvre, he felt nothing but joy. He had a job to do, a purpose.
All around him were masterworks. This was the ground floor of the museum's Denon Wing, home to many works of Renaissance genius. Just then, François was rushing through Salle 403, the Michelangelo Gallery. He ran between two famous, superb marbles by the gallery's namesake, his Rebellious Slave and Dying Slave, each originally intended for the tomb of Pope Julius II. But the room was not only a shrine to Michelangelo. It was packed with sculptures by other great masters, all nearly as exquisite—Giambologna's lovely bronze Flying Mercury, a number of Bernini marbles. Monsieur LeDuc had spent his career amid these pieces, ensuring the world could view and enjoy them.
Now water streamed over the sculptures, showering down from high above like they were caught in a summer storm. François could do nothing about that. The museum's sprinkler systems were automated, activating whenever the temperature rose to a sufficiently high level. Rivulets washed across ancient, priceless carvings, dripping off the stone and metal into puddles on the floor. A surreal sight, but water was no threat to these works, or even the hundreds of paintings being similarly saturated in other galleries. The museum's restoration department could handle the damage. In the centuries since these pieces were created, most had survived worse than a soaking.
Fire, though . . . fire was another story. Flame would be the end of even these long-enduring works. It would swallow the paintings whole, blacken and shatter the marbles, melt the bronzes into puddles. The Louvre was burning, and if the blaze was not suppressed, François LeDuc would be one of the last people alive to set eyes on its treasures.
The inferno had surged up from the museum's lower levels, appearing everywhere all at once. François suspected the blaze began in one of the basement workshops, where craftsmen worked with volatile substances used to preserve and restore great works of art. Resin and liniments and a long list of chemicals and compounds, inflammable one and all.
Whatever the fire's cause, it ate through the museum's galleries like a starving beast, racing from one to the next, gleefully gulping down the genius contained within.
One small blessing: it was Tuesday, and on Tuesdays by long tradition the museum closed its doors. On any other day LeDuc would be fighting his way through a crush of fleeing patrons. But this evening he had the halls to himself, as far as he could tell.
François raced through Daru Gallery, Salle 406, his feet loud against the stone floor even against the roar of the approaching flames. At the end of the gallery lay a broad set of marble stairs, now become a series of ten-centimeter-high waterfalls. The old man hauled himself up, passing the lady from Samothrace in all her glory at the first landing. The iconic sculpture—Winged Victory, most called it—was wreathed in smoke, firelight flickering on its polished surface.
It almost improves it, he thought. Gives the piece an apocalyptic air that's really quite—
François LeDuc slipped, flailing wildly, certain he was about to fall backward and break his neck with his task unfulfilled.
His palm found the brass banister and he grasped it tightly, wrenching his wrist bu
t finding his balance. François took a moment, his heart pounding. It would not do to avoid a fall only to succumb to a cardiac episode.
His equilibrium returning, Monsieur LeDuc looked back down the steps at the sculpture gallery. Flames and smoke obscured the worst of what was happening . . . but his imagination supplied the details. Centuries-old stonework heating beyond tolerance, the clean white marble turning black, cracks obliterating the delicate carvings.
A disaster. And somehow, not even a single member of the museum's fire brigade was in evidence. The Louvre kept forty-eight firefighters on permanent staff. None of those were to be seen, nor any from the city itself. Perhaps the firemen of Paris were busy elsewhere. These days, after all, there were so many fires.
Then again, LeDuc thought, surveying the ongoing immolation of his beloved museum, perhaps it is not that there are so many fires, but that there are so few firemen.
The Louvre was dying, but the gigantic old palace was strong. François thought it would survive long enough for him to do what he needed to do. He continued up the stairs, choosing his steps carefully.
LeDuc emerged into the upper level, the section he considered his own personal kingdom. He was the directeur des peintures of the Louvre Museum. He had personally selected many of the paintings on display in these halls, anointing works he believed should be moved from the limbo of the storage vaults into the light and air and attention of the galleries. François LeDuc knew every painting here as well as he knew his own face, from the famous to the obscure—Ingres's La Grande Odalisque to Raphael's Balthazar Castiglione (a personal favorite).
Smoke thickened the air. François took short, quick breaths, tasting a horrible chemical residue on his tongue—burned paint. He swallowed, feeling pain in his raw throat, wishing he had thought to wet a scarf to breathe through. The curator crouched as much as his elderly back would allow, trying to get underneath the choking haze, and kept moving. Not far now.
The second floor boasted enormous floor-to-ceiling windows more than four meters tall. François glanced through one as he hurried past, then froze. He had a good view of the Louvre's northern half, the Richelieu Wing, utterly engulfed in flames. The huge structure wasn't just ablaze; it was gone, transformed into a seething, twisting block of fire.
LeDuc's curatorial mind began cataloguing everything being consumed within that inferno, but he yanked himself back to the moment. He could not dwell. Perhaps later.
Movement in the corner of his eye shifted his gaze to the left, to the large lawns of the Jardin des Tuileries, a massive stretch of parkland running from the Louvre west along the Seine, thirty hectares in all.
Arrayed in the park was a massive crowd, watching, standing vigil—but not all bore witness in stoic silence. A not-insignificant portion seemed consumed by a bacchanal. They danced around sma
ller fires of their own; drummers pounded out rhythms as they swirled and spun, waving brightly colored flags. The dancers were tiny from this distance, but their energy, their motion—the very insistence of their celebration—hotter than the flames devouring the Richelieu.
LeDuc knew who they were. The beautiful fanatics of Team Joy Joy, L'Équipe de Joie, dancing to the beat of their own extinction. He wondered if they'd started the fire. Seemed like the sort of thing they would do.
François LeDuc moved on from the window. He was the directeur des peintures. He had responsibilities.
He passed through a final archway into room 711, Salle des États, stumbling through the intensifying smoke and heat.
François slowed. He'd made it, and just in time. There she was.
He looked at the great lady, his mind flooding with facts about the work despite the smoke and the stench of melting paint and the sprinklers still raining down water from above. Painted by Leonardo da Vinci around 1513. A jewel in the collection of many French sovereigns from Louis XIV to Napoleon. And once French sovereigns were no longer en vogue due to the Revolution, it ended up in the Louvre. It had remained here ever since, barring a brief sojourn in 1911 to Florence after the painting was stolen by an Italian ne'er-do-well named Vincenzo Peruggia, and a United States tour in the 1960s due to the particular request of a president's wife.
Of all the many works in the Louvre, François thought this one might survive the fire. Attempts to destroy this particular piece were not uncommon; someone had even once attacked her with acid. She attracted venom from lunatics, anarchists, even self-appointed critics who felt her importance to the cultural landscape was overstated. But despite their efforts, she remained, growing more precious with time. More than ten million people visited the Louvre each year, and many bought their tickets solely to see this one piece.
The lady was strongly protected, befitting her status as the museum's greatest treasure. A clear enclosure of reinforced glass surrounded the painting, bulletproof and climate-controlled. Its systems maintained a constant internal humidity and temperature and were specifically designed to survive a fire. François knew it was strong enough that firemen should be able to sift through the Louvre's ashes, wipe the soot from the still-intact enclosure, and see that famous smile, preserved for future generations.
"Ha," François said.
Future generations, he thought.
The smile.
Everyone was so focused on the damn smirk, and yet he'd always thought it was the least interesting thing about the piece. Why didn't people talk about the sfumato technique Da Vinci had invented when he created it, an utterly unique method of layering paint to bring in light and depth? Or the perspective tricks employed to depict the landscape behind the figure, the unusual chemical blends in the paints, and more besides? The work was a cavalcade of technical advances for its era, all of which (in Monsieur LeDuc's opinion, a weighty opinion indeed) vastly outweighed a single woman's smile. An ugly woman's smile. La
Gioconda was no great beauty.
François pulled a key ring from his pocket, selecting one, then flipped up a recessed panel in the wall next to the case, revealing a keyhole and numerical keypad. He inserted the key, turned it, tapped in a nine-digit code, and the sealed box opened with a soft whoosh of perfectly temperate air.
He looked back the way he had come and saw that the fire had already swallowed the corridor he had just passed through. He was running out of time.
François lifted the painting off the wall. For all its momentous reputation, it was light. Easily carried.
He brought the work to the next gallery, number 701, the Salle Denon. This was on the building's exterior and so included more of the tall windows overlooking the central courtyard, bordered by tall, heavy curtains of red velvet. François set the painting on the floor next to one of these. Another quick fumble through his key ring and he unlocked the window. François could have smashed it, but he found himself reluctant to damage the museum. Perverse, considering the circumstances.
The curtains blew inward with a huge sucking rush of air once he threw open the window, the flames sneaking up behind him and greedily gulping at their new source of oxygen. It wouldn't be long now.
With some effort, François shoved the long curtains out into the night, letting them ripple up to either side. He thought they might serve as flags, drawing attention to his location, and sure enough, when he looked at the park, he saw faces turning to look. He wanted the attention of the revelers, with their drums and symbols and chants, and they complied, staring at him expectantly, all those Joy Boys and Joy Girls.
François LeDuc stepped up into the window and held the painting above his head. A cheer arose from the dancers as they recognized what he was holding. Of course they did. It was the most famous painting in the world. Not the greatest painting—he would give that title to Friedrich's Wanderer Above the Sea of Fog, though the old curator was willing to accept that taste was subjective, and ultimately Friedrich didn't sell tickets like Da Vinci.
Everyone had to see the Mona Lisa before they died.
François could feel the flames at his back. He didn't look. He didn't want to lose his nerve.
The heat built, leaping quickly from uncomfortable to the edge of pain to something nearing agony. He wondered if he was already aflame.
François did not lower the painting. He held it high, displaying it to the sea of faces. He would hold it up as long as he could. He wondered if Aunt Jane was out there somewhere, if she was watching what he was doing. He thought she probably was. She led Team Joy Joy; she was its guiding light and inspiration. This was not an event she would miss. He wondered if she was proud of him. He hoped so.
François felt searing pain in his fingers. He glanced up, and saw the Mona Lisa was
burning. A spark must have landed on it, instantly setting the ancient frame and the even older paints and varnishes ablaze.
He smiled, a true, unambiguous ear-to-ear grin.
Good, he thought. No miraculous escape for La Joconde this time.
She had survived acid and war and time itself, but François LeDuc had ensured her reign was done. One less distraction for humanity, one less thing to prevent people from accepting the truth of the end to come. For this was the end, the last generation. It was, and he knew it, and everyone outside and across the world needed to know it. That was why he was doing this. He was making his final moments matter. There was joy in that, if you just allowed yourself to see it.
The joy. The joy. The joy.
The fire kissed François LeDuc and he lifted the painting up, the great masterpiece, letting it burn before the eyes of the world.
He smiled.
I. Two: Hong Kong. Lan Kwai Fong District.
22°16'51.9"N, 114°09'12.4"E
"PITY PARTY'S RAGING TONIGHT, EH?" REED SAID, SURVEYING the bar.
"Give us a minute, will you?" Lily said, staring at her tiles. "Trying to survive here."
Reed had just thrown FAVOURITE at her, using the V off HAVEN and the T off DAFT, crossing a double word score on the R. Thirty points just off the letters, plus the fifty-point bingo for using all seven tiles in one play, which put him ahead by forty-three points.
"Shitfire," Lily said, glancing at the score sheet, then back at the smiling summer sausage of a man sitting across the booth from her.
Reed was at Pity Party almost every time Lily went. They played Scrabble most of those nights. The man was an English teacher at the international secondary school over in Tai Tam. He knew his words, and often pulled intense, game-changing plays like FAVOURITE out of nowhere.
"The game's not over yet," Reed said, in an accent that summoned up lagers and sunburns and not being too bothered about all that much. "That Z in the southwest could hook into that triple word with the right tiles. If the stars align, you'll leave me in the dust."
"Eh," Lily said, staring at the pathetic array of tiles on her tray.
Reed offered up a sympathetic nod. He drained the last of his beer.
"You'll get me next time," he said, scooching his way out of the booth. "I'm going to get another beer. You like something? On me. I am gracious in victory."
"Sure," she said. "Get me one of whatever you're having. Why buy yourself a drink when you can buy someone else a drink, right?"
Without looking, Lily pointed to her left, toward a sign taped to the wall espousing that sentiment along with the other rules for Pity Parties:
Good Vibes Only
Don't Step on Other People's Joy
No Smartphones. Wordys Only
Reed headed for the bar, and Lily took a last swallow of what was left of her existing drink: soda water with a few dashes of orange bitters, an in-between concoction that was basically plain old H2O but worked as a decent role-play of an actual cocktail. She was drinking it for two reasons.
First, it was cheap. Hong Kong was a crushingly expensive city; she'd lived there for five years and was still stunned by the total every single time the clerk rang up her groceries at the ParknShop near her apartment.
Second, alcohol was a depressant, and seeking out depressants in the Grey world seemed foolish. That wasn't a hard-and-fast rule. Lily drank from time to time—and if Reed was buying, why not?—but she didn't booze very often.
Not a universal policy, Lily thought, glancing up from her Scrabble tiles to take in the bar and its many increasingly soused customers. Reed was right. Pity Party was raging that night.
The bar, D'Aguilar's, was a tiny rattrap dive on the edge of Hong Kong's Lan Kwai Fong nightclub district. A few dozen people could cram it from wall to wall—and they had. This particular Party chapter was all expats, hailing from various Commonwealth nations and former bastions of Empire around the world. Australians like Reed, New Zealanders, a South African, an older Canadian couple. The rest, like her, were Brits.
People were chatting, dancing to a pretty good DJ (currently spinning Prince's "Gett Off"), drinking, watching the subtitled movie being p
rojected on the wall (Happy Madison, a weird choice that only made sense in the context of the Pity Party's stated goal toward uplifting entertainment), playing games, or just sitting, soaking in a thickly manufactured stew of positivity.
Pity Parties had started in America . . . in a city named Pittsburgh, which was funny but also wasn't. They'd spread all over the world in no time. No surprise there. You had to do something.
Lily sighed, slouching deeper into the booth, feeling the seat of her jeans snag on the ancient cracked leather. She pushed her hands into her hair, knowing it made her look like a circus clown with red curls flying out every which way, not caring. She stared at her rack of tiles, then back to the Scrabble board, then back to the tiles. Her letters were terrible, a mix of vowels and a few high-scoring consonants she'd saved for a perfect opportunity that had failed to arise. But . . . there was something there. Lily's mind below her mind saw something; she just needed to figure it out.
Lily's eyes on her tiles. Back to the board. The tiles. The board was nearly full, with everything from ARENA to ZAXES. (That last had almost garnered a challenge from Lily, but she knew better. If Reed played it, it was a word.) There were no obvious spots for a high-letter-count play (not that she had the tiles for that anyway).
But that shouldn't matter. Scrabble wasn't about words, about vocabulary. You won by treating it like a puzzle, a maths problem with many solutions. It was about the potential of the board, running the numbers, pulling points from all those double-letter and triple-word squares, making a lot out of a little. Reed's last play had altered that potential, both creating and destroying opportunities. The trick was to see.
Her mind snapped into a deeper place, and she finally understood what she'd been trying to tell herself for the last five minutes. Lily picked up five tiles and placed them on the board, crossing the U in FAVOURITE.
"Shitfire," Reed said from behind her.
"Don't fret," Lily said, marking up the score sheet. "There's always that Z in the southwest."
Reed set one of the two fresh pints of San Miguel he was holding in front of Lily, then deposited himself back on his side of the booth with a healthy grunt.
"QUACKY, Lily?" he said. "QUACKY? I hate it . . . and I'm in awe of it. What's the damage?"
"Triple letter on the Q and the K, and an additional eight points for making YEAST with the Y . . . That's sixty-two total. Puts me up by nineteen."
Reed stared at his tiles for a few moments. He had three left and Lily had two.
"Bah," he said, spinning his rack around to show her an R and two I's. "I could
try to eke this out, but there's not enough firepower here to catch up, and we both know it. Well done, Ms. Barnes. Really thought I had you this time."
"I'll clean up," Lily said. "I am gracious in victory."
She picked up the Scrabble board and folded it so all the tiles slid to the middle, then took the tile bag in her free hand and let the little squares cascade into it with a pleasing rattle of wood on wood.
Reed's eyes roved across the packed bar.
"No surprise it's crowded tonight, considering," he said, taking a pull of his beer.
Lily raised an eyebrow.
"You didn't hear?" Reed asked.
Lily went very still. Her ears tingled, her stomach hollowed out—feelings she had come to recognize as her body's attempt to inoculate itself against incoming bad news. These days—and for some time now—the news came in any flavor you wanted, as long as you wanted awful. There were no good surprises anymore.
"What happened?"
Reed sighed. He reached into his pocket and pulled out his phone. He pulled up something on its screen, then offered it to her.
"It's a Wordy," he said.
"It's fine," Lily answered.
She trusted Reed.
He handed her phone, and she saw the homepage of Hong Kong's most prominent English newspaper, the South China Morning Post, rendered entirely without images. The phone was indeed a Wordy, as Reed had said, set for text only, no images or video or audio. She relaxed a little. You couldn't be too careful.
The headline, in enormous type: THE LOUVRE BURNS, with a subtitle beneath it in smaller text: THE WORLD MOURNS.
Does it, though? Lily wondered.
Lily felt sick to her stomach, but not, she was unsurprised to realize, that sick. Things were just different now. She remembered when Notre Dame Cathedral in Paris went up in flames, back in 2019. That one she'd felt in her gut. She was already in Hong Kong by then; she'd come over straight from finishing her engineering degree at the Imperial College London. The cathedral caught fire around 6:00 p.m. in France, midnight on Lily's side of the world. She was out that night clubbing with David, so she was still awake and saw the coverage beginning on her phone. They'd both stayed up all night watching it as if they had no choice, like standing vigil over the slow death of a loved one.
But now, reading a newspaper account of the loss of one of the world's greatest cultural treasures, Lily's strongest feeling was resignation. Of course the Louvre would burn. It made perfect sense.
She read on. The museum was still ablaze. Efforts to extinguish the fire had largely been abandoned; most of its treasures were lost forever. The only small blessing was that the Louvre had an expanse of parkland bordering it on one side and the Seine on another, natural barriers that helped the firefighters prevent the fire from spreading beyond the museum.
A paragraph caught
her eye:
While Leonardo DaVinci's Mona Lisa was kept in a protective enclosure that could, potentially, have survived the disaster, those hopes were dashed when François LeDuc, head of the Louvre's Département des Peintures, was seen in an upper-floor window of the museum with the masterpiece. He held it above his head as if presenting it to the assembled onlookers, remaining in that position until both he and the painting burned. Mr. LeDuc was one of only three individuals with the necessary key and passcode to the Mona Lisa's enclosure. We spoke to Dr. Elaine Ng, staff psychiatrist at Hong Kong Adventist Hospital, who stated, "This isn't an official diagnosis, but Mr. LeDuc's actions are consistent with the behavior of a Grey-afflicted individual affiliated with the Joy movement. It felt like he wanted that painting to burn, and he wanted the world to see it happen. It's hard to think of any other explanation for a man who spent his career protecting great works of art."
She handed Reed's phone back to him.
"Sorry to be the bearer of bad tidings," he said.
"Don't be," Lily said. "I get the paper. I'd have found out in the morning anyway. And with full-color photos to boot."
"That's one nice thing about all of this, eh?" Reed said. "The newspaper's back. I missed it."
"I did, too, which is funny," Lily said. "I should be too young to care. Print media's been on life support for most of my life. I suppose I have some nostalgia for it because my parents had papers around when I was small. My mum liked the gossip and scandals in the Daily Mail, and my dad read the Telegraph. Anytime I touch newsprint, it brings me right back to those days."
"What are you, thirty?" Reed asked.
A blunt question, but because Reed had erred in the right direction, Lily found it easy to forgive. Plus, he was an Aussie. Such things were to be expected.
"Thirty-two," she said.
"I got a few decades on you," Reed said. "Had a paper round when I was a kid. Those are back too, I hear. Gainful employment for the youth of today. All the printing presses are firing back up, now that no one wants to use these anymore." He held up his phone. "You can't hack the front page, after all. Can't make someone see or hear anything they don't want to. Simpler's better, sometimes."
Lily nodded.
"I like that you can finish the newspaper too," she said. "It's . . . finite. You can read it and be done. Better than just scrolling constantly, seeing the next bit of nonsense to come across all your feeds."
This is a very Pity Party conversation, Lily thought. Two people convincing themselves things are fine. Just fine.
"You ever go?" Reed asked. "To the Louvre, I mean."
"Once," Lily answered.
. "My dad went to Paris for business—some neurology conference. We took the Eurostar train over together, under the Channel and back up again. He gave me some money and sent me to the Louvre to kill a day. I tried to appreciate the art, tried to be a lady of culture, but I was thirteen. It was too much. I ended up just wandering around, looking for any paintings I halfway recognized. Spent the last few hours sitting in the cafeteria. But it was a nice day."
"I'm sure. I never went myself. But let's shift away, yeah? How's the new job? Don't know that I've seen you since you started. What is it again?"
"You remember the Lego, right?"
Reed nodded.
Lily tended to describe her job to laypeople in as simple a fashion as possible—"what I do is like building a Lego set." The comparison wasn't too far off. She was a materials engineer. The idea was to combine substances in configurations or combinations that didn't already exist in nature, to create materials with purpose-built properties that were particularly useful in some specific way.
It was a weird, unique job that Lily greatly enjoyed. It really was like playing with a building set—but instead of molded plastic, the blocks were atoms and molecules. Her field brought the world all kinds of interesting things. Flexible glass, inflatable aerogel spacecraft, nano-lens invisibility cloaks. Lily used the Lego analogy when explaining her career to a stranger, but in her heart, she saw it more like being a wizard. A potions master at a school of sorcery, mixing bits of this and that to make some magical new thing.
"Right," Lily continued. "So I was working for that electronics company in Sha Tin, helping them design lighter, stronger alloys for their phone cases. It was interesting enough. Let me keep my work visa so I could live here. But what was I doing, really? Phones? Who did that help? Everyone already has a phone, and making a better, more expensive version . . . it was just spinning the wheel, right?"
"Sure," Reed said, his tone neutral.
"So I looked for something that would . . . you know. Let me feel like I was doing something. I found a place in Sham Shui Po, this company CarbonGo, and they—"
"What's the fucking point, Lily?" Reed said, his voice not cold, exactly.
Disgusted, maybe.
"What?" Lily said.
"What are we doing?" he said, his voice quiet, barely audible over the DJ, now playing something by the Happy Mondays.
Disgust was shifting to another emotion Lily knew well, one she and everyone else alive at that moment was very finely attuned to—despair.
"I started learning the piano," Reed said. "I feed a stray cat that comes by my window. I teach my students. I come here every week, and I play board games and get drunk and watch Andy Samberg movies."
"Adam Sandler," Lily said, unable to stop herself.
Reed gave her a long, considering look.
"They played Hot Rod last week," he said. "Anyway. You quit your well-paying job to do something else, and I'd wager the new one's some humanitarian thing, something you think will change things."
He lifted his beer and drained it in four long swallows, then reached for Lily's and slid it over in front of him.
"Nothing's gonna change, Lily Barnes. The Grey's coming for all of us, and that's right. It's what humanity deserves. I can sit here and cheerfully lose to you at Scrabble and do it again next week, but when I lie in bed awake tonight in the small hours I'll feel the Grey rising in my head and heart, and maybe I'll push it back and maybe I won't, and I can feel it right now, Lily. I can feel it, and I just want to jump in and let it all be over . . . stop struggling—"
She reached out and took Reed's hand. The contact shocked him into silence, like he'd been dunked in ice water. Lily wondered when someone had last touched him at all. He was divorced, she knew.
"It's not a struggle, Reed," she said. "It's a fight."
She held his hand tighter.
"It's a choice," she said.
He looked at her. His eyes were wet.
"Isn't it?" Lily said.
Reed took in a deep, shuddering breath.
"Yes," he said. "It is."
He squeezed her hand once, then let go.
"Thank you," Reed said. "I'll be all right. Just a low moment. Don't worry about me."
Lily nodded. There was only so much you could do.
"You'll be fine, Reed. I know you will. I need you here. Who else in all of Hong Kong gives me a run for my money at Scrabble?"
He chuckled.
"Next time let's put some actual money on it," he said. "Might be just the motivation I need. One more?"
Reed pointed at his empty glass.
"Sure," Lily said, despite not really wanting to keep drinking.
You did what you could.
Lily Barnes had another beer with her friend and listened to the DJ, who was really quite good. In time, she left the Pity Party and caught a taxi she could mostly afford, let herself into her apartment in Hong Kong's Mid-Levels district, undressed and got into bed.
And there the Grey waited for her, the same rising tide of nothing Reed was so afraid and certain of, a cold silver sea.
Lily remembered walking into the Louvre, having found her own way there on the Metro from Gare du Nord after telling her father she was old enough to handle it. She remembered how good it felt to be walking through that gigantic museum on her own, exploring, going wherever she wanted. No thirteen-year-old kid would ever have a day like that again.
Now, Lily cried.
She fought and struggled and almost went under. Because, ultimately, why not?
Why not? she thought. Because you are better than that. Because you are making a difference. Because there is a reason you are alive, and because you are needed, and because you have a purpose.
She told herself these things over and over.
Eventually, exhausted, she slept.
We hope you are enjoying the book so far. To continue reading...
The Endless Vessel
Charles Soule
Copyright © 2023 All Rights Reserved