End of the World House
Available in:
eBook
Paperback
Audiobook
Hardcover
Book info
Sample
Audiobook
Media
Author updates
Lists
Synopsis
Groundhog Day meets Ling Ma's Severance in this "brilliant" (PopSugar) and "exhilarating" (The Millions) comedic novel about two young women trying to save their friendship as the world collapses around them.

Bertie and Kate have been best friends since high school. Bertie is a semi-failed cartoonist, working for a prominent Silicon Valley tech firm. Her job depresses her, but not as much as the fact that Kate has recently decided to move from San Francisco to Los Angeles.

When Bertie's attempts to make Kate stay fail, she suggests the next best thing: a trip to Paris that will hopefully distract the duo from their upcoming separation. The vacation is also a sort of last hurrah, coming during the ceasefire in a series of escalating world conflicts.

One night in Paris, they meet a strange man in a bar who offers them a private tour of the Louvre. The women find themselves alone in the museum, where nothing is quite as it seems. Caught up in a day that keeps repeating itself, Bertie and Kate are eventually separated, and Bertie is faced with a mystery that threatens to derail everything. In order to make her way back to Kate, Bertie has to figure out how much control she has over her future—and her past—and how to survive in an apocalypse when the world keeps refusing to end.
Release date: April 19, 2022
Publisher: Simon & Schuster
Print pages: 320
* BingeBooks earns revenue from qualifying purchases as an Amazon Associate as well as from other retail partners.
Listen to a sample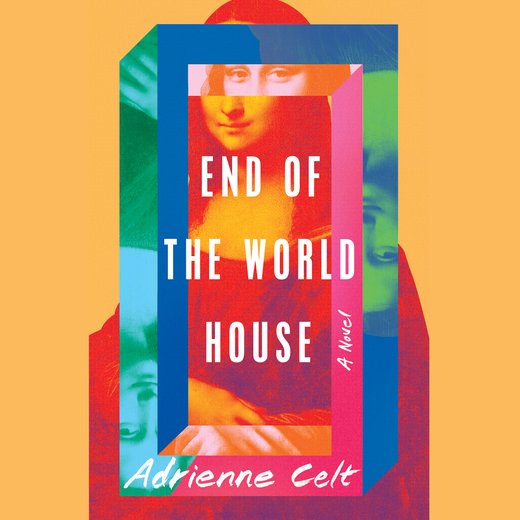 09:34:04
262.8 MB
9781797136769
April 19, 2022
Simon & Schuster
2022
End of the World House
Adrienne Celt
Chapter 1
— 1 —

By the time they reached the Louvre, Bertie and Kate were nearly running. It wasn't unusual for their walks to turn into unplanned races—both were in the habit of strolling a half step in front of people, and when they were together this could become a problem. First Bertie would move in front of Kate, then Kate would pick up her pace to match Bertie's, and so on and so forth until they looked at each other and broke into a sprint. It had been that way since they were fifteen—that is, some fifteen years ago—and on ordinary days they both embraced it, competing to reach an imaginary finish line, celebrating whoever won. But today, despite wanting to arrive at the museum on time, their mutual fear of looking un-French was helping them to approach moderation.

At the end of the Rue de Rivoli, they slowed down and used each other as mirrors to readjust their outfits. A tug of the shirt when Kate lifted her eyebrow, and a twist of the skirt when Bertie sucked her teeth. The morning was hazy, with a fog that wasn't quite willing to resolve into rain but was heavy enough to sit on the women's hair and dampen their jackets. Kate reached into her bag for an actual mirror, which she used to apply a fresh layer of lipstick; they'd come to the museum at the invitation of a man Kate had met the night before in a bar, and she claimed not to have decided yet whether she wanted to impress him.

"What are your priorities, art-wise?" Bertie asked. She had a handkerchief around her neck, meant to look chic but also useful as a breathing filter when they passed through areas still smoky from the last round of bombs. The tracking app they had pored over on the plane attributed responsibility to a terrorist faction from the suburbs, who'd arrived via commuter rail wearing innocuous clothes and backpacks with gunpowder sewn into the lining. Now, Bertie shifted the knot of her handkerchief back to the side, into its more fashionable position. "Do you want to hear something dumb? I kind of want to see the Mona Lisa."

"That's not dumb," said Kate. "Everyone wants to see the Mona Lisa."

"I mean, that's why it's dumb. Usually it's surrounded by a huge crowd, like, hundreds of tourists all crammed around this tiny painting which is probably only an okay painting, and which they only like because it's famous."

"So what, are you going to commune with it? Now that you're the only one there?"

This had been the man's offer, as they sipped their drinks and watched him glimmer lasciviously: private entrance into the museum, which today was technically closed. If she was honest with herself, Bertie had, in fact, gotten a shiver of pleasure from the idea. I deserve it, she'd thought. If not me, who? But she wasn't about to be quite that honest with Kate, who would only make fun of her.

"Never mind," she said. "We can skip it, I don't care."

"No," said Kate. "We should see it. You're right." She snapped her lipstick shut and stowed it away again. "Do you really think people don't like the Mona Lisa?"

Bertie shrugged. "I just don't think most people have really thought about it."

They'd come to Paris because the tickets were cheap. First there'd been a spate of hijackings, and then the bombings, and a period of general unrest. No one would call it a world war, but that was semantics. Now the borders were opening back up, under the auspices of a cease-fire, and though most Americans were still too nervous to travel, a few of the tourist boards were giving it the old college try. Kate and Bertie chose Paris because they felt that the French advertisements did the best job of flirting with the overall sense that the world was ending without ever actually stating outright that this might be your last chance for a vacation.

Also, Kate was moving in a month. So this was kind of a last hurrah. Bertie knew it would've been smarter to put her money and energy into finding a place in the city, finally moving out of the dismal Mountain View apartment she'd only rented to be near Kate, but that would've meant recognizing that Kate was really going to leave. So she'd suggested a trip instead. Anyway, the commute from San Francisco was hellish, more so now that the 101 was gone and the 280 was the only freeway option between the city and the South Bay. It was like God died, the day they shut the 101 for good. People actually cried in the streets.

In principle Bertie was a cartoonist, but for years now she'd made her money doing illustrations for a large tech company in Silicon Valley—one that liked to appear lighthearted and approachable to the public so they could sell more ads. Which worked surprisingly well. Even cynical people seemed reassured by the company's palette of bright colors and its dinosaur avatar, which Bertie had now drawn in a thousand absurd situations, including on a rocket ship and driving a school bus, as well as learning "I think, therefore I am" from René Descartes with a book clutched in its tiny hands. The company paid Bertie more than she felt she was worth, so she drew it any way they wanted, as many times as they wanted, along with a rotating multicultural cast of nameless humans who accompanied the dinosaur on its adventures.

Bertie was supposed to be working on a graphic novel, too, on her own time, but these days she rarely had the energy. Not because of her job so much as the malaise that lay over everything. Politics, global war, world hunger, just—everything. Kate had wanted to be an essayist, but that was years ago: she gave it up in favor of directing publicity and fundraising for a nonprofit that lobbied to improve the quality of school lunches. It was theoretically a more selfless career than Bertie's, but Bertie didn't see it that way. After all, Kate liked being in charge; she liked the power. Whereas Bertie was indifferent to her job, which sometimes made her feel like she had less self than anyone. At least if she'd hated it, she could've quit, but no one wanted to hear you complain about leaving your okay job with good health insurance—not at a time when the U.S. suddenly had honest-to-God refugees streaming towards the coasts from the South and the Midwest, finding not much in the way of aid or sympathy. So she kept going every day, sometimes enjoying herself, sometimes spending whole afternoons reading the comment threads at the end of online advice columns, letting rage and disappointment wash all over her in order to reach the rare and blissful moments of catharsis.

That morning the crowd around the glass pyramid in the Cour Napoléon was sparse, just a few tourists taking photographs of the grounds and some Parisians passing through on their way to work. Near the fountain, a mother and her small daughter threw pieces of croissant to the birds, and a few yards behind them a group of four people was peering at something at the top of a tower, shielding their eyes with their hands. A few days before, when Bertie and Kate had walked by the same courtyard while heading to the Tuileries Garden, the space had been packed, including a line of museum-goers that snaked back half a block, but since the Louvre was closed today, most people had made other plans. The man from the night before had told them he had connections and could get them in for a private viewing if they showed up by eight-forty-five in the morning and gave his name—Javier—at the entrance. It sounded like a delicious secret, almost too good to be true. They'd found Javier at a jazz club somewhere in the Fifth Arrondissement, an old place stuck in a cellar which boasted a surprisingly good band and a crowd of middle-aged Frenchmen who were eager to dance with youths from abroad and buy them red wine for five euros a glass.

The mist finally turned into a drizzle, and Kate took Bertie's hand.

"Oh, hi," said Bertie, and in answer Kate gave her hand a squeeze, the same gentle greeting they'd shared for years, but now at a castle, in Paris, in a light Parisian rain. They stood there for a second, admiring the cornices and balustrades, the judgmental statues and the omnipresent pigeons. Bertie thought it was impressive that so many pigeons remained in the city when the songbird species were all in decline, but then again pigeons were willing to eat garbage, so perhaps they were more fit to survive. Later she would remember that the air in the courtyard smelled tinny, and that the crowd had gotten denser while they stood around. But in the moment she only felt happy to be there, slightly damp and still somewhat young, side by side with her best friend.

"Okay, are you ready?" Kate asked.

"What do you—?" Bertie started to reply, but before she could finish, Kate took off running towards the entrance, still holding her hand and almost pulling her arm from the socket.

"Jesus!" Bertie laughed as they whipped through a cluster of suit-and-tie pedestrians, earning several dirty looks. One man snarled as Bertie's shoulder slammed into his. "Sorry!" she called back to him, but he didn't seem to accept the apology, and muttered something under his breath as he turned away. On the other end of the courtyard, a different, younger man paused to watch the spectacle of them before turning to the side and wiping a drop of rain away from his forehead. He had no coat, and his hands were stuck in his jeans pockets against the morning chill. A round face. Later, Bertie would remember him, too, but it would take her some time to think why.

Kate stopped outside the pyramid doors and checked the time on her phone; neither woman had bothered to activate international service, so they couldn't call anyone or do anything outside the warm glow of the hotel Wi-Fi. But neither one owned a watch or a camera, either, so they still carried their phones wherever they went.

Now that she was over whatever momentary ebullience had made her start sprinting, Kate pulled herself together fast. Her face bright without being sweaty, her hair preternaturally smooth. She tugged on the door, but it was locked.

"It's only eight-thirty," she said. "What do you think we should do?"

"He's your loverboy," Bertie replied. She hadn't found Javier particularly appealing, with his shiny face and his subpar teeth, but Kate always made friends with everyone. "Didn't you get his number?"

"Hell no. Anyway, we weren't supposed to meet him until later. And," she held up her phone, "no service, remember?"

Around them, people were starting to stare. A few—other tourists, most likely—seemed interested, perhaps hoping that Bertie and Kate's presence indicated the museum might be opening after all. But the others looked obscurely angry.

Bertie shifted uncomfortably from one foot to the other. She had the sudden premonition that they wouldn't get in; that it was all a joke. Why had they believed a total stranger when he said he could do them such an enormous favor? Javier was probably off laughing somewhere, telling his friends the story of the stupid American women he'd met at a bar.

"Let's get out of here," she said, pulling on Kate's sleeve. "We can do something else today. It doesn't matter."

But Kate shook her off, and muttered, "Ugh, let me be." She had never liked being managed. It used to be a problem for her at work, though she'd long since jettisoned the issue into her personal life. Bertie backed away, trying not to be hurt, and turned to meet the eye of the young guy she'd noticed watching them earlier. His eyebrows lifted in surprise.

"Oh, wait," Kate said. "Now I remember." Without further explanation, she knocked three times on the glass, then twice, then three times again. From the dim back of a hallway at the bottom of the grand pyramid stairs, someone came into view. She looked like a security guard or a docent, in a dark fitted suit with a walkie-talkie on the front. The woman made a big production of unlocking the doors and then opening them just a sliver, sticking her head outside into the mist. "Qui sont vous?" she asked, and when both Bertie and Kate hesitated before trying to reply, she clicked her tongue in exasperation and switched to English. "You are… who?"

Kate frowned. "We're with Javier?" she suggested, as if not quite certain herself. But the security guard's whole demeanor changed.

"Oh. You come, then." She stepped back, holding the door to allow them inside, and both women slipped past her. A father and his teenage son, appearing from nowhere, tried to follow them in, but the guard waved her hand at them and said, "Shoo!" before closing the glass door and locking it. Bertie felt a quick wave of claustrophobia as the lock clicked into place, but it was soon overwhelmed by the immensity of the museum in front of them, and the grandeur. Sometimes good things happen, she thought, looking over her shoulder at the father and son who were frowning on the other side of the door. By the time she turned, the guard was bustling away down the hall, disappearing around a corner, and leaving Kate and Bertie alone. They looked at each other. "Okay, then," Bertie said.

When Bertie had to explain Kate to people who didn't know her, she sometimes called her "my bitchy friend Kate," even though it made her feel guilty afterwards; Kate was really more particular than bitchy, but that seemed like splitting hairs. The funny thing was, at a bar or a party Kate would be nice to anyone, even creeps like Javier. She built up lines of devoted followers who pointed her out to one another in a fond, "Have you met…?" kind of way, and she was popular at the office, too, as Bertie had seen on afternoons when she came to pick Kate up after work. She made jokes and remembered people's birthdays; when everyone wanted to go to happy hour, she was often the first to say yes, and therefore the one elected to mother-hen everyone to a single location. But when it came to actual closeness, real affection, she could turn off her internal lights in an instant.

Bertie had experienced this firsthand back in high school, when Kate moved to her school district in the ninth grade—Kate's third school in as many years, since her stepdad kept getting relocated for work—and they spent a whole year skirting around one another, sticking to their separate social universes. Kate had purple hair back then, and Bertie naturally assumed that Kate was too cool for her, a sentiment Kate evidently shared for a number of months. Bertie hung out in the art room, which Kate did not, and Kate went to underground all-ages punk shows, which Bertie emphatically did not. The one time she'd tried to talk to her in those early days, Bertie had gotten out maybe one sentence about theatre auditions before she noticed Kate's eyes traveling down her body, taking in her loose curls and the cheap cotton skirt she'd bought at a folk festival, which had until that moment made her feel both international and elegant. Later Kate would explain that she wasn't being dismissive of Bertie so much as hippies in general, because Seattle had so many that they threatened to absorb you, like water into the spongy ground. But at the time, Bertie saw the look on Kate's face, and simply shut her mouth and walked away.

"Wait, what?" Kate had called out after her, but Bertie hadn't bothered to reply.

The change came in tenth grade, when they were seated at adjacent desks for the PSATs. Everyone taking the test had to show up at school on a Saturday morning, and people were full of test-day jitters, which only got worse when the administrators split them up alphabetically and placed them into classrooms with a randomly assigned moderator. Under the circumstances, familiar sights became somewhat surreal: maps and posters curling down at the corners as if left over from a lost civilization. Bertie didn't put too much stock in the PSATs, since they didn't count for anything except National Honor Society. But she was still susceptible to a general desire for success and admiration from authority figures, and so showed up with five spare pencils and a small hand sharpener as well as a water bottle and a baggie of snacks. "Brain food," her father told her. "Can't think if you're hungry." And in fact this statement stressed Bertie out more than anything, wondering if it was literally true.

The first portion of the test, which was multiple-choice reading comprehension, passed without much incident, and the students were given a ten-minute break, during which they milled around in the halls and asked one another how they thought they'd done. Bertie didn't feel like talking to anyone, so she nibbled on some cheddar crackers and drew a rabbit on the back of her hand with a ballpoint pen she found in her backpack. When the moderator told them to sit down and get ready for the second section, she was already at her desk, and she smiled at Kate in an idle way as the other girl slid into her seat.

"I hate math," Bertie said, more or less to no one, though Kate happened to be there.

"Me, too," said Kate with unexpected enthusiasm. "Screw math." Then she looked at Bertie's hand. "Hey, nice bunny, though."

"Oh, thanks," said Bertie. "I sort of forgot that was there."

"You're good at drawing."

"Am I? I like it." Privately, Bertie had always considered herself quite good, but not many other people had bothered to tell her so. Her teachers did sometimes, of course, but they pretty much had to. What was an art teacher going to do—look at a student's sketch and say, Have you considered statistics, maybe?

Kate and Bertie both smiled again, nervously, and then turned with everyone else to their test booklets. They were all trying to tamp down the suspicion that the answers they came up with here today would somehow determine the rest of their lives. Later Bertie would sometimes wonder what the questions had even been about: she thought she'd probably solved for X a lot, and offered the area of various shaded triangles. But as an adult, she couldn't quite remember if that constituted geometry or algebra or maybe even trig. What she remembered was how, on the day of the test, Kate sat up halfway through the math section and said, "Oh, shit," because her nose had started bleeding abundantly.

Kate dove for her backpack, but there wasn't much there to stop the flow; they were barely allowed to bring anything with them, lest they somehow secret in an answer key. Around her, other students were sneaking glances at the spectacle before going back to their tests, some going so far as to hold their hands up like blinders to shield themselves from the distracting view. Bertie fiddled with a bit of math, waiting for the moderator to do something—she was a teacher, after all, and this couldn't have been a complete surprise in a room full of neurotic teenagers. But Kate had covered her nose with both hands and then bent down, still softly repeating, "Oh shit, oh shit, this always happens."

Finally, Bertie leaned over. "You need to pinch the bridge of your nose and tilt your head back." Kate immediately complied, but the blood kept coming. "Okay," said Bertie. "One sec. Hang on." She looked with some apprehension at her test booklet, and the watch she'd placed beside it to keep time, before marching to the front of the room and telling the woman sitting there that she needed tissues right away.

"You were instructed to bring your own if you had a head cold," the moderator said. "We don't really have any. Budget cuts."

"You don't understand," Bertie said. "She's bleeding. Like, a lot."

"What?" The woman paled. "Who's doing what?"

"I said, she's bleeding," Bertie hissed through her teeth. The woman didn't appear to grasp the severity of the situation. "Can I be excused to get her some toilet paper, maybe?"

"Oh, God." The moderator stood up. "I can't actually let you leave the room. Or maybe—for the bathroom—but you could still meet someone—I mean, I'll go."

Bertie would've been amused at this point, if she weren't so offended. "You think I'm doing this to cheat on the test?"

"Of course not," the moderator said, having at least the grace to blush. "It's just the rules. They're for your own good."

"Like, I hit her or something? To cause a distraction?"

"Of course not—"

"Excuse me," said Kate. She was still sitting at her desk, head reclined, nose pinched. The front of her shirt was, by now, quite drenched in blood, and the sight of her sparked the moderator—who Bertie learned later was a chemistry teacher, and then carefully avoided for the rest of her school years—into action at last. The woman jumped up and ran out of the room, pausing at the door only to say, "Please continue, everyone, no chatting," before disappearing into the hall. The test takers all stopped to watch the empty doorway where she'd been, listening to her frantic footsteps patter across the linoleum. Then most of the room went back to their booklets, while Kate and Bertie looked at each other in disbelief.

Kate did eventually get a roll of toilet paper, which she unwound around her fingers and stuffed into each nostril. Periodically she would stop working to unplug a sodden mass of pulp and toss it into a trash can that had been placed beside her, but otherwise she continued scratching out her equations and filling in her answer bubbles, same as everyone. She and Bertie were both offered extra time at the end of the test, but neither of them needed it—Kate was mainly eager to get to her locker and change out of her bloody shirt. As they walked out of the room for the break before the evidence-based writing section, they glanced at the moderator, sitting flustered at her desk, and then at each other, rolling their eyes. After that, they got to talking, and had been friends ever since. Kate still called Bertie "Bunny" sometimes, although these days she did it less and less. Bertie wished she knew why.

After reassuring themselves that the security guard was not coming back to tell them this was all a joke and escort them out onto the streets of Paris, Bertie and Kate walked down the white stone steps of the Louvre and past the empty ticket counters, each footstep echoing back at them as light filtered through the glass pyramid above. Raindrops collected on the windowpanes, silently condensing on the cool surface and then sliding away. An unseen machine hummed in the distance somewhere, but otherwise the museum was quiet.

"This is a bit eerie, isn't it?" Kate asked, as they approached the grand spiral staircase to the bottom floor.

"Well, I don't know," said Bertie. But it was. Beautifully so, as if a Victorian ghost might at any moment step out from behind a pillar and beckon them towards their destiny. And uncomfortably, too—the walls both too aware and too inert, without the usual thousand voices echoing off of them and taking up space.

"Actually," Bertie said, "I did think there would be more—"

"Of a welcoming committee?"

"Well, no."

"More curators on hand to ask your opinion on the history of art?" Kate raised her eyebrows. Ah, yes, Bertie thought, lovingly. My best friend the bitch. Even now Kate had a way of articulating Bertie's least favorite parts of herself, making her observations so lightly it wasn't clear if she actually meant them as criticism or jokes. Though Bertie found it easier to take them as jokes.

"Aren't you charming," she said, slipping her arm through Kate's elbow. "I just thought it would be clearer which way to go."

"Hmm," said Kate. "It is kind of weird to be here like this, isn't it?" She stopped to examine a marble nymph, matched white-on-white with its plinth; anywhere else, Bertie thought, you'd mistake it for corporate art. Something that could sit next to a cooler full of seltzer and ginger ale, elevating the room without calling too much attention to itself. Though maybe she'd just been spoiled by spending so much time around corporations. "I mean, I wonder if this is how rich people experience the world pretty much all the time."

"Trying not to touch anything?"

"Well, sort of," said Kate. "I meant all alone."

Bertie felt a light ping against her heart.

"You're not alone," she said. "Not yet."

"Oh, well." Kate shot her a glance from the side of her eye. "Of course. But you know. Privately."

They moved on, Bertie releasing Kate's arm and walking half a step ahead. She had perfected a museum-going strategy during her art school years, when she would sometimes drive to the SAM in downtown Seattle after a particularly rough painting critique and wander past the tapestries, thinking about how they looked like early cartoons, and how maybe someday the pages of her own work—sketched, inked, colored by hand—would hang like this, if she ever finished making it. She liked to walk around in a loop, stopping only by impulse or instinct, pretending to be in a friend's old junk room or the basement at her grandmother's house, finding everything by surprise.

But she was having trouble drumming up the usual excitement. Even here, in a palace of art, all of it unfamiliar, resplendent. There were three whole floors to explore, and three wings—Denon to the south, Richelieu to the north, and Sully, central, to the east—and all Bertie could think about was how everything was ending much too fast. She got a panicky feeling, ticking items from the future off the checklist in her head. Their flight left Charles du Gaulle the next night at ten p.m. and, due to the magic of time zones and international date lines, would technically arrive back at SFO just two hours after it took off. In a month Kate would be gone, starting her new job in Los Angeles, and Bertie really would be alone. She pinched her arm, so hard it hurt. But when Kate said, "What?" she just shrugged.

"Okay." Kate stopped in her tracks. "Enough of this moping. Let's go see her."

"See who?" asked Bertie. Then she caught herself. "I'm not moping."

"Of course," Kate agreed. "You would never."

"Her who?"

"You don't mope. You sacrifice yourself to a higher purpose."

"Kate."

"You lie on the train tracks of moral authority and tear your shirt open and ask, 'Do I not bleed?'?"

"Screw you."

"You feel the smallest kernel of misbehavior like the princess and the goddamn pea."

So you admit that moving constitutes misbehavior, Bertie thought, but what she said was: "For the love of God, see who?"

"You really can't guess?" Kate asked. "Here's a hint: Madame Mystery."

It took a second for this to click, but then Bertie got it, and she felt a stirring of anticipation. "Oh," she said. "Oh. The Mona Lisa."

"Aka your best friend, so long as no one else is around to annoy you by liking it too much."

"To be honest, you annoy me pretty much all the time."

"Yeah." Kate smiled. "But just this once, I think you can see past it."

For the entire trip, Bertie had been congratulating herself on avoiding the thought of Kate's move, deciding instead
We hope you are enjoying the book so far. To continue reading...
End of the World House
Adrienne Celt
Copyright © 2022 All Rights Reserved