Death at Greenway
Available in:
eBook
Paperback
Audiobook
Hardcover
Book info
Sample
Audiobook
Media
Author updates
Lists
Synopsis
From the award-winning author of The Day I Died and The Lucky One, a captivating suspense novel about nurses during World War II who come to Agatha Christie's holiday estate to care for evacuated children, but when a body is discovered nearby, the idyllic setting becomes host to a deadly mystery.
Bridey Kelly has come to Greenway House—the beloved holiday home of Agatha Christie—in disgrace. A terrible mistake at St. Prisca's Hospital in London has led to her dismissal as a nurse trainee, and her only chance for redemption is a position in the countryside caring for children evacuated to safety from the Blitz.
Greenway is a beautiful home full of riddles: wondrous curios not to be touched, restrictions on rooms not to be entered, and a generous library, filled with books about murder. The biggest mystery might be the other nurse, Gigi, who is like no one Bridey has ever met. Chasing ten young children through the winding paths of the estate grounds might have soothed Bridey's anxieties and grief—if Greenway were not situated so near the English Channel and the rising aggressions of the war.
When a body washes ashore near the estate, Bridey is horrified to realize this is not a victim of war, but of a brutal killing. As the local villagers look among themselves, Bridey and Gigi discover they each harbor dangerous secrets about what has led them to Greenway. With a mystery writer's home as their unsettling backdrop, the young women must unravel the truth before their safe haven becomes a place of death . . .
Release date: October 12, 2021
Publisher: William Morrow Paperbacks
Print pages: 448
* BingeBooks earns revenue from qualifying purchases as an Amazon Associate as well as from other retail partners.
Listen to a sample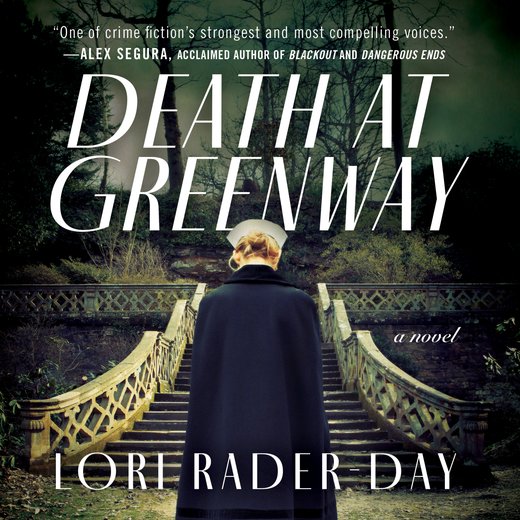 12:10:44
334.52 MB
9780063096875
October 12, 2021
HarperCollins
Death at Greenway
Lori Rader-Day
South Devon, England, 11:15 a.m., 3 September 1939
The mistress of the house was at work on the mayonnaise when the kitchen wireless began to speak of war.
"This morning the British Ambassador in Berlin handed the German Government a final note," the voice said, "stating that, unless we heard from them by eleven o'clock that they were prepared at once to withdraw their troops from Poland, a state of war would exist between us."
The others in the room had fallen silent. Agatha put down the bowl and whisk, the salad forgotten. She smoothed a strand of hair away from her face. Making mayonnaise was a physical task—it got the blood moving as well as calisthenics if done properly, though few put forth the proper effort. She insisted on doing it herself. Down the hall, the infernal 'phone began to ring.
"I have to tell you now that no such undertaking has been received," Chamberlain was saying. Is it Chamberlain? Agatha thought his voice sounded quite reedy of late, an old man. "And that consequently," the voice continued, "this country is at war with Germany."
There were no gasps of surprise. At the table her husband and their friend Mrs. North sat listening, Max leaning forward with elbows on the kitchen table, his pipe jutting out of his mouth. Mrs. Bastin, in from the ferryman's cottage to help with the meal, curled her shoulders over the sink and cried into the vegetables.
"Oh, do be quiet," Max murmured, not as kindly as he might.
Later, Max would probably scoff at Mrs. Bastin's tears. Hadn't they watched the march of war arriving? It was nearly a relief to have the matter decided. What did Mrs. Bastin have to lose? But they all had so much to lose. How could it be war again, so soon?
The 'phone rang, rang. Agatha crossed to the wireless and nudged the dial in time to hear Chamberlain say, "You can imagine what a bitter blow it is to me that all my long struggle to win peace has failed."
She stood back. It put one on notice to have the Prime Minister both hoarse and weary, defeated before they'd begun. She imagined Chamberlain sitting up all night committing these words to the page, to have them ready for the deadline, Parliament's ultimatum for Germany to release Poland from its grip. Would he have made another draft, too, in case the deadline had been met and all was well? They must have known no such plan would be necessary.
"Yet," Chamberlain continued, "I cannot believe that there is anything more or anything different that I could have done and that would have been more successful."
Strange to hear a man so publicly heartbroken. She listened as the PM mustered some vim for the pitch to the country to do their part. What could their part possibly be? She could wrap bandages, she supposed, but the brunt of it would hit the younger set. Rosalind and her friends.
But then even Max was all of thirty-five. Of all the reasons not to marry a younger man—she had gone through all the reasons—sending another husband off to war hadn't been one of them. When Agatha looked over, he plucked his pipe out of his mouth, his expression exultant. He would want to be a part of it—would be an absolute nuisance until he'd been given a job. And where did that leave her?
Agatha lost track of Chamberlain, thinking of distance, of separation. She tugged at her apron and hurried from the kitchen.
"Ange?" Max called after her.
The corridor, then through the house to the front hall, where the arch of light in the scallop window above the front door was bright. It was a fine day; all the worst days were.
She neglected the ringing telephone and opened the door, hesitating in the threshold. Outside, James, the latest of the Sealyham terriers, lay near a garden deckchair, white belly to the sun.
The first dog her father had brought home and placed at her feet, she'd gone nearly catatonic with happiness. She had never been able to take in news—not good news, certainly not bad—without seeking seclusion and letting the new information break upon the old, like the river's edge lapping at the shore.
Behind her, she could still hear Chamberlain. Never mind that now. She will hear his words repeated, reproduced, and read them in the evening edition.
Now she had time to wait out the cloud that passed over the hill and darkened the magnolias. Magnolia grandiflora. She had time to let her thoughts catch up, her concerns be absorbed. When she felt she could take it all in, plans began to form. She could call on the dispensary, couldn't she? With a little brushing up, she could be useful, too. And of course there were always books to write. A Christie for Christmas, whether the Christie in question felt like writing or not.
When the cloud passed and the sun shone on the hill again, Agatha came out from under the portico, leaving the door wide, and crossed the gravel drive. She stood on the hill, chin pointed south toward the sea. She took it in: the river that led, so close, to the Channel; the fact of war; the eventualities. When she turned back, Greenway rose above her, the flat Georgian face catching the light like a temple of old. It seemed delicate to her just now. But hadn't it survived a century and a half? Hadn't it sent its sons to fight untold battles? The cannon mounted down the hill and pointed out toward the River Dart told the story. These grounds had already fended off wars long forgotten.
This time, however, they must expect bombs from the air, gas attacks. A modern war with modern consequences, the likes of which no one had ever seen.
Agatha gazed over the warm white stone, stalwart on the high ledge of the river. An ideal house, a dream house. They'd barely had a chance to settle in, hadn't the chance to be happy here. Now she wondered if they would. A war was a rending, a death of how things had been. She had no concern for her life—but the life she had built? The people she had come to count on? Her marriage? This house.
She had traded her mother's house, the home of her idyllic childhood, to stand on this hill and call this house hers. Winterbrook, their residence in Oxfordshire, was Max's, but Greenway House was hers—hers in a way she knew might be seen as prideful, hers in her heart. Hers at last, since she'd come here as a child with her mother, visiting, walking the grounds that would someday be her own. Clever foreshadowing, shethought, credit to the author.
But that meant this was the beginning of the story, didn't it? If they were to have a proper story, Greenway stood, Max prevailed, Rosalind thrived, and she, Agatha, strung it all together, a book each year. If they were to have a proper story, then this simply couldn't be the end.
St. Prisca's Hospital, near St. George's Gardens, London, early April 1941
Bridget sat on the bench in the corridor until the matron's door swung wide and the woman's stern face took in the sight of her, her apron marked with blood and bile. The auxiliary nurse who had been sent along as escort, as keeper, stood a good distance away and pretended not to watch for details she would deal out later to the others. Bridget walked alone behind Matron's swishing skirts as though to the gallows.
The matron's parlor was as sterile as any surgery. A chair for visitors stood in front of the desk, but Bridget wasn't invited to take it.
"You know of course you cannot be allowed to continue on," the matron said, settling behind the desk. "Hencewith, a decision must be made."
"Where," Bridget said. Her mouth was dry. "Where shall I be sent, Matron?"
Matron Bailey studied her until Bridget could only imagine she would say the gaol.
"I can scarcely believe it of you," the matron said. "I've seen moments of great potential in you, and now—Do you have anything to say for yourself?"
Bridget nearly collapsed with relief for the opportunity to set it straight. "It must be an error, Matron—"
"Your error."
"No," Bridget said. "No, you see it's a mistake—"
"A mistake is the same as an error, Bridget."
"I mean it's a mistake to believe that I—" She sounded guilty, even to herself. "I administered as I was taught, gave the dose as written. If it was the wrong formulation, then—" She faltered, for she was not sure it would do any good to question the chemist's judgment. "I'm a good nurse."
"You are not a nurse," the matron said. "And you're a danger to say you are. A nurse. You're not through your probationary hours yet."
Bridget swallowed hard. "No, Matron."
"Therefore, it was not your job to administer treatment to that soldier."
"Sister Clare was run off her feet and my only thought was to help—"
"You've got to the crux of the problem, well done. Your only thought." Matron Bailey's look was heavy. "You're single-minded on the ward, ticking the boxes. I've seen you. Arrogant with your peers, unfeeling with the patients."
Arrogant because she hadn't the time to chatter with the others? Because she didn't want to gossip or bring them back to hers for tea? On the ward . . . she'd only meant to be good at the work, hadn't she?
And unfeeling? Well, she wouldn't deny that. "Yes, Matron."
But even this answer came too quickly, she realized. Too quickly, without consideration. The matron shifted in her chair.
"And your striving with the sisters, reaching too far, going too fast, thinking too highly of one's own opinion . . ." The matron folded her hands together. "Have you considered, perhaps, that nursing may not be your calling? There are some fine positions opening for young women such as yourself in the factories—"
"I want to be a nurse, Matron! Truly I do," she said. "My mam . . ." She had a memory of her mam's hand, knuckles pink from the washing. A fluttering sensation started somewhere within her. "She wanted it for me, Matron. She sacrificed a good deal to make it so. I . . . I want to save lives."
Matron Bailey sat quietly for a moment. "Only as a fully trained nurse would you perhaps have all the tools God has seen fit to give us," she said. "Fully trained and years of service. Service, Bridget. We are not the Redeemer, handing down decisions on life and death, playing God—even if . . . even if our mothers desperately wished it for us. What I see is a young woman trying to care for our patients with her fists clenched and her heart closed, and that is no nurse I've ever known. Nurses give care when there's nothing else, giving care, taking care. Care, Bridget, which, heretofore from you, I have seen precisely none."
They made jokes about the matron's pronouncements and timeworn words, calling her the Old Bailey behind her back. Judge of their crimes, warden of their time. But Bridget had only ever wanted to please her, to be useful, needed. Was that striving?
She lowered her head, showing her neck for the blade to drop. "What shall I do, Matron? I would do anything to make it right."
"Make it right?" the matron said. "Second chances are hard to come by in our line. A good man, and a good soldier from all reports."
"He's—dead?"
The matron was silent a moment but Bridget wouldn't look. Finally she said, "His family will arrive shortly, and I don't know what to tell them."
The flutter inside her began again, somewhere near her heart. She felt as though she were being shaken, gently.
Bridget clasped her hands together under her pinafore in case they trembled. A biological response, she knew from her training. She'd seen soldiers brought in, their hearts running on pure adrenaline when they should have given out. It turns out the same high anxiety that brought soldiers through catastrophe also rushed through the veins of the surgeons and sisters during a stitch-up. A shockingly bad time for one's hands to shake, with only a needle and boiled silk thread keeping a man's guts inside him.
"Are you all right, Bridget?"
"Yes, Matron."
"Have you been . . . run down?"
Bridget kept her face turned to the floor, the better to concentrate. "Matron?"
"Overwhelmed by the attacks each night, after your long shifts here."
"Yes, Matron, I suppose."
"Not sleeping well, headaches? Have you experienced night terrors?"
Bridget finally looked up. She recognized symptoms, diagnosis. She was the best probationer they had, days put in or not. Great potential. "I don't suffer from battle fatigue, Matron. I'm weathering things, same as everyone." Same as everyone, which was badly. But she wasn't crawling the walls, was she? Hadn't resorted to the blue pills they gave to soldiers out of their minds. She had a thought. They'd never say she was, and send her as a lunatic to an asylum? "Missus?"
Matron Bailey, though, was somewhere else. "I just remembered that your mother . . ."
"Yes, Matron," Bridget said and was glad her hands were hidden.
"Yes, erm. You've got on with things, as well as can be expected but—you've encountered the symptoms of shell shock, surely?"
Bridget imagined herself made of stone. "In the patients, Matron."
The other woman seemed to be chewing on some thought. "It's a terrible quandary you've put me in."
"Yes, Matron."
"We can't have the scandal. No one wants to see our brave men survive a war zone only to succumb to an overeager probationer acting on her own orders." The matron's attentions had wandered to the dirty window high in the room that showed the cold white sky outside. "It may not be right to send you," she murmured.
Bridget caught the scent of freedom, as though the window had been cracked open. "Send me?"
"The request is rather urgent . . . Have you had experience with children, Bridget?"
"Matron?"
"Perhaps you helped around at home with siblings?"
Bridget could track the tremor within as it moved outward into her limbs, weakening her knees, numbing her to her fingertips. She concentrated harder. Every drop of blood, every sinew under her skin vibrated, ready to burst. The smallest movement made, the slightest weakness shown.
"Yes, Matron. Five. There were five."
"I . . . I hadn't remembered it was five."
"Four girls and a boy, Matron."
The matron made a small noise in her throat that Bridget had come to know quite well as a condolence. Or something more like an invocation against the same sort of luck.
The matron smoothed a letter flat on her desk. "And you like children, then? I mean to say, Bridget, that you could be trusted with children?"
"Whose children, exactly?"
The matron checked the note. "A Mrs. Arbuthnot is seeking my recommendation of someone to accompany some under-fives evacuated to the countryside. She wants a hospital nurse, but a trainee would be able to see to the care of healthy children, and I dare say the air will do you some good."
The matron opened her desk and pulled out a piece of paper and a pen.
Bridget didn't want to go to the countryside or take the air. Or spend time near children, in fact. But she had heard the word recommendation and felt herself stretch toward it, the barest hope blooming that she might yet get what she wanted.
"Do I have any choice in the matter? Matron?"
"You do, of course," the matron said easily. "You're under no obligation to accept any favor from me. You may seek your own fortune any time you wish."
Cut loose.
"Or," the matron said, "you may have this—let's call it a conditional reference. Wheretofore you conclude this assignment to Mrs. Arbuthnot's full satisfaction, we shall see about reinstating you—"
Bridget opened her mouth to speak.
"—to begin again, that is." The matron looked back down at the note in progress before her and scrawled a few lines, murmuring to herself. Bridget had another fleeting memory, taking dictation from her mam for the letter sent to her da, telling him of the littlest's arrival and asking him to send his pay packet home for once. Learning too much, too soon, the complications of affection.
"Now." Matron Bailey folded the letter, crisp edges, put it in an envelope, and sealed it. "We are saving you from scandal, Bridget, and rescuing what I hope will be a fruitful career in the field."
Had she put that in the letter? "Yes, Matron. Thank you, Matron."
"On this assignment," the matron said, "you will need to be vigilant—absolutely vigilant, Bridget, for the children's safety, for the sake of your further improvement. Or you shall have to make your own way with no reference at all. Am I clear?"
The matron copied out a telephone exchange from the note on her desk and held out the letter and the number.
Herein lay her future.
Bridget reached for the offering, and the matron looked her up and down. "Put that filthy apron in the rubbish before anyone else sees you," she said. "I shall trust you to see yourself out without delay. Without engaging in idle chatter, Bridget. This arrangement is between the two of us and that letter to Mrs. Arbuthnot."
Bridget pulled the stained garment over her head, rolled it into a ball as she moved across the room, and shoved it to the bottom of the bin at the door. She didn't partake in idle chatter, and none of the others would be looking out for her to do anything but stare and whisper.
Bridget looked down at the envelope in her hand. There was a dark smudge of blood across the flap. Did it matter that the arrangement was private? The scandal was beyond them already.
Dismissed. Disgraced. If she wasn't to be a nurse, she would very well like to know what she would turn out to be.
We hope you are enjoying the book so far. To continue reading...
Death at Greenway
Lori Rader-Day
Copyright © 2021 All Rights Reserved